Custom Closet Systems Designed & Installed for Issaquah, WA, Homeowners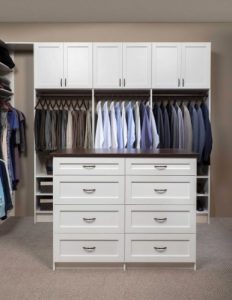 When you first moved into your home in the Issaquah, Washington, area, one of the things you loved most was the closet space. Your master bedroom, in particular, has a grand walk-in closet where you envisioned yourself getting ready for the day in luxury every morning. However, years have passed, you've accumulated a lot of stuff, and now your closets are full and disorganized. How would you like to restore some order to your closet space? At Creative Closets, we can help by custom designing and installing a gorgeous closet system that will bring some much-needed organization to your home.
Features of Our Custom Closet Systems
There are numerous ways we can improve the closets in your home with custom closet systems. When you partner with Creative Closets, we'll sit down with you to discuss your wants and needs, and then we'll get to work creating a custom closet design for your home's walk-in closets, reach-in closets, kids' closets, and other spaces that could use some tidying up. We can include a variety of accessories in the design to meet your expectations of beautiful new custom closets. Here are some examples:
Shelving
Shoe racks
Cabinets and drawers
An island
Jewelry trays
Mirrors
Belt and tie racks
Sliding baskets
Hampers
And much more
Once we've selected the right features for your new closet organizer systems, we'll put on the final touches. Select from eye-catching wood grains, mattes, and acrylic finishes to suit your taste and complement the interior design of the room. Peruse a long list of customization options, such as recessed lighting, aluminum frame doors, and glass-fronted cabinets to truly make your new closet your own. Furthermore, our organization systems aren't just for closets—they'll work wonders for your garage, laundry room, pantry, home office, and mud room, too!
Benefits of Better Organized Closets
The truth of the matter is, disorganized closets can create unnecessary stress in your life. Finding the perfect outfit in the morning shouldn't be a struggle. Better organized closet systems from Creative Closets can make your life easier. Spend less time looking for your clothes and stay on schedule as you get ready to face the day. Protect your precious family heirlooms by storing them in designed spaces where you'll always know where they are. Enjoy the crisp, clean lines of a well-organized custom closet instead of endless clutter. And, if it's possible you may sell your home in the future, your gorgeous closet organizer systems can help make your home look more valuable in the eyes of potential buyers.
Red Carpet Treatment From a Custom Closet Company
At Creative Closets, we're just as excited about revitalizing the closets in your Issaquah, WA, home as you are. And you can trust that we'll deliver grade-A service every step of the way. In fact, we've been helping local residents add organization to their homes with custom closets for more than two decades, which makes us one of the most experienced closet installation companies in the area. When you partner with us for new closet systems, you can expect:
A One-on-One Consultation With a Professional Closet Designer
We'll apply our extensive experience to your project, ensuring we create one-of-a-kind custom closet designs for each room in your home. As we discuss ideas, we'll render your vision for a new closet in our state-of-the-art 3D design software so you can see exactly what it will look like. Not thrilled with what you see? That's the beauty of this advanced software: You can make changes in real time so that you will be confident that you'll love the final result once installed.
Timely Installations From Highly Skilled Closet Technicians
At Creative Closets, we know how intrusive having a contractor inside your home can be. That's why we'll aim to be in and out as quickly as possible. Our highly trained and experienced technicians can typically complete custom closet installations in as little as one day. Additionally, we will maintain a tidy work area the entire time we're in your home, and we'll thoroughly clean up after ourselves before we consider the project complete.
Warranty Protection for Your Investment in New Closet Organizer Systems
All wood components of the closet systems we install are backed by a lifetime guarantee. We will also back our work with a labor warranty. That way, you can enjoy peace of mind knowing your investment is well protected.
Let's Get Started
For more information about our closet systems and how they can better organize your home in the Issaquah, WA, area, contact Creative Closets today.