The Best Garage Cabinets In Lakewood
Your new garage cabinets await you! Don't you want a pro to install them?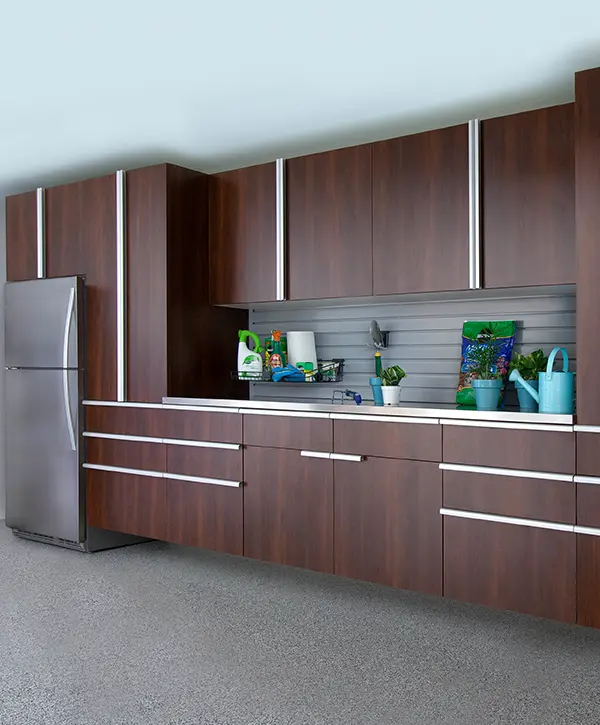 It's frustrating to have things cluttering up the garage floor. It not only causes people to trip over objects, but also results in screwdrivers rolling under the car and screws and nails falling behind cabinets. 
The garage's walls are overloaded with sporting goods, making it unpleasant. Toys are all over the floor. And you can't even find that motor oil bottle you bought last month.
We can help by designing and installing customized garage cabinets and storage accessories to keep your belongings organized. Our services range from workbenches to overhead racks, and we'll make sure every inch of your garage is utilized to prevent clutter from becoming an obstacle.
This is the 4th closet I have had installed by Creative Closets. I also have a custom linen closet as well that is due to be installed in November. Everyone has been great to work with from the owner Tim, the install manager Broc and the installer Jordan. Could not be happier with the looks and quality of material. I originally started out with another company, glad I did more research and found these guys. There are different levels of quality in the materials the companies use to build the closets. This one is more expensive but I really feel it is worth it. The saying "you get what you pay for" has never been more true. I have one more closet to go in my home office and I will definitely be using Creative Closets.
Creative Closets - Clutter's #1 Enemy
We understand the frustration of spending valuable time rummaging through clutter, whether searching for a trowel or maneuvering boxes to park your car. That's why we're here to provide a solution that goes beyond aesthetics and delivers a seamless and efficient garage experience.
Contact us if you want:
Contact us to have our top-tier designers come to your home and take a look at your space. We don't just whip up a catalog with garage cabinets; we help design your garage storage from scratch so you can have the space that perfectly matches your needs.
What Features Do Lakewood Homeowners Want for Garage Storage?
If you're like many families, your garage is a catch-all for items that don't have a place inside the house. From sporting equipment to cleaning supplies to old toys, the garage becomes the default storage location. Luckily, Lakewood garage cabinets offer several features that could revolutionize the way you organize your space.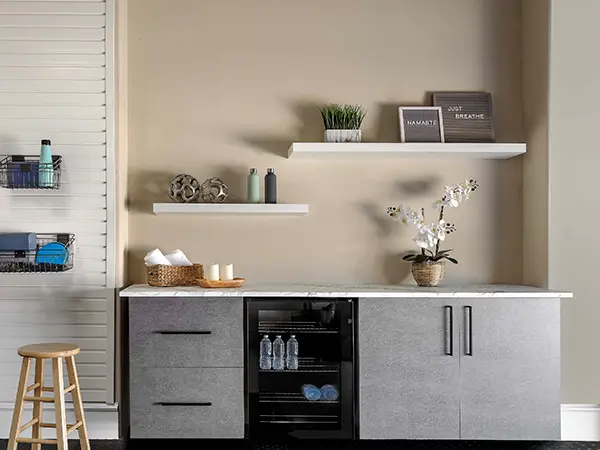 Our garage cabinets come with adjustable shelves, allowing you to customize the storage space according to your specific needs. The main benefit of adjustable shelves is that they provide flexibility and versatility, enabling you to accommodate items of varying sizes and shapes with ease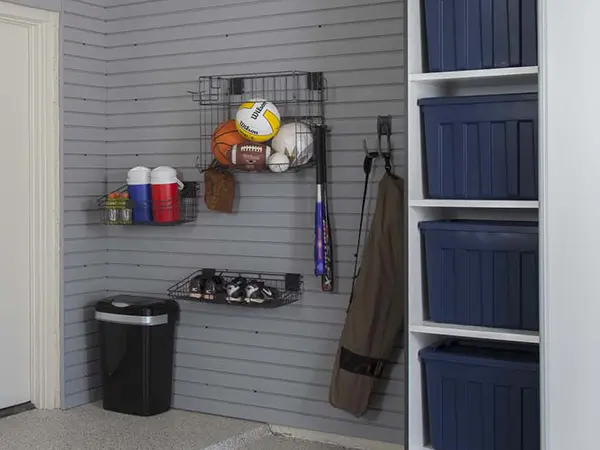 Storage Boxes and Baskets
Keep your garage clutter-free and organized with our storage boxes and baskets. These accessories are designed to neatly contain and store items, creating a streamlined and tidy environment. These storage options maximize space utilization and make locating and accessing your belongings easier.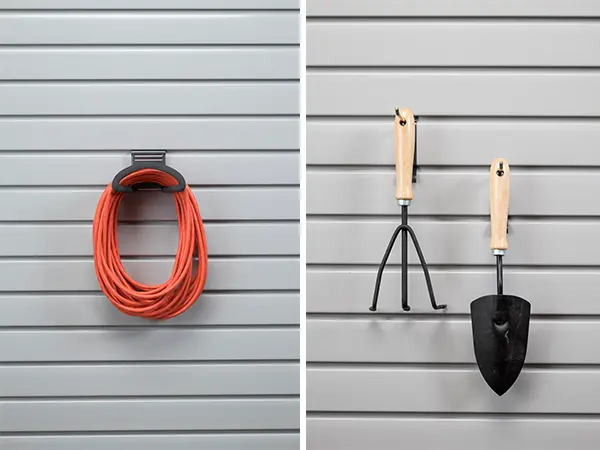 Our garage cabinets feature a range of hooks designed for different purposes. From hanging tools to organizing sports equipment, these hooks offer a practical solution for keeping items within reach and off the floor. The main benefit of various hooks is their ability to optimize vertical space, creating a more efficient and accessible garage.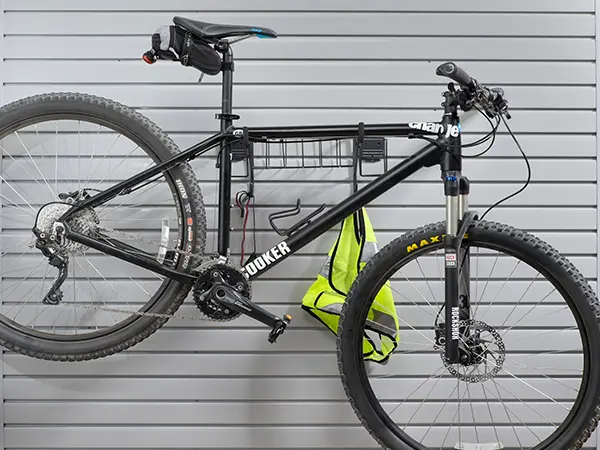 If you're an avid sports enthusiast, our sport racks are the perfect addition to your garage. These racks are designed to hold and organize sports equipment while providing dedicated storage solutions for your gear, keeping everything secure, easily accessible, and in excellent condition.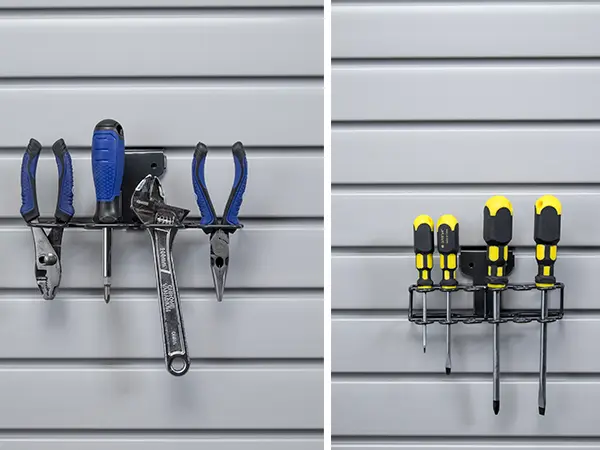 These racks offer designated spaces to store and organize your tools, ensuring they are always at hand when you need them. The main benefit of tool racks is that they promote efficiency and productivity, allowing you to quickly locate and retrieve the right tool for the job.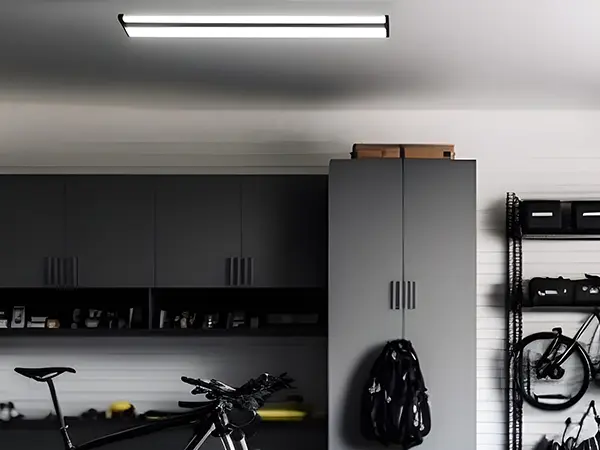 Illuminate your workspace and enhance visibility with our integrated lights. These lights are strategically placed within the cabinets, providing ample illumination to help you work comfortably and safely in your garage. They create a well-lit environment, making it easier to perform tasks and reducing the risk of accidents.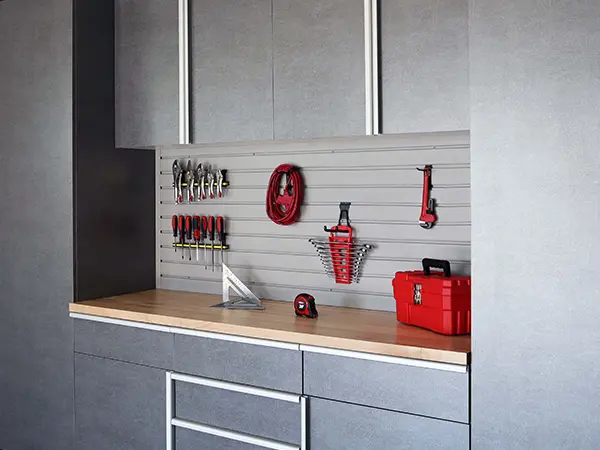 Our garage cabinets feature slatwall organization systems that offer versatile storage options. With Slatwall panels and compatible accessories, you can hang and arrange items such as tools, gardening equipment, and power cords neat and organized. Slatwall helps maximize vertical storage space while keeping frequently used items easily accessible.
Transform your garage into a functional workspace with our durable workbenches. These sturdy surfaces provide a dedicated area for various projects, from DIY tasks to hobby crafts. They help create a designated workspace where you can efficiently complete projects, with ample space for tools, materials, and a comfortable working area.
Your Neighbors Loved Us - And So Will You!
Homeowners love getting their new garage cabinets with us! Here's what they're all saying about working with Creative Closets!
From the making an appointment for in person design to installation, creative design was professional and prompt. They were able to explain step by step to me and it was a breeze to customize the closets as I wanted! Also, the closet installation comes with Life time warranty which is a plus! Thank you so much Creative Closets!
I highly recommend Creative Closets! They were extremely responsive, easy to work with, accommodating & professional. We had several closets in our home built out as well as our kitchen pantry. On the day of install they had a large crew show up and got the project done fast. Everything is sturdy and high quality. We are very happy with our service from start to finish.
Understanding Garage Cabinets Cost In Lakewood
To give you an accurate price for your custom cabinets, we need to know the specific details of your project. Each project is unique, and we want to ensure that we deliver exactly what you need. We can provide you with an estimate once we have your measurements and understand your requirements.
However, to give you an idea of what to expect, we have included a table below that shows prices from some of our recent projects.
| Garage Storage Project | What's Included | Price |
| --- | --- | --- |
| 20' Wall Of Cabinets & Workbench | Pewter cabinets, full-lenght handles, 10+ separate storage areas | $7,000 |
| Workbench & Slatwall Panel | Tall cabinets, workbench with top + bottom cabinets, Slatwall tool storage system | $9,000 |
| 22' Full Wall Cabinets & Slatwall | Tall cabinets, Slatwall system, workbench with cabinets and drawers, overhead storage | $11,000 |
To give you an accurate price for our garage services, we'll need to measure your garage, talk about your storage needs, and consider other factors that are unique to your situation. Keep in mind that our pricing depends on things like the size of your garage, so it may vary based on the factors listed below.
The price of your garage cabinets depends on their size and complexity. Custom configurations and larger cabinets may cost more than standard ones. Special features such as built-in workspaces, different types of wall storage, or unique design may also increase the overall cost.
We installed custom cabinets for a garage on a 20-foot wall for about $3,500. The cabinets have full-length handles, over 10 separate storage areas, and a sleek pewter finish.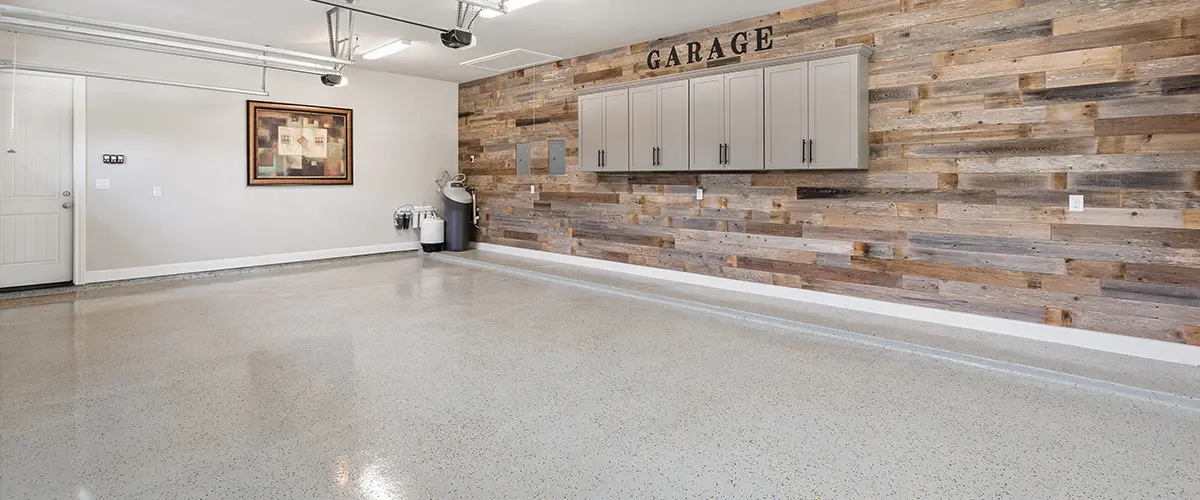 When you opt for customization, such as adjusting the cabinet dimensions, adding specialized compartments, or incorporating unique design elements, it requires additional effort and resources from our team and ordering different components and materials.
We can install tall cabinets with a workbench and a Slatwall tool storage system for $8,500 to $9,000, depending on the size. If you prefer a bigger system with overhead storage racks and cabinets, the cost can be around $11,000.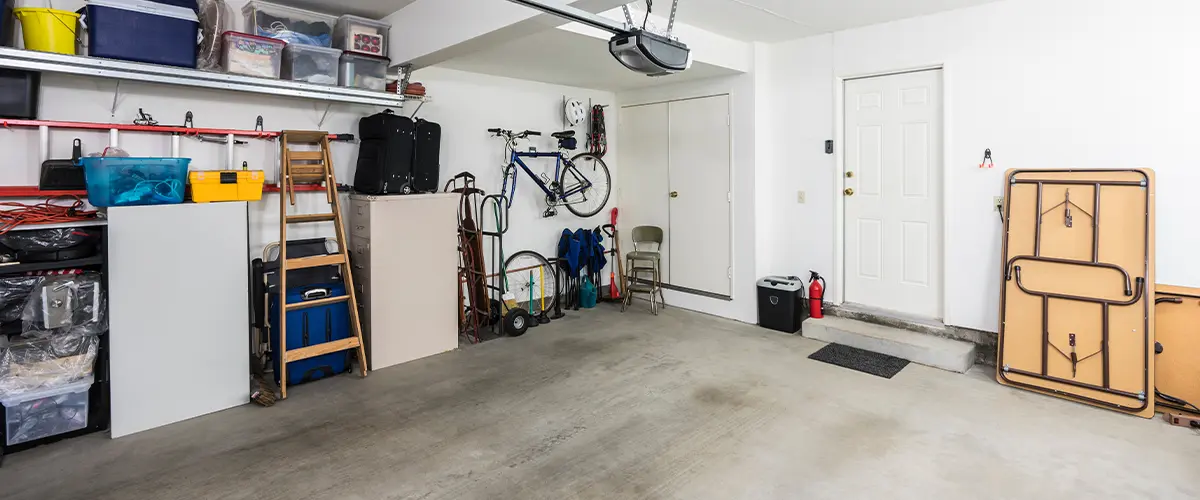 Cabinet finish and design choices can impact the cost of garage cabinets due to the variation in materials, complexity, and customization involved. We offer different countertop options and a lot of cabinet color choices.
It's important to work closely with our team to discuss your preferences, budget, and desired outcome. We can provide guidance on different cabinet finishes and designs, offering transparent pricing based on your choices. We strive to find the right balance between aesthetics, functionality, and affordability to ensure you get the best value for your investment.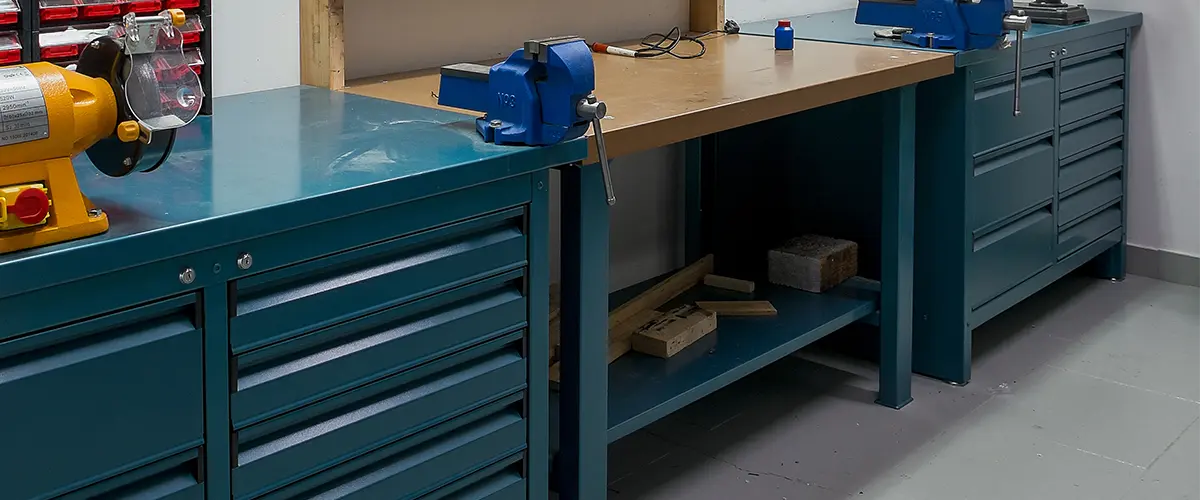 When planning for your garage cabinet project, remember that the price may vary based on the difficulty of the installation process. Factors such as the condition of the walls, the need for lighting or plumbing installation, and the required customization level can all be contributing factors. It's important to consider these factors upfront to avoid surprises and plan your budget accordingly.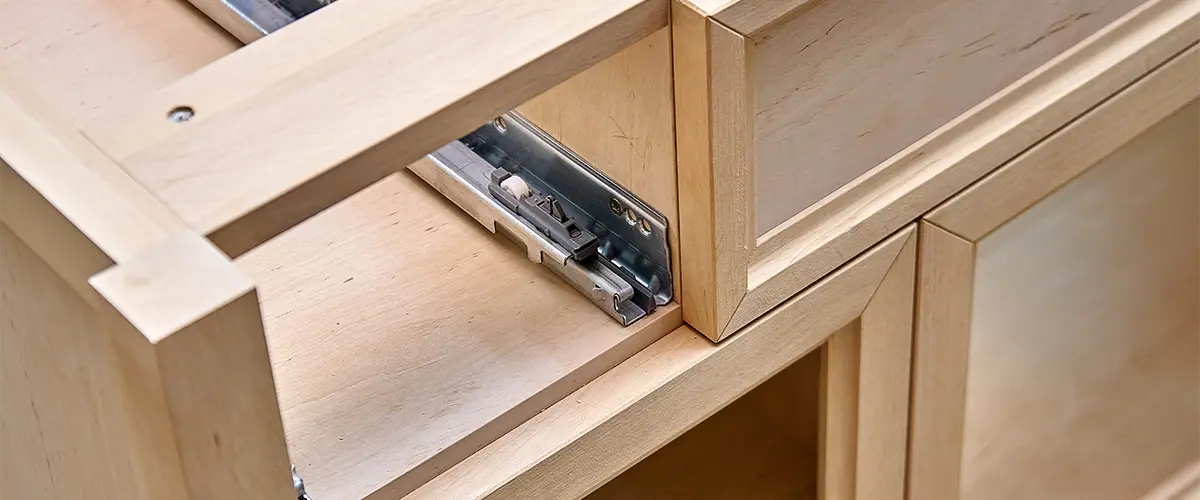 We can also set you up with financing. Make sure to talk to us, and we'll determine if you're eligible in our fast 60-90 min appointment where we plan your dream garage from start to finish.
Here's How Everything Goes...
What Makes Our Lakewood Garage Cabinets Stand Out
Garage cabinets are a dime a dozen, so we had to make ours stand out. We're focused on the durability of our products, so our cabinets include three main features to meet that end goal.
Our garage cabinets come with complete backings, which means that the back of each cabinet is fully enclosed. This feature ensures that items stored inside the cabinets remain secure and protected from dust, dirt, and pests. With complete backings, you can have peace of mind knowing that your belongings are shielded from external elements, promoting a clean and organized closet.
Our garage cabinets are coated with a special resistant coating. This coating adds an extra layer of durability and protection, making the cabinets resistant to scratches, stains, and everyday wear and tear. By incorporating resistant coatings, we ensure that our cabinets maintain their appearance and functionality over time, even with frequent use, allowing you to declutter your closet without worrying about damaging the cabinets' surface.
These shelves are constructed using high-quality materials that offer exceptional strength and stability. With sturdy shelves, you can confidently store various items in your closet, knowing that the shelves can support the weight without sagging or compromising the organization. They provide the necessary support for organizing and decluttering your closet effectively.
Common Garage Cabinets Questions

We've recently remodeled our whole house and I'm tired. Tired of hounding subs to come back and finish work, tired of waiting 3 weeks for bids, tired of doing projects myself. We decided to hire out closet installation and Creative Closets was a breath of fresh air. 
They had great communication from beginning to end. They gave me a bid the same day they came out to design and we're straight forward without using sales tactics. There was no "let me call my manager and see if there's additional discounts," just straight forward pricing. They weren't the cheapest but they definitely weren't the most expensive option. 
Overall I think they were a great value. Jordan and his partner did a great job on install and were very detail conscious, making sure every part of the design was just the way we wanted it. Both were sweet to my 4 year old who wanted to be involved in the building. They took care to clean up well and the whole install was done very quickly. I highly recommend Creative Closets.
Don't Endlessly Postpone Decluttering
Creative Closets offers custom storage solutions that can transform your garage into an efficient, well-organized space. We help maximize every inch of your garage by providing a range of customizable storage options that fit your specific needs and preferences. 
With our services, you won't have to worry about clutter or wasted space anymore.
Here is what we bring to your Lakewood garage:
Work With The Custom Closets Company That Puts Your Home First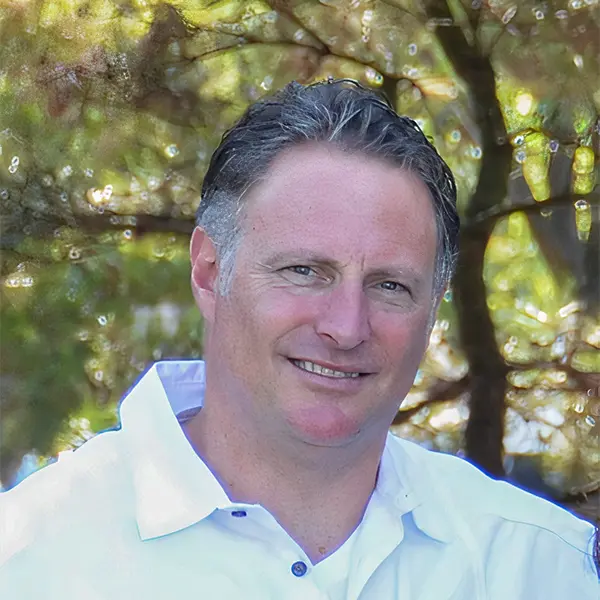 Contact Creative Closets in Lakewood at (425) 428-5073 to turn your garage into an efficient and neat space with our customized garage cabinets. We offer exceptional services that cater to your specific needs. Schedule a design consultation by clicking the button below!