High-Quality Laundry Room Organizers & Cabinets, Design and Installation
Creative Closets is the #1-rated design and installation company for laundry room organizers and cabinets. Locally owned & operated for 20+ years, delivering complimentary in-home design consultations, with a wide variety of product options.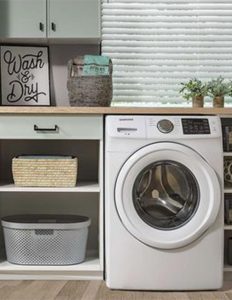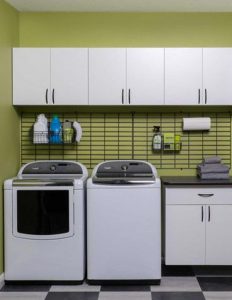 Personalized Laundry Room Designs
Do you hide mountains of laundry behind closed doors? Is your laundry room cluttered with half-used detergent and fabric softener bottles? You don't have to dread laundry day because of the mess around your washer and dryer. Instead, it's time to allow our experienced designers to help you take control of the mess and clutter.
At Creative Closets, we offer a wide range of solutions to help you transform your laundry room, no matter its size. If you're dealing with a lack of space, we can install cabinets and shelves to give you more room for storing essentials. Our team makes the design process incredibly simple: all you have to do to get started is reach out to coordinate a complimentary consultation.
We'll schedule the appointment at a time that's convenient for you, and one of our designers will check out your laundry room in person. We'll talk to you about your challenges and put the specifications of your laundry room into our 3D design software program.
Then, we'll work with you one-on-one to come up with a design that's fully functional and suits your style and vision. Don't be shy about telling us what you want; we want to work together to create a space that streamlines laundry day and makes it much less of a chore.
Adjustable Laundry Room Accessories
Our team utilizes a ton of high-end components to outfit each & every custom laundry room, all of which include:
Scratch and stain-resistant laminate finishes
Soft-closing door & cabinet hinges
Floating or sink-base cabinets
Adjustable shelves
A wood products lifetime warranty
An abundance of finish options:
12+ Standard Shades for Cabinets, Shelves, Doors & Drawers
20+ Attractive Mixology Colors for Doors & Drawers
9+ Door/Drawer Front Styles
The best accessories to compliment your updated laundry room:
An Experienced & Reliable Team of Specialists
Over the years, we've assisted hundreds of stressed-out Seattle, WA homeowners with creating the most optimal & well-equipped laundry rooms in the area. Plus, we use only the best organizational components, and our innovative 3D software program makes it easy to give you full control over the design process.
Declutter Your Laundry Room Before It's Too Late!
If you're tired of dreading laundry day and are ready to do something about it, give us a call. You can also fill out the contact form on our website, and someone will be in touch with you shortly to schedule a complimentary in-home consultation.
FAQs
---
Should I install a fold-up ironing board in my laundry room?
What a great idea! Our fold-up ironing boards are very popular. They don't take up much space and are very easy to fold down and use.