Store clothes and take care of laundry with a custom laundry room Maple Valley, Issaquah, Renton, and more of WA.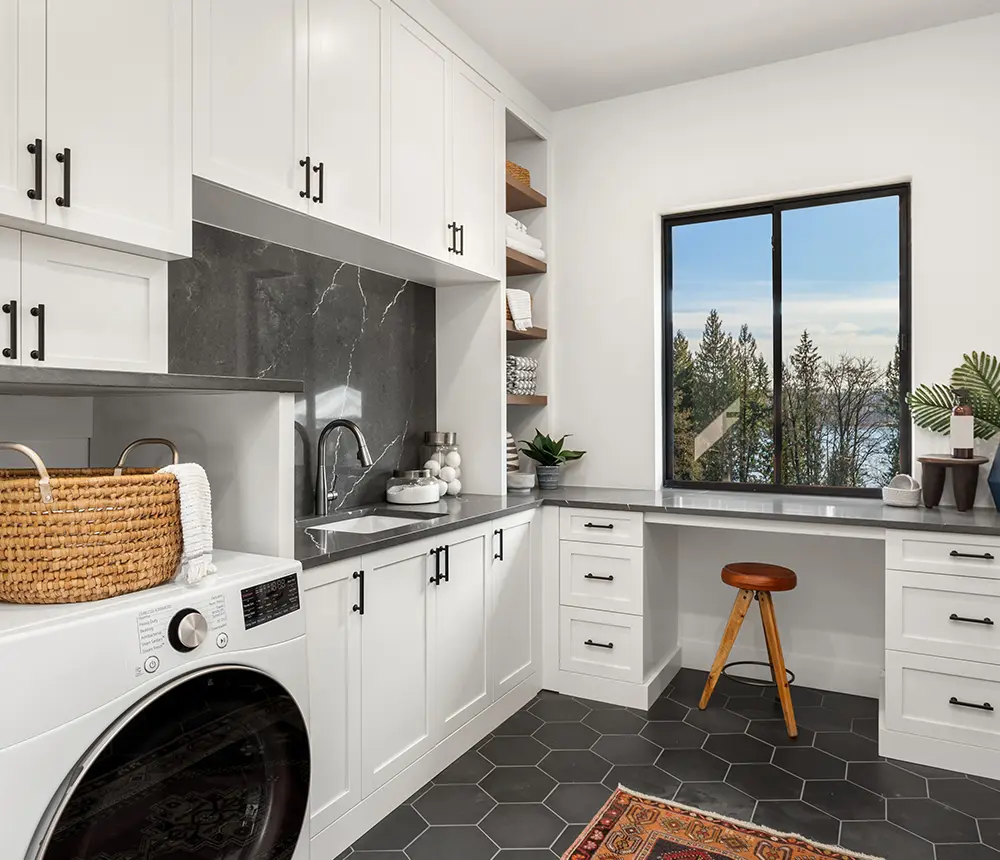 Scroll down to discover laundry room options, process, and pricing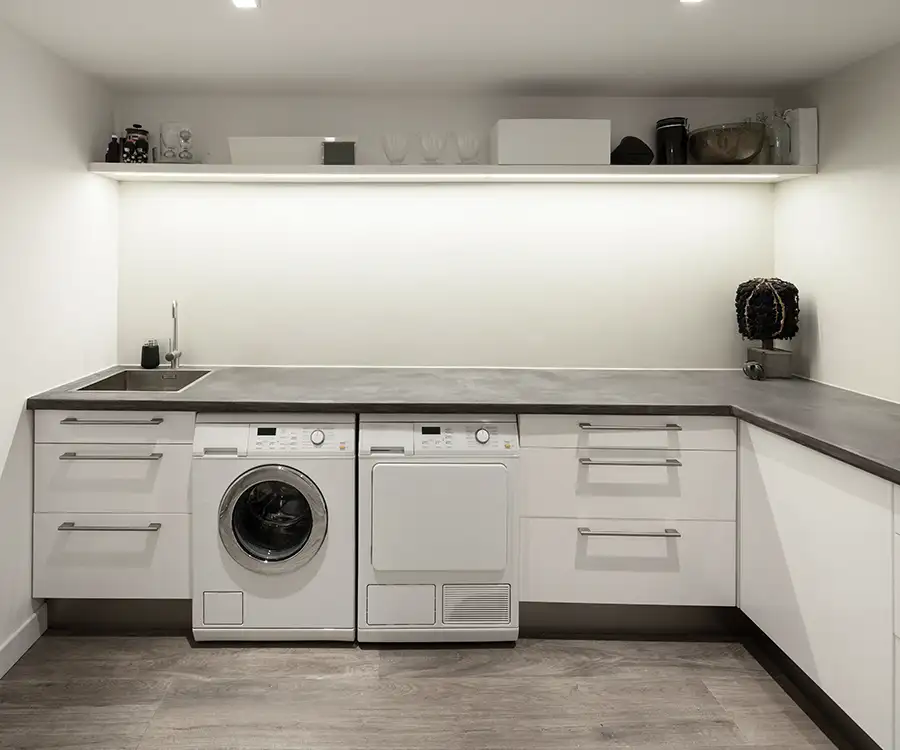 Get More Done in Less Time
Imagine finishing your laundry in a fraction of the time it used to take and having a clutter-free, organized space that adds value to your home. By investing in an organized laundry room, you can get more done in less time and enjoy a more stress-free life.
With an efficient laundry room, you'll be able to quickly sort, wash, dry, and fold your clothes with ease. You'll have designated spaces for each item, making it easy to find what you need and avoid wasting time searching for misplaced items.
Make your space work in your favor with:
Here's How You Can Transform Your Laundry Room
The Laundry Room Answers You Were Looking For
Depending on your needs, a laundry room closet can include a variety of features to make your laundry routine easier and more efficient.
One key element of a laundry room closet is a place to hang clothes to dry. This can be in the form of a hanging rod or a retractable clothesline that can be easily tucked away when not in use.
A laundry room closet can also include a hamper to store dirty laundry until it's time to wash it, as well as shelves and drawers to hold laundry detergent, fabric softener, and other supplies you need to get the job done.
Whether you prefer open shelves or a closet with doors, it's important to consider your storage needs when designing your laundry room closet. You may want to include baskets or bins to keep small items organized, or you may prefer to have all your supplies neatly arranged on shelves or in drawers.
With a custom laundry room closet from Creative Closets, you can create a storage solution that perfectly fits your lifestyle and makes laundry day a breeze.
One of the most popular organization systems for a laundry room is a hanging rod or retractable clothesline. This provides a convenient place to hang wet clothes that don't go in the dryer, such as delicates or items that need to air dry.
Another essential component of a laundry room organization system is a hamper to store dirty laundry until it's time to wash it. This can be a standalone hamper or a built-in system that fits seamlessly into your laundry room closet.
Other popular organization systems for laundry rooms include shelves and cabinets for storing laundry detergent, fabric softener, and other supplies, as well as baskets or bins to keep small items organized.
At Creative Closets, we offer a wide range of customization options to ensure that your laundry room organization system perfectly meets your unique needs and fits your space.
On average, we complete the process within about 6 weeks, from which material delivery takes the most. During this time, our team will work closely with you to ensure that the design meets your needs and preferences, and we'll keep you updated on our progress every step of the way.
Once all the components of your new laundry room closet system are ready, we will schedule a day for installation. Our experienced installation team can typically complete the installation in a single day, so you can start enjoying your organized laundry room right away!
At Creative Closets, we understand that every laundry room is unique, and the size and depth of your laundry room closet will depend on your specific needs and preferences. During our in-home consultation, we will take precise measurements to ensure that your laundry room closet is perfectly tailored to your space and your lifestyle.
Factors that may influence the depth of your laundry room closet include the size of your laundry room, the type of storage you need, and the appliances you have in the space.
Generally, laundry room closets have depths ranging from 24 to 36 inches.This is more than enough room for standard-size appliances, while leaving enough space for plumbing and electrical systems.
The cost of your laundry room closet system will depend on a few factors, such as the size of your space, the materials and finishes you choose, and the complexity of the design.
During your in-home consultation, our team will work with you to design a laundry room closet system that meets your needs and fits your budget. We'll take measurements of your space and discuss your storage needs and preferences to create a customized design that maximizes functionality and style.
We understand that investing in a laundry room closet system is a big decision, which is why we offer transparent pricing and a variety of financing options to help make it more affordable.
Using dead space in a laundry room can help maximize the storage potential of the room. Installing shelves, cabinets, or hanging organizers on the walls can help use vertical space effectively.
Consider adding overhead cabinets or shelves to store items that are not frequently used. The back of the laundry room door is a great place to add storage solutions like hanging organizers, hooks or even a full-length mirror.
Rolling carts can be used to store laundry supplies or extra linens and can be easily tucked away in a small corner. Utilizing pull-out drawers, baskets, or cabinets can help use dead space in narrow areas.
Get A Pricing Idea For Your Laundry Room
6' Wall Above Washer/Dryer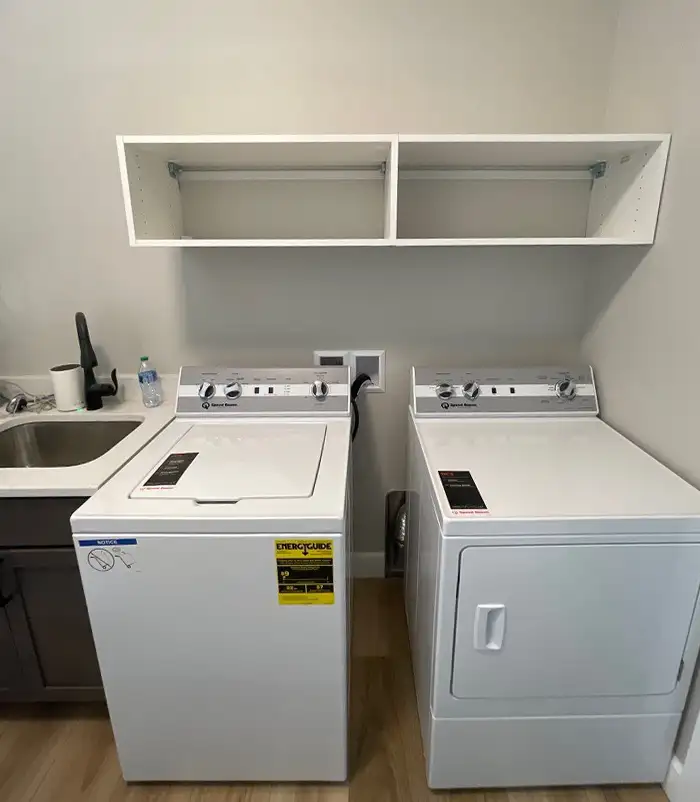 This laundry room shelf was $219.
10' Of Wall Space Laundry Cabinets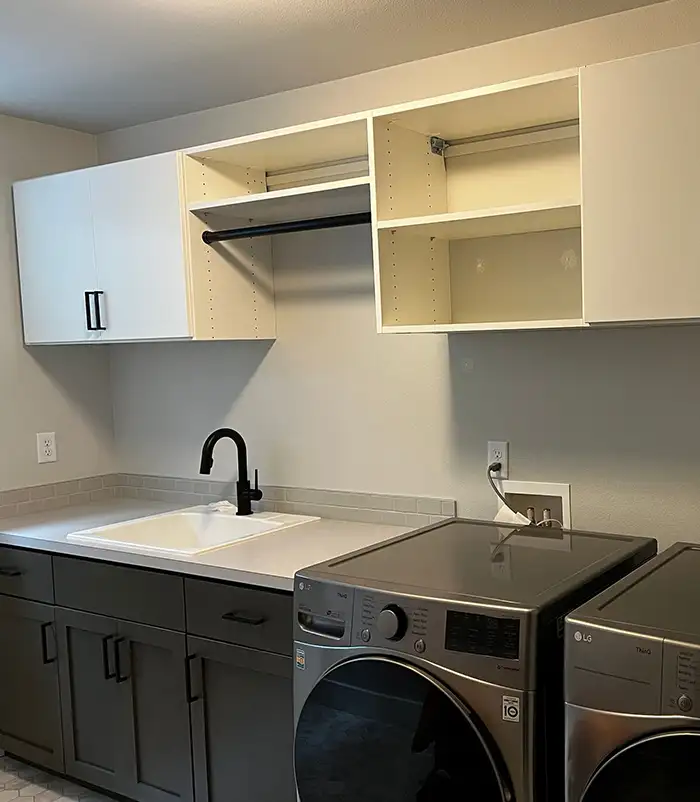 This laundry room cabinet project was $2,009.
6' Of Wall Space Laundry Cabinet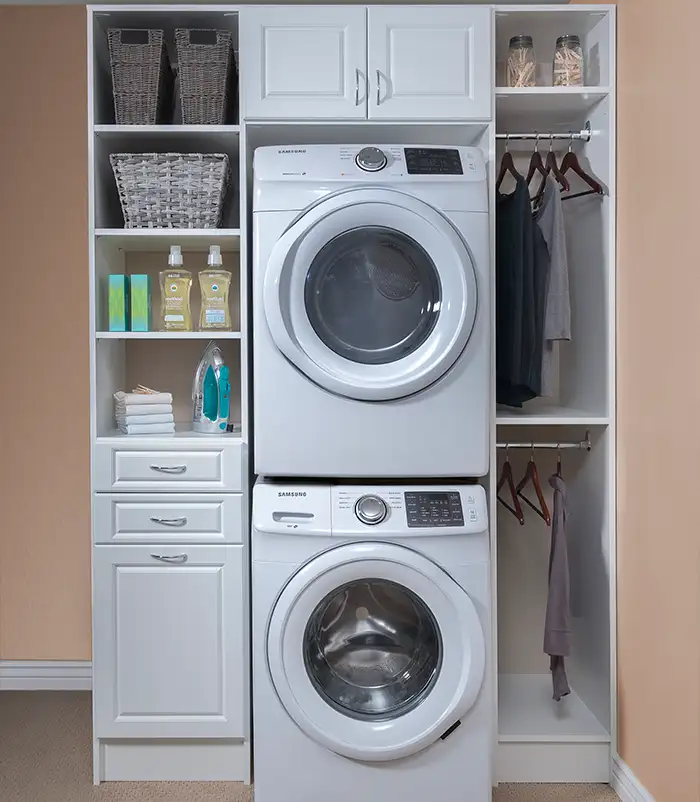 This laundry room cabinet project was $2,944.
A 3-Step Process For An Organized Laundry Room
We developed a simple process to change the way you tackle laundry day.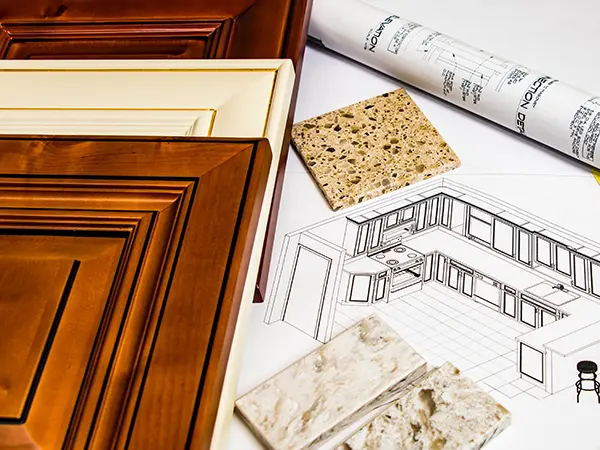 In-Home Design & Consultation
Get in touch with us and we'll bring the showroom experience to you. You don't have to drive back and forth and waste precious time.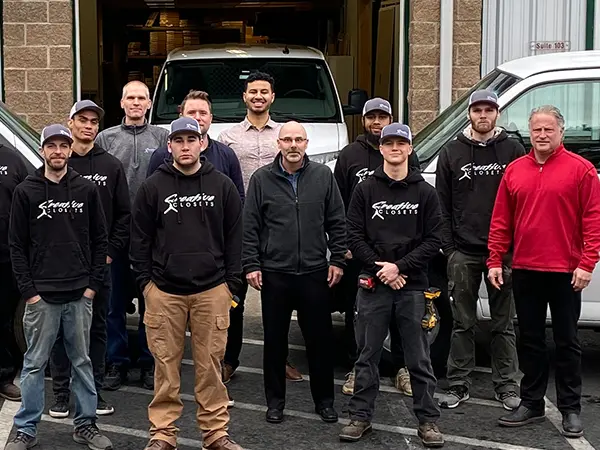 Once all materials have arrived, we come over whenever it's convenient for you and to install your new laundry room.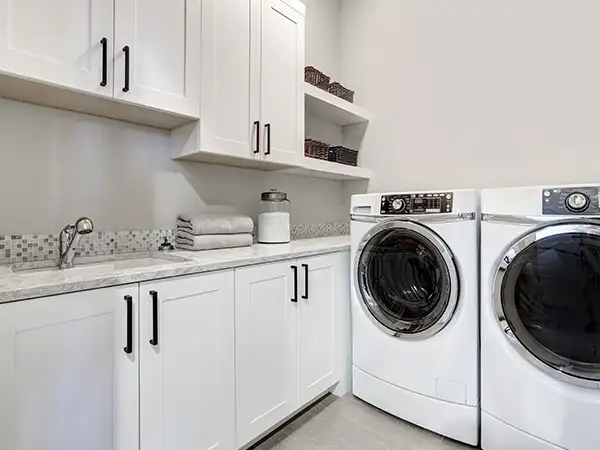 Enjoy An Efficient Laundry Room
Experience a change in how you do laundry, making it faster and more efficient to wash, fold, and store your clothes and bedding.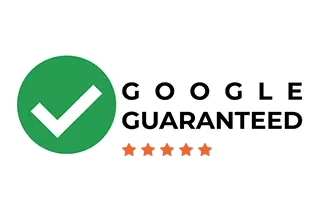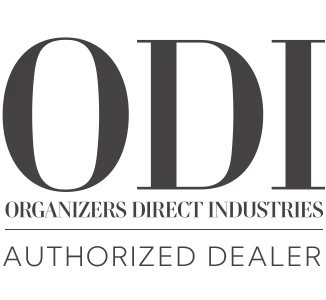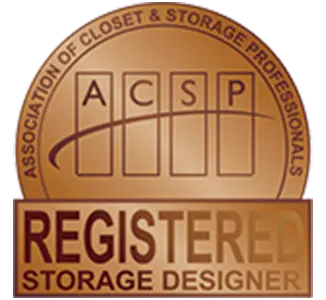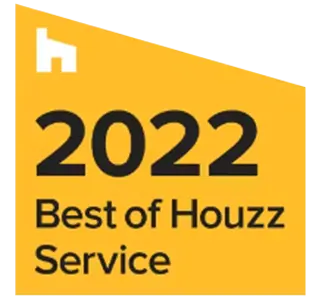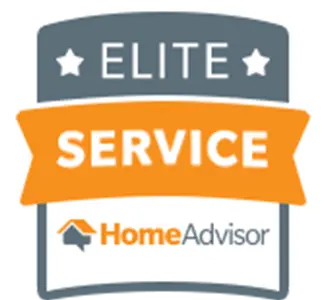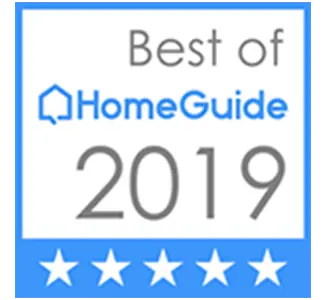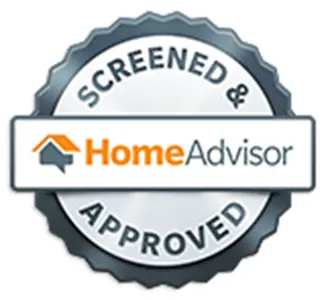 See How We Helped Other Homeowners Like You
Very responsive team from the initial design of our custom closets to the full installation.
Susan was great with the design and Jordan was patient and very professional with the installation team!!! Overall very positive experience!!!!
The designer was fantastic! He really showed us how we can utilize our spaces much more efficiently!
The guys who installed the cabinets were great! Personable, very nice and interactive! We loved the whole experience!
Installation was smooth and they even cleared up the old fittings which was very helpful.
Very professional and recommended for your closet needs.
Your One-Stop Closet Solution
With 20 years of experience, we can easily understand what you need in terms of storage.
Our Systems And Approach Make Your Life Easier
Say goodbye to multiple appointments and endless waiting times. With Creative Closets, we bring the showroom to your home and design your dream laundry room in just 60-90 minutes.
No need to wait for days or weeks to get your laundry room design and pricing. We provide you with a complimentary analysis and free design and pricing during our initial consultation.
We're here to simplify your life by providing the highest quality products and workmanship. Our mission is to guide you along your organizational journey and create an exceptional experience.
Streamline Laundry Day With A Proper Laundry Room
Laundry day doesn't have to be stressful when you have the right organization systems at hand.