Have your closet work for you by partnering with a closet designer in Maple Valley, Issaquah, Renton, Kent, and more of WA.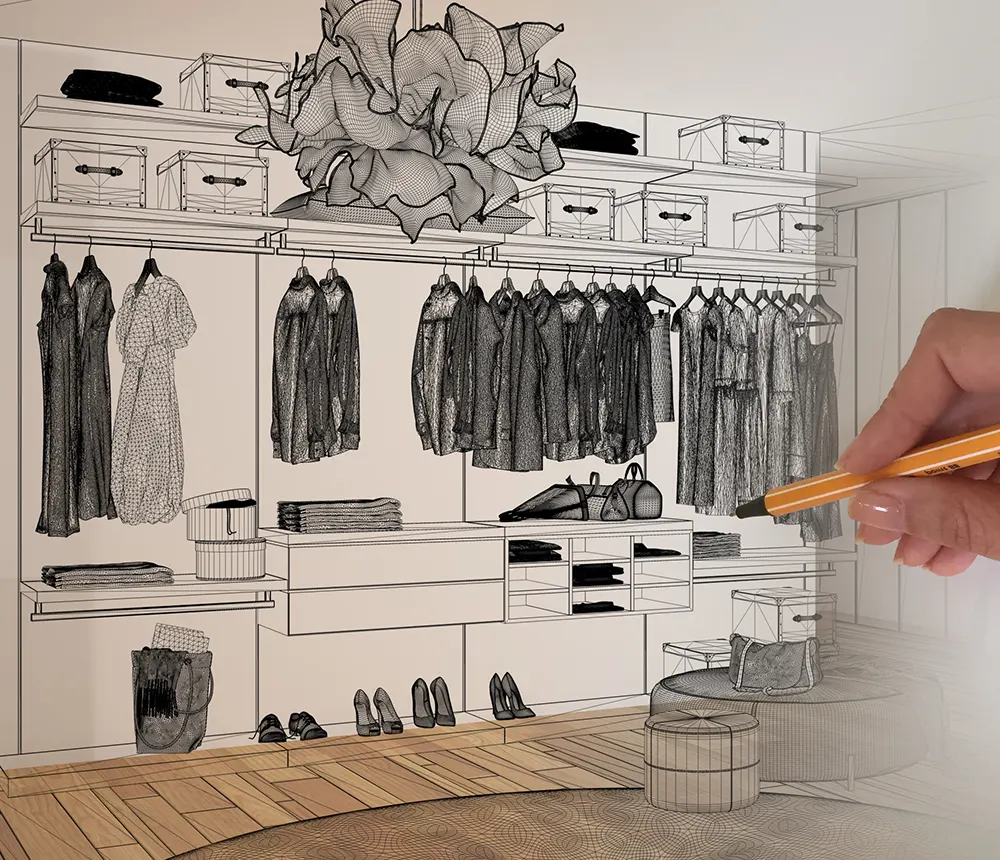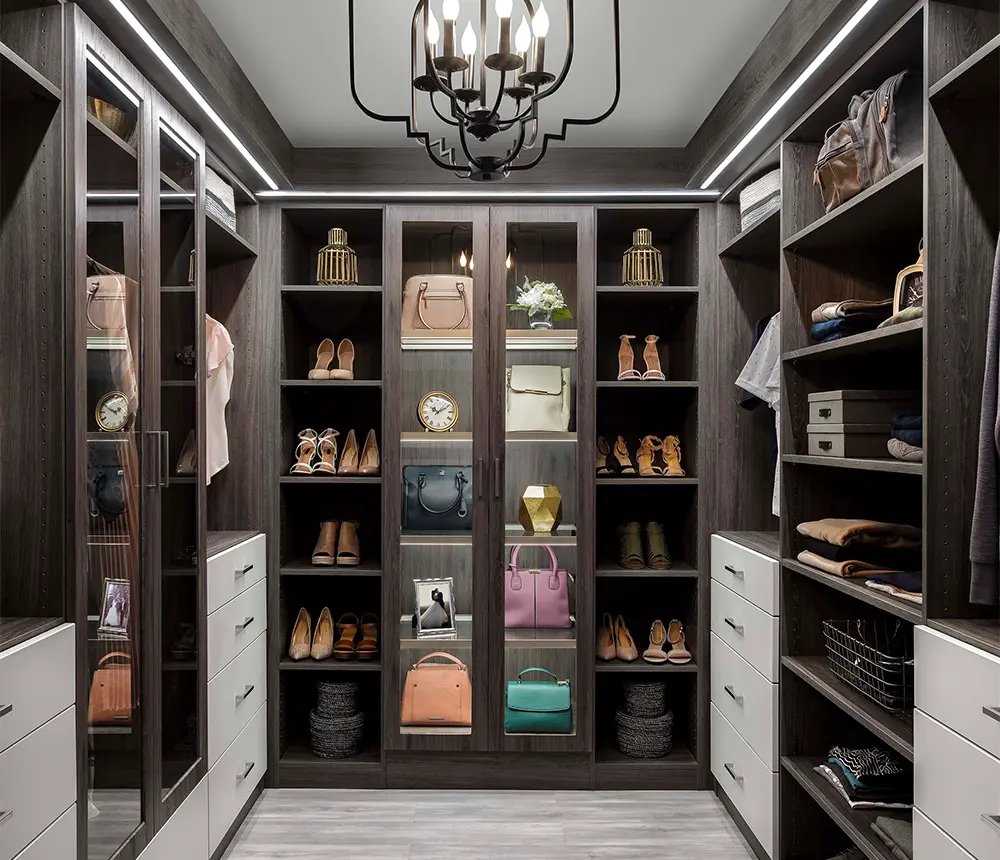 From Generic Storage Solutions To Custom-Designed Closets
A cookie-cutter closet might help put your belongings away, but it lacks the flexibility and organization you need to effortlessly navigate your daily routine and maintain an orderly home.
We design your custom closet so it perfectly aligns with:
What Does A Closet Designer Actually Do?
Our closet designer is a professional who specializes in creating customized storage solutions for your home. Here are some key tasks and responsibilities of a closet designer and what you can expect when working with Creative Closets LLC: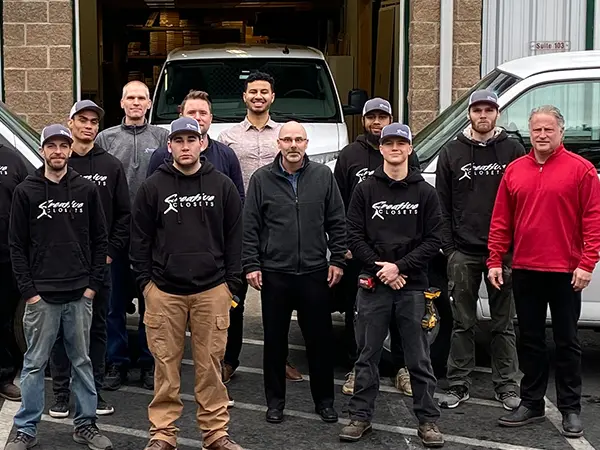 Our closet designer will meet with you to understand your storage needs, lifestyle, and preferences. They will discuss the types of items to be stored, your desired functionality for the closet, and any specific requirements or constraints.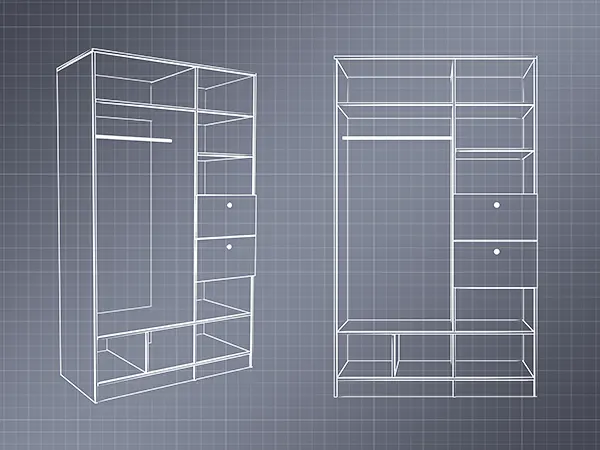 Space planning and layout design
Based on your input and measurements, your closet designer will create a layout for your closet. They will determine the placement of shelves, hanging rods, drawers, and other storage components to optimize the use of space and create an organized system.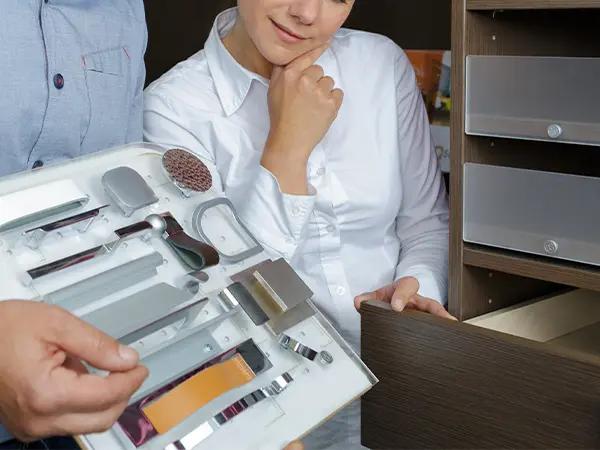 Customization and product selection
Your closet designer will help you select materials, finishes, and accessories that align with your style and budget. They will recommend storage solutions tailored to your specific needs, such as specialized compartments for shoes, jewelry, or accessories.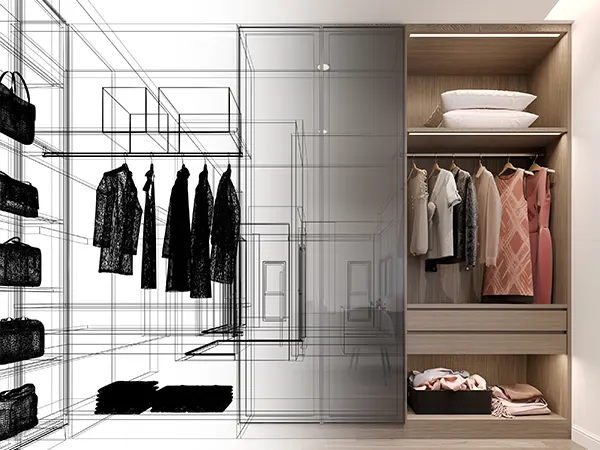 3D rendering and visualization
Using design software, your closet designer will create a 3D rendering or visual representation of the proposed closet design. This allows you to visualize how the finished closet will look and make any necessary adjustments or additions.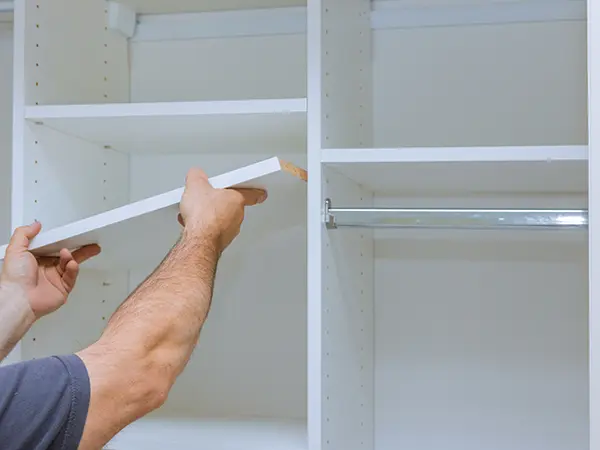 Ordering Materials & Installation
Once we have the design settled, we'll provide you with a detailed quote of what everything costs and create a timeframe for installing your new custom closet. After the materials are in, installing your new closet system takes as little as a few hours or a full day, tops.
Other Perks Of Working With A Closet Designer Include:
Your closet designer will design your closet to maximize storage space while allowing easy access to all your items. From hanging rods, various shelve types, drawers, and racks, select the accessories that work best for your specific storage items.
Quickly locate specific items without having to dig through a cluttered space with systems that categorize and organize your clothes based on their types (formal wear, casual wear, accessories) or occasions (work, special events).
Select outfits more efficiently by ensuring your clothes are visible and easy to browse. Incorporate features like LED glass shelves, waterfall hooks, pant racks, or pull-out racks to reach what you need easily.
Save time and make the preparing for your day more convenient by further optimizing your lifestyile with additional closet amenities: built-in ironing board, full-length mirror, or a seating area for getting dressed on trying on outfits.
Your Personal Closet Designer - How It Works
Your biggest advantage in working with a closet designer is that they see help unveil the hidden potential of unused spaces. Our designers will guide you in making choices that will use of every available inch while simplifying your daily routine. Here's our easy process in detail.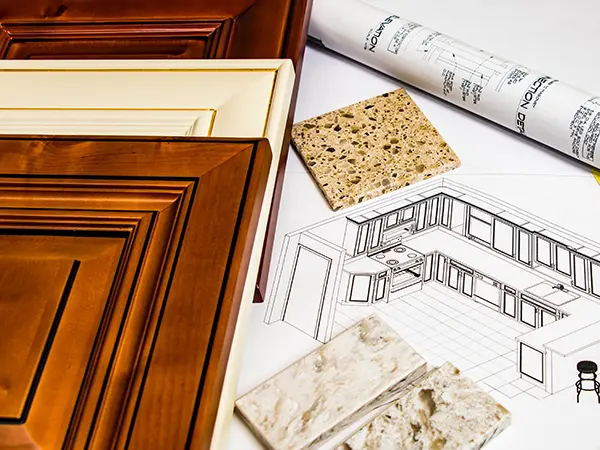 In-Home Design Consultation
After discussing your needs and choosing options, your designer creates a 3D rendering of your closet on the spot, in a 60-to-90-min in-home consultation.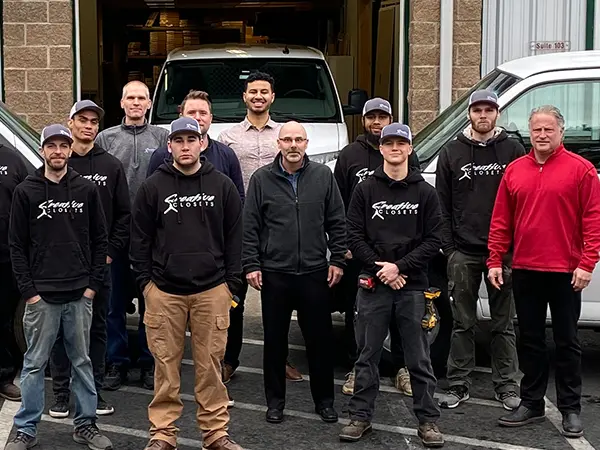 Collaborate with your designer for feedback, suggestions, and real-time adjustments. Once you're happy with every detail, we order the materials from our trusted supplier, ODI.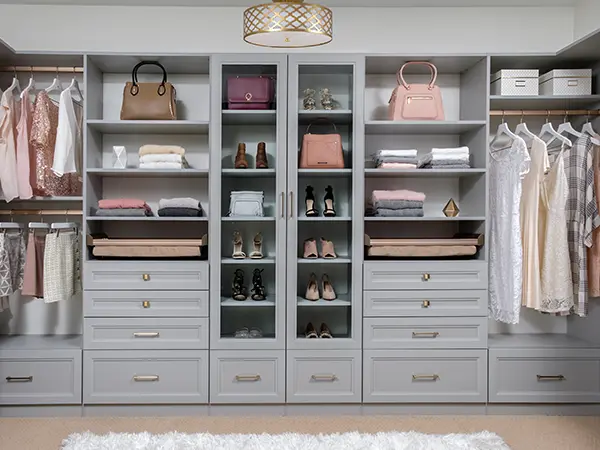 Enjoy A Magazine-Worthy Closet
Installation takes as little as one day, and all materials are backed up by a lifetime warranty. Enjoy a custom closet that matches your space and serves your needs.
This is the second time we used Creative Closets they have been absolutely amazing! Jerry the design consultant who comes by and specs things out has some really good ideas and is patient to listen to your requirements.
Caleb came by promptly did a wonderful job with the installation! He was super professional and very polite. I am very happy with them and would definitely reach out to them for future projects!
This is our 1st experience with Creative Closets. We wanted a custom pantry for our kitchen matching our current kitchen setup and I don't think I could be any happier. They were professional and on time with the installation.
They adjusted changes in design multiple times and also adjusted our requests on installation changes. We spoke to 4 other companies, but chose them. Our empty kitchen space came out exactly how we wanted. I am surely working with them for all of my future projects.
Imagine A Custom Closet That Looks Like This
Got Questions About Working With A Closet Designer? Check Out These Frequently-Asked Ones
Custom closets offer numerous benefits that make them worth considering for homeowners. Unlike traditional closets, custom closets are designed specifically for your space and needs. They maximize every inch of available space, allowing you to create a highly organized and efficient storage solution.
With a custom closet, you can customize the design, layout, and features to suit your personal style and storage requirements. From shelves and drawers to specialized compartments and accessories, a custom closet provides tailored storage solutions that can transform your space into a functional and aesthetically pleasing area.
Yes, custom closets can add value to your home. Homebuyers appreciate well-designed and organized storage spaces. A custom closet not only enhances the functionality and aesthetics of a room but also creates an appealing selling point. Potential buyers see the value in a beautiful custom closet that maximizes storage capacity and provides tailored solutions for their storage needs. It can make your home stand out in the market and potentially increase its overall value.
Absolutely. We take note of how you store your clothes and accessories, the type of items you own, and how you use your space. Additionally, we discuss any pain points or frustrations you may have with your current closet setup, as well as your goals for your new system.
Custom closets are often perceived as more expensive compared to standard, pre-made options. The higher cost is due to several factors. Firstly, custom closets are built to your specifications using high-quality materials and craftsmanship.
The cost of premium materials, such as hardwood or specialized finishes, can contribute to the overall price. Additionally, the design and installation process for custom closets requires the expertise of professionals, which adds to the cost.
However, it's important to remember that the investment in a custom closet provides long-term value, improved organization, and tailored solutions that can enhance your daily life and the functionality of your space.
Yes, our pricing is transparent and provided on the spot. You'll know the cost of your custom closet system before we leave your home, allowing you to make an informed decision.
Opt for darker colors or high-gloss finishes for a luxurious look and feel. To elevate the overall aesthetic, incorporate modern design elements like sleek handles, decorative accents, or glass doors.
Ensure that your closet is designed to maximize storage capacity with ample shelving, drawers, and hanging space. This organized and clutter-free appearance adds a touch of luxury. Install appropriate lighting fixtures to create a bright and inviting atmosphere. LED lights or recessed lighting can add a luxurious ambiance to your closet.
Incorporate custom accessories like jewelry trays, shoe racks, or pull-out mirrors to add functionality and elegance. A well-organized closet instantly appears more luxurious. Use storage bins, dividers, and hangers to maintain a neat and tidy space.
Hundreds Of Homeowners Like You Recommend Our Services
We are proud to have received over 230 5-star reviews from homeowners like yourself. Find out what you can expect when working with Creative Closets LLC.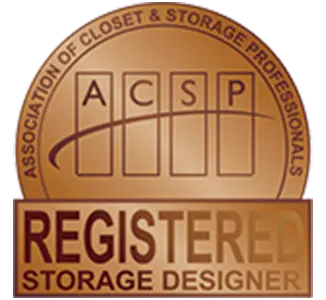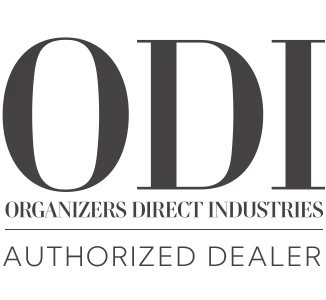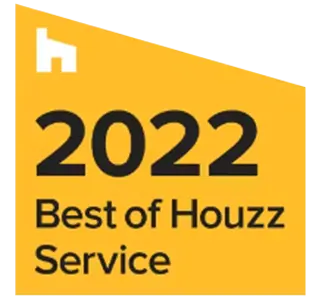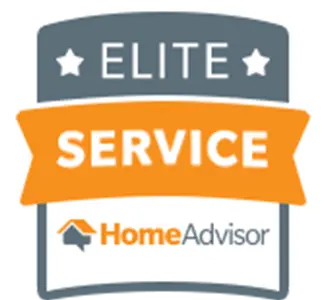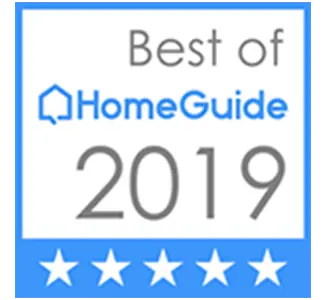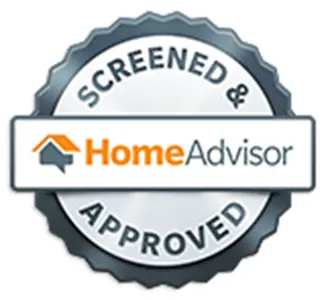 We worked with Creative closet to add closets to our Son's bedroom and master bedroom. We had amazing experience right from scheduling the first design appointment to the final installation. 
Design consultation was smooth, and Jerry walked us through all the available options and provided 3D visualization for the project which helped us visualize and make changes according to our needs. On the day of the installation we found the team very professional, they arrived in time and finished the work in time and cleaned up everything.
We really appreciate Creative closets for making our space organized and usable.
From making an appointment for in person design to installation, Creative Closets was professional and prompt.
They were able to explain step by step to me and it was a breeze to customize the closets as to what I wanted!
Also, the closet installation comes with lifetime warranty which is a plus! Thank you so much Creative Closets!
The designer salesman took accurate measurements and provided 3d drawings. Installer was respectful and polite and installed with care. Highly recommend.
We had our master closet and pantry customized by Creative Closets. They designed the closets when they came out for the consultation and gave us a quote at the same time. No waiting for a call back, which we appreciated. It did take awhile to get on their schedule as they're busy, which attests to their quality and competitive pricing.
They completed the installation job professionally and timely. When we discovered that a couple shelves were placed at the wrong height, they came back almost immediately and took care of it. The follow up after the job shows they care about their customers and reputation. We highly recommend Creative Closets.
Don't settle for a cookie-cutter closet - let a closet designer create a custom solution for you
Discover the difference a professionally-designed closet can make in your daily life.