The Best Closet Systems In Bellevue
You've reached your go-to destination for the best closet systems in Bellevue!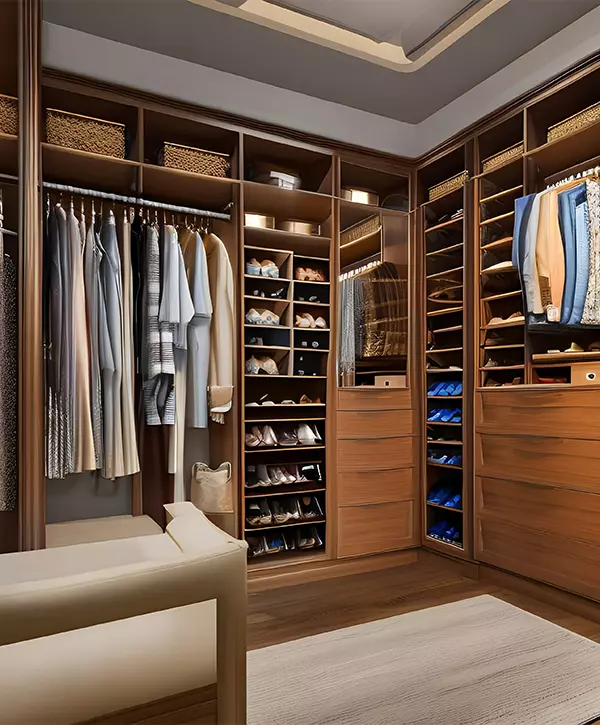 If you're tired of dealing with clutter and long for a perfectly organized closet, you've come to the right place. Our custom closet systems are designed to revolutionize your living space, providing you with an efficient and stylish solution to conquer clutter and maximize your storage space.
At Creative Closets, we know how challenging it can be to keep your home tidy and organized. We understand that having a well-designed closet system can make a big difference in making your life easier. It can help you find things quickly and create a sense of balance in your living spaces.
With our experience and attention to detail, we're here to help transform your closet into a practical and attractive space that fits your needs and personal style.
I have 5 of my closets designed and installed and couldn't be happier! Everyone was friendly and they did a wonderful job. I'm so glad I redid my closets it has made such a difference for living in a small space.
Let's End The Quest Of Searching For Items
Imagine starting your day smoothly, stepping into a beautifully organized closet that reflects your unique style. No more frantic searching for misplaced items or dealing with messy spaces.
At Creative Closets, we specialize in creating innovative storage solutions that simplify your daily routine and bring order to your storage areas. Our goal is to save you time by offering the best closet systems in Bellevue without the hassle of visiting multiple showrooms. We're here to make your life easier and more organized.
Discover the Creative Closets perks, including:
Contact us today and we'll send our designer to your Bellevue home to discuss, measure, plan, curate, suggest, and show you how your dream closet unfolds before your eyes.
Discover the Perfect Closet Systems for Your Bellevue Home
Are you seeking the ideal closet systems to transform your Bellevue residence? Look no further. At Creative Closets, we specialize in creating custom closet designs tailored to meet the unique needs and preferences of homeowners like you.
Our practical and stylish solutions will help you optimize and organize your living space, turning your home into a peaceful and orderly retreat.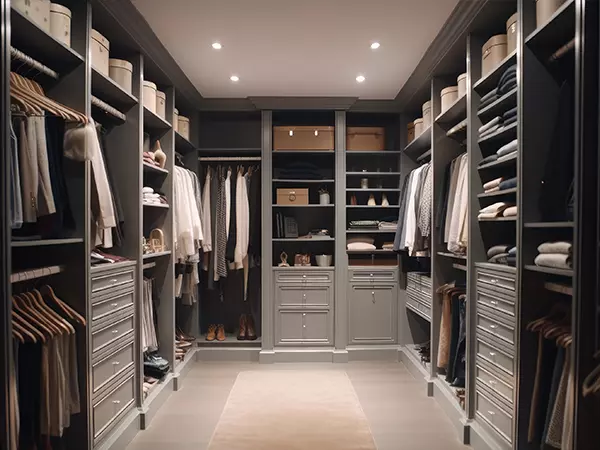 Imagine effortlessly creating your own stunning magazine-worthy closet. With our spacious walk-in closets, it's possible. Designed to accommodate your garments and accessories, these closets offer abundant storage options that you can customize to your preference. Featuring elegant shelving and specialized compartments for jewelry, clothing, and accessories, our walk-in closets provide stylish and convenient storage for fashion enthusiasts like yourself.
If space efficiency is a priority, our reach-in closets are the perfect choice. These closets combine functionality with a streamlined design to maximize your available space. With customizable shelves, hanging rods, and drawers, accessing and organizing your clothes becomes a breeze. Say goodbye to the inconvenience of digging through piles of clothes and embrace the ease and efficiency of our reach-in closets for a hassle-free daily routine.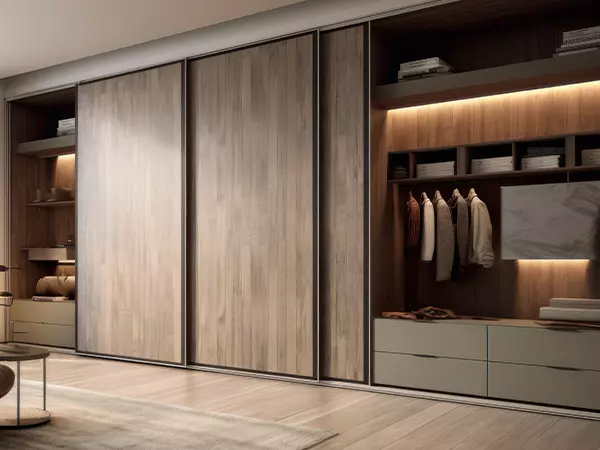 Is your bedroom in need of organization and tranquility? Our wardrobe closets can work wonders. These standalone storage solutions offer customizable compartments and ample room to display and sort your belongings. With our wardrobes, you can enjoy an organized environment that sets the tone for a calm and peaceful start to your day.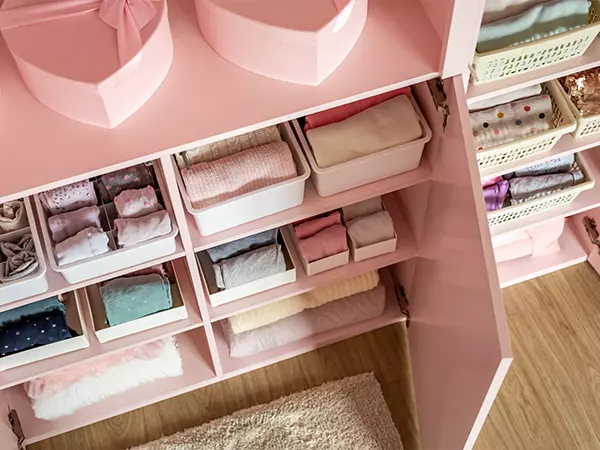 Keeping your children's rooms organized can be enjoyable and educational with our kids' closet systems. Designed with different-sized drawers, adjustable shelves, and safety hooks, these closets make tidying up a breeze. They provide an exciting learning opportunity for your young ones, allowing them to select their own clothes and accessories for the day, fostering independence and playfulness.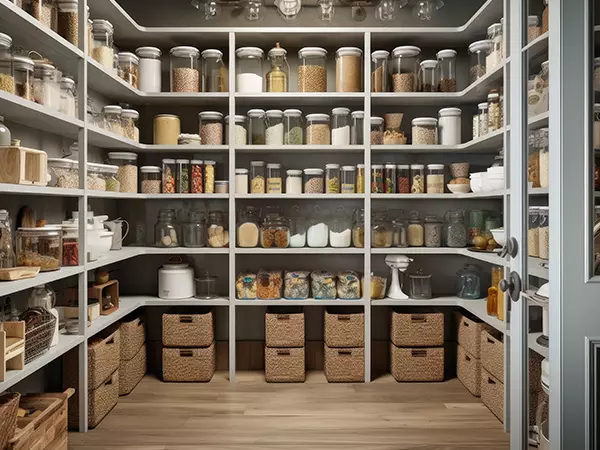 Enhance your kitchen storage with our personalized pantry solutions. Our pantry systems help you visualize and utilize all your ingredients before they expire. With adaptable shelves and specialized storage for spices and cans, meal preparation becomes a pleasant and efficient experience. Our solutions optimize storage space, ensuring easy access to all your pantry items.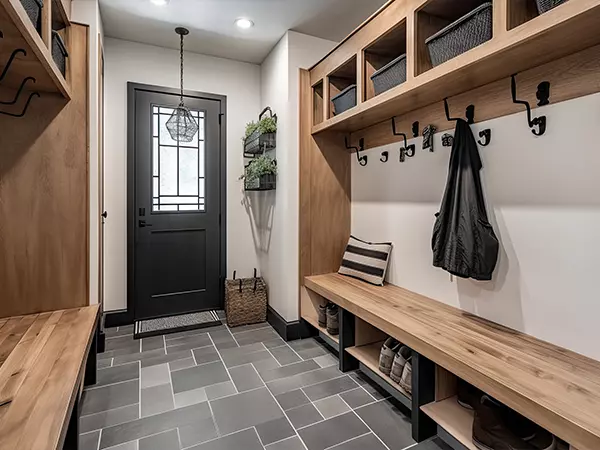 Our customized entryway cabinets offer the perfect solution for storing coats, shoes, and accessories, creating a welcoming atmosphere. No more tripping over footwear or wasting time searching for your keys. Impress your guests with a tidy and inviting entryway that sets the tone for a well-organized home.
Choose our expert closet systems to bring order, style, and efficiency to your Bellevue home. Contact us today and let us help you create the perfect storage solution that suits your unique needs and enhances your daily life.
Join Our Thousands Of Happy Customers
Read our clients' testimonials to understand why homeowners in Bellevue and other areas trust us at Creative Closets to enhance their living spaces with our excellent custom closet systems. Discover the satisfaction and delight our clients have experienced working with us.
The designer was fantastic! He really showed us how we can utilize our spaces much more efficiently! The guys who installed the cabinets were great! Personable, very nice and interactive! We loved the whole experience!
The designer sales person took accurate measurements and provided 3d drawings. Installers were respectful and polite and installed with care. Highly recommend. Only wish the gold hardware was more gold than they actually are.
Breaking Down Closet Systems Cost In Bellevue
When it comes to investing in a custom closet system, finding the perfect balance between quality and affordability is key. Here at Creative Closets, we prioritize your budget by offering transparent pricing options tailored to your unique needs and preferences.
To give you an idea of what to expect, we've compiled a list of recent closet system installations with associated pricing. However, it's important to remember that every closet is unique, so the prices provided are merely indicative.
| Closet Type | Size | Average Price |
| --- | --- | --- |
| Walk-in Closet | 20' x 20' | $9,500 |
| Reach-In Closet | 8' Long | $2,000 |
| Kitchen Pantry | 8' x 5' | $4,500 |
| Entryway Cabinet Wall | 8' | $6,500 |
| Kids' Reach-In Closet | 8' Long | $2,800 |
Let's explore the key factors that affect the cost of closet systems. Our goal is to provide you with the information you need to make a satisfying and cost-effective choice.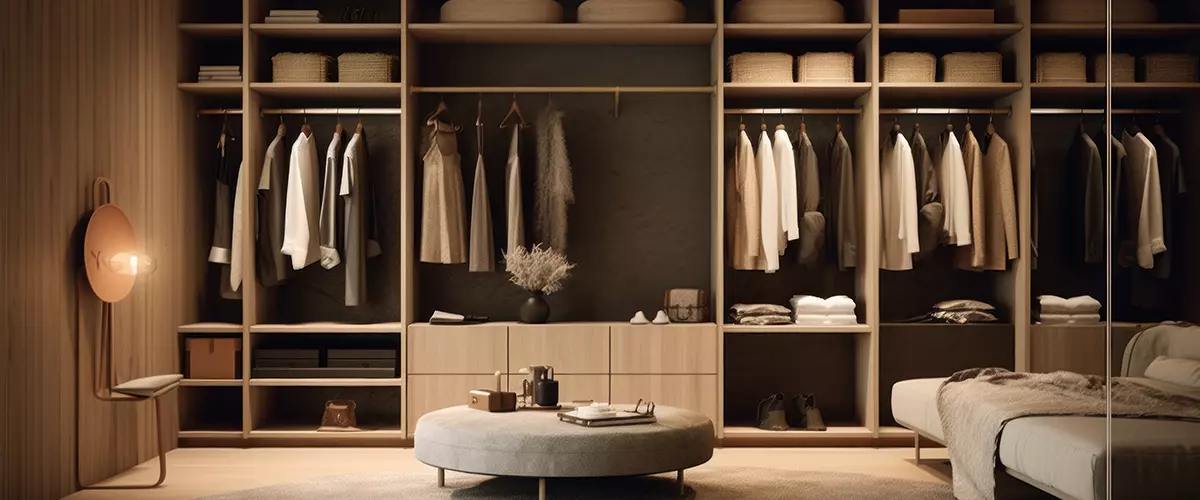 The size and complexity of your closet system play a significant role in determining its cost. A small reach-in kids' closet will likely never cost as much as a large high-end walk-in closet in a master bedroom.
For instance, a typical 8′ x 5′ kitchen pantry may cost around $4,500, while a spacious 20′ x 20′ walk-in closet could be priced around $9,500.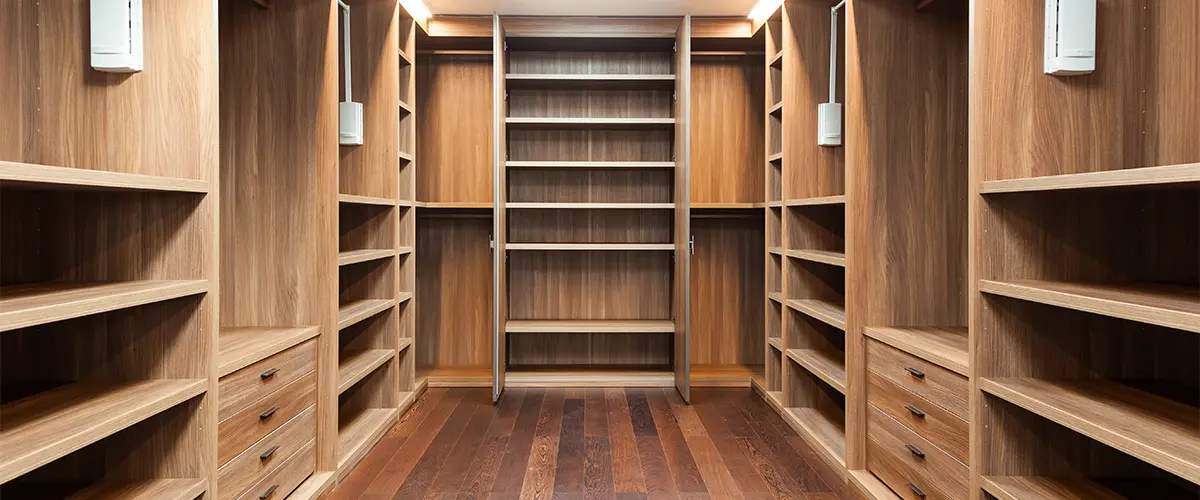 Choosing a basic walk-in closet is one thing, but tailoring it with specialized jewelry cases, hooks for your ties, customized corner shelving, or any other customization that goes beyond the basics of a closet system.
Consider an 8-foot-long customized entryway cabinet wall, which may be priced at approximately $6,500. On the other hand, an 8-foot-long reach-in closet designed for children might cost around $2,800.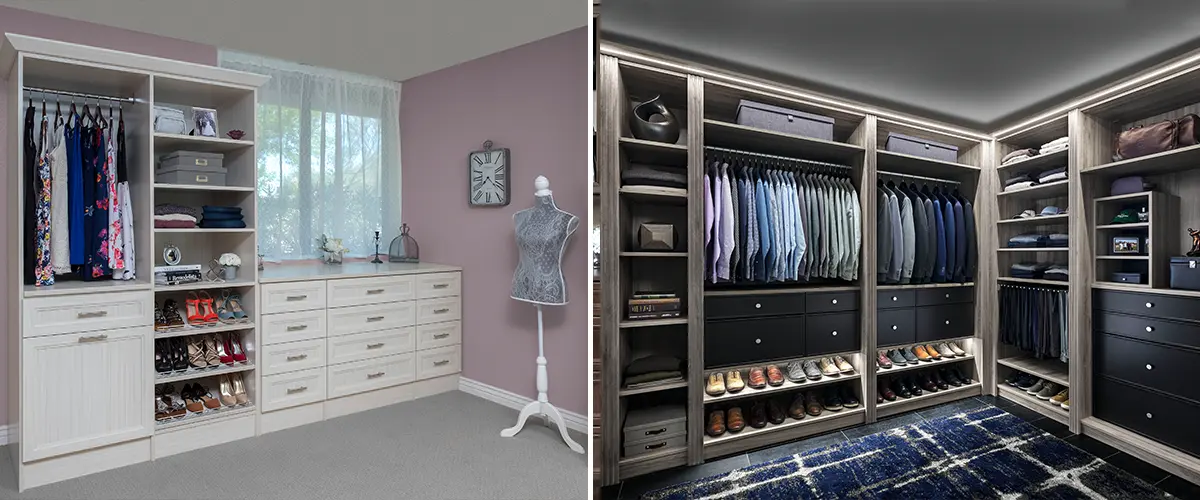 When it comes to your custom closet system, it's important to understand that the inclusion of accessories and features can have an impact on the overall price. These additional elements are designed to enhance the functionality and convenience of your closet, but they do come with their own costs.
By incorporating accessories such as shoe racks, tie hooks, jewelry display lighting, and integrated mirrors, you can customize your closet to meet your specific needs and preferences. However, it's essential to consider that each accessory adds to the total expense of the project.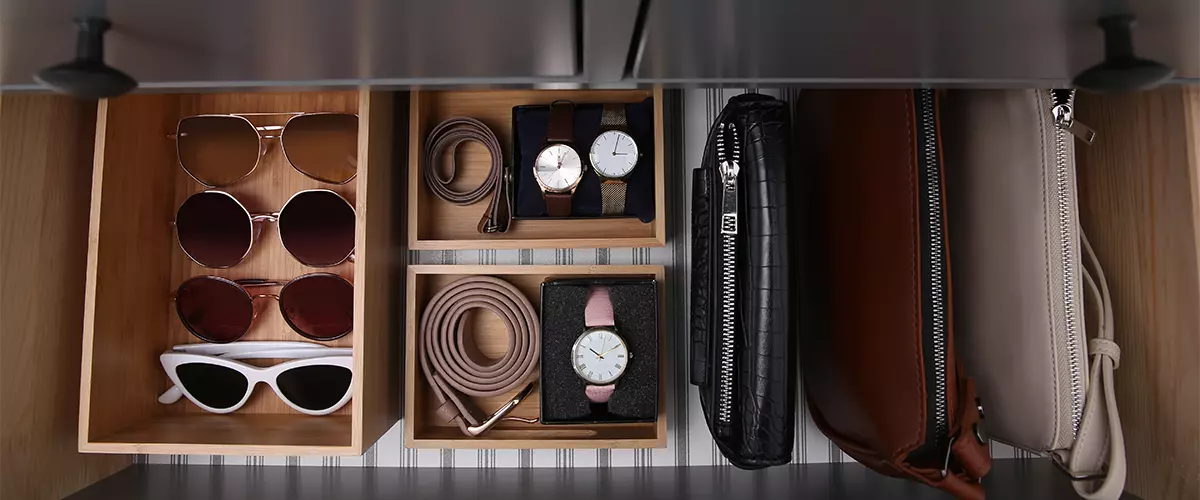 The installation process involves various factors that can impact the final cost. These may include wall preparation, demolition, electrical work, and customization to fit specific dimensions or architectural features of your space. Complex installations often require additional time and labor, which can result in increased expenses.
Rest assured, our team of skilled professionals will handle the installation process efficiently and effectively, ensuring that your custom closet system is installed to the highest standards.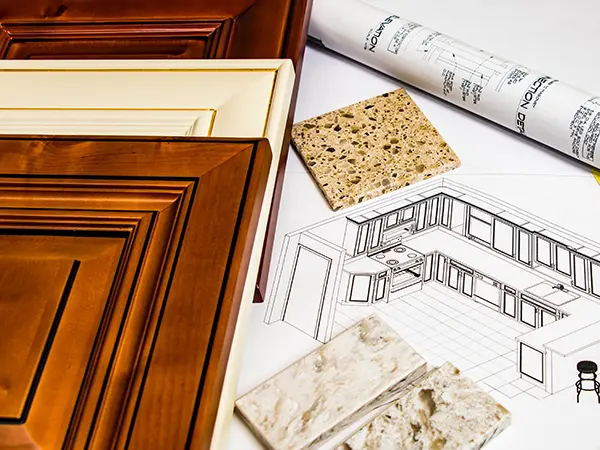 Our team will listen to your requirements and preferences, working closely with you to design a tailor-made solution.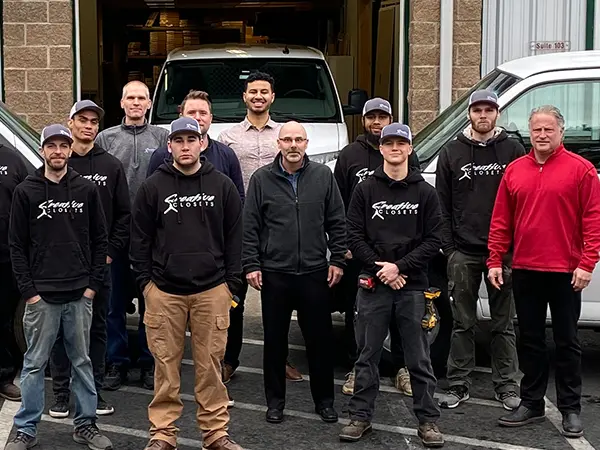 Our skilled professionals will efficiently install your personalized closet system, ensuring that every detail is properly set up and aligned.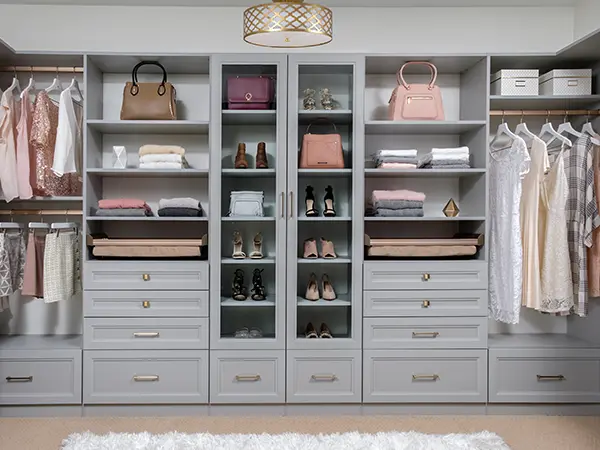 Enjoy the benefits of a well-designed and functional closet system that enhances your living space.
We Bring Decades Of Experience To The Table
Showcasing Our Custom Closet Masterpieces
Get inspired by the exceptional craftsmanship and attention to detail displayed in our work, and envision the possibilities for your own dream closet.
Yes! Investing in a closet system is worthwhile as it can significantly enhance the functionality, organization, and appearance of your space. Closet systems offer effective storage solutions, optimize the utilization of available space, and simplify the process of keeping your possessions well-organized and within reach.
Custom closet systems can have varying depths depending on your needs and available space. Standard depths typically range from 12 to 24 inches, but we can make them deeper and have them fit all sorts of garments, accessories, or other things you'd like to store out of sight.
A custom closet system is a personalized storage solution designed to optimize space and cater to individual needs and preferences.
Unlike standard pre-built closets, a custom system is tailored to the specific requirements of the homeowner, offering a range of features and configurations that maximize storage capacity and improve organization.
Custom closet systems typically include elements such as adjustable shelves, specialized compartments, hanging rods, drawers, and accessories, all customized to fit the available space and accommodate your specific belongings.
Be A Part Of A Premium Closet Experience
At Creative Closets, we don't cut corners or make you wait forever to have your closets installed. You can have everything from top-notch financing options to an in-home showroom experience that brings everything you need to make closet choices straight to your doorstep.
Our designer will work with you at your home to turn your ideas into a reality and design a space that suits your needs perfectly. We'll take great care in paying attention to every detail of organization and aesthetics to ensure that the result is of the highest quality. We work with you in close collaboration throughout the process.
What makes us the right choice:
Organize Your Home with Bellevue's Premier Closet Experts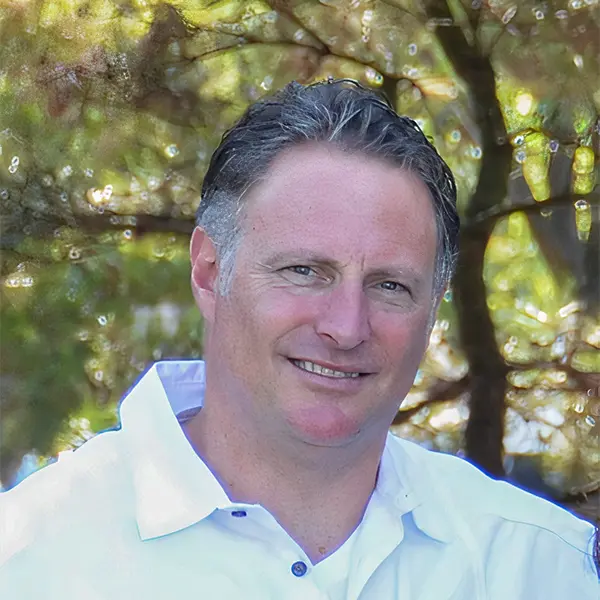 Discover the joy of a perfectly tailored living environment that enhances your daily life and enjoy the lasting benefits for years to come. Your dream home is just a phone call away.
Contact us today at (425) 428-5073 or via the contact form below, and let our team of dedicated professionals bring your vision to life.