Designing & Installing Closet Systems to Help Woodinville, WA, Homeowners Stay Organized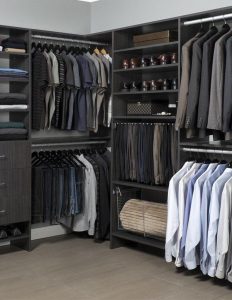 Tired of sifting through endless clutter in your home's closets? Here's some good news: Not only is there an easy way to reclaim your closet space, you can also do it with your own personal touch! Just call Creative Closets. Since 2003, we've designed and built eye-catching closet systems for homeowners in Woodinville, Washington, and the greater Seattle area. And with our commitment to giving you the red carpet treatment, our name is the one to know when you want to guarantee yourself an exceptional experience.
Custom Closet Systems
From a walk-in closet in your master bedroom to the kids' closets or a reach-in elsewhere in your home, Creative Closets can create the perfect closet system for your needs—no matter how big or small. We'll even help you get your kitchen pantry, laundry room, and home office organized, too. We can equip your closet with:
Shoe racks
Cabinets and drawers
Countertops
Jewelry trays
Belt and tie racks
Sliding baskets
Glass shelves (with LED lighting)
Mirrors
Poles and cups
Spice racks
Clothes hampers
Other storage solutions
With numerous color and finish options and hardware choices available to you, your new closet system will mesh beautifully with the aesthetic of the room it's in.
Garage Organization Systems & Flooring
At Creative Closets, we don't just stop with closet systems inside the home. We can also unlock more storage potential and hit the refresh button on your garage. In fact, we may even be able to design for you a custom garage organization system that enables you to more easily store items from within your home, even beyond what you normally keep in the garage!
To do this, we install new cabinets, wall storage options, and workbench countertops to maximize your garage's use of space while also creating a fresh, vibrant new look. And you can also count on us to help protect what's underneath your feet by installing a modular garage flooring system.
Our Custom Closet Design Process
The first step to a new and improved closet system is a free, one-on-one consultation with a member of our talented design team. There, we'll assess your current closet conundrums and determine the best ways to reorganize your belongings within it. We'll take measurements of your closet and show you samples of our products, and from there we'll create a three-dimensional rendering of what your new closet system could look like so you can see what you're getting before a single component is installed.
After you're happy with the finished design, we'll schedule a time for our installers to come to your home and get to work on your new closet system. In many cases, we can complete your project in just one day.
Why Choose Creative Closets for Your Custom Closets?
At Creative Closets, we've been providing exceptional client experiences since 2003 and strive to give you the best customer service you'll find anywhere in Washington. Countless local homeowners have trusted us over the years because we:
Have highly skilled, certified installers who constantly receive training on the industry's best and latest installation practices and product offerings
Maintain a sparkling jobsite and will vacuum, dust, and clean the area before we leave
Are a locally owned company with decades of industry experience to our name
And no matter what services you are receiving, you can trust that we will meet your needs and treat you and your home with the utmost respect.
How to Prepare for Your Closet Organizer System Installation
A common concern we see among our customers is that they already have existing shelves or organization systems within their closets. If this is the case for your closet, don't worry— Creative Closets can take of it! Our team will properly remove any old closet materials and dispose of them properly before beginning your closet system installation, so you can be sure you're starting with a fresh and clean slate.
Once your closet is prepped and ready for your installation, it's time to choose your drawer and door styles. Choose from options such as:
Milan
Flat Panel
Modern
Raised Panel
Pillowtop
Shaker
Allegra
After you choose your drawer and door styles, you can pick from our wide selection of in-hone accessories including:
Slide out mirrors
Tie racks
Divided drawers
Storage boxes
Valet rods
Belt racks
Accessory organizers
Fold stations
Hanging rods
Hampers
Hooks
Ironing boards
Pants racks
Scarf racks
Shoe fences
Shoe organizers
And no matter what options you choose, you can rest assured knowing that it will be expertly installed by our talented team.
Learn About Our Closet Organizer Systems & More
If you're interested in learning more about our closet organizer systems, contact Creative Closets today to schedule a complimentary consultation at your Woodinville, WA, home with our highly trained staff. We would be more than happy to answer any questions you may have about our closet organizer systems and installation services. We even offer financing to our qualified customers.