The Best Garage Cabinets In Bellevue
Make your garage pop with efficiency! Get the best garage cabinets with the only pro in Bellevue!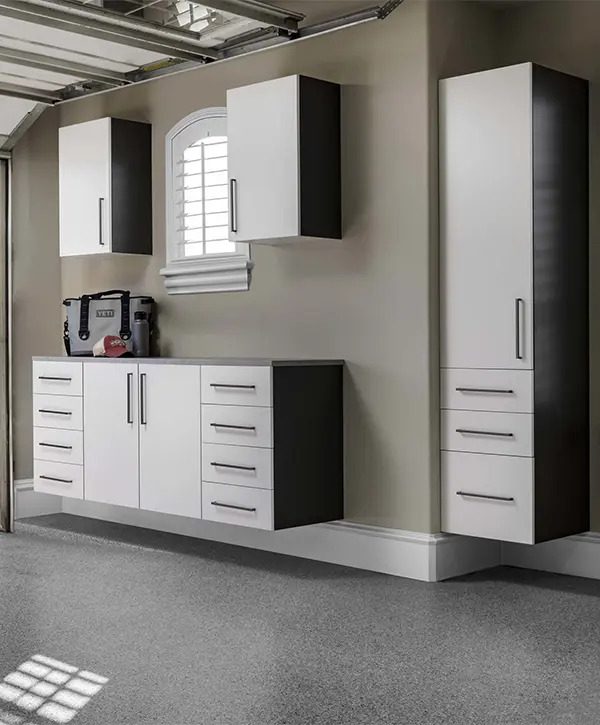 From daily use to the occasional weekend DIY project, finding stuff in a cluttered garage is time-consuming, frustrating, and a waste of your energy overall. But what if you got to drive your car into the garage every day, not trip over anything, and actually have space to move around?
We feel your pain and we want to change that. That's why we proudly offer the best garage cabinets in Bellevue. 
Our cabinets are designed to organize your space and provide a much tidier environment. So let us help you make the best out of a clutter-y situation.
We've used Creative Closets on three occasions to outfit three closets and a garage. The quality is fantastic. The price is great. The service is impeccable. If you're looking for great-quality at an affordable price, call Creative Closets.
Want To See If We're A Good Match?
For more than 20 years, we've been serving Washington homeowners by helping them maximize their closet space, but also by designing and installing their kitchen pantries, linen cabinets, and garage cabinets.
We bring a lot of benefits to the table so you can enjoy:
Still not convinced? Get in touch with us today and enjoy your complimentary garage assessment where we'll give you the design and pricing without any obligations.
What Features Do Bellevue Homeowners Want To See In Their Garage Cabinets
You want garage cabinets and storage customized to your space. We get that. This is why we offer various solutions and customization options to allow us to make space for everything you want to store in your garage.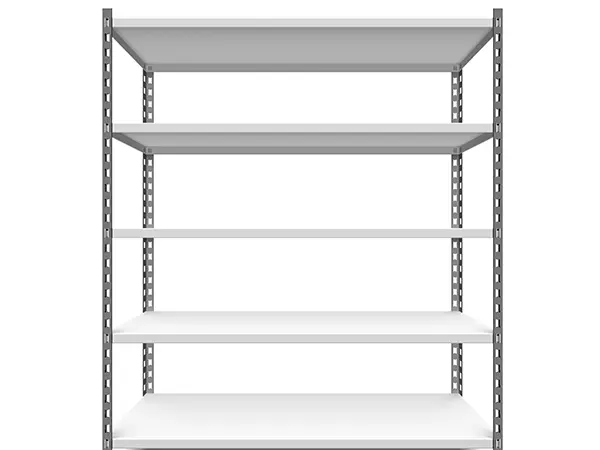 Adjustable shelves in garage cabinets are essential for any homeowner looking to maximize their storage space. Adjustability allows for flexible customization, ensuring items of different shapes and sizes can be stored with ease. You don't want any constraints when it comes to the height of the shelves because you want diversity in terms of items you can store here.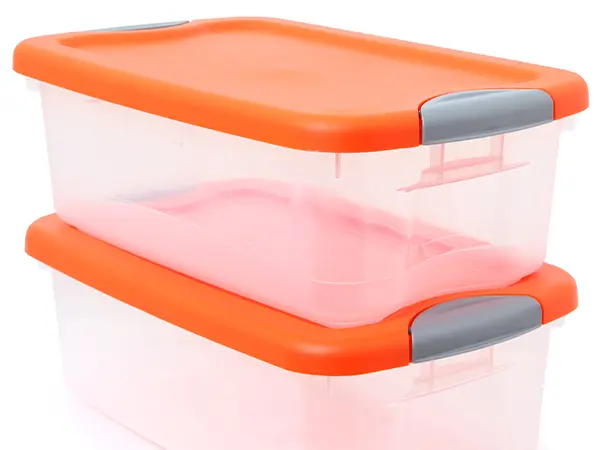 Storage Boxes and Baskets
Storage boxes and baskets are essential when it comes to keeping a garage space organized. Professional organizers recommend different types of storage containers, specifically geared towards each individual space within the home, including garages. These can range from plastic bins and mesh bags for smaller items to larger boxes for heavier objects.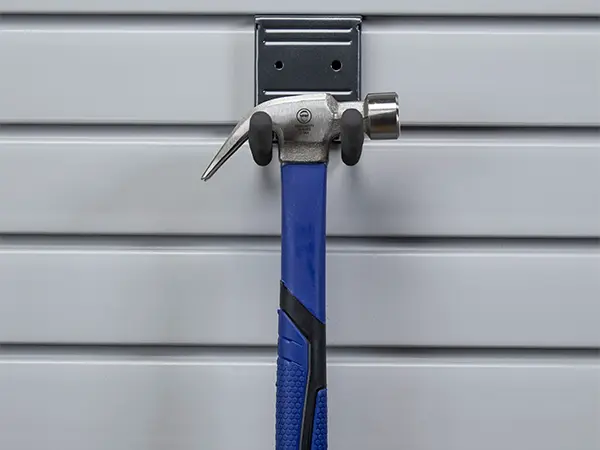 Garage cabinets are infinitely customizable and feature various hooks for attachment, making them perfect for organizing tools, garden equipment, sporting goods, and other items. Hooks provide valuable options for making sure stored items are safe, secure, and accessible while freeing up floor or counter space.
Organizing and storing sports equipment can be a difficult task, but thankfully there are several sports racks that can simplify this process. Sport racks provide optimal storage space by featuring adjustable hooks, bats & balls holders, and hanging loops for other items.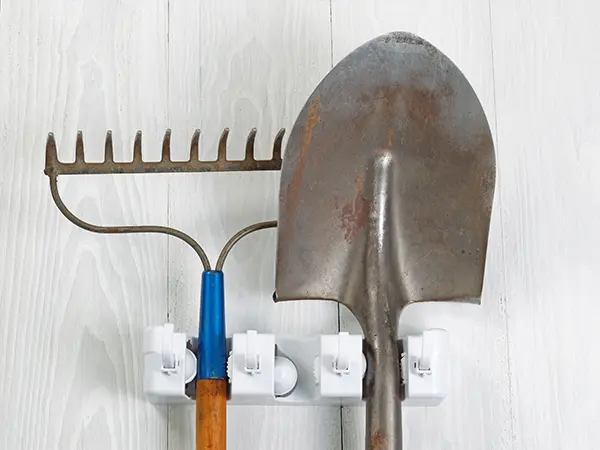 Tool racks are an essential part of any garage cabinet's organization system. Tool racks come in various shapes, sizes, colors, and hardware features to help you neatly store and organize your tools. For heavy-duty power tools, metal tool hooks provide a secure place to hang them safely off the ground.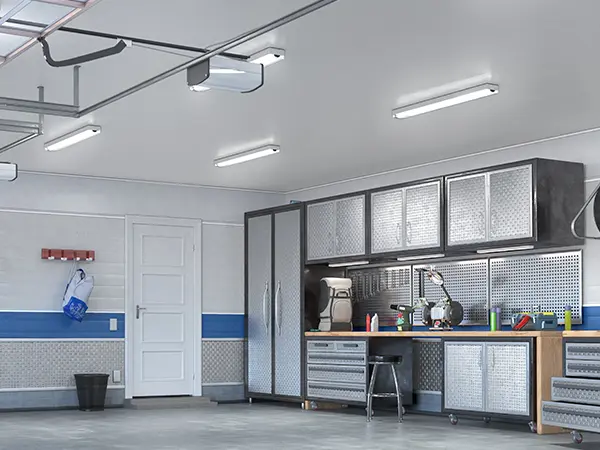 Garage cabinets with integrated lighting are one of the most popular features available. They provide visibility and safety when working in the garage, allowing you to navigate around safely without accidentally knocking over tools or boxes. Lighting also helps brighten up your workspace and can improve its aesthetics.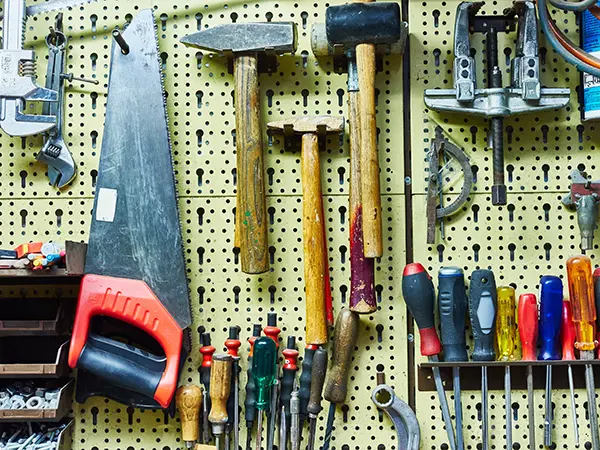 Slatwall systems provide a practical and versatile solution for garage storage. Slatwall organization creates efficient use of space by providing multiple tiers for organizing different types of items, eliminating clutter on the floor or walls, and creating additional shelf space in the garage or workshop.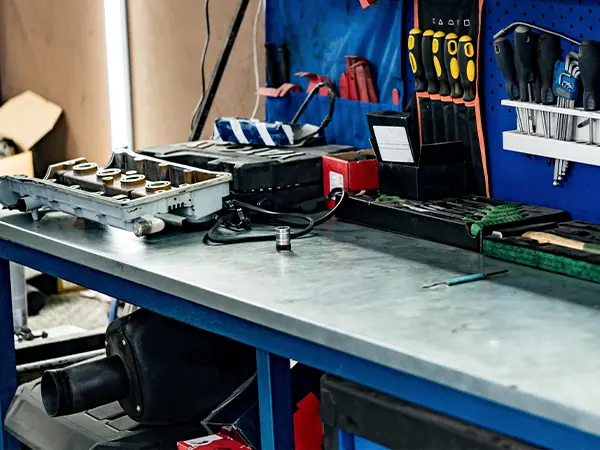 When it comes to outfitting your garage with storage solutions, one of the most versatile and useful pieces of furniture you can invest in is a workbench. We can help establish the perfect space for your workbench or customize one to a size that fits a small garage. We can even create drawers and cabinets for it.
Our designer will sit down with you and discuss your garage expectations and how you use your space. You'll get personalized garage cabinets that perfectly match your needs.
Your Neighbors Loved Us - And So Will You!
No matter where in Bellevue you live, we've got you covered with some of the best garage cabinets around here. Here's what people say about installing their new cabinets with us!
Broc and the installers were great! Very professional and attentive. Our experience with them was great and we love our closet and the shelving installed in our garage.
The gentlemen who showed up were quite professional. Before they began, they went over all the details with me. They removed all of the old closet and installed the new. When they left, they left the work area in the garage nice and clean.
Understanding Garage Cabinets Cost In Bellevue
To provide transparency and clarity regarding the cost of garage cabinets, we want to make sure you know exactly how much money you'll be spending.
We've included the cost of some of our previous garage cabinet projects to help you gauge if it fits within your budget. Please keep in mind that these figures are just a rough estimate, as each project is unique.
| Garage Storage Project | What's Included | Price |
| --- | --- | --- |
| 20' Wall Of Cabinets & Workbench | Pewter cabinets, full-lenght handles, 10+ separate storage areas | $7,000 |
| Workbench & Slatwall Panel | Tall cabinets, workbench with top + bottom cabinets, Slatwall tool storage system | $9,000 |
| 22' Full Wall Cabinets & Slatwall | Tall cabinets, Slatwall system, workbench with cabinets and drawers, overhead storage | $11,000 |
No cost analysis would be complete without discussing the factors that will influence how much money you spend on garage cabinets.
Garage cabinet size and configuration directly impact the end cost. Larger cabinets require more materials and can occupy more space, affecting the overall cost. Custom configurations with specialized compartments or unique features may involve additional manufacturing and customization costs.
In a recent project, we successfully installed custom garage cabinets on a 20′ wall at an affordable price of approximately $3,500. These cabinets were equipped with full-length handles, over 10 separate storage areas, and a sleek pewter finish.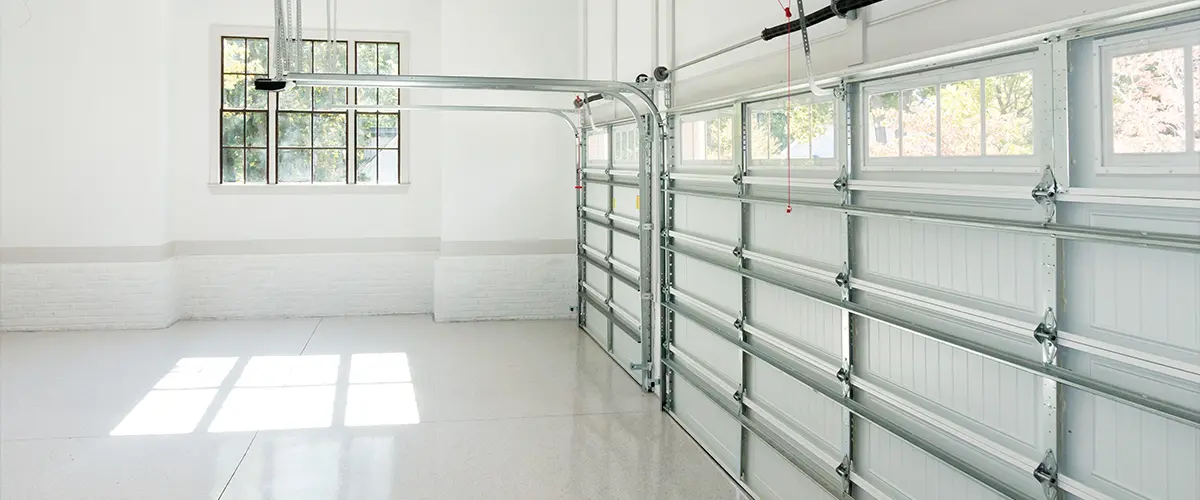 Garage customization and accessories directly impact the overall cost of your project. For instance, our tall cabinet solution with an integrated workbench and Slatwall tool storage system ranges from $8,500 to $9,000, depending on the size needed.
Including overhead storage racks and cabinets above the workbench can increase the price to approximately $11,000 for larger systems. During the consultation, we'll discuss your preferences and provide a detailed cost breakdown to create a customized solution that fits your budget.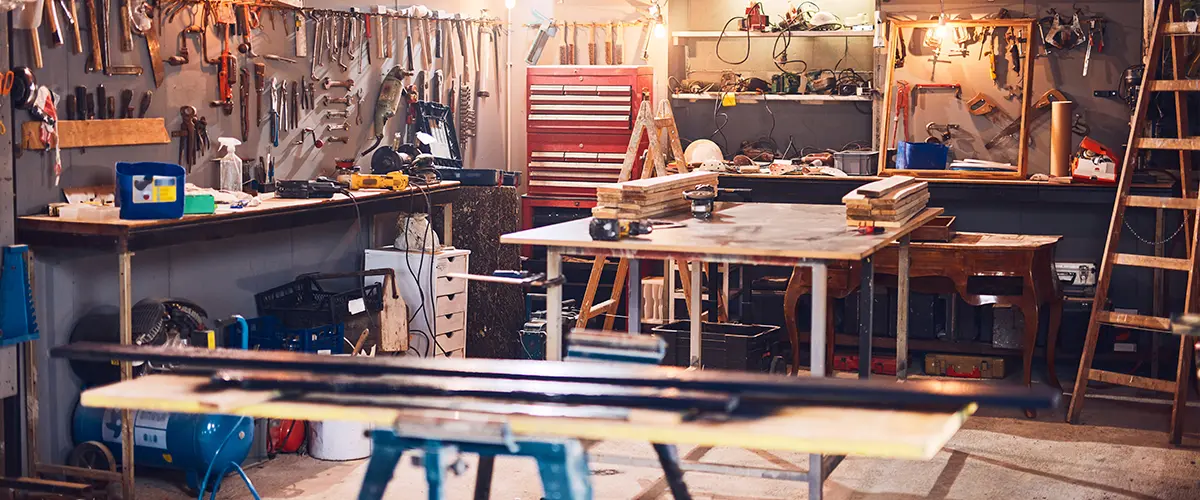 Garage customization and accessories directly impact the end cost. Think about how some paint colors are more expensive than others, but also how different accessories change the end price of any cabinet or closet. It's one thing to opt for a basic garage cabinets and it's another thing to want something fully customized, with options like pull-out drawers or integrated lighting.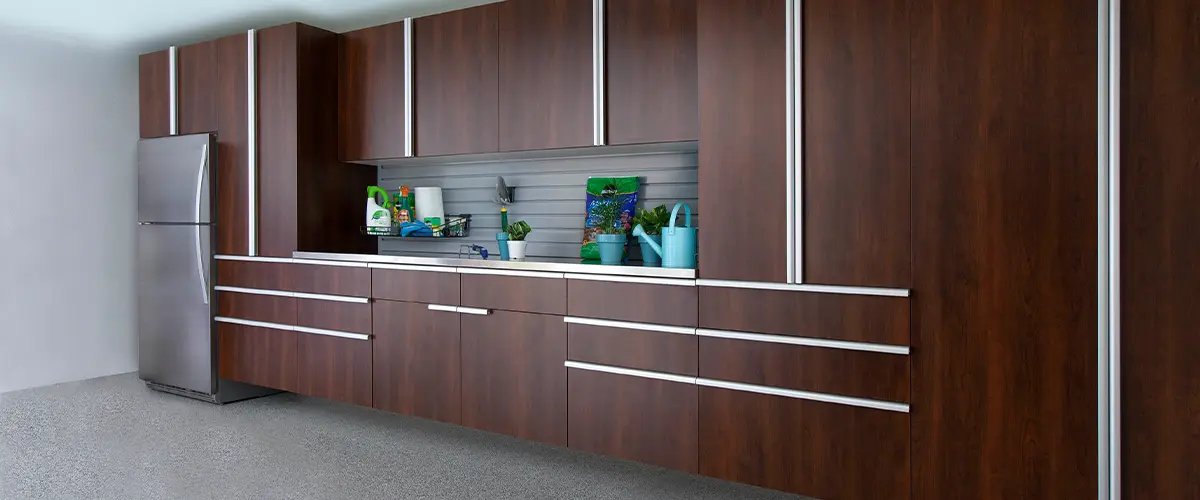 If your garage walls require preparation or repairs before installing the cabinets, such as patching holes or fixing uneven surfaces, it may increase the installation cost. The time and effort required to ensure a smooth and secure installation can vary based on the condition of the walls.
Electrical and plumbing requirements can affect the complexity and cost of garage cabinet installation. Integrated lighting may involve additional wiring and installation expenses, while plumbing needs like utility sink water lines may require specialized skills and impact the project cost.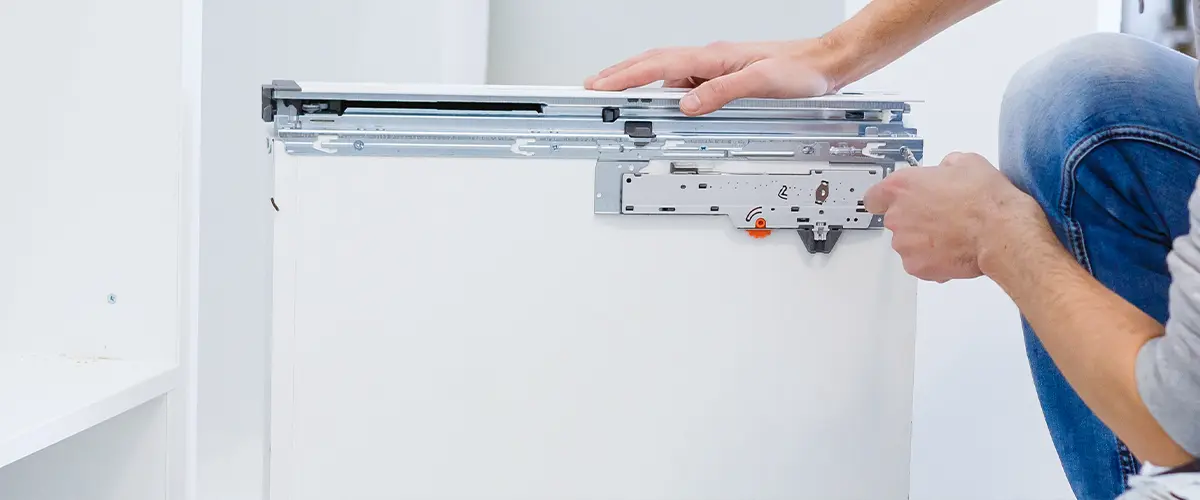 Contact us at Creative Closets today to learn more about our thermally-fused cabinets and start transforming your garage into a space of unparalleled organization and efficiency.
Here's How Everything Goes...
Get The Garage Cabinets In Bellevue That Never Disappoint
You might have heard about pre-made garage cabinets that are essentially the same. They come with a fixed design, meaning customization options are limited and may not be sturdy enough for heavy-duty use. We provide a solution to address all of these concerns by offering durable cabinets that are highly customizable. 
With our garage cabinets, you no longer have to worry about losing items behind them. The cabinets have integrated backings that will keep everything in its place. You can store your items without fear of damaging your walls or leaving scratches.
Our garage cabinets have finishes made from thermally-fused laminate that resist chipping, fading, peeling, and bubbling. Plus, they come with a lifetime warranty, which is great for such an important investment.
The cabinets' shelves are one inch thick and have a weight capacity of 100 pounds. They are strong enough to safely hold heavier items without buckling or warping. You can store items on them without worrying about their stability or having to rearrange them.
Common Garage Cabinets Questions
We had our garage renovated by Creative Closets and we're extremely happy. We had multiple cabinets installed, slat walls, overhead racks, etc. and our dream of having an organized garage is now a reality! Highly recommend the Creative Closets crew.
Why Choose Us For Your Bellevue Garage Cabinets?
Experience the Creative Closets difference – we're not here to simply replicate designs from one home to another. We appreciate your individuality and offer an exceptional in-home showroom experience tailored to you. 
In just a 60-90 minute appointment, we will discuss your needs, meticulously map out your garage, help you visualize and make changes if desired, and provide you with accurate pricing.
When you hire us:
Get The Garage Cabinets In Bellevue That Will Never Let Your Down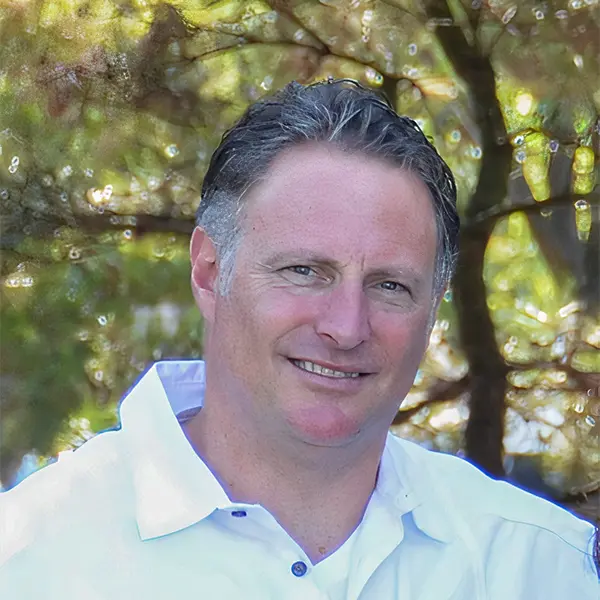 Take the first step towards reclaiming your space and embracing a new level of functionality. Schedule your consultation today at (425) 428-5073 and lets give you a customized garage solution that aligns with your unique style and needs.