Closet Storage: Have Everything In The Right Place
Browsing through your closet is a breeze when you have the ideal closet storage solutions in place.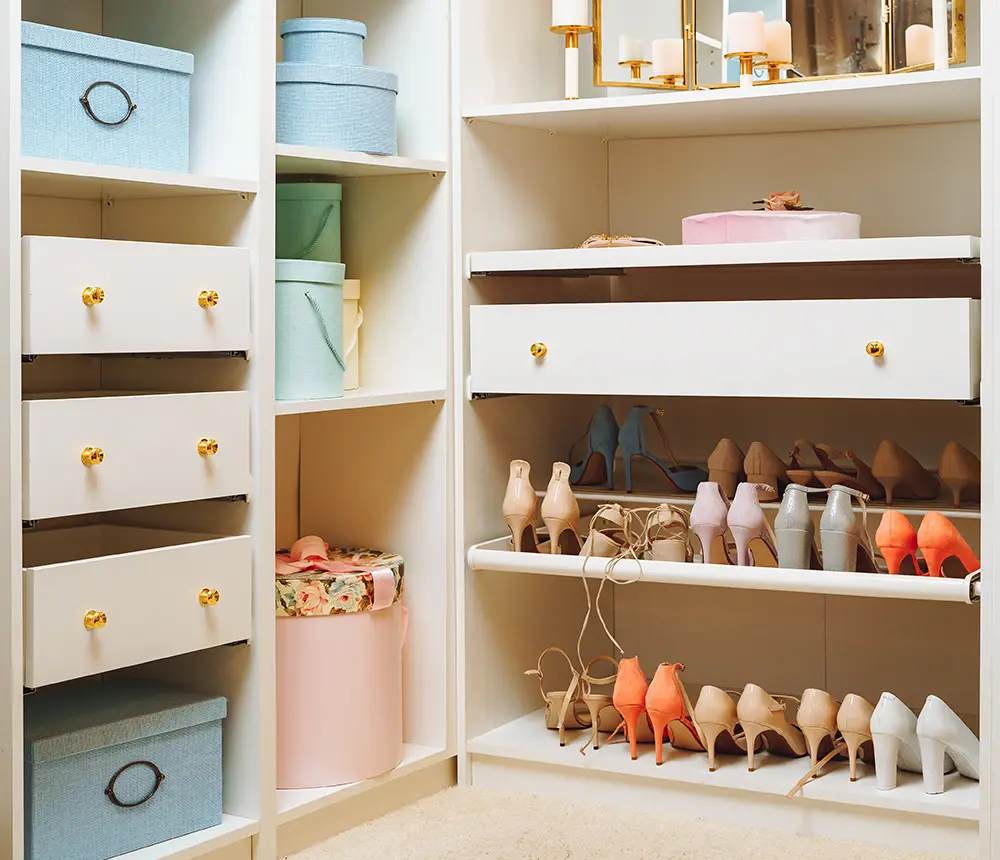 Scroll to discover your options for closet storage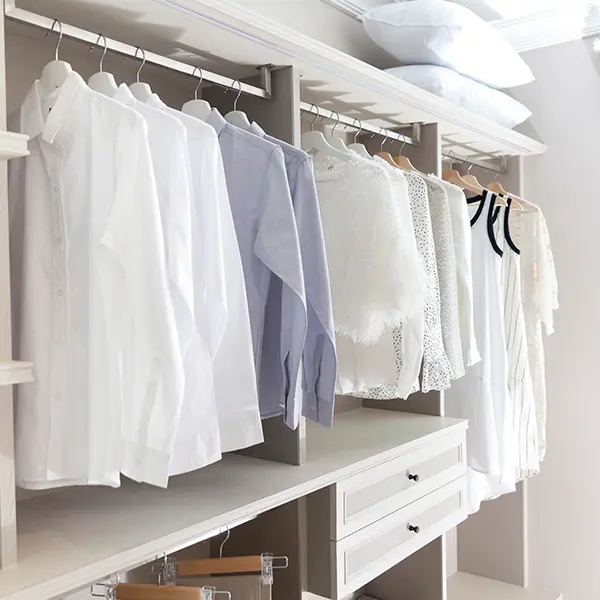 the Joy of an Immaculate Closet Space
As someone who appreciates the value of a good outfit, you know the importance of having a wide range of accessories to elevate your daily look. But with so many pieces, it can be a hassle to keep everything organized. That's where Creative Closets comes in!
With thousands of happy customers and close to that 10K installed closets milestone, we want to offer homeowners like yourself the best possible closet installation experience.
Delightful Benefits of a Neat and Tidy Closet
With a wide variety of closet organizers to choose from, keeping your shoes, belts, ties, jewelry, and purses more neatly organized and easily accessible has never been easier.
Grab everything you need without wasting time, thanks to storage solutions such as:
Scroll below to learn more about each option.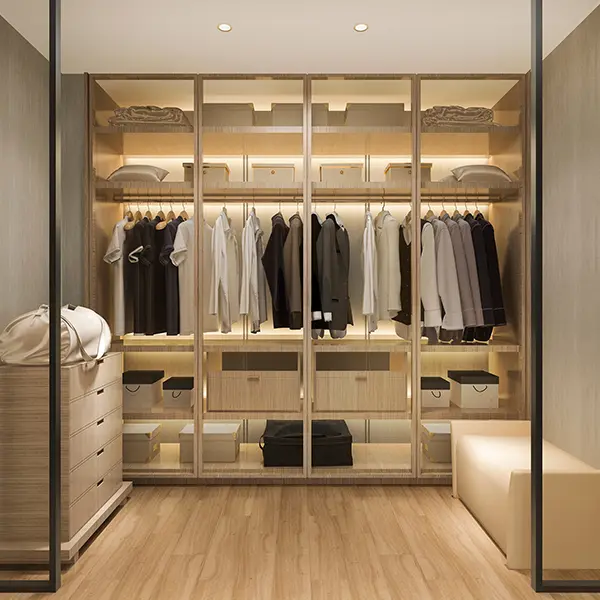 A Guide to Closet Storage Types and Features
 If you've never researched closet storage solutions, you might not even know how efficient they can be and what exactly they can help you organize. Here is everything you need to know.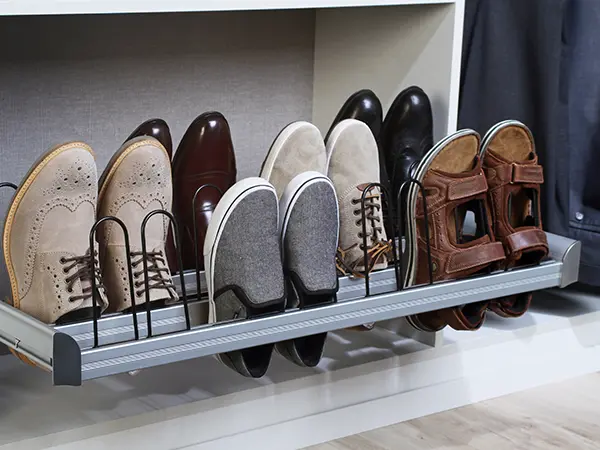 Elevate your closet organization with an absolute essential – shoe racks! Say goodbye to the chaos of shoes scattered on the floor and hello to neatly organized, easy-to-find pairs.
With a range of sizes and styles available, from free-standing to over-the-door options, there is a shoe rack to suit any space. Keep your footwear collection in order and maximize your closet space with this must-have closet storage solution.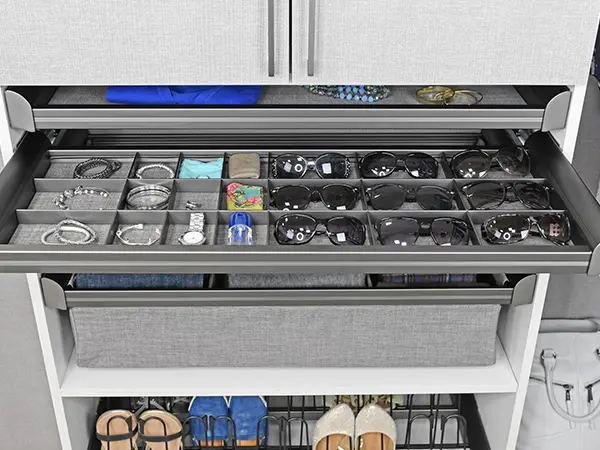 These versatile organizers provide a range of sizes to fit any need, while offering the option to customize to your taste. With the ability to keep your favorite pieces organized and at your fingertips, you'll never waste precious time hunting for the right accessory again.
With our top-quality jewelry trays, you'll add a touch of elegance to your collection while keeping it in pristine condition.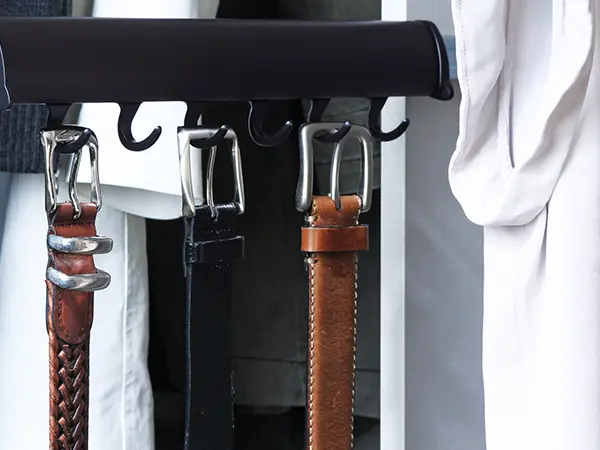 Declutter your wardrobe with the perfect solution to your tie and belt problem. Our range of sleek belt and tie racks will not only organize your accessories but also keep them in great condition.
Select from a variety of sizes and styles, including our convenient wall-mounted and pull-out options. Finally, you'll have everything at your fingertips, making dressing for any occasion effortless and enjoyable.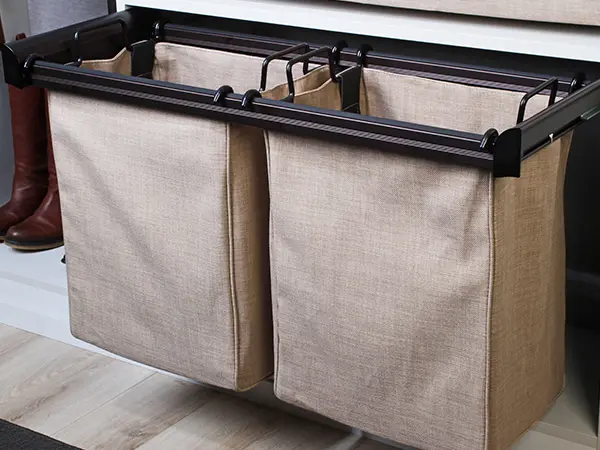 Improve your laundry routine with our innovative hamper installation for your closet. You can simplify laundry day by easily sorting your clothes with the option of multiple hampers.
Experience the convenience of staying organized and keeping your living spaces pristine with our seamless hamper installation.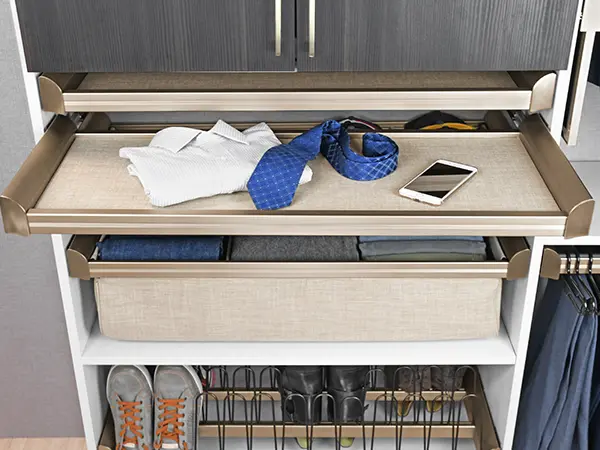 These clever shelves can be easily tucked away when not in use, freeing up valuable real estate in your closet. Perfect for storing clothing, towels, and linens, they can even be transformed into a convenient workspace for folding laundry or packing a suitcase.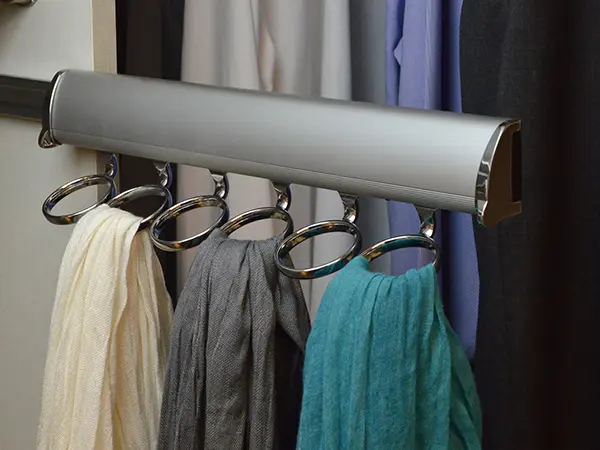 These surprisingly stylish accessories come in a variety of sizes and designs to fit any closet. They're easy to install on the inside of your closet, meaning you'll have easy access to all of your favorite scarves without cluttering your space.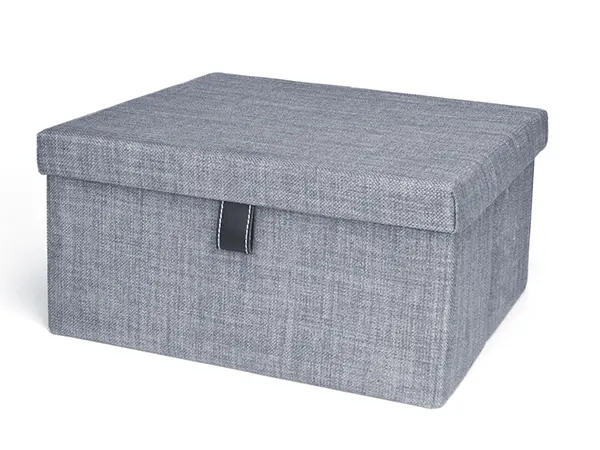 Upgrade your closet game with versatile storage boxes that promise to keep your stuff organized, protected, and easily accessible! From your favorite shoes to your winter jackets, store it all in style with various sizes and designs.
Storage boxes are also great for stashing away toys (because nobody likes stepping on Legos), organizing clothes you want to donate, or for long-term storage.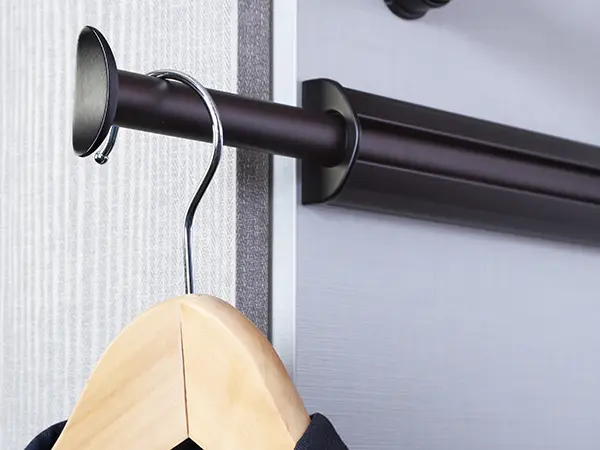 Available in various sizes, these handy rods can be easily installed on the inside of your closet door or on a wall.
You can now effortlessly plan your outfits for the week with a quick glance. Time-saving and efficient, valet rods are a must-have for any fashion-forward individual.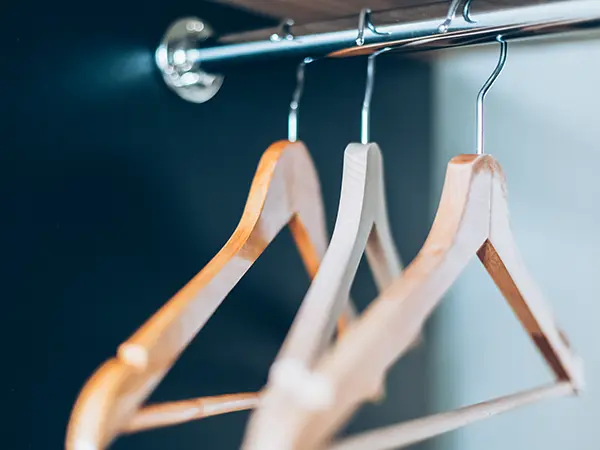 These lifesavers come in a range of sizes and make for the ultimate solution to keeping your clothes organized and wrinkle-free. From your favorite shirts to your fanciest dresses, you can easily hang it all thanks to these handy hanging rods.
Available in varying sizes to suit your specific needs, these rods are an essential component of any closet storage system – making your daily routine smoother and more efficient.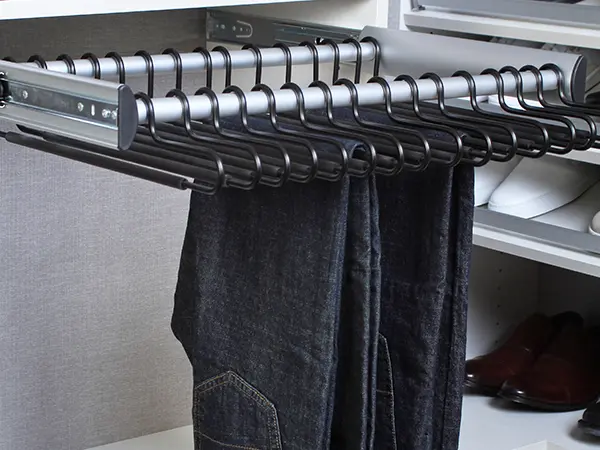 Upgrade your closet game with the perfect storage solution for your dress pants or slacks – a pants rack. Available in different sizes, this versatile accessory can be installed on a wall or on the inside of your closet.
Say goodbye to wrinkled pants and hello to a well-organized wardrobe. Keep your formal wear in prime condition with a pants rack.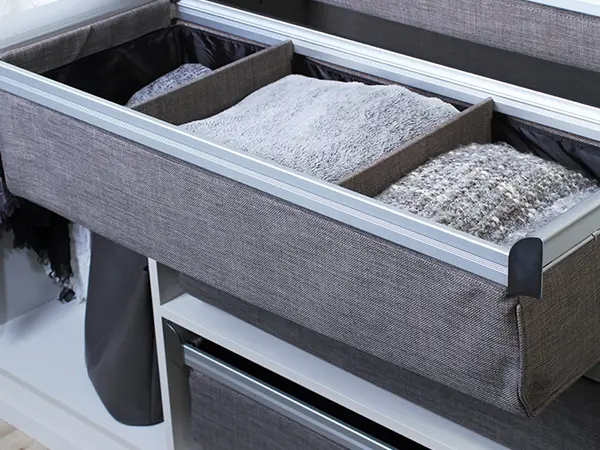 Divided drawers have come to the rescue! These handy little contraptions come in a variety of sizes and can be customized to fit your specific needs. You'll never have to dig through a sea of socks or rummage through a pile of underwear again.
With divided drawers, everything will have its own designated spot, making it easy to find exactly what you need in a jiffy.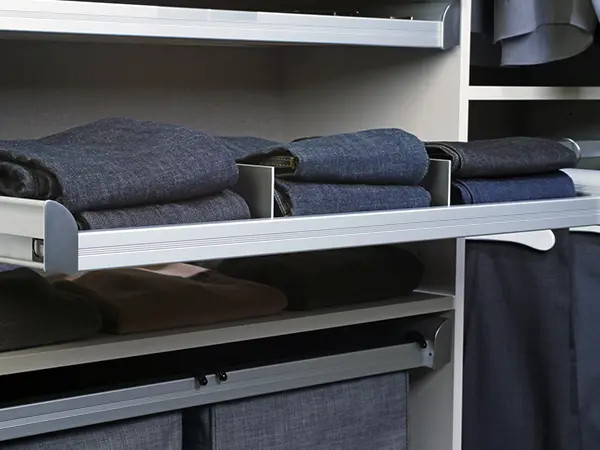 These versatile shelves are expertly designed to fit seamlessly into the often-ignored corners of your closet, creating an abundance of storage options for your favorite clothing, shoes, and accessories.
Not only do they maximize storage space, but they also help keep your closet organized by creating specific areas for different categories of items.
With corner shelves, you can finally say goodbye to the chaos and hello to a beautifully organized closet that sparks joy every time you open it.
I found Creative Closets on Thumbtack and from the onset, they were very responsive. I worked with the lead designer, Jerry who was highly professional and very patient with me walking me through different designs until we landed on a final design I felt comfortable with that was also within my budget.
Caleb, the installer, was very thorough and responsive. I love my new closet and will be recommending this business to anyone in need of a custom closet.
Here Is What Closet Storage Can Do For Your Space
Some of Your Closet Storage Questions, Answered
There are many ways to transform a messy closet into a perfectly organized space with customizable closet organizers. These include adjustable shelves, hanging rods, and drawers that make finding and storing your belongings a breeze.
Utilize the available vertical and horizontal space in your closet by adding shelves and drawers to create compartments, leaving you with a clutter-free and easy-to-access closet.
At Creative Closets, we know that your time is precious. That's why we offer a unique service that brings the showroom to you! When you hire us, you won't need to spend hours trekking around town to look at materials and designs. Instead, we bring it all right to your doorstep.
Our team will arrive at your home with a professional app that can render a full 3D design of your new closet. Plus, we'll bring along samples of materials and colors so you can touch and see for yourself what will work best for your space.
We're committed to helping you save time and effort, so sit back and relax while we bring the showroom straight to you.
Organizing your closet can be a daunting task, but with the right tools, it can be a breeze. Hanging rods are a game-changer when it comes to hanging clothes, and with adjustable options, you can create a customized setup for your wardrobe.
Drawers come in handy for storing smaller items that can easily become lost in the shuffle, such as socks and underwear. Cubbies add an element of fun to closet organization and are great for arranging those adorable baby clothes or for gathering all those toys in one place.
Baskets and bins add an extra layer of order to your closet, providing space for those miscellaneous items that always seem to linger without a designated spot. And there's no need to worry about confusing clutter with specialty storage options such as tie and belt racks or jewelry organizers.
You can collaborate with our impressive closet designers to create a personalized and perfect design that meets all your needs and criteria. You're in complete control of the process. You can make any changes you want and see them live in our 3D app.
We'll share the final design and price so you can make an informed decision in the comfort of your own home.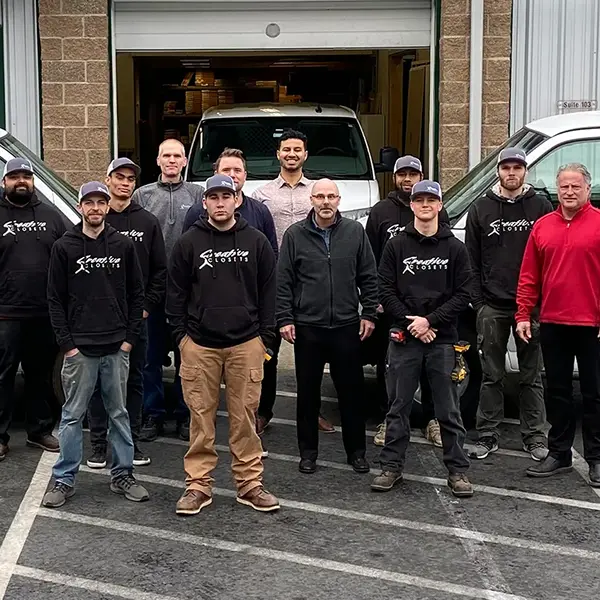 The Devoted Team Behind Creative Closets
Introducing Creative Closets, a team of organizational aficionados fueled by homeowner satisfaction. Our mission is to create an unforgettable experience for every client that walks in through our doors.
With a commitment to ensuring your happiness, satisfaction, and stress-free experience, we're dedicated to problem-solving and comprehensive planning from start to finish. Join us on the journey to a beautiful and functional closet space.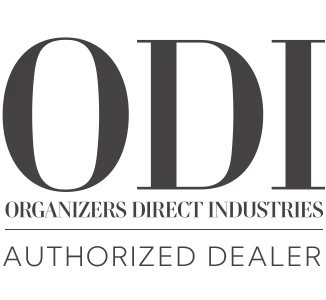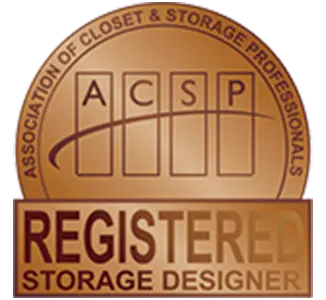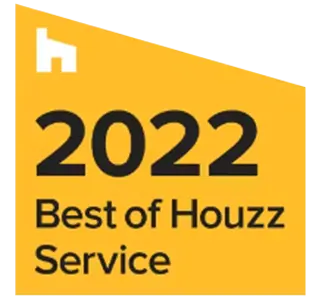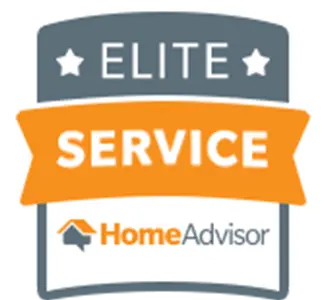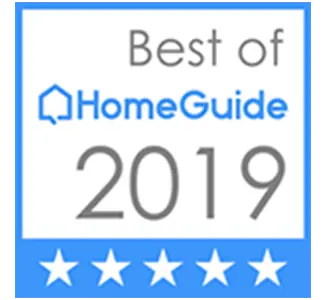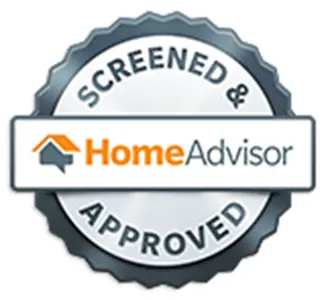 Goodbye, Wasted Space: 3 Easy Steps
Our expert team has crafted a hassle-free, three-step process to effortlessly transform your closet into a functional storage space.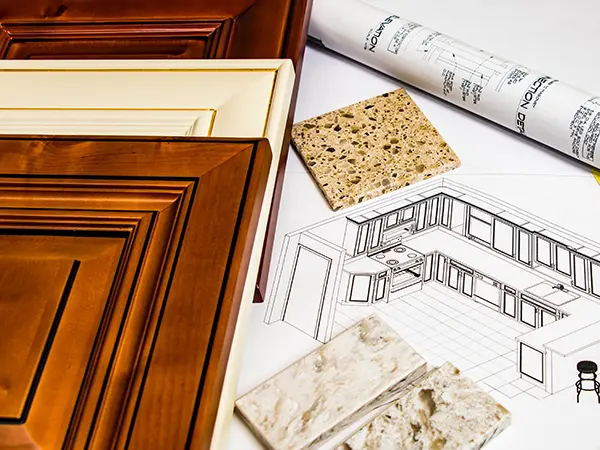 With our complete 3D rendering app, we will talk it through and design your dream closet storage on the spot!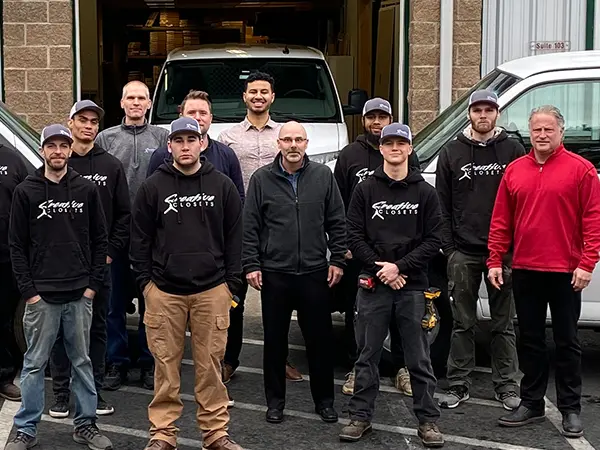 We build and install everything according to plan and we'll be out of your hair by the end of the day.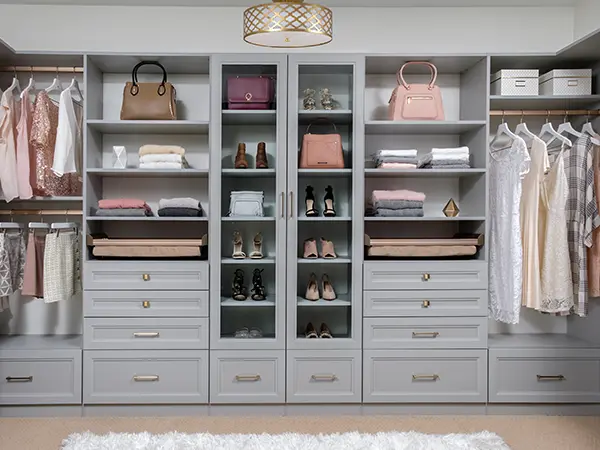 Experience what it feels like to have everything neatly organize and have a dedicated space for all your closet items.
What Other Homeowners Have To Say About Creative Closets
What a beautiful job they did! My closet is truly elevated after the installation. The custom design and installation was definitely not "cheap" when I received the quote and I even questioned if I should go ahead.
After it is all done, I am so thrilled I went for it & I can enjoy the very high-end organized look for years to come!!
Creative closets did an amazing job at designing and installing custom closets for our new home! From beginning to the end it was a flawless process.
We now can utilize all the space in our closets and the design was able to double our original storage space. Highly recommend!
Creative Closets LLC was a positive experience to do business with. The design, use of space, quality materials, listening to needs and concerns to a flawless installation with all expectations being met. I feel good about the people, product and outcome in my home.
What You Get When Working With The Best Closet Organizers
You deserve the red carpet treatment, and we aim to give you nothing less than that.
We help you save time, gas money, and effort by bringing the entire process to your home. We analyze, discuss, and design your closet in one meeting.
Have other financial plans in the short-term but still want closet storage? If you qualify for financing, we take nothing out of the pocket, no interest, and no payments for 12 months.
You have our best and most trustworthy people working on installing your closet storage. They're all our employed, background checked and committed to our belief system.
Put An End To Cluttered Closets
We'll identify all your closet-related needs and establish personalized storage solutions.