The Best Garage Storage In Kent
We help keep clutter away from your Kent garage floor.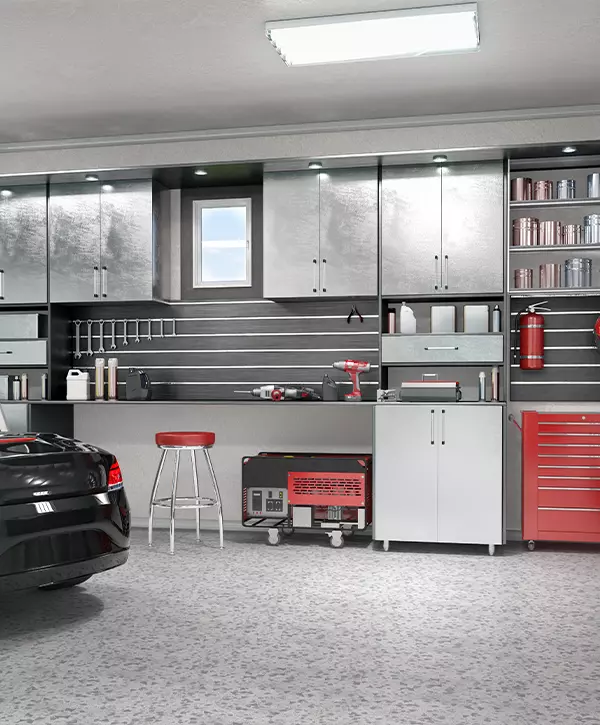 Are you dealing with an overflowing and disorganized garage that's causing you stress and frustration? At Creative Closets, we understand the challenges that come with a cluttered garage and how it can disrupt your daily life.
Our specialty is helping you organize your garage into a more efficient space. Using storage solutions, you can have a designated place for everything and easily find items when needed. Imagine the freedom of having a well-organized garage where everything is in order. We're here to help you achieve that.
I used Creative Closets for our garage cabinets. They came out quickly to give me a quote. They were super professional and responsive. They followed up before the install date with all the details I needed. My installers did a fantastic job and went out of their way to make sure I was happy. The best value and service! Cannot recommend enough.
Make Garage Clutter A Thing Of The Past
A cluttered space can lead to personal discomfort, disrupt your daily routine, and be time-consuming. Trying to deal with piles of boxes, searching unsuccessfully for tools, and navigating through the mess can cause frustration and a sense of defeat.
We specialize in transforming cluttered garages into functional spaces. Our team will work closely with you to design and install customized storage solutions that meet your specific needs, allowing you to reclaim your garage and manage it more efficiently.
Every time you pick Creative Closets, you can enjoy:
Contact us for a free in-home consultation, and we'll carefully assess your space to offer the best garage storage solution in Kent and beyond.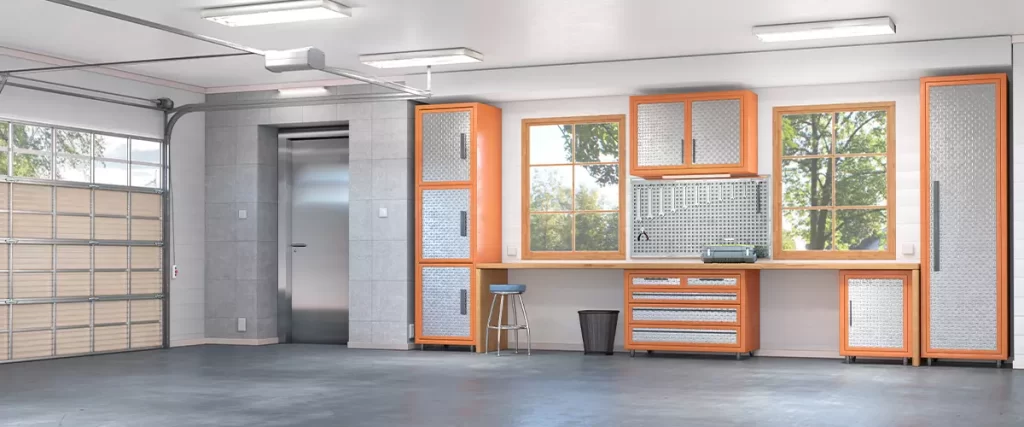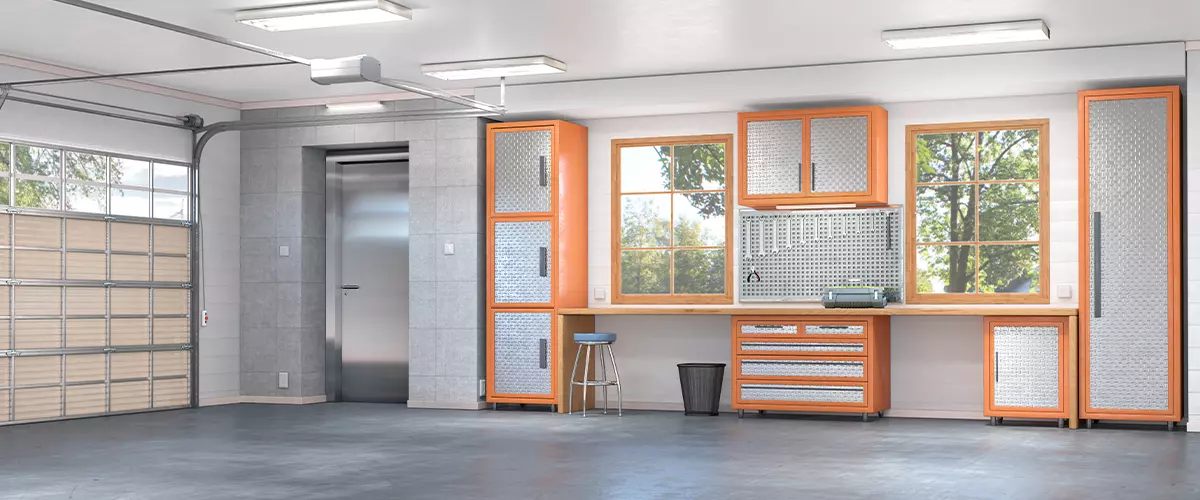 Common Garage Storage Systems Across Kent Homes
Our range of garage storage systems offers diverse options that can be tailored to your organizational needs, resulting in a more efficient and organized garage. Whether you enjoy outdoor activities, DIY projects, or simply want to tidy up your garage, our storage solutions can accommodate your requirements by providing designated spaces for everything.
Our Slatwall organization system provides a way to customize your garage storage solution. The system involves installing panels on your walls, which you can use to hang hooks and accessories and rearrange them as necessary. This system will help you keep your hand tools and gardening tools well-organized and within easy reach, leaving your garage looking neat and tidy.
Our overhead storage systems are great at using every inch of space available. By using the ceiling space, we offer strong overhead storage racks that keep bulky and seasonal items organized. This frees up floor space in your garage and lets you move around easier. You can store holiday decorations, camping gear, and other items in overhead storage racks.
Our garage ceiling racks are great for storing big, seldom-used items such as sports equipment or boxes of memories. They can handle heavy loads and keep your garage floor free of clutter. You'll no longer have to dig through heaps of stuff because everything will be neatly organized from top to bottom.
Our storage bins are designed to keep your belongings safe from dust, moisture, and pests. They are durable and can be stacked easily. These closed containers are ideal for items that require protection, such as seasonal clothing and kids' toys. Our bins are labeled, making it easy to find what you need without searching through boxes. They are perfect for organizing your garage.
Our specialized hooks can help keep your garage organized, especially if you own a variety of sports equipment. These hooks are made to hold items securely, allowing for easy access. You won't have to worry about tripping over scattered equipment or searching for missing balls anymore.
Our bike holders are perfect for wall mounting your bikes and saving precious floor space. They come equipped with durable hooks and adjustable arms, ensuring that your bikes are secure and easily accessible. With our holders, you can move around your garage effortlessly.
If you're familiar with angling, you understand the challenge of keeping fishing gear and rods in order. Our fishing hooks are designed to keep your rods securely stored and prevent them from getting tangled. You can set up these hooks on your garage wall to create a dedicated fishing station that will help keep your gear in top shape.
Our tool organizers are designed to keep your tools in order, which is vital for any DIY enthusiast who's a homeowner. By using our tool organizers, you can avoid wasting time searching for the correct screwdriver or misplaced wrench. Your tools will always be accessible, making your next DIY project less frustrating and time-consuming.
We offer a lot of different garage storage solutions that we can customize to fit your space and based on the things you own. This way, every item will have a designated storage space for easy decluttering.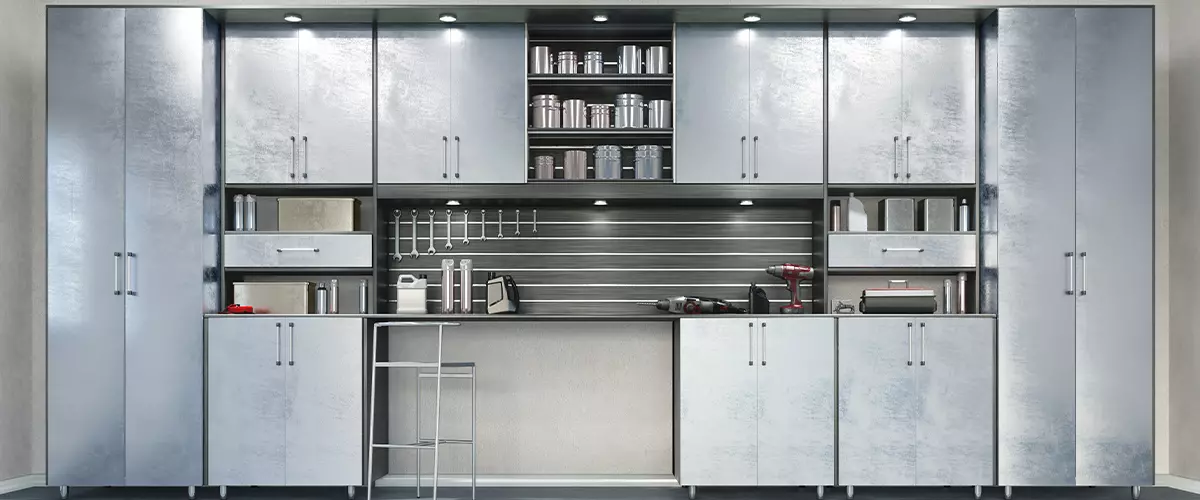 Read The Experience Of Other Kent Garage Owners
See how our personalized garage storage solutions have improved the lives of Kent homeowners with the help of Creative Closets. Check out the testimonials below to learn more about how our systems have brought organization, functionality, and peace of mind to our clients.
We've used Creative Closets on three occasions to outfit three closets and a garage. The quality is fantastic. The price is great. The service is impeccable. If you're looking for great-quality at an affordable price, call Creative Closets.
The designer was fantastic! He really showed us how we can utilize our spaces much more efficiently! The guys who installed the cabinets were great! Personable, very nice and interactive! We loved the whole experience!
Breaking Down Garage Storage Cost In Kent
We understand that the cost of a garage storage project is an important factor in your decision-making process and we want to help you transform your space with this investment.
| Garage Storage System | What's Included | Price |
| --- | --- | --- |
| 20' Wall Of Cabinets & Workbench | Pewter cabinets, full-lenght handles, 10+ separate storage areas | $7,000 |
| Workbench & Slatwall Panel | Tall cabinets, workbench with top + bottom cabinets, Slatwall tool storage system | $9,000 |
| 22' Full Wall Cabinets & Slatwall | Tall cabinets, Slatwall system, workbench with cabinets and drawers, overhead storage | $11,000 |
Note that the table displayed serves only as an example and does not apply to all projects. The final cost of each project is influenced by several factors such as garage size, materials, level of customization, and additional requested features. We will collaborate with you to design a tailored project that satisfies your specific requirements and budget.
This section will give a detailed explanation of the expenses associated with garage storage in Kent. We will examine different factors that influence the total cost, helping you to make an educated decision about designing your dream garage.
To provide you with an exact cost estimate, we need to consider the size of your garage. Please note that bigger garages typically entail higher material and labor costs to enhance storage space.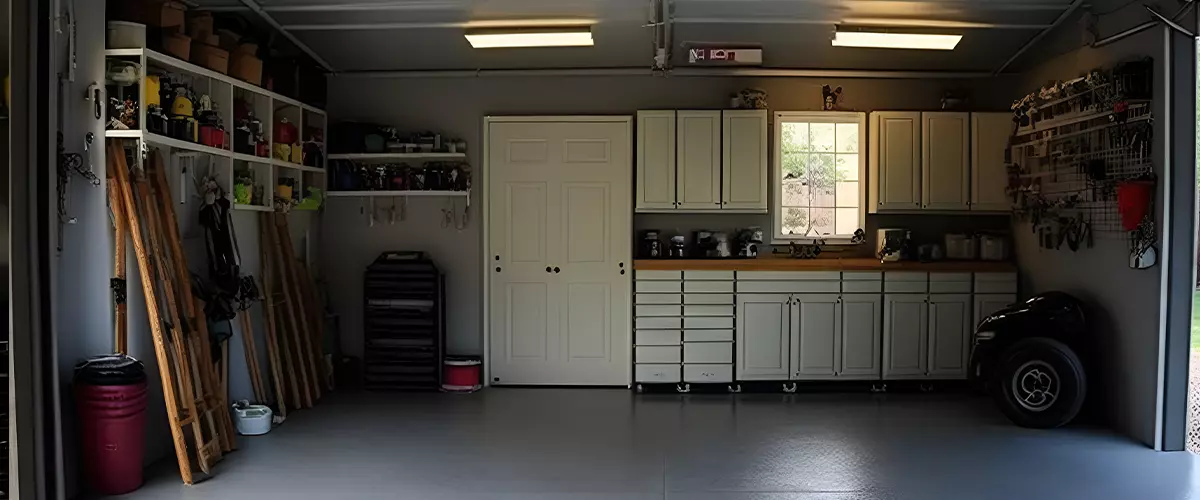 The cost of the garage storage system you select will be determined by the components you choose. The more components you add to your system, the more expensive it will be. As an example, a 22-foot storage system with full wall cabinets, slatwall organization, a workbench with overhead storage, and multiple tall cabinets could cost up to $11,000.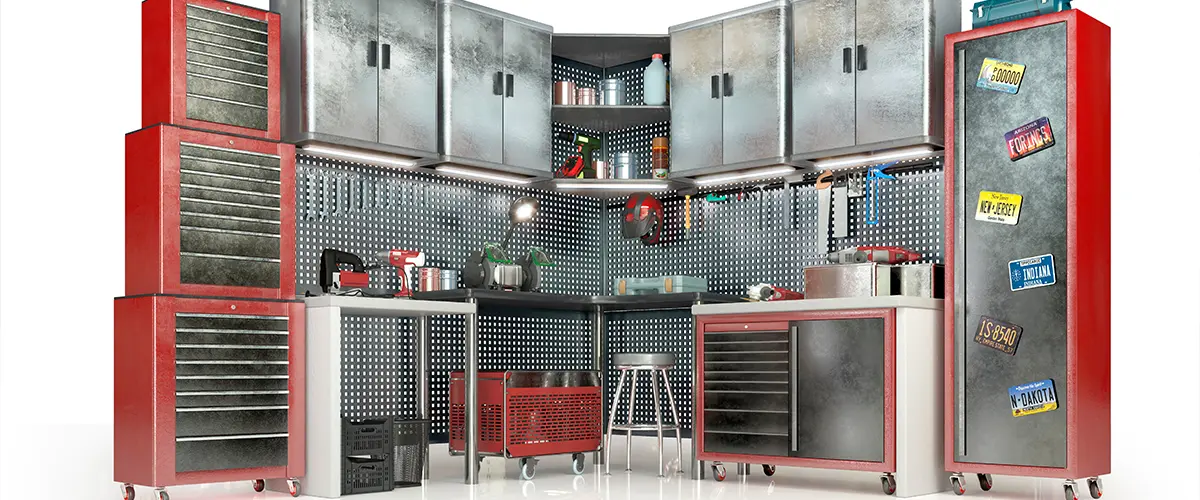 The cost of our system is determined by the extent of customization and extra features you require. The cost covers personalized designs, unique setups, and custom accessories. The expense will reflect the amount of customization and the added features.
Usually, a system with tall cabinets, a workbench with drawers and cabinets, and a Slatwall organization system will cost around $9k to $10k.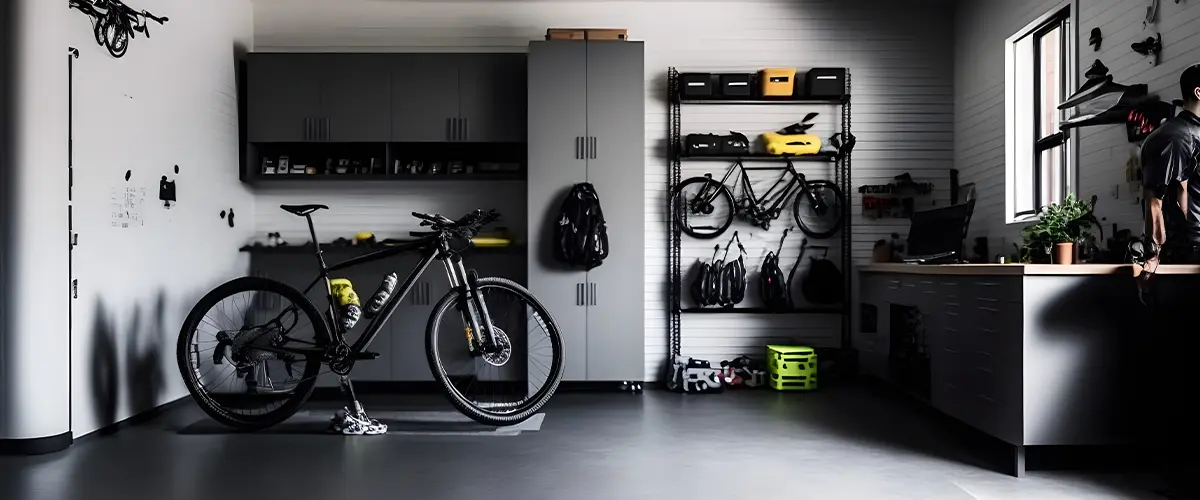 The total cost of the garage storage system will be determined based on the complexity of the installation and amount of labor required. Our team will carefully consider factors like wall preparation, electrical work, and any necessary modifications to provide an accurate estimate. You can trust us to install the storage system professionally, resulting in a flawless and practical solution for your garage.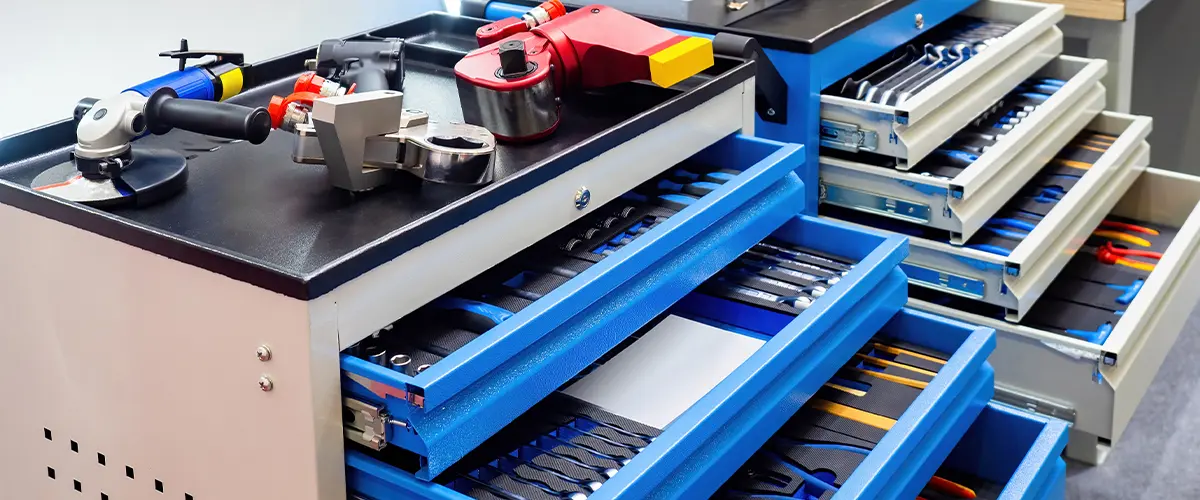 To receive a more accurate estimate for your garage storage solution, we advise that you contact us. We will discuss your needs, offer expert recommendations, and furnish a comprehensive quote tailored to your specific project.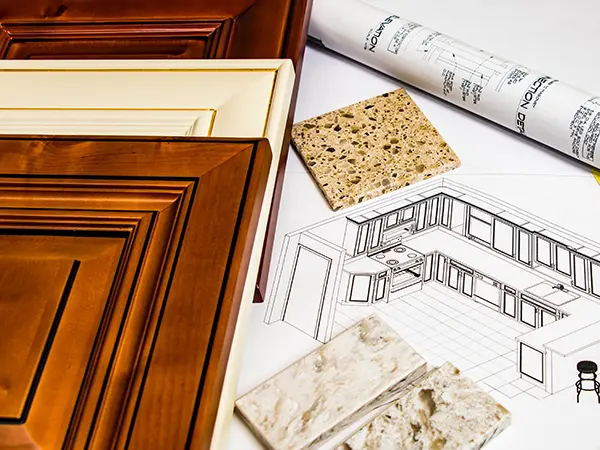 Collaborate with our team for a customized solution that caters to your specific requirements.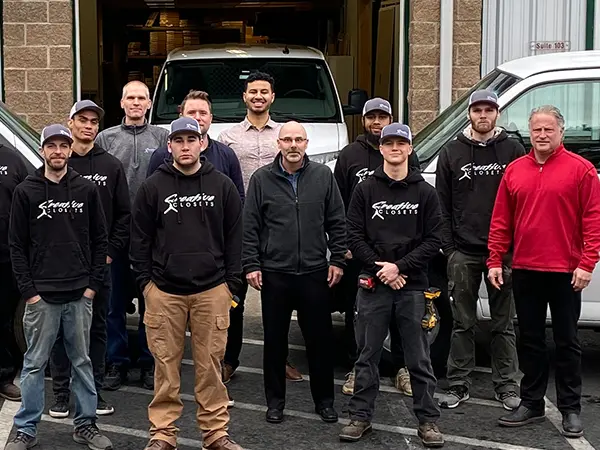 Our expert team will install your garage storage system in just one day, bringing your vision to life with a seamless transformation.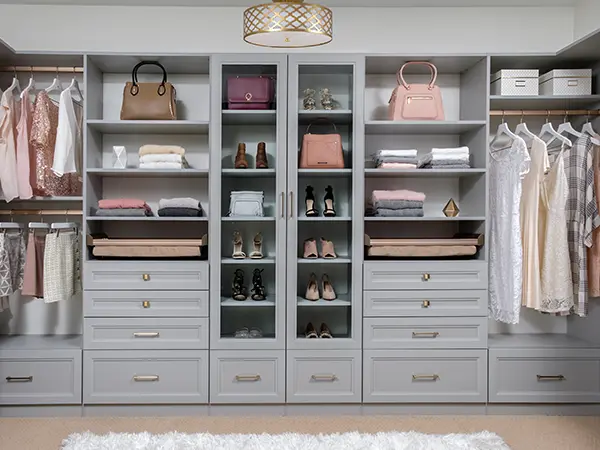 Enjoy the satisfying outcome of having a garage that is clutter-free and spacious, without having to worry about stumbling over scattered tools.
Say Goodbye To Improper Tool Storage
It's best to keep seasonal tools and items like gardening supplies, snow blowers or shovels, holiday decorations, camping gear, bikes, and outdoor furniture in the garage.
People may also store household items such as extra blankets and pillows in the garage. Additionally, some keep cleaning supplies and laundry baskets in the garage for convenience.
To effectively manage your garage storage, begin by selecting which items you want to keep in the space. Once you've made your decision, decide where to store each item.
For instance, if you want to store gardening tools, consider hanging them on hooks on a nearby wall or using a pegboard. Bins and shelves can also be used for larger items. Organizing your garage storage in this way makes it simple to find and store your belongings.
Having a well-organized garage is crucial because it allows you to store your things in an orderly manner, resulting in a tidier space. With proper organization, it's easier to locate items, and it frees up flooring space for other activities.
Additionally, it provides a safer environment and reduces the risk of potential injuries caused by an untidy garage. Lastly, by keeping your valuable possessions protected, you can ensure their safety during storage.
Let's Start Your Garage Transformation
Our garage cabinets are designed to meet your storage needs, providing ample space for power tools and cleaning products. Each item has its own designated space, ensuring a customized solution that meets your specific requirements.
With our custom-designed systems, you can easily arrange and store your sports equipment, garden supplies, and holiday decorations. You won't have to struggle with messy shelves or get tripped over plastic containers.
Work with a team that always:
We're Ready For A Home Visit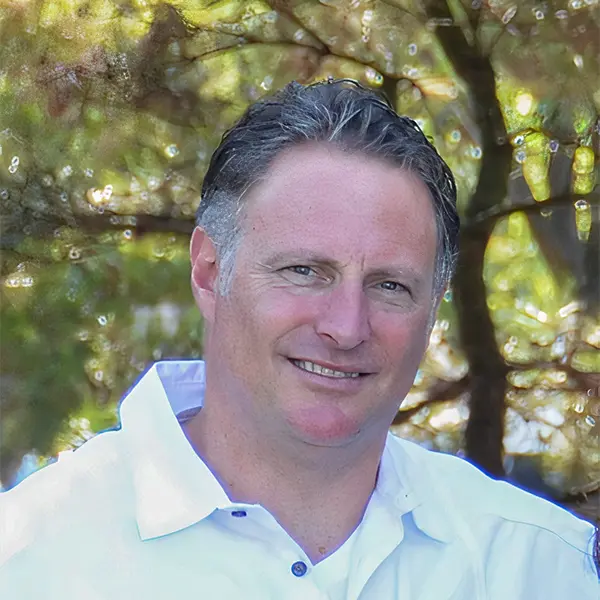 Need help organizing your messy garage? Creative Closets can assist you in creating the organized garage you've always wanted.
Contact us today at (425) 428-5073 to explore how we can team up to make your garage a more efficient and orderly space.