The Best Closet Systems In Tacoma
Are you tired of clutter taking over your Tacoma home?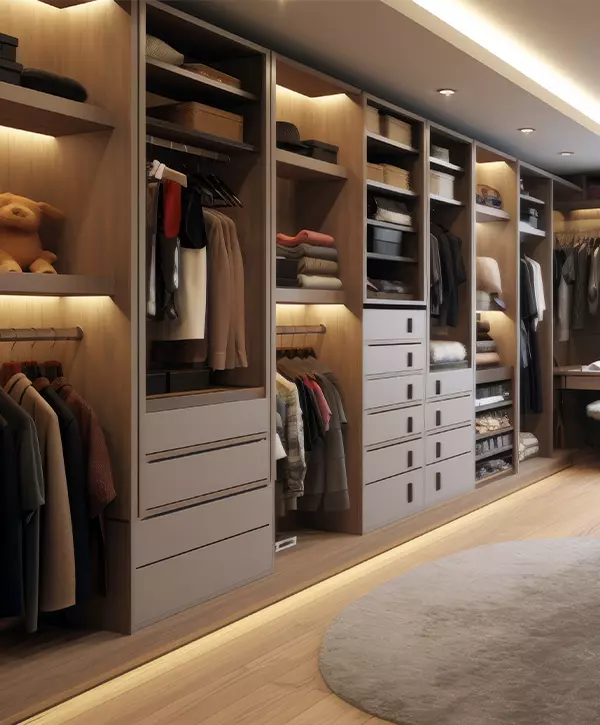 If you want to get rid of clutter and want a well-organized closet, we can help. Our custom closet systems are designed to transform your living space, giving you an efficient and stylish way to eliminate clutter and make the most of your storage space.
We understand the difficulty of keeping your home neat and organized. We strongly believe that a properly designed closet system can drastically simplify your life. It allows you to locate items with ease and creates a feeling of harmony in your living environment.
We can assist you in turning your closet into a functional and aesthetically pleasing area that suits your preferences and unique taste with our expertise and meticulousness.
We worked with Creative closet to add closets to our Son's bedroom and master bedroom. We had amazing experience right from scheduling the first design appointment to the final installation. Design consultation was smooth, and Jerry walked us through all the available options and provided 3D visualization for the project which helped us visualize and make changes according to our needs.
On the day of the installation we found the team very professional, they arrived in time and finished the work in time and cleaned up everything. We really appreciate Creative closets for making our space organized and usable.
Everything You Need Is Now Within Reach
Creative Closets provides customized storage solutions that help you start your day with ease. Our expertly designed closets reflect your unique style and eliminate the frustration of searching for misplaced items and dealing with messes.
We aim to simplify your daily routine by offering the best closet systems in Tacoma. We're committed to making your life more organized without the hassle of visiting multiple showrooms.
Enjoy a service that offers:
Get in touch with us now, and our designer will visit your residence in Maple Valley. They will engage in discussions, take measurements, devise a plan, curate options, offer suggestions, and demonstrate how your envisioned closet becomes a reality right in front of you.
Discover the Perfect Closet Systems for Your Tacoma Home
With our custom closet systems, you can finally organize every item in your home, be it a cooking ingredient or your favorite pair of shoes. We offer a range of solutions tailored to meet your unique needs, ensuring that your space is maximized and your belongings are perfectly organized.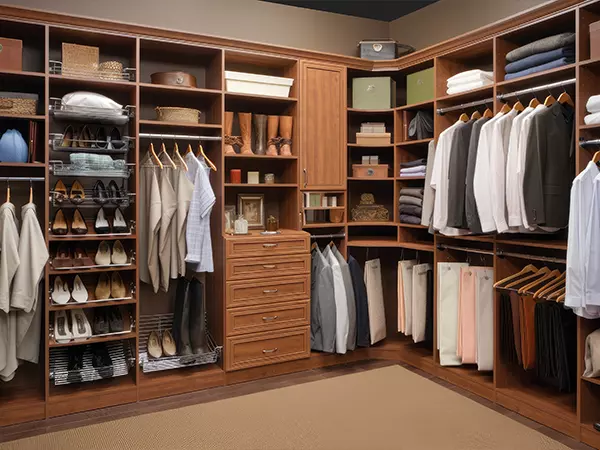 Let's start with walk-in closets, the epitome of luxury and functionality. Whether you're a fashion enthusiast or simply want a spacious storage area, our walk-in closet systems provide the perfect solution. Say goodbye to cramped spaces and hello to a haven of organization where your clothes, shoes, and accessories are beautifully displayed and easily accessible.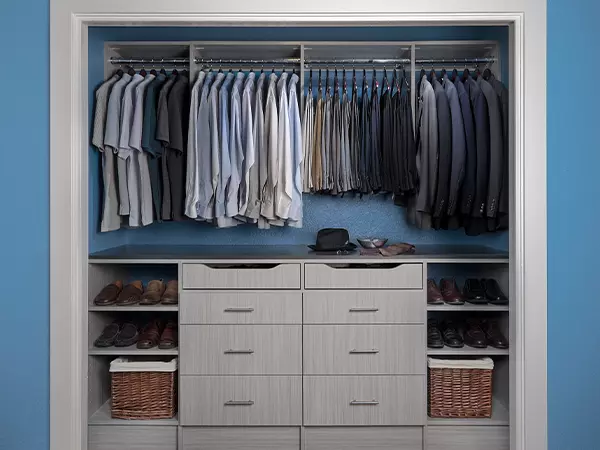 For those with limited space, our reach-in closets are the ideal choice. Don't let the size of your closet hinder your organization efforts. Our reach-in closet systems utilize every inch of available space, allowing you to efficiently store your belongings and keep them within arm's reach. No more digging through a jumble of items – everything will have its rightful place.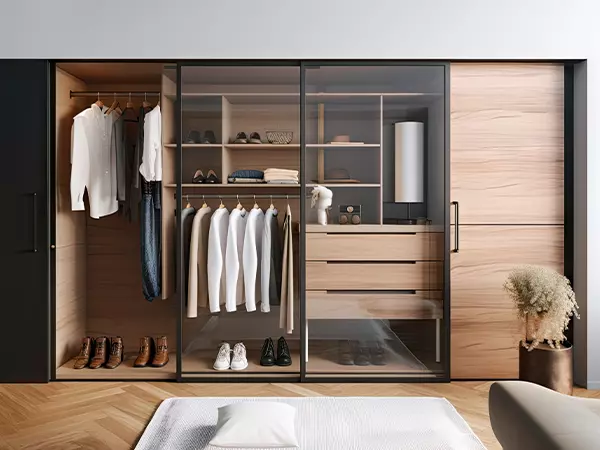 Wardrobe closets offer a versatile solution for those who need additional storage options. Whether you require extra hanging space, shelves for folded garments, or even a built-in dresser, our wardrobe closets can be customized to suit your preferences. We believe that your storage should adapt to your lifestyle, not the other way around.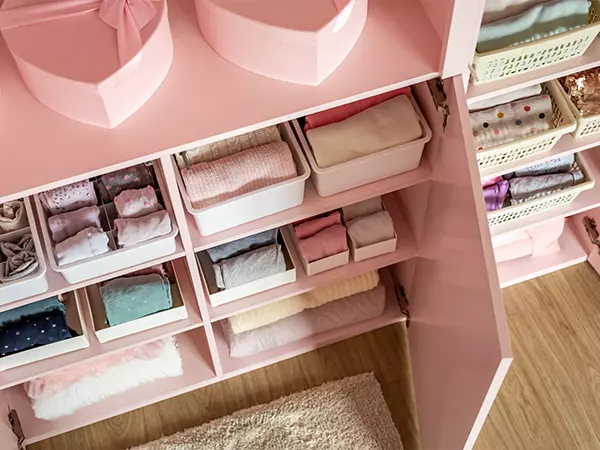 Don't forget about the little ones! Our kids' closet systems are designed with growing needs in mind. From adjustable shelves to hanging rods at various heights, we ensure that your child's closet can accommodate their ever-changing wardrobe. Encourage their independence by providing them with a space where they can easily find and put away their belongings.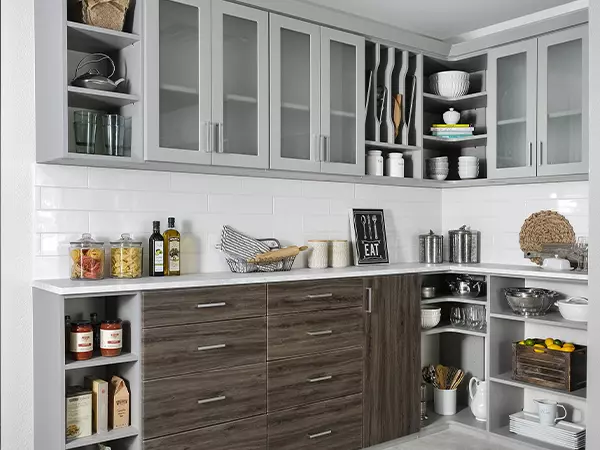 The kitchen pantry and entryway cabinets are often overlooked areas when it comes to organization. However, they play a crucial role in maintaining an efficient and stress-free home. Our custom kitchen pantry solutions will transform your pantry into a streamlined storage area, where spices, canned goods, and baking essentials are neatly organized and readily accessible.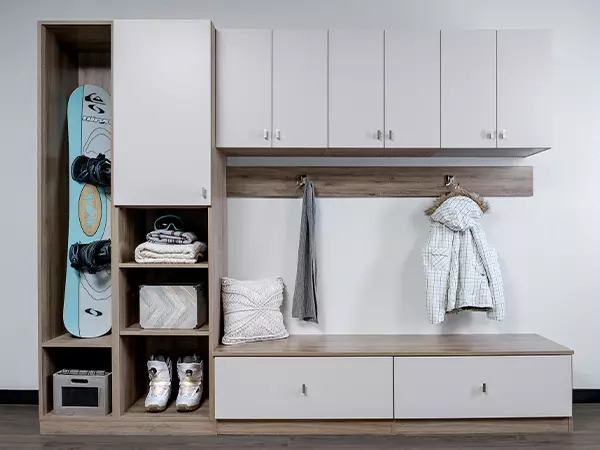 Our entryway cabinets offer a stylish and functional solution for keeping shoes, coats, and everyday essentials tidy and within reach as you enter or leave your home. We can have this customized just as you like it. Want extra cubbies? No problem. Could use a seating bench to put your shoes on or take them off easily? We can do that too!
Explore our range of custom closet systems and experience the joy of a beautifully organized life. Contact us today and let the transformation begin!
Hear What Our Happy Customers Have to Say
Don't just take our word for it – discover the stories and experiences of our satisfied customers. They have entrusted us with their organization needs and experienced the remarkable transformation that our custom closet systems bring. Read on to see how Creative Closets has helped homeowners like you reclaim their spaces and live a more organized and stress-free life.
They did an amazing job designing the closets to what we needed and installing on time! We are return customers since we first worked with Tim in 2015. We have gotten closets installed by other popular closet companies out there and Tim's team by far has been the most professional and value for money. Thank you!
The designer was fantastic! He really showed us how we can utilize our spaces much more efficiently! The guys who installed the cabinets were great! Personable, very nice and interactive! We loved the whole experience!
Breaking Down Closet Systems Cost In Tacoma
Understanding the cost of a closet system is an important aspect of planning your home organization project. At Creative Closets, we believe in transparency and helping our customers make informed decisions. In this section, we will break down the closet system costs in Tacoma, providing you with a comprehensive overview of what to expect.
We have also included a table showcasing the costs from some of our past projects, giving you a clear idea of the investment involved. With this information at your fingertips, you can confidently embark on your journey to a more organized and functional home.
Let's look at the different factors that can lower or increase the price, so you can better understand why prices are so different from one situation to another.
| Closet Type | Size | Average Price |
| --- | --- | --- |
| Walk-in Closet | 20' x 20' | $9,500 |
| Reach-In Closet With Shelf Tower | 6' Long | $1,000 |
| Kitchen Pantry | 8' x 5' | $4,500 |
| Entryway Cabinet Wall | 8' | $6,500 |
| Kids' Reach-In Closet | 6' Long | $2,200 |
The size of your closet plays a significant role in determining the cost. Larger closets generally require more materials and labor, increasing prices.
For instance, a spacious walk-in closet with multiple sections and intricate shelving configurations will typically be more expensive than a small reach-in closet. It takes about $4,500 to get a 6' x 9' walk-in closet, but a larger one that measures 20' x 20' can go as high as $10,000.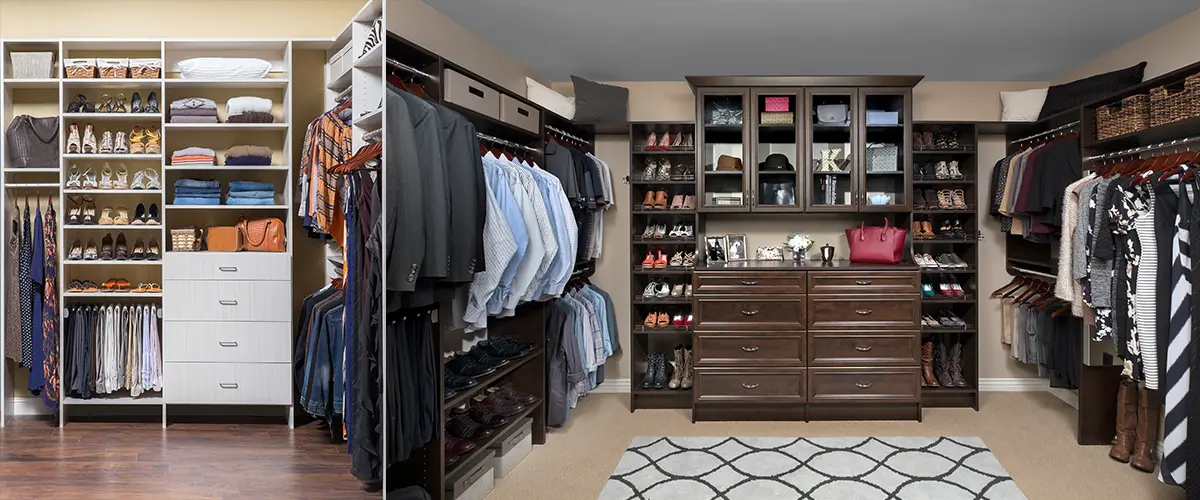 The complexity of the closet design affects the cost. Intricate features such as built-in drawers, pull-out accessories, custom lighting, or specialized compartments can add to the overall expense. A walk-in closet with intricate detailing and personalized accessories will have a higher price tag compared to a simple reach-in closet with basic shelving.
An 8' reach-in closet for your child's bedroom can be as inexpensive as $1,800 if you're going with the basic features. Add some shaker drawer fronts, several layers of clothes rods, and a custom color, and that price goes up to $2,800.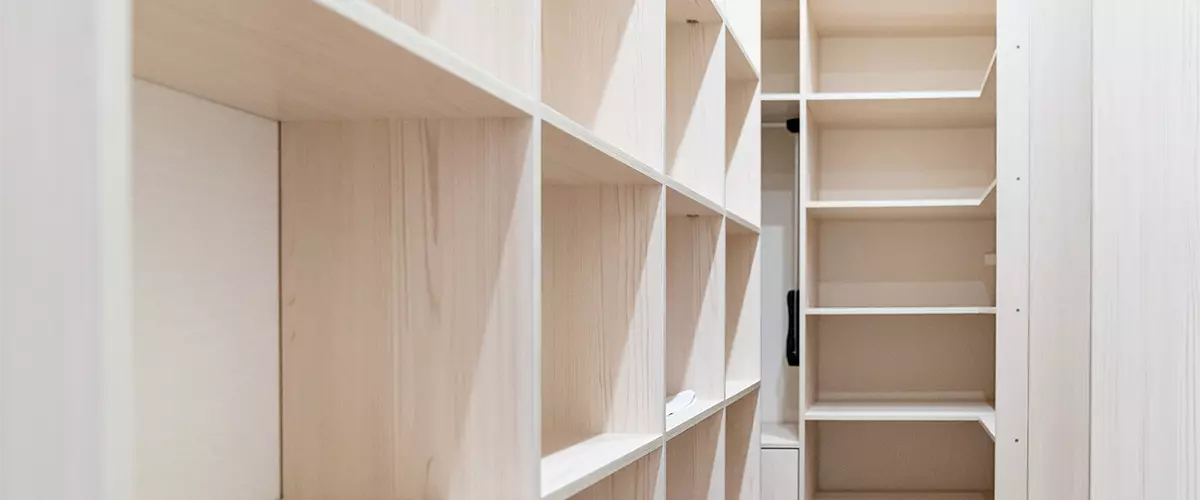 Additional accessories and upgrades can enhance the functionality and aesthetics of your closet system but may also affect the cost. Features like jewelry drawers, shoe racks, pull-out baskets, or specialized hangers can increase the overall price. Adding luxurious elements like a built-in vanity or decorative moldings will also contribute to the final cost.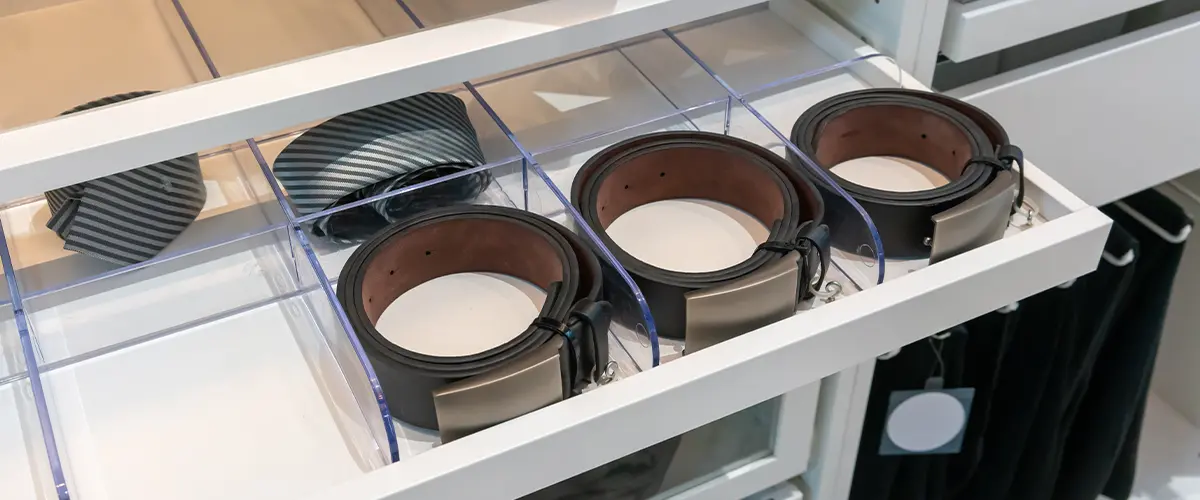 The complexity of the installation process can influence the cost. Factors such as the condition of the existing closet space, any necessary structural modifications, or accessibility challenges can impact the overall labor and installation expenses. For example, if your closet requires significant modifications, such as removing walls or rerouting electrical wiring, the installation cost will be higher.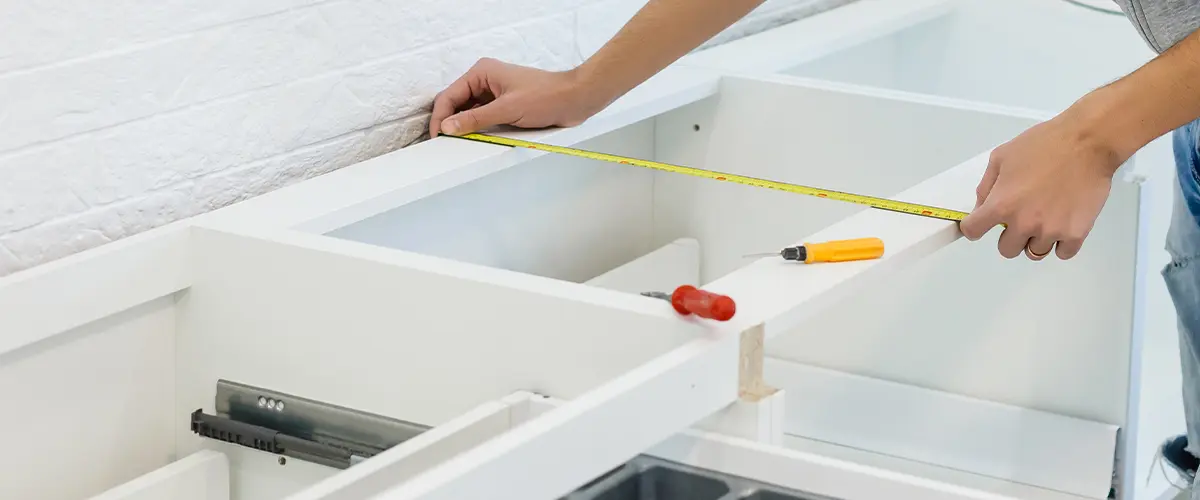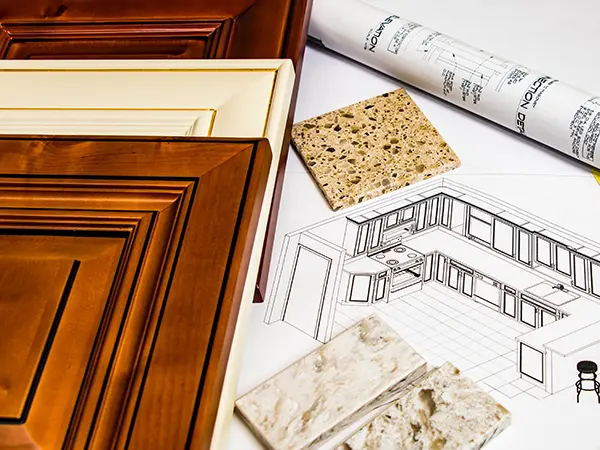 Collaborate with our team for closet design as we attentively listen to your requirements and preferences.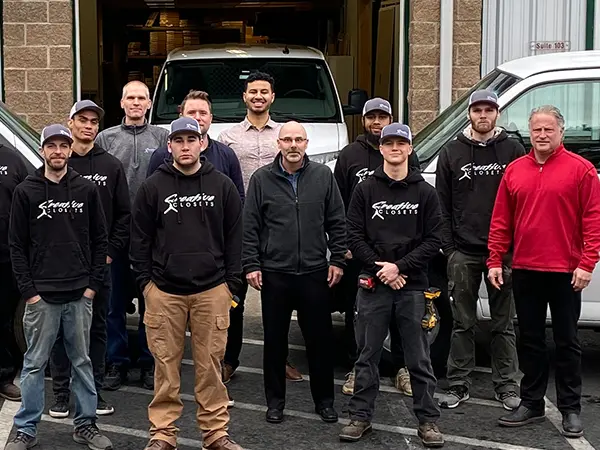 With meticulous care, we will ensure that every component of your personalized closet system is flawlessly installed, paying attention to every detail.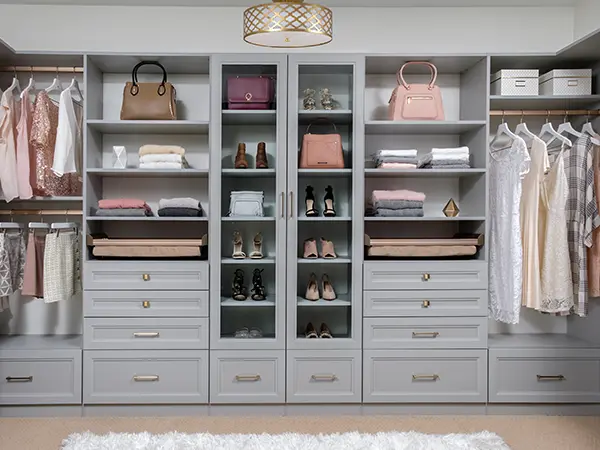 Delight in the transformation of your living space as you enjoy the numerous benefits of your well-designed and functional closet system.
Visualize How We Can Help
Showcasing Our Custom Closet Masterpieces
Explore these captivating visuals to gain a glimpse into the possibilities and envision how Creative Closets can transform your own space. Let these photos ignite your imagination and inspire you to embark on your journey towards a beautifully organized home.
Embrace the Ultimate High-End Closet Journey
At Creative Closets, we understand that you are not a cookie-cutter individual. Your family, your home, and your needs are all unique, and they deserve a personalized approach.
That's why we have developed a streamlined process that allows us to prepare your closet design, select materials and accessories, and discuss financing options – all in a single 60-to-90-minute appointment. We value your time and strive to make the entire experience efficient and tailored to your specific requirements.
During this appointment, we will work closely with you to ensure that every aspect of your custom closet system aligns with your vision. Get ready to embark on this exciting journey with us as we create a space that reflects your personal style and organizational needs.
And when you choose Creative Closets, you get more than that, including:
Discover Our Premium Closet Systems In Tacoma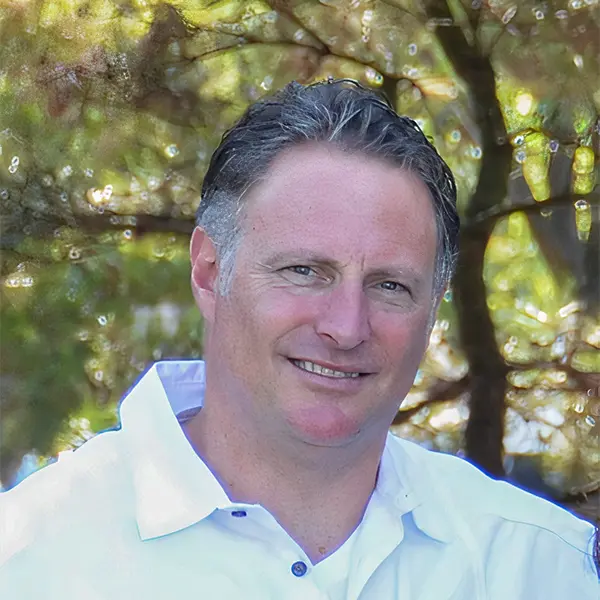 Experience the happiness of living in a living space that is personalized to your preferences and adds value to your daily routine. Your ideal home is within reach, so call us now at (425) 428-5073 or use the contact form provided below. Our skilled team is eager to realize your vision and create a living environment that you will enjoy for years to come.