Home Office Design and Installation Services to Stimulate Productivity and Organization
Our team at Creative Closets offers professional design services and full installation for your home office. From home office organizers and home office cabinets to top of the line products – we can help you achieve a home office system that is perfect for you.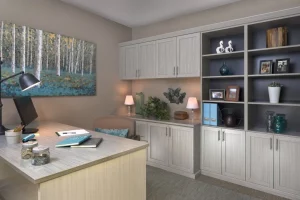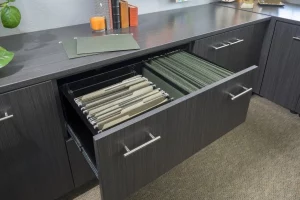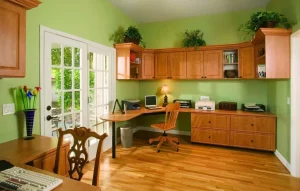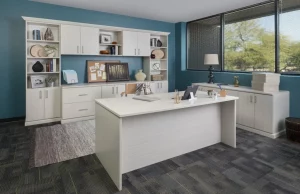 Your home office is a place to get your work done in a calm, well-organized and efficient space. When you are able to focus on the job in front of you, rather than feel overwhelmed by clutter, you will find that working from home becomes a smooth and productive process. Custom home offices built with home office cabinets, home office organizers and unique storage systems will boost your work space with the storage and office accessories you need to decrease clutter and increase your ability to get work done!
We specialize in designing home offices that fit your needs and assist you in saving time and keeping organized. Our designers offer:
Complimentary In-Home Design Consultations

Help You Create a Personalized Home Office Organization System

Match Your Home Office to Your Unique Style With Multiple Design Options

Choose Products to Help Keep You Organized

Increase Your Storage Space

Create Spaces for Important Papers, Office Supplies, Tools and More
Once you have worked with our design team to create a home office that is styled to fit your work from home needs, our installation team puts in the work in to build your new office. Our installers are fully trained, reliable, professionals. We keep a clean space, make sure that your home office cabinets are secured and install each home office organizer to the best of our ability.
The benefits of Home office installation and design with our professional team include:
A More Organized Home Office Space

Maximized Storage Space With Custom Home Office Organizers

Solutions to Cut Office Clutter

Custom Home Office Cabinets to Match Your Style

A Place for Better Work Productivity

Beautiful Home Office Decor With Organizers

Home Office Organizers and Custom Home Office Cabinets Built to Withstand the Test of Time
We offer the best of the best in home office organization systems, home office cabinets and home office accessories to keep your space stylish and organized. From durable, thermally fused, scratch resistant laminate finishes on cabinet fronts to 100% warrant backed real wood products – we have something to fit every style. Our product styles include:
12+ Standard Color Options for Cabinets, Shelves, Doors, & Drawers
20+ Mixology Colors for Doors & Drawers
9+ Door/Drawer Front Styles
Custom Hardware and Pulls for Cabinets
In addition to many diverse styles we offer a ton of great organization accessories to add to your home office. These choices include:
Adjustable Shelves
File Drawers
Custom Credenzas
Crown Molding
Full Extension Drawers
Soft Close Hinges on Cabinet Doors
Creative Closets Deliver Exceptional Design and Installation Services for All of Your Custom Home Office Needs!
Our team is here to help you design and install a professional custom home office system that fits your work needs. A well organized home office can help you cut the clutter in your work space and increase your productivity. From custom design assistance to complete installation- we are here as your reliable source for your work from home needs.

Call Today to Book a Complimentary Design Consultation
Our design team comes right to your door for a complimentary design consultation with 3D Design Software, samples of our products and expert advice for home office organization. All you need to do is call us today to schedule your appointment.