Home Office Storage Solutions
Make remote work as easy as possible with home office storage for your place in Maple Valley, Issaquah, Renton, Kent, Sammamish, and more of WA.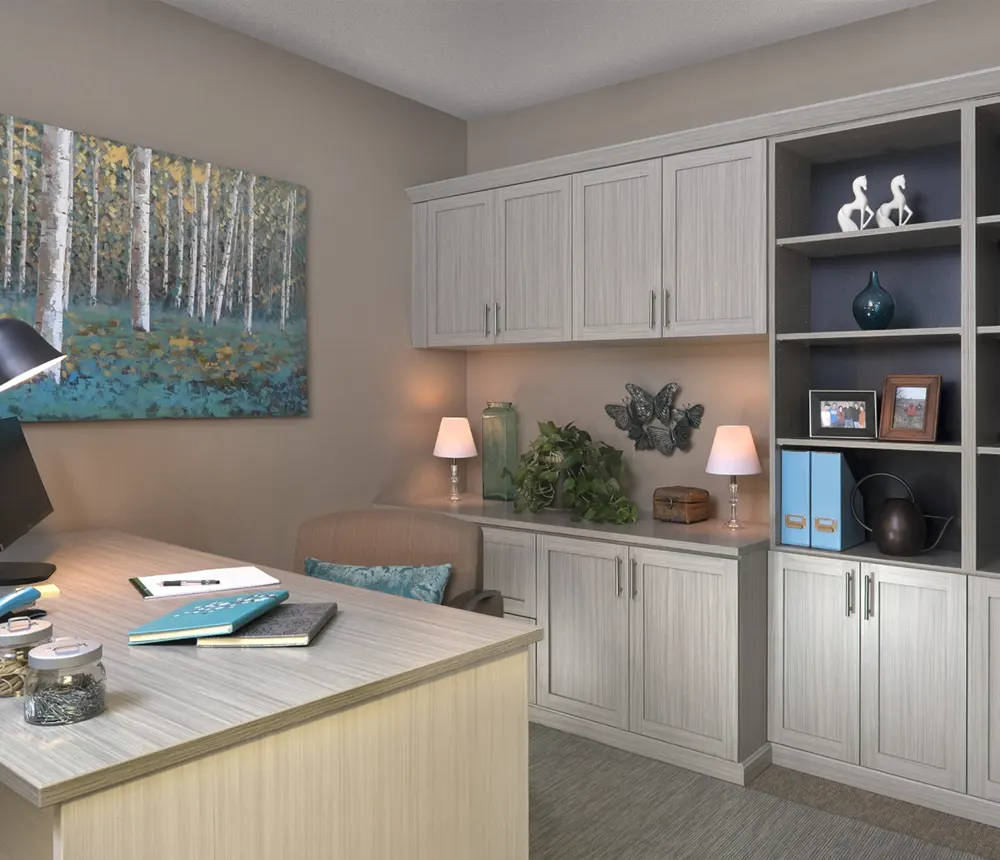 Scroll down to discover home office options, process, and pricing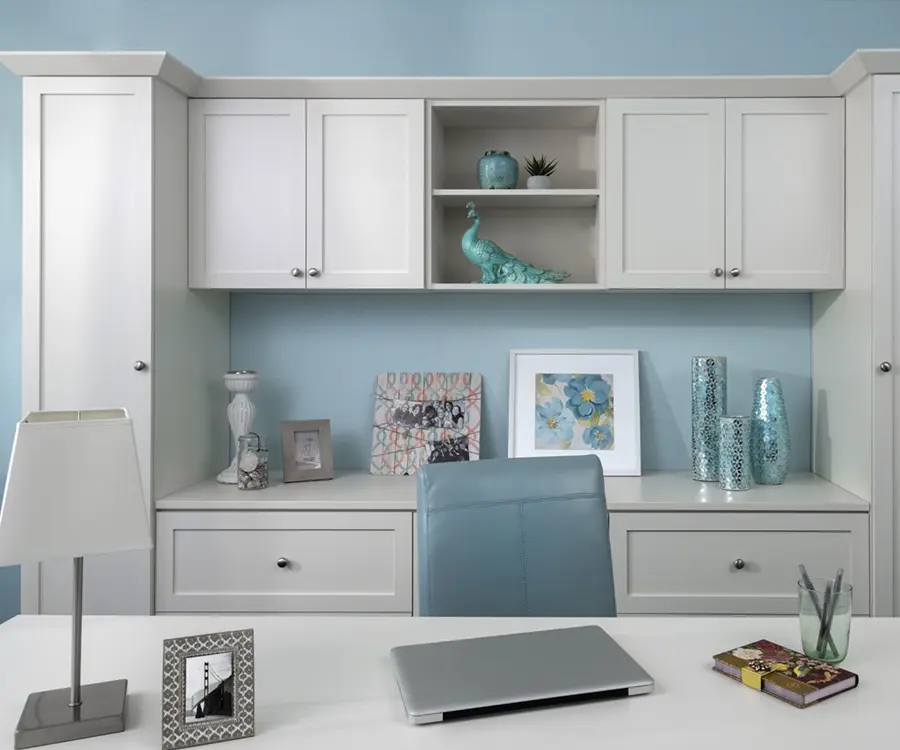 Feel Productive Working From Home
Picture this: a sleek and stylish desk, plenty of storage for all your files and office supplies, and a layout that allows you to work comfortably and productively.
We offer custom home office storage solutions tailored to your specific needs and preferences. Whether you work from home full-time or just need a space to pay bills and keep important documents, you no longer have to struggle with crowded desks and misplaced office items.
Keep every item where it belongs with:
Imagine Working From An Office Like This
Answering Your Home Office Storage Questions
At Creative Closets, we offer a range of organization items that can help you create a functional and efficient home office space. Our recommendations include desk organizers, shelving, drawer organizers, file folders, and labeling systems. We can customize each of these items to fit your specific needs and maximize your storage space.
We understand that our clients want their home office built and installed as quickly as possible. While the exact timeline can vary depending on factors such as size and style preferences, most materials arrive in 4 to 6 weeks.
Once all components are ready, we can complete the installation in a single day. Our team works efficiently to ensure that you can start enjoying your newly organized space as soon as possible.
We can create cabinets that are designed to fit your desk perfectly, with features such as built-in filing drawers, keyboard trays, and adjustable shelves.
Our custom drawer cabinets can be designed to fit seamlessly into your workspace, with varying sizes of drawers to accommodate different items such as office supplies, electronics, and paperwork.
You can also request filing cabinets that are specifically designed for your home office needs, with features such as lockable drawers, adjustable file bars, and anti-tip mechanisms to keep your files secure and organized.
Our custom bookshelves can be designed to fit your office space perfectly, with adjustable shelves to accommodate books, binders, and other office items.
We make cabinets with built-in outlets to keep your electronics organized and easily accessible while keeping cords and cables out of sight. We can also create customized cabinets that are tailored to your specific needs, such as cabinets for printers, scanners, or other specialized office equipment.
The cost of a home office closet system can vary depending on several factors, such as the size of the space, the type of materials used, and the specific features and accessories you choose.
We also offer financing options to help make the cost of a home office closet system more manageable. Our financing options allow you to spread the cost of your project over a period of time, making it easier to budget and plan for your investment.
While kitchen cabinets and home office cabinets may look similar at first glance, they are actually designed with very different needs in mind. Kitchen cabinets are designed to hold items such as pots, pans, dishes, and food, while home office cabinets are designed to store items such as files, books, office supplies, and electronics.
Using kitchen cabinets for a home office may result in wasted space or difficulty in accessing important items. Additionally, kitchen cabinets may not have the necessary features, such as filing systems, built-in outlets, or adjustable shelves, that are essential for an efficient home office.
Working from home can be challenging without a properly designed office space. That's where our team comes in. We can create a fully customized desk to fit your unique needs, no matter if you need extra storage space or more room to spread out.
But a desk is only part of the equation. Organizing important documents is crucial for any home office, and our team can create a file cabinet with lockable drawers, anti-tip mechanisms, and adjustable file bars to keep everything in order.
And why stop there? Our team can also craft a printer area that not only keeps your printer and supplies organized, but also tucks cords and cables away from sight.
Take your home office organization to the next level with our creative wall storage solutions. Not only do they maximize space, but they keep your most important items within reach while staying out of the way.
Get A Pricing Idea For Your Home Office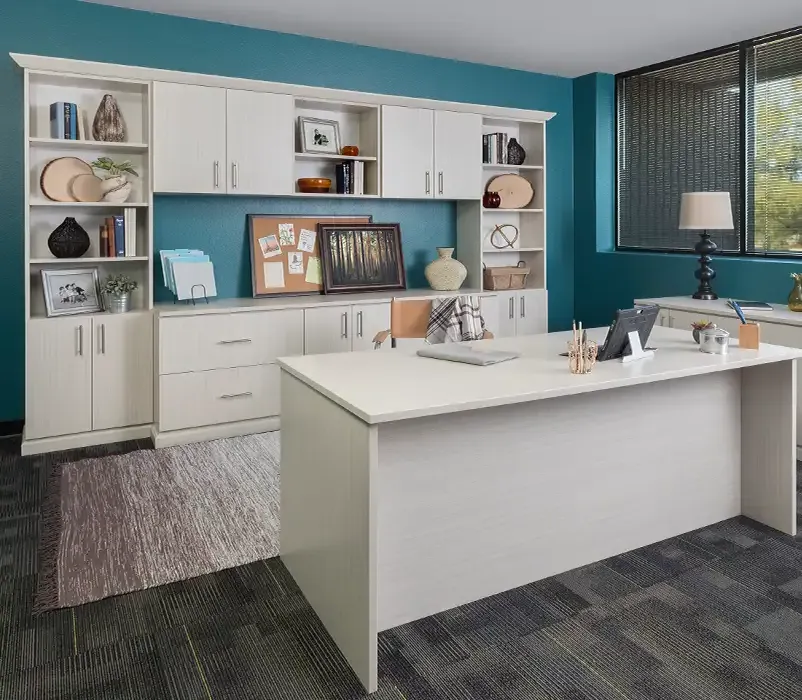 This custom home office project was $11,568.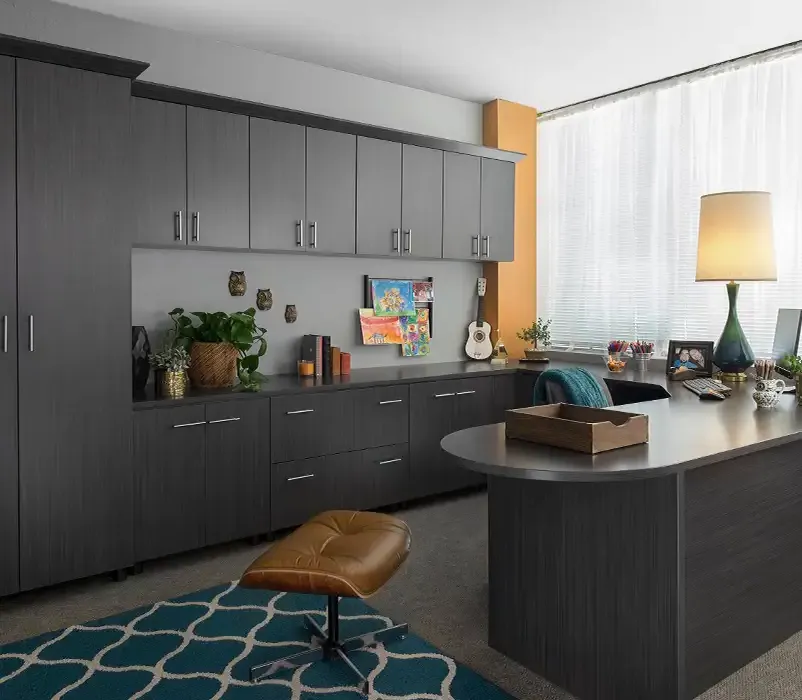 This custom home office project was $13,248.
10' Wall Space Office Cabinets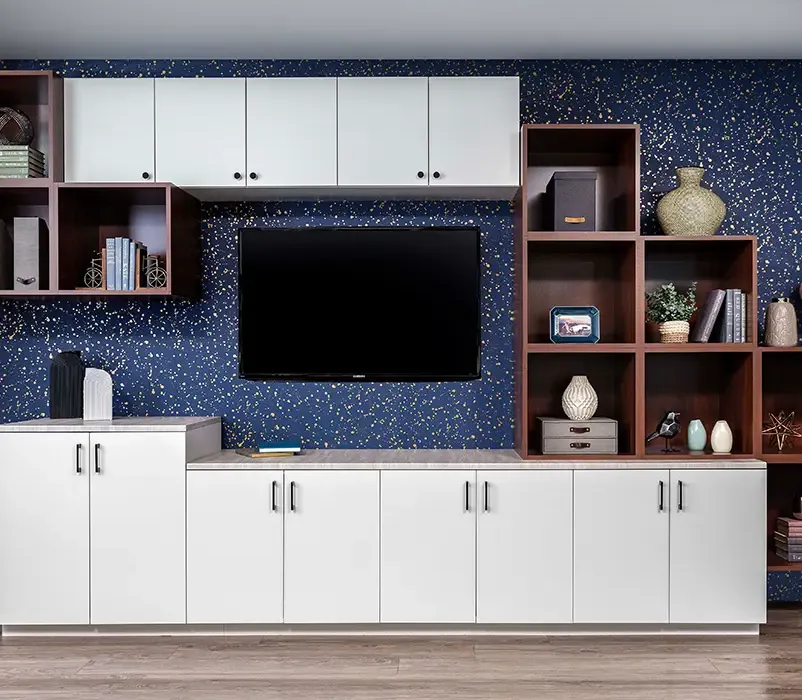 This home office project was $6.378.
Your Ideal Home Office In 3 Stress-Free Steps
With our three-step process, you can sit back and relax while we take care of everything for you.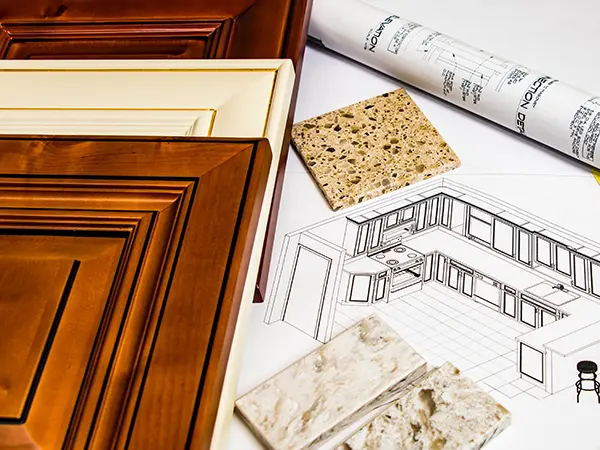 In-Home Design & Consultation
Visualize your future home office with our latest 3D software and discuss your specific needs with our designers, who will ensure that you get functional and personalized storage solutions.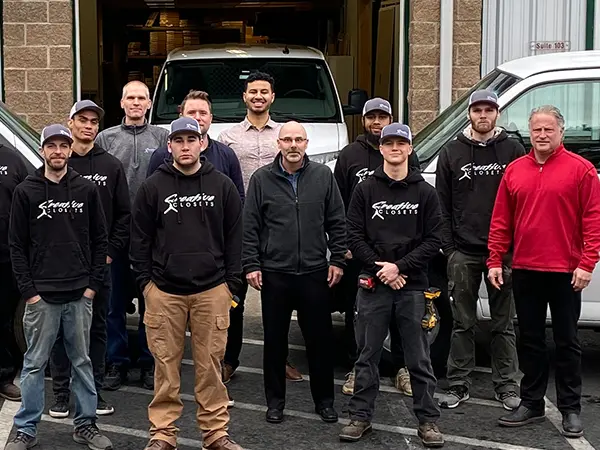 Once everything is ready, our installation process is quick and efficient, so you can start enjoying your new organized home office right away. We provide regular status updates on your project.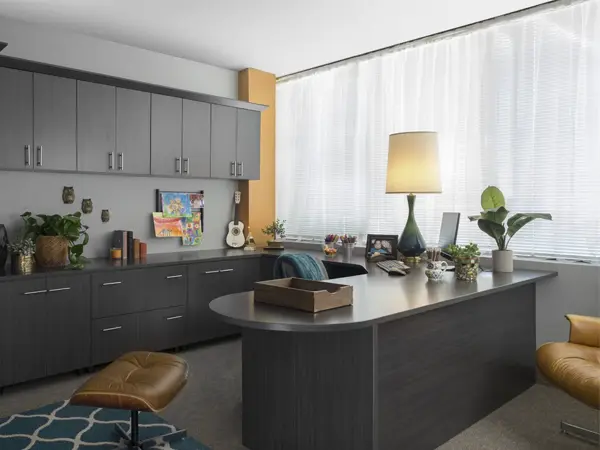 Enjoy A Productive Work Space
With our transferable lifetime workmanship warranty on all installed storage solutions, you can have peace of mind knowing your hard-earned money is invested in something functional and durable.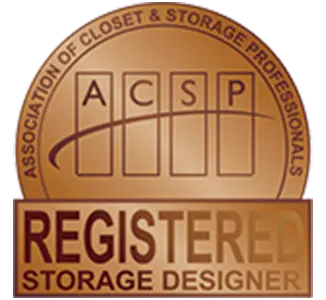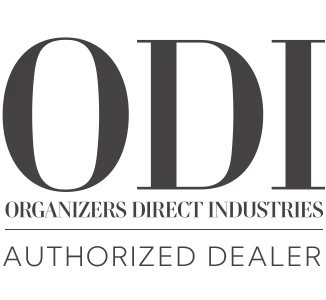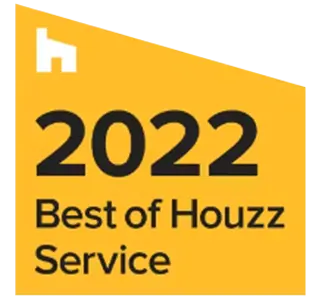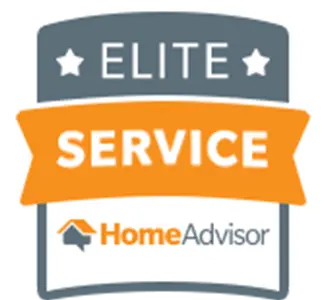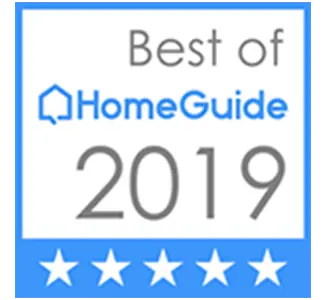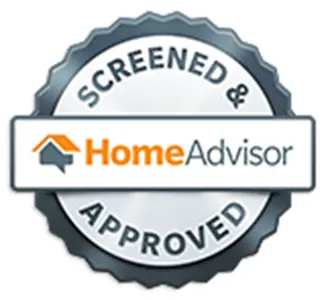 Read Other Experiences With Creative Closets
We had a fantastic experience with Creative Closets! Jerry did our initial consultation and we loved how thorough he was with our design process. It was so helpful seeing product samples in person and we loved the 3D computer design that he came up with on the spot. It really helped us picture what we were ordering.
The office was great about scheduling and keeping in touch throughout our process. Josh did our install and we couldn't have been happier with how it went! He let us know when he was on his way and arrived right on time. The installation was organized and seemed to go very smoothly, even with my kids underfoot and getting in his way!
I found Creative Closets on Thumbtack and from the onset, they were very responsive.
I worked with the lead designer, Jerry who was highly professional and very patient with me walking me through different designs until we landed on a final design I felt comfortable with that was also within my budget.
Caleb, the installer, was very thorough and responsive. I love my new closet and will be recommending this business to anyone in need of a custom closet.
They did an amazing job designing the closets to what we needed and installing on time! We are return customers since we first worked with Tim in 2015.
We have gotten closets installed by other popular closet companies out there and Tim's team by far has been the most professional and value for money.
Thank you!
Boost Your Productivity And Work More Efficiently
And leave the messy work to a team that loves designing and installing storage solutions.
Experience Services Focused On Your Peace Of Mind
Our focus is on improving your quality of life through high-quality products and exceptional workmanship. You will receive the best possible service and solutions for your organizational needs.
We strive to create a positive and growth-oriented workplace for our employees. This translates into a team that is dedicated to giving you a flawless experience from start to finish.
We bring 3D software to your home and work with you at your kitchen table. This allows us to involve you in the design process so the end result can look exactly like you envisioned it.
Get More Productive And Save Time Spent Searching For Misplaced Documents
Let us create a customized office storage solution for you.