The Best Closet Systems In Maple Valley
We build custom closet systems to fit all your storage needs.
Every morning you have to get out of bed, find the right outfit to wear, maybe get your kids dressed, and start your day. And every time you spend more than a few seconds finding that item you need, you end up frustrated over closet organization. We've all been there, and the solution is even easier than you think: have a place for everything!
Whether it's your kid's soccer shoes or your gym outfit, a closet should be a space with designated areas for each clothing or accessory category. Thanks to your fully customizable closet system design and installation service, we're here to make it happen.
With our storage solutions, you can save precious time each morning and find everything you need faster, dodging morning headaches that you really don't need. How about some extra time you can spend enjoying your coffee?
Great service, quality and installation of new closets. This is our 2nd time using Creative Closets and extremely happy both times. Jordan was our installer and was on time, respectful and efficient. Thank you!
Avoid The Daily Scavenger Hunts
Are you tired of constantly struggling to find your favorite shirt buried in a pile of clothes? Or perhaps you spend precious minutes each day searching for misplaced accessories or shoes?
It's time to reclaim your sanity and bring order to your home with our custom closet systems. Our innovative solutions are designed to transform your chaotic storage spaces into organized havens. Imagine a closet where every item has its designated place, making it effortless to locate what you need, when you need it.
From spacious walk-in closets that feel like your personal boutique to cleverly designed reach-in closets that maximize every inch of space, our custom solutions are tailored to fit your unique needs.
We offer a closet systems design and installation service that checks off all the right boxes:
Contact us today and we'll send our designer to your Maple Valley home to discuss, measure, plan, curate, suggest, and show you how your dream closet unfolds before your eyes.
What Closet Systems Would Best Fit Your Maple Valley Home?
At Creative Closets, we understand that every home is unique, and finding the perfect closet system to suit your specific needs is essential. That's why we're here to guide you in discovering the ideal storage solutions for your Maple Valley home. Let's explore the possibilities together and find the closet system that perfectly fits your Maple Valley home, enhancing both its practicality and aesthetic appeal.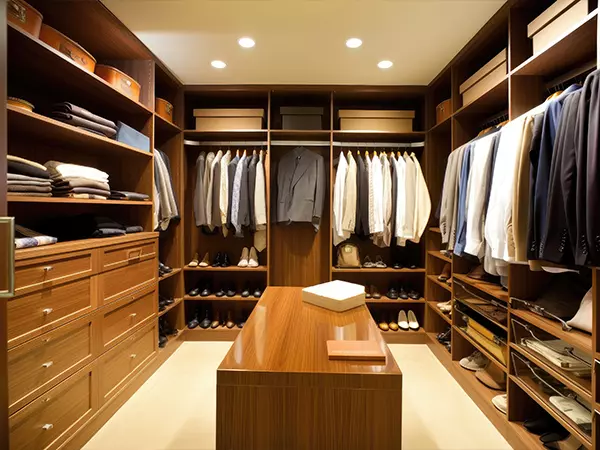 If you have a spacious room to spare, our walk-in closets will take your breath away. These luxurious storage solutions provide ample space for your entire wardrobe, shoes, accessories, and more. Imagine being able to turn your closet into a fashion boutique.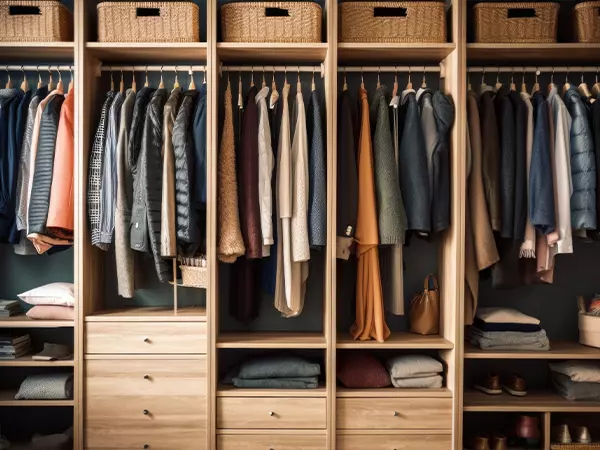 Don't let limited space hold you back from achieving organization. Our reach-in closets are designed to maximize every inch of your small or medium-sized closet. We'll work with you to create a customized system that utilizes clever storage solutions and optimizes vertical space, giving you a surprising amount of storage for your belongings.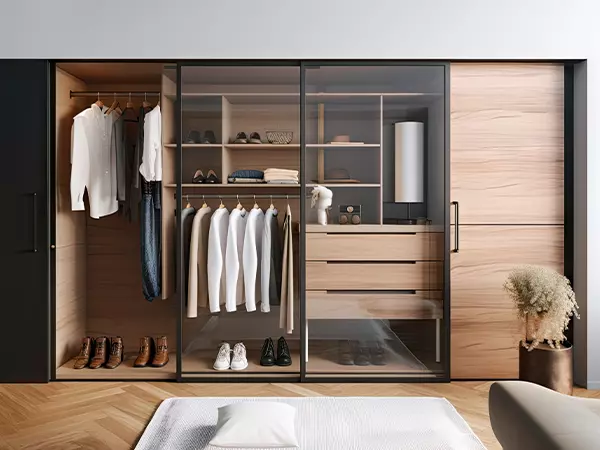 Are you a fashion enthusiast with an extensive clothing collection? Our wardrobe closets are perfect for you. These standalone units offer a versatile storage solution that can accommodate your clothing, shoes, accessories, and even feature mirrors and built-in lighting to complete your dressing area.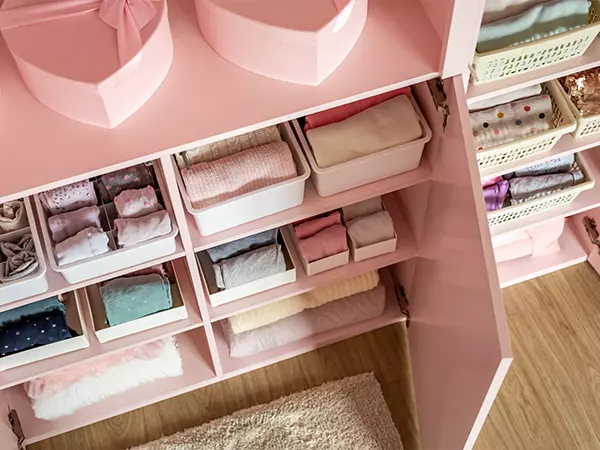 Tidying your children's rooms can be a never-ending challenge. Our kids' closets are designed with their unique needs in mind. We'll create a fun and functional space that encourages organization and makes it easy for your little ones to find their favorite toys, clothes, and school supplies.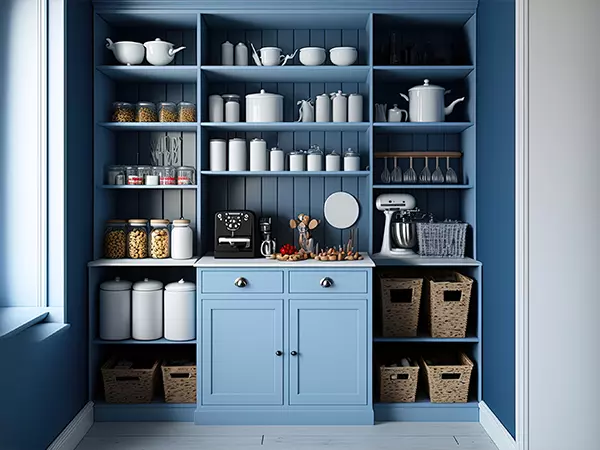 A well-organized kitchen pantry can make meal preparation a breeze. Our custom pantry systems provide clever shelving, pull-out baskets, spice racks, and more, ensuring all your ingredients and kitchenware are within easy reach. Say goodbye to expired items and wasted space and hello to a pantry that sparks joy in your cooking routine.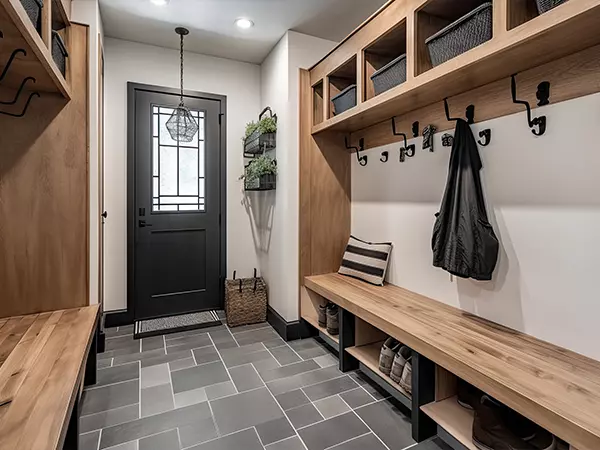 The entryway cabinet system is the first thing people see when they enter your home. They're also the first thing to greet you when you're back home at the end of a long day. Our custom entryway cabinets offer a perfect blend of beauty and functionality, with hooks, cubbies, shoe racks, and more options.
With our expertise in custom closet systems, we can help you maximize your space, increase organization, and elevate the overall functionality of your closets. Contact us to learn more!
Why We're So Popular In Maple Valley
Curious to see how we helped other Maple Valley homeowners with their storage problems?
We had a great experience from consultation to design to installation. A great local business with fantastic product, prices, and installers. I highly recommend Creative Closets.
Caleb and his partner came out on time, they were professional, knowledgeable, and answer any questions that I had. They cleaned up after they were done and left the place spotless. They even rolled out the red carpet when they arrived to enter my home.
Breaking Down Closet Systems Cost In Maple Valley
The cost of your Maple Valley closet system can vary significantly based on a few factors, so we'll give you some general information to give you an idea of what to expect.
The table below includes some of the costs of different closet systems we installed for our customers in the past. To get more accurate pricing, you have to contact us so we can bring the showroom to your home, measure your space, and determine exactly how to customize your closet.
| Closet Type | Size | Average Price |
| --- | --- | --- |
| Walk-in Closet | 20' x 20' | $9,500 |
| Reach-In Closet | 8' Long | $2,000 |
| Kitchen Pantry | 8' x 5' | $4,500 |
| Entryway Cabinet Wall | 8' | $6,500 |
| Kids' Reach-In Closet | 8' Long | $2,800 |
You're probably wondering why these prices aren't universal. That's because your closet is different, your space is unique, and your family's needs are special. That being said, here are the main factors that influence the cost of a closet system in Maple Valley.
Let's look at the different factors that can lower or increase the price, so you can better understand why prices are so different from one situation to another.
The size of your closet plays a significant role in determining the cost of the organizer. Larger closets generally require more materials, additional shelving, and increased labor compared to smaller ones. Therefore, it's essential to consider the dimensions of your closet when estimating the overall cost.
Imagine a compact 6-foot-long closet. In this scenario, the cost of organizing it would typically fall below $1,000. On the other hand, if you're dealing with a more spacious 8-foot-long closet that requires organization, the price can reach around $2,000.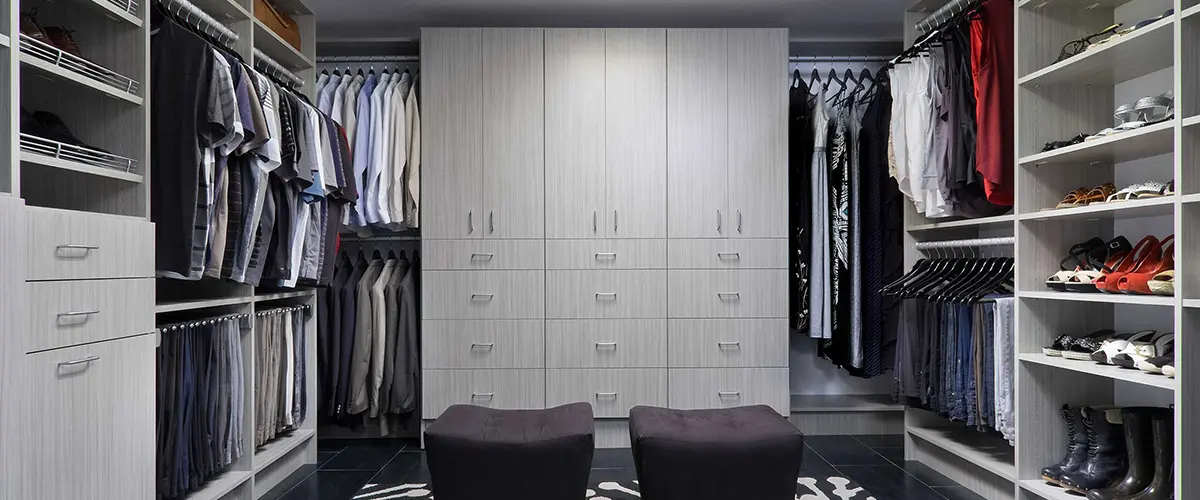 The size and complexity of your project will influence the cost. Larger spaces or intricate designs may require more materials and labor, resulting in a higher price. However, rest assured that our experienced team will work closely with you to create a solution that fits your budget without compromising quality.
For example, the closet systems required to set up your kitchen pantry are usually more extensive than a small reach-in closet. You can pay up to $4,500 for an 8' x 5' kitchen pantry, while a reach-in closet for your bedroom or laundry room can be as affordable as $2,000.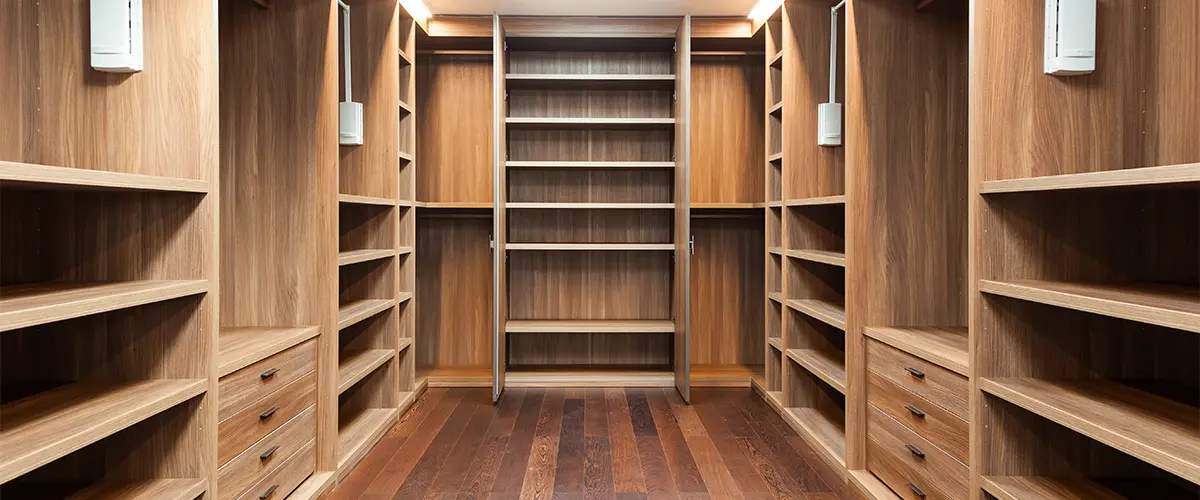 Closet systems are divided into different categories based on their size and specifications. Walk-in closets generally tend to be larger in size and offer more storage space. Wardrobe closets are standalone units designed for clothing storage. Reach-in closets are typically smaller or have limited space available. This all changes the end price.
A 7' entryway cabinet wall with a deep sitting bench and lots of storage drawers can cost around $5,500, while a 20' x 20' walk-in closet with multiple accessories can cost as much as $10k.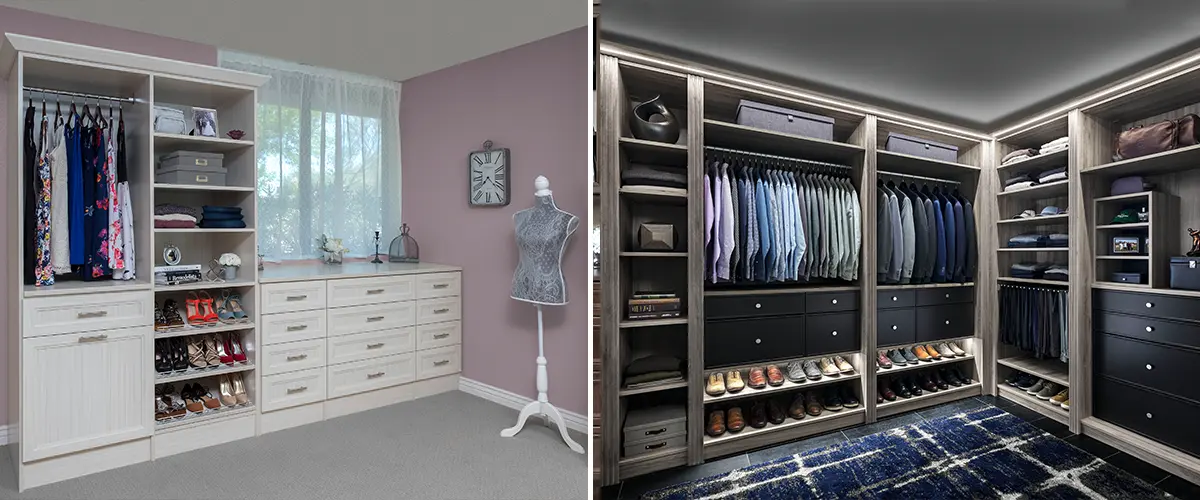 Additional features and accessories can enhance the functionality and aesthetics of your custom closet system. Whether it's pull-out shoe racks, jewelry organizers, or integrated lighting, these upgrades can elevate your closet experience. Keep in mind that each addition may contribute to the final cost, but we'll help you prioritize based on your needs and budget.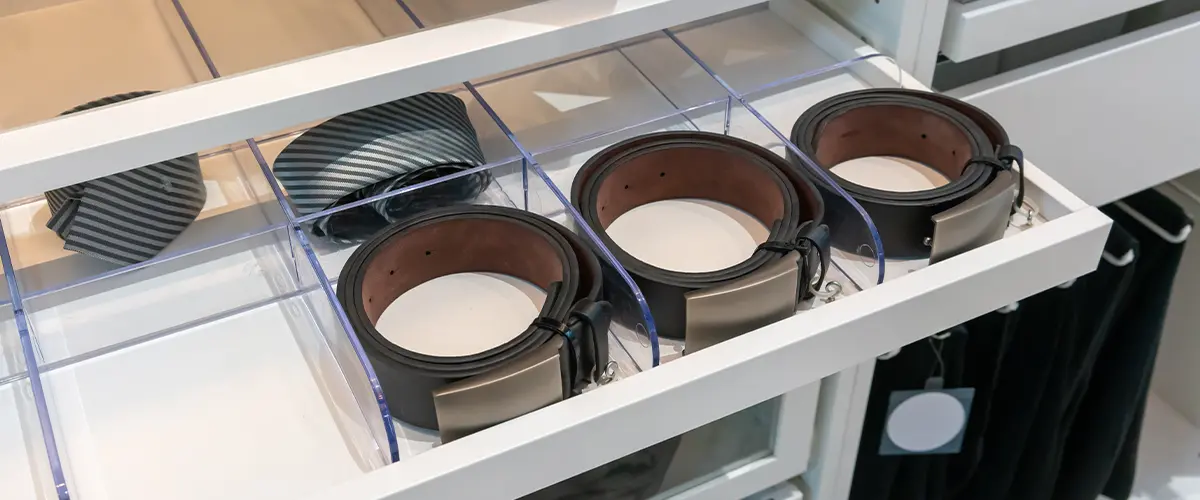 Our professional installation service ensures that your custom closet system is expertly installed for long-lasting functionality. The installation cost is factored into the overall price, guaranteeing a hassle-free experience and a finished product that exceeds your expectations.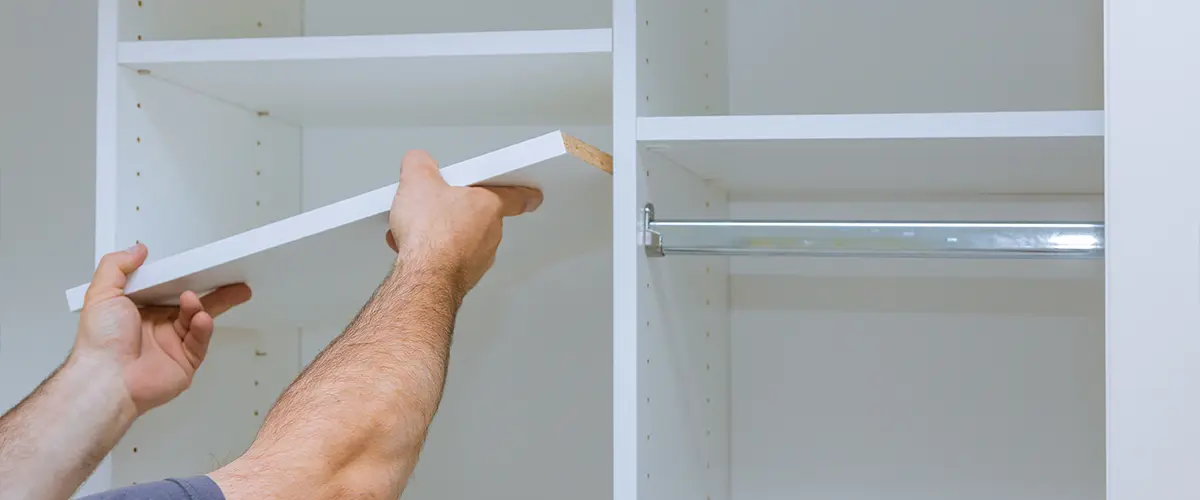 If you want a new closet without having to save money to get them, we have a very convenient financing option set in place. Learn about our 0% interest and $0 down payment offer and get the closets of your dream without the wait.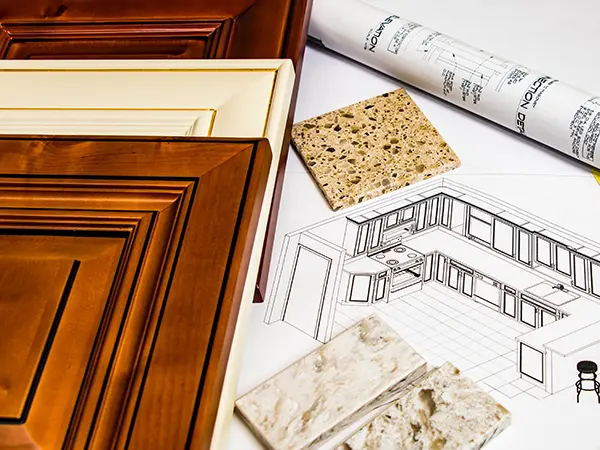 Let's schedule your in-home showroom appointment and create a closet system for you and your family.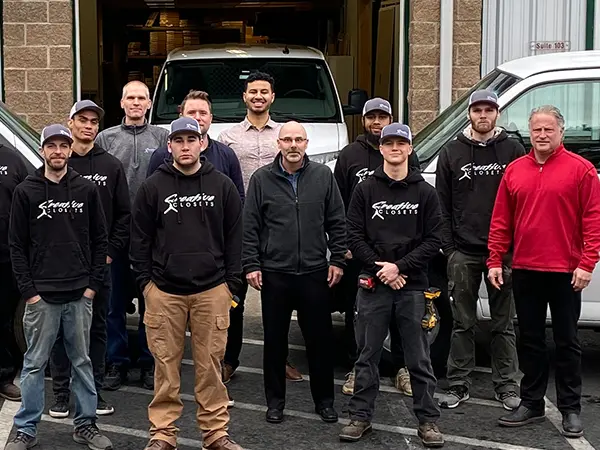 When all materials are ready, we can install your closet system within a day.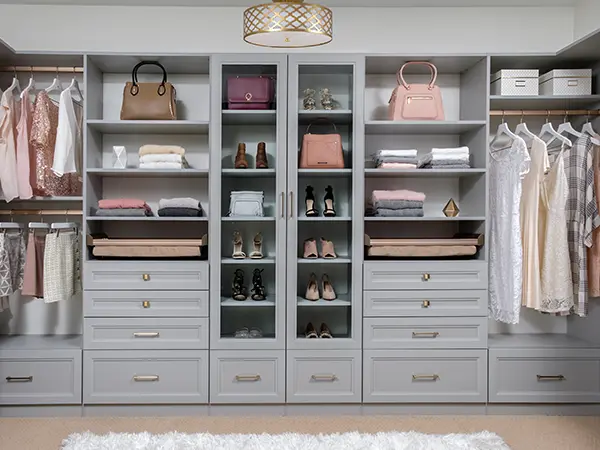 Have a designated space for every item and toss away clutter for good!
Here's How Everything Goes...
Some Closet Photos To Keep You Inspired
If you want to understand how our closet systems really keep your Maple Valley home organized, here are some photos for inspiration.
Make Better Use Of Your Maple Valley Space
At Creative Closets, we firmly believe customized solutions are the key to meeting your unique needs. We understand that every individual, every family, and every home is distinct and deserves personalized attention.
That's why we have developed a streamlined process allowing you to accomplish your closet design, material and accessory selection, and financing arrangements in a single 60-to-90-minute appointment, eliminating unnecessary time wastage.
When you choose to collaborate with us:
Get In Touch With Maple Valley's Finest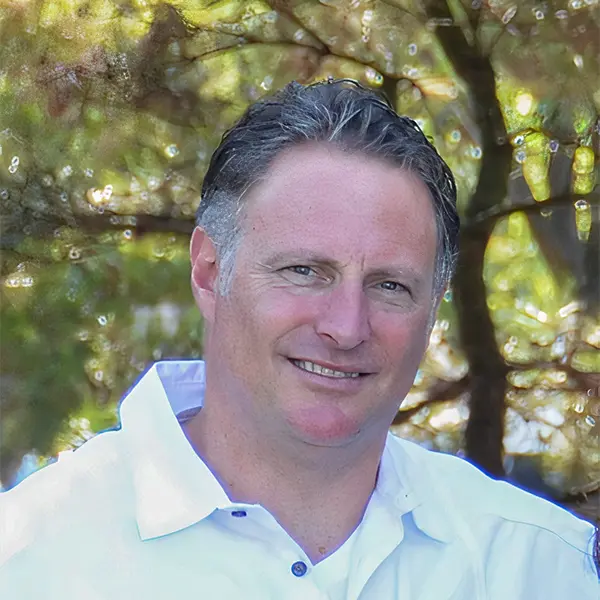 If you're seeking a simplified life where everything is easily accessible without the need to search through your entire home, look no further than our tailor-made closet systems in Maple Valley.
Contact us today at (425) 428-5073 to take the first step towards a more organized and efficient lifestyle. Alternatively, you can click the button below to request a comprehensive consultation that will delve into your specific requirements and preferences.