Garage Shelves In Maple Valley, Issaquah, Renton, Kent, And More Of WA
Get rid of clutter with the garage shelves that maximize your storage space.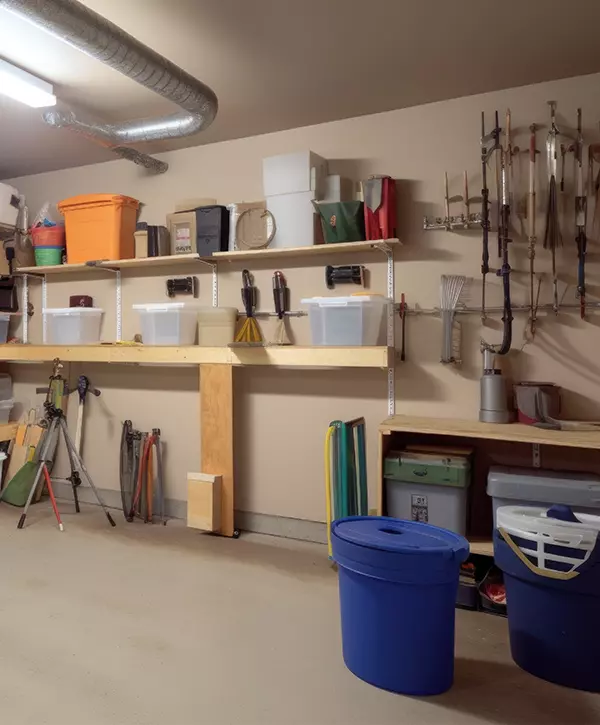 Why are garage shelves essential? For one, they help manage the often overwhelming clutter that finds its way into garages, converting chaos into order. Having a place for everything makes finding what you need when you need it a breeze.
At Creative Closets, we specialize in maximizing your garage's storage potential, freeing up floor space, and providing an organized environment. Our garage shelves are designed to hold heavy items securely and are tailored to your specific needs.
Work with us to enjoy:
The Benefits of Garage Shelves
When it comes to your garage, turning chaos into organized bliss is a goal that seems just out of reach. But fear not – Creative Closets' garage shelves are here to rescue your space and sanity. Discover the numerous advantages of having our carefully designed garage storage shelves tailored to your needs:
Do you find yourself maneuvering around piles of clutter, tripping over boxes, and wishing for more room? Our garage shelves are the solution to unlocking hidden storage space. From wall-mounted shelves that make use of vertical real estate to sturdy floor-standing units that optimize floor space, you'll regain valuable square footage to store everything from heavier items to those odds and ends you can't bear to part with.
Wave goodbye to the overwhelming sight of a cluttered garage. Our storage shelves are the superhero your garage needs, capable of organizing items that have been haunting your DIY projects, gardening gear, sports equipment, and more. No more lost tools or searching for that elusive bin – everything finds its place, allowing you to create a space that's both productive and pleasing to the eye.
Your garage, your rules. With Creative Closets, you have the advantage of designing and building your garage shelves exactly as you envision them. Whether you're a woodworking enthusiast or prefer sturdy metal units, our shelves can be crafted to match your preferred materials and aesthetic. The result? A unique shelving system that acts as an extension of your creativity and organization prowess.
Imagine a garage where ladders hang neatly on the wall, tools rest comfortably in labeled bins, and cars fit without the usual obstacle course. Our garage shelves are designed with easy organization in mind. With a variety of shelf depths, drawer options, and even lockable doors for added security, you can create a system that stores items of all shapes and sizes with efficiency and style.
At Creative Closets, we understand the overwhelming nature of an unfinished garage or one overrun by clutter. Our garage storage systems are more than just pieces of wood, metal, or plywood – they're tools that empower you to take control of your space, banish the chaos, and transform it into a haven of organization.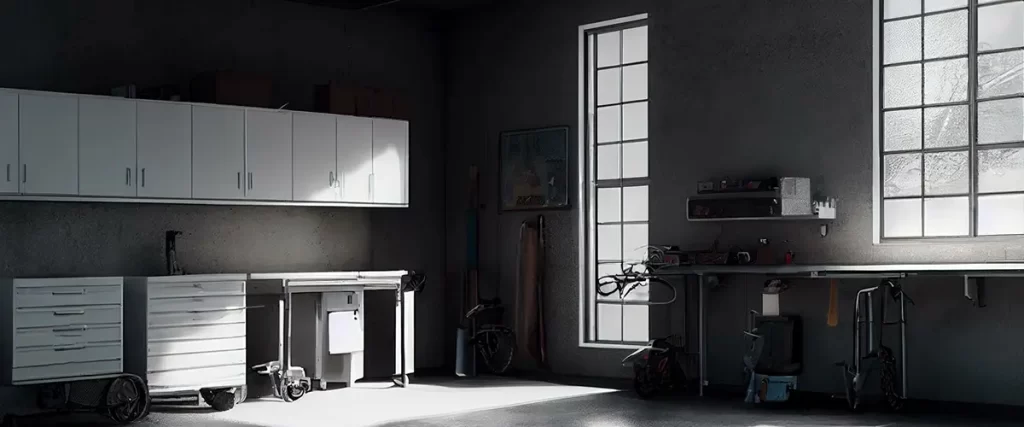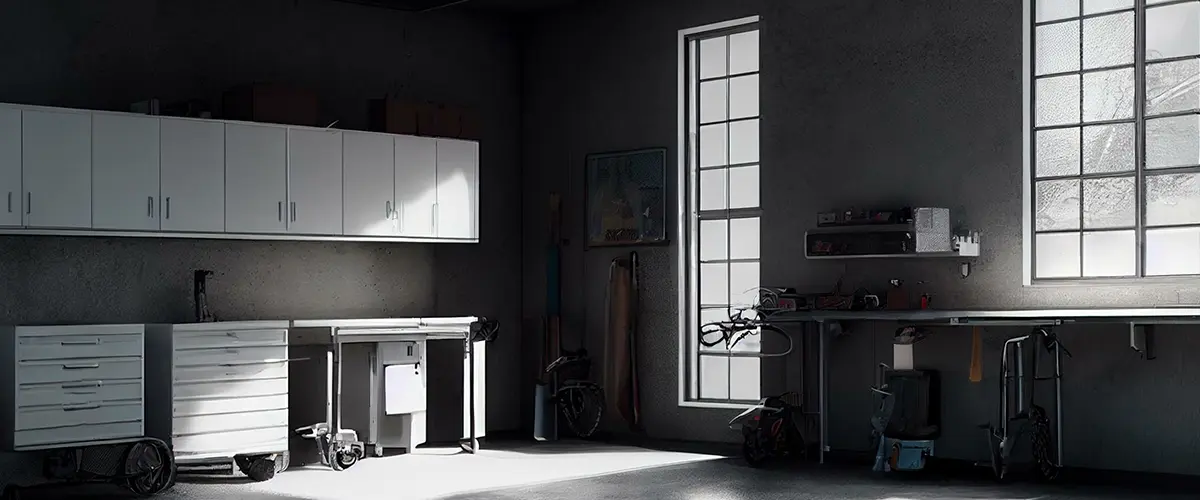 We've Helped Many Washington Garage Owners Just Like You
Let's hear from garage owners who have transformed their garages with our customizable shelving systems.
I used Creative Closets for our garage cabinets. They came out quickly to give me a quote. They were super professional and responsive. They followed up before the install date with all the details I needed. My installers did a fantastic job and went out of their way to make sure I was happy. The best value and service! Cannot recommend enough.
I just had my closet done and it looks fantastic. They finished everything super quick and they were professional and really kind. I would recommend their services to anyone.
Finding the Perfect Garage shelves for you
When it comes to transforming your cluttered garage into an organized haven, the right choice of shelves can make all the difference. At Creative Closets, we understand your frustration with scattered tools, toys, and limited space to park your car.
1. Floating Shelves for Sleek Storage
Floating shelves are not only stylish but also incredibly space-efficient. Imagine mounting these shelves on your garage walls, giving you a convenient spot to display smaller items or keep frequently used tools within arm's reach. Whether it's sports gear or cleaning supplies, floating shelves are a sleek solution to keep your garage organized while adding a touch of modern flair.
2. Sturdy Shelving Units for Bulk Storage
For heavier items and larger equipment, sturdy shelving units are your best friend. These floor-standing units provide ample space to store bins, boxes, and tools that have been cluttering your garage floor. Our shelving units are designed to handle heavy loads, making them the ideal choice for homeowners looking to maximize their storage capacity without compromising on durability.
3. Adjustable Shelves for Flexible Organization
The versatility of adjustable shelves is unmatched, making them a perfect fit for your ever-changing garage storage needs. These shelves can be easily modified to accommodate items of various sizes – from power tools to gardening equipment. With adjustable shelves, you're in control of your garage's layout, allowing you to create an organized space that evolves as your needs do.
4. Customized Storage Solutions
Your garage deserves shelves that align perfectly with your storage requirements. Our customized shelving solutions take into account the specific items you need to store. Need designated spots for sports equipment or specific bins for cleaning supplies? We've got you covered. Our designers work closely with you to create a shelving system that caters to your unique needs and streamlines your daily routines.
Don't let the frustration of a cluttered garage hold you back any longer. Contact us and let us help you choose the perfect shelves that align with your needs and elevate your garage to its full potential.
A Look Into Our Past Projects
Allow us to take you on a visual tour of the transformative work we've done in the past. From disheveled chaos to a cleanly organized haven, these photos tell the story of our commitment to creating high-quality, custom-tailored storage solutions that not only meet, but exceed our clients' expectations.
Garage shelving refers to a storage system designed specifically for garages. It includes various types of shelves or shelving units that are arranged systematically to maximize the storage capacity of your garage.
These shelves serve as an efficient solution to store items and keep your garage organized. Whether it's tools, sports equipment, gardening supplies, or boxes, a garage shelf provides a designated place for each item, making it easier to locate them when needed.
The shelving units may be wall-mounted or stand-alone, and can be made from a variety of materials such as metal or wood.
They can also be designed as adjustable, floating, or fixed shelves to cater to different storage needs and preferences.
The choice between metal and wood shelves depends on your specific garage storage needs and preferences.
Metal shelves are known for their durability and strength. They can support heavy items without warping or bending, making them perfect for storing heavy tools, large bins, or boxes. They are also resistant to damage from moisture, pests, or fire, which can be beneficial if your garage is exposed to these elements.
Wood shelves, on the other hand, offer a warm, attractive aesthetic that can complement your garage's existing decor. They can be stained or painted to match your preferred style. While not as resilient as metal, they can still support substantial weight depending on the thickness and type of wood used.
Remember that each type has its pros and cons, and the best choice will depend on what you need in terms of durability, aesthetics, and functionality. At Creative Closets, we offer both options and can guide you in making the best decision for your garage organization needs.
Metal shelves, while robust and durable, do have some disadvantages.
First, metal shelves can corrode or rust over time, especially in damp environments, impacting their longevity and appearance. Second, their industrial aesthetic may not blend well with all garage decor.
They can be prone to denting and scratching, which could affect their visual appeal over time. In extreme weather conditions, metal shelves can become either too hot or too cold to the touch, which can be a nuisance if you frequently access your storage.
Despite these potential drawbacks, the durability and strength of metal shelves make them a popular choice for many garage owners.
Contact Us for the best custom Garage Shelves in Washington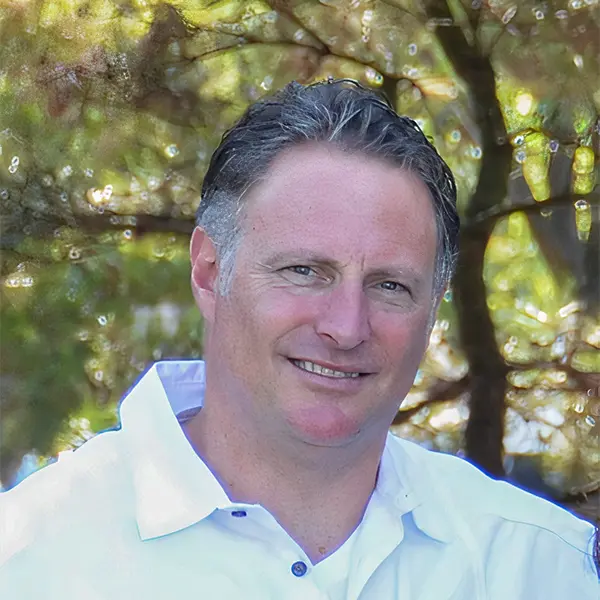 No matter the challenge, we at Creative Closets are ready to give you the garage storage system that suits your needs. Do you have questions or ideas you'd like to discuss? Want to explore our range of metal and wooden shelves? We're just a phone call away.
Reach out to us at (425) 428-5073. We can't wait to help you transform your garage into an organized, efficient space that truly meets your needs.