The Best Garage Storage In Lakewood
We build custom garage storage systems for any Lakewood home.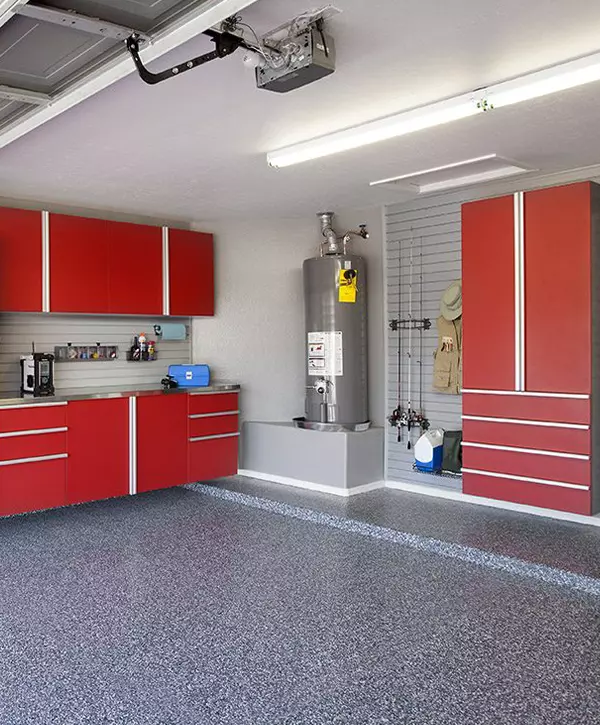 Are you looking for the best garage storage solutions in Lakewood? Look no further! We offer custom-designed garage storage systems to suit any home. Our experienced team will work with you to create a unique and functional design that meets your needs.
From wall-mounted shelves and cabinets to overhead racks, our products are built to last and provide ample space for all your belongings. With our help, you can finally get organized and take control of your cluttered garage. Stop wasting time searching through piles of items every day – let us build the perfect solution for you today!
Our two installers were very friendly and professional. They reviewed everything before they started and answered any questions we had during the installation. They also did an excellent job of cleaning everything up after completing the job. I was very satisfied with the final product. It was even better than I imagined!
Keep Your Tools Off The Garage Floor
Are you tired of tripping over tools and other items that are cluttering up your garage? If so, then it's time to invest in a custom-made storage system. We specialize in creating functional and durable designs tailored to fit any space.
Whether you need tool organizers or overhead racks, we can provide the perfect solution for keeping your garage neat and organized. With our help, you'll be able to find what you need quickly and easily.
As part of our comprehensive service, you can enjoy:
Contact our team to arrange for an appointment with one of our designers who will come to your Lakewood residence to design your garage. Our designer will make on-the-spot changes during the short appointment to make sure the design meets your requirements.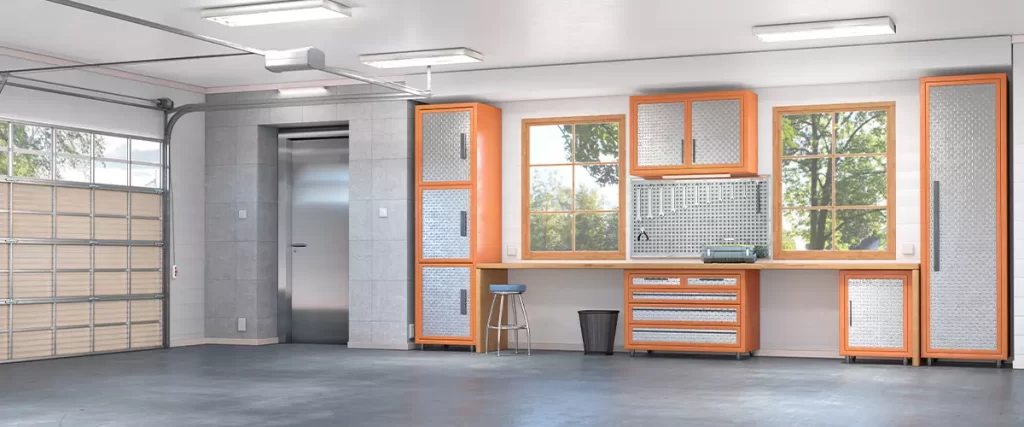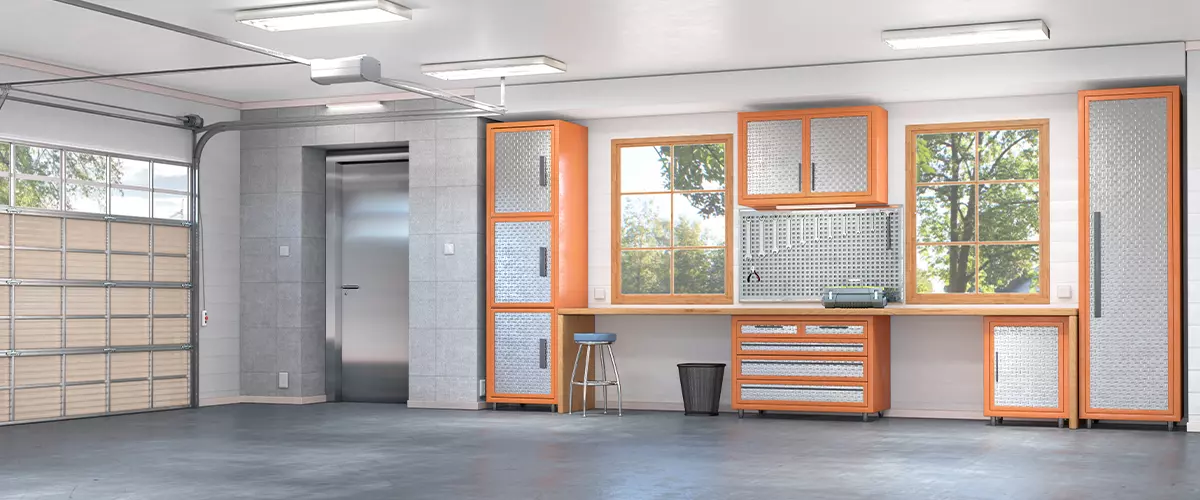 Types Of Garage Storage For Your Lakewood Home
Garage storage systems use vertical wall space, overhead space, and specialized organizers to maximize storage. By implementing these solutions, you can easily access your items and reduce clutter in your garage.
Slatwall organization is a great way to maximize the use of your garage's vertical wall space and declutter the area. You can use the Slatwall panels to hang up tools, bulky items, and accessories, which keeps them off the floor and gives each item a designated place. Utilizing the vertical space with slatwall organization creates a more organized garage and makes it easier for you to access your belongings.
If you're looking to declutter your garage, overhead storage systems can make a big difference. These systems make use of the ceiling space that often goes unused, providing an intelligent solution for storing items that are only used seasonally, large containers, and other belongings that aren't needed frequently. By lifting these items off the floor and using the overhead space, overhead storage systems can help you clear the clutter.
If you're looking for an effective way to declutter your garage, ceiling racks are a practical solution. They make use of the unused space near the ceiling and provide ample storage options for items like sports gear, camping equipment, or other bulky items that you don't use often. By making use of the vertical space, ceiling racks help keep your garage clean and tidy, free up floor space, and ensure easy access to your stored items whenever you need them.
Organizing your garage is made easier with storage bins. These bins come in different sizes, making it possible for you to stack them and maximize your space. By labeling and categorizing your items, you can sort and store them in designated spaces, eliminating clutter and creating a streamlined storage solution. With the use of storage bins, you can keep your garage tidy and organized.
Make decluttering your garage a breeze with sporting equipment hooks. These hooks allow you to hang basketballs, tennis rackets, helmets, and other sports gear in an organized manner. Not only does this keep your equipment off the floor, but it also makes it easily accessible when you need it. By providing a designated spot for your sports gear, these hooks help create a clutter-free and efficient garage space.
To declutter a garage filled with fishing gear, using fishing hooks is a practical and efficient solution. By hanging fishing rods, reels, and tackle boxes on dedicated hooks, you can keep your equipment organized and easily accessible. These hooks also prevent tangles, ensuring that your valuable fishing gear remains in great condition. With fishing hooks, you eliminate the need to search through a messy pile of equipment, making your garage space clutter-free and efficient.
If you have a garage filled with bikes, bike holders are a great way to tidy up the space. By using wall-mounted or ceiling-mounted bike holders, you can free up valuable floor space while keeping your bikes safe and secure. Not only do bike holders prevent bikes from leaning against walls or taking up space on the garage floor, but they also help protect them from damage. With a designated and organized spot for your bikes, bike holders can help create a more organized and clutter-free garage.
Having a clutter-free garage is made possible with tool organizers. They come with slots, compartments, and racks that keep your tools in order and within reach. Tool organizers spare you from the hassle of rummaging through drawers and piles of tools, making your work faster and less frustrating. They offer a systematic approach to tool storage, where each tool has a designated spot.
Our garage storage systems are both durable and versatile, allowing us to create storage room for the different items you have in your garage while also building something that's made to last for decades.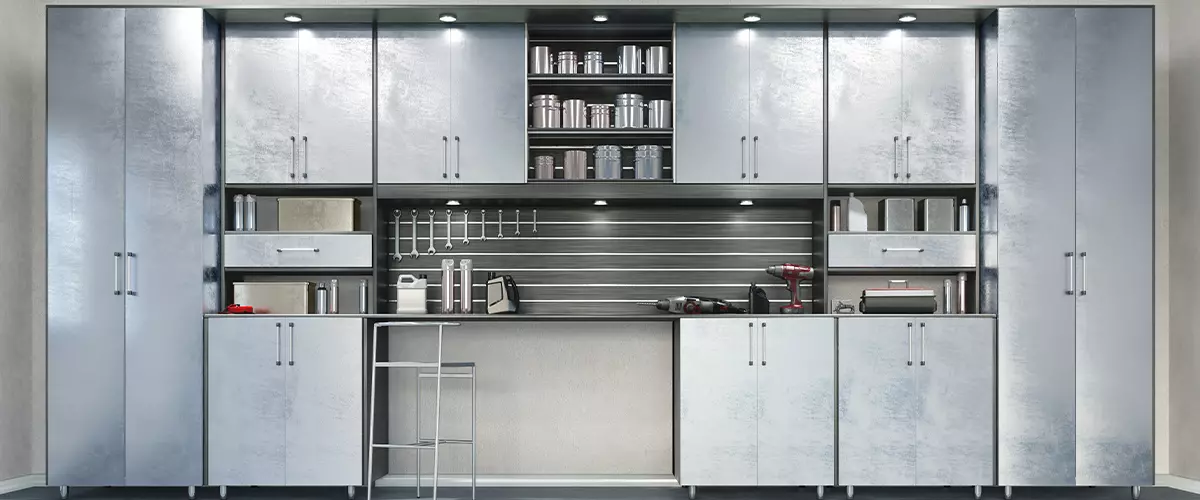 Why Lakewood Garage Owners Loved The Creative Closets Experience
At Creative Closets, we feel that the satisfaction and positive experiences of our clients are the ultimate indicators of our success. We've had the privilege of collaborating with numerous Lakewood, Washington homeowners to convert their garages into orderly and practical areas.
From the making an appointment for in person design to installation, Creative Closets was professional and prompt. They were able to explain step by step to me and it was a breeze to customize the closets as to what I wanted!
Also, the closet installation comes with lifetime warranty which is a plus! Thank you so much Creative Closets!
The designer salesman took accurate measurements and provided 3d drawings. Installer was respectful and polite and installed with care. Highly recommend.
The designer was fantastic! He really showed us how we can utilize our spaces much more efficiently! The guys who installed the cabinets were great! Personable, very nice and interactive! We loved the whole experience!
Understanding Garage Storage Cost In Lakewood, WA
If you want to transform your garage into a functional and organized space, it's crucial to understand what factors can impact the cost of storage systems. At Creative Closets, we place a high value on transparency and make sure our customers have a complete understanding of our pricing structure.
| Garage Storage System | What's Included | Price |
| --- | --- | --- |
| 20' Wall Of Cabinets & Workbench | Pewter cabinets, full-lenght handles, 10+ separate storage areas | $7,000 |
| Workbench & Slatwall Panel | Tall cabinets, workbench with top + bottom cabinets, Slatwall tool storage system | $9,000 |
| 22' Full Wall Cabinets & Slatwall | Tall cabinets, Slatwall system, workbench with cabinets and drawers, overhead storage | $11,000 |
Please note that the cost of garage organization can vary greatly depending on factors such as the size of the garage, the type of storage system selected, cabinet options, labor complexity, and any additional customization needs.
To provide an overview of our pricing, we have included a table that displays the costs of previous projects we have completed. However, for an accurate quote tailored to your specific garage storage requirements and budget, we recommend scheduling a consultation with our team.
Our pricing is tailored to meet your unique needs and budget, factoring in variables like specific features, garage size, cabinet choices, and project complexity. This section will break down these components to provide you with an estimate of the costs involved for your Lakewood, Washington garage storage project.
The cost of organizing your garage depends on its size and how many storage systems you need. A larger garage might require more storage to make the most of the space and meet your organizational needs.
At Creative Closets, our specialists will assess your garage's size and recommend the best storage systems to use space effectively.
If you choose a garage system with a 20-foot wall of cabinets and a workbench, the cost will be about $7k. However, if you go for a system with a 22-foot wall of cabinets, the cost may increase to $11k.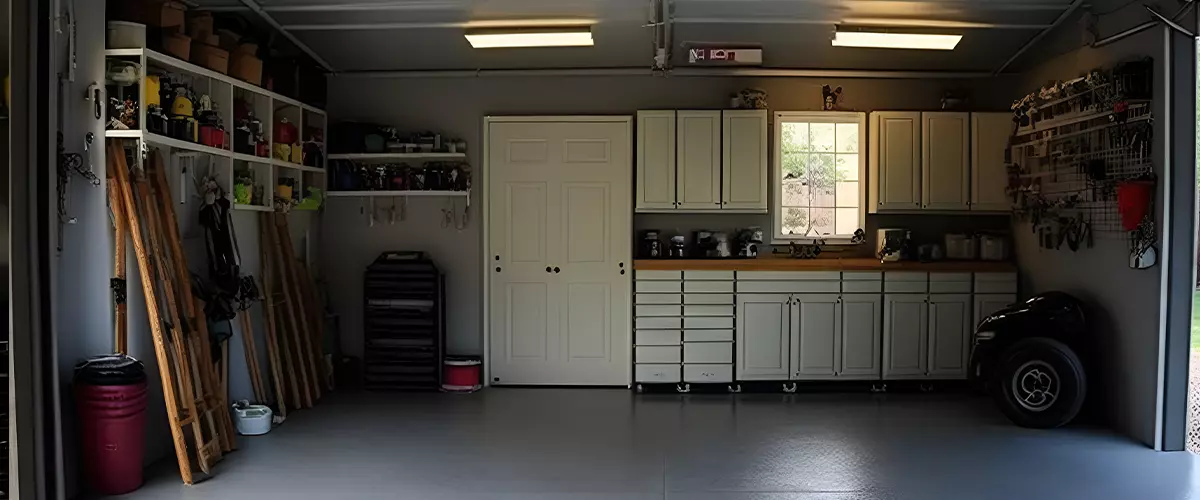 As a homeowner seeking to maximize your garage storage space, cabinetry is a viable option worth considering. While larger cabinets or personalized designs may come at a higher cost, they provide a neat and appealing storage solution that can accommodate your tools, equipment, and other belongings.
Our designer will partner with you to pinpoint the most suitable cabinet choices that meet your storage requirements and budget.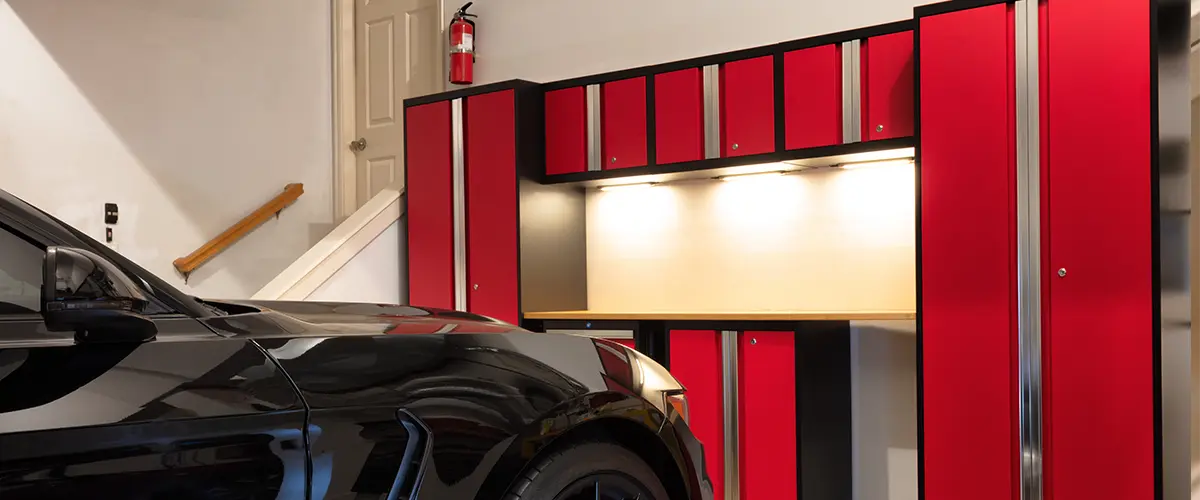 When it comes to garage storage systems, the more features and accessories you choose to add, the higher the cost will be. There are various options available, such as specialty hooks, adjustable shelving, and integrated lighting, that can enhance the functionality and appearance of your storage system.
At Creative Closets, we offer a diverse range of options that allow you to customize your garage storage system to suit your budget and personal preferences.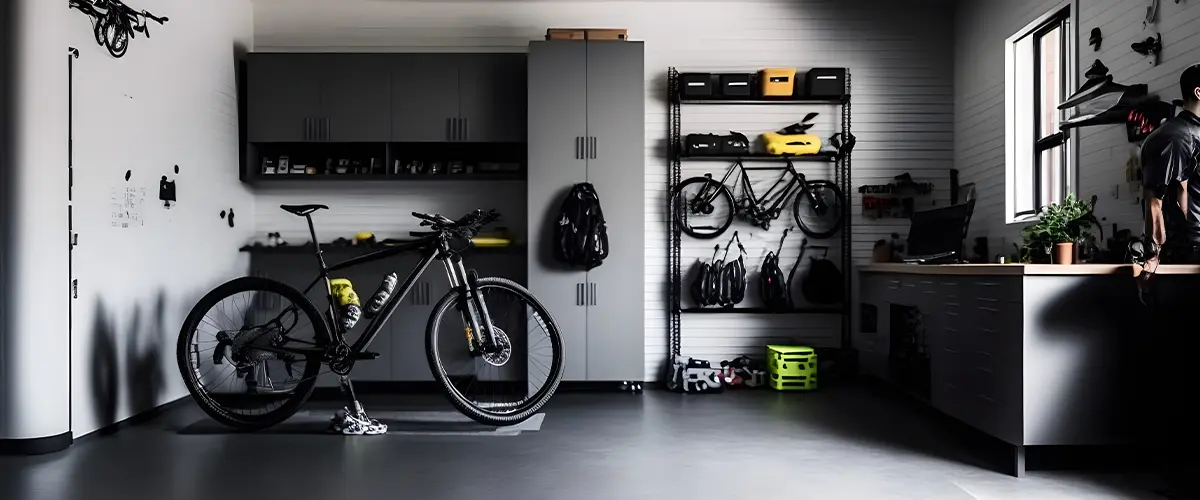 The total cost of your garage storage project will be determined by the amount of labor required. Additional expertise and resources may be necessary if the project requires electrical or plumbing work, resulting in a higher cost.
Our team of experts is skilled in handling complex installations. We guarantee that our team will complete the job accurately and in compliance with safety regulations.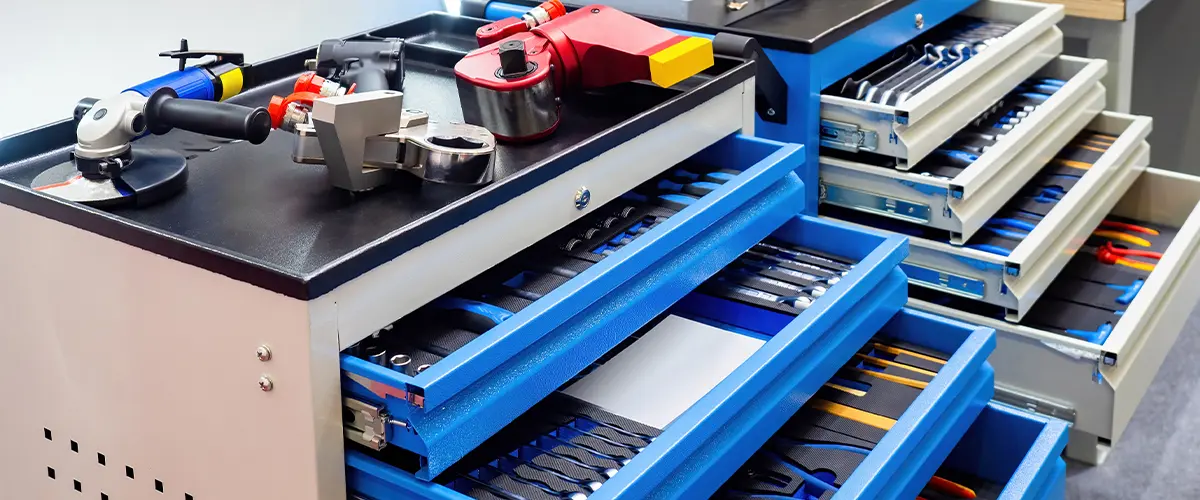 During your free consulation, we will take measurements of your space and use real-time design to create your garage layout. Any necessary changes can be made during the appointment, and you will receive the complete design before it concludes.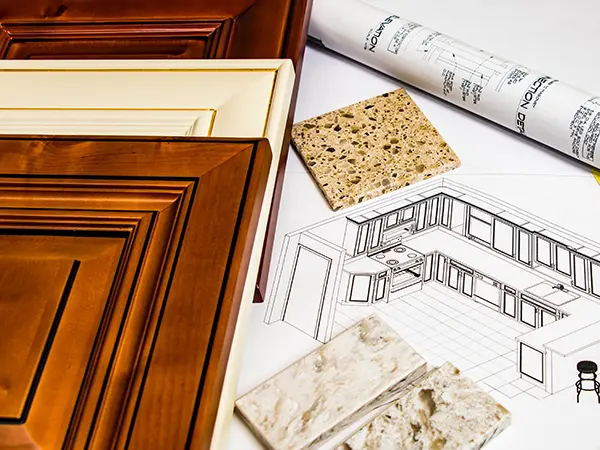 Collaboration is essential to us. We will come to your home and measure your space, designing your garage storage on the spot.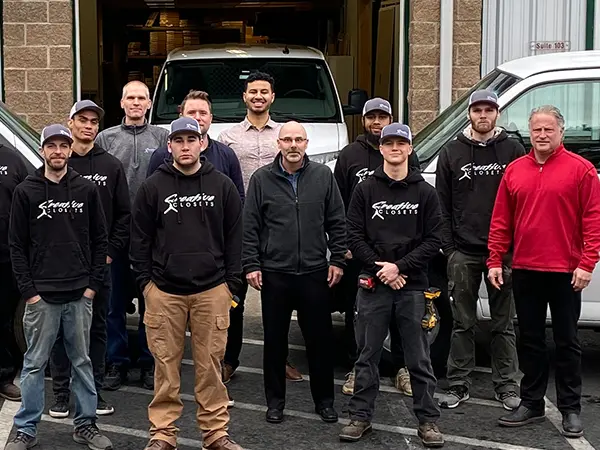 Our team will arrive with all the necessary materials to install your garage storage systems in a single day.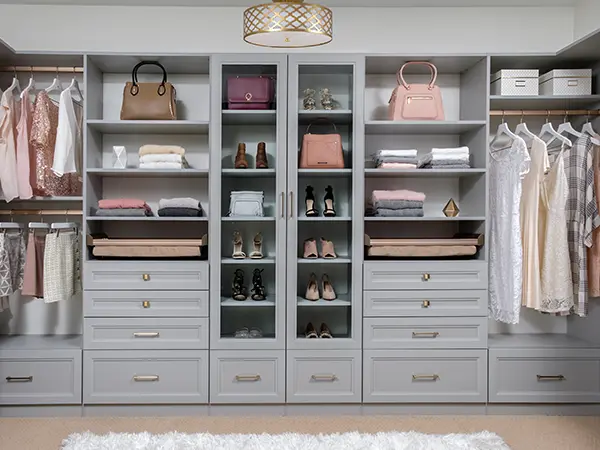 Once we've completed the installation, you'll be able to park your car in the garage and take advantage of all the free space. In seconds, you'll be able to find everything you need!
If This Is You, We Have A Solution
Gaze At Our Amazing Past Projects
Our portfolio showcases our dedication to crafting top-notch storage systems for garages. You can browse through our collection of projects to get a glimpse of how we can turn a cluttered garage into a well-organized and visually appealing space. Take a look at our gallery to discover how we can create a tailored storage solution that fits your specific needs and preferences.
From Design To Completion, We Do It All
We offer comprehensive garage storage solutions, from design to final touches. Our team of experienced designers and installers will work with you to bring your vision to life, and we can even recommend storage solutions if you're not sure where to begin.
When you choose Creative Closets, you'll enjoy a range of benefits, including personalized storage solutions that are tailored to your garage's unique needs, exceptional customer service from start to finish, and ample space to keep all your belongings organized and accessible.
Work with us to enjoy:
Let's Start Working On Your Picture-Perfect Garage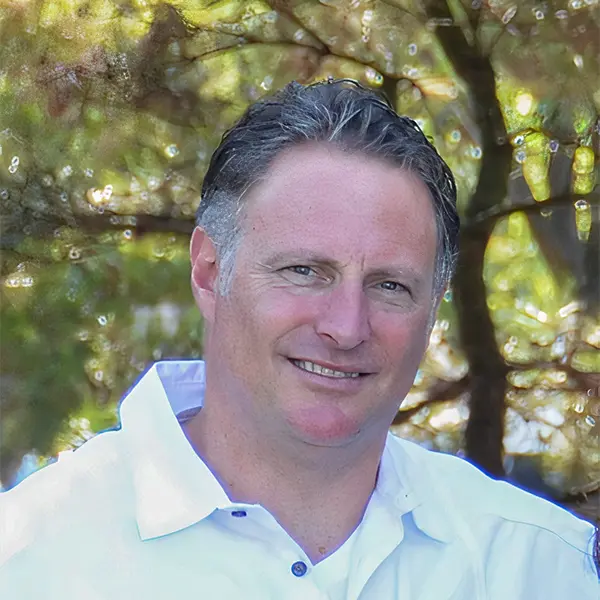 Turn your garage into something extraordinary with Creative Closets. Reap the benefits of custom storage systems and make your garage a safer space.
Contact us today at (425) 428-5073 to create your dream garage storage system with the help of Creative Closets.