The Best Walk-In Closets In Sammamish, WA
Get the best walk-in closets In Sammamish, WA, customized to match your belongings and lifestyle.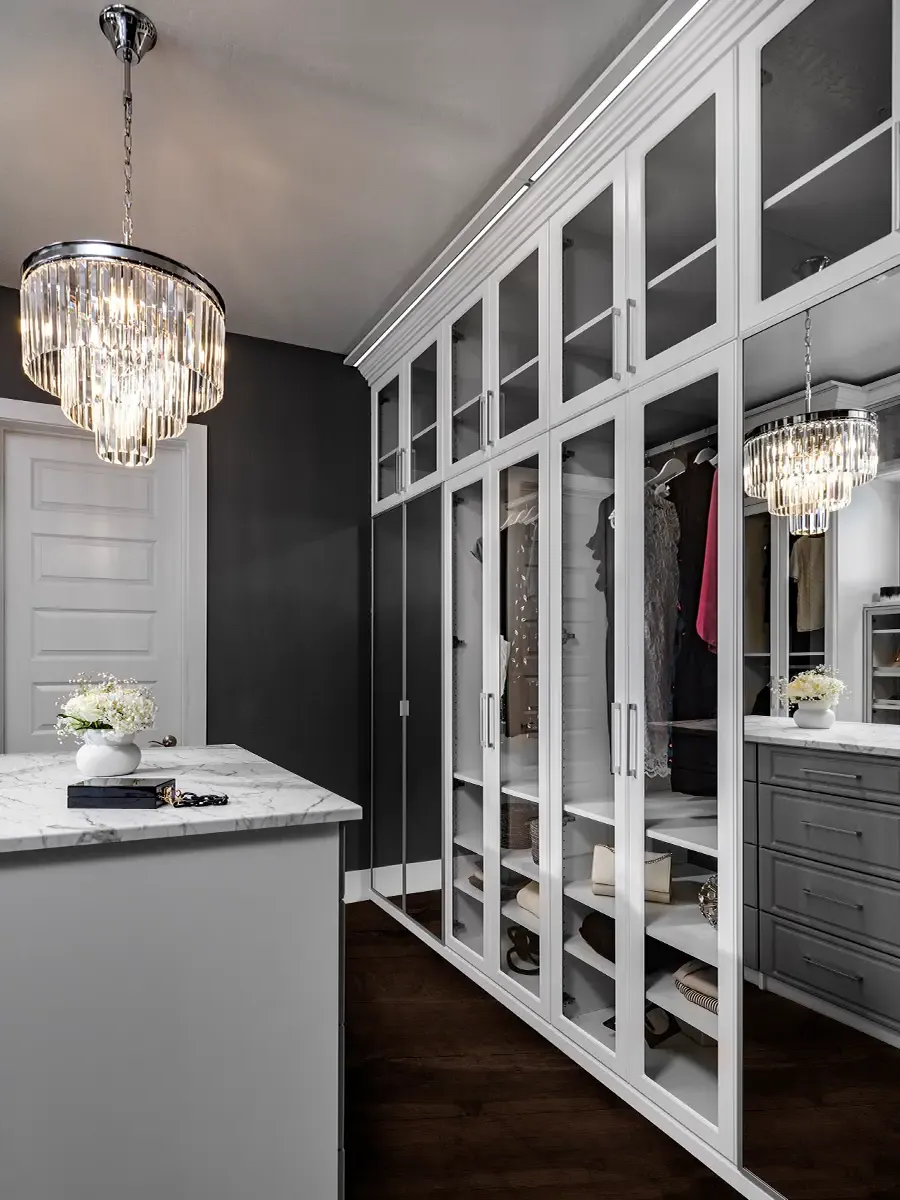 Customized walk-in closets aren't just a storage place for your clothes, but a symbol of taste and sophistication. They allow you to organize your garments, shoes, and accessories exactly how you want it, saving time and reducing stress. No more clutter, no more wasted time searching for that one missing shoe.
At Creative Closets, we design your dream closet and install it for you, ensuring a seamless and hassle-free experience. With our expertise, you can say hello to an organized lifestyle and bid farewell to chaotic mornings. Because at the end of the day, you deserve nothing but the best.
From the making an appointment for in person design to installation, creative design was professional and prompt. They were able to explain step by step to me and it was a breeze to customize the closets as I wanted! Also, the closet installation comes with Life time warranty which is a plus! Thank you so much Creative Closets!
The Walk-In Closets In Sammamish, WA, That Everyone's Raving About
At Creative Closets, we believe that you deserve the best. An exceptional walk-in closet can transform your morning routine into an experience of luxury and convenience, streamlining your daily life in Sammamish, WA. That's why our custom walk-in closets are designed with your needs and aesthetic preferences in mind, creating a personalized space that makes selecting your outfit a delight, not a chore.
We provide a range of benefits for homeowners like you, such as:
At Creative Closets, we understand that every individual is unique, and so are their storage needs. Whether you're looking for a simple, minimalist design or a luxurious walk-in closet adorned with high-end features, we've got you covered. Don't settle for less; reach out to us today and step into the world of organized luxury.
Common Features In A Sammamish, WA, Walk-In Closet
Our walk-in closets in Sammamish, WA, are renowned for their unique attributes. Each closet is meticulously designed to combine aesthetics and functionality.
Essential for organizing small items like accessories, lingerie, and hosiery, while maximizing storage space.
Perfect for neatly storing bulkier items like jackets, sweaters, or linens, available in various colors and sizes.
Keep accessories organized and easily accessible, with a variety of colors and styles to choose from.
Neatly organize your jewelry with hanging organizers, available in different sizes, shapes, and colors.
Conveniently check your outfit with full-length mirrors that slide out from the closet.
Streamline folding and organization of clothes without compromising space in the closet.
Efficiently store and organize bottoms with space-saving options in various sizes, styles, and colors.
Showcase your scarves with stylish racks available in different sizes, colors, and styles.
Arrange shoes neatly with stylish fences and organizers offered in diverse designs, sizes, and colors.
Keep outfits ready for the next day with easily removable and space-saving valet rods.
Optimize space while storing and organizing clothes, available in various sizes to suit individual needs.
Say goodbye to messy laundry with stylish hampers, available in different colors and sizes to match your closet's overall look.
Contact us at Creative Closets today! We specialize in custom walk-in closets in Sammamish, WA, and offer a complimentary wardrobe analysis to all our clients. Experience the luxury and organization you deserve.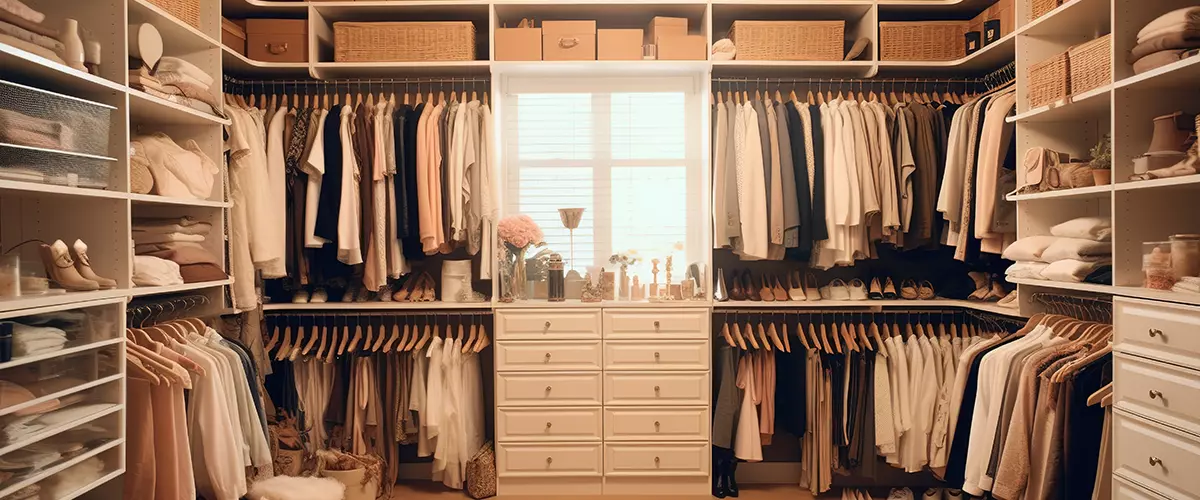 Listen to What Our Happy Customers Have to Say!
There's no better way to gauge the quality of our work than by hearing from our satisfied customers. We've assisted numerous homeowners in Sammamish, WA, in creating their dream walk-in closets, and their feedback speaks volumes about our dedication to excellence.
The assemblers were courteous and professional, they were neat, and did a great job assembling cabinets in my living room. They answered all my questions also. The quality of the material is also better than the usual offerings at other places.
Amazing experience from start to finish! The cost was very reasonable and the quality of the cabinets/work was exemplar. Jordan was very efficient with installation. If you are looking to get a custom closet installation done, don't waste your time comparing various companies…just go with Creative Closets.
Walk-In Closets Costs In Sammamish, WA
Looking to get walk-in closets in Sammamish, WA? Well, the cost depends on a few things. First, the size of your space and the materials you choose. Then, there are the specific features you want. But don't worry, we're all about giving you the best value for your money.
We've got options for every budget, so you can have that dreamy custom walk-in closet. And hey, we believe in being upfront about the pricing. No hidden fees or surprises, promise! Let's dig deeper into what factors contribute to the overall cost of walk-in closets in Sammamish, WA.
Closet Size
Features Included
Quoted Price
Most Expensive Item
6' x 9'
Long hanging section, Double hanging section, Adjustable shelves, Drawers
$4,375
Drawers: $1,000
20' x 20'
Upgraded color (Licorice), Multiple double hutch units (Hutches), Multiple accessories, Angled shoe shelves
$9,367
Multiple double hutch units: $4,000
12' x 6'
Custom height to fit under the window, Adjustable shelves for shoes, 24" deep material with lower doors to conceal the safe
$3,645
Doors
Please note that these prices are based on past projects, and actual costs may vary based on specific design choices and additional features. Reach out to us for an accurate quote tailored to your needs.
The size of your closet plays a significant role in the final cost of a custom walk-in closet. Larger closets require more materials and more labor for installation, which increases the cost.
For instance, a 6' x 9' closet with a long hanging section, double hanging section, adjustable shelves, and drawers cost approximately $4,375, with the most expensive item being the drawers at $1,000.
In contrast, a considerably larger 20' x 20' closet with upgraded color, multiple double hutch units, and angled shoe shelves comes in at $9,367, with the multiple double hutch units being the most expensive item at $4,000.
Another example is a 12' x 6' space customized to fit under the window, with adjustable shelves for shoes and 24" deep material with lower doors to conceal a safe, which costs around $3,645, with the doors being the most expensive item.
These examples display how the closet's size directly affects the cost, with larger spaces naturally requiring more material and thus being more expensive. However, it's important to note that the specific features and upgrades you choose can also have a considerable impact on the final price.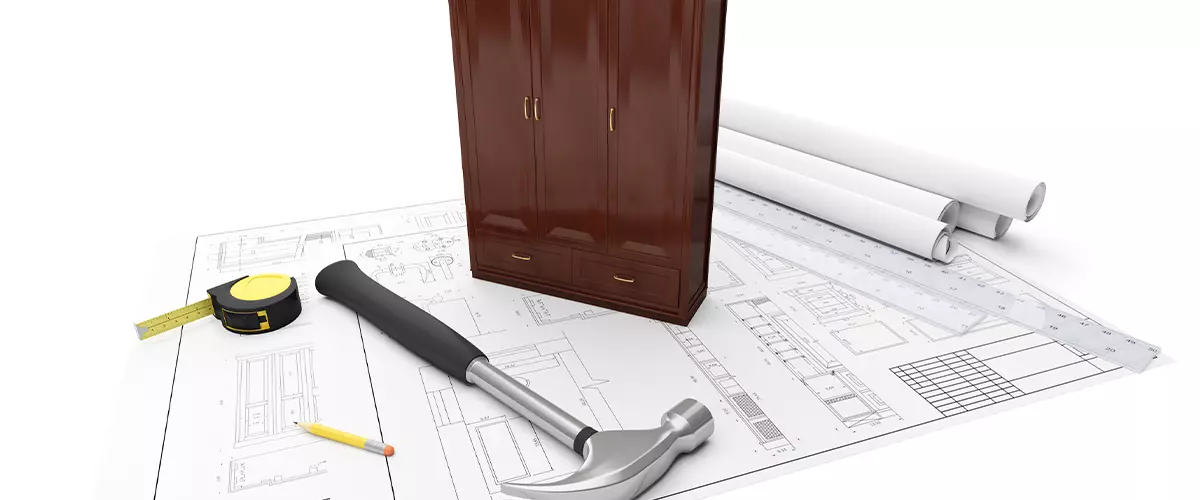 The level of customization you choose significantly impacts the cost of your walk-in closet. From the color and material of your closet to the type and quantity of features you want to include, every decision can add to the final cost.
For example, a basic level of customization may include a simple layout with standard features such as hanging rods, drawers, and shelves, which could cost around $2,500.
On the other hand, a medium level of customization could include a more complex design with additional features like shoe fences, jewelry organizers, or slide-out mirrors, costing between $5,000 and $7,000.
Lastly, a high level of customization could involve a luxury design with high-end features like multiple hutch units, valet rods, folding stations, and upgraded color or material options. All these features could drive up the price to anywhere between $10,000 and $15,000, or more.
Please remember that these are just estimates — the actual cost depends on the specific design choices you make.
Therefore, we always recommend reaching out to us for a custom quote that accurately reflects your vision and budget.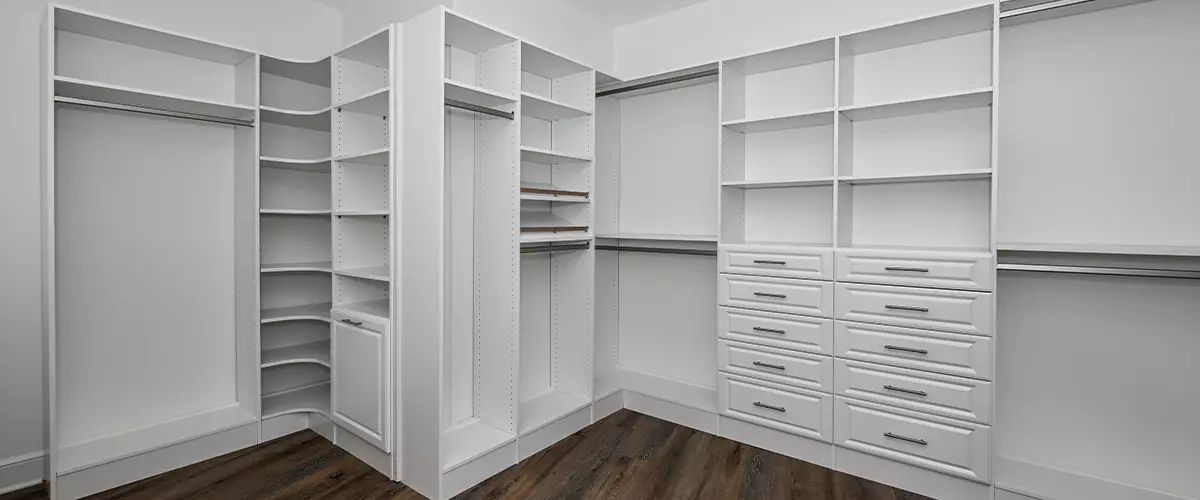 The modification requirements of your closet can also greatly impact the final cost. If your chosen design necessitates significant alterations to your existing space, such as electrical wiring, plumbing, or structural changes, the price can increase considerably.
For instance, if you wish to include built-in lighting in your closet or charge stations for your devices, you will need to incorporate electrical wiring. The cost of electrical work can range from $50 to $100 per hour, depending on your location and the complexity of the work.
Similarly, if your design includes a center island with a sink, you would need to account for plumbing costs. The average plumber charges between $45 and $200 per hour.
Structural changes are typically the most costly modifications. If your design requires the removal of a wall, for example, you should expect to add $1,200 to $5,000 to your budget, depending on the load-bearing status of the wall.
In sum, while modifications can enhance the functionality and aesthetic appeal of your closet, they can also add significantly to the overall cost. To get a better understanding of how these modifications might affect your specific project, we suggest contacting us for a more detailed quote.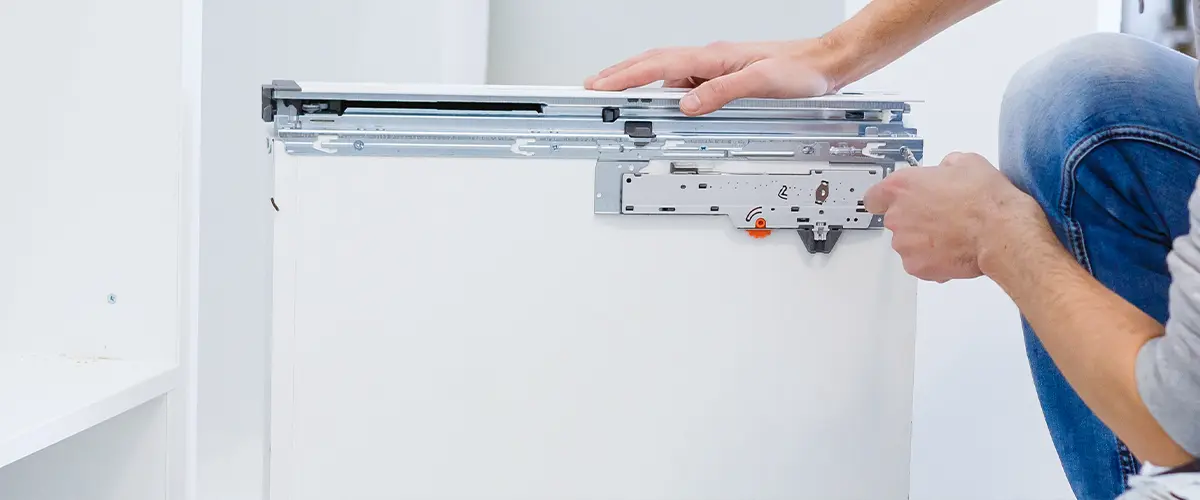 The accessories you choose to incorporate into your walk-in closet can significantly affect the final cost. These additions not only enhance the functionality and aesthetic appeal but also add an element of personalization to your closet.
Shoe Racks:

A shoe rack can help keep your footwear organized and easily accessible. The cost of a shoe rack can vary from $100 to $500 depending on the size and material.

Jewelry Organizers:

A built-in jewelry organizer can protect and display your valuable items. The cost of these can range from $200 to $600.

Mirrors:

A full-length mirror or slide-out mirrors are handy additions to check your outfit before you step out. The cost for a mirror can range from $100 to $400.

Pull-out Hampers:

These are great for managing laundry and can cost between $100 and $300.

Tie and Belt Racks:

Keep your ties and belts neatly organized with these racks. They typically cost between $50 and $200.

Velvet Lined Drawers:

These are perfect for storing delicate items and can cost anywhere between $100 and $400 per drawer.

Island:

A center island can provide extra storage and a place for folding laundry or packing a suitcase. The cost of an island can vary greatly, from $800 to several thousand dollars, depending on the size and material.
Please note that these are approximate costs. The actual cost can vary based on the specific product, material choice, and installation complexity. As always, we recommend reaching out to us for an accurate quote based on your specific needs and design preferences.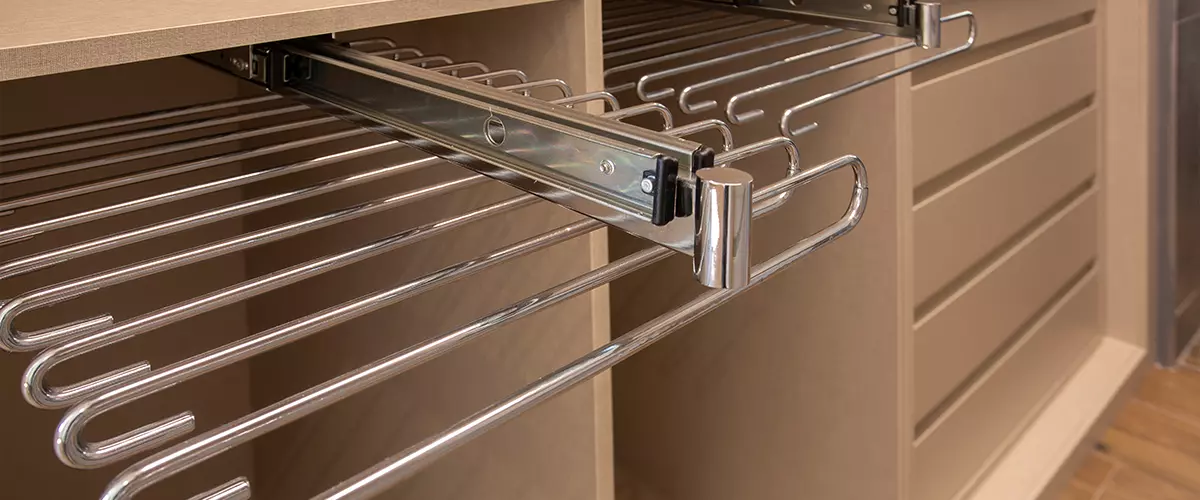 We understand that creating your ideal closet might be a substantial investment. To make it more manageable, we offer flexible financing solutions tailored to suit your budget.
Our 3-Step Closet Design and Installation Process
Let's walk you through our seamless 3-step closet design and installation process.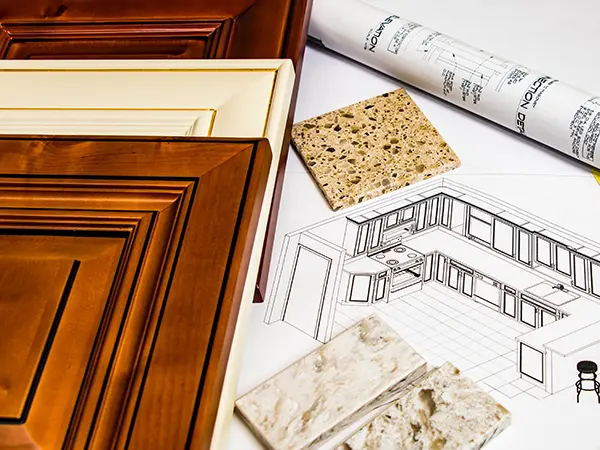 We start with an in-home consultation, designing your dream closet on the spot in 90 minutes or less.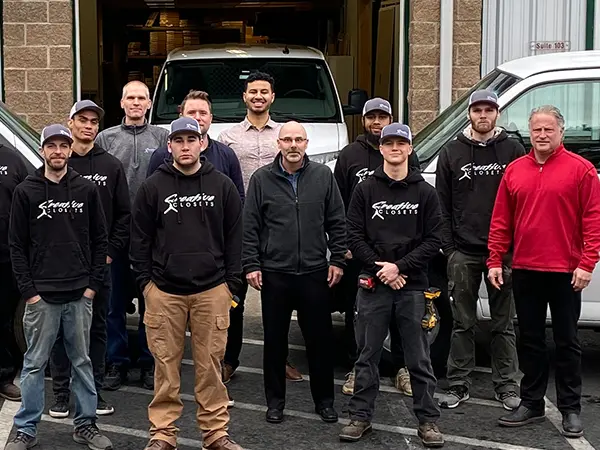 Our team efficiently performs the installation, completing most projects in just one day.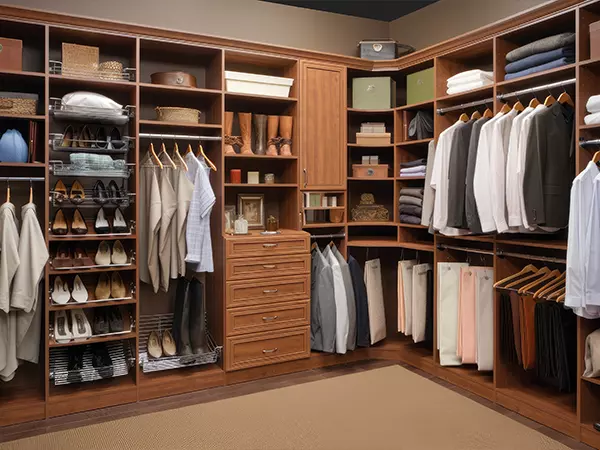 Simply relish your new, custom walk-in closet, designed and fitted to perfection.
Learn More About What We Can Do For Your Home
Explore Our Walk-in Closet Gallery
Dive into our world of impeccable design and elegance by visiting our walk-in closet gallery. Here, you can experience first-hand the diverse range of styles, materials, and features we offer. Our gallery showcases a variety of projects we've completed in the past, giving you a glimpse into the exceptional quality we deliver.
Get New Walk-In Closets From Your Local Pros
Choose us for your walk-in closet needs because we offer unrivaled expertise and a diverse range of customization options. Our dedicated team is committed to ensuring high-quality design, installation, and customer satisfaction.
Plus, we provide flexible financing options to make your dream closet a reality within your budget.
Trust us to enhance your space and lifestyle:
Ready For Your Personalized Walk-In Closet In Sammamish, WA?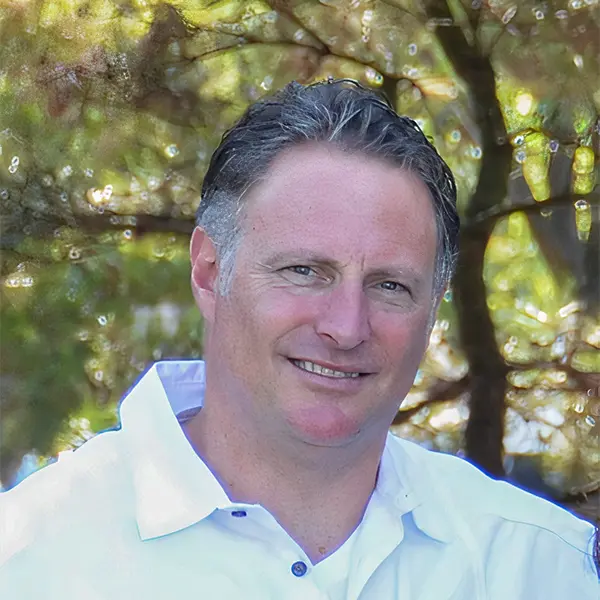 Contact us today at (425) 428-5073 to get started on your dream walk-in closet. Our expert team is ready to assist you with every step of the process, from design consultation to installation.
If you have any questions or would like to request a custom quote, don't hesitate to reach out to us.
Sammamish, WA is a charming city located on the shores of Lake Sammamish. One of the standout landmarks is Lake Sammamish State Park, a scenic haven for outdoor enthusiasts. Offering a range of activities such as hiking, bird watching, and boating, the park is a year-round destination. The city is also home to the Sahalee Country Club, a revered golf course that has hosted numerous national tournaments. The Beaver Lake and Pine Lake are other notable landmarks, known for their serene beauty and recreational activities.