Entryway Storage In Maple Valley, Issaquah, Renton, Kent, And More Of WA
Greet your guests with a cozy, zero-clutter entryway!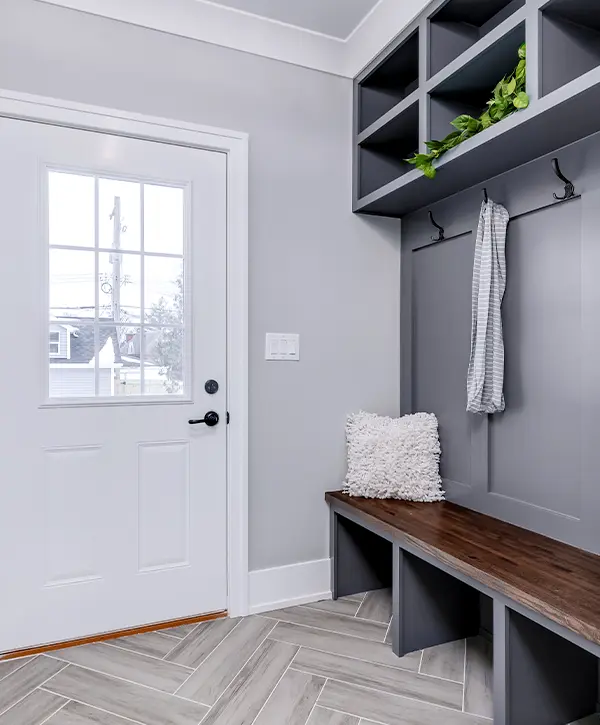 Are you struggling to maintain a tidy entryway in your Maple Valley, Issaquah, Renton, or Kent home? Research shows that having planned storage can significantly reduce clutter and enhance the appearance of your entryway.
At Creative Closets, we provide tailor-made solutions to your storage woes. Our expert team takes the time to understand the unique needs and aesthetics of each customer, ensuring that your entryway transforms into a space of functionality and style.
Benefits of Entryway Storage
Entryway storage is a versatile and functional solution that offers numerous benefits. It creates an organized space for coats and belongings, enhances the appearance of your hallway or foyer, and reduces clutter in your home.
With quick access to essentials like shoes, keys, and jackets, entryway storage makes life easier while maintaining a warm and inviting atmosphere.
Maximize your entryway storage by using a wall-mounted coat rack or a hall tree with hooks for jackets. Add attractive baskets or drawers underneath for shoes, scarves, gloves, and bags.
Consider adding a small bench for guests and family members to sit while putting on or taking off footwear. This way, everything has its designated spot, keeping the area neat and well-organized. These elements also create a warm welcome while maintaining functionality.
Enhancing your entryway's appearance can greatly improve your home's overall aesthetics. Stylish storage pieces like wall hooks, floating shelves, or a modern entryway bench serve both function and style.
Strategic furniture placement creates an inviting atmosphere, while entryway tables with plants or unique decor items provide a warm welcome.
Coat racks and shoe benches maintain functional organization. With these additions, you'll have a convenient spot for jackets, shoes, keys, and more, enhancing life in small spaces.
Create a welcoming entryway for guests with convenient storage. Dedicate space for coats, bags, and umbrellas, and use a shoe bench for footwear.
Wall hooks and coat racks offer ample room while maximizing space. This strategy ensures easy access throughout their stay and adds warm hospitality to your home decor.
Clutter creates chaos at home. The entryway often suffers, becoming a catch-all for shoes, coats, keys, and mail. Storage solutions reduce clutter. A stylish coat rack saves space and keeps outerwear organized.
Entryway cabinets with storage cubbies or a storage bench can discreetly store footwear. Wall hooks and floating shelves create an organized spot for keys and daily essentials. Benches with built-in storage offer seating and hidden compartments for easy access.
At Creative Closets, we specialize in crafting custom entryway cabinets tailored to your needs. Contact us today to transform your entryway into an organized, welcoming space.
Read The Stories Or Real Homeowners Just Like You
Hear from our satisfied customers below, who found the perfect balance between style and functionality with our entryway storage solutions. Their testimonials speak to our commitment and expert craftsmanship.
I used Creative Closets for our garage cabinets. They came out quickly to give me a quote. They were super professional and responsive. They followed up before the install date with all the details I needed. My installers did a fantastic job and went out of their way to make sure I was happy. The best value and service! Cannot recommend enough.
I just had my closet done and it looks fantastic. They finished everything super quick and they were professional and really kind. I would recommend their services to anyone.
Types Of Entryway Storage
Explore the various options for entryway storage, such as hanging rods, coat racks, wall hooks, floating shelves, storage cabinets, and benches that can transform your space. Revealing a myriad of styles and sizes to suit every home's unique requirements.
Hanging rods are a must-have for homeowners who want to maximize entryway storage. They provide a convenient spot for coats, jackets, hats, and scarves, keeping the room tidy. Installation is usually easy, as the rods can be placed above an entryway bench or by the door for easy access on rainy days.
Using hanging rods transforms your foyer into an organized space with hooks for everyday items. Whether you prefer sleek and modern or rustic charm, these versatile pieces offer immediate organization options, keeping everything in sight and within reach.
Not only functional, but they also enhance the entryway's appearance, creating a warm and welcoming atmosphere for guests and family members.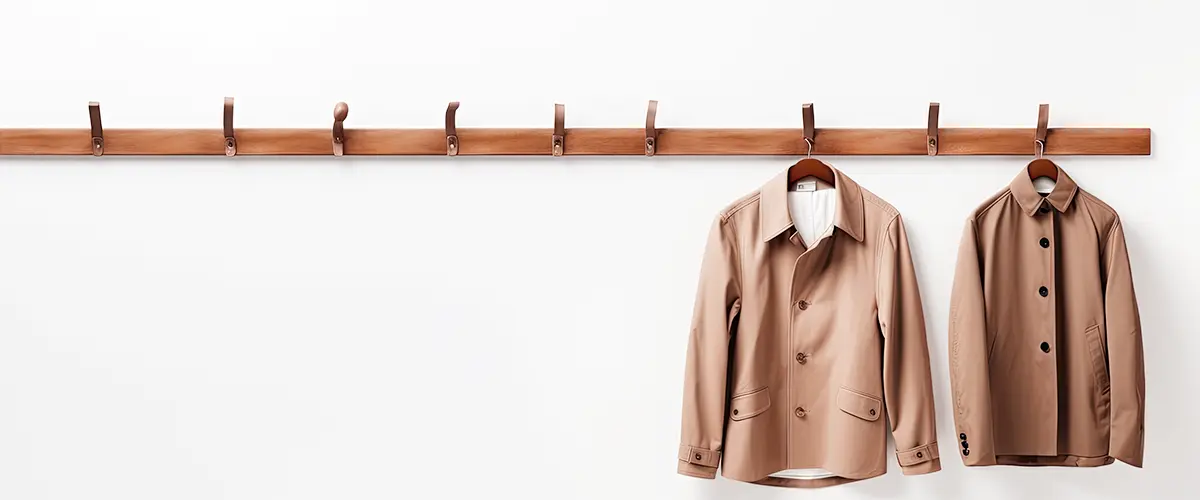 Coat racks offer a simple solution for storing outerwear in your entryway. They come in various styles, matching any home decor. Traditional standing coat racks are great for spacious foyers, while wall-mounted racks save space in smaller entryways.
Besides holding coats and jackets, these furniture pieces often have hooks for bags, umbrellas, or hats – keeping your essentials within easy reach. With the right coat rack, your home entrance becomes more organized and inviting.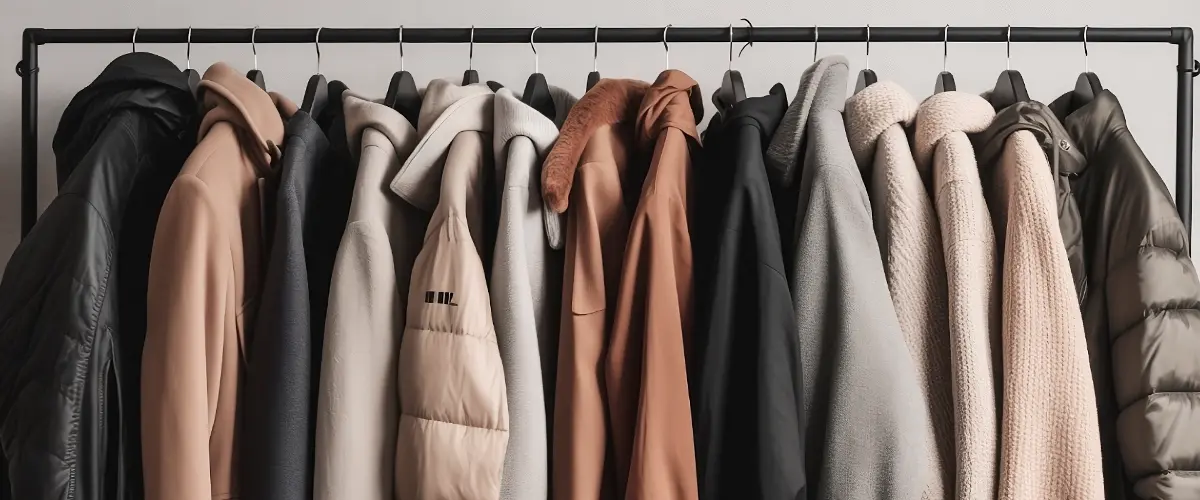 Wall hooks provide a simple and efficient storage solution for your entryway. They are perfect for hanging coats, bags, umbrellas, and keys, keeping your hallway tidy while adding a stylish touch.
Choose from a variety of styles, ranging from rustic to modern, that match your home decor. Installing and using wall hooks is easy: just hang your items when entering the house and remove what you need when leaving.
This entryway furniture adds convenience and organization to small spaces without taking up any floor area. It's perfect for homeowners looking to maximize their foyer's utility.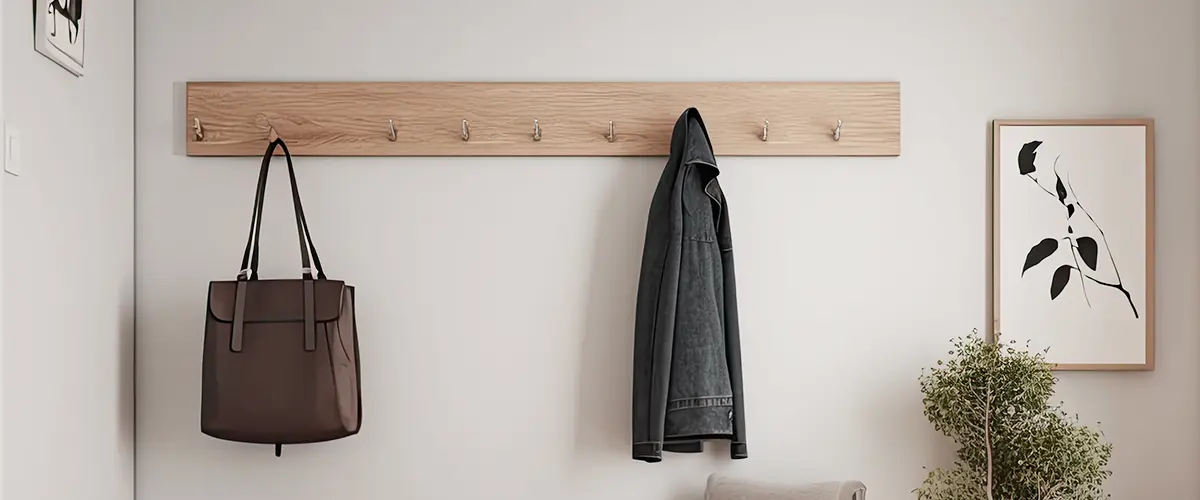 Floating shelves offer a modern storage solution for entryways. With a chic and minimalist design, they provide efficient space for belongings. Easily installed on the wall, these shelves can store keys, plants, or small decorative items, personalizing your home's entrance.
You will love them for their functionality and aesthetic appeal, enhancing the room's decor. With a variety of styles and sizes available, floating shelves are an ideal choice for optimizing entryway organization.
Storage cabinets are a practical solution for organizing your entryway. They provide ample space for shoes, coats, bags, keys, and more. These furniture pieces maximize storage capacity and enhance entryway aesthetics.
Available in various styles, from modern to rustic, choose one that matches your home decor. Built with sturdy materials, these cabinets are durable for daily use in high-traffic areas.
Entryway benches maximize foyer functionality. Versatile furniture pieces for convenient shoe, bag, and belonging storage at your doorstep.
Rustic to modern styles seamlessly match any home decor. Keep clutter at bay and offer guests a seat. Budget-friendly storage and seating solution with hooks and shelves for hallway organization.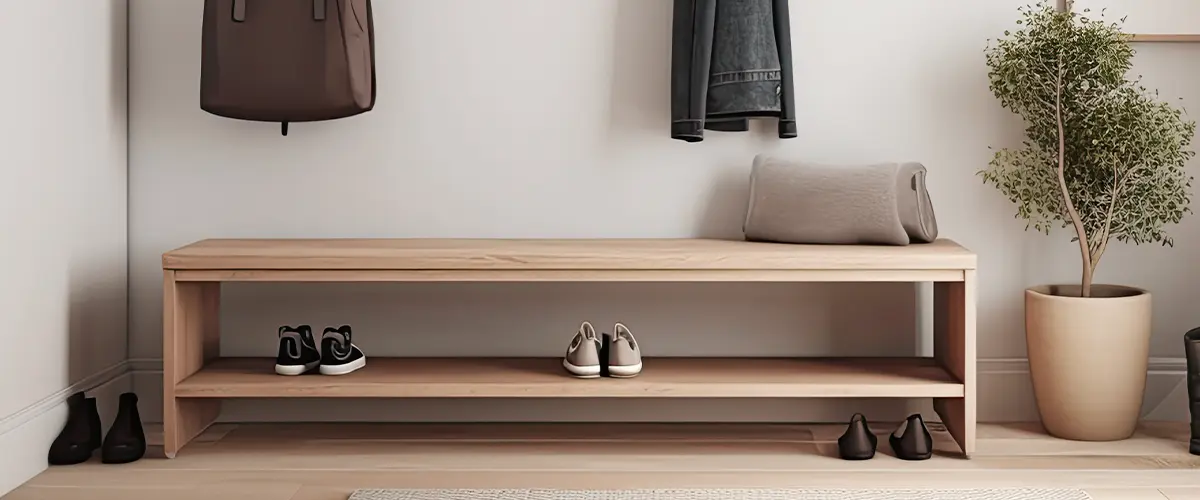 Entryway tables are a classic choice for any home. This timeless piece of furniture adds character to your entryway and provides an excellent spot to store miscellaneous items like keys, mail, and other daily essentials. Choose from various styles to match your decor. Select one with drawers or shelves for extra storage space. With its unique design and practicality, an entryway table adds a warm and inviting atmosphere to your home.
At Creative Closets, we believe in offering bespoke solutions that cater directly to your needs. Understanding that each home comes with its unique challenges and requirements, we tailor our entryway storage solutions to match your specific demands, so contact us for a complimentary in-home showroom experience.
Creating an efficient entryway storage space involves a step-by-step process that transforms your foyer into a functional, clutter-free area.
Identify the type of items often left in the entryway such as shoes, keys, coats, and bags. Determine the amount of room available for your storage setup.
Choose the right furniture pieces that serve as practical storage solutions like wall hooks for hanging coats or keys, shoe benches for footwear, and console tables with drawers for miscellaneous items.
Install hanging rods or coat racks on vacant walls to maximize space. Incorporate floating shelves above console tables or shoe benches. Use suitable – sized storage cabinets to store larger items like umbrellas and rain boots.
Add an entryway bench with built – in compartments where you can store things out of sight.
Keeping your entryway clutter-free is achievable with a few smart strategies.
Invest in multi-purpose furniture: Look for pieces that offer both style and storage, like an entryway bench with cabinets underneath or a console table with drawers.
Use wall space: Install hooks for hanging coats, bags, and umbrellas. A wall-mounted mail holder can also keep letters organized.
Incorporate shoe storage: Consider using a shoe bench where guests can sit to remove their shoes while also providing a place to store them neatly.
Add baskets and cubbies: Baskets can hold small items like keys and gloves while cubbies are great for storing hats, scarves, and other essentials.
Make use of vertical space: Tall shelving units or cabinets utilize vertical space efficiently without taking up much room on the floor.
Regularly declutter: Take some time each week to sort through accumulated clutter in the entryway, removing items that don't belong there.
Keep it minimalistic: Stick to necessary items only; too many decorations or nonessential furnishings can make the space feel crowded very quickly.
Most people refer to furniture specifically designed for hallways as "entryway furniture." This broad term encompasses a wealth of varied pieces, from benches and consoles to coat racks and shoe cubbies.
Crucial for maintaining an organized home, these versatile items not only provide convenient spots for storing shoes, keys, coats, and more but also enhance the aesthetics of your entryway.
Whether you prefer the rustic charm of a wooden bench or the sleek minimalism of a modern console table, there's something in the entryway furniture category to match every style preference.
Eliminate Entryway Clutter With Storage Solutions Designed Exclusively For Your Home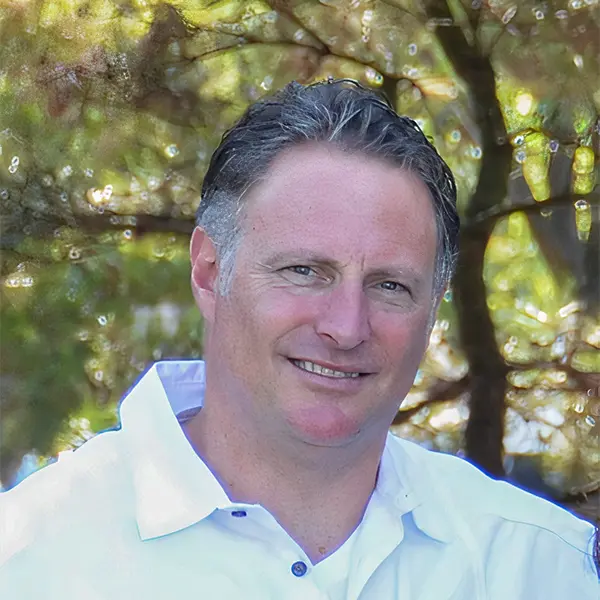 Are you ready to redefine your entryway with custom storage solutions tailored to your needs? Don't let clutter steal your home's charm; call us today and make the best use of your entryway.
Get in touch with us at (425) 428-5073. Our team of skilled professionals will guide you through our wide range of options and help you select the perfect entryway cabinets to match your home's style and organization needs.