The Best Walk-In Closets In Lynnwood, WA
Get your dream walk-in closet designed and installed by Lynnwood's trusted experts, Creative Closets, in just one day!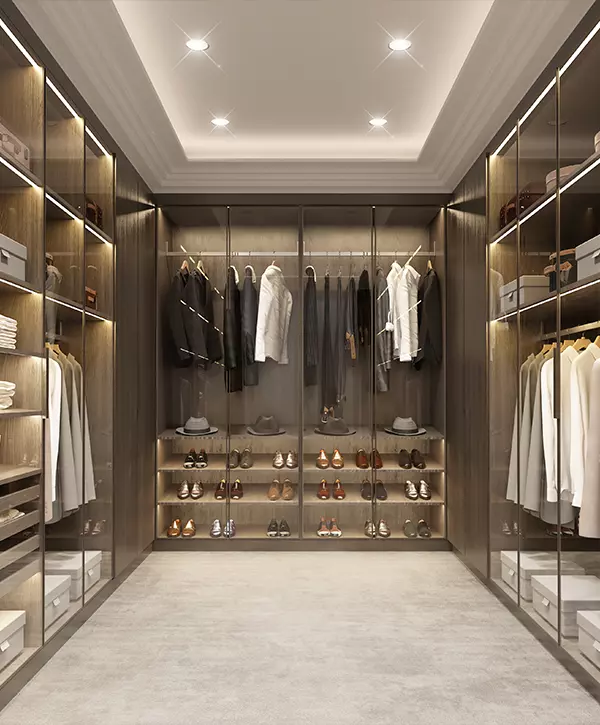 A walk-in closet isn't merely a storage space; it's a statement of style and functionality that elevates your Lynnwood home. Creative Closets, with a track record of over 20 years and more than 8,000 bespoke closets installed, is the leading provider of walk-in closets in Lynnwood, WA.
Our one-day installation, coupled with a lifetime product and work warranty, reflects our commitment to service and excellence. The free in-home showroom experience and design we offer make the journey to your dream walk-in closet as seamless as possible.
This is the second time we used Creative Closets they have been absolutely amazing! Jerry the design consultant who comes by and specs things out has some really good ideas and is patient to listen to your requirements. 
Caleb came by promptly did a wonderful job with the installation! He was super professional and very polite. I am very happy with them and would definitely reach out to them for future projects!
Elevate Your Home with Creative Closets
Choosing Creative Closets for your walk-in closet needs is an investment that pays dividends in style, functionality, and home value. Our experienced team, dedicated to bringing your unique vision to life, provides not only a tailored storage solution but also a new space that reflects your personal style.
Work with the pro that always over-delivers:
So, let's start your home's transformation today – dial (425) 428-5073 or send us a message for your free closet design consultation.
Common Features In A Walk-In Closet In Lynnwood, WA
Lynnwood homeowners know that a well-appointed walk-in closet is more than just a storage area—it's a personal oasis. Creative Closets specializes in bringing these spaces to life, ensuring they're tailored to meet your lifestyle and aesthetic preferences. Let's explore some of the most common features that our clients in Lynnwood, WA choose to incorporate into their walk-in closets:
Organize your clothes effortlessly with separate compartments for different items, maximizing space and minimizing clutter.
Keep your belongings neatly stored and protected from dust, ensuring easy access and maintaining a clean closet environment.
Hang your ties and belts systematically, preventing creases and tangles, making them readily accessible for any outfit.
Safely store and display your precious accessories, preventing damage and helping you find the perfect piece for any occasion.
Easily inspect your outfits and make quick adjustments without the need for a separate mirror, saving time and space.
Create a dedicated area for folding clothes, making the task efficient and organized, and ensuring neat stacks for easy retrieval.
Keep your pants wrinkle-free and easily visible, allowing you to quickly select the perfect pair for any outfit.
Hang your scarves neatly, preventing wrinkles and making it easy to find the ideal scarf to complete your look.
Arrange your shoes in an orderly manner, preventing them from getting mixed up or damaged, while maximizing space.
Hang your outfit for the next day or plan your outfits in advance, ensuring clothes are wrinkle-free and ready to wear.
Utilize hanging rods to organize your clothes by category or season, optimizing space and keeping your closet tidy.
Keep your dirty laundry contained and separate from clean clothes, making laundry day more efficient and maintaining a neat closet appearance.
With Creative Closets, your dream walk-in closet is just a call or a message away. Reach us at (425) 428-5073 or drop us a line, and we'll gladly answer any questions. Remember, we can customize your walk-in closet down to the last detail. Start your journey with us today!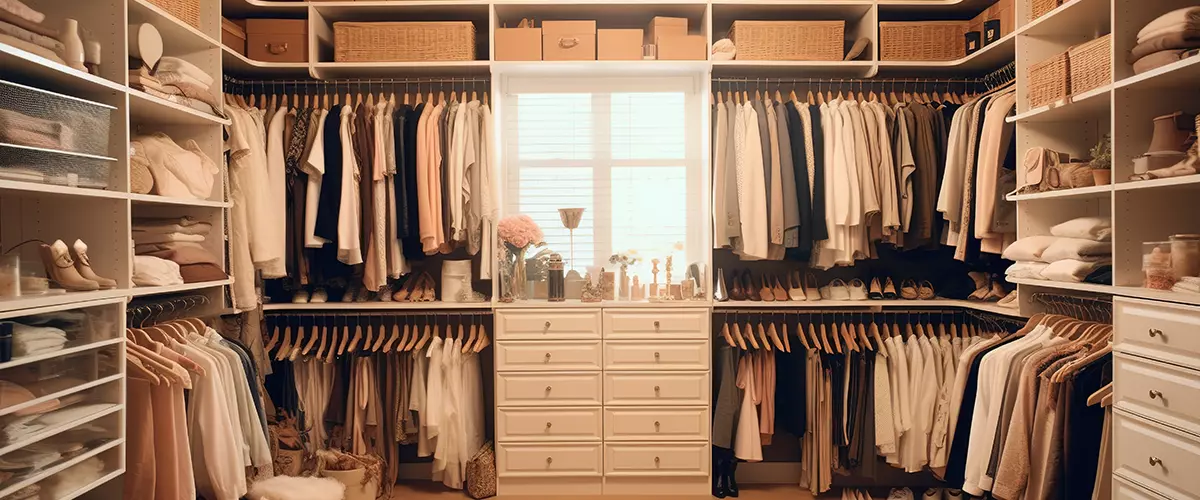 Discover the Creative Closets Difference Through Our Customer Reviews
Take a moment to read testimonials from our satisfied customers. Their experiences illustrate our commitment to creating perfect walk-in closets in Lynnwood, WA, and shed light on the transformative journey you could embark on with Creative Closets.
The team arrived on time prepared to work. They kept the house clean by rolling out a red carpet and taking off their footwear. They were very polite and professional and my closet looks GREAT! I would definitely recommend them to anyone who's looking for great value in a superior closet design.
I found Creative Closets on Thumbtack and from the onset, they were very responsive. I worked with the lead designer, Jerry who was highly professional and very patient with me walking me through different designs until we landed on a final design I felt comfortable with that was also within my budget. Caleb, the installer, was very thorough and responsive. I love my new closet and will be recommending this business to anyone in need of a custom closet.
Walk-In Closets Costs In Lynnwood, WA
Investing in a walk-in closet is more than just adding a room—it's about enhancing your lifestyle, enriching your mornings, and adding a touch of sophistication to your day. The average cost of walk-in closets in Lynnwood, WA, varies greatly depending on size, custom features, and materials used.
Our prices at Creative Closets begin at an affordable $4,500. For a small, cozy 6' x 9' closet, we can design and install a meticulously tailored space that matches your style and meets your storage needs.
On the other hand, for those seeking a more expansive storage retreat—a large 20' x 20' closet with multiple features—the investment can be $10,000 or more. These large-scale projects offer endless possibilities for customization, from specific storage solutions to opulent finishes, all ensuring that your closet isn't just functional, but also a true reflection of your aesthetic.
| Closet Size | Features Included | Quoted Price | Most Expensive Item |
| --- | --- | --- | --- |
| 6' x 9' | Long hanging section, Double hanging section, Adjustable shelves, Drawers | $4,375 | Drawers: $1,000 |
| 20' x 20' | Upgraded color (Licorice), Multiple double hutch units (Hutches), Multiple accessories, Angled shoe shelves | $9,367 | Multiple double hutch units: $4,000 |
| 12' x 6' | Custom height to fit under the window, Adjustable shelves for shoes, 24" deep material with lower doors to conceal the safe | $3,645 | Doors |
Factors Affecting the Cost of Walk-In Closets in Lynnwood, WA
When it comes to creating your perfect walk-in closet in Lynnwood, WA, several factors can influence the cost. Understanding these can help you budget for your dream closet effectively.
This is a fundamental cost determinant — larger closets will naturally require more materials and labor, increasing the total cost. Closet Layout: The complexity of the design and layout you choose can also influence the cost. A basic rectangular design might be less expensive than a more complex layout with corners and curves.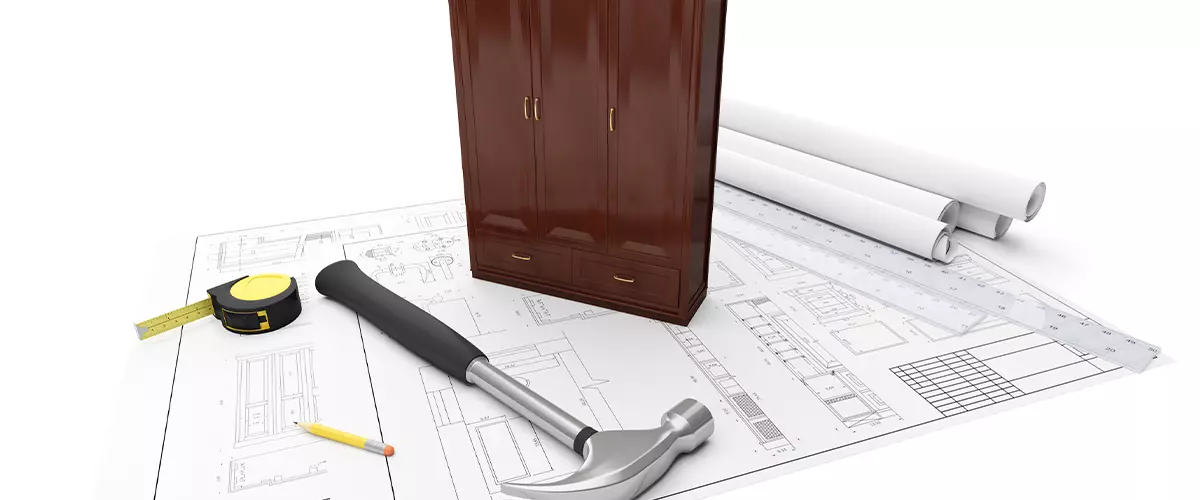 The complexity of the design and layout you choose can also influence the cost. A basic rectangular design might be less expensive than a more complex layout with corners and curves.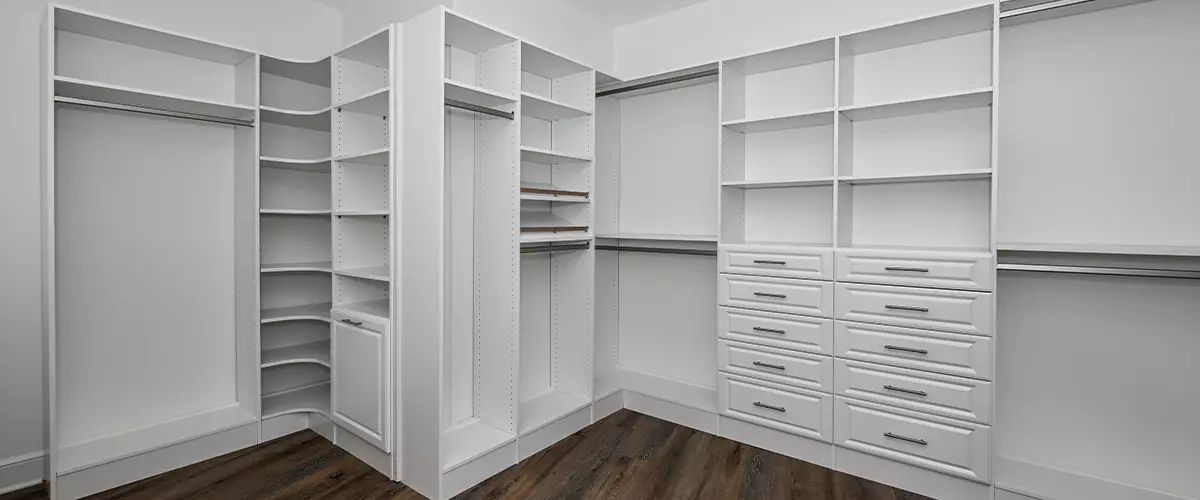 Incorporating custom features like jewelry organizers, slide-out mirrors, or valet rods can add to the overall cost. These features require additional materials and labor but provide enhanced functionality and aesthetic appeal.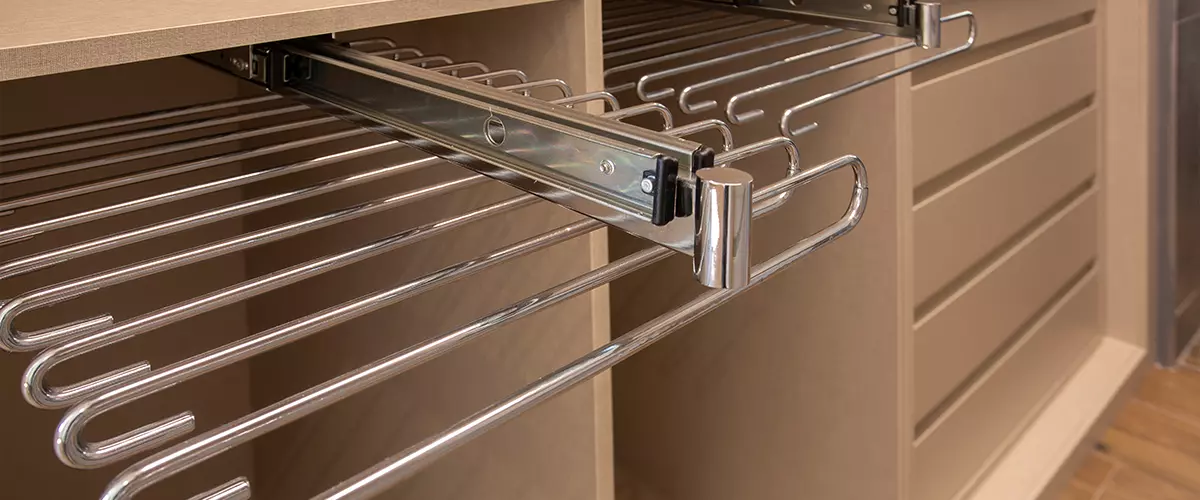 The materials used in your closet can significantly impact the cost. Premium materials like hardwood or high-end finishes will be more expensive than more economical composite or laminate options.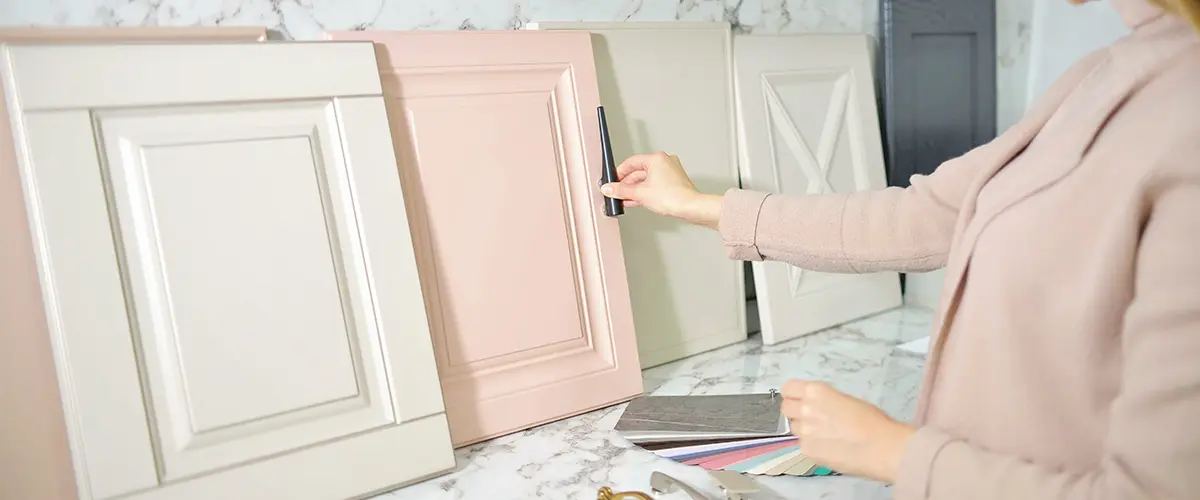 Adding energy-efficient LED lighting can elevate the look and functionality of your closet, but also increases the cost.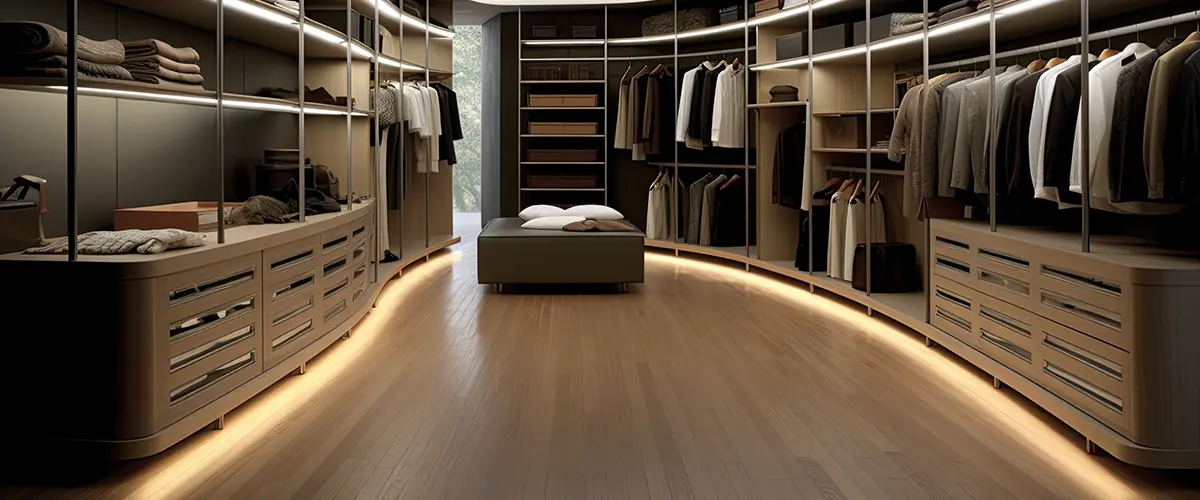 If the installation process requires structural changes to your home or extensive electrical or plumbing work, this will add to the final cost.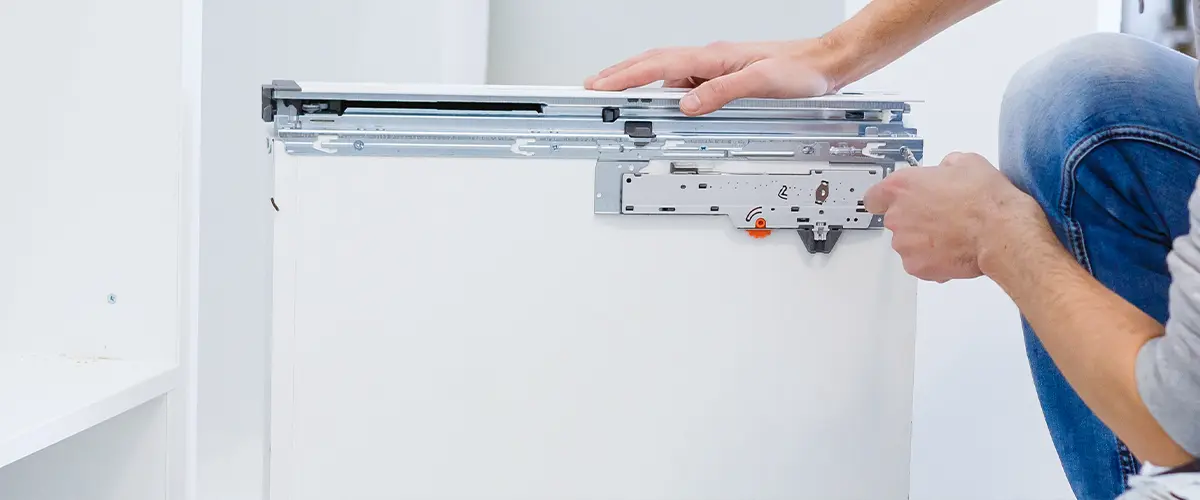 Remember, every dollar you spend is an investment in a superior product and unparalleled service, all backed by a lifetime product and work warranty. With Creative Closets, we strive to make your walk-in closet dreams come true, irrespective of your budget. For more information, give us a call at (425) 428-5073 or send us a message, and we'll be happy to assist you.
The 3-Step Journey to Your Dream Walk-In Closet
Uncover the simplicity and enjoyment that come with our streamlined process for creating perfect walk-in closets in Lynnwood, WA.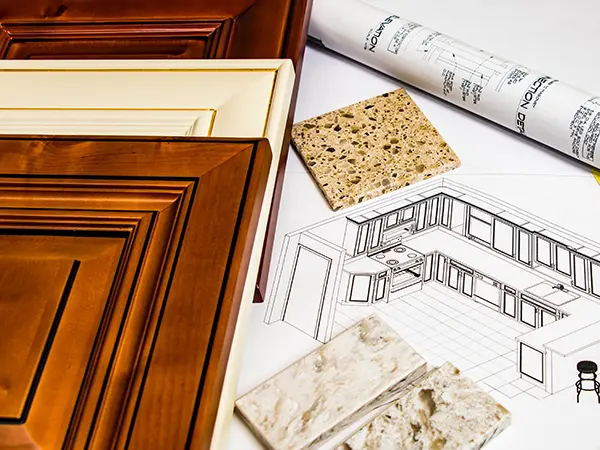 We listen to your needs, create a unique design, and fine-tune every detail for your approval.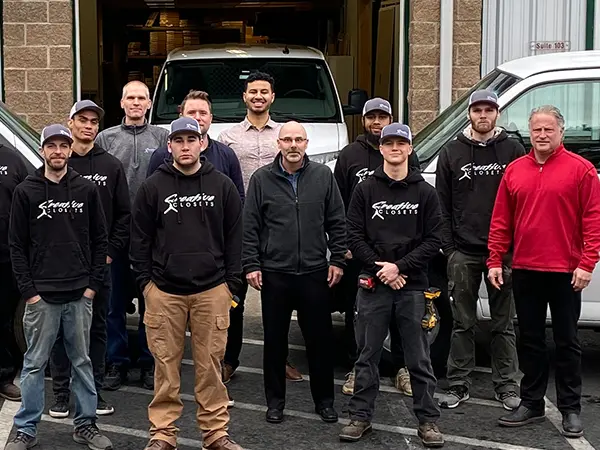 Our team efficiently installs your closet, respecting your home, delivering quality work and a one-day installation.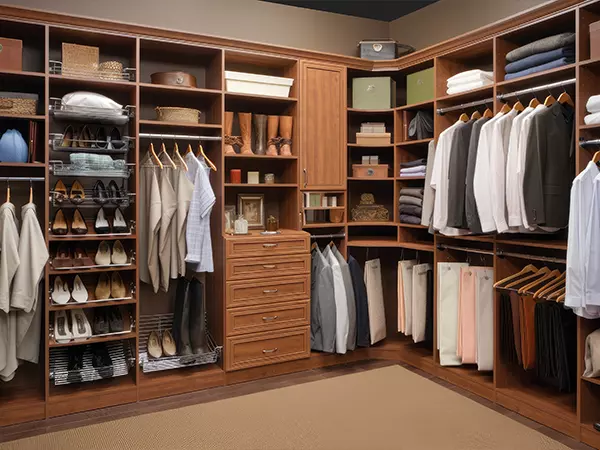 Relish the functionality, organization, and elegance of your new walk-in closet, enhancing your daily routine.
Learn More About What We Can Do For Your Home
Explore Our Closet Creations: Inspiration for Your Future Space
Dive into our extensive project portfolio, a testament to our craftsmanship and design flair. Seeing our past projects can spark ideas for your own space, showcasing the endless possibilities that await with Creative Closets. Immerse yourself in the world of bespoke walk-in closets in Lynnwood, WA.
FAQs About Walk-In Closets In Lynnwood, WA
Custom closets incur costs due to the unique design, high-quality materials, and skilled labor involved. Ensuring the perfect fit for your specific space and storage needs requires precision and craftsmanship.
Moreover, the durability of custom closets, backed by a lifetime warranty at Creative Closets, makes them a long-term investment with immense returns in the form of convenience and organization.
The cost of a closet varies based on the size, material, design, and additional features you select. At Creative Closets, we offer tailored solutions to suit different budgets, starting from $4,500. This investment not only adds functionality to your home but also value.
Remember, we offer a lifetime warranty, a testament to our quality and commitment. Call us at (425) 428-5073 for a free design consultation and to discuss your options.
Absolutely, it's possible to build a walk-in closet with the right planning and execution. At Creative Closets, we use our extensive experience in designing and installing over 8,000+ closets to assure an efficient process with high-quality results.
Why Creative Closets is Your Best Choice for Walk-In Closets in Lynnwood, WA
When it comes to crafting the perfect walk-in closet in Lynnwood, WA, no one does it better than Creative Closets. Our enriched industry experience, commitment to quality, and relentless pursuit of customer satisfaction set us apart from the rest. Here's why you should make us your first choice:
With 20+ years in business, we have designed and installed more than 8,000 closets, guaranteeing expertise and reliability.
Quick and Professional Installation
We promise a seamless 1-day installation process, minimizing disruption and ensuring a smooth transformation of your space.
We stand by our products and workmanship, offering a lifetime warranty that speaks volumes about our confidence in delivering excellent quality.
Our in-home showroom experience and free closet design consultation guarantee a uniquely tailored service, crafted to fulfill your individual needs.
Choose Your Lynnwood Closet Experts: Creative Closets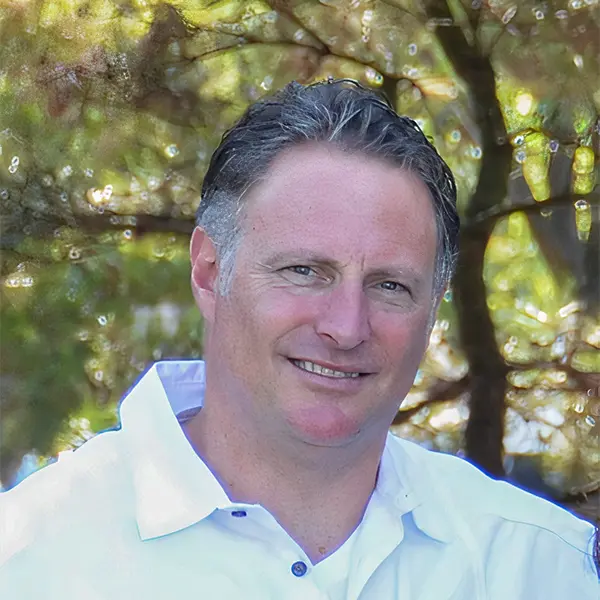 We take care of everything from initial design to final installation, all within your budget. Your dream walk-in closet in Lynnwood, WA is just a call away at (425) 428-5073. Enjoy the security of our lifetime product & work warranty and the convenience of our free closet design service.
Lynnwood, WA, is a vibrant city known for its beautiful parks, modern amenities, and rich cultural heritage. Visit the Alderwood Mall, a premier shopping destination, or immerse yourself in local history at the Heritage Park. Experience the tranquility of Scriber Lake Park, or enjoy a round of golf at the Lynnwood Golf Course. Whether you're an outdoor enthusiast, a history buff, or a shopaholic, Lynnwood has something for everyone.