The Best Garage Cabinets In Bonney Lake
Find everything you need without rummaging through the garage.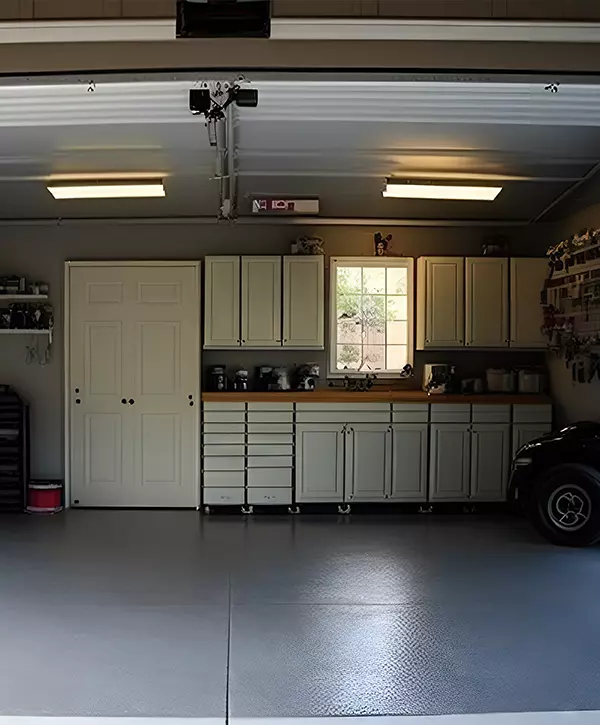 If you're tired of the chaos and the struggle to find your tools and equipment in your garage, we have the solution. We specialize in creating stylish and functional garages, eliminating the need for storing belongings out of sight.
At Creative Closets, our dedicated team is committed to providing top-quality garage cabinets tailored to your specific needs. Our ultimate goal is to help you maximize your space and transform your Bonney Lake garage into an exceptional area.
Join us as we explore a wide range of exceptional options designed to enhance storage, streamline organization, and elevate the overall functionality of your garage.
Amazing experience working with Jerry. Super professional and efficient. Had our designs locked and loaded in an hour.
What Recommends Creative Closets' Garage Cabinets
Imagine the convenience of a clutter-free garage, where all items are neatly stored behind cabinet doors, hung on the wall, or labeled in storage boxes. An organized garage not only enhances navigation but also provides a sense of satisfaction.
Work with us to take advantage of our:
Contact us to arrange an in-home appointment with one of our skilled designers. Together, we can meticulously organize your garage to perfection!
The Most Common Garage Cabinet Features Across Bonney Lake
Homeowners in Bonney Lake are encountering frustration due to the discovery of scattered tools on their garage floors. Garages frequently transform into storage areas, leaving minimal space for parking vehicles.
Nevertheless, the installation of garage cabinets presents a practical and versatile solution for optimizing storage capacity. When incorporating garage cabinets into your home, it is advisable to consider these imperative features.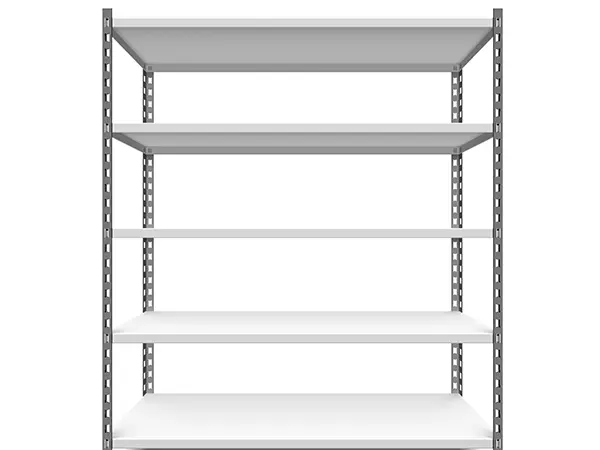 Having garage cabinets with adjustable shelves is like having a "flexible friend" for your storage needs. You can raise or lower each shelf to accommodate everything from power tools to cleaning products and even those nostalgic old toys. Embrace the adaptability and make the most out of every inch of cabinet space!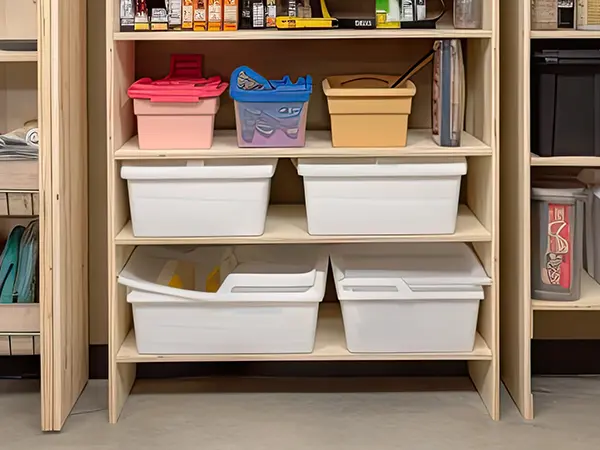 Storage Boxes and Baskets
To keep your garage in order, think inside the box! Utilize storage boxes and baskets within your cabinets to group and categorize items like nails, screws, bits, gloves, and cleaning supplies. With everything neatly organized, you'll always have your DIY game on point! No more hunting for what you need.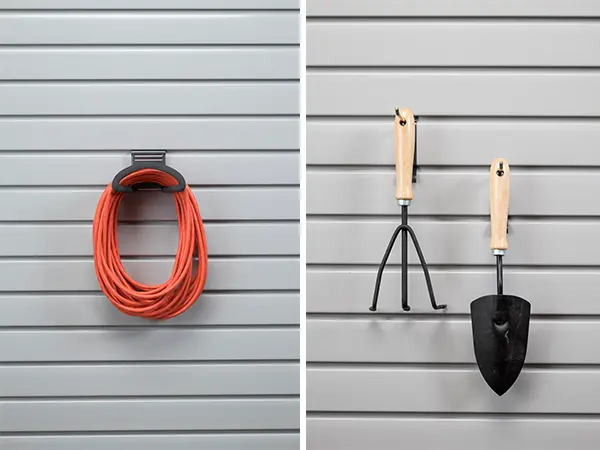 Garage cabinets come with hooks that provide a clever and nifty solution for hanging tools, extension cords, or even your two-wheeled ride. Say goodbye to cluttered floors and walls, and hello to organized awesomeness! Your stuff will thank you for the easy access and your garage will be the envy of all.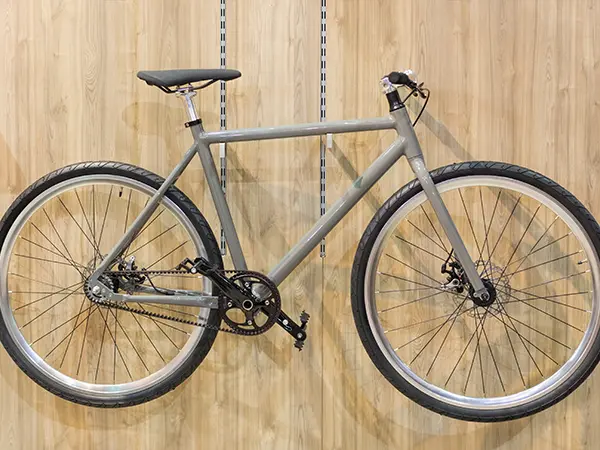 For those who are passionate about sports and want to keep their equipment organized in the garage, our sports racks are the perfect solution. Designed to provide secure storage, easy accessibility, and exceptional durability, these racks are specifically engineered to keep your gear in top condition.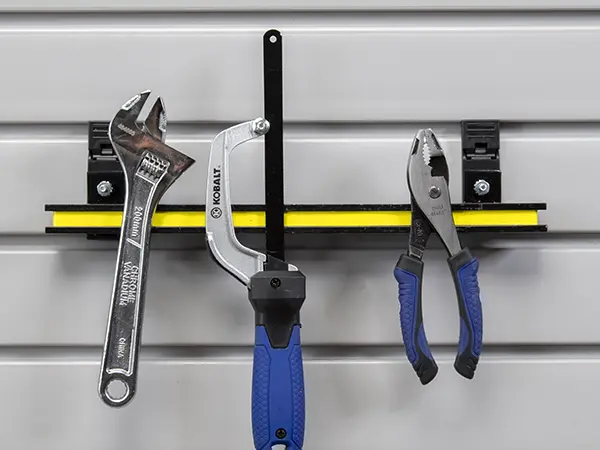 Tool racks are essential for any workshop or garage, providing designated compartments that allow you to efficiently organize and store your tools. With a tool rack, you can easily access your tools whenever you need them, saving you valuable time and effort. No more searching through cluttered drawers or rummaging through toolboxes!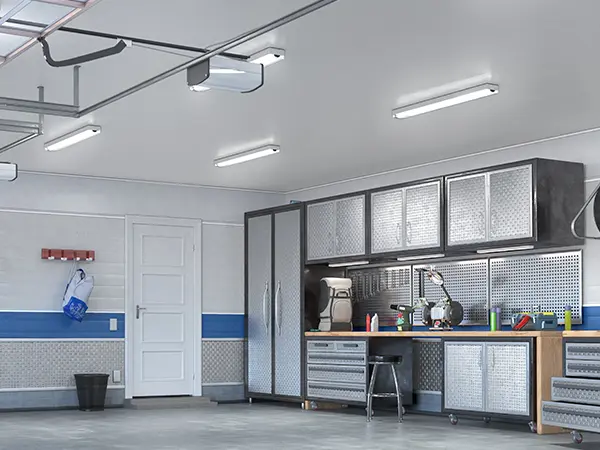 Upgrade your garage cabinets with our state-of-the-art integrated lights, designed to provide ample illumination for all your workspace needs. With carefully positioned lights strategically placed within the cabinets, you can create a well-lit environment that enhances visibility and makes tasks a breeze.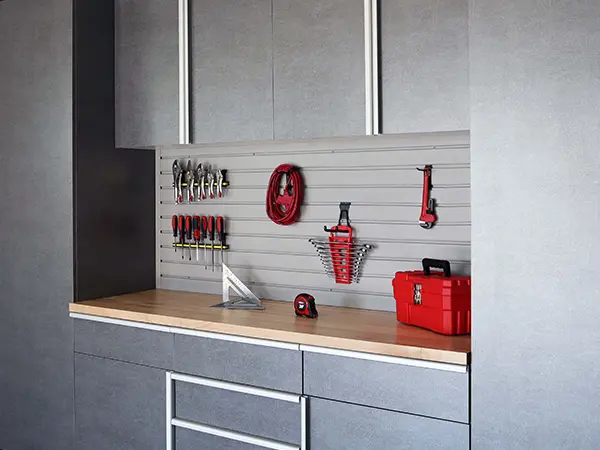 Our high-quality garage cabinets are designed with innovative slatwall organization systems that provide a wide range of storage options. With our slatwall panels and compatible accessories, you can effortlessly hang and arrange your tools, gardening equipment, and power cords, ensuring everything is neatly organized and easily accessible.
Transform your garage into a fully functional workspace with our resilient workbenches. These sturdy and durable surfaces are specifically designed to provide a designated area for all your DIY projects and hobbies. With their robust construction, they can easily withstand heavy use and provide a stable platform for any task.
Contact us today for a complimentary evaluation of your garage. Our team of experts will work closely with you to assess your specific requirements, meticulously organize your space, present you with a range of flexible financing options, and create a customized design tailored to your needs.
Why Our Past Customers Loved Working With Us
Our utmost priority lies with our clients, and their satisfaction with our services is a testament to our commitment. Every homeowner we have collaborated with has expressed immense satisfaction with our comprehensive service, and we take great pride in leaving a lasting impression.
Broc and the installers were great! Very professional and attentive. Our experience with them was great and we love our closet and the shelving installed in our garage.
The gentlemen who showed up were quite professional. Before they began, they went over all the details with me. They removed all of the old closet and installed the new. When they left, they left the work area in the garage nice and clean.
Understanding Garage Cabinets Cost In Bonney Lake
To accurately price your custom cabinets, we need specific project details. Each project is unique, and our goal is to build exactly what you need. Once we have your measurements and requirements, we will provide an estimate.
Check the table below for prices from recent projects. However, your garage project is unique, so pricing will vary as every home is different.
| Garage Storage Project | What's Included | Price |
| --- | --- | --- |
| 20' Wall Of Cabinets & Workbench | Pewter cabinets, full-lenght handles, 10+ separate storage areas | $7,000 |
| Workbench & Slatwall Panel | Tall cabinets, workbench with top + bottom cabinets, Slatwall tool storage system | $9,000 |
| 22' Full Wall Cabinets & Slatwall | Tall cabinets, Slatwall system, workbench with cabinets and drawers, overhead storage | $11,000 |
Imagine this: we tackled a project that involved installing customized garage cabinets along a 20-foot wall. The end result? A sleek storage solution with over 10 storage areas, complete with full-length handles and a stunning pewter finish.
But here's the exciting part: you can have it your way! Choose from a range of finishes, cabinet sizes, and accessories to suit your unique storage needs. Just keep in mind that your choices will influence the final cost. Let's create the garage of your dreams!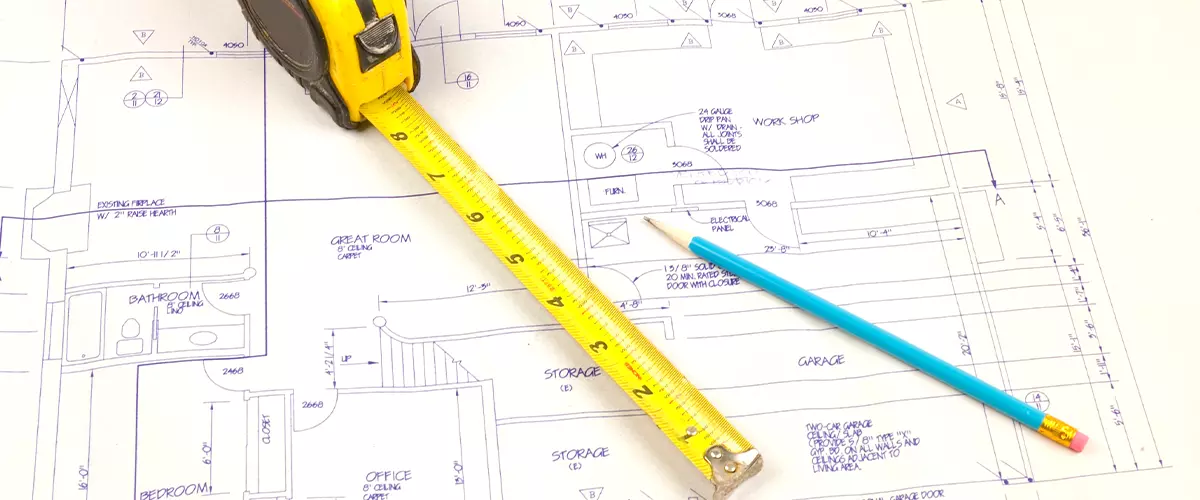 Transform your garage into the ultimate workshop! With tall cabinets, a workbench, and a Slatwall tool storage system, you can create a functional and organized space. Prices start at $8,500 to $9,000, but the possibilities are endless.
Need overhead storage racks and cabinets above the workbench? Go big and upgrade to a deluxe system, priced up to $11,000.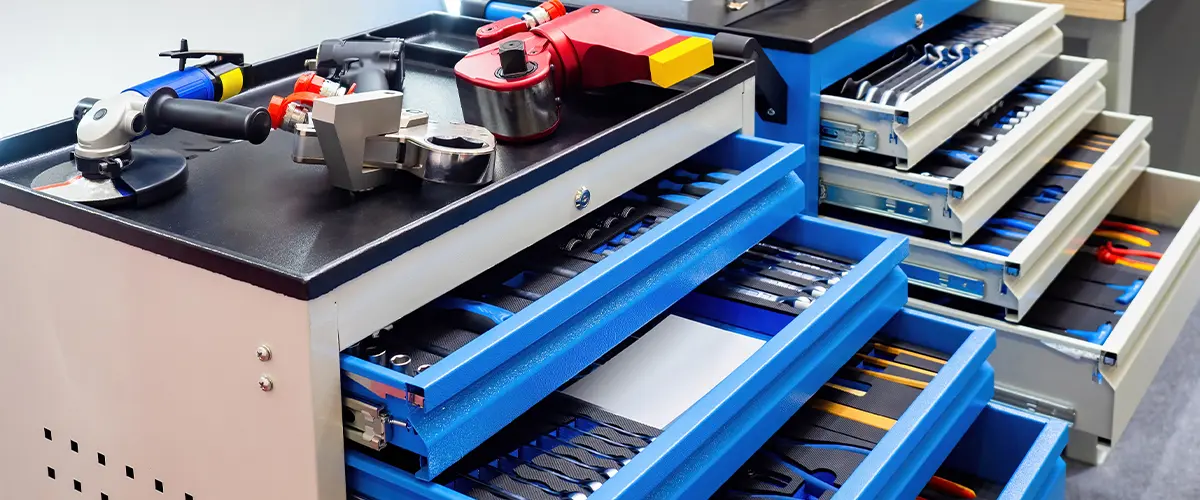 We offer a wide range of vibrant colors and exquisite finishes for your garage, allowing you to fully personalize it to your unique taste and style.
Our dedicated designer will work closely with you, carefully exploring all the options available, to recommend choices that perfectly complement your existing space, enhancing its aesthetic appeal and reflecting your individual preferences.
With our attention to detail and commitment to exceptional quality, you can trust us to create a garage that is not only functional but also a true reflection of your personality and vision.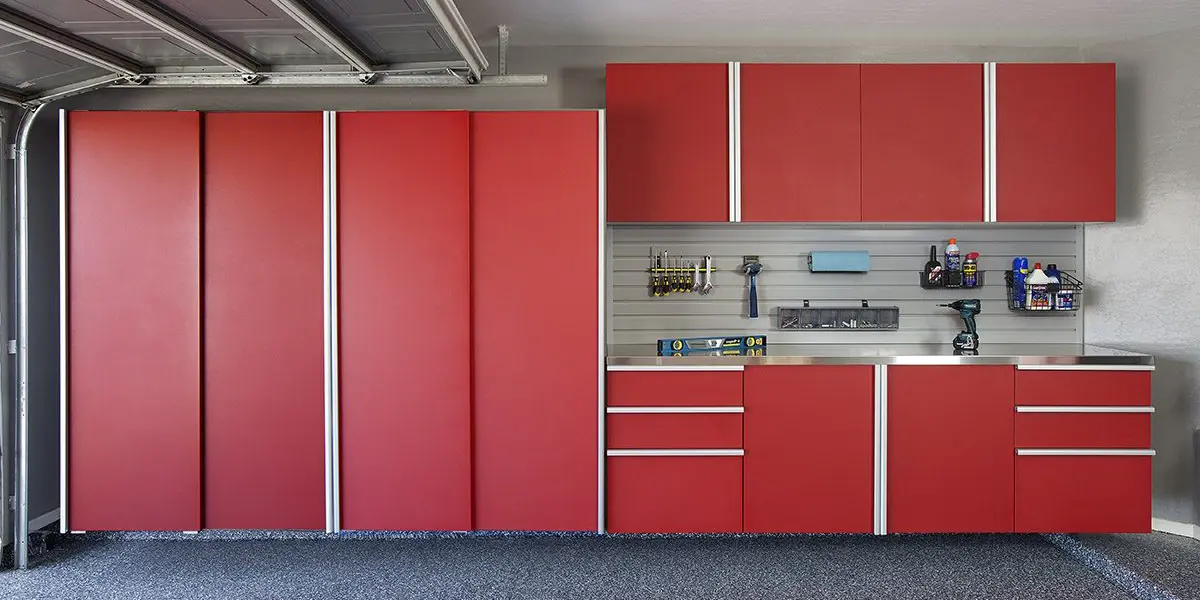 The complexity of your garage cabinet installation will affect the final price. As every project is unique, some may require additional considerations, such as working around existing plumbing or making electrical changes.
These factors add complexity to the project and may contribute to the overall cost. Rest assured, our team will carefully assess your specific requirements and provide you with a comprehensive estimate that takes all these details into account.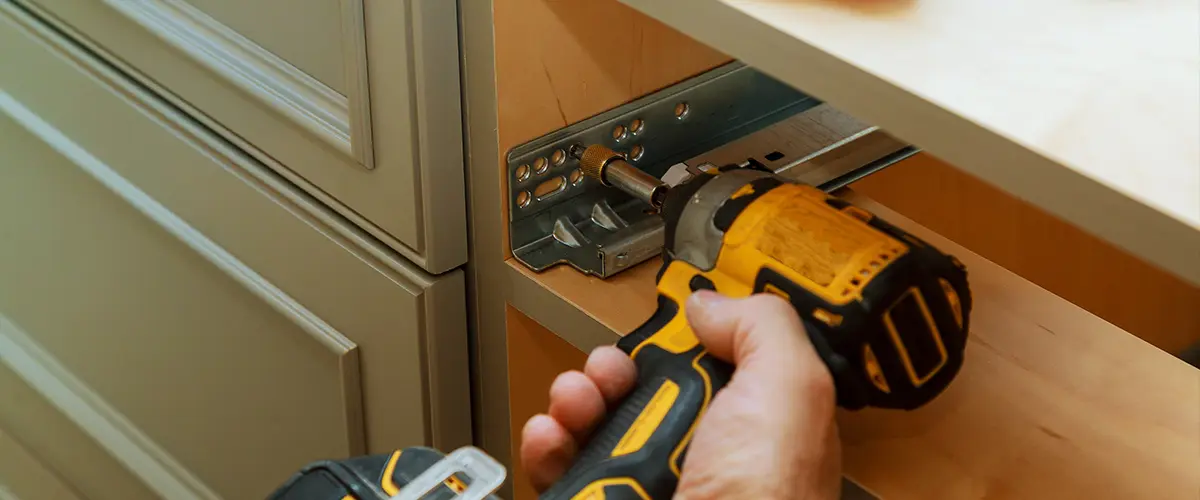 Want the sturdiest garage cabinets in Bonney Lake? Contact us to learn more about how we bring the showroom to your home and have all the details in place after just one meeting.
How We Make The Garage Cabinets Magic Happen
Why Our Garage Cabinets Are The Talk Of The Town
Our garage cabinets are meticulously designed with durability in mind, making them stand out among the numerous options available in the market. To ensure their exceptional longevity, we have incorporated three key features that set them apart.
Our garage cabinets are designed with full backings, providing a complete enclosure for the back of each cabinet. This feature guarantees the safety and protection of your stored items from dust, dirt, and pests. With cabinets equipped with complete backings, rest assured that your belongings are shielded from external elements, resulting in a clean and well-organized closet.
The coating applied to our garage cabinets is specifically engineered to withstand scratches, stains, and everyday wear and tear. This feature enhances the strength and durability of the cabinets, even with frequent use. Additionally, the coating ensures the cabinets maintain their appearance and functionality over an extended period.
The shelves are meticulously crafted with high-quality materials, carefully selected to ensure exceptional strength and durability. With these robust shelves, you can confidently organize and store a wide range of items in your closet, knowing that they will be adequately supported without any risk of bending or disrupting their meticulous arrangement.
We had our garage renovated by Creative Closets and we're extremely happy. We had multiple cabinets installed, slat walls, overhead racks, etc. and our dream of having an organized garage is now a reality! Highly recommend the Creative Closets crew.
Don't Compromise Your Garage Safety
As industry leaders, we pride ourselves on being the best in the business when it comes to custom designing and installing garage cabinets, delivering unrivaled quality, craftsmanship, and customer service.
By selecting our services, you will benefit from:
The Garage Cabinets That Make Sense In Your Bonney Lake Home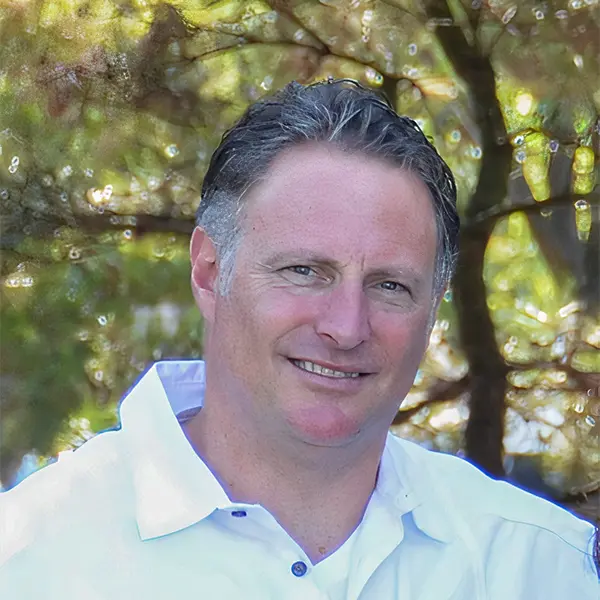 Don't wait any longer to transform your garage into the functional, organized space you've always wanted. Our team is ready to provide you with high-quality, custom-designed garage cabinets tailored to your specific needs.
Give us a call at (425) 428-5073 to get started or if you have any questions. You can also send us a message with just a click – simply hit the button below. We look forward to working with you on your garage transformation!