The Best Garage Cabinets In Lynnwood
Want quality garage cabinets that'll last a lifetime? You know what to do!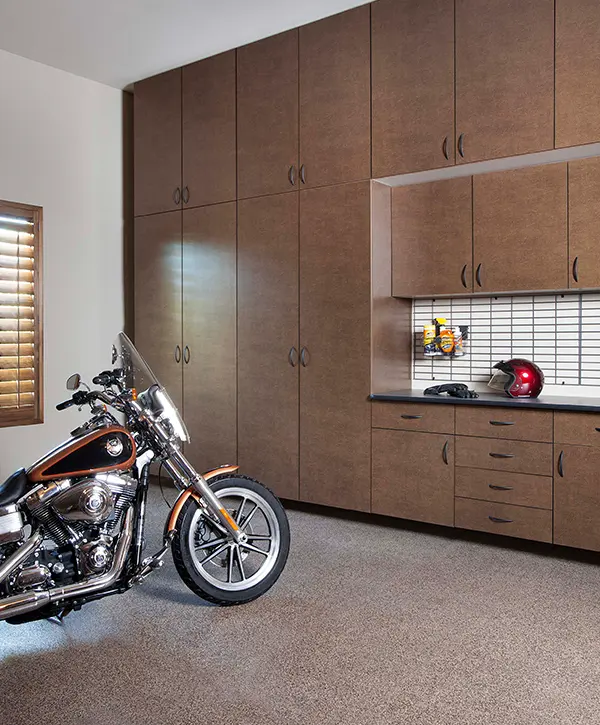 If you're tired of dealing with clutter, struggling to find tools and equipment or yearn for a garage that combines style and practicality, you've come to the right place. You're likely tired of never finding the stuff you need in a garage where everyone seems to store the things they want out of the way.
Our Creative Closets team is dedicated to providing top-notch garage cabinets that cater to your unique needs, helping you reclaim valuable space and achieve the garage of your dreams. Join us as we explore the wide range of high-quality options available, designed to enhance storage, streamline organization, and elevate the overall functionality of your Lynnwood garage.
We've used Creative Closets on three occasions to outfit three closets and a garage. The quality is fantastic. The price is great. The service is impeccable. If you're looking for great-quality at an affordable price, call Creative Closets.
Lynnwood Garages Have Never Looked Better
How would you feel if you had a garage without a single item lying on the floor? With everything hidden behind cabinet doors, perfectly hung on the wall, or concealed in a labeled storage box.
This would make your garage space so much more organized, easy to navigate, and it will make you feel a dozen times better.
We can customize your garage cabinets in Lynnwood to the last detail, by installing:
Let's get started on that perfectly organized garage! Contact us so we can set up an in-home appointment with one of our talented designers!
What Features Do Lynnwood Homeowners Want for Garage Storage?
Homeowners in Lynnwood frequently get annoyed about stumbling upon tools that are scattered on their garage floors. Since many folks use garages as storage areas, they often run out of space for parking their cars. Nevertheless, garage cabinets can be truly practical and versatile to take advantage of your storage space. Let's have a look at some of the essential features you'll appreciate if you're thinking about installing garage cabinets in your home.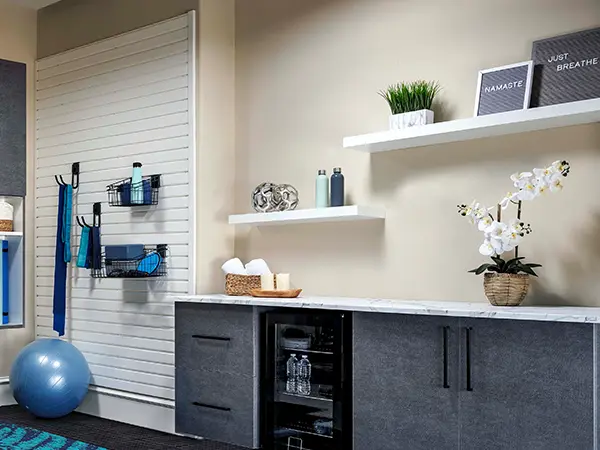 Garage cabinets that have adjustable shelves are extremely versatile. You can adjust the height of each shelf as needed to fit items of various sizes, such as power tools, cleaning products, or even old toys. This flexibility allows you to fully utilize all available cabinet space.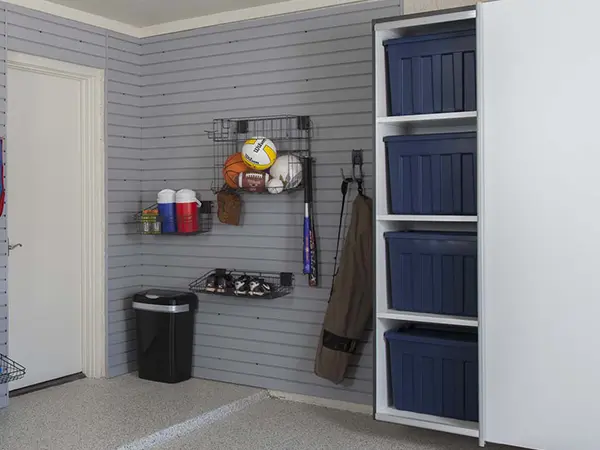 Storage Boxes and Baskets
To keep your garage organized, try using storage boxes and baskets inside your cabinets. These additions can help you group and categorize similar items like nails, screws, bits, gardening gloves, and cleaning supplies. With everything in its place, you'll easily find what you need.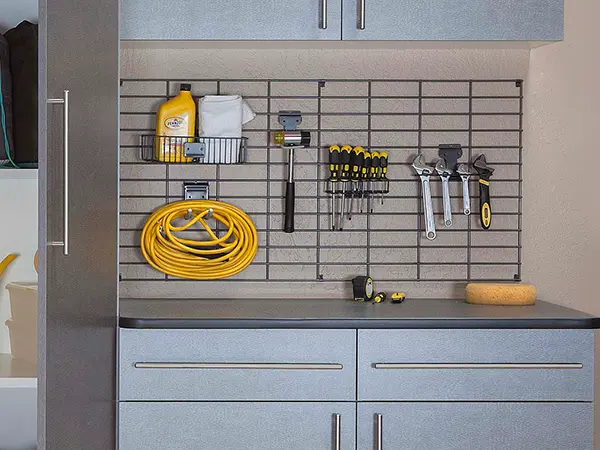 Garage cabinets come with hooks, which are simple but highly effective in hanging frequently used tools, extension cords, or your bike. By using hooks, you can free up valuable floor and wall space and keep your belongings easily accessible.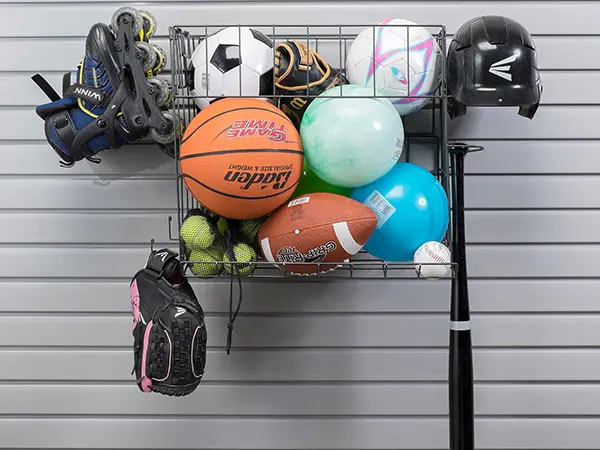 Our sport racks are designed for avid sports enthusiasts who want to organize their sports equipment in their garage. You can use these racks to store your gear securely, keep it easily accessible, and maintain it in excellent condition.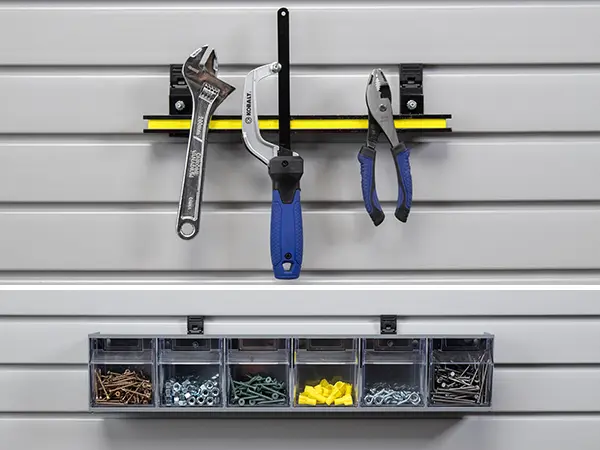 The tool racks provide specific compartments for storing and arranging your tools, ensuring easy access whenever necessary. Tool racks increase efficiency and productivity by enabling you to quickly find and fetch the appropriate tool for each task.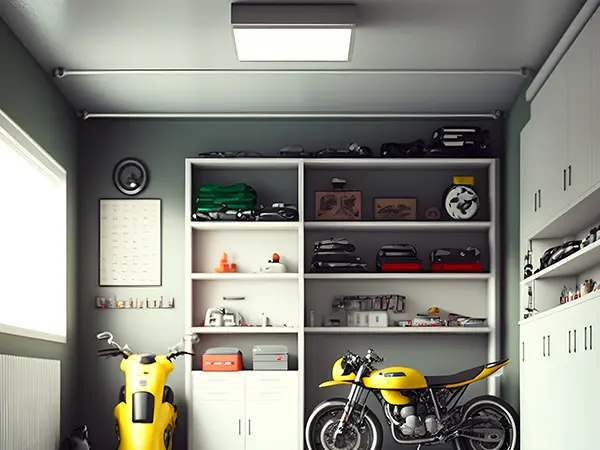 Our integrated lights can be installed in your garage cabinets to provide ample illumination, which will help you work comfortably and safely. These lights are strategically placed within the cabinets and create a well-lit environment that makes it easier to perform tasks. This will also reduce the risk of accidents.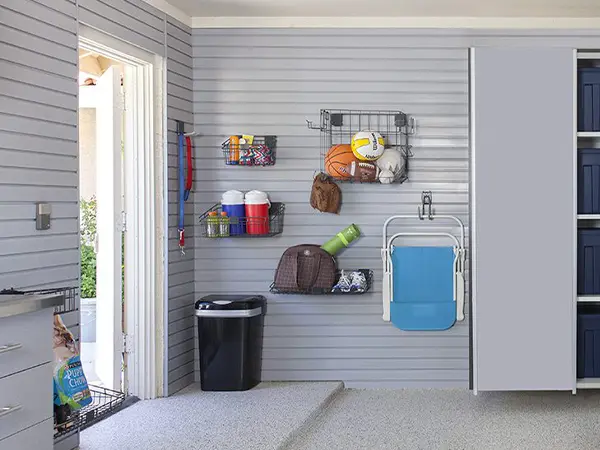 Our garage cabinets are equipped with slatwall organization systems that provide various storage options. You can use the slatwall panels and compatible accessories to hang and arrange tools, gardening equipment, and power cords in an organized manner. With slatwall, you can efficiently use vertical storage space and keep frequently used items easily accessible.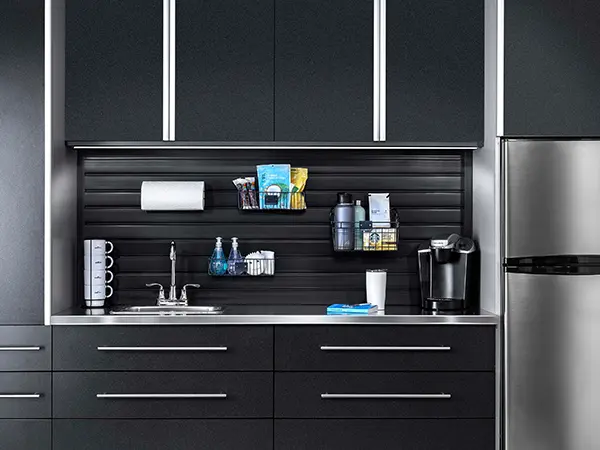 Our durable workbenches can help you turn your garage into a functional workspace. Whether you're working on DIY projects or hobbies, these sturdy surfaces provide a designated area for your tasks. With enough space for tools, materials, and a comfortable work area, you can complete your projects efficiently.
Get in touch with us for a complimentary assessment of your garage. We'll assist you in figuring out your needs, arranging your space, setting you up with financing, and coming up with a design.
Ready To Become One Of Our Happy Customers?
We always put our clients first, and it shows! Every homeowner we work with is over the moon with our complete service, and we love leaving a good impression. Ready to give your garage a boost?
Broc and the installers were great! Very professional and attentive. Our experience with them was great and we love our closet and the shelving installed in our garage.
We had our garage renovated by Creative Closets and we're extremely happy. We had multiple cabinets installed, slat walls, overhead racks, etc. and our dream of having an organized garage is now a reality! Highly recommend the Creative Closets crew.
Understanding Garage Cabinets Cost In Lynnwood
In order to provide you with an accurate price for your custom cabinets, we need to know the specific details of your project. Each project is unique, and we want to make sure we create exactly what you need. We'll be able to give you an estimate once we have your measurements and a clear understanding of your requirements.
To give you an idea of what to expect, we've included a table below that shows prices from some of our recent projects.
| Garage Storage Project | What's Included | Price |
| --- | --- | --- |
| 20' Wall Of Cabinets & Workbench | Pewter cabinets, full-lenght handles, 10+ separate storage areas | $7,000 |
| Workbench & Slatwall Panel | Tall cabinets, workbench with top + bottom cabinets, Slatwall tool storage system | $9,000 |
| 22' Full Wall Cabinets & Slatwall | Tall cabinets, Slatwall system, workbench with cabinets and drawers, overhead storage | $11,000 |
Now let's take a look into what influenced this cost. Since your garage project is unique, your pricing will also be different from what we've done before because no two homes are identical.
We previously completed a project where we created and set up custom garage cabinets along a 20-foot wall, costing around $3,500. The cabinets included full-length handles, over 10 different storage areas, and were finished in pewter.
Of course, you can choose other finishes, a different size for your cabinets, and other integrated accessories based on what you want to store. Just remembered that all of these influence the end price.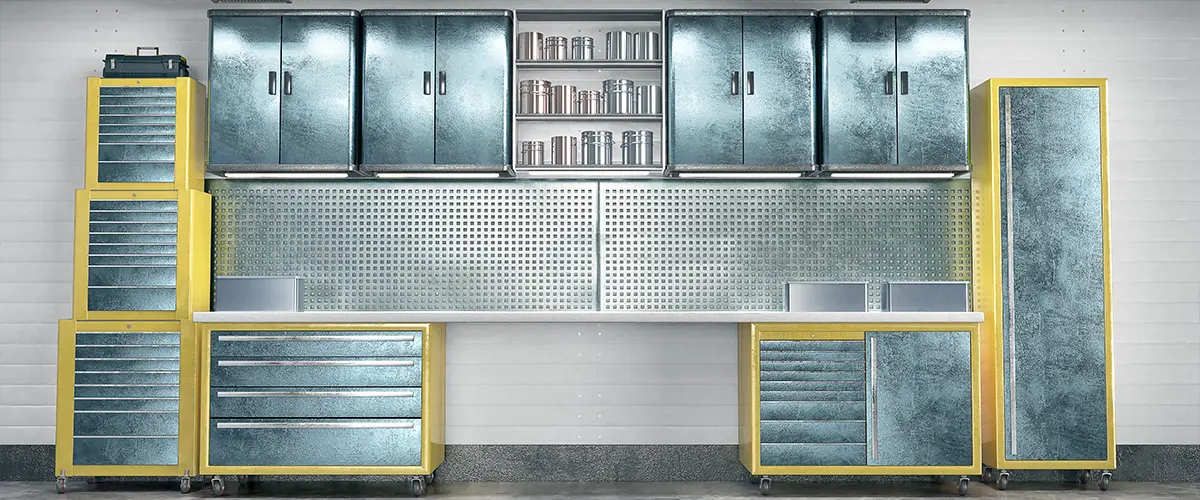 For about $8,500 to $9,000, we can set up tall cabinets that come with a workbench and Slatwall tool storage system. The final cost will depend on the size of the cabinets and the workbench you choose. If you prefer a bigger system that also has overhead storage racks and cabinets above the workbench, then the price can be up to $11,000.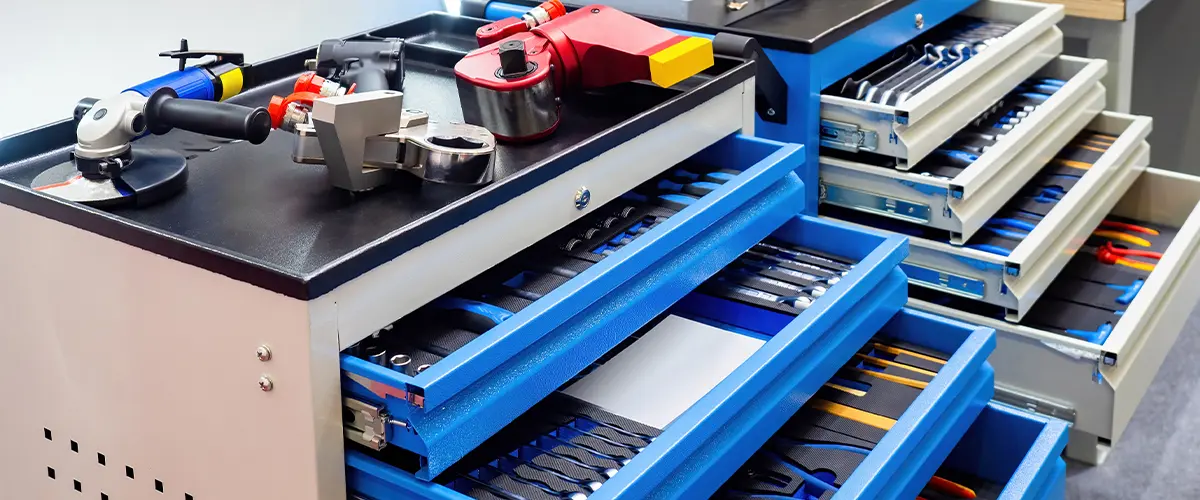 Thankfully, we have a wide range of colors and finishes for you to choose from so your garage can look exactly how you want it. Our designer will you through the options and make suggestions based on your likes and what would best match your existing space.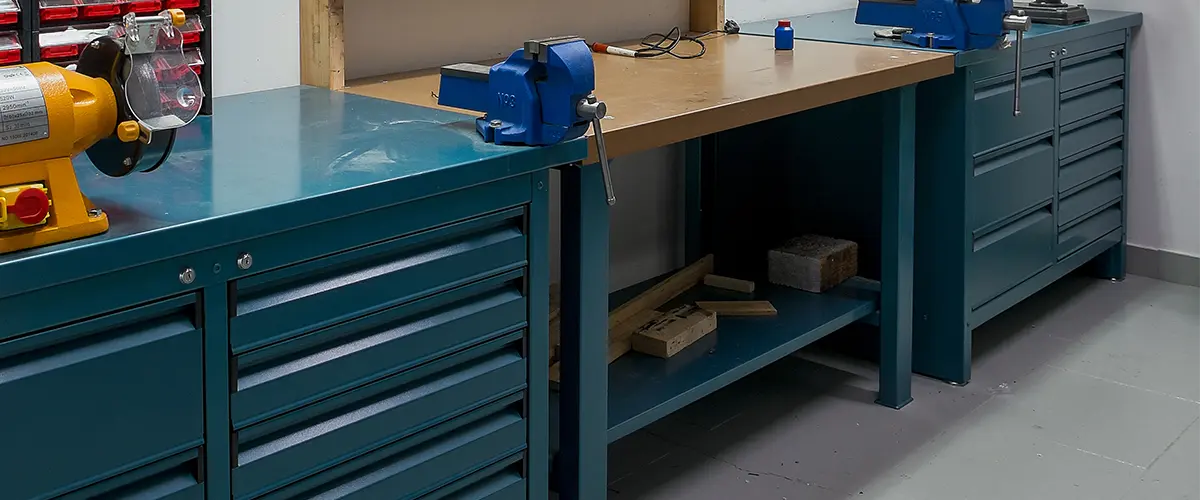 Because we install such a wide range of garage cabinets and storage solutions, some of these projects are more complex than others. Even if we make it our mission to be out of your hair by the end of the day, this will cause the end price of your garage cabinets to fluctuate based on how much work there is to be done.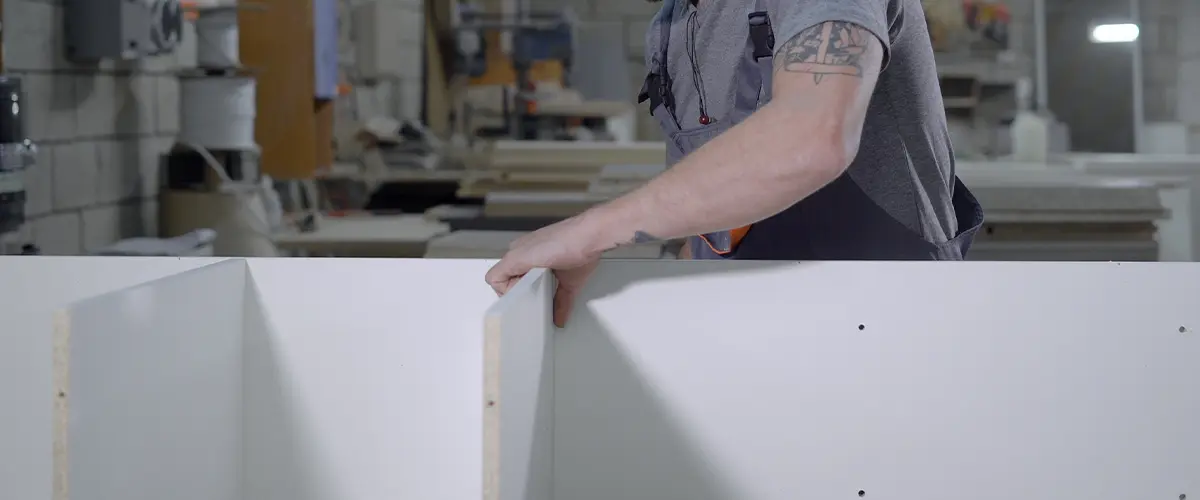 Ready to meet one of our talented designers? We'll send them over to your Lynnwood garage and they'll make your dream space come true by optimizing every bit of space and showing you the prefect garage cabinets.
Here's How Everything Goes...
Let's Create A Space For Everything In Your Garage
Since there are many garage cabinets available, we made sure our cabinets stand out by emphasizing their durability. To achieve this, we've incorporated three key features into our cabinets.
Our garage cabinets have complete backings, which completely enclose the back of each cabinet. This helps keep the items you store in the cabinets safe and protected from dust, dirt, and pests. With complete backings, you can be confident that your belongings are shielded from external elements, which promotes a clean and well-organized closet.
Our garage cabinets have a special resistant coating that makes them highly durable and protected against scratches, stains, and everyday wear and tear. This special coating helps the cabinets maintain their appearance and functionality over time, even with frequent use.
The shelves are crafted from premium materials to ensure robustness and sturdiness. You can store different things in your closet with confidence, as the shelves can support the weight without bending or affecting the arrangement.
Common Garage Cabinets Questions
Exceptional experience!! I had a very specific objective with two master closets, a pantry, and a garage shelving system. I'm very very happy with the quality of work, the team that worked with me through each stage of the process, the timeliness, and the outcome that is both functional and beautiful to look at!! 🙂 Highly recommend!!
The Perfect Storage Options To Dominate The Decluttering Game
At Creative Closets, we provide custom storage solutions that can help you efficiently organize your garage. 
Our range of customizable storage options can maximize every inch of your garage to suit your specific needs and preferences. You no longer need to worry about clutter or wasted space in your garage.
People choose us because we:
Join Lynnwood's Garage Decluttering Elite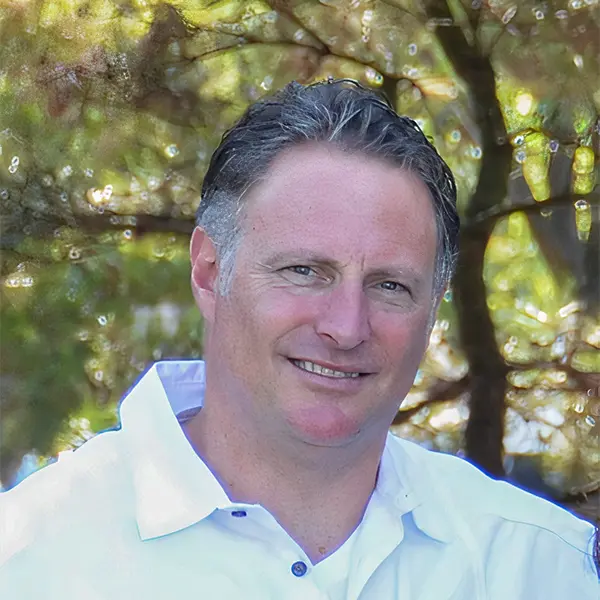 With more than 8,000 closets installed and hundreds of happy families served, we're ready to take on whatever garage storage problem you throw our way. Contact us at (425) 428-5073 for a consultation, or request a call back from the button below!