The Best Closet Systems In Kent
Upgrade your home and enjoy a more organized and functional space.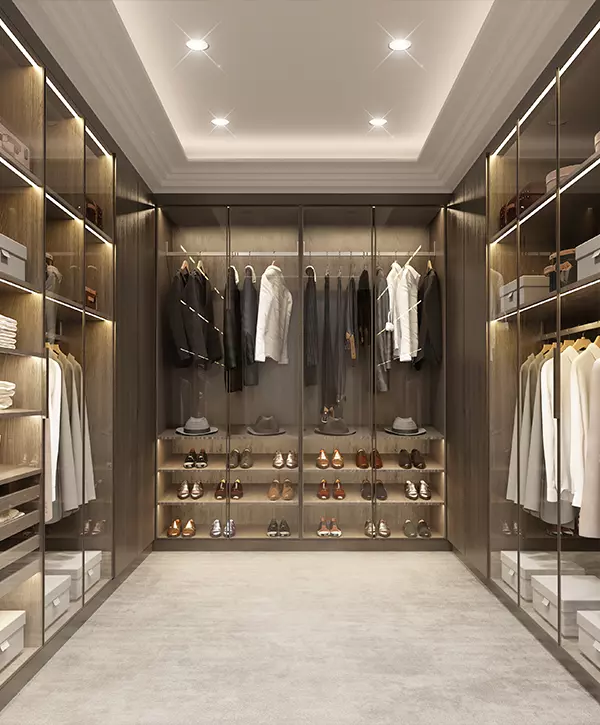 Experience the game-breaking closet systems that always end with a happy, clutter-free home.
Imagine waking up to a house filled with clutter and disorganization. Clothes are strewn across the floor, shoes are scattered throughout the room, and there is no place for you to hang your freshly-laundered clothes.
This chaotic morning scene can be avoided with one of Kent's best closet systems. With these custom closets, you can easily store all of your belongings in an orderly manner so that each morning starts on the right foot without any unnecessary stress or frustration.
I was referred to Creative Closets from Mike Lyon's who built the custom closets in my previous house that I now rent. Mike knew the quality I expected and said creative closets is the best. I had a great consultation appointment; only because of COVID and an expected absence resulted in a longer wait. The wait was certainly worth it; the closets are stunning. My garage project is next on my list.
Zero Stress When Searching For Items
A custom closet system can revolutionize your mornings by helping you find what you need faster and giving you more time to enjoy the pleasant aspects of your day. No more frantic searching for misplaced items or rummaging through cluttered drawers.
With a thoughtfully designed and organized closet system, everything will have its designated place, making it effortless to locate your clothes, accessories, and essentials.
By streamlining your morning routine, a custom closet system allows you to carve out more time for activities that bring you joy. Whether it's enjoying a leisurely breakfast, spending quality time with loved ones, or engaging in a hobby, you'll be free to focus on the pleasant aspects of your life.
Unlock the perks of working with Kent's closet pros:
Are you ready to transform your Kent home with a custom closet system? Take the first step today by contacting us and embark on the journey toward your ideal closet!
the Most Common Closet Systems for Your Kent Home
Discover the perfect closet solution for every room in your home. From luxurious walk-in closets to functional kitchen pantries, Creative Closets offers a range of custom options to suit your needs.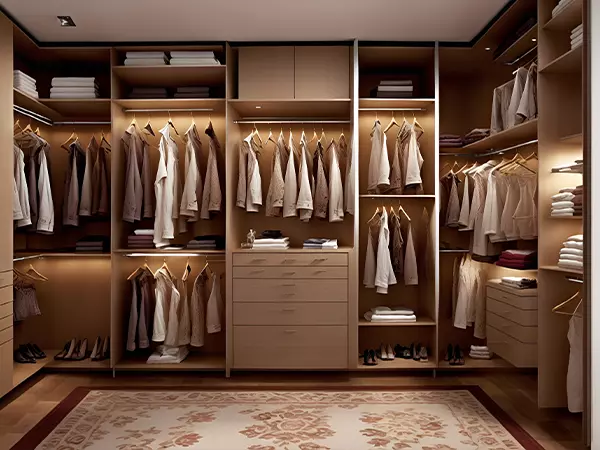 Our walk-in closets offer spacious storage solutions that can transform your room into a luxurious boutique. They provide ample space available to organize and display your entire wardrobe, shoes, and accessories, allowing for easy access and creating a personalized dressing experience.
Designed to maximize limited space, our reach-in closets optimize every inch of your small or medium-sized closet. They offer clever storage solutions and vertical space utilization that provides surprisingly generous storage capacity. You'll have designated spots for your belongings, ensuring efficient organization and maximizing your available space.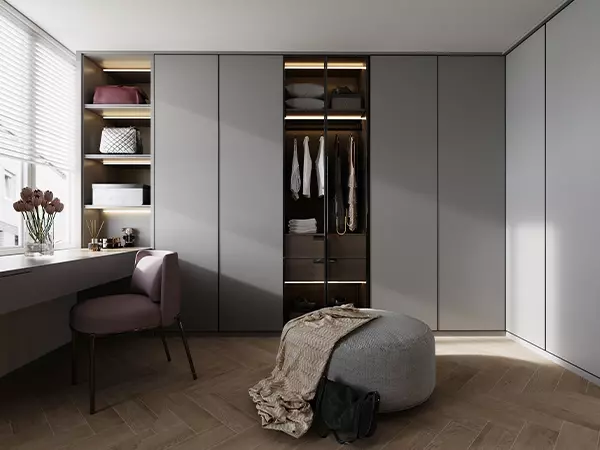 Perfect for fashion enthusiasts, our wardrobe closets offer versatile standalone units for storing clothing, shoes, and accessories. The biggest benefit is their ability to accommodate extensive collections while providing mirrors and built-in lighting to complete your dressing area. You'll have a functional and stylish storage solution that adds convenience and elegance to your space.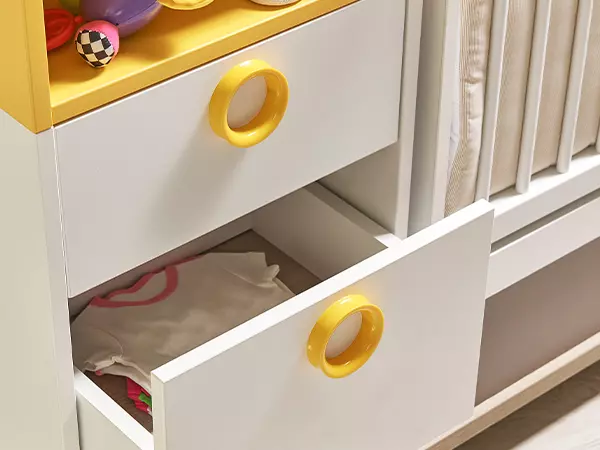 Our kids' closets are designed with the unique needs of children in mind. They help create a fun and functional space that encourages organization. With our custom solutions, your little ones can easily find their favorite toys, clothes, and school supplies, promoting tidiness and making daily routines more enjoyable for both parents and kids.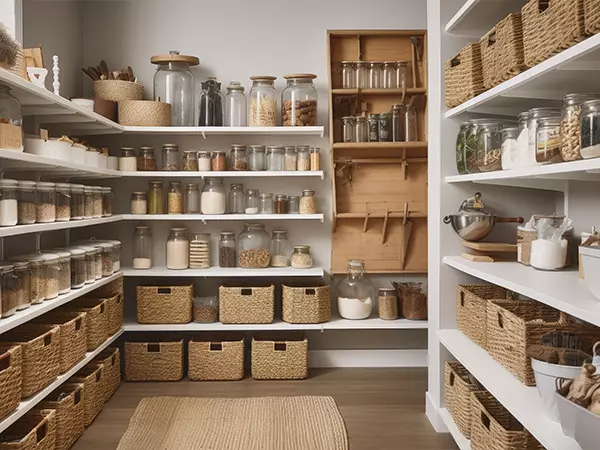 A well-organized kitchen pantry can simplify meal preparation. Our custom pantry systems offer clever shelving, pull-out baskets, and spice racks, among other features. The biggest benefit is having all your ingredients and kitchenware within easy reach, reducing clutter, and ensuring efficient use of space. You'll experience improved cooking routines and minimized food waste.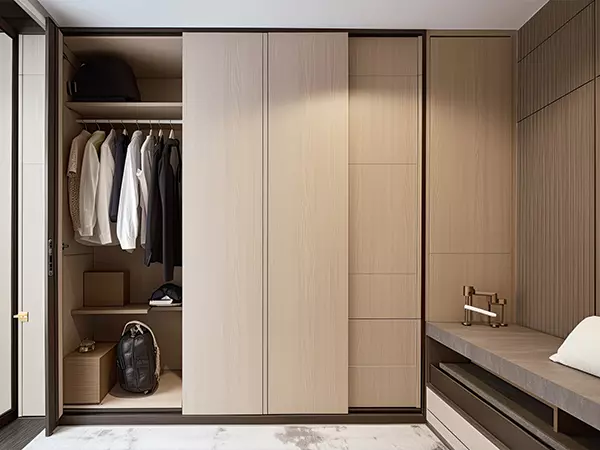 The entryway cabinet system serves as the first impression of your home. They create the perfect blend of beauty and functionality, with options such as hooks, cubbies, and shoe racks. Our custom entryway cabinets provide an organized space to greet guests and conveniently store your belongings, ensuring a clutter-free and welcoming entry to your home.
If you're looking for a custom closet system that will revolutionize your mornings and make it easier to find the items you need, contact us today! Our dedicated team of closet designers will work with you to create a thoughtfully designed and organized storage solution that perfectly fits your home in Kent.
Real Reviews From Homeowners Like You
At Creative Closets, we strive to provide the best custom closet systems for our customers in Kent. We take pride in hearing their feedback and reviews after seeing how our services have transformed their closets into more organized and efficient storage solutions.
Creative Closets did an excellent job all around. They designed a closet system that meets my needs, looks great, at a competitive price. The installer was on time, extremely polite and friendly, and efficient! I would recommend them to all of my friends!
From the making an appointment for in person design to installation, creative design was professional and prompt. They were able to explain step by step to me and it was a breeze to customize the closets as I wanted! Also, the closet installation comes with Life time warranty which is a plus! Thank you so much Creative Closets!
Breaking Down Closet Systems Cost In Kent
The cost of the closet system can be different for each person. This is because we need to measure the space in your home and decide how to customize the closet. The price can also change depending on how big the closet is or what type of storage you want inside it.
The following table provides a glimpse into the costs associated with various closet systems that we have installed for our valued customers in the past. For more precise pricing, kindly contact us to schedule an appointment. Our team will bring the showroom experience to your home, taking precise measurements and working closely with you to customize your closet.
| Closet Type | Size | Average Price |
| --- | --- | --- |
| Walk-in Closet | 20' x 20' | $9,500 |
| Reach-In Closet | 8' Long | $2,000 |
| Kitchen Pantry | 8' x 5' | $4,500 |
| Entryway Cabinet Wall | 8' | $6,500 |
| Kids' Reach-In Closet | 8' Long | $2,800 |
When it comes to investing in a new closet system for your home, cost is an important factor. It's essential to understand what influences the end price of your custom closet so you can make an informed decision and get the best value for your money.
The cost of your project will be affected by its size and level of complexity. If you have a bigger area or a more intricate design, you may need more materials and labor, which could result in a higher price. Nevertheless, our team of professionals will collaborate with you to develop a solution that meets your budget while still ensuring exceptional quality.
For example, setting up a kitchen pantry typically involves more extensive closet systems than a smaller reach-in closet. An 8′ x 5′ kitchen pantry, for instance, may cost up to $4,500, while a reach-in closet for your bedroom or laundry room can be as affordable as $2,000.
Rest assured, we strive to provide transparent pricing and tailored options to meet your specific needs and financial considerations.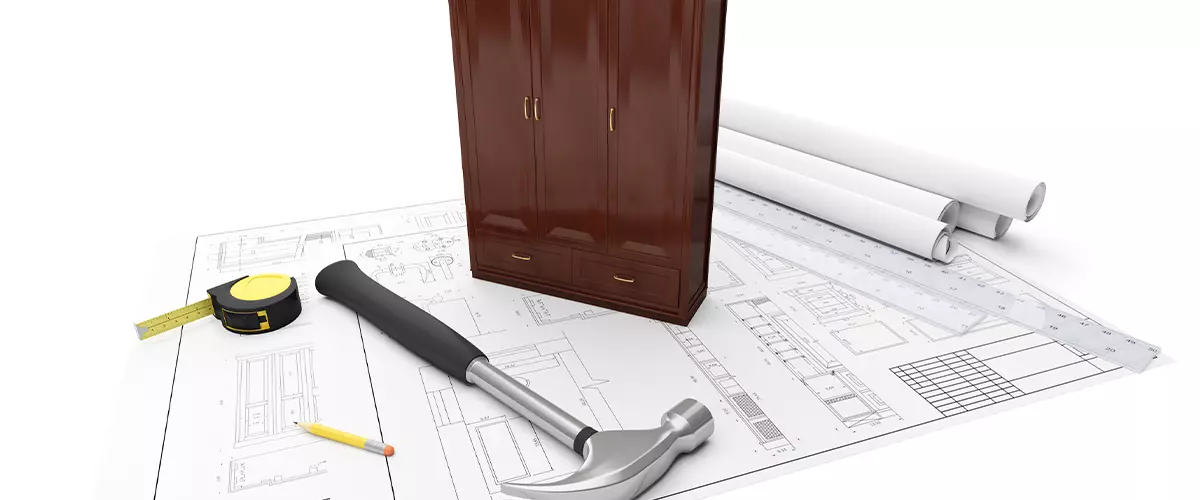 The cost of different types of closet systems can vary based on their features and complexity. For instance, an entryway cabinet wall measuring 7 feet, which includes a deep sitting bench and numerous storage drawers, may be priced at approximately $5,500.
On the other hand, a spacious walk-in closet measuring 20 feet by 20 feet, complete with multiple accessories, can reach a cost of up to $10,000. The variation in price is primarily influenced by the size of the closet, the number and type of accessories included, as well as the level of customization required.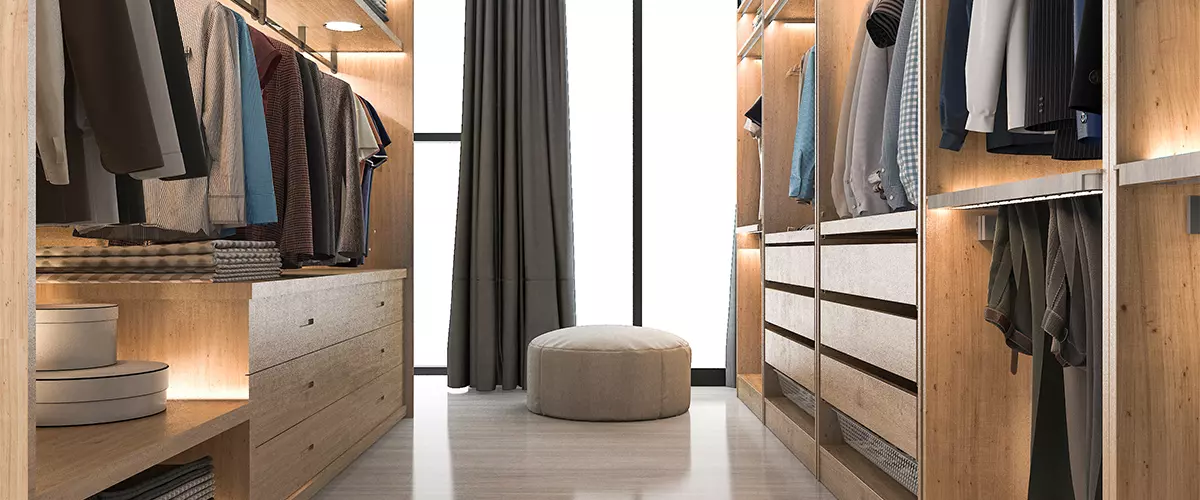 Accessories such as jewelry drawers, shoe racks, tie racks, or built-in laundry hampers provide specialized storage options. The inclusion of these features adds functionality and convenience to the closet system but can increase the overall price.
Customized shelving configurations, adjustable shelves, and dividers allow for better organization and maximize storage space. The customization required for these features involves additional design and manufacturing efforts, which can result in a higher price.
Incorporating lighting fixtures, such as LED strip lights, sensor lights, or spotlights, can enhance visibility and create a visually appealing ambiance within the closet. However, the installation and wiring of these fixtures can add to the overall cost.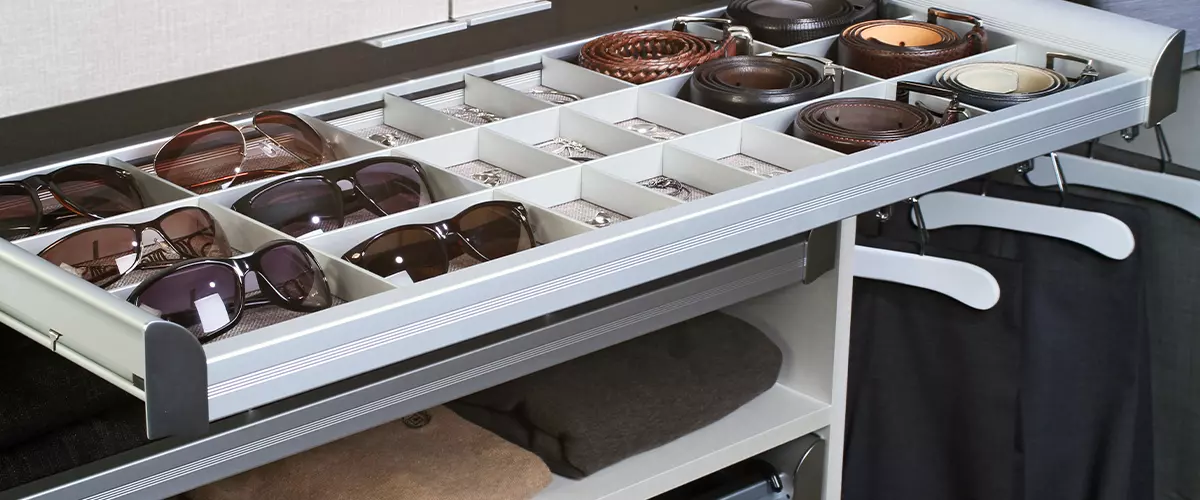 Rest assured that our dedicated team of professionals will install your custom closet system with utmost expertise. The installation cost is included in the overall price, providing you with a seamless and stress-free experience. You can trust us to deliver a finished product that meets and exceeds your expectations, ensuring long-lasting functionality and satisfaction.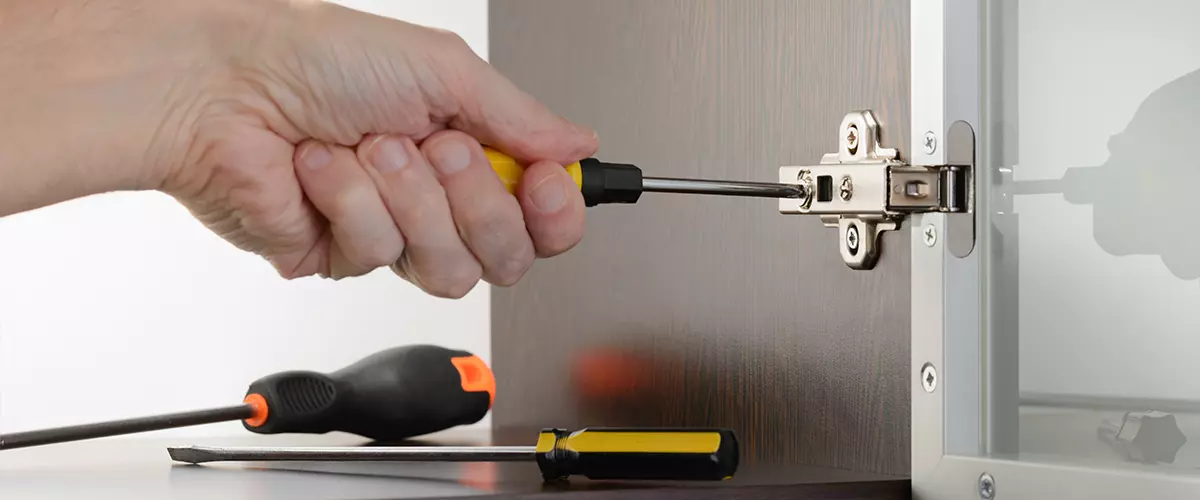 Experience the joy of upgrading your closets without the burden of saving up. Our enticing financing option awaits you, featuring 0% interest and a hassle-free $0 down payment. Discover the freedom to transform your space with the closets of your dreams, without the need for delay.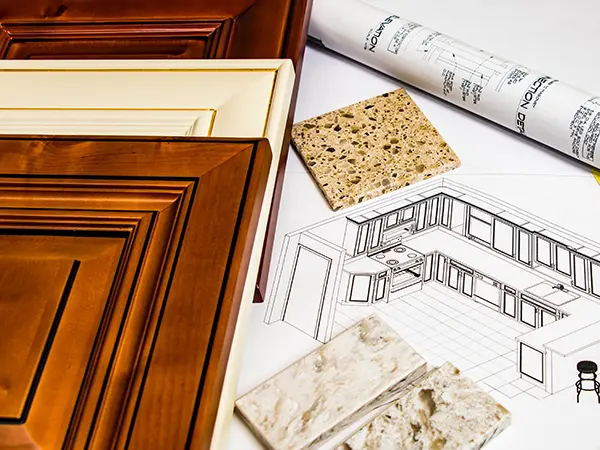 Arrange your personalized in-home showroom appointment and embark on the journey of creating a custom closet system that perfectly suits you and your family.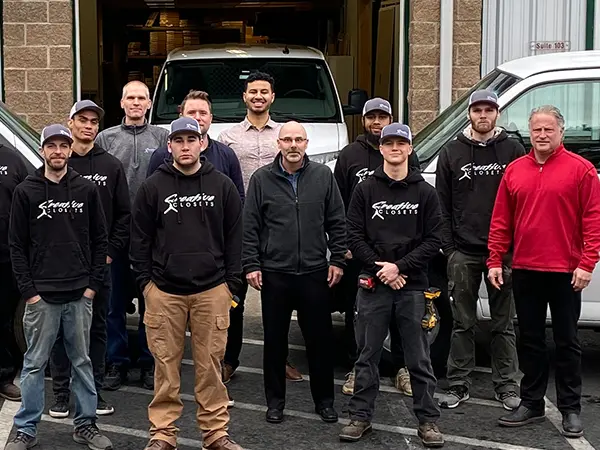 Once all the necessary materials are prepared, our skilled team will swiftly install your new closet system, ensuring a seamless process that can be completed within a single day.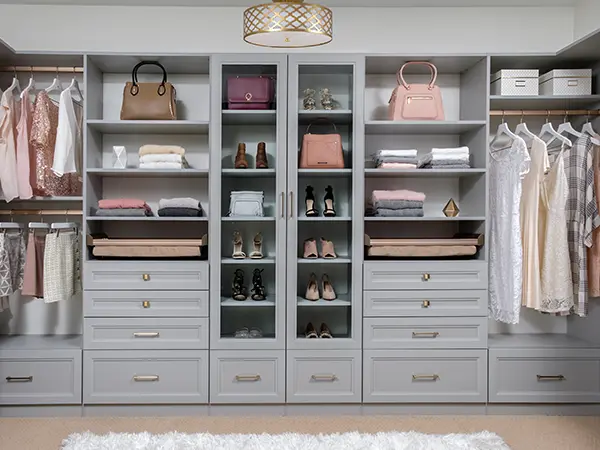 Delight in the newfound joy of having dedicated spaces for every item, bid farewell to clutter, and relish the satisfaction of an organized and harmonious living space.
The Solution For Everyone Struggling With Clutter
Have Stunning Closet Systems Just Like These
Transform your living space with a custom closet system from Creative Closets! Our experienced team of designers will work with you to develop a thoughtfully designed and organized storage solution that perfectly fits your home.
Make Better Use Of Your Kent Space
At Creative Closets, we are committed to providing customized solutions that cater to your unique needs. We recognize that every individual, family, and home is distinct, deserving of personalized attention and care.
Experience our streamlined process, where your closet design, material and accessory selection, and financing arrangements can be completed in a single 60-to-90-minute appointment, eliminating any unnecessary time wastage.
When you choose to collaborate with us, here's what you can expect:
Better Organization For Beautiful Stress-Free Mornings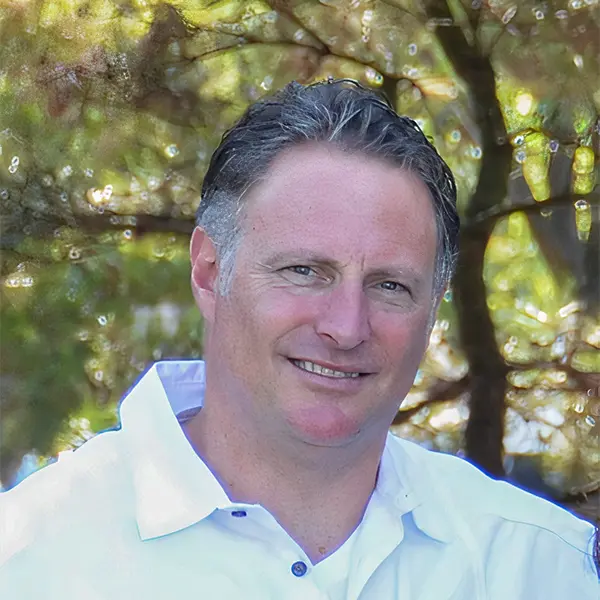 Take the first step towards transforming your home with the perfect custom closet solution. Call us today at (425) 428-5073 and let us bring organization and functionality to your space. Don't wait any longer, reach out now and discover how Creative Closets can create the closets of your dreams.