The Best Closet Designer In Newcastle
In just 60-to-90 minutes, you can have a customized storage system designed to fit your needs.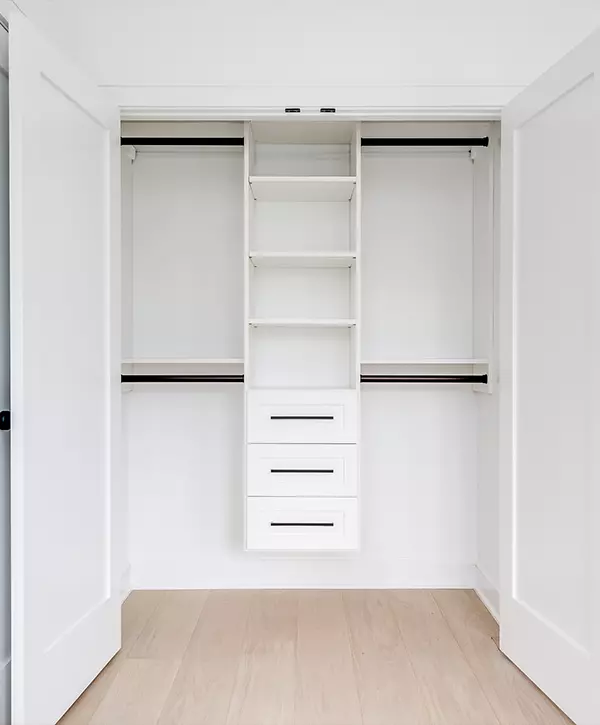 Think of your closet as a space full of possibilities. With a well-designed and organized closet, you can store your belongings effortlessly and bring harmony to your daily routine.
At Creative Closets, we understand your frustrations and strive to simplify your life, increase efficiency, and bring more joy to your day. As the top closet designer in Newcastle, we are committed to transforming your closet into a functional and beautiful oasis that perfectly matches your lifestyle.
We worked with Creative closet to add closets to our Son's bedroom and master bedroom. We had amazing experience right from scheduling the first design appointment to the final installation. Design consultation was smooth, and Jerry walked us through all the available options and provided 3D visualization for the project which helped us visualize and make changes according to our needs.
On the day of the installation we found the team very professional, they arrived in time and finished the work in time and cleaned up everything. We really appreciate Creative closets for making our space organized and usable.
We Upgrade Your Home With Tailored Storage Solutions
Our team of expert closet designers can guide you in creating an optimal kitchen pantry, durable linen cabinets, inviting entryway storage, luxurious walk-in closets, and more. We offer custom closet design services that provide a personalized experience instead of cookie-cutter solutions. With our team of Creative Closet designers, you can benefit from:
Get in touch with us now to book a consultation and begin your journey toward the closet of your dreams. Collaboratively, we will design a space that not only makes your life easier but also brings you happiness every time you open the closet doors.
Benefits Of Having A Newcastle Closet Designer
Consider your wardrobe as a challenging puzzle that requires a solution. You have all the necessary pieces – clothing, footwear, accessories, and more – but they do not fit together perfectly. This is where the expertise of a closet designer comes into play, serving as a puzzle master with extensive knowledge in organization and maximizing space.
Working with a closet designer entails collaborating with someone who specializes in transforming chaos into harmony. Their job is to bring order to the clutter and design a stunning closet that functions seamlessly to fulfill your specific requirements. They act like a skilled conductor, directing all aspects of your closet in perfect unison.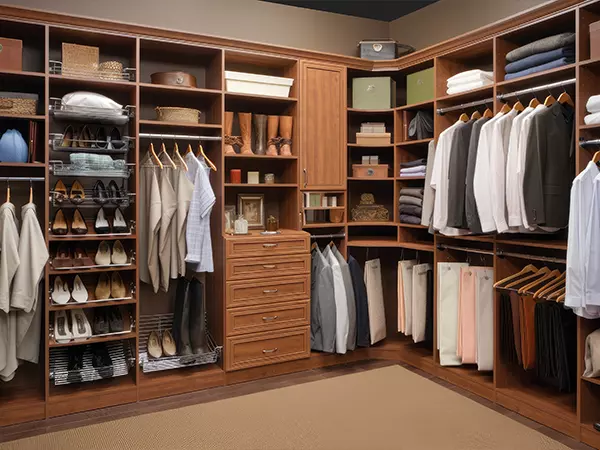 Unlock Your Closet's Potential
A closet designer can help you unlock the full potential of your closet space. They have the skill to visualize the possibilities and work with you to redesign the layout and storage options. By examining the space, considering your items, and designing a tailored plan, they can optimize every inch of your closet.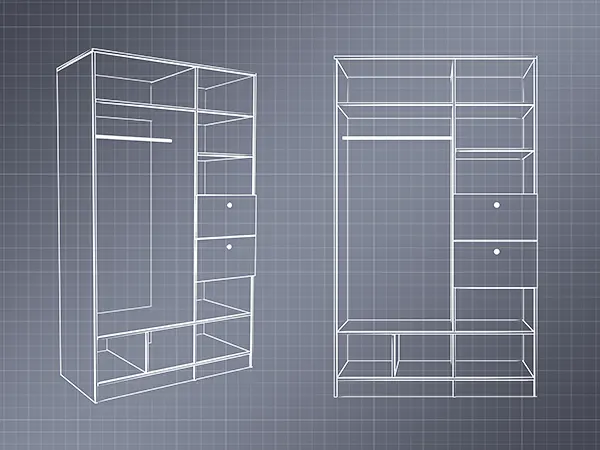 Personalize Your Closet Experience
Your closet designer is like a personal storage stylist who listens to your needs, preferences, and lifestyle. They'll ask questions about your clothes and accessories storage habits, items you own, and space usage. With this information, they'll create a personalized design that meets your requirements and ensures everything is in its rightful place.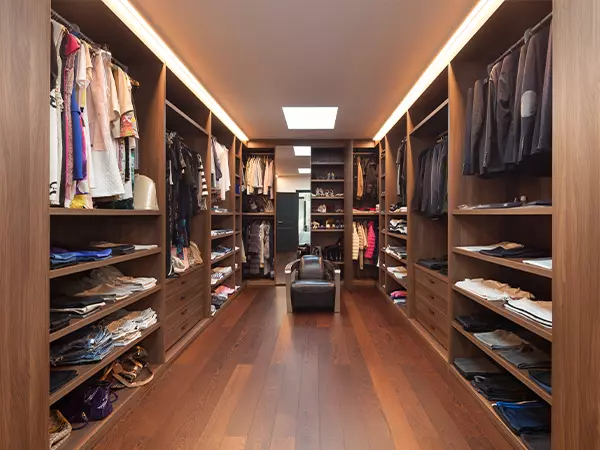 When you hire a closet designer, they help you pick out the right materials, colors, and styles for your needs. They'll bring samples to your home, so you can get a sense of what the different options look and feel like. Think of it like having a personal shopper to simplify the decision-making process.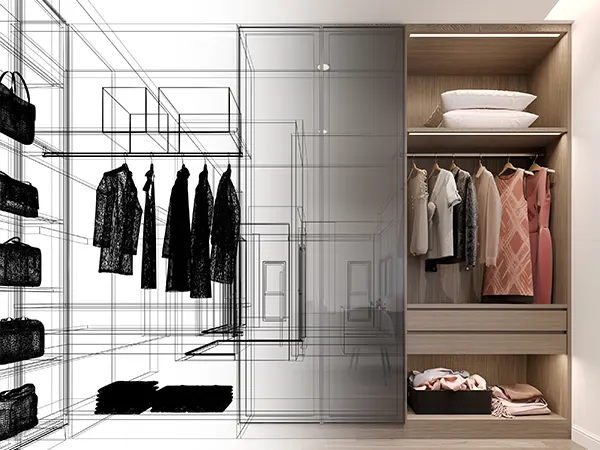 A closet designer works similarly to an architect but specializes in designing customized storage spaces. By using advanced software and visual tools, they can create a virtual representation of your envisioned closet. You can experiment with various arrangements, give feedback, and witness your ideal organized space come to life before your eyes.
When you partner with our closet designer, you'll have a committed expert by your side who will provide you with top-notch storage recommendations. They will convert your closet into a room that showcases your fashion sense, streamlines your daily routine, and brings happiness every time you open it.
Why Newcastle Homeowners Rave About Creative Closets
Newcastle homeowners are thrilled to have Creative Closet's expert designers help transform their closets into functional and beautiful oases that perfectly match their lifestyle and bring harmony to their daily routine.
The team arrived on time prepared to work. They kept the house clean by rolling out a red carpet and taking off their footwear. They were very polite and professional and my closet looks GREAT! I would definitely recommend them to anyone who's looking for great value in a superior closet design.
I have 5 of my closets designed and installed and couldn't be happier! Everyone was friendly and they did a wonderful job. I'm so glad I redid my closets it has made such a difference for living in a small space.
Tips for Effective Collaboration with Your Closet Designer
Working with a closet designer is a thrilling opportunity to transform your closet area into a practical and stylish sanctuary. To ensure a smooth and successful design process, it's essential to establish effective communication and ensure that your ideas and requirements are clearly understood.
Communicate Your Preferences
Clearly communicate your storage challenges, lifestyle, and preferences to your closet designer to ensure a personalized solution.
Share inspirational ideas and visuals to help your designer understand your style and preferences better.
Be open to the expertise and advice of your closet designer while sharing your ideas to achieve a collaborative approach.
Don't hesitate to ask questions to ensure a transparent and collaborative relationship.
Stay Engaged And Involved
Stay engaged and involved in the design process, providing timely feedback to progress efficiently.
Trust the expertise of your professional closet designer to create functional and aesthetically pleasing storage solutions.
See How We Transform Closets into Functional and Beautiful Oases
Our past project gallery showcases the amazing transformation of custom closets and storage solutions we have created for our clients. From kids' closets to linen cabinets, entryway storage, and luxurious walk-in closets – we can do it all!
Average Closet Designer Cost In Newcastle
The average closet designer cost in Newcastle, WA is affordable and competitive compared to the prices of other local services. The experienced professionals can provide customized storage solutions that offer increased efficiency, organizational harmony, comfort and joy while taking into consideration personal style and budget.
| Item | Price |
| --- | --- |
| Min Cost/Closet | $250+ |
| Average Cost/Closet | $350+ |
| Max Cost/Closet | $450+ |
At Creative Closets, we understand that many homeowners in Newcastle are worried about the cost of closet design. To ensure that everyone can have access to exceptional closet design, we have created a streamlined process.
During our initial consultation, we will provide you with a free, detailed design and pricing package. This allows you to envision your dream closet without any financial obligations upfront.
Closet Design And Installation Have Never Been Easier
In-Home Design Consultation
We use advanced 3D to design a customized closet that meets your exact specifications in real time.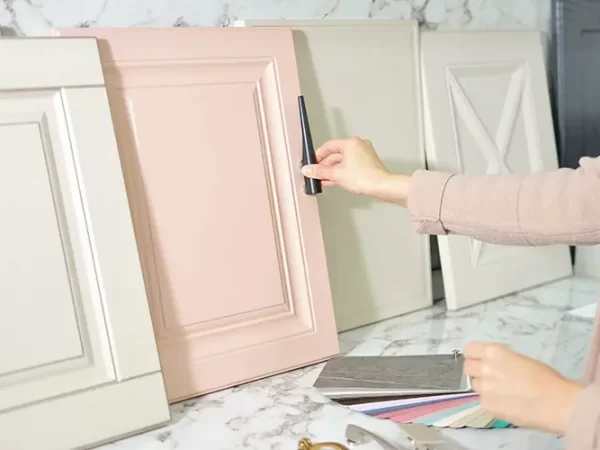 Order Materials & Install
Once all materials arrive and we have an installation date set, our expert installers will promptly start the installation process.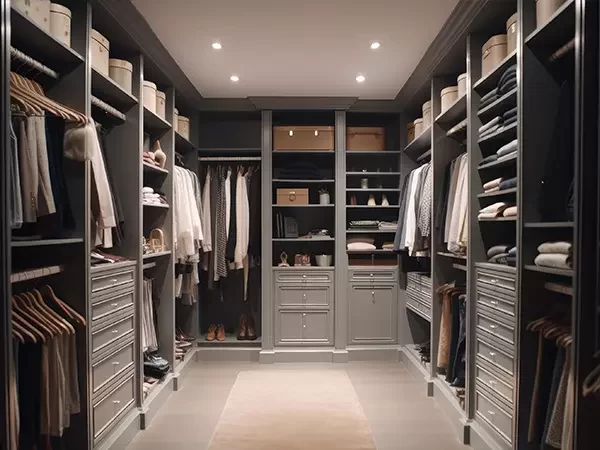 lifetime warranty guarantees the quality of our workmanship on your new closet system, giving you peace of mind about its durability.
Here's How Everything Goes...
That depends on the features you want and the actual size of the closet. A 20' x 20' walk-in closet can cost $10k to customize, but a small reach-in closet can cost between $500 and $2k.
A closet designer is a professional who specializes in designing customized storage spaces. They use advanced software and visual tools to create virtual representations of envisioned closets, helping clients pick out the right materials, colors, and styles based on their budget and lifestyle. A closet designer also provides tips for effective collaboration with clients, as well as easy installation services.
Yes, absolutely! With Creative Closets, we employ advanced 3D technology to let you design a customized closet that meets your exact specifications in real-time. With this technology, you can get a visual representation of what your dream closet will look like before installation. Our 3D visuals bring your vision to life and help you make informed decisions and changes on the spot.
Let Our Designers Do All The Work For You
At Creative Closets, we strongly believe in the effectiveness of customized design. We offer bespoke solutions that blend seamlessly with your lifestyle, preferences, and requirements. Our designs are meticulously planned to maximize your space, improve organization, and showcase your distinctive taste.
By selecting Creative Closets, you can expect the following benefits:
Ready For The Design Upgrade That Doesn't Break The Bank?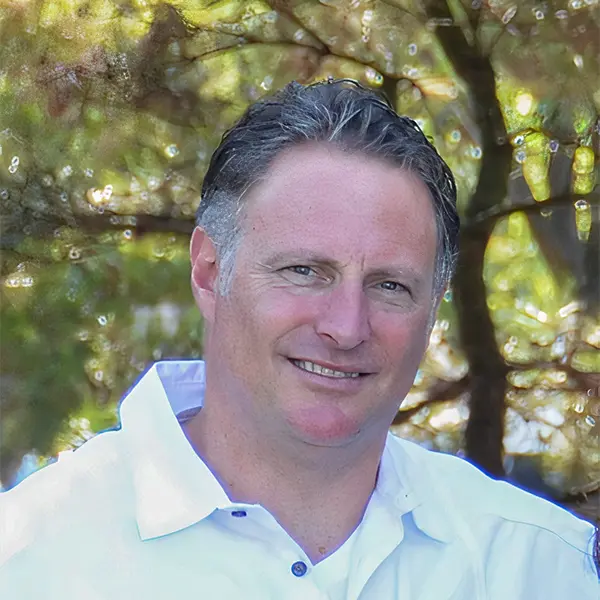 Let our closet designers work their magic and watch the design for a perfect closet unfold right before your eyes. Take the first step towards an organized and beautifully designed space today.
You can click the button below or call us at (425) 428-5073 to get started. Our expert team is ready to schedule a personalized consultation with you.