Explore closet options for your home, garage, or business.
What would you like to see?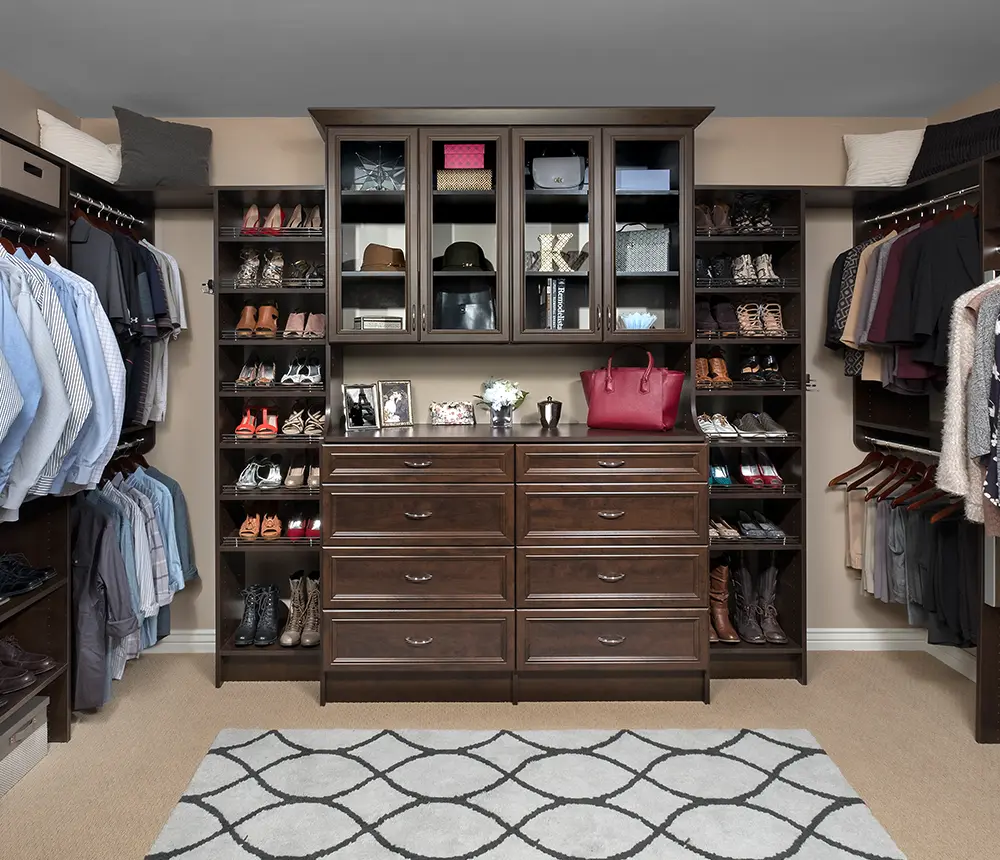 Or scroll to explore the entire gallery on your own
Creative Closets did an incredible job installing all our closets for our new construction! Jordan and his crew finished in one day and the closets turned out incredible!
Not to mention they were very quick to respond to all my inquiries and details leading up and after the installation process!
Thank you-we will be using you again and refer you to all our friends!
We hired Creative Closet to make a custom closet in one of our bedrooms. We could not be happier with the quality, price and professionalism. The whole process was seamless, from the initial consultation, finalizing design to installation.
Tim was great. Dayton, the installer, was excellent. I would definitely recommend this company to anyone who wants a new closet done. I have worked with 2 other closet companies before and I must say Creative Closet beat them by far from all aspects; price, quality and customer service.
We just had Creative Closets create new built in closets for our home. They transformed 4 closets- one being a walk-in with drawers. We could not be happier with the entire process, from design to installation…seamless.
Great company to work with! Great communication! I would give them 10 stars if I could. Thanks guys. Wonderful job, I love 💗 my new closets!!!
We love our new custom master closet! It looks amazing and gives us more usable space!
They did a great job from the initial appointment to install.
I highly recommend this company and looking forward to having our other rooms and pantry done in the future.
Our installer Keith was the best part of this experience. He cared so much about the quality of his work that we were very happy with the install of our custom closet.
He was on time and friendly and super easy to talk to in regards to our needs for our custom installation. We recommend Creative Closets also for the reason that they offer a lifetime warranty. I will be sending clients to them for years. -Sami and Renata Chohfi
We couldn't be happier with Creative Closets! From the moment I called requesting a bid they were out the next day and had a custom design for us in a matter of hours that was exactly what we were hoping for.
They arrived on time to do the install, were very professional – they are just an all around great team to work with. I highly recommend using this company, you will not be disappointed.
We are really happy with their work and the overall experience working with them. 
Our kids closets are very small walk ins that weren't able to fit a dresser or much storage.
Now they are super functional, tons of storage, great quality and look amazing.
Definitely recommend!
Creative closets had always done an excellent job with our closets. We have been working for them for about 8 years now and we have never been disappointed.
Tim does an excellent job with design and giving suggestions. The installation team is also very professional and they do a very neat and well done job and they work fast. They are excellent!
I found Creative Closets on Thumbtack and from the onset, they were very responsive. I worked with the lead designer, Jerry who was highly professional and very patient with me walking me through different designs until we landed on a final design I felt comfortable with that was also within my budget.
Caleb, the installer, was very thorough and responsive. I love my new closet and will be recommending this business to anyone in need of a custom closet
I used Creative Closets for our garage cabinets. They came out quickly to give me a quote. They were super professional and responsive.
They followed up before the install date with all the details I needed. My installers did a fantastic job and went out of their way to make sure I was happy. The best value and service! Cannot recommend enough.
The folks from creative closets are very professional and did a fantastic job. The installers did a nice job during the installation.
They arrived promptly on time and the work was completed within 5-6hours. They also cleaned the area after installation. The designer Jerry was also very meticulous and professional during the design process. I definitely recommend creative closets.
The experience with creative closets from the start with Kristina scheduling the appointment to Jerry who came out to measure and design, Broc who called to schedule the install appt, to the Install with Josh, was easy and very professional! 
Our closets look great! Thank you!!
I highly recommend Creative Closets! They were extremely responsive, easy to work with, accommodating & professional.
We had several closets in our home built out as well as our kitchen pantry.
On the day of install they had a large crew show up and got the project done fast. Everything is sturdy and high quality. We are very happy with our service from start to finish.
This is our 1st experience with Creative Closets. We wanted a custom pantry for our kitchen matching our current kitchen setup and I don't think I could be any happier.
They were professional and on time with the installation. They adjusted changes in design multiple times and also adjusted our requests on installation changes.
We spoke to 4 other companies, but chose them. Our empty kitchen space came out exactly how we wanted. I am surely working with them for all of my future projects..
Creative Closets did an excellent job with our kitchen pantry and bedroom closets.
It was an easy, painless process and we are very happy with the outcome. Highly recommend!
This was my 2nd time using Creative Closets since they did such an amazing job the first time. They were able to come out with only a couple days notice and got me on the install schedule the next day. The whole process from the consult through instal has been professional and their team has gone above and beyond to make sure everything is done right, even down to the little details.
They are great to work with and produce an excellent finished product. Would highly recommend to anyone who wants to get organized and maximize their space!
Creative Closets designed and installed cabinets in my garage, and I couldn't be happier with the result.
The experience, albeit delayed by supply chain issue beyond anyone's control, was seamless with clear, responsive communciation.  
Definitely recommend to anyone who is in need of cabinetry.
We used Creative Closets to install closet shelves in our house. They were very thorough and professional in their job. A closet designer came to our house and measured and took note of all the things in closet and designed shelves and drawers according to our need. Though the lumber scarcity delayed the project by 2 months, the wait was worth it.
Broc Wiora was super responsive to my emails and calls and assured that the closets will be installed on the said date and they did. If you are looking to install closets that are of great quality, look no further than Creative Closets.
Fabulous experience- from the designer coming to our house and creating a perfect design for our laundry room, to the installation team being on time, respectful, and courteous.
Really happy with the entire process and the results! Will absolutely use again.
Creative Closets did a fantastic job remodeling our master bedroom closet and our laundry room space. Their design layout and proper material options really kept the price point affordable.
Our installer Justin was very professional and helpful, making short work of the project. Jerry our sales associate was easy to work with and had great suggestions to help maximize the space.
Creative Closets provided Nordstrom level service. They designed us the perfect closet solution and the price was very reasonable.
They followed up and went above and begone to ensure satisfaction every step of the way. Love our new closet and cannot recommend Creative Closets enough!
We chose Creative Closets to design, build and install closet systems including shelving, hanging areas, and built-in drawers in our new house. They did the closets in all five bedrooms. The cost was very competitive and their service was great.
They responded right away to my request for estimate, and arrived on time for all further appointments. Overall we are very happy with their product and service.
My first custom closet experience. Definitely found the right company. Due to COVID-19, consult and design done through video chat and email. Jeff did a great job!
All questions answered and clear pricing. Two closets and both are perfect!
All employees from first contact to install were great. Highly recommend!!
Creative Closets did an excellent job all around. They designed a closet system that meets my needs, looks great, at a competitive price.
The installer was on time, extremely polite and friendly, and efficient!
I would recommend them to all of my friends!
The designer was fantastic! He really showed us how we can utilize our spaces much more efficiently!
The guys who installed the cabinets were great! Personable, very nice and interactive! We loved the whole experience!
Top quality and professional installation! I highly recommend this company! Exceeded our expectations!
Don't hesitate to do business with them. You'll be glad you did!
Great experience with Creative Closets! They were up front on expectations, cost, and installation timelines. The design process was extremely quick and our consultant took our vision and turned it into 3D models with options and costs in less than an hour.
Their costs were significantly lower than our expectation and we couldn't be happier with the 5 projects they did in our home. Great company and I'd highly recommend!
Ready To Start On Your Organizational Journey?
Let us take all your worries away and design a custom closet system in one effective, personalized sitting.