The Best Walk-In Closets In Redmond, WA
Say goodbye to the frustration of not having customized walk-in closets in Redmond, WA.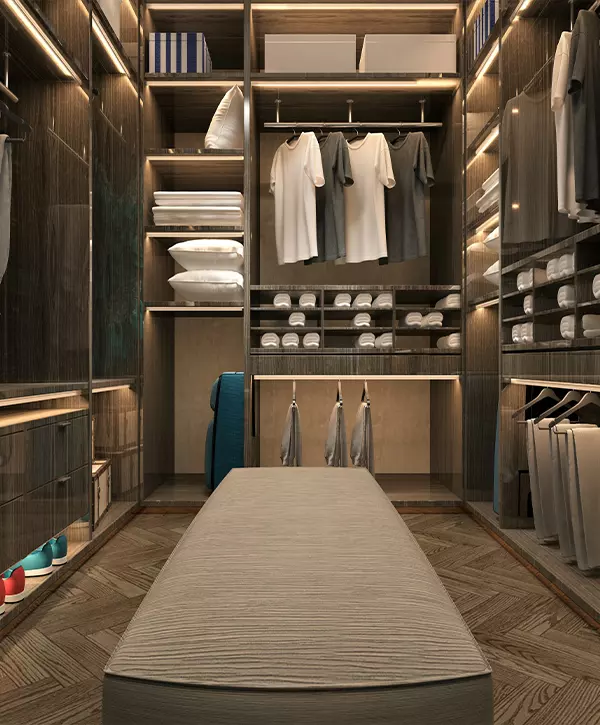 Imagine a closet that matches your belongings and lifestyle, where everything has its place. No more wasting time searching for that one missing shoe or dealing with clutter. At Creative Closets, we understand the pain of not having a closet that meets your needs.
Let us design and install your dream closet, ensuring a seamless and hassle-free experience. Say hello to an organized lifestyle and bid farewell to chaotic mornings. You deserve nothing but the best.
I have 5 of my closets designed and installed and couldn't be happier! Everyone was friendly and they did a wonderful job. I'm so glad I redid my closets it has made such a difference for living in a small space.
Get The Best Walk-In Closet Design And Installation Experience
At Creative Closets, we firmly believe that you deserve nothing but the best. Picture this: an extraordinary walk-in closet that transforms your morning routine into a luxurious and convenient experience, effortlessly streamlining your daily life.
That's exactly what our custom walk-in closets in Redmond, WA are designed to do. With your needs and aesthetic preferences in mind, we create personalized spaces that turn selecting your outfit into a delightful experience rather than a mundane chore.
As a homeowner, you'll enjoy a range of benefits when you choose us, including:
Transform your morning routine into a seamless experience with the best walk-in closets in Redmond, WA. Don't wait to enjoy the luxury and convenience of a custom-built closet. Contact us today at Creative Closets. Our team of professionals is ready to offer you a personalized service, expertly tailored to meet your unique needs and style.
Common Features In A Redmond, WA, Walk-In Closet
Step into luxury and organization with our renowned walk-in closets in Redmond, WA! Discover the unique attributes that make each closet a masterpiece of design and functionality.
Experience the ultimate organization with dedicated compartments for accessories, lingerie, and hosiery. Maximize storage space while keeping small items in perfect order.
Keep bulkier items like jackets, sweaters, and linens neatly stored in our stylish and versatile storage boxes. Choose from a range of colors and sizes to suit your taste.
Stay effortlessly organized with our selection of tie and belt racks. Explore a variety of colors and styles to add a touch of sophistication to your closet.
Elevate your jewelry collection with our hanging organizers. Find the perfect size, shape, and color to showcase your treasures in style.
Get ready in style with our convenient slide-out mirrors. Check your outfit from head to toe without leaving your closet.
Streamline your folding and organization process with our dedicated folding stations. Keep your clothes tidy and maximize space without compromising on style.
Say goodbye to cluttered drawers and shelves with our space-saving pants rack options. Find the perfect size, style, and color to keep your bottoms organized.
Add a touch of elegance to your closet with our stylish scarf racks. Choose from a variety of sizes, colors, and styles to showcase your scarf collection.
Step into shoe paradise with our stylish fences and organizers. Keep your shoe collection neat and tidy with diverse designs, sizes, and colors.
Keep your outfits ready for the next day with our easily removable and space-saving valet rods. Experience the convenience you deserve.
Maximize your closet space while keeping your clothes organized. Choose from various sizes to meet your individual needs.
Say goodbye to messy laundry with our stylish hampers. Find the perfect color and size to match your closet's overall look.
Contact us at Creative Closets today! Experience the luxury and organization you deserve with our custom walk-in closets in Redmond, WA. Don't miss out on our complimentary wardrobe analysis for all our valued clients. Transform your closet into a haven of style and functionality.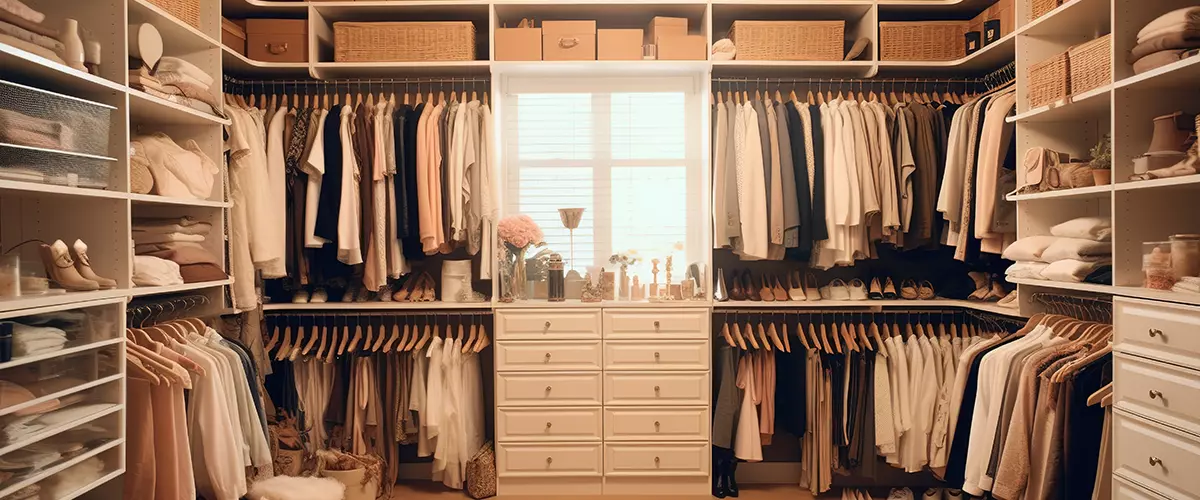 The Custom Closet Services WA Homeowners Love
Here's what our esteemed clients have to say about their experience with our custom-built walk-in closets in Redmond, WA. Let their words inspire confidence in our services.
The assemblers were courteous and professional, they were neat, and did a great job assembling cabinets in my living room. They answered all my questions also. The quality of the material is also better than the usual offerings at other places.
Amazing experience from start to finish! The cost was very reasonable and the quality of the cabinets/work was exemplar. Jordan was very efficient with installation. If you are looking to get a custom closet installation done, don't waste your time comparing various companies…just go with Creative Closets.
Walk-In Closets Costs In Redmond, WA
Although cost varies depending on the complexity of the design and the materials chosen, investing in a custom walk-in closet in Redmond, WA typically ranges from $1,000 to $5,000. High-end, luxurious options can even exceed $10,000.
Remember, this isn't just a purchase, it's an investment in an organized, stress-free lifestyle. Plus, a custom walk-in closet can increase your home's value. At Creative Closets, we offer flexible financing options to make your dream closet a reality. Contact us for a detailed quote tailored to your specific needs and vision.
Closet Size
Features Included
Quoted Price
Most Expensive Item
6' x 9'
Long hanging section, Double hanging section, Adjustable shelves, Drawers
$4,375
Drawers: $1,000
20' x 20'
Upgraded color (Licorice), Multiple double hutch units (Hutches), Multiple accessories, Angled shoe shelves
$9,367
Multiple double hutch units: $4,000
12' x 6'
Custom height to fit under the window, Adjustable shelves for shoes, 24" deep material with lower doors to conceal the safe
$3,645
Doors
Keep in mind that prices may vary based on the complexity of the design, choice of materials, and any additional features. Each closet is a unique project tailored to your individual needs, hence, the cost can fluctuate accordingly. Always request a personalized quote for accurate pricing.
The size of your closet directly influences the cost of your custom walk-in closet. A larger closet allows for more features and storage solutions but it also requires more materials and labor, thus increasing the cost.
For instance, a small 6′ x 9′ closet featuring a long hanging section, double hanging section, adjustable shelves, and drawers costs around $4,375. On the other hand, a much larger 20′ x 20′ closet, upgraded with multiple double hutch units, angled shoe shelves, and other accessories, costs approximately $9,367.
Understandably, the bigger the closet, the higher the probable cost due to the complexity of the design and the amount of materials needed.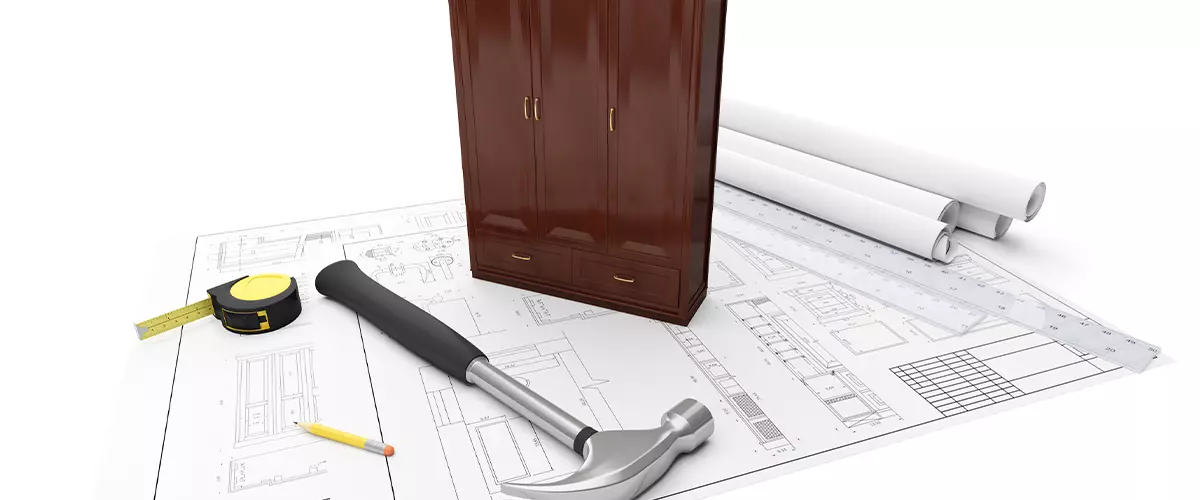 The level of customization also significantly impacts the total cost of your walk-in closet.
Take for example a 12′ x 6′ closet with custom height adjustments to fit under a window, adjustable shoe shelves, and 24″ deep material with lower doors to conceal a safe. This specialized design costs about $3,645.
More intricate designs or features, like adding a luxury island or built-in vanity, can drive the price up even further. On the other hand, keeping the design simple and sticking to basic finishes and hardware can help keep costs lower. Ultimately, the price is highly flexible and tailored to your unique customization needs.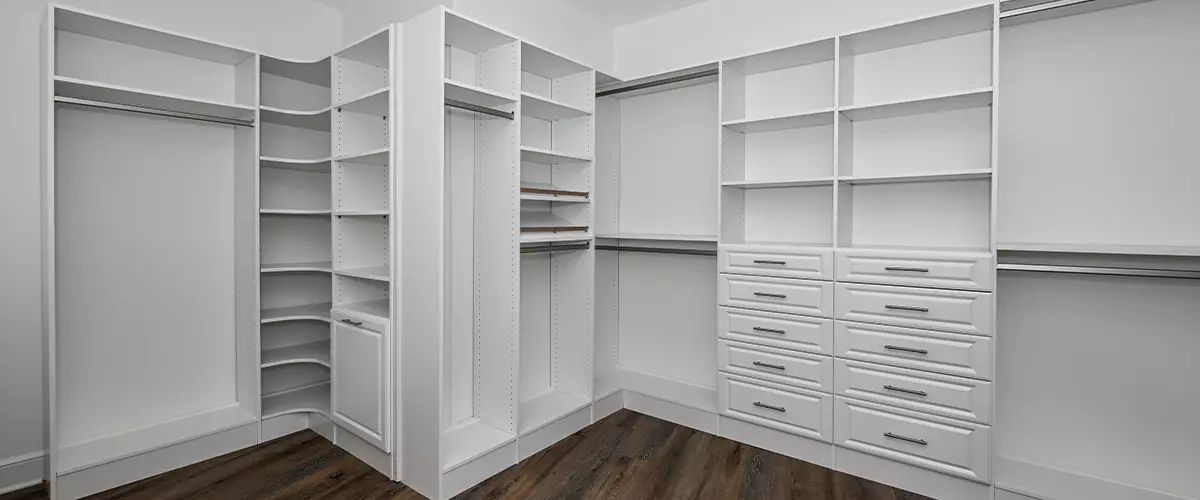 Modifications to your walk-in closet design can play a significant role in determining the final cost. These could include changes to the initial design or additional features and fixtures that are not typically part of the closet's standard layout. For instance, you may want to add a built-in bench, extra lighting, or even a luxury dressing area with a vanity mirror.
The cost of these modifications can vary greatly depending on their complexity. For example, simple modifications like adding extra shelves or hanging rods may cost around $100 to $200. More complex modifications, such as incorporating a built-in vanity, could increase costs by $500 to $1,000. Meanwhile, substantial changes like a complete restructuring of the closet's layout, could add thousands to your budget.
The impact on the price depends on your unique requirements and vision for your dream closet. Always communicate your desired modifications to get a detailed quote that accurately reflects their cost.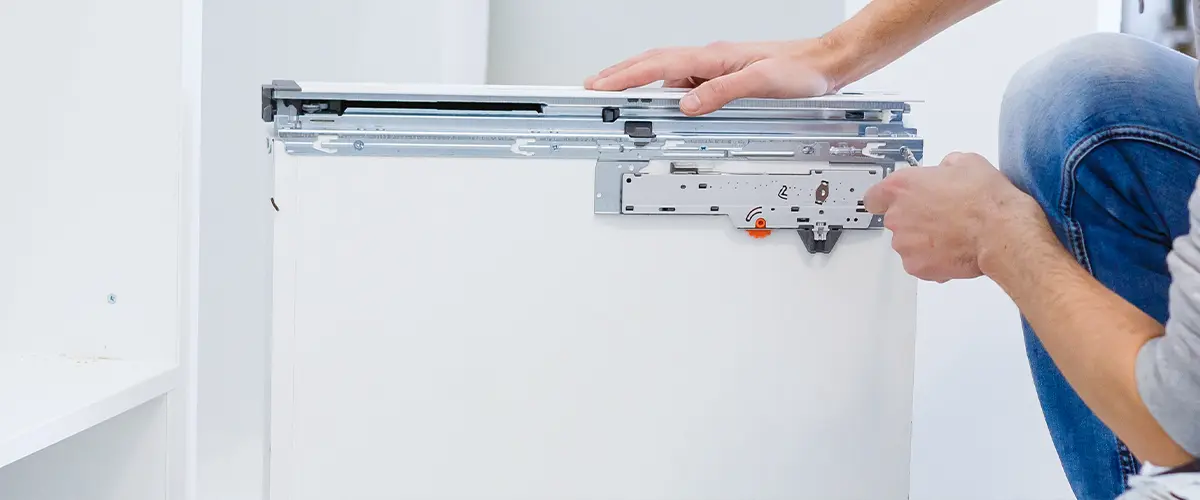 Adding accessories to your walk-in closet can greatly enhance its functionality and aesthetic appeal. Accessories can include items such as jewelry trays, tie racks, belt hooks, scarf hangers, and valet rods, among others.
The cost of these additions varies depending on the type and quality of accessory chosen. For example, a basic accessory like a belt hook could cost as little as $10, while a more luxurious addition such as a velvet-lined jewelry tray might cost upwards of $200.
An in-depth consultation with our closet designer can provide a more accurate estimate based on your specific accessory preferences.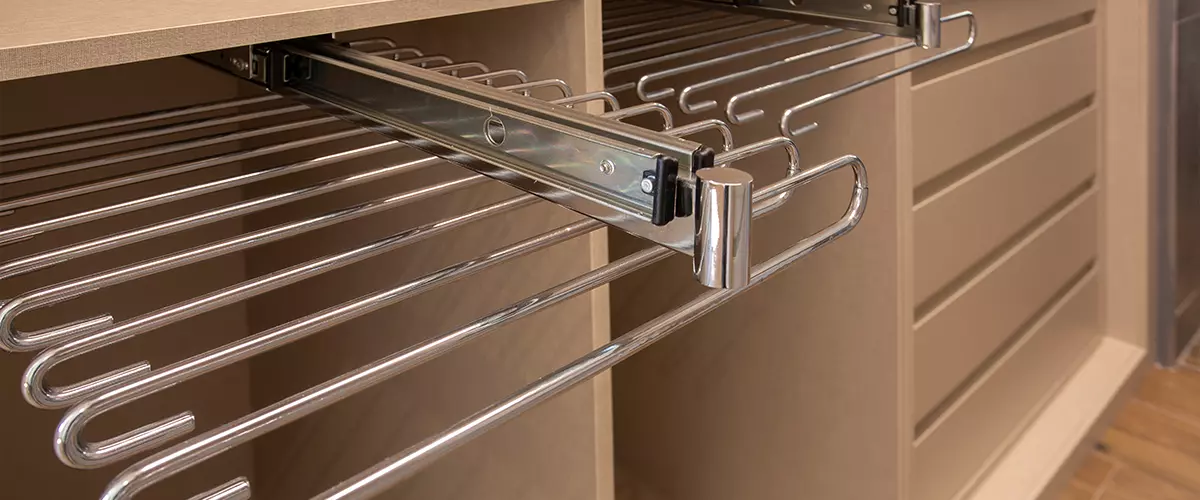 We understand that embarking on a custom closet project can be a significant investment. That's why at Creative Closets, we've made it easier for you to realize your dream of an organized, luxurious walk-in closet. We provide flexible financing solutions tailored to suit your budget and financial needs.
Our 3-Step Closet Design and Installation Process
Let's walk you through our seamless 3-step closet design and installation process.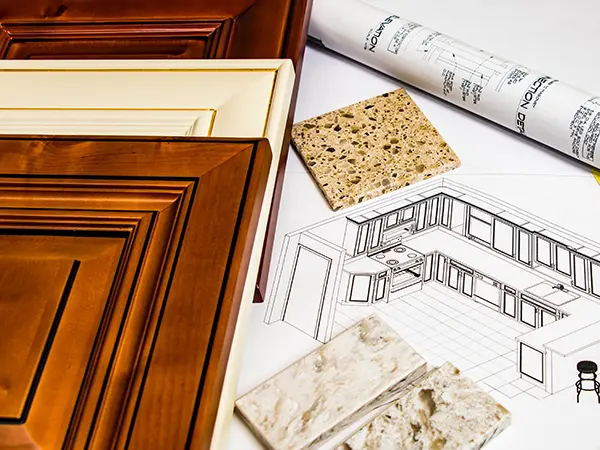 We begin with an in-home consultation, where we design your dream closet on the spot in 90 minutes or less.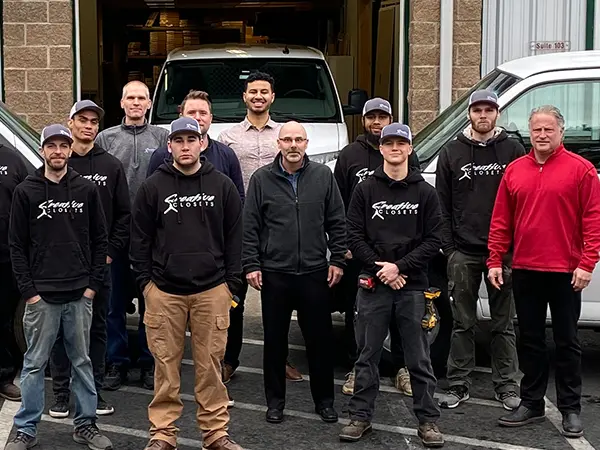 Our team efficiently handles the installation, completing most projects in just one day.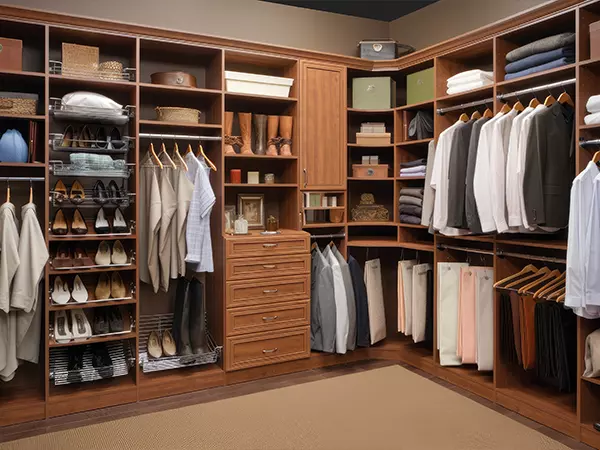 Savor your new, custom walk-in closet, meticulously designed and perfectly fitted.
Learn More About What We Can Do For Your Home
Draw Inspiration From Our Past Projects
Immerse yourself in the captivating world of our walk-in closet gallery. Discover a realm of impeccable design and elegance that will leave you in awe. Step inside and witness the breathtaking range of styles, materials, and features we offer.
Walk-in closets can be an excellent addition to your home for numerous reasons. They provide ample storage space, keeping clothes and accessories organized and easily accessible. They can add value to your home, especially in master bedrooms, as they are a highly sought-after feature for many homebuyers.
Walk-in closets also offer a private space where you can dress and prepare in comfort. However, they may not be ideal for everyone. Some may see them as unnecessary, taking up valuable room space.
Additionally, without proper organization, a walk-in closet can become cluttered and difficult to manage. Ultimately, the decision to have a walk-in closet depends on an individual's personal preferences, needs, and the available space in their home.
Walk-in closets have gained immense popularity due to their unique combination of practicality and luxury.
They offer substantial storage space, making it easier to keep clothes, accessories, and shoes organized and easily accessible. This aspect is particularly appreciated in homes where storage spaces are at a premium.
Also, they enable homeowners to showcase their wardrobe in a visually appealing manner, which adds a touch of glamour to the bedroom. Walk-in closets can also be customized to the homeowner's taste and requirements, making them a highly personalized space.
They add significant value to a home, making them a desirable feature for potential buyers. Overall, the popularity of walk-in closets can be attributed to their functionality, aesthetic appeal, and value-addition to a home.
The cost of a walk-in closet in Redmond, WA, can vary greatly based on several factors, including the size, material, design, accessories, and any other modifications.
On average, you can expect to pay anywhere from $1,000 to $3,000 for a basic walk-in closet setup.
But for a more luxurious design with top-tier finishes, built-in features like a vanity or island, and high-quality accessories, prices can exceed $10,000.
It's essential to keep in mind that these are just averages, and the actual cost can vary. It's always best to consult with a professional closet designer to get a detailed quote based on your specific requirements.
What Makes Us The Best Walk-In Closet Company In Redmond, WA
At Creative Closets, our commitment to excellence sets us apart as the premier walk-in closet company in Redmond, WA. Our professional team prioritizes your needs, working tirelessly to create custom designs that reflect your unique style and maximize your space. Our high-quality materials, meticulous attention to detail, and exceptional customer service make your dream closet a reality.
Why choose us?
Contact Us For The Best Walk-In Closets In Redmond, WA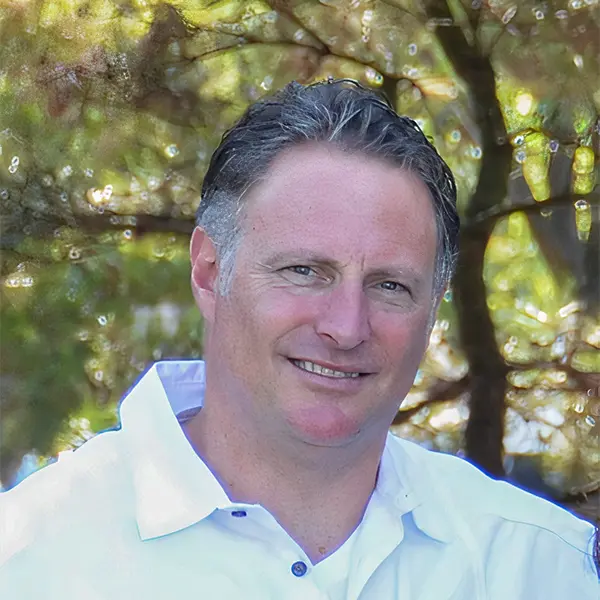 Don't wait any longer. Contact us today at (425) 428-5073 to start your journey toward the walk-in closet of your dreams.
At Creative Closets, we are eager and ready to help you bring your vision to life.
Nestled in the heart of the Pacific Northwest, Redmond, WA is a vibrant city known for its natural beauty, diverse culture, and thriving tech industry. Home to Microsoft and Nintendo of America, it's a city where innovation thrives. Yet, amidst the technological advancements, Redmond retains its natural charm with the beautiful Marymoor Park, the largest in King County, and the serene Sammamish River. Downtown Redmond boasts charming boutiques, delightful eateries, and the Redmond Town Center for all your shopping needs. With its lush green landscapes, bustling tech scene, and dynamic city life, Redmond offers a unique blend of nature and progress.