The Best Walk-In Closets In Newcastle, WA
Find your favorite clothes in minutes with our custom walk-in closets in Newcastle, WA.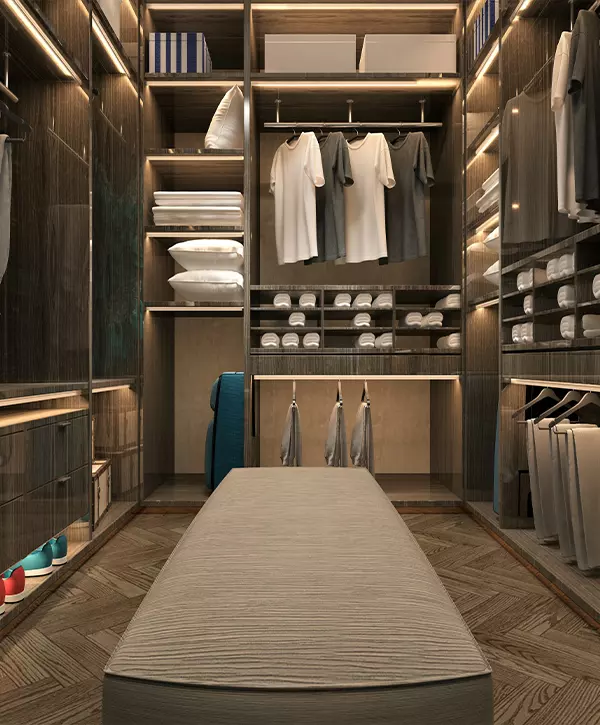 A walk-in closet is more than just storage; it's a personal sanctuary for your garments, accessories, and more. It offers ample space, allowing for a more organized and accessible collection. Owning a walk-in closet is not just about luxury; it's about practicality. It simplifies your daily routine and adds value to your home.
At Creative Closets, we understand the importance of these spaces. Our team of expert designers will work closely with you to create a walk-in closet that reflects your style and meets your unique needs. We deliver top-notch, personalized storage solutions that truly transform your living space.
I have 5 of my closets designed and installed and couldn't be happier! Everyone was friendly and they did a wonderful job. I'm so glad I redid my closets it has made such a difference for living in a small space.
Why Our Walk-In Closets Are The Talk Of The Town
Choose Creative Closets for our commitment to excellence and customer satisfaction. Our team integrates creativity, functionality, and attention to detail to deliver a product that surpasses expectations. We don't just sell closets; we offer a lifestyle upgrade.
Opt for quality, reliability, and a personalized touch that only Creative Closets can deliver.
Unlock major benefits which include:
Common Features In A Newcastle, WA, Walk-In Closet
Experience the epitome of luxury and organization with our renowned walk-in closets in Newcastle, WA! Our exceptional features include:
Stay organized with dedicated compartments for accessories, lingerie, and hosiery, maximizing storage space.
Neatly store jackets, sweaters, and linens in stylish and versatile storage boxes, available in various colors and sizes.
Effortlessly stay organized with our selection of sophisticated tie and belt racks in different colors and styles.
Showcase your treasures in style with hanging organizers in various sizes, shapes, and colors.
Conveniently check your outfit from head to toe with our sleek slide-out mirrors.
Streamline your folding process with dedicated stations that keep your clothes tidy without compromising on style.
Optimize space and keep your bottoms organized with our space-saving pants rack options.
Add elegance to your closet with stylish scarf racks, available in various sizes, colors, and styles.
Create a shoe paradise with our diverse designs, sizes, and colors of stylish fences and organizers.
Keep your outfits ready with easily removable and space-saving valet rods for ultimate convenience.
Maximize closet space while keeping your clothes organized with various size options.
Enhance your closet with our hampers. They keep laundry out of sight, maintain a clean aesthetic, and promote organization effortlessly.
Ready to revolutionize your space? Contact us today and invite one of our expert designers into your home for a personalized consultation. In a short 60-90 minute appointment, we'll design the perfect custom walk-in closet to meet your unique needs and style. We are committed to transforming your vision into reality.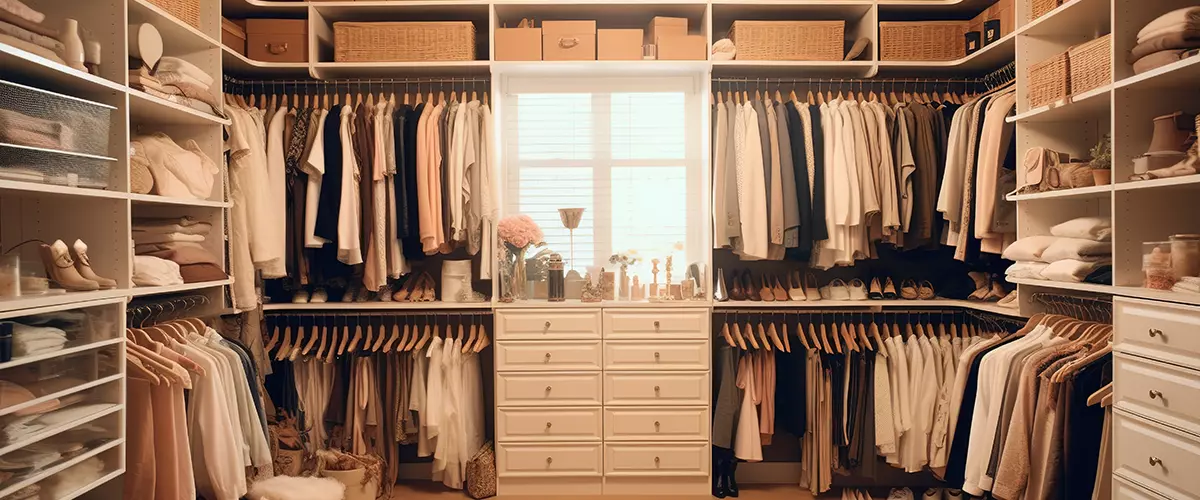 Curious What Other Homeowners Are Saying About Us?
Here's what our satisfied customers in Newcastle, WA, have to say about their transformative experience with our custom walk-in closets and the impact it made on their home and lifestyle.
The assemblers were courteous and professional, they were neat, and did a great job assembling cabinets in my living room. They answered all my questions also. The quality of the material is also better than the usual offerings at other places.
Amazing experience from start to finish! The cost was very reasonable and the quality of the cabinets/work was exemplar. Jordan was very efficient with installation. If you are looking to get a custom closet installation done, don't waste your time comparing various companies…just go with Creative Closets.
Walk-In Closets Cost In Redmond, WA
The cost of a custom walk-in closet in Redmond, WA, can vary widely, largely depending on the size, design, and materials used.
On average, you can expect to spend between $1,000 to $3,000 for a small closet.
Closet Size
Features Included
Quoted Price
Most Expensive Item
6' x 9'
Long hanging section, Double hanging section, Adjustable shelves, Drawers
$4,375
Drawers: $1,000
20' x 20'
Upgraded color (Licorice), Multiple double hutch units (Hutches), Multiple accessories, Angled shoe shelves
$9,367
Multiple double hutch units: $4,000
12' x 6'
Custom height to fit under the window, Adjustable shelves for shoes, 24" deep material with lower doors to conceal the safe
$3,645
Doors
*Please note, the prices listed above are from past projects and are provided as examples. Your custom walk-in closet project may cost differently based on your specific requirements and customization.
The size of your closet does indeed have a significant impact on the final cost of a custom walk-in closet. Here's why:
In summary, while a larger walk-in closet provides more space and potentially more luxury, it also comes with a higher price tag due to the increase in materials, design complexity, labor, and additional features. It's crucial to balance your budget with your dream closet aspirations when considering the size of your custom walk-in closet.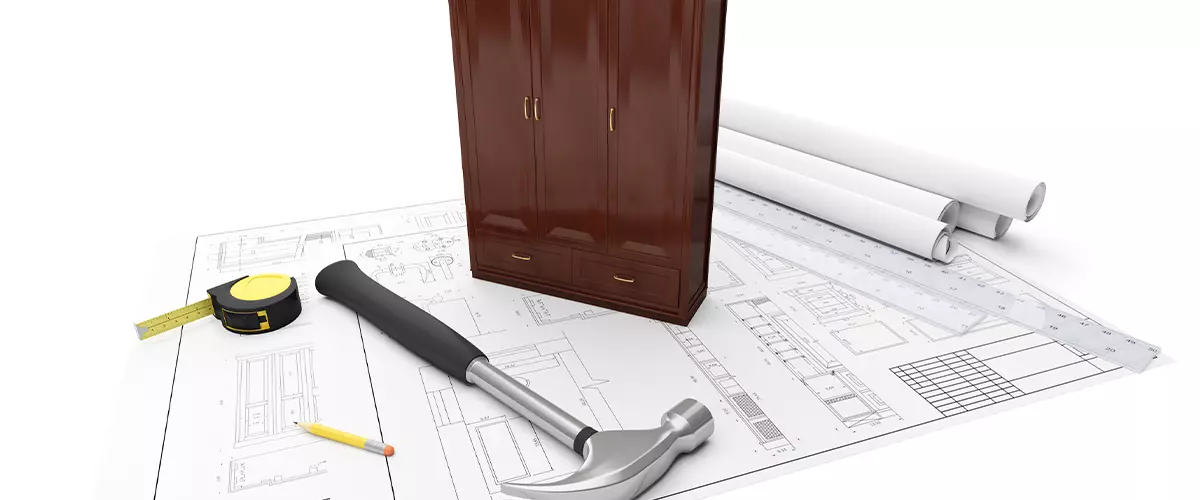 The level of customization is another major factor that influences the final cost of your custom walk-in closet. A highly personalized closet with numerous tailor-made features such as customized drawers, unique shelving units, lighting solutions, and bespoke finishings can significantly raise costs.
For instance, the addition of custom drawer designs could range from $200-$500 per drawer. Moreover, implementing unique lighting solutions could cost around $400-$800, depending on the intricacy of the design and lighting type chosen.
While customization can greatly enhance the functionality and appeal of your closet, it can also increase the total cost. Ensure to strike a balance that suits your budget and requirements.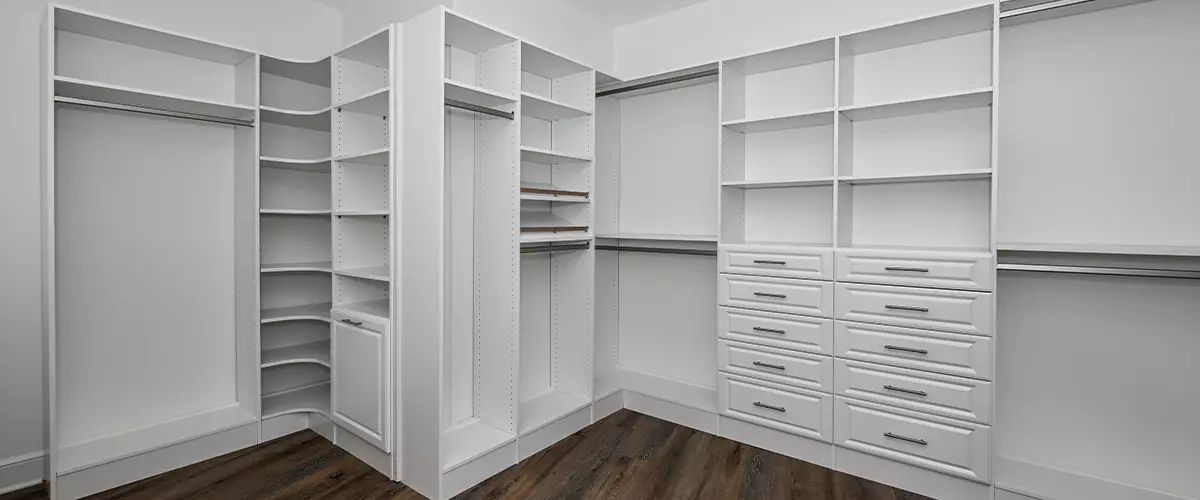 Closet modifications and structural changes can significantly affect the final cost of your custom walk-in closet. These may include changing the existing layout, removing or adding walls, or installing new doors.
For example, reconfiguring walls can range from $1,000 to $3,000, depending on the complexity of the work. Installing new doors might add an additional $500-$1000.
These modifications not only enhance the practicality and aesthetics of your space but also cater to your specific needs. However, such changes require more materials and labor, thus increasing the overall cost. It is essential to consider these factors when planning your budget.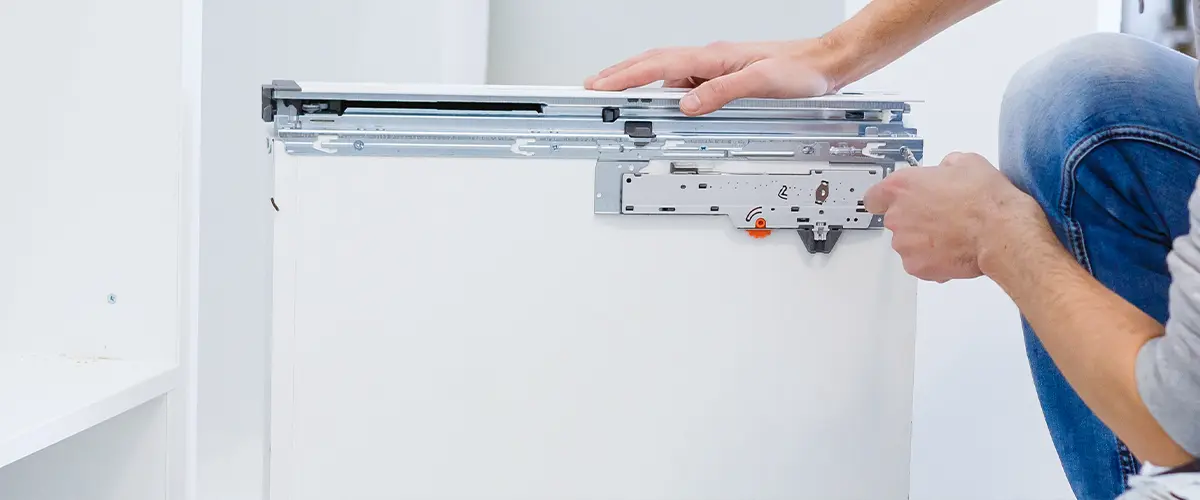 Closet accessory additions encompass a variety of elements designed to enhance organization and aesthetics, such as jewelry trays, shoe racks, tie and belt racks, hampers, and more.
The cost of these accessories varies. Jewelry trays might range from $100-$300, while shoe racks could cost $200-$500. Tie and belt racks might be relatively cheaper, around $50-$150.
Hampers can potentially cost anywhere from $75 to $200. These additions bring additional functionality to your closet, yet can also increase the overall project cost. It's important to consider these factors in your budget planning.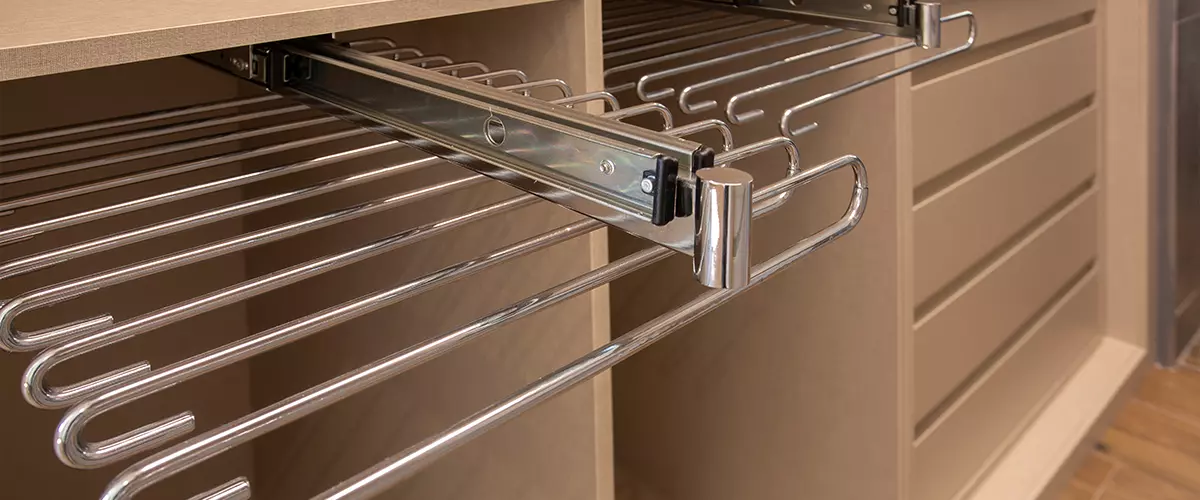 We understand that budgeting for your custom walk-in closet can be a challenge. That's why we offer flexible financing solutions tailored to your needs. These options help make your dream closet a reality faster and easier, without straining your finances. Discover our financing solutions today for a smoother project journey.
The Easiest Closet Installation Process In WA
To make the process as effortless as possible, we narrowed it down to just 3 steps.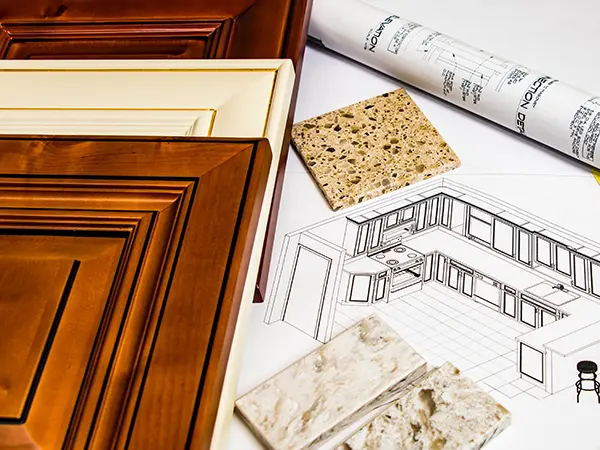 During an in-home consultation, we swiftly design your dream closet in 90 minutes or less.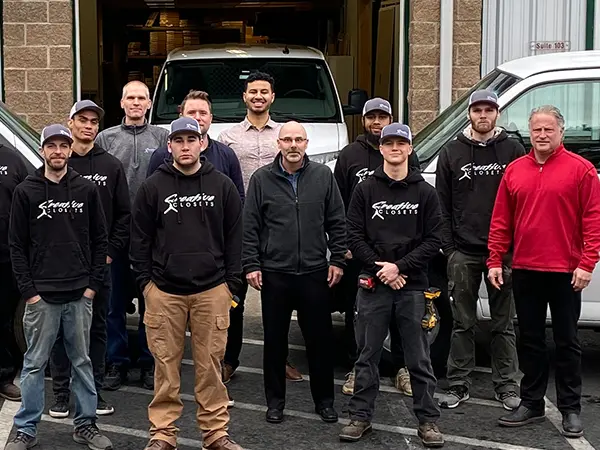 Our team handles the installation with precision, completing most projects in just one day.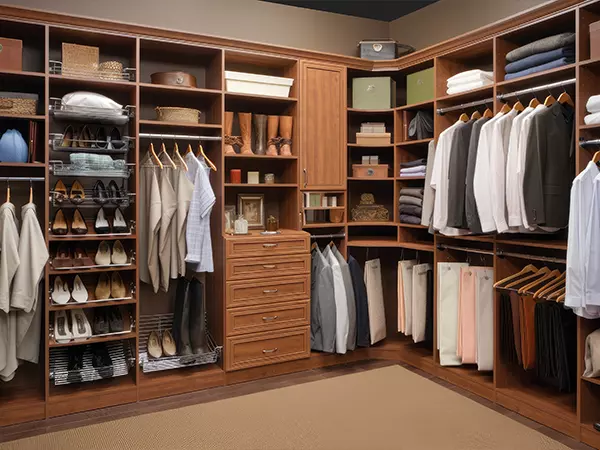 Delight in your new, custom walk-in closet, meticulously designed and expertly fitted.
Learn More About What We Can Do For Your Home
Our Past Projects Speak Volumes
Don't just take our word for it. Hear from satisfied customers who have transformed their homes with our custom walk-in closet solutions. Here are some testimonials that speak volumes about our quality, service, and dedication to our clients' satisfaction.
Why We Stand Out as the Top Walk-In Closet Company in Newcastle, WA
At Creative Closets, we pride ourselves on being the go-to walk-in closet company in Newcastle, WA. Our unwavering commitment to excellence sets us apart from the rest. With a team of dedicated professionals, we prioritize your needs and work tirelessly to create custom designs that not only reflect your unique style but also maximize your space.
What sets us apart?
Looking for Top-notch Walk-In Closets in Newcastle, WA?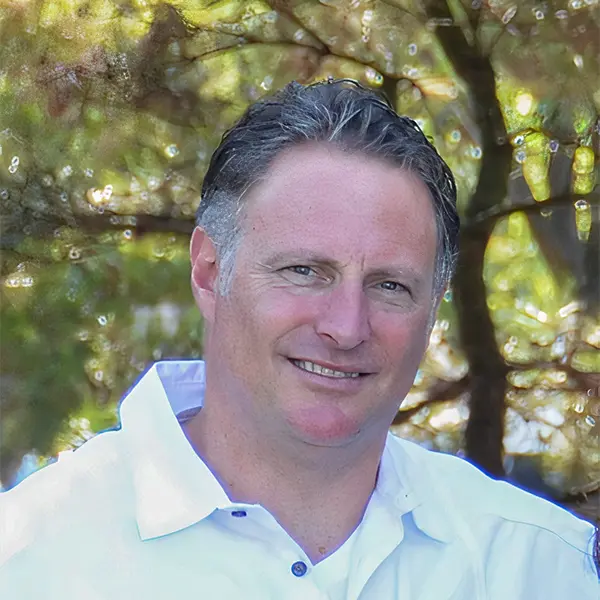 Why wait? Take the first step today and connect with us at (425) 428-5073 to embark on your path toward the walk-in closet you've always dreamt of.
At Creative Closets, we're excited and fully prepared to assist you in transforming your vision into reality.
Nestled in the beautiful Pacific Northwest, Newcastle, WA, is a charming city that blends suburban tranquillity with bustling city life. It's home to four major landmarks that enhance its character and allure. The Golf Club at Newcastle provides unmatched panoramic views of the Seattle skyline and an incredible golfing experience. Lake Boren Park, the city's heart, hosts a plethora of community events year-round. Newcastle Beach Park, with its sandy shore and serene waters, is a beloved locale for relaxation. Lastly, there's Cougar Mountain Wildland Park, offering a myriad of trails for outdoor enthusiasts. Newcastle's diverse landscape makes it a wonderful place to call home.