The Best Closet Organizers In Mercer Island
Make your home more efficient than ever with quality closet organizers!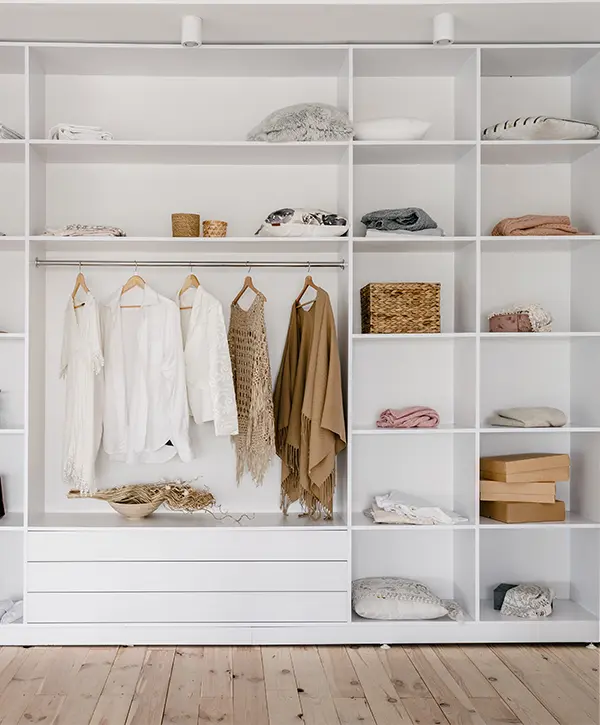 Imagine struggling to find your favorite pair of shoes or spending valuable time searching for that special outfit buried beneath a sea of clothes. A cluttered closet not only wastes your precious time but also adds unnecessary stress to your daily routine.
We understand that maintaining an organized home is essential for your peace of mind and overall well-being. That's why we are passionate about providing you with the best closet organizers in Mercer Island so you can lead a better, more organized life.
This is the 4th closet I have had installed by Creative Closets. I also have a custom linen closet as well that is due to be installed in November. 
Everyone has been great to work with from the owner Tim, the install manager Broc and the installer Jordan. Could not be happier with the looks and quality of material. I originally started out with another company, glad I did more research and found these guys. 
There are different levels of quality in the materials the companies use to build the closets. This one is more expensive but I really feel it is worth it. 
The saying "you get what you pay for" has never been more true. I have one more closet to go in my home office and I will definitely be using Creative Closets.
Keeping Mercer Island Home Tidier Since 2003
Don't let a cluttered closet hold you back any longer. Trust Creative Closets to transform your Mercer Island home with our top-notch closet organizers. Our team of experts is here to guide you every step of the way, ensuring a smooth and stress-free experience. Catch a glimpse of what we bring to the table:
If you're struggling with ideas, don't worry! Reach out to us now, and we'll connect you with a skilled designer who can analyze your area and provide recommendations you can see or change on the spot using our 3D software.
What Are The Types of Closet Organizers You Can Get In Your Mercer Island Home?
You can choose between different types of closet organizers depending on the level of customization and organization you need. Before picking out your closet organizers, we'll figure out together what types of items you use and store, what your wardrobe looks like, and what your family members need in terms of closet storage.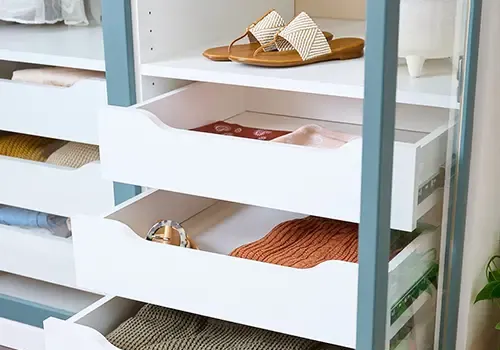 Closet drawers are the perfect solution to maximize your closet space. They come in different sizes so you can customize them according to your needs and store everything from small items like jewelry to large items like sweaters and coats. Plus, they're easy to access so you don't have to spend time digging through piles of clothes.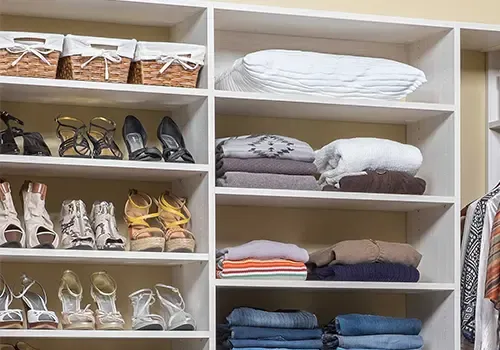 Closet shelving is an ideal way to hang and store your wardrobe items while giving you the flexibility to organize them according to categories. This type of closet organizer can be customized with adjustable shelves, hanging rods, and baskets so you can arrange everything in a neat and organized manner.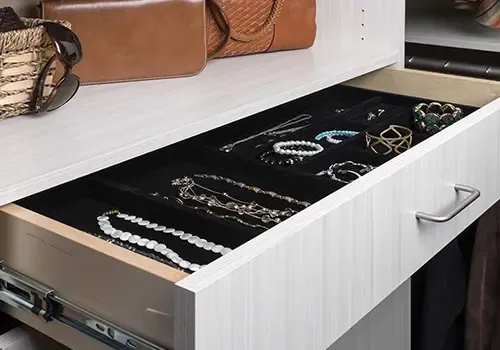 Jewelry organizers are an essential part of any closet. They help you store and organize your jewelry neat and organized so you can quickly find the pieces you need. Our jewelry organizers come with drawers, hooks, and trays, making it easy to access and display each item.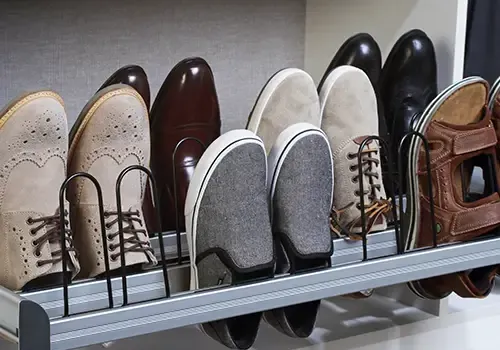 Shoe racks are an absolute must-have to keep your shoes organized. Whether you want a built-in rack or one hanging from the wall, we have many options for you. We even offer shoe racks with adjustable shelves and drawers, so you can customize it according to your needs.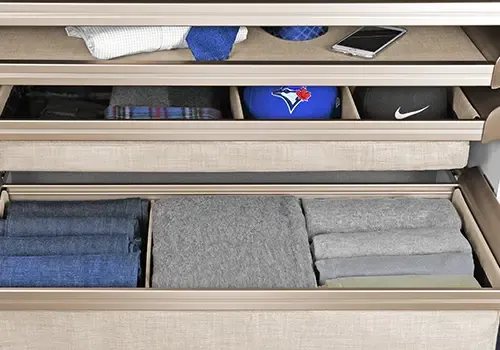 Drawer organizers are perfect for storing and organizing items like socks, underwear, and other small accessories. They come in different sizes and materials so you can customize them according to your needs. Plus, they make it easy to access each item without having to dig through a pile of clothes.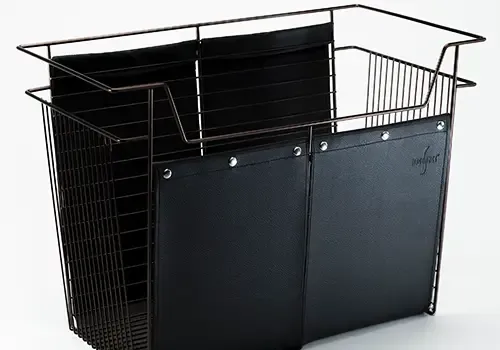 Storage bins are a great way to store items like extra blankets, towels, and other bulky items. They come in a variety of sizes and colors, so you can find the perfect fit for your closet. They're great for kids' closets, too, especially when you want to teach your little one to store away toys once playtime is over.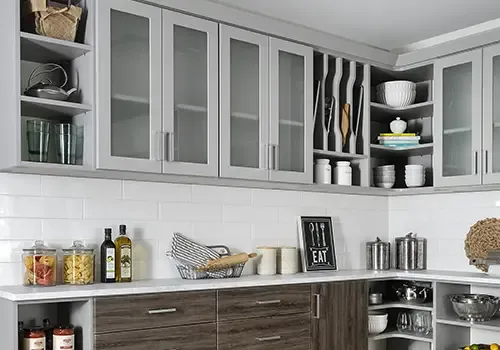 Pantry organization is essential for keeping your kitchen in order. We offer a variety of pantry organizers and shelving units to help you store and organize all of your items. Whether you need extra shelves, drawers, or hanging rods, we have what you need to visualize every ingredient, pan, pot, or beverage.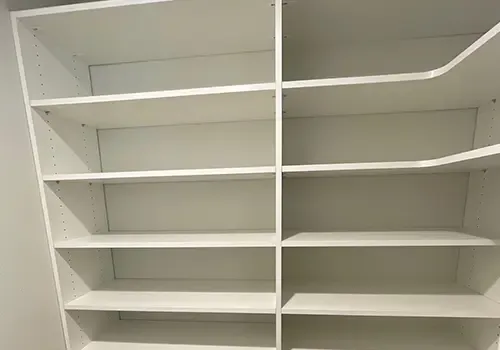 Pantry shelving is a great way to maximize the space in your pantry while keeping all of your ingredients and snacks organized. Our team offers various configurations so you can store everything from canned goods to spices in an orderly fashion.
Contact us to discuss your storage needs. We can help you by providing tailor-made closet organizers that cater to all your storage needs, from children's toys to your bowtie collection.
Here's What Your Neighbors Love About Us!
Dozens of your neighbors in Mercer Island got their closets with us, and they've made the best choice for their homes! Here's what they say about working with Creative Closets!
The designer sales person took accurate measurements and provided 3d drawings. Installers were respectful and polite and installed with care. Highly recommend. Only wish the gold hardware was more gold than they actually are.
I have 5 of my closets designed and installed and couldn't be happier! Everyone was friendly and they did a wonderful job. I'm so glad I redid my closets it has made such a difference for living in a small space.
Factors That Influence Closet Organizers Cost In Mercer Island
Creative Closets offers closet organizers in Mercer Island that are both durable and affordable. By selecting from our array of custom options, you can maximize the value of your investment by incorporating features such as closet drawers, shelving, storage containers, and additional elements.
Since homeowners like you often want to know about pricing, here is a table meant to serve as a guideline for some of our past closet installation projects.
| Closet Type | Size | Average Price |
| --- | --- | --- |
| Walk-in Closet | 20' x 20' | $9,500 |
| Reach-In Closet | 8' Long | $2,000 |
| Kids' Reach-In Closet | 8' Long | $2,800 |
Before you jump to any conclusions about pricing, know there are several factors that can affect the end price…
Let's consider a small 6-foot-long closet. In this case, the expense of organizing it would likely be below $1,000. However, if you have a larger 8-foot-long closet that you want to organize, the cost could amount to approximately $2,000.
Therefore, it's important to note that the size of the closet directly impacts the cost of incorporating organizers. Essentially, the larger the closet, the greater the expenses associated with adding organizational elements.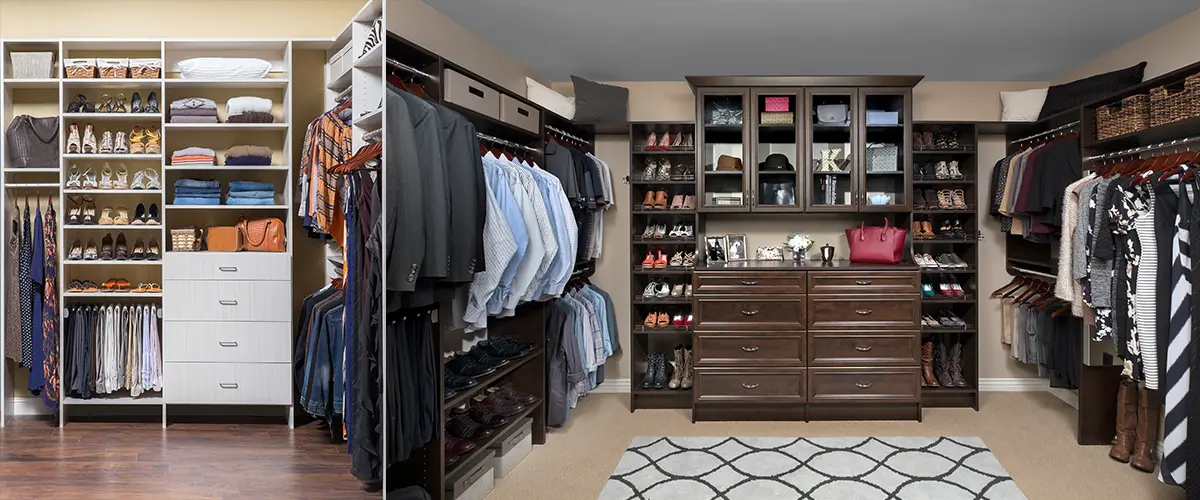 Because closets fall into different categories, some are larger, require more materials, or open up a world of possibilities in terms of organizing them. Consequently, they are more expensive compared to a smaller reach-in closet.
Let's look at some of our past projects. Installing organizers in a 6′ x 9′ walk-in closet typically falls within the range of $4,000 to $5,000. In contrast, setting up an 8-foot-long reach-in closet would generally cost approximately half of that amount.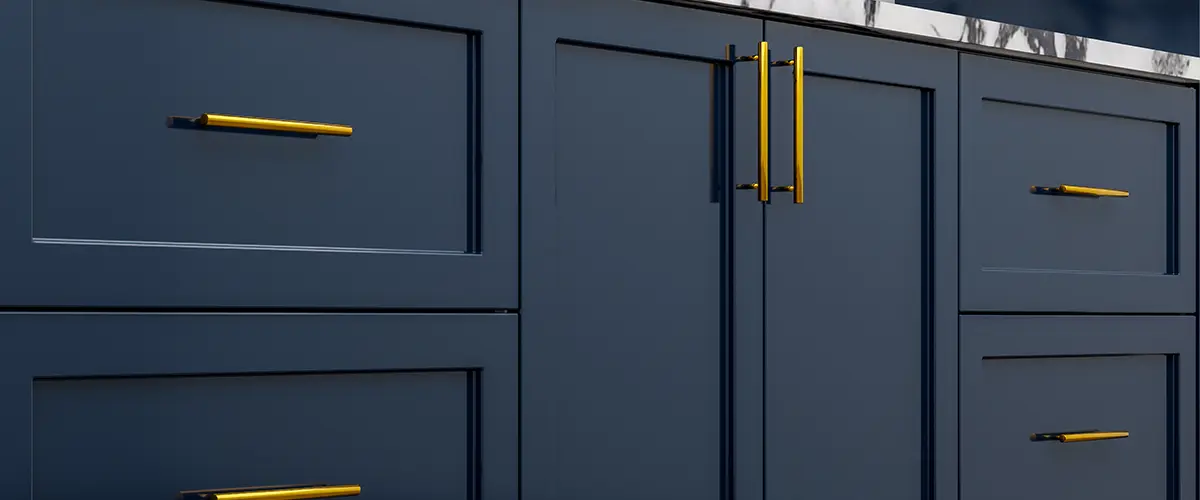 As with everything that can be bought and customized, the more additional accessories you want in your closet system, the more you have to pay. We can design a basic closet with minimal closet organizers in your Mercer Island home or go big with a luxury-style walk-in closet.
To illustrate, a simple and compact reach-in closet without any additional features typically costs $700 to $1,000. However, suppose you decide to include extras such as lighting fixtures, jewelry organizers, storage bins, or tie hangers. In that case, the total cost will increase based on the number of additional items you choose to incorporate.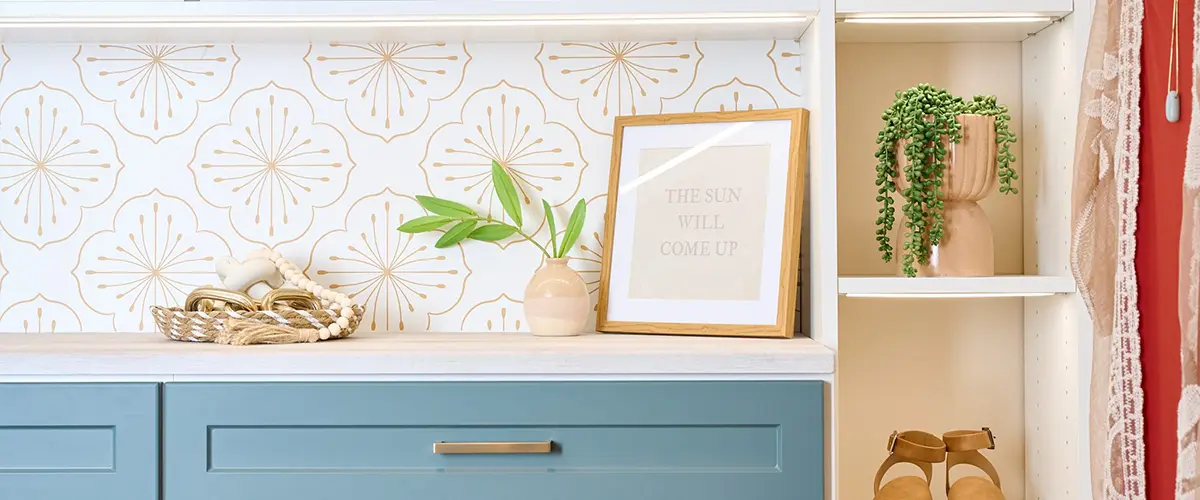 When you choose us as your closet installer, you can not only save time but also minimize effort in the long term. We have the necessary expertise to ensure a quicker and more seamless installation process. 
Moreover, our skilled installation crew can complete the entire job in a single day. This means you won't have to invest your precious time in figuring out the process or attempting a DIY approach.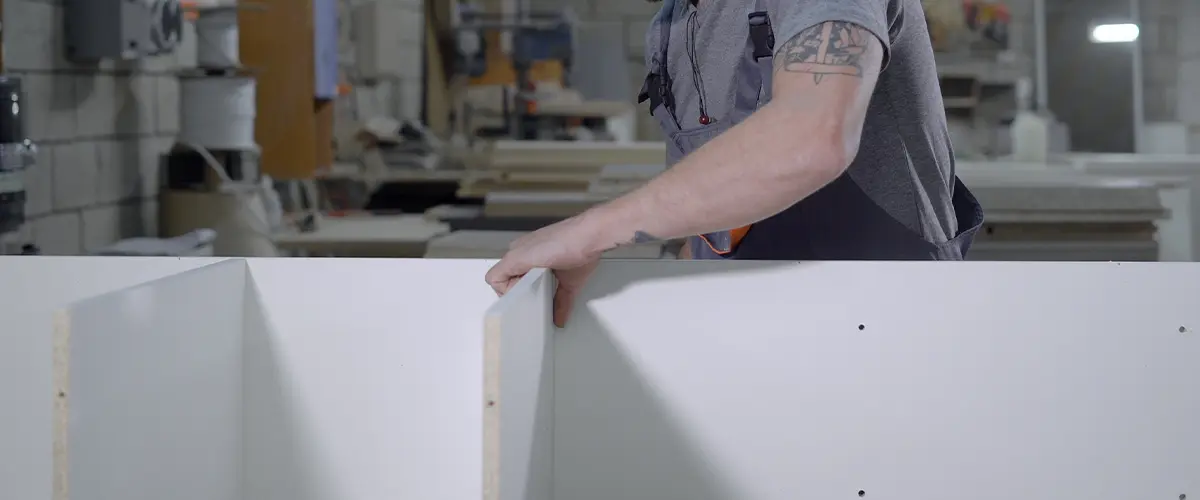 Here's How Everything Goes...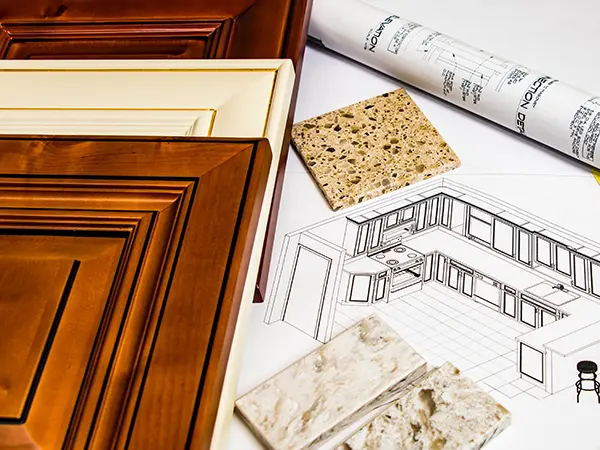 Let's find out what exactly do you need and schedule a consultation.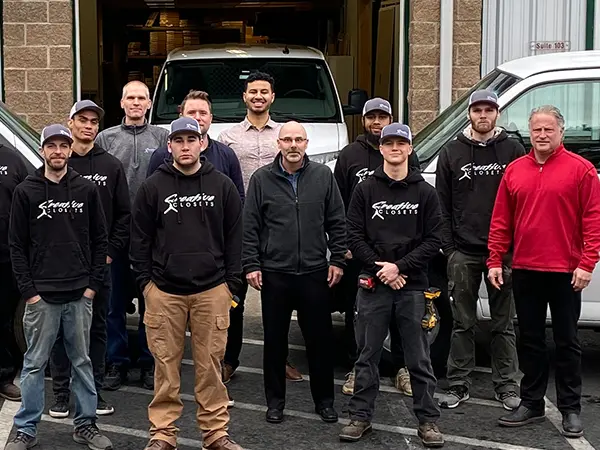 We start installing your closet organizers while keeping you in the loop at all times.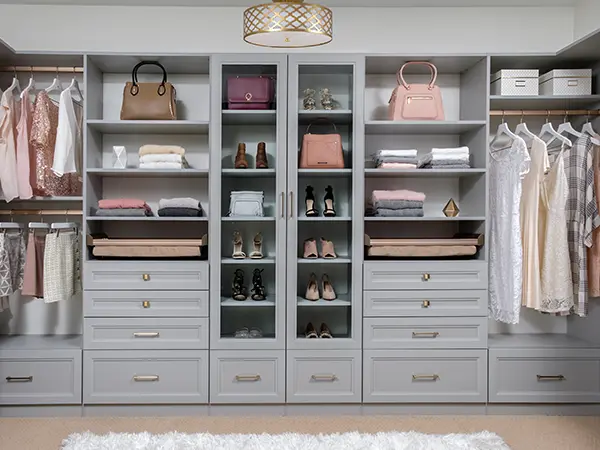 Take advantage of an organized closet and start saving time on cleaning the house!
This is what your closet can look like!
Our craftsmanship is proof of our commitment, and our portfolio showcases this with every project we work on. These are just some of our finished closets in Mercer Island and surrounding areas.
We had a fantastic experience with Creative Closets! 
Jerry did our initial consultation and we loved how thorough he was with our design process. It was so helpful seeing product samples in person and we loved the 3D computer design that he came up with on the spot. It really helped us picture what we were ordering. 
The office was great about scheduling and keeping in touch throughout our process. Josh did our install and we couldn't have been happier with how it went! He let us know when he was on his way and arrived right on time. The installation was organized and seemed to go very smoothly, even with my kids underfoot and getting in his way! One of the pieces arrived with a small ding from the manufacturer and Josh not only pointed it out, but he assured us that a new piece was already being ordered. 
I can't speak highly enough about our experience with Creative Closets and would strongly recommend them if you're in the market for a custom closet!
The Best Mercer Island Closet Organizers Have Never Been More Tangible
We specialize in crafting personalized closets that cater to your specific requirements, irrespective of your space constraints. Our customized solutions are tailored to perfection, making the most of every inch available. 
Together, we'll chart out your dream closet and incorporate any alterations you suggest on the spot. With material procurement and financing options taken care of, we'll complete the entire process in 90 minutes or less.
Work with us if you want to:
Make Your Mercer Island Home The Definition of "Neat"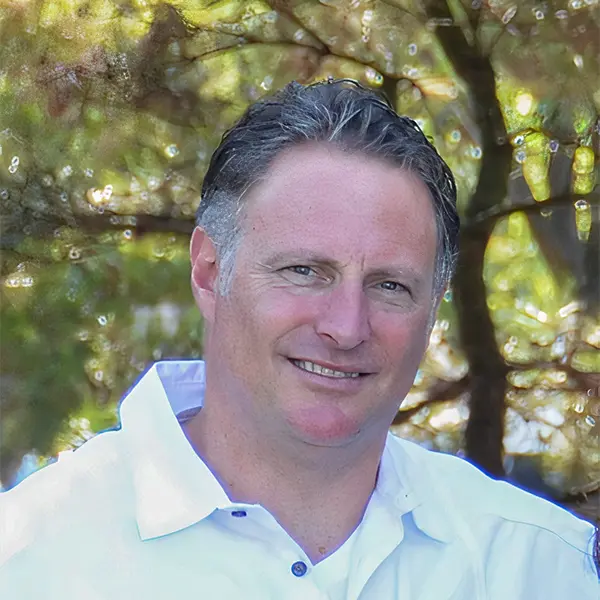 Discover the amazing benefits of using our top-notch closet organizers in Mercer Island. Contact us today at (425) 428-5073 and start your journey towards a clutter-free home and peaceful life.