Make Meal Prep A Breeze With Customized Pantry Organization Solutions
Rediscover the joy of finding all the ingredients you need with pantry organization tailored to fit your family's needs.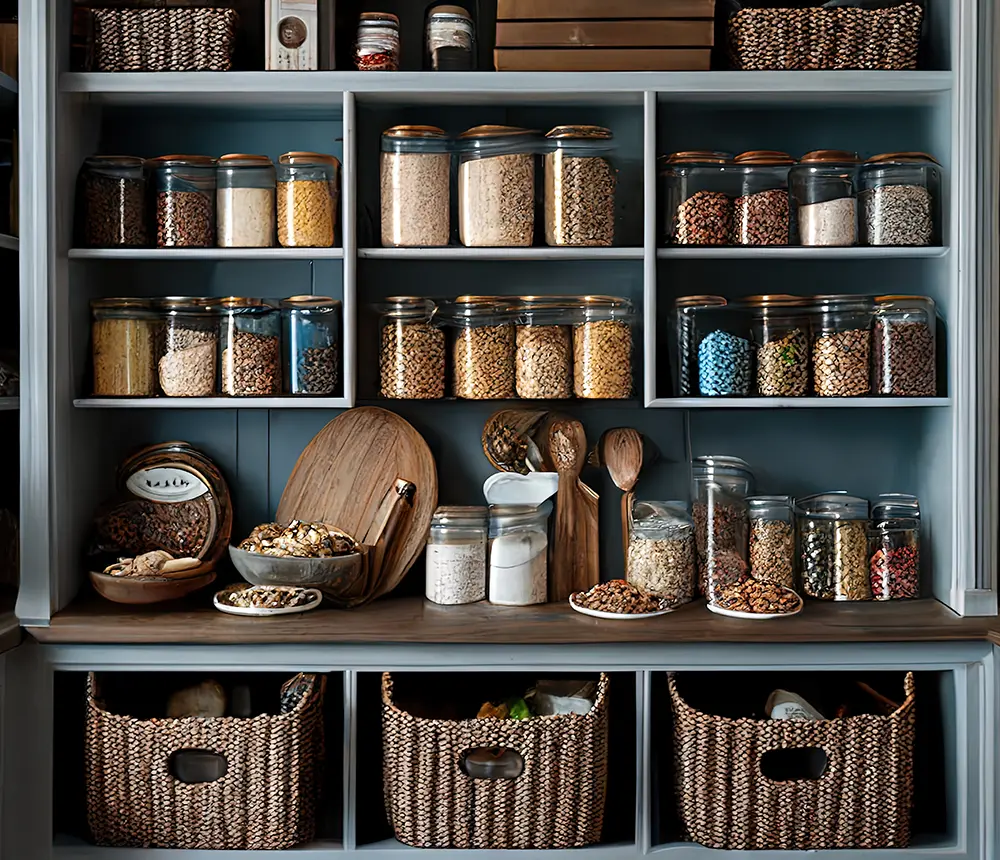 Scroll to discover your options for pantry organization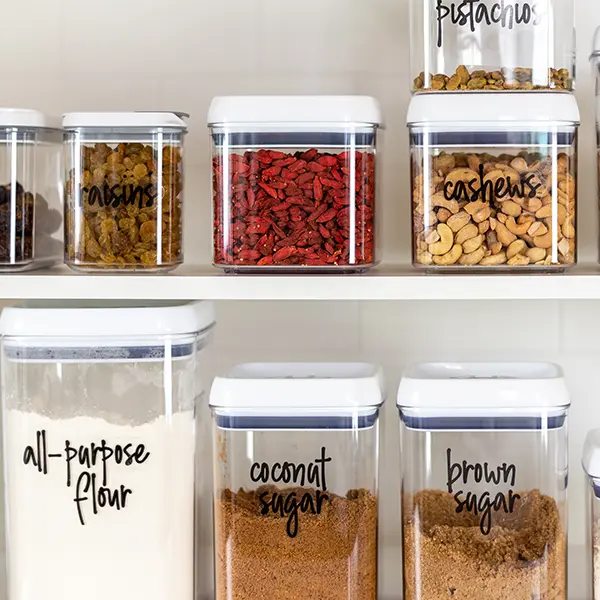 Simplify Meal Planning, Save Time and Money
No more wondering whether you have enough ingredients or discovering expired items hiding in the back of a cluttered pantry. Get inspired to create new, delicious meals with the confidence of knowing exactly what's on hand.
A streamlined pantry means more time and money to spend on the things you love. Our team of dedicated closet builders and installers is ready to offer customized pantry organization solutions that last a lifetime.
Reduce Food Waste & Keep All Pantry Ingredients In Check
We all know how easy it is for food to expire or spoil when it gets shuffled to the back of a disorganized pantry. Give your groceries the love they deserve by keeping your pantry neat and tidy. With a little bit of organization, you can easily keep track of everything you have, helping you reduce food waste and save money.
Know exactly what ingredients are left with solutions that include:
Scroll below to learn more about each option.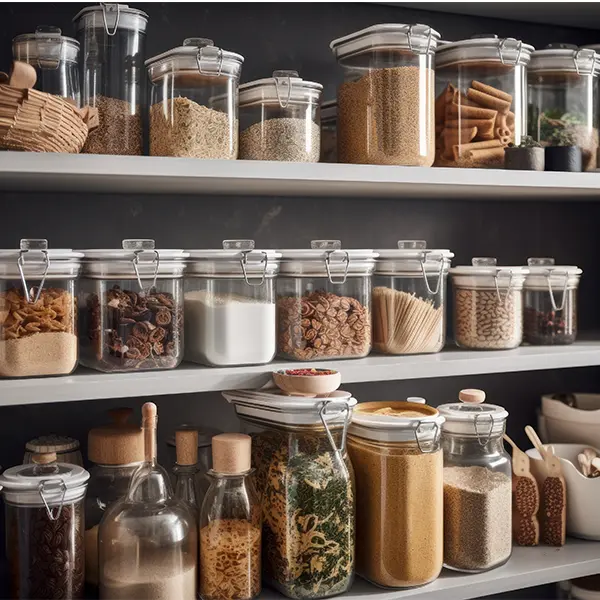 5 Must-Have Solutions for Optimal Pantry Organization
With the right solutions in place and a bit of effort, however, it is possible to achieve the perfect pantry setup.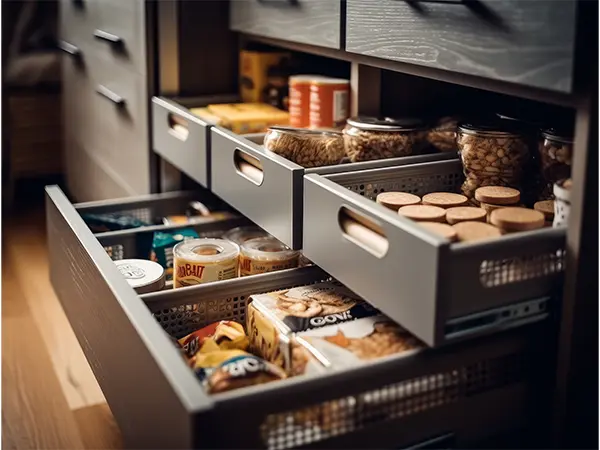 Pull-Out Shelves and Drawers
Pull-out shelves and drawers are a great way to stay organized. Pull-out shelves are installed on sliders and can easily be pulled out when needed. This makes it possible to access all areas of the pantry without having to move things around or struggle to reach them.
Drawers also offer easy access, as well as the ability to stack items on top of each other. This is great for storing canned goods and other items that can be stacked.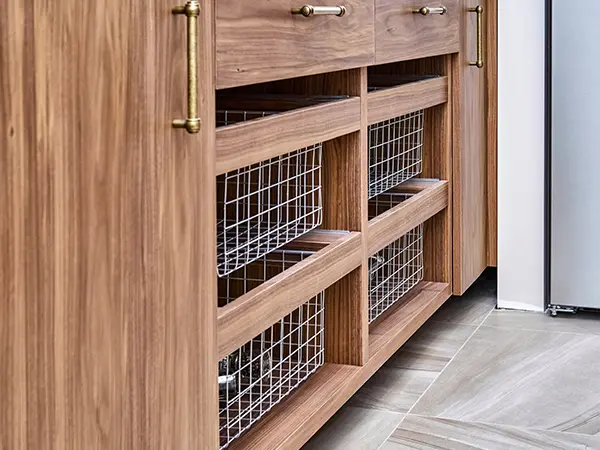 Baskets and bins are an excellent way to keep pantries looking neat and tidy. Baskets come in all shapes, sizes, colors, and materials — so there is something for every type of pantry.
Baskets can be used to store smaller items like spices, while bins can be used for larger items such as cereal boxes or bags of chips. Baskets and bins make it easy to find items quickly since they provide visible storage solutions.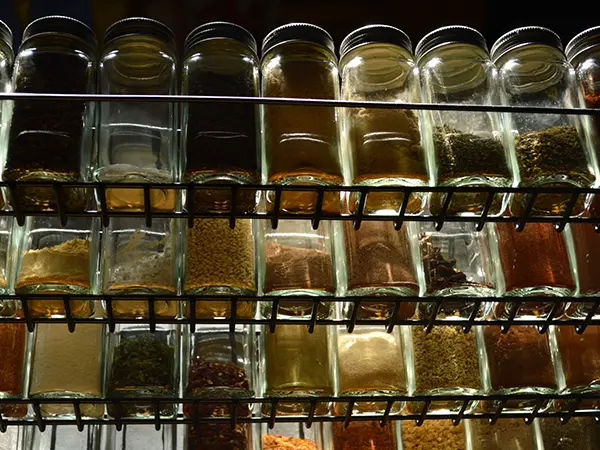 Spice racks are a great way to organize a pantry and make cooking easier. There are so many different kinds of racks, ranging from built-in kitchen cabinets with organized shelves, to attachable racks that can go inside cabinet doors. They will keep your pantry neat and minimally cluttered; you'll have an easy time sorting through ingredients, quickly finding the exact spices you need for your latest culinary creation.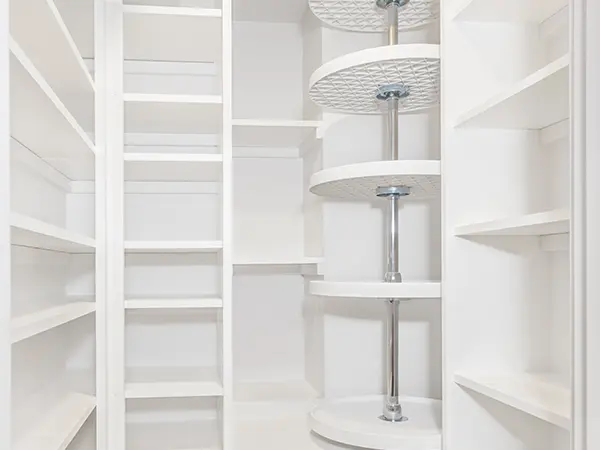 Lazy susans are perfect for corner cabinets that often get neglected because they're hard to reach into. Lazy susans make it easy to access all areas of the cabinet with just a simple spin! They look great when placed on upper shelves — adding color and texture to an otherwise plain space. They're also great for storing herbs, spices, condiments, oils, etc., making them a must-have item for any pantry.
Creative Closets did an excellent job with our kitchen pantry and bedroom closets. It was an easy, painless process and we are very happy with the outcome. Highly recommend!
You Too Can Have A Pantry That Looks Like This
Your Pantry Organization Questions, Answered
A pantry or butler's pantry is the perfect way to add value to your home while keeping your kitchen clutter-free. With storage space in high demand, building a pantry can increase your home's worth by 50-75 percent.
But don't let the cost deter you, as it will ultimately pay off in terms of property value. The key is to customize your pantry based on your home's specifications and budget.
Maintaining a neat and tidy kitchen pantry can be a major challenge, even for the most organized among us. With a constant influx and outflow of food items, it's easy for cans and spices to end up in a jumbled mess.
An effective organizational system can be developed to eliminate this food clutter. The key is to do some introspection and identify what will work best for your specific household.
Start by purging any expired and unwanted items, and then get creative with your storage solutions. Soon enough, you'll be able to locate all of your baking essentials without any unnecessary stress or chaos.
Grouping similar items into specific zones will not only maximize space, but will also alleviate the headache of searching for ingredients mid-recipe. Baking essentials, such as flour and sugar, deserve their own designated zone, while frequently used items should be stored within reach for easy accessibility.
Transform your inventory management experience with the addition of shelving. Tiers provide a convenient and easily accessible solution for stocking up on bulk items, like your favorite canned goods, before your next grocery run.
Start by cleaning out the entire pantry to make room for a fresh start. Once you've sorted through your items, invest in quality food storage containers to keep everything fresh and bug-free.
Get rid of bulky, half-empty packets and use streamlined rectangular containers that save you shelf space. And don't forget to menu plan. Using up ingredients that would otherwise go to waste will not only save you money, but it will also add some variety to your meals.
Some of the most common pantry categories include canned goods, pastas, baking items, snacks, breakfast foods, nuts and seeds, mixes, vinegars, cooking wines, oils, sauces, condiments, sweets and candy, pickled items, boxed meals, cereals, spices, and beverages such as tea and coffee.
Organize your root vegetables carefully, and keep breads, paper goods, soups, fruits and vegetables, pet food, sides, beans and legumes, jellies, spreads, and canned meats alongside your other pantry items.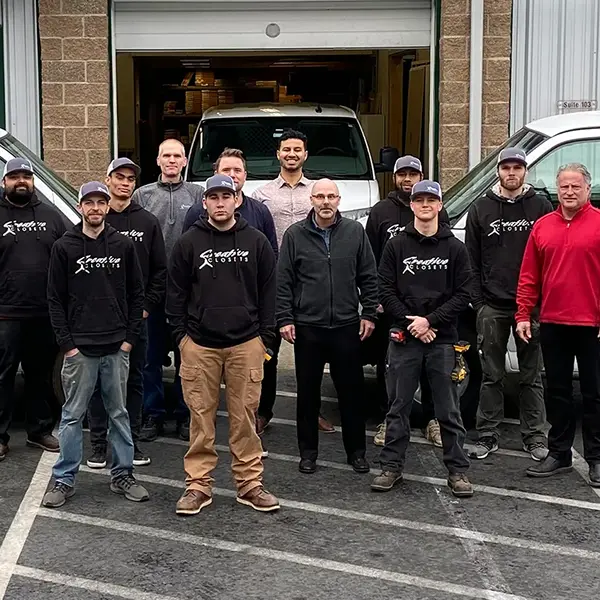 Our team at Creative Closets is bursting with passion for organization and fueled by homeowners like you who value a well-planned space. We don't just tackle pantry organization but rather specialize in custom closet and storage solutions so you can live your best clutter-free life.
From the moment you pick up the phone to schedule, you'll be met with a friendly and accommodating representative who makes sure to find the perfect date for your needs. Our designer will then meet with you, ensuring they understand your wants and needs and address any issues you may have. From start to finish, you are the most important person in the room.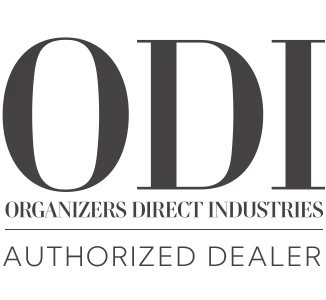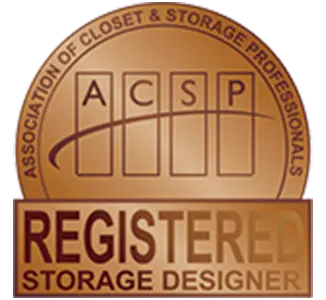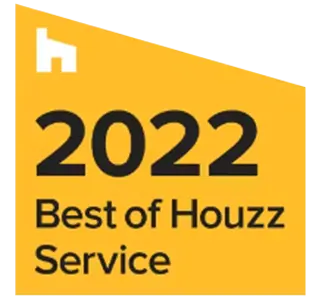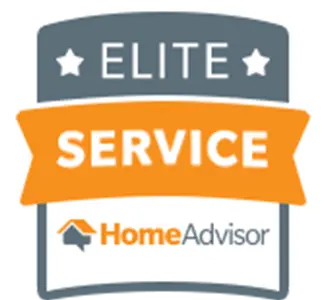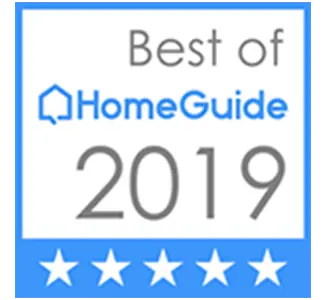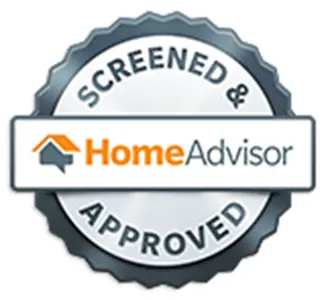 Every Ingredient Needed, Right Before Your Eyes
No more struggling with wire shelves stuck at one height or dealing with items that won't sit properly on a shaky surface.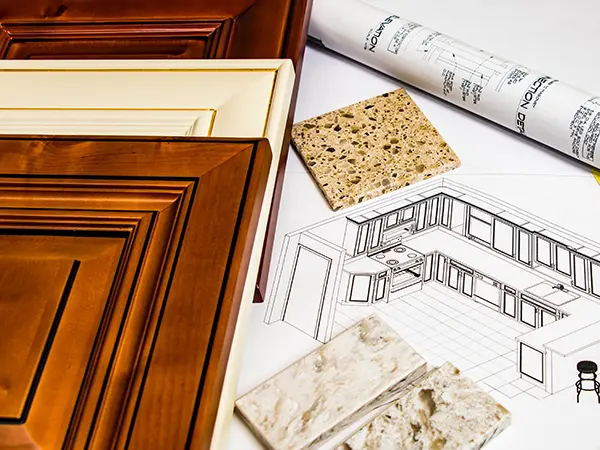 We're ready to sit down and understand how you use your pantry. We provide 3D images to help you visualize your future space and plan accordingly.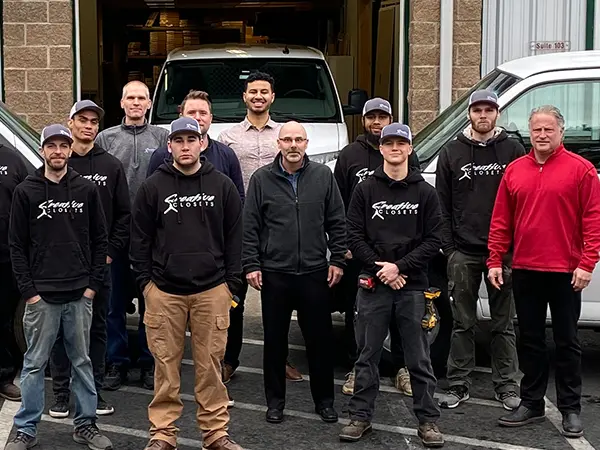 Watch us organize your pantry with cost-effective and tailored solutions based on how you and your family use your kitchen space.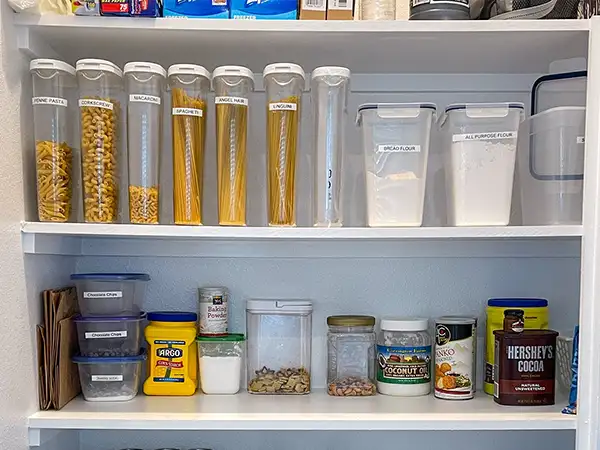 Experience what it feels like to have everything neatly organize and have a dedicated space for all your closet items.
Curious About The Results We Deliver?
Creative Closets provided us with stellar service from start to finish. Tim, Broc and team were nothing less than professional! 
We will highly recommend them to anyone looking for custom closet/pantry/garage organizational space.
We love our new custom master closet! It looks amazing and gives us more usable space! They did a great job from the initial appointment to install.
I highly recommend this company and looking forward to having our other rooms and pantry done in the future.
I highly recommend Creative Closets! They were extremely responsive, easy to work with, accommodating & professional. We had several closets in our home built out as well as our kitchen pantry.
On the day of install they had a large crew show up and got the project done fast. Everything is sturdy and high quality. We are very happy with our service from start to finish.
Enjoy Stress-Free Meal Planning & Grocery Shopping
Creative Closets strives to enhance your well-being through superior craftsmanship and top-notch products.
Our pantry designer will come to your home to personally discuss your dream pantry and offer expert recommendations for maximizing your storage space.
Get ready to explore a world of endless possibilities as we input your exact specifications and provide you with various accessories to elevate your space.
With our innovative pantry pull-outs, you can effortlessly access all your favorite snacks, beverages, and cooking staples with ease.
Revamp Your Pantry And Reclaim Your Kitchen
Get your free pantry consultation and solidify the vision of organized ingredient storage.