The Best Garage Cabinets In Auburn
Welcome to your go-to destination for top-notch garage cabinets in Auburn.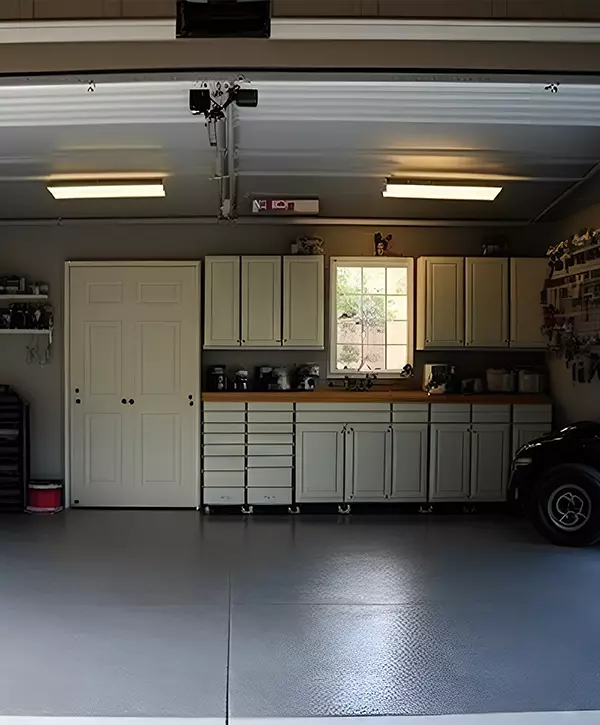 If you're like many homeowners in the area, you understand the ongoing struggle of keeping your garage organized and clutter-free. It seems like no matter how hard you try, your valuable space becomes a chaotic mishmash of tools, sports equipment, and miscellaneous items.
Our custom garage cabinets are meticulously designed to meet your specific needs and provide efficient storage solutions. We understand that each homeowner has unique requirements and a vision for their ideal garage space. That's why we offer a personalized approach, ensuring that every aspect of the design process is tailored to your preferences.
Amazing experience working with Jerry. Super professional and efficient. Had our designs locked and loaded in an hour.
Upgrade Your Auburn Home With Sturdy Garage Cabinets
By choosing Creative Closets for your garage cabinet needs in Auburn, you're making a smart investment in reclaiming your space and simplifying your life. No longer will you waste valuable time searching for tools or struggling to navigate through a sea of boxes. Our custom cabinets provide a seamless storage solution that adds functionality, aesthetics, and a sense of calm to your garage.
We can offer a multitude of services and benefits, including"
If you're looking for top-notch garage cabinets in Auburn that provide easy installation, customized storage solutions, space utilization, improved organization, enhanced aesthetics, and affordable pricing, then look no further than Creative Closets! Contact us today to make your garage dreams a reality.
The Most Common Garage Cabinet Features Across Auburn
When it comes to garage cabinets in Auburn, there are several key features that homeowners consistently seek to enhance their storage spaces. At Creative Closets, we understand the importance of catering to your unique needs and providing solutions that simplify your life.
Let's explore the most common garage cabinet features that residents across Auburn are embracing to optimize their storage and organization.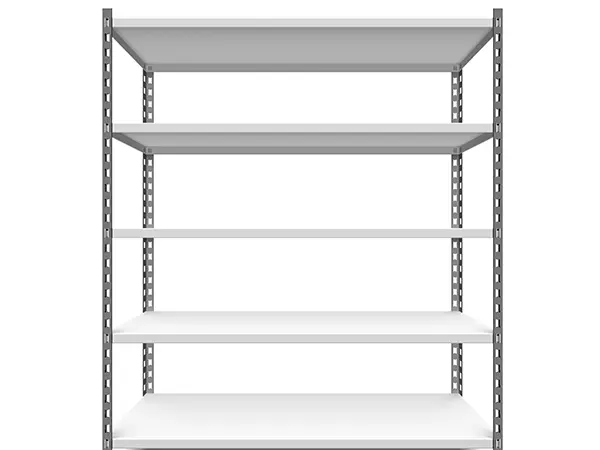 Flexibility is key when it comes to maximizing storage efficiency. Our garage cabinets come equipped with adjustable shelves, allowing you to adapt the space to accommodate items of varying sizes. Whether it's large tools, sports equipment, or smaller boxes, you have the freedom to customize your cabinet layout to suit your needs.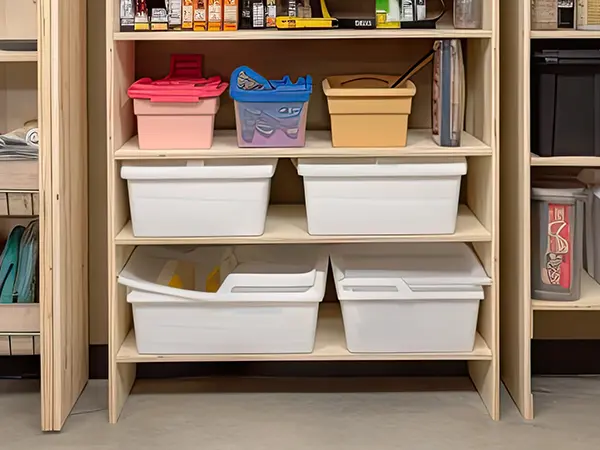 Storage Boxes and Baskets
Keep your belongings neatly organized with the help of storage boxes and baskets. These versatile additions to your garage cabinets provide designated spaces for smaller items such as gardening tools, automotive supplies, or even children's toys. Say goodbye to rummaging through piles of clutter and effortlessly find what you need, precisely when you need it.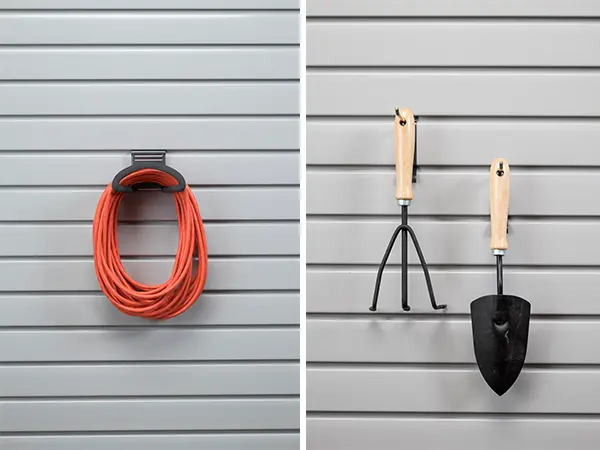 From hanging bikes to stowing away ladders, hooks offer a practical solution for maximizing vertical space. Our garage cabinets incorporate an array of hooks, allowing you to efficiently store and access frequently used items. With hooks at your disposal, you can create a clutter-free environment while keeping your belongings easily within reach.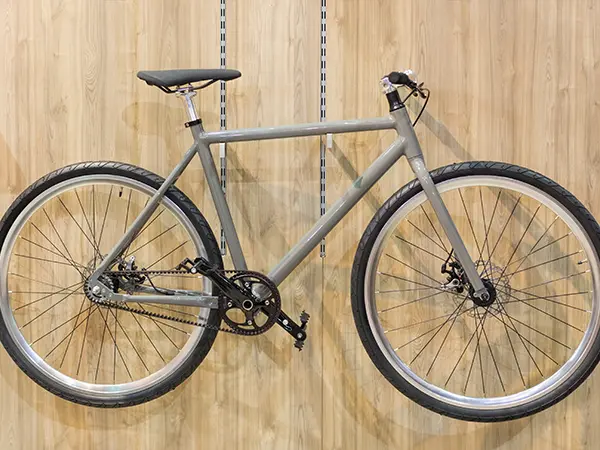 For the sports enthusiasts in Auburn, our garage cabinets offer specialized sport racks designed to accommodate your athletic equipment. Whether it's golf clubs, tennis rackets, or hockey gear, our sport racks keep your gear organized, protected, and ready for your next adventure.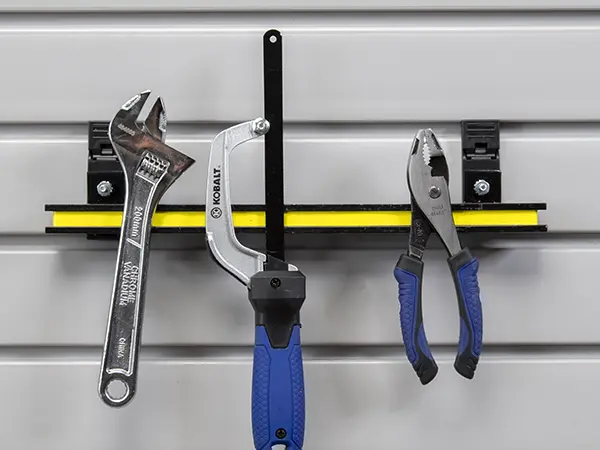 A well-organized tool collection is every DIY enthusiast's dream. Our garage cabinets feature tool racks that provide a designated spot for your hammers, wrenches, drills, and other essential tools. Say goodbye to digging through a jumbled toolbox and hello to a streamlined and efficient workspace.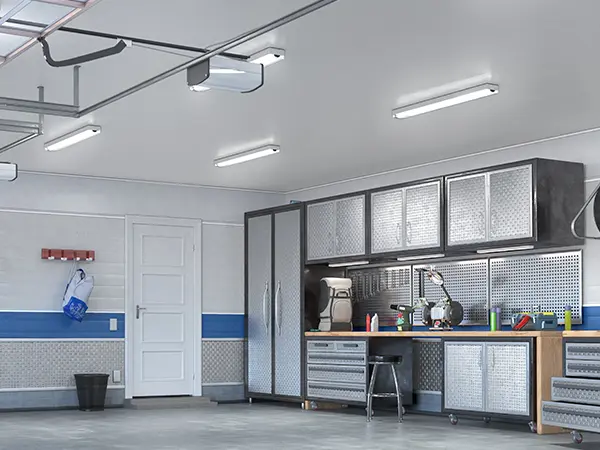 Illuminate your garage cabinets with integrated lights, ensuring optimal visibility as you retrieve items or work on projects. Our cabinets are designed to enhance functionality and create a well-lit environment, making your garage a more inviting and productive space.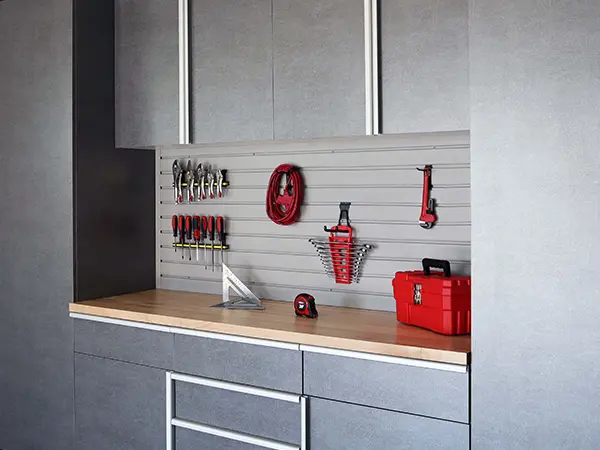 Take advantage of vertical space with slatwall organization systems. These versatile panels allow for the attachment of various hooks, baskets, and accessories, offering endless possibilities for organizing your garage. Customize your slatwall layout to accommodate your specific storage needs and keep your items within easy reach.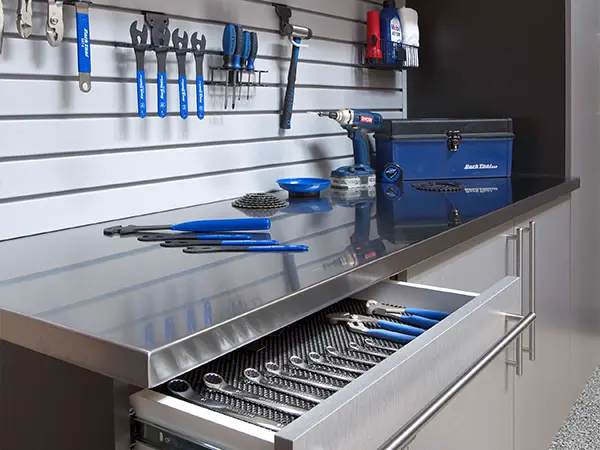 Transform your garage into a practical workshop with the inclusion of a sturdy workbench. Our garage cabinets can be seamlessly integrated with a workbench, providing a dedicated surface for your DIY projects, hobbies, or home repairs. Enhance your productivity and create a designated area where your creativity can thrive.
Get ready to experience the transformative power of our garage cabinets in Auburn as you take control of your storage and embrace an organized lifestyle.
Hear What Our Satisfied Customers in Auburn Have to Say
We are proud to share the voices of homeowners across Auburn who have experienced the transformative impact of our custom closet systems and garage cabinets. Take a moment to read their testimonials and discover why they chose Creative Closets as their trusted partner in organizing their homes and simplifying their lives.
Broc and the installers were great! Very professional and attentive. Our experience with them was great and we love our closet and the shelving installed in our garage.
The gentlemen who showed up were quite professional. Before they began, they went over all the details with me. They removed all of the old closet and installed the new. When they left, they left the work area in the garage nice and clean.
Understanding Garage Cabinets Cost In Auburn
When it comes to investing in garage cabinets, it's important to have a clear understanding of the factors that contribute to the overall cost. At Creative Closets, we believe in transparency, and we want you to make an informed decision about your investment. In this section, we will explore the various aspects that influence the cost of garage cabinets in Auburn.
| Garage Storage Project | What's Included | Price |
| --- | --- | --- |
| 20' Wall Of Cabinets & Workbench | Pewter cabinets, full-lenght handles, 10+ separate storage areas | $7,000 |
| Workbench & Slatwall Panel | Tall cabinets, workbench with top + bottom cabinets, Slatwall tool storage system | $9,000 |
| 22' Full Wall Cabinets & Slatwall | Tall cabinets, Slatwall system, workbench with cabinets and drawers, overhead storage | $11,000 |
Note that the table above includes prices of past projects, just to give you an idea of our pricing. However, your project is unique, so pricing will likely be different.
By delving into the factors of cabinet size and configuration, customization and accessories, cabinet finish and design, as well as installation complexity, we aim to provide you with a comprehensive understanding of garage cabinet costs.
The size and configuration of your garage cabinets play a significant role in determining the cost. Larger cabinets or complex configurations may require more materials and labor, thus impacting the overall price. Additionally, if you have specific storage needs or require specialized features, such as drawers, pull-out shelves, or unique layouts, these customizations can influence the cost as well.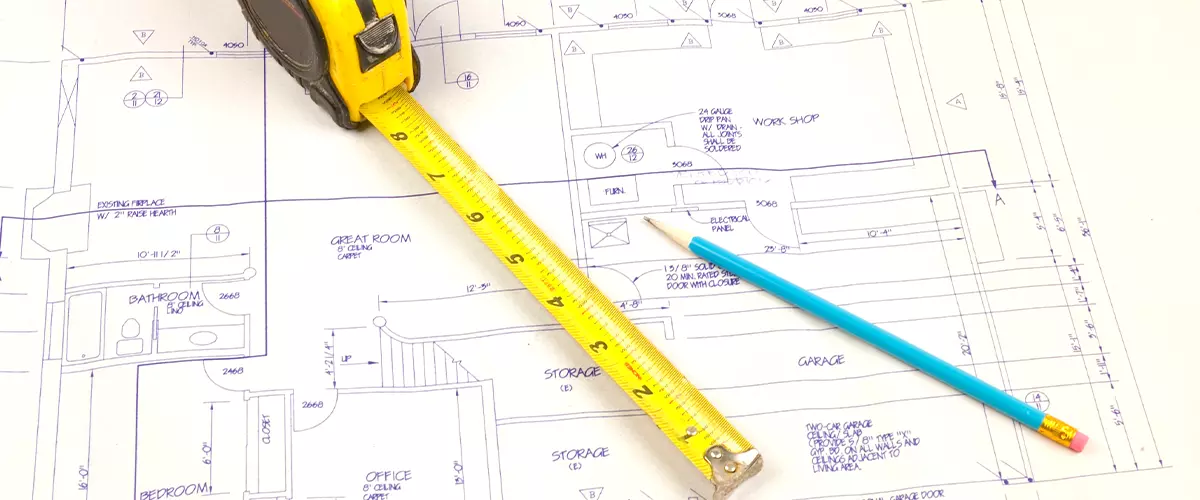 The level of customization and the inclusion of accessories can also affect the cost of your garage cabinets. Customized features, such as integrated lighting, slatwall organization systems, or specialized storage solutions, may incur additional expenses. Similarly, the choice of accessories, such as hooks, baskets, or tool racks, can impact the overall cost, as these additions enhance functionality and organization.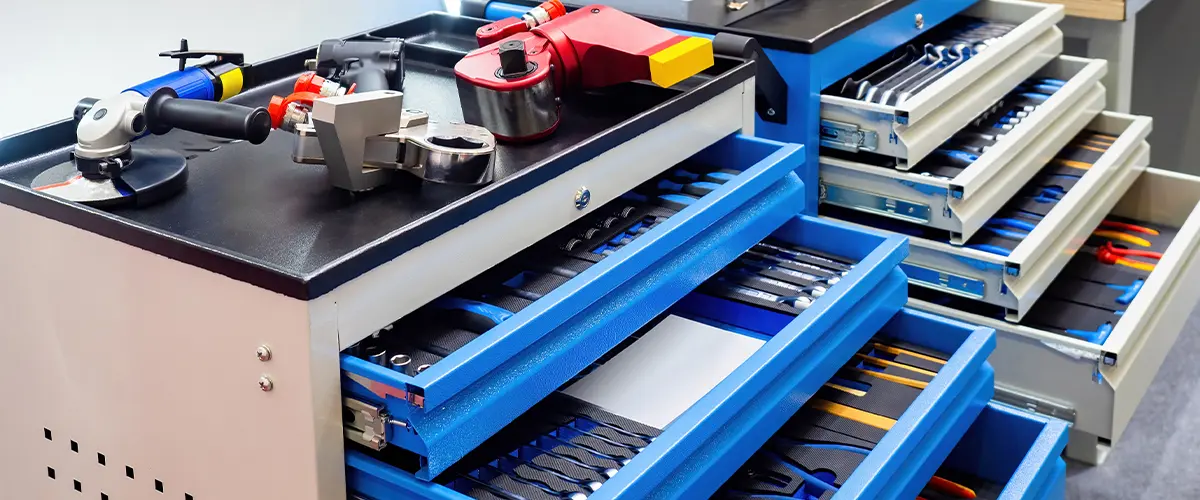 The finish and design elements of your garage cabinets contribute to both the aesthetic appeal and the cost. Different materials, finishes, and styles are available, each with its own price range. Higher-end finishes or custom designs may incur higher costs but can add a touch of elegance and uniqueness to your garage space.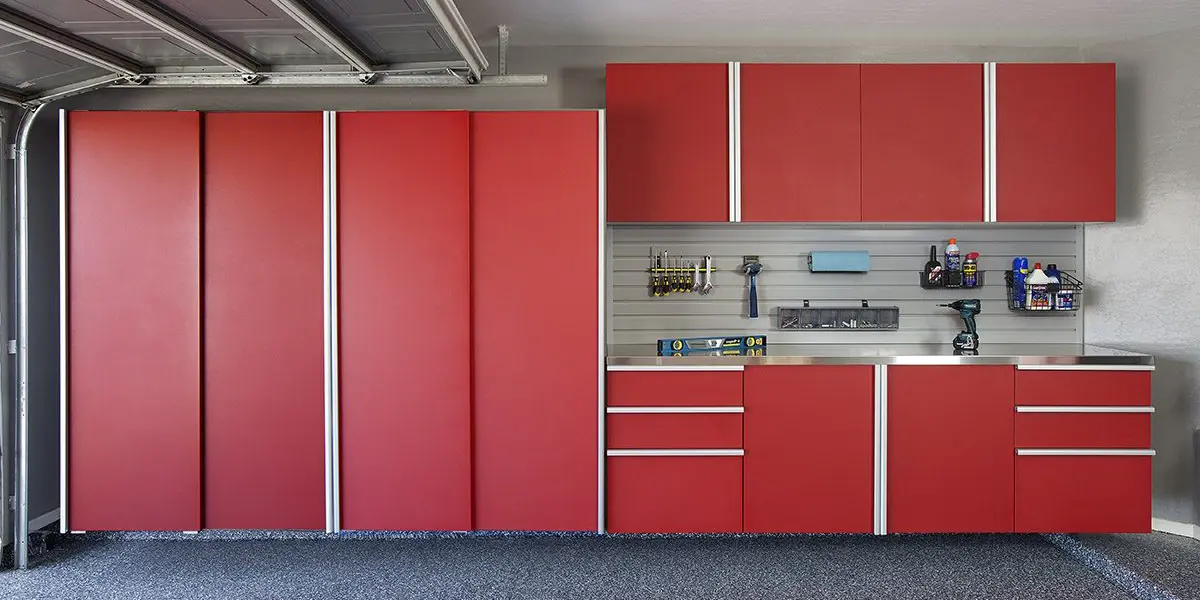 The complexity of the installation process is another aspect that affects the cost of garage cabinets. Factors such as the condition of your garage walls, the need for additional electrical or plumbing work, or the presence of obstacles can influence the installation process. More complex installations may require additional labor or specialized equipment, thus impacting the overall cost.
Interested in convenient financing? We have an offer you can't turn down. Learn more about our financing options here.
Learn More About Our All-Inclusive Services
Why Our Garage Cabinets Are The Best In WA
At Creative Closets, we take pride in offering garage cabinets that surpass the competition in terms of quality and durability. Our cabinets stand out for three essential reasons, as we have integrated key features to ensure their longevity.
One standout feature of our garage cabinets is their complete backings. Unlike many other options on the market, our cabinets have backings that fully enclose the back of each unit. This design element provides a protective shield, safeguarding your stored items from dust, dirt, and pests. With our cabinets' complete enclosures, you can rest assured that your belongings remain pristine, creating a clean and organized space.
Our garage cabinets boast specially formulated coatings that are highly resistant to scratches, stains, and daily wear and tear. This exceptional coating is designed to enhance the cabinets' strength and durability, even with frequent use. Not only does it protect the cabinets, but it also contributes to their long-lasting appearance and functionality, ensuring they remain in optimal condition for years to come.
We prioritize the use of high-quality materials for our shelves, ensuring they are strong and sturdy. You can confidently store a variety of items in your garage cabinets, knowing that the shelves can support their weight without bending or compromising their arrangement. With our robust shelves, you can maximize your storage capacity while maintaining a reliable and organized system.
Common Garage Cabinets Questions
We had our garage renovated by Creative Closets and we're extremely happy. We had multiple cabinets installed, slat walls, overhead racks, etc. and our dream of having an organized garage is now a reality! Highly recommend the Creative Closets crew.
Make The Most Out Of Your Garage Space
From complete enclosures and resilient coatings to sturdy shelves and customizable options, we prioritize your satisfaction, ensuring that you receive a tailored solution that exceeds your expectations. Trust us to transform your garage into a well-organized haven, simplifying your life and providing you with the exceptional quality you deserve.
With our custom garage cabinets design and installation, you:
Contact Us for Your Garage Cabinet Needs in Auburn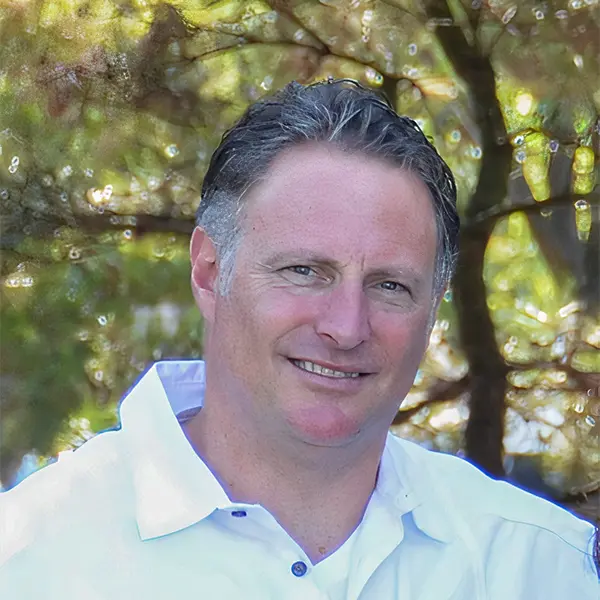 Contact us today at (425) 428-5073 to schedule your in-home showroom appointment and let us help you create a garage that is both functional and visually stunning.
Take the first step towards a more organized life by reaching out to Creative Closets now.