The Best Garage Storage In Redmond
We make your Redmond garage shine from ceiling to floor.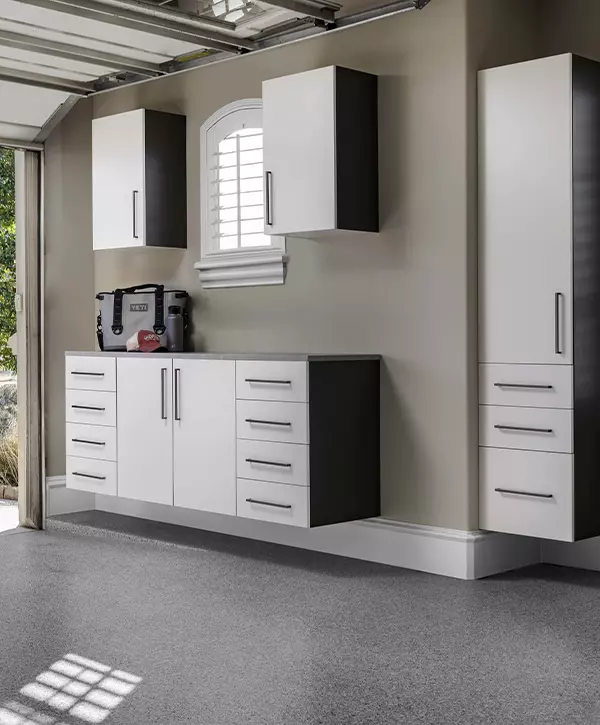 If you're a homeowner, you've probably experienced the frustration of entering a messy garage where finding a specific tool or item seems impossible. But don't worry! Creative Closets can assist you in taking back your garage and bringing back organization to the mess.
Garage storage systems can help you get organized. At Creative Closets, we create custom storage solutions for your garage to meet your specific requirements. Our aim is to give you a clutter-free and efficient garage that you'll enjoy using.
I used Creative Closets for our garage cabinets. They came out quickly to give me a quote. They were super professional and responsive. They followed up before the install date with all the details I needed. My installers did a fantastic job and went out of their way to make sure I was happy. The best value and service! Cannot recommend enough.
We Make Decluttering Less Of A Chore
A disorganized and cluttered garage can make you feel stressed and overwhelmed, not just because of the physical mess but also because of the mental clutter it creates. It can waste your time as you search for things and make you avoid using your garage because it feels unmanageable.
We will collaborate with you to create a personalized garage storage solution that makes the most of your space and meets your specific needs.
Our range of options includes slatwall organization systems for hanging tools and accessories, overhead storage to use the space above, and specialized equipment holders for sports gear. With our expertise and attention to detail, we've got everything you need.
You will benefit from the following:
Contact us for a free in-home consultation, and we'll carefully assess your space to offer the best garage storage solution in Redmond and beyond.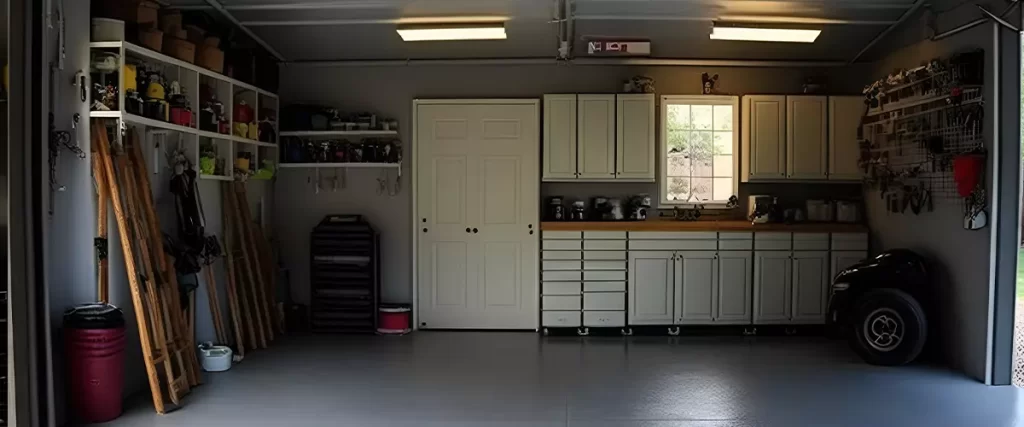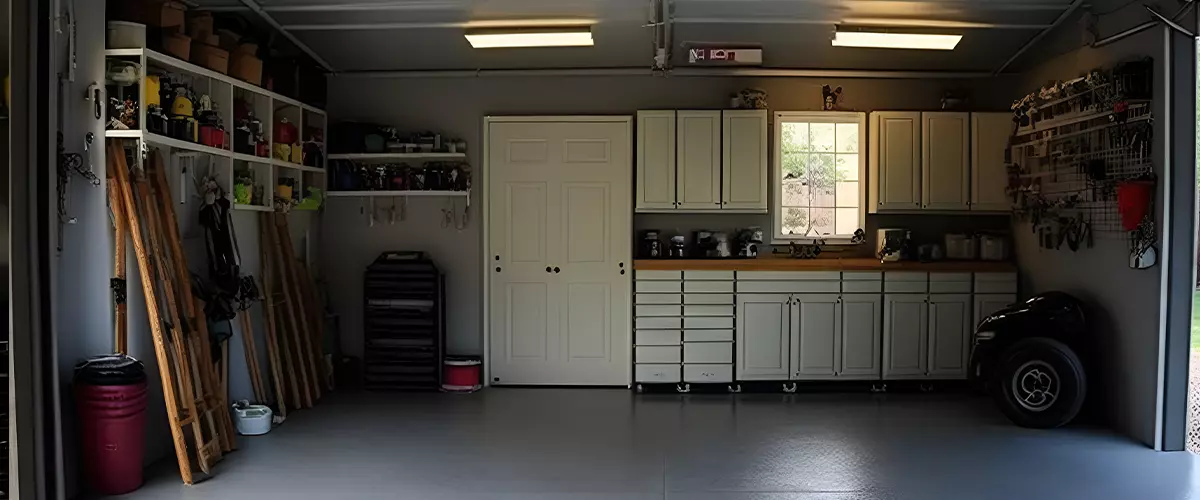 Common Garage Storage Systems Across Redmond Homes
Many homeowners in Redmond opt for popular storage systems when organizing their garages. These systems offer different benefits and help maximize space.
Have you ever pictured a storage solution for your garage that is both versatile and efficient? Let's introduce you to Slatwall organization. It involves installing vertical panels with horizontal grooves, allowing you to attach different hooks, shelves, and baskets to the wall. The best part about this system is its flexibility: you can easily rearrange the hooks and shelves to accommodate your changing storage needs.
Would you like to use the free space above your garage? Overhead storage systems can help you maximize this area. You can store seasonal decorations, bulky items, or long-term storage boxes by using strong racks or platforms that are hung from the ceiling. This way, you can free up valuable floor space and keep your belongings safely out of the way while still having them easily accessible when needed.
Ceiling racks are a great way to make use of the space above in your garage, much like overhead storage. These racks are fixed to the ceiling and can carry things like big storage boxes, sports kits and infrequently used items. You can customize the rack's elevation to fit your garage layout and optimize storage capacity because they come with adjustable heights.
Using storage bins is an affordable and convenient way to organize your garage. These versatile bins come in different sizes and can be used to store gardening tools, power tools, or holiday decorations, among other items, that you want to keep organized. With proper labeling and stacking, you can easily find what you need, while keeping your garage clutter-free.
Sports equipment can be hard to organize, but sporting equipment hooks can help. You can mount them on the wall or on a Slatwall to hold items like your badminton racket or your golf clubs. Hanging up your sporting gear is a great way to keep it off the floor and prevent damage. Plus, it makes your equipment easy to access whenever you want to play.
As a passionate cyclist, you are aware that bikes can occupy a lot of room. However, bike holders offer a practical solution by securely storing your bicycles in a space-efficient manner. These holders come in wall-mounted or freestanding options and can hold your bikes vertically or horizontally. By elevating your bikes, you can free up useful floor space and safeguard your bikes from potential harm.
Fishing enthusiasts may find it difficult to organize and store their rods and equipment. Thankfully, fishing hooks are made to safely hold fishing rods and reels, keeping them arranged and untangled. Anglers have a space-saving and practical solution thanks to these hooks, which may be fixed on the wall or ceiling.
Homeowners often struggle to locate tools when needed. To solve this problem, tool organizers can be used to keep tools in an organized and easily accessible manner. There are various kinds of tool organizers such as pegboards with hooks for hand tools and tool chests with multiple compartments.
Creative Closets designs and installs custom closet systems, as well as garage storage solutions. We can work with you to create a personalized storage system that fits your specific needs.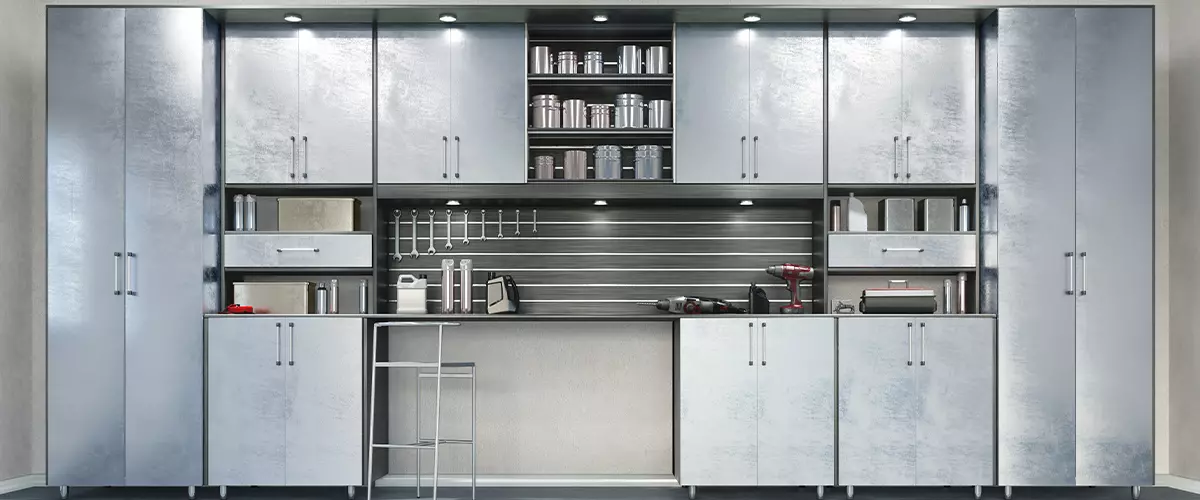 We've Worked With Beautiful Garage Owners Across WA
At Creative Closets, we are proud to have worked with many satisfied customers across WA who wanted to make the most of their garage space. Our custom storage solutions have helped them declutter and organize their garages in an efficient manner.
We've used Creative Closets on three occasions to outfit three closets and a garage. The quality is fantastic. The price is great. The service is impeccable. If you're looking for great-quality at an affordable price, call Creative Closets.
The designer was fantastic! He really showed us how we can utilize our spaces much more efficiently! The guys who installed the cabinets were great! Personable, very nice and interactive! We loved the whole experience!
Breaking Down Garage Storage Cost In Redmond
We have compiled a table of prices from our previous projects to provide you with an idea of the cost of garage storage in Redmond.
| Garage Storage System | What's Included | Price |
| --- | --- | --- |
| 20' Wall Of Cabinets & Workbench | Pewter cabinets, full-lenght handles, 10+ separate storage areas | $7,000 |
| Workbench & Slatwall Panel | Tall cabinets, workbench with top + bottom cabinets, Slatwall tool storage system | $9,000 |
| 22' Full Wall Cabinets & Slatwall | Tall cabinets, Slatwall system, workbench with cabinets and drawers, overhead storage | $11,000 |
At Creative Closets, we want to be transparent about our pricing for garage storage services in Redmond. We will explain the different cost factors that can affect the final price so that you can make an informed decision that fits your budget and needs.
The cost of the storage system for your garage depends on its size. If your garage is larger, it will require more materials and labor for an effective storage solution. However, we will work closely with you to make the most of the available space and utilize every square foot efficiently.
A garage storage system with full wall cabinets, Slatwall organization, a workbench with overhead storage, and several tall cabinets for a 22-foot space might cost as much as $11,000 in case you're interested in something like this.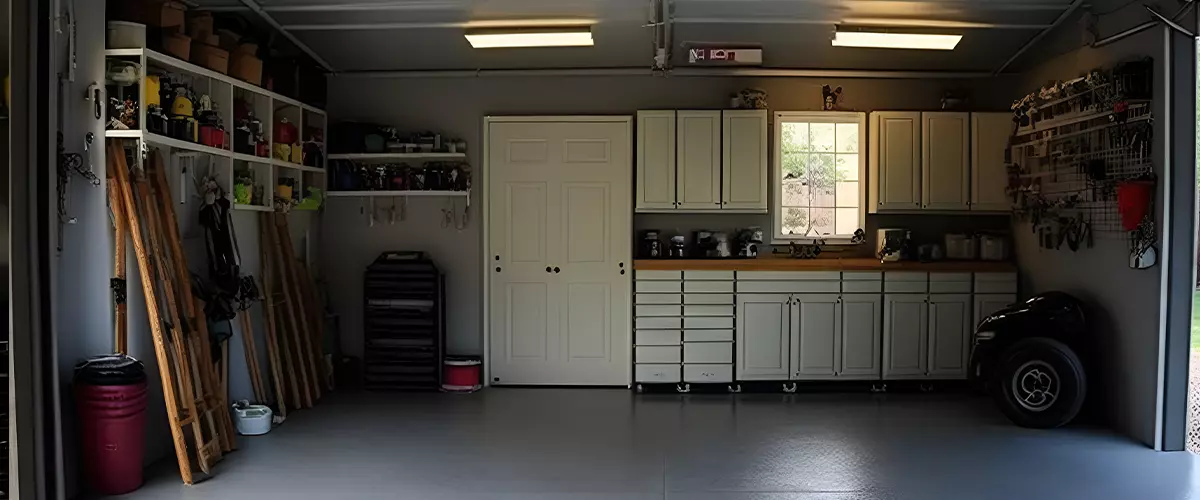 The. If you want something customized or with intricate details, it will take more time and expertise to create, which will affect the cost.
Our team is skilled at creating customized storage solutions and will work closely with you to achieve your vision while also considering the cost.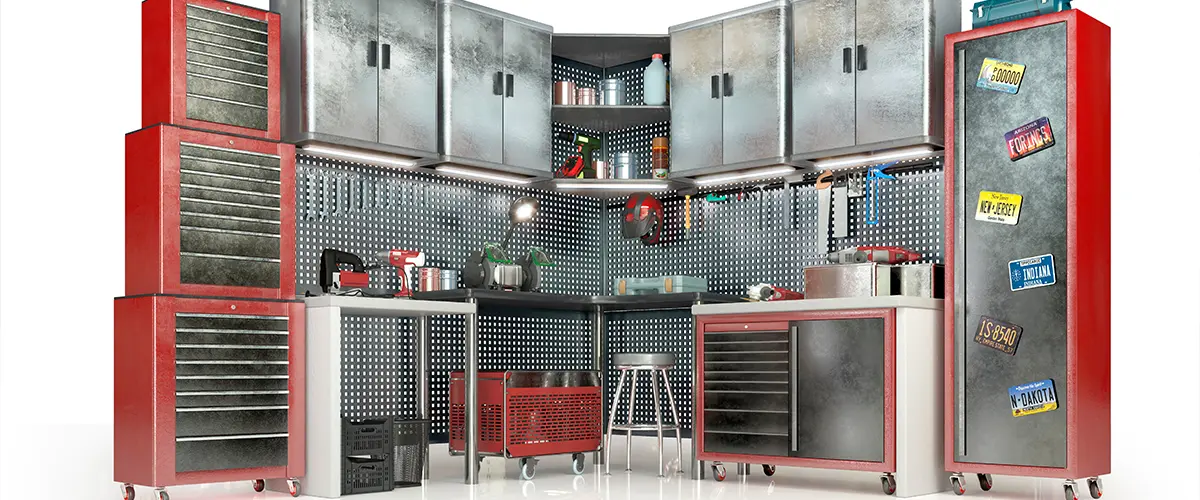 If you choose to add extra features and accessories to your garage storage system, such as hooks, baskets, bins, or lighting, it may increase the overall cost. Nonetheless, these additions can improve both the practicality and appearance of your storage solution.
To avoid exceeding your budget, we can collaborate to select the accessories that align with your needs and financial constraints.
To get a system that includes tall cabinets, a workbench with top and bottom drawers and cabinets, as well as a Slatwall organization system, you can expect to pay around $9,000 to $10,000.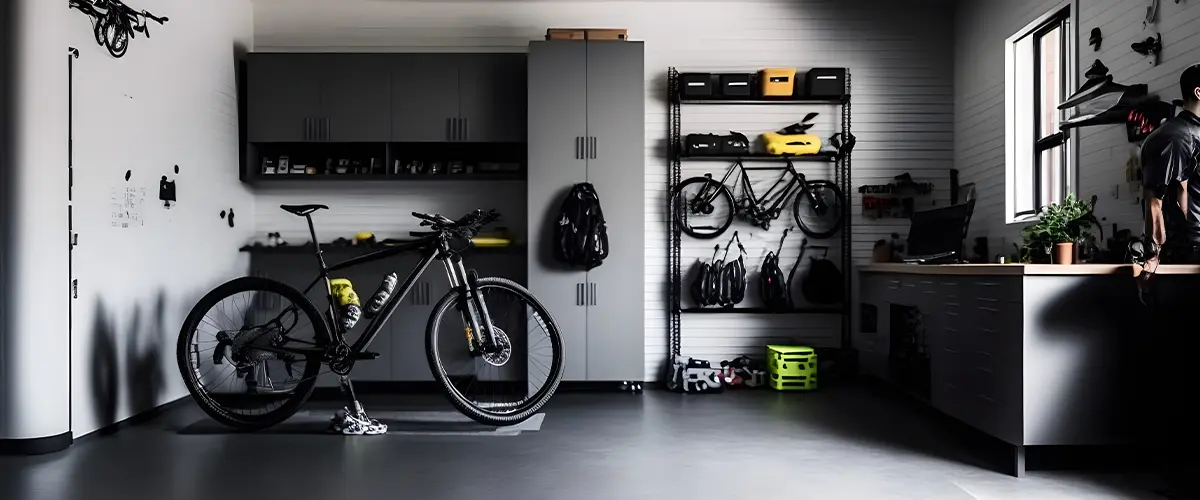 The total cost of the installation may vary depending on how complex the process is. Factors like the state of the current garage walls, electrical wiring needs, and required adjustments can make the installation process longer and more difficult.
We will evaluate your specific garage setup and give you a precise estimate based on the level of complexity involved in the installation.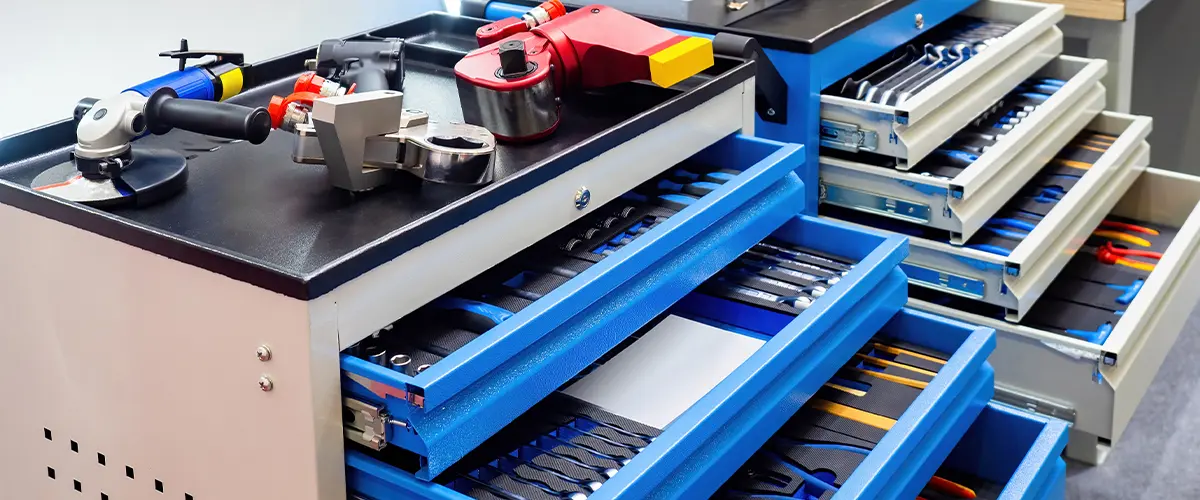 To get a personalized cost estimate for your garage's storage solution based on its unique specifications, contact us now and schedule a consultation.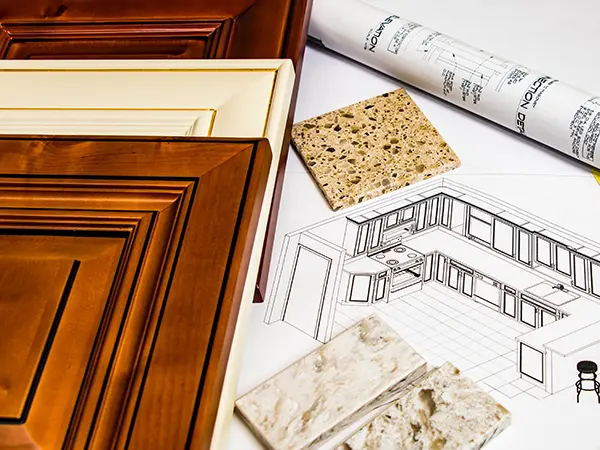 To begin, we will work closely with you to comprehend your particular requirements for garage storage, your preferred designs, and your financial plan.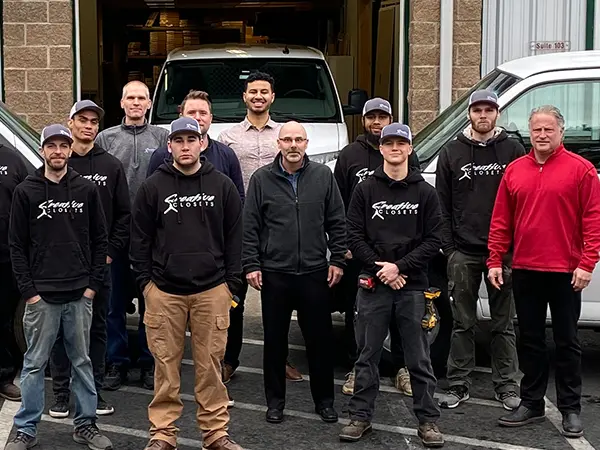 Our team of experts will efficiently and professionally handle the installation process, making sure that your garage storage solution is implemented perfectly.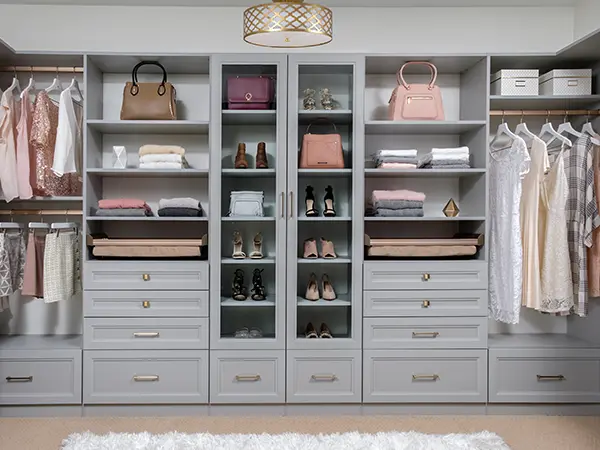 After finishing the installation process, you can relax and appreciate your newly arranged garage. Now, everything is in place, and it looks good while also being functional.
Work With A Decades-Old Professional Closet Company
Take A Look At Our Past Projects
We have provided custom storage solutions for many satisfied customers across WA who wanted to make the most of their garage space. Our portfolio is a testament to our commitment in providing efficient and practical storage solutions that will help declutter and organize garages in an attractive manner.
No More Tripping Hazards In Your Garage
Tripping hazards in the garage can be a common source of frustration and potential accidents. However, with our expertly designed garage storage solutions, you can bid farewell to those hazards once and for all.
By utilizing innovative storage systems such as overhead storage racks, wall-mounted hooks, and shelving units, we ensure that all your items are safely stored off the floor. No longer will you have to navigate around scattered tools, sports equipment, or cluttered pathways.
Our custom-designed storage solutions not only create an organized and visually appealing garage but also significantly reduce the risk of tripping and falling. Enjoy a clutter-free and hazard-free garage where you can move with ease and peace of mind.
Work with a company that provides:
It's Time To Get A Custom-Made Garage Storage Layout In Redmond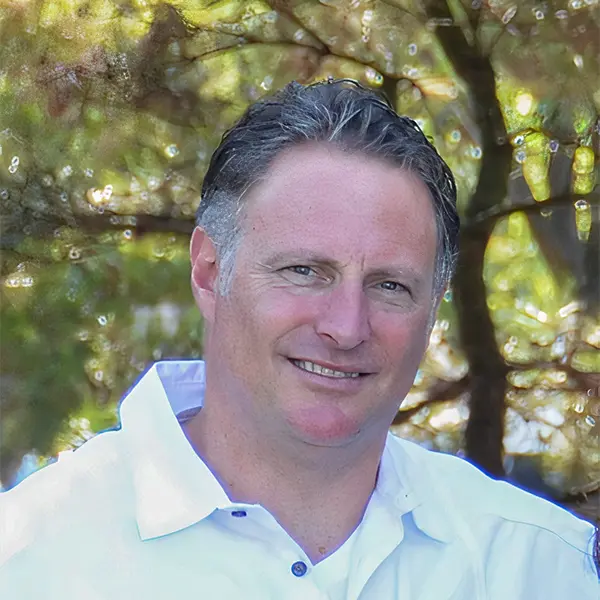 Our team of experts will collaborate with you to design and install a storage solution tailored to your garage's size, layout, and your unique requirements. Say goodbye to the frustration of searching for misplaced items and tripping over clutter.
With our custom garage storage options, you can reclaim your garage and enjoy the benefits of a well-organized space. Contact us today at (425) 428-5073 to schedule a consultation and let us help you create the garage storage layout of your dreams in Redmond.