The Best Walk-In Closets In Bellevue, WA
Experience the convenience of seamless organization with our custom walk-in closets in Bellevue, WA.
A walk-in closet is a dedicated room or space in your home for storing your clothes, shoes, and accessories, often enhancing the design aesthetics of your living space.
Opting for a custom walk-in closet gives you the freedom to create a storage solution that matches your lifestyle and needs.
At Creative Closets, we offer tailor-made walk-in closets in Bellevue, WA. With our innovative designs and meticulous craftsmanship, we transform ordinary spaces into luxurious, organized havens, offering you an elevated storage experience. Let us bring your closet dreams to life.
I have 5 of my closets designed and installed and couldn't be happier! Everyone was friendly and they did a wonderful job. I'm so glad I redid my closets it has made such a difference for living in a small space.
Partner With Bellevue's Top Custom Closet Company
Choose Creative Closets for our expertise in crafting walk-in closets in Bellevue, WA, that are not just storage spaces, but an expression of your style. Our commitment to quality, attention to detail, and personalized designs set us apart. Let us transform your closet vision into a beautiful reality.
Partner with a custom closet installer that offers:
Contact us at Creative Closets today for the best walk-in closets in Bellevue, WA, tailored to your unique lifestyle and needs. We are dedicated to transforming your storage dreams into a beautiful reality. Don't wait; get in touch and let us elevate your home storage experience to unparalleled heights.
Common Features In A Bellevue, WA, Walk-In Closet
Discover the epitome of luxury and organization with our exquisite walk-in closets in Bellevue, WA! Experience the distinctive qualities that transform each closet into a work of art, combining impeccable design and unparalleled functionality.
Divided drawers help streamline your storage, offering dedicated spaces for various items. This feature ensures easy access, maintaining an orderly appearance, and significantly reduces clutter, transforming your closet experience.
These versatile compartments offer a perfect solution for storing seasonal clothing, shoes, or accessories, keeping your walk-in closet in Bellevue neat, organized, and uncluttered with easy access to all your belongings.
These handy fixtures optimize your storage space, neatly arranging your ties and belts for easy accessibility. Enhance your walk-in closet in Bellevue, WA, with this smart solution to maintain order and streamline your dressing routine.
These elegant additions to your walk-in closet keep your precious pieces tangle-free and protected while adding a touch of luxury. Simplify your accessory selection process with easy, visible access to all your jewelry.
These space-saving essentials provide full-length visibility, allowing you to view outfits conveniently. Tuck them away when not in use, enhancing the neatness and organization of your Bellevue walk-in closet.
These practical features offer a dedicated space for neatly folding clothes, maintaining your walk-in closet's organization and reducing wrinkles, thereby simplifying your wardrobe management in Bellevue.
This essential tool maintains the crispness and structure of your trousers, eliminating wrinkles and providing easy access. Enhance your walk-in closet in Bellevue, WA, with this functional and efficient solution for your pants storage.
A scarf rack keeps your scarves neatly arranged and wrinkle-free, ensuring easy access while adding color and texture to your walk-in closet's overall aesthetic.
These ingenious solutions keep your footwear neat, visible, and easily accessible, preventing damage while maximizing your walk-in closet space. It's a game-changer for your shoe storage.
These practical accessories offer temporary storage for clothing, simplifying outfit selection and preparation. Valet rods enhance your Bellevue walk-in closet's functionality, streamlining your dressing routine.
Increase your closet's capacity and orderliness with hanging rods. These essentials conveniently categorize your clothing, enabling easy access and maintenance of your garments' pristine condition.
Integrated hampers in your walk-in closet keep laundry concealed and organized, enhancing aesthetics while maintaining a clean, clutter-free environment. Perfect for maintaining the luxurious feel of your Bellevue walk-in closet.
At Creative Closets, our team of talented designers creates tailor-made closets that reflect your unique style and functionality needs. Contact us for an exclusive in-home showroom experience that brings the epitome of luxury and organization right to your doorstep in Bellevue, WA.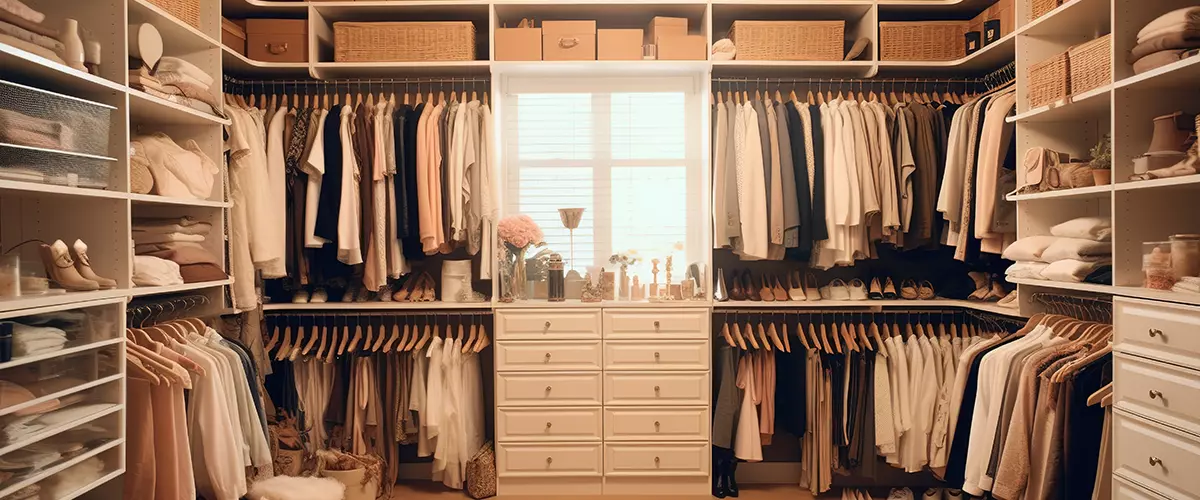 What Makes Us Popular Amongst Bellevue Homeowners
Here are a few testimonials from our satisfied homeowners who have experienced the transformative power of our customized walk-in closets in Bellevue, WA.
The assemblers were courteous and professional, they were neat, and did a great job assembling cabinets in my living room. They answered all my questions also. The quality of the material is also better than the usual offerings at other places.
Amazing experience from start to finish! The cost was very reasonable and the quality of the cabinets/work was exemplar. Jordan was very efficient with installation. If you are looking to get a custom closet installation done, don't waste your time comparing various companies…just go with Creative Closets.
Walk-In Closets Costs In Bellevue, WA
Our clients typically invest between $2,500 to $5,000 for a gorgeous standard walk-in closet. Picture high-quality materials, expert design consultation, and seamless installation – all included!
Elevate your closet game with luxurious features like top-tier hardware, advanced lighting, or custom-built accessories. It's your chance to create a truly lavish space. Prices for these upgrades range from $7,500 to $10,000.
At Creative Closets, we're all about value for money. That's why we offer various financing options to make your dream closet a reality.
| Closet Size | Features Included | Quoted Price | Most Expensive Item |
| --- | --- | --- | --- |
| 6' x 9' | Long hanging section, Double hanging section, Adjustable shelves, Drawers | $4,375 | Drawers: $1,000 |
| 20' x 20' | Upgraded color (Licorice), Multiple double hutch units (Hutches), Multiple accessories, Angled shoe shelves | $9,367 | Multiple double hutch units: $4,000 |
| 12' x 6' | Custom height to fit under the window, Adjustable shelves for shoes, 24" deep material with lower doors to conceal the safe | $3,645 | Doors |
* Remember, these are just averages. We'll work closely with you to understand your specific needs and preferences, ensuring a custom-designed space that fits your budget and lifestyle.
The cost of installation for a closet is directly influenced by its size. Bigger closets require additional materials and labor, resulting in a higher overall cost.
When considering a larger space, it's not just about the square footage needed for the closet's structure. It also involves accounting for additional elements like shelving, drawers, accessories, and other features. These factors contribute significantly to the total cost.
For instance, a 6′ x 9′ closet with basic features such as long hanging sections, double hanging sections, adjustable shelves, and drawers, is priced at approximately $4,375. In contrast, a larger 20′ x 20′ closet with upgraded color, multiple double hutch units, and angled shoe shelves, costs around $9,367.
Although a more spacious closet may come with a higher initial cost, the investment is worthwhile due to the improved storage, organization, and aesthetic appeal it offers. Ultimately, the final cost will depend on finding the right balance between your space, budget, and personal style preferences.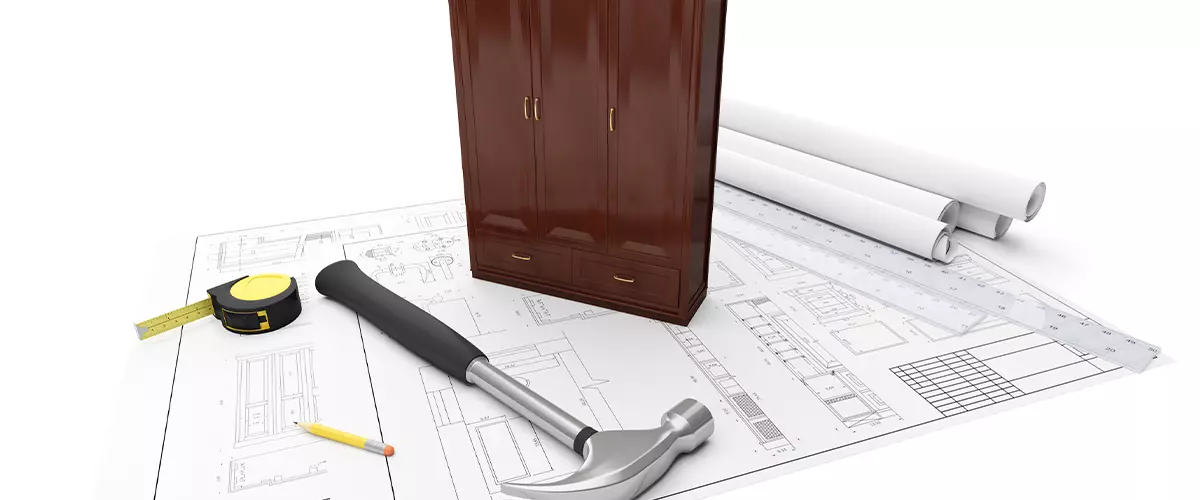 The level of personalization significantly influences the price of a walk-in closet. The more unique and intricate your closet design is, the higher the cost typically becomes.
Personalization encompasses various factors such as the layout, choice of materials, and selection of accessories tailored to your specific needs and preferences. For example, incorporating special features like a dedicated pants rack, scarf rack, or a slide-out mirror may increase the price due to additional labor and materials required.
Let's consider a 12' x 6' closet with custom height adjustment to fit beneath a window, adjustable shelves for shoes, and 24" deep material with lower doors to conceal a safe. The level of customization involved in these specifications leads to an estimated cost of around $3,645.
While opting for extensive customization can result in additional expenses, it guarantees a walk-in closet that perfectly aligns with your lifestyle. At Creative Closets, we strive to strike a balance between your budget and the desire for a personalized and functional space that brings you daily joy.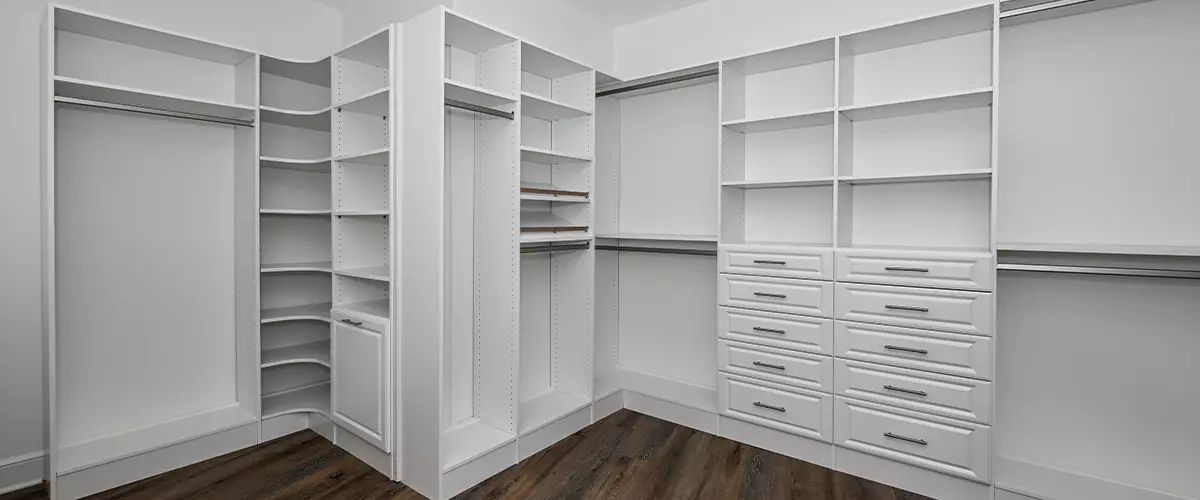 Modifications to your existing space can also impact the final cost of your custom walk-in closet. If your project requires significant alterations like moving walls, adding electrical outlets, or adjusting the lighting, these factors will add to the overall cost.
These modifications are often necessary to accommodate the design and functionality of your new closet but require additional labor and materials.
For instance, if you desire an elaborate lighting system to highlight your shoe collection or want to include an island in the middle of your closet, these modifications could increase the price.
However, these enhancements not only increase the functionality of your closet but also add to the overall aesthetic appeal. It's crucial to discuss these factors with our team at Creative Closets in Bellevue, WA, to understand their impact on your budget and the final product.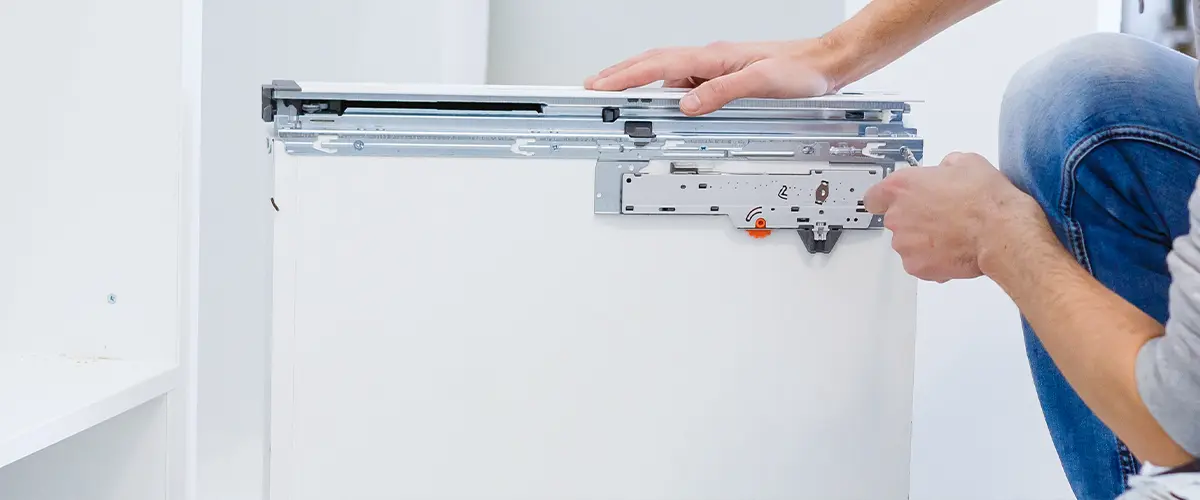 The addition of accessories in a walk-in closet significantly enhances its usability and elegance, but these extras also influence the overall cost. For instance, built-in laundry hampers, jewelry drawers, and tie racks bring an element of organization and luxury to your closet.
An integrated ironing board provides convenience for last-minute touch-ups, while pull-out racks for belts and scarves ensure these items are easy to find and neatly stored. Adding these features can range in cost from a few hundred dollars for simpler additions, to a few thousand for more premium options.
A more substantial accessory addition, such as a center island, can provide additional storage and a surface for folding or packing, but this can be a pricier addition, often starting around $1,500. Similarly, adding a seating area or vanity within the closet, while providing a luxurious touch and convenience, can add several hundred to a thousand dollars to the final bill.
Remember, the ultimate goal for your walk-in closet is to create a space that serves your unique style and needs. At Creative Closets in Bellevue, WA, we are committed to working within your budget to design the most functional and beautiful space possible, ensuring each accessory added brings value and joy to your daily routine.
At Creative Closets, we're passionate about crafting the ideal walk-in closet for your needs in Bellevue, WA. Don't hesitate to reach out to us for expert guidance on designing a functional, stylish, and personalized closet space. Your perfect walk-in closet is just a call away!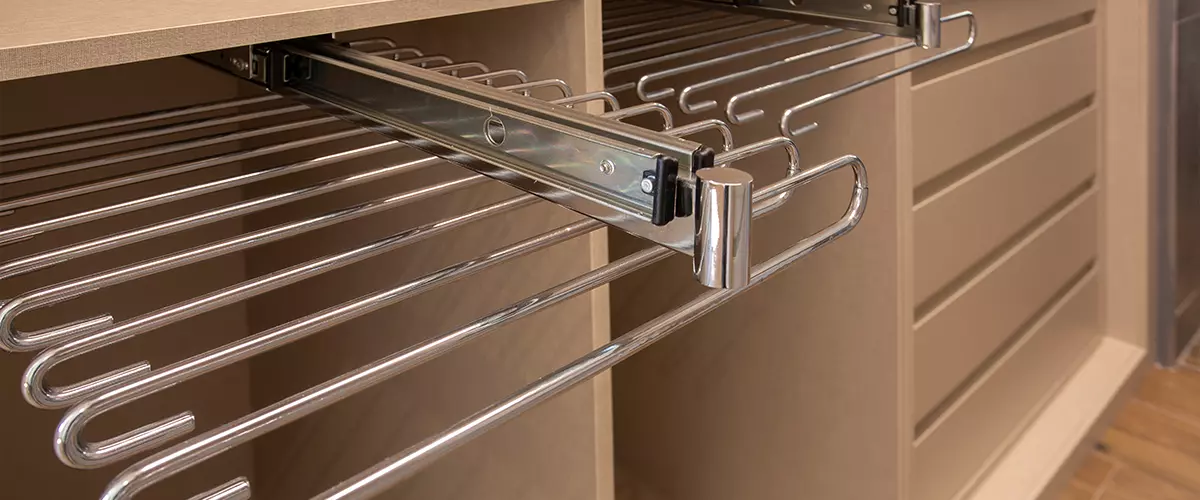 Embark on Your Closet Journey
Start your journey towards a custom walk-in closet with these easy steps laid out by our team at Creative Closets in Bellevue, WA.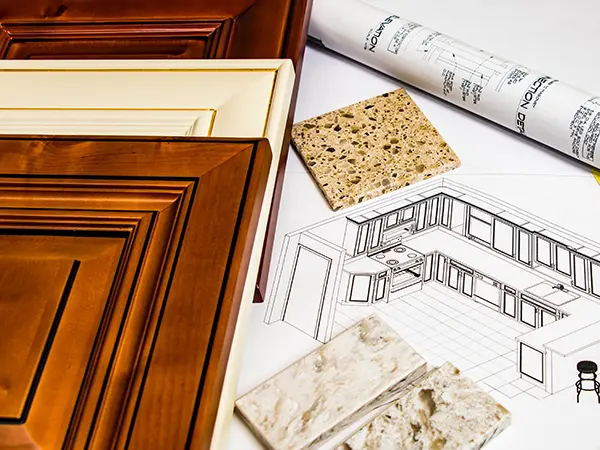 We work together to design your dream walk-in closet, focusing on your unique style and organizational needs.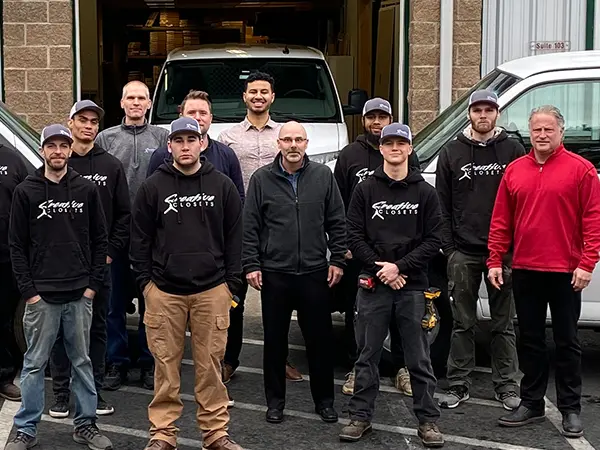 Our skilled team transforms the design into reality, ensuring precision and quality in every detail.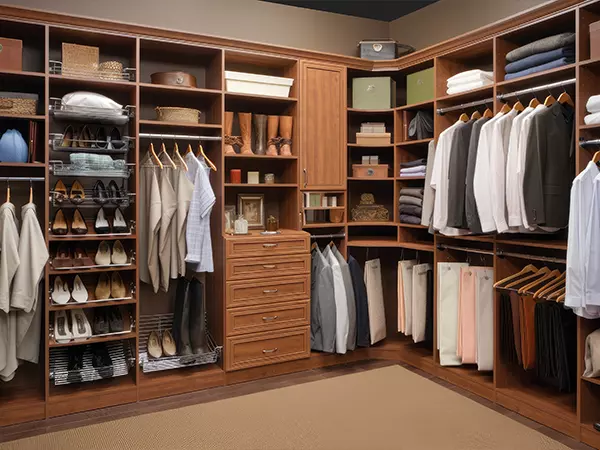 Relish the newfound luxury and efficiency of your customized walk-in closet, tailored to your lifestyle.
Learn More About What We Can Do For Your Home
Explore Our Grand Walk-In Closet Portfolio
Immerse yourself in our diverse portfolio of exceptional walk-in closets. Each project, a testament to our dedication to quality and design, encapsulates our commitment to creating superior, personalized storage solutions for residents of Bellevue, WA.
Custom closets are considered a luxury home improvement due to the intensive labor, high-quality materials, and personalization involved in their creation. The price reflects the detailed design process, customization to fit your unique storage needs, and professional installation to ensure longevity.
At Creative Closets, we prioritize quality and durability in our walk-in closet solutions to provide you with the best value for your investment.
The cost of a closet varies depending on several factors, including size, customization, materials, and any needed modifications. On average, custom walk-in closets can range from $3,000 to over $10,000. At Creative Closets, we provide a personalized quote after understanding your specific needs and preferences to ensure you receive the best value for your investment.
Absolutely, it's possible to build a walk-in closet with the right planning and expertise. We specialize in crafting custom walk-in closets, tailored to your available space, needs, and style preferences. We handle everything from the initial design to the final installation, ensuring a smooth and seamless process.
Why Choose Creative Closets For Your Bellevue, WA, Home
When it comes to elegance, functionality, and personalization, Creative Closets is the epitome of excellence in delivering custom-made walk-in closets.
Each closet is meticulously crafted by our skilled team, ensuring superior quality and precision in every detail.
We offer a bespoke design service, tailoring every walk-in closet to your unique style and storage needs.
We work within your budget to provide the perfect balance between luxury and affordability.
Exceptional Customer Service
From the design phase to installation, our team provides seamless, end-to-end service, assisting you at every step of your closet journey.
Permanently Upgrade Your Storage Space With A Custom Walk-In Closet In Bellevue, WA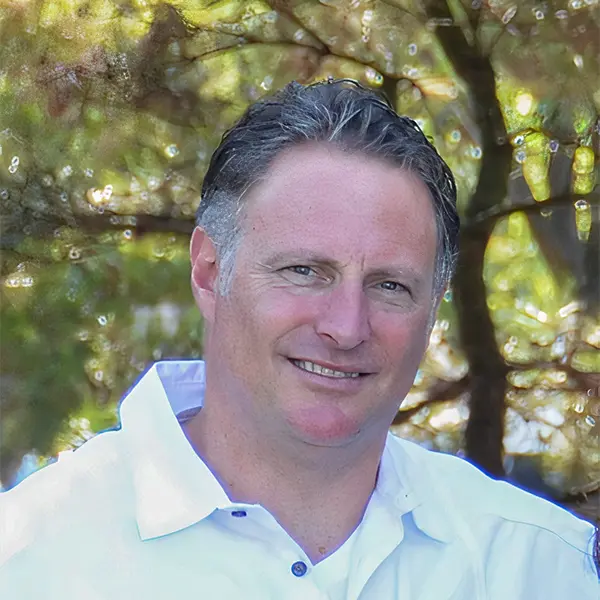 Don't wait to elevate your home with a custom walk-in closet. Call us now at (425) 428-5073 or send us a message by clicking the button below (it takes less than 2 minutes). We're ready to bring your dream closet to life.
Bellevue, WA, nestled between Lake Washington and Lake Sammamish, is a vibrant city known for its bustling downtown, serene parks, and cultural diversity. It features iconic landmarks such as the Bellevue Botanical Garden, a lush, 53-acre urban oasis, and the Bellevue Arts Museum, a hub for the Pacific NW arts scene. The city also boasts an upscale shopping district with The Bellevue Collection and hosts the annual Bellevue Arts and Crafts Fair, a premier event in the region.