The Best Closet Organizers In Bonney Lake
Easily declutter your Bonney Lake home with the best closet organizers in the game.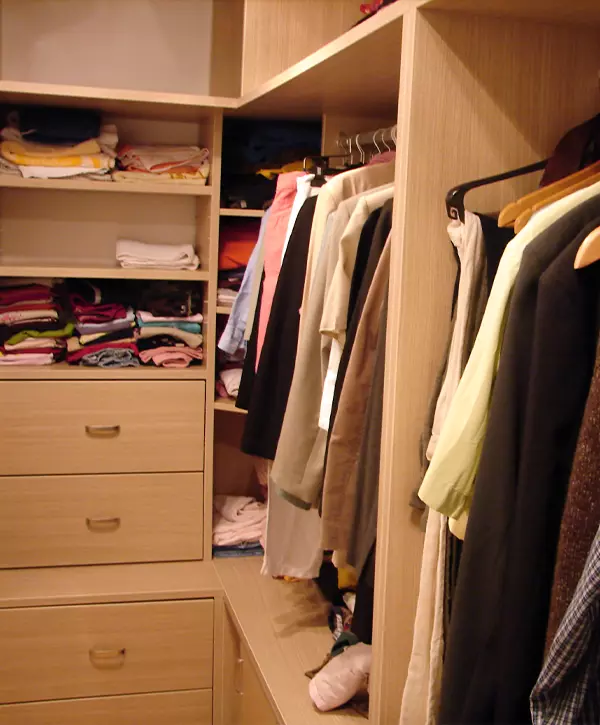 Closet organizers are more than just racks and shelves; they are the solution to your disorganized chaos. Imagine stepping into your closet and instantly finding everything you need. Our custom designs are tailored to your specific needs, maximizing every inch of space and revolutionizing the way you store and access your belongings.
With our closet organizers, you can bid farewell to the days of endless searching and welcome a new level of efficiency and simplicity into your life. From decluttering your wardrobe to streamlining your morning routine, our systems are designed to make your daily tasks easier and more enjoyable. No more frantic searches or wasted time—just a beautifully organized closet that caters to your unique lifestyle.
I have 5 of my closets designed and installed and couldn't be happier! Everyone was friendly and they did a wonderful job. I'm so glad I redid my closets it has made such a difference for living in a small space.
Wave Goodbye To Home Clutter
If you're ready to take control of your closet and reclaim your time, Creative Closets is here to help. Our team of experts will guide you through the process, from design to installation, ensuring a seamless experience tailored to your preferences. Say goodbye to the frustrations of a cluttered closet and hello to the transformative power of our custom closet organizers.
Unlock a series of perks when you choose Creative Closets:
Discover the difference our solutions can make in your Bonney Lake home.
Contact us to experience a level of organization that will simplify your life and leave you wondering how you ever managed without it.
Common Types Of Closet Organizers For Bonney Lake Homes
By incorporating these common types of closet organizers and storage solutions into your Bonney Lake home, you can transform your closets, pantries, and overall living spaces into organized areas that simplify your daily routines and enhance your overall living experience.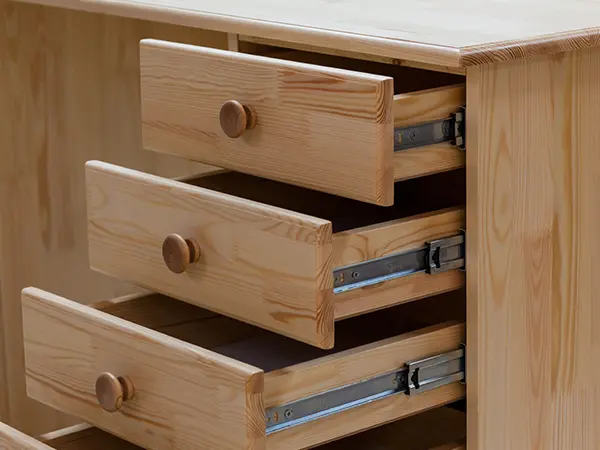 Imagine having a set of drawers in your closet, just like a dresser for your clothes. Closet drawers provide a versatile storage solution, akin to having separate compartments for your undergarments, socks, and accessories. They keep these smaller items neatly tucked away, ensuring a clutter-free space while offering easy access to your essentials. No more digging through piles of folded clothes to find that missing sock!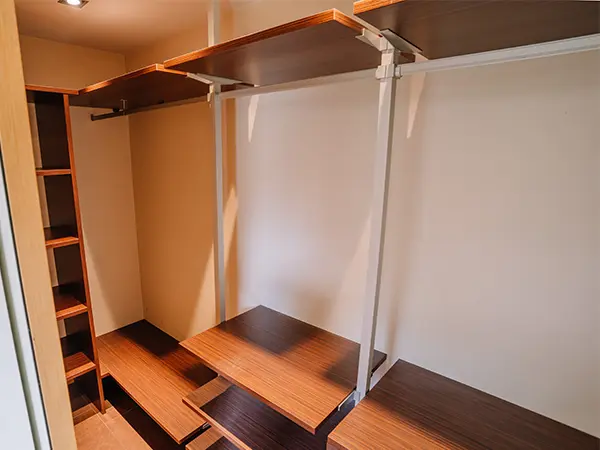 Think of closet shelving as the reliable bookshelves in your living room. These shelves offer an efficient way to store folded clothes, linens, and other items that don't require hanging. With adjustable shelves, you can customize the spacing to accommodate items of different sizes. This maximizes the vertical storage space in your closet, allowing you to keep everything neatly organized and easily visible, just like organizing books on a shelf.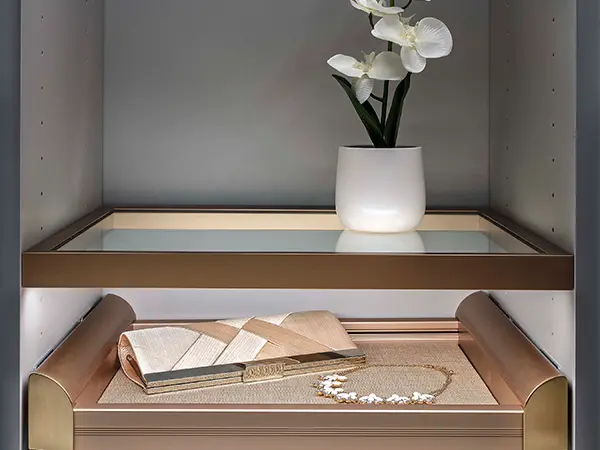 Have you ever admired a beautifully curated jewelry store display? Well, imagine having a similar setup right in your closet. Jewelry organizers are designed to keep your precious pieces untangled and easily accessible. From hooks for necklaces to compartments for rings and earrings, these organizers ensure that your jewelry collection remains in perfect order, just like a jewelry store display case.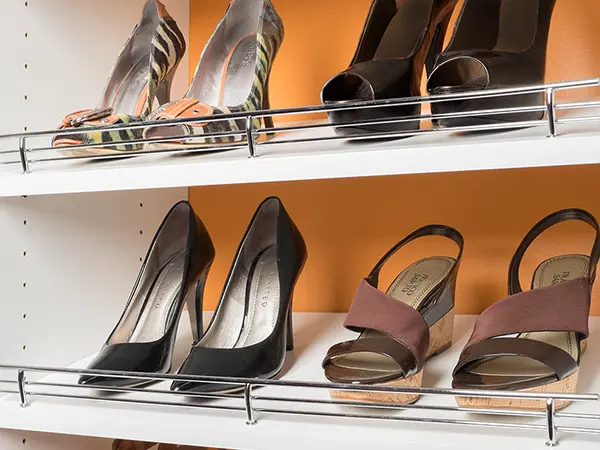 Picture a shoe store where all the shoes are neatly displayed on racks. That's exactly what shoe racks can do for your closet. These specialized racks provide dedicated spaces for your footwear collection, keeping them organized, visible, and easily accessible. No more searching for matching pairs or tripping over stray shoes; with shoe racks, you can have a mini shoe store experience right in your Bonney Lake home.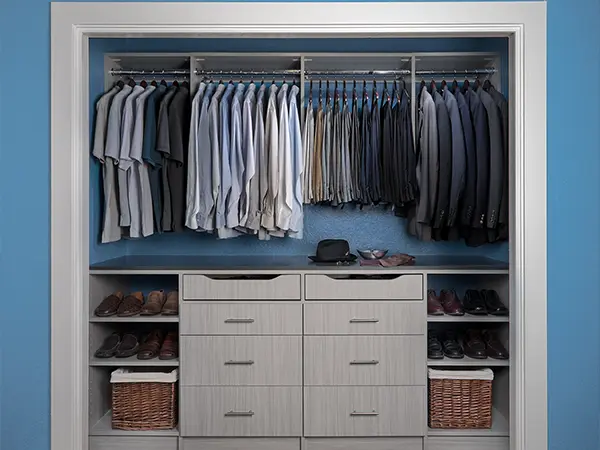 Closet storage encompasses various components and systems designed to optimize your closet space. It includes a combination of drawers, shelves, bins, and accessories to create a comprehensive organizational solution. Closet storage systems allow you to efficiently utilize every inch of your closet, providing designated areas for different types of items and helping you maintain a clutter-free and functional space.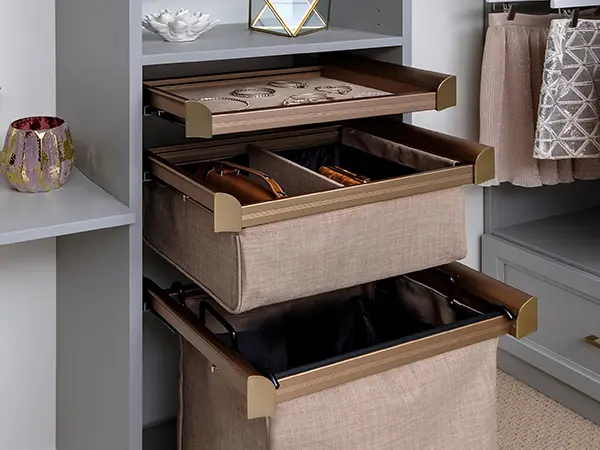 Think of storage bins as your trusty containers for seasonal items or belongings you don't need to access frequently. These bins come in various sizes and styles, allowing you to neatly store items like winter clothes, holiday decorations, or sentimental items. With labeled bins, you can easily find what you need, much like sorting and organizing items in a storage unit.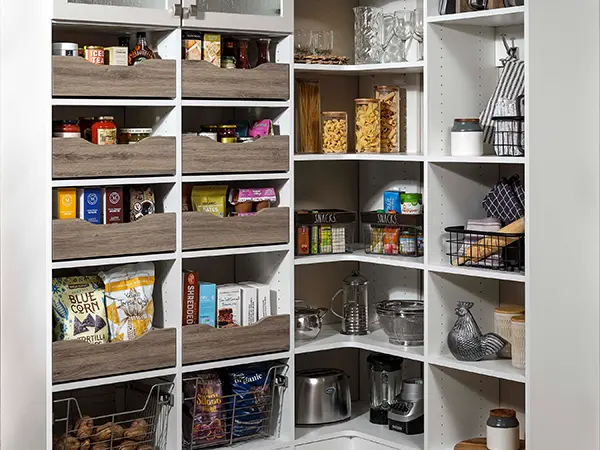 Pantry organization is not limited to just closets; it extends to your kitchen as well. Just like a well-organized grocery store aisle, pantry organization systems optimize your kitchen storage. They feature adjustable shelves, dividers, and pull-out drawers, providing dedicated spaces for your dry goods, spices, canned items, and more.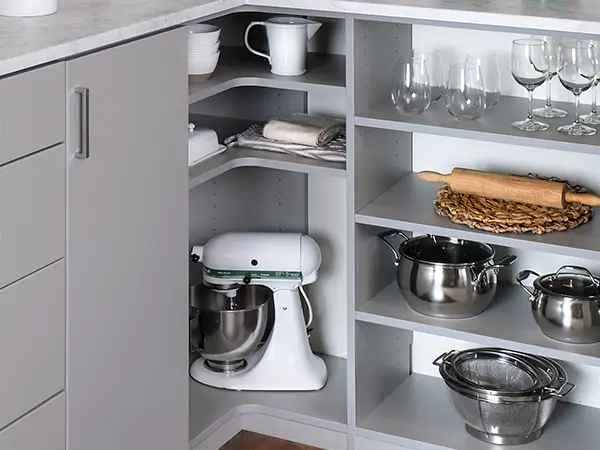 Similar to closet shelving, pantry shelving offers efficient storage for your kitchen essentials. These shelves provide a designated space for storing food items, dishes, and appliances. With adjustable shelves, you can customize the height to accommodate different-sized items, making the most of your pantry space.
Don't let the chaos of an unorganized closet overwhelm you any longer – take the first step towards a simplified and streamlined life by contacting us today.
Experience the Joy of an Organized Closet with Creative Closets
From reclaiming their time to experiencing a sense of peace and harmony in their homes, our satisfied customers can't wait to share their stories with you. Read on to see how we've made a lasting impact in their lives and how we can do the same for you.
The designer sales person took accurate measurements and provided 3d drawings. Installers were respectful and polite and installed with care. Highly recommend. Only wish the gold hardware was more gold than they actually are.
Amazing experience from start to finish! The cost was very reasonable and the quality of the cabinets/work was exemplar. Jordan was very efficient with installation. If you are looking to get a custom closet installation done, don't waste your time comparing various companies…just go with Creative Closets.
Breaking Down Closet Organizers Cost In Bonney Lake
Investing in a well-designed and customized closet organizer can be a game-changer for your Bonney Lake home. As you explore the options available, it's essential to understand the factors that contribute to the overall cost.
Let's break down the key elements that influence the cost of closet organizers, allowing you to make an informed decision that aligns with your budget and vision.
| Closet Type | Size | Average Price |
| --- | --- | --- |
| Walk-in Closet | 20' x 20' | $9,500 |
| Reach-In Closet | 8' Long | $2,000 |
| Kids' Reach-In Closet | 8' Long | $2,800 |
Note that the table above only displays a few examples of the closet systems we have previously installed. The cost of your closet organizers in Bonney Lake can by several factors.
The size of your closet is a significant determinant of the cost. Larger closets require more materials and labor to design and install an effective organizational system. Whether you have a small reach-in closet or a spacious walk-in closet, our team at Creative Closets can tailor a solution that maximizes the available space, regardless of its size.
An 8-foot-long reach-in closet typically costs around $2,000, while a larger walk-in closet can cost up to $10,000.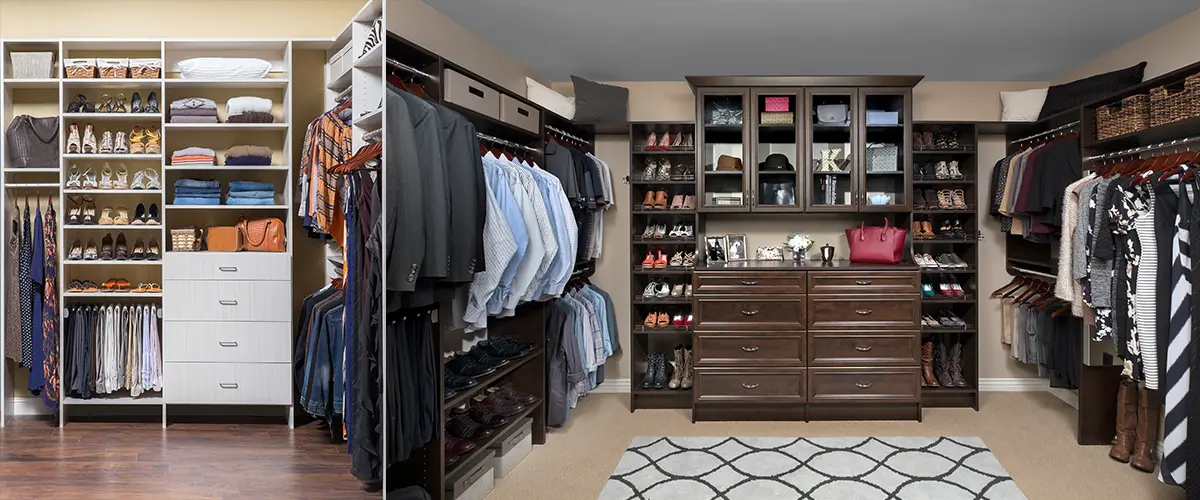 The level of customization you desire also affects the cost. Custom closet organizers offer personalized features and configurations to suit your specific needs and preferences. The more intricate and unique the design, the more it may impact the overall cost. However, remember that customization allows for optimal organization and utilization of your closet space, providing a tailored solution that caters to your lifestyle.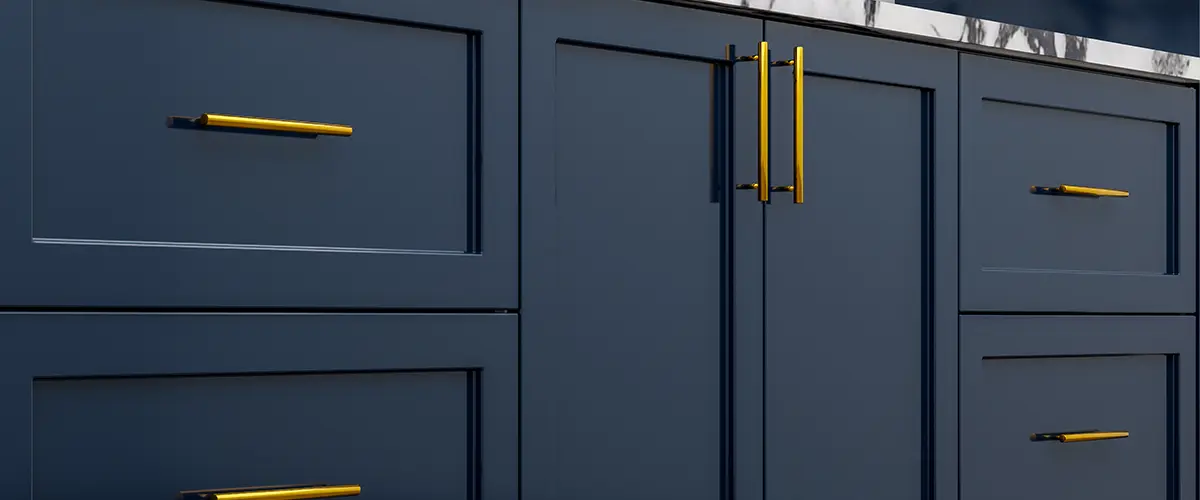 Enhancing your closet organization with additional accessories can add both functionality and style. Accessories such as shoe racks, belt and tie racks, jewelry drawers, and valet rods can optimize your storage capacity and improve the overall aesthetic of your closet. While these accessories can elevate your organization system, they may contribute to the overall cost based on the specific features and materials chosen.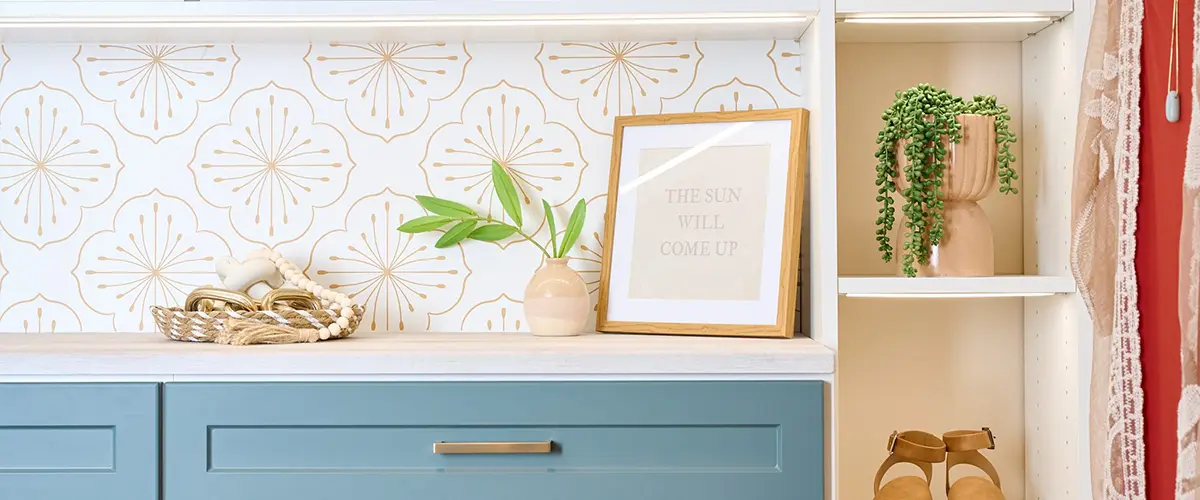 The professional installation of your closet organizer is a crucial aspect of the overall cost. Our experienced team at Creative Closets ensures a seamless and efficient installation process, taking into account any necessary modifications and ensuring the longevity of your organizational system. The labor costs associated with the design, customization, and installation will be factored into the overall estimate.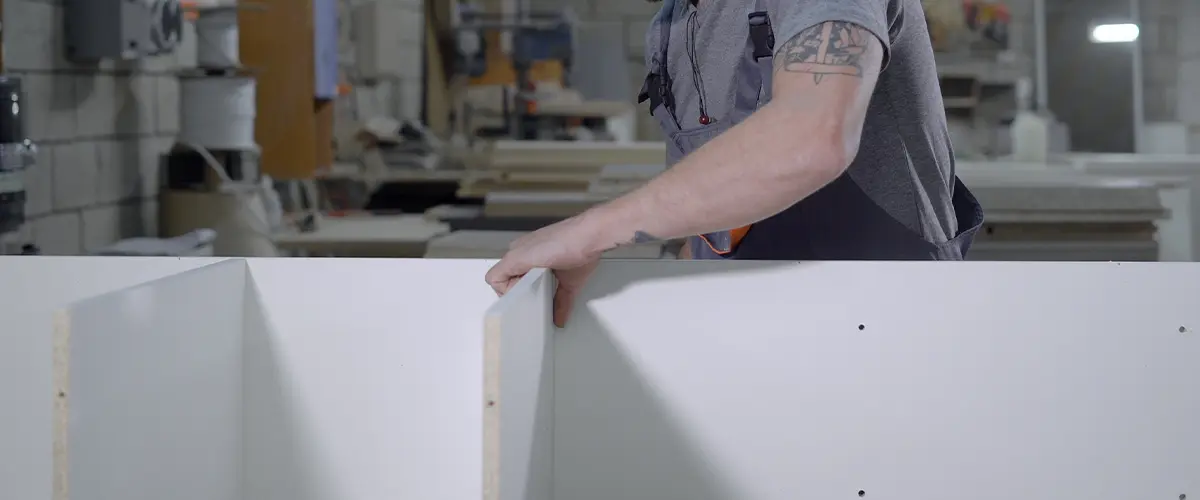 Say goodbye to concerns about the cost of new closets, because we have an irresistible offer just for you: 0% interest financing with no down payment. Discover if you're eligible for this amazing opportunity during our visit to your home.
Let's Get The Whole Family Onboard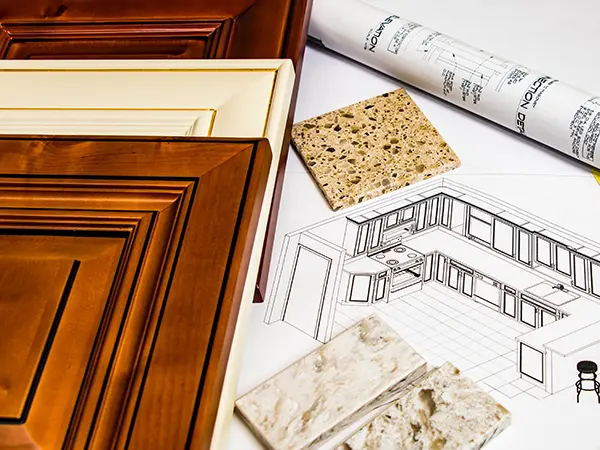 Let's schedule an in-home showroom appointment where we can work together to design your dream closet, ensuring it perfectly aligns with your needs.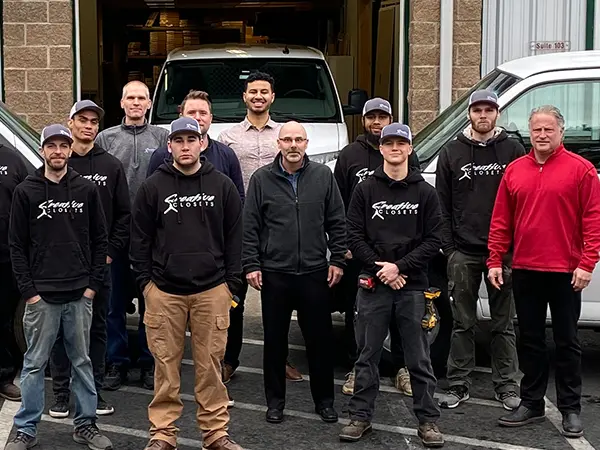 Our expert team will diligently install your custom closet organizers and systems, guaranteeing completion by the end of the day.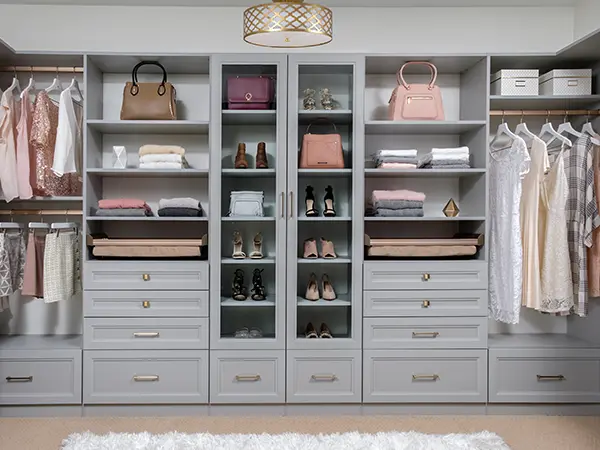 Experience the joy of a clutter-free home that is effortlessly organized and easy to maintain, allowing you to revel in the newfound simplicity and peace of mind.
Let Our Past Projects Inspire You
Have a look at our previous project gallery and see the impressive makeovers we have delivered for homeowners in Bonney Lake and surrounding areas.
Absolutely! One of the key advantages of a custom closet organizer is its ability to be tailored to your specific needs and preferences. During the design process, we collaborate with you to understand your requirements and can make necessary adjustments to the layout of your existing closet. Whether you want to add or remove shelves, incorporate additional accessories, or completely reconfigure the space, we strive to create a solution that meets your unique vision.
The installation time for a custom closet organizer depends on various factors, such as the size and complexity of the project. However, our experienced team at Creative Closets is committed to providing efficient and timely installations. In most cases, we can complete the installation within a day. During our initial consultation, we'll assess your specific requirements and provide you with a more accurate estimate of the installation timeframe.
Our custom closet organizers are designed with durability and low maintenance in mind. Typically, regular cleaning with a mild detergent and a soft cloth is sufficient to keep your organizer looking its best. Avoid using harsh chemicals or abrasive materials that may damage the surfaces. Additionally, it's beneficial to periodically review and declutter your closet to maintain an organized and efficient space. Our team will provide you with specific care instructions during the installation, ensuring that your custom closet organizer remains in optimal condition for years to come.
We had a fantastic experience with Creative Closets! 
Jerry did our initial consultation and we loved how thorough he was with our design process. It was so helpful seeing product samples in person and we loved the 3D computer design that he came up with on the spot. It really helped us picture what we were ordering. 
The office was great about scheduling and keeping in touch throughout our process. Josh did our install and we couldn't have been happier with how it went! He let us know when he was on his way and arrived right on time. The installation was organized and seemed to go very smoothly, even with my kids underfoot and getting in his way! One of the pieces arrived with a small ding from the manufacturer and Josh not only pointed it out, but he assured us that a new piece was already being ordered. 
I can't speak highly enough about our experience with Creative Closets and would strongly recommend them if you're in the market for a custom closet!
Ready To Upgrade Your Bonney Lake Storage?
With decades of experience in designing and installing custom closet organizers, we have honed our craft to perfection. Our team of experts understands the unique challenges and requirements of Bonney Lake homeowners, enabling us to create tailored solutions that maximize space and functionality.
What makes us the best choice:
Contact Us Today for a Transformative Closet Experience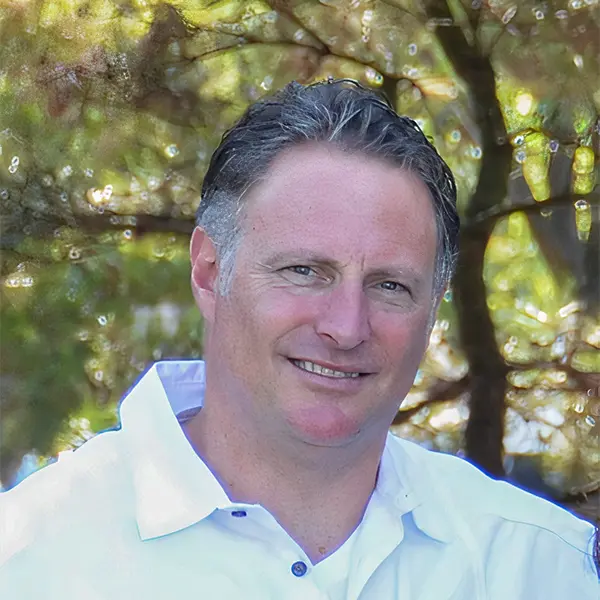 Contact us now at (425) 428-5073 to schedule your consultation and embark on a journey to a more efficient and beautiful closet.
Let Creative Closets be your partner in transforming your Bonney Lake home with a custom closet organizer that perfectly suits your style and needs.