The Best Walk-In Closets In Mercer Island, WA
Dive into a life of luxury home organizing with our walk-in closets in Mercer Island, WA.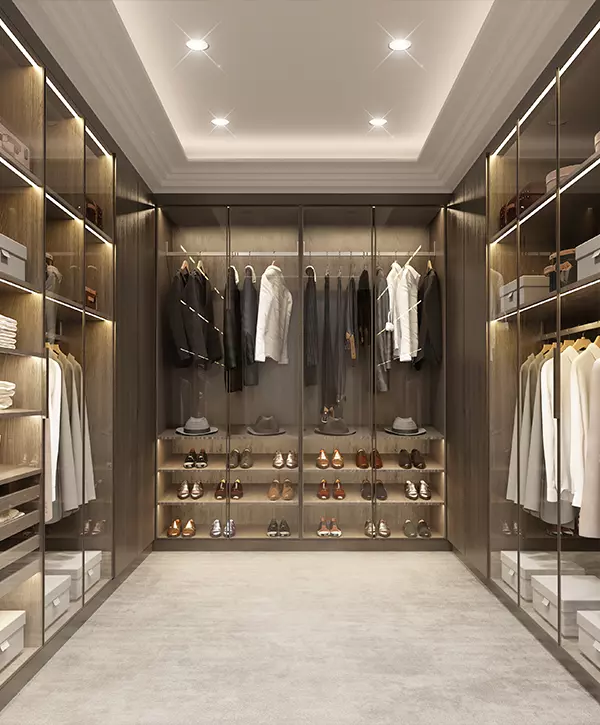 A walk-in closet is more than just a storage space; it's an intimate, personalized sanctuary. With room to explore and organize your belongings, a walk-in closet greatly enhances your daily routine, reducing clutter and saving time.
At Creative Closets, we understand the transformative power of well-designed spaces. We specialize in customizing walk-in closets to maximize your storage capabilities and reflect your personal style. Our team of skilled designers and craftsmen blend functionality with aesthetics to create an organized, stylish space uniquely tailored to your needs.
I have 5 of my closets designed and installed and couldn't be happier! Everyone was friendly and they did a wonderful job. I'm so glad I redid my closets it has made such a difference for living in a small space.
Get The Best Walk-In Closet Design And Installation Experience
At Creative Closets, we combine our deep understanding of storage solutions with our commitment to quality service. Our tailored approach ensures you get a design that's just right for you. With our unmatched experience, exceptional craftsmanship, and personal touch, we are the leading choice for customized walk-in closets in Mercer Island, WA.
As part of the Creative Closets experience, you can enjoy:
At Creative Closets, we pride ourselves on being an excellent closet design and installation company. We bring your dream walk-in closets to life in Mercer Island, WA. Our passion for design, attention to detail, and commitment to quality set us apart in the industry.
Common Features In A Mercer Island, WA, Walk-In Closet
Discover the epitome of luxury and organization with our exquisite walk-in closets in Mercer Island, WA! Experience the distinctive qualities that transform each closet into a work of art, combining impeccable design and unparalleled functionality.
Achieve impeccable organization with dedicated compartments for accessories, lingerie, and hosiery. Optimize storage while maintaining perfect order for smaller items.
Keep your jackets, sweaters, and linens neatly stored in our stylish and versatile storage boxes. Choose from a variety of colors and sizes to suit your personal style.
Stay effortlessly organized with our selection of tie and belt racks. Explore an array of colors and styles to add a touch of sophistication to your closet.
Elevate your jewelry collection with our hanging organizers. Find the perfect size, shape, and color to showcase your treasures in style.
Prepare for the day with ease using our convenient slide-out mirrors. Check your outfit from head to toe without leaving your closet.
Simplify your folding and organization routine with our dedicated folding stations. Keep your clothes tidy and optimize space without compromising on style.
Bid farewell to cluttered drawers and shelves with our space-saving pants rack options. Discover the perfect size, style, and color to keep your bottoms organized.
Infuse elegance into your closet with our stylish scarf racks. Choose from a variety of sizes, colors, and styles to showcase your scarf collection.
Step into shoe paradise with our fashionable fences and organizers. Keep your shoe collection neat and tidy with a range of designs, sizes, and colors.
Ensure your outfits are ready for the next day with our easily removable and space-saving valet rods. Experience the convenience you deserve.
Maximize closet space while maintaining impeccable clothes organization. Select from various sizes to meet your individual needs.
Bid farewell to messy laundry with our stylish hampers. Discover the perfect color and size to complement the overall look of your closet.
At Creative Closets, every walk-in closet we design is a unique reflection of your needs and aesthetics. We believe that your closet should be a space that not only meets your functional needs but also aligns with your personal style. This is why we offer a selection of high-quality accessories that you can choose from to customize your walk-in closet in Mercer Island, WA.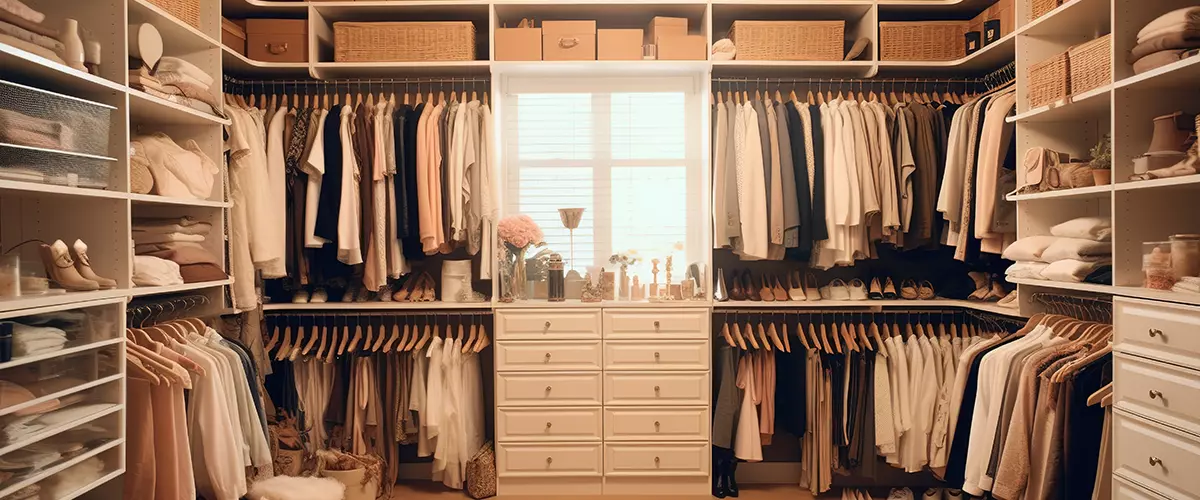 Why Your Neighbours In Mercer Island, WA, Loved Working With Us
Below, read the testimonials from our satisfied clients who experienced our exceptional service and how our custom closet solutions transformed their homes in Mercer Island, WA.
The assemblers were courteous and professional, they were neat, and did a great job assembling cabinets in my living room. They answered all my questions also. The quality of the material is also better than the usual offerings at other places.
Amazing experience from start to finish! The cost was very reasonable and the quality of the cabinets/work was exemplar. Jordan was very efficient with installation. If you are looking to get a custom closet installation done, don't waste your time comparing various companies…just go with Creative Closets.
Walk-In Closets Costs In Mercer Island, WA
The cost of a walk-in closet in Mercer Island, WA, can vary greatly due to factors such as the size of the closet, the materials used, and the complexity of the design.
On average, our clients invest between $2,500 to $5,000 for a standard walk-in closet. This price includes high-quality materials, professional design consultation, and our expert installation.
For those seeking to incorporate more luxurious features, such as top-tier hardware, advanced lighting, or custom-built accessories, the cost can increase to between $7,500 and $10,000. Keep in mind, these estimates are averages and the actual cost may vary based on your specific needs and preferences.
At Creative Closets, we are dedicated to providing a value-for-money experience and we offer various financing options to ensure your dream closet is within reach. We look forward to working with you to create a custom-designed space that perfectly fits both your budget and lifestyle.
Closet Size
Features Included
Quoted Price
Most Expensive Item
6' x 9'
Long hanging section, Double hanging section, Adjustable shelves, Drawers
$4,375
Drawers: $1,000
20' x 20'
Upgraded color (Licorice), Multiple double hutch units (Hutches), Multiple accessories, Angled shoe shelves
$9,367
Multiple double hutch units: $4,000
12' x 6'
Custom height to fit under the window, Adjustable shelves for shoes, 24" deep material with lower doors to conceal the safe
$3,645
Doors
*Please note, these prices are representative of our past projects, and your project may vary based on its unique specifications and requirements. We customize our services to fit your personal style and space, ensuring that your walk-in closet is tailor-made just for you.
The size of the closet directly impacts the cost of installation. Larger closets require more materials and labor, which increases the overall cost.
When you consider a larger space, you're not just factoring in more square footage for the basic structure of the closet, but you're also looking at additional shelving, drawers, accessories, and other features. These elements contribute to a considerable portion of the cost.
For example, a 6′ x 9′ closet with basic features such as long hanging sections, double hanging sections, adjustable shelves, and drawers costs around $4,375 in comparison to a larger 20′ x 20′ closet with upgraded color, multiple double hutch units, and angled shoe shelves, which costs around $9,367.
It's important to note that while a more spacious closet might come with a higher initial cost, the investment can be well worth it for the enhanced storage, organization, and aesthetic appeal. As always, the final cost will be a balance of your space, budget, and personal style preferences.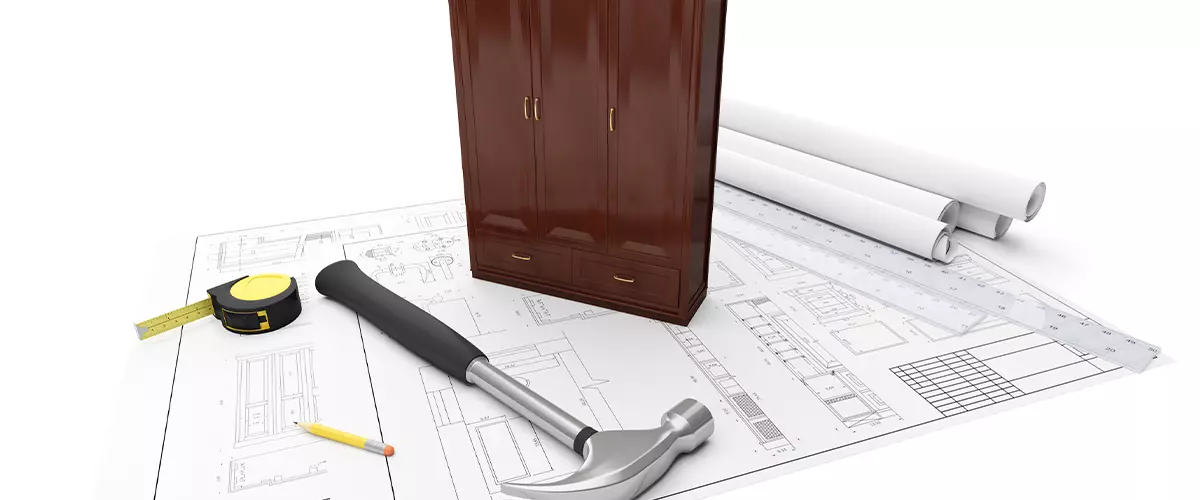 The level of customization is another significant factor that determines the cost of a walk-in closet. The more personalized and intricate your closet design is, the higher the cost tends to be.
Customization refers to the various layout designs, material choices, and accessory options that you select to suit your specific needs and preferences. For instance, adding unique features such as a pants rack, scarf rack, or a slide-out mirror might increase the price due to the extra labor and materials required.
Consider a 12' x 6' closet that includes custom height adjustment to fit under a window, adjustable shelves for shoes, and 24" deep material with lower doors to conceal a safe. The customization involved with these specifications results in a cost of approximately $3,645.
However, while opting for a high level of customization might involve additional costs, it also ensures that your walk-in closet is perfectly tailored to your lifestyle.
At Creative Closets, we strive to balance budget considerations with the desire for a personalized, functional space that brings you joy every day.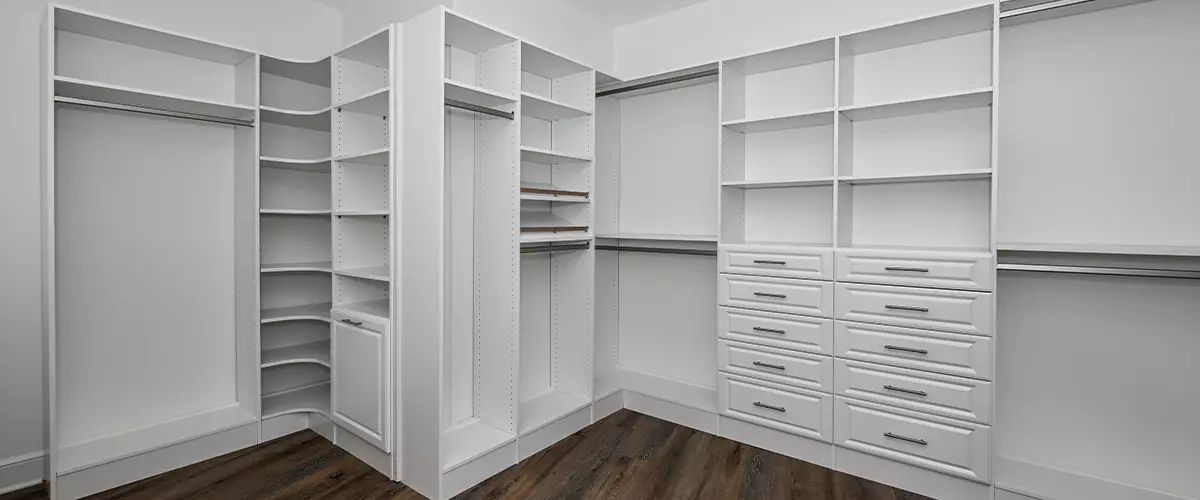 When it comes to installing a walk-in closet, modification requirements can significantly impact the overall cost of the project. These modifications could involve structural changes, lighting adjustments, or additional electrical work.
Structural changes to the closet can encompass a wide variety of alterations, such as reconfiguring the layout of the closet, adding or removing walls, adjusting ceiling heights, or creating custom built-ins. Making such changes often requires additional labor and materials, which can elevate the cost. For example, incorporating a built-in drawer system or a custom shelving unit would require extra woodworking and finishing, thus adding to the overall expense.
Lighting adjustments are another aspect of closet modifications. The right lighting can create a warm and inviting ambiance while also making it easier to locate items in your closet. This could involve installing LED strip lights, recessed lighting, or stylish pendant lights. However, each of these options carries different costs, with more elaborate lighting fixtures and installation processes contributing to higher expenses.
Lastly, if your walk-in closet design involves electrical appliances, such as a mini refrigerator or a coffee machine, additional electrical work would be necessary. Adding new electrical outlets, rerouting existing wiring, or installing new circuits can increase the installation cost due to the specialized skill and potential permits required for such work.
While these modifications can increase the initial cost of installing a walk-in closet, they can greatly enhance the functionality and appeal of your space. At Creative Closets, we work closely with our clients to provide a seamless, stress-free experience, ensuring that all modifications align with your vision, needs, and budget.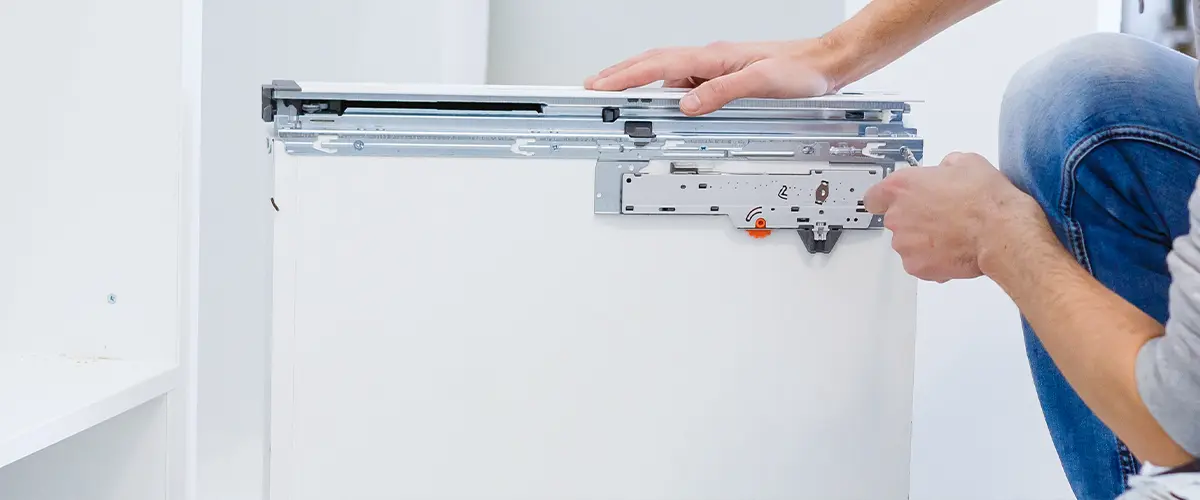 Closet accessories refer to various additions that not only enhance the functionality of your closet but also contribute to its aesthetics. These can include items such as tie racks, shoe racks, scarf racks, jewelry drawers, pull-out baskets, mirrors, and LED strip lights, among others.
Each accessory comes with a different price tag, and their cumulative cost can significantly impact the overall pricing of your walk-in closet. For instance, a simple tie rack might be relatively inexpensive, while a built-in jewelry drawer or LED strip lighting can be a more costly addition.
The impact on cost also depends on the installation process of these accessories. Some might require minimal labor and can be easily mounted onto existing structures, while others may require more complex installation processes and additional materials.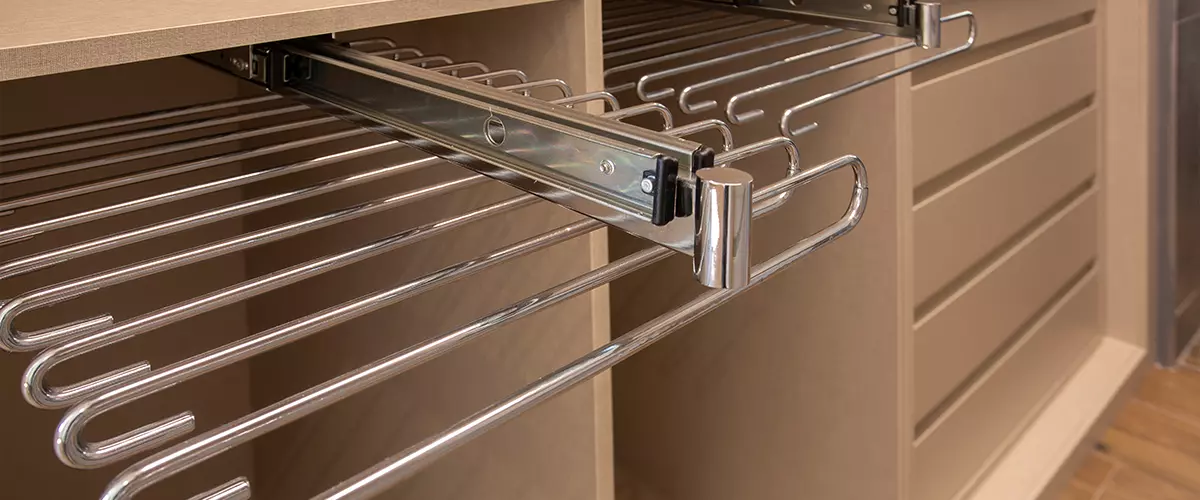 At Creative Closets, we recognize that undertaking a custom closet project is a substantial investment. That's why we're dedicated to helping you transform your vision of an organized and luxurious walk-in closet into a reality. Our financing options are designed to be flexible and cater to your unique budget and financial requirements.
Perfect Walk-In Closets, Just 3 Steps Away
Let us guide you through our simplified 3-step process for designing and installing your dream closet.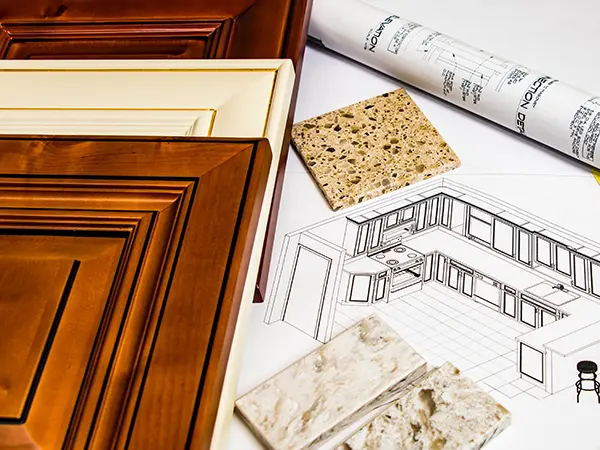 During an in-home consultation, we'll work together to create your ideal closet in 90 minutes or less.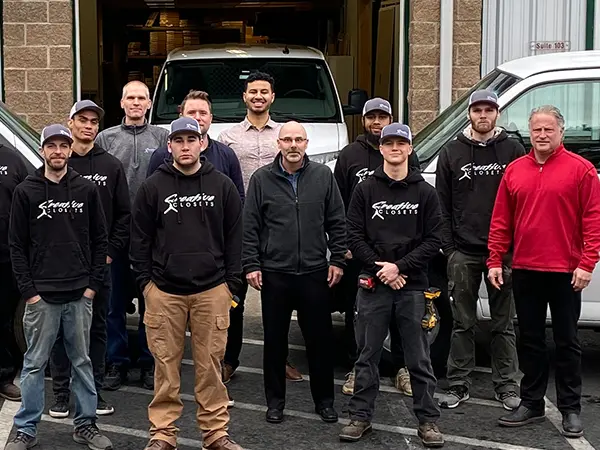 Our team will handle the installation efficiently, often completing projects in just one day.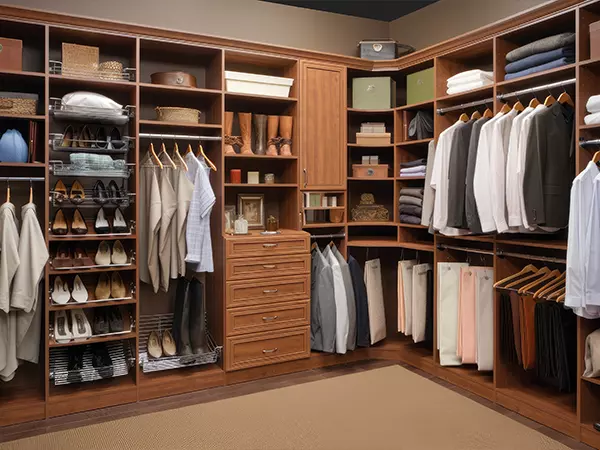 Experience the satisfaction of your new custom walk-in closet, meticulously designed and expertly fitted.
Learn More About What We Can Do For Your Home
Explore our gallery to get a taste of what Creative Closets can deliver. Here, you'll find a curated selection of our previous work, showcasing the range of styles, customization levels, and personal touches we've incorporated into our clients' dream closets.
Custom closets tend to be pricier than standard ones due to several factors. One primary reason is the level of customization involved.
Each custom closet is designed to meet specific needs and preferences of the client, which means that it is unique and requires individual planning, design, and execution.
From selecting high-quality materials to the precision required in crafting the various elements of the closet, the process is quite labor-intensive and involves highly skilled craftsmanship, which adds to the cost.
Additionally, custom closets often include special features and accessories such as built-in shoe racks, jewelry drawers, or LED lighting, which also contribute to the overall cost.
However, while the upfront cost may be higher, the investment in a custom closet pays off in the long run. Not only do custom closets add value to your home, they also make it more functional and organized, resulting in a better use of space and, ultimately, saving you time and stress. At Creative Closets, we believe that a well-organized, beautiful closet is an investment in comfort, efficiency, and happiness.
The cost of a closet varies greatly based on several factors. Firstly, the type of closet you wish to install plays a significant role. A simple reach-in closet will be considerably cheaper than a luxurious walk-in closet.
The level of customization and the materials used also affect the price. Custom-built closets using high-end materials like hardwood or with additional features like built-in drawers and LED lighting will cost more than a basic closet with standard fittings.
Remember, while a custom closet may appear expensive upfront, the long-term benefits of improved organization, enhanced utility, and increased home value make it a worthwhile investment.
Yes, it is absolutely possible to build a walk-in closet. The process involves careful planning and design to ensure that the space is utilized efficiently. You'll need to consider factors such as the room's dimensions, the amount and type of items you plan to store, your preferred style, and your budget.
The actual construction could entail adding walls, doors, and lighting, as well as installing shelving, drawers, and other storage solutions.
At Creative Closets, we specialize in creating custom walk-in closets tailored to our clients' specific needs and preferences. We guide you through every step of the process, from the initial design consultation to the final installation, ensuring that you end up with a closet that not only looks great but also serves its purpose efficiently.
While building a walk-in closet is certainly an investment, it's one that offers substantial returns in terms of convenience, organization, and aesthetic appeal.
Setting A Higher Standard For Custom Walk-In Closets In Mercer Island, WA
At Creative Closets, we stand out as the leading walk-in closet company in Mercer Island, WA, thanks to our unwavering commitment to excellence. Our team of professionals prioritizes your needs and works tirelessly to design custom closets that showcase your unique style and optimize your space. With our top-notch materials, meticulous attention to detail, and exceptional customer service, we bring your dream closet to life.
Why choose us?
Get Your Magazine-Worthy Walk-In Closets In Mercer Island, WA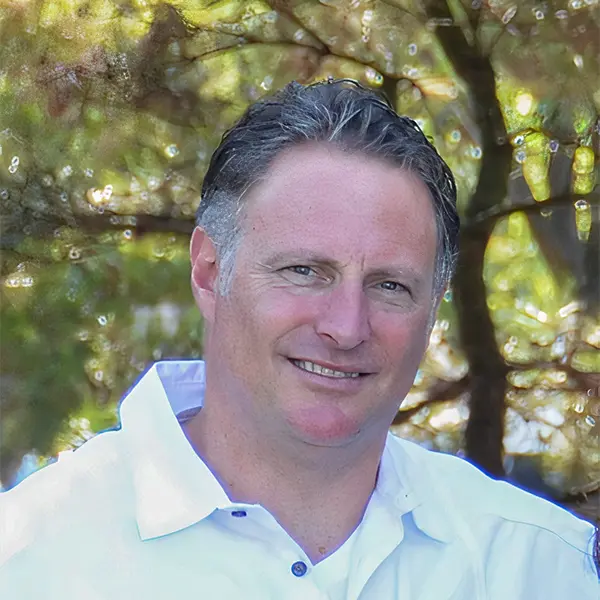 Reach out to us today at (425) 428-5073 to embark on your journey toward the dream walk-in closet you've always envisioned.
At Creative Closets, we're eager to collaborate with you, lending our expertise and passion to fulfill your unique closet vision.
Nestled in the heart of Lake Washington, Mercer Island, WA, is a serene residential community teeming with Pacific Northwest charm. The island boasts lush parks, including the tranquil Luther Burbank Park and Pioneer Park, renowned for its richly forested trails. Mercer Island's vibrant downtown area offers a warm, inviting atmosphere with an array of shops, eateries, and art galleries. For architecture enthusiasts, the iconic Mercer Island Library, an epitome of Northwest Modernist style, is a must-see. This charming island city effortlessly blends small-town charm with an upscale, cosmopolitan vibe, making it a prized gem in the Seattle metropolitan area.