The Best Garage Cabinets In Kirkland
Make your garage pop with efficiency and invest in the best garage cabinets around here!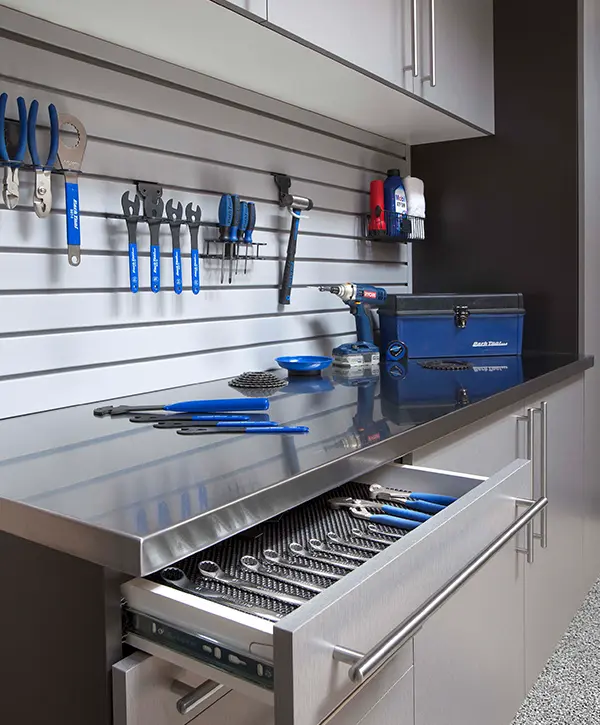 Having stuff all around the garage floor is a real bummer. Not only is everyone constantly tripping over something, but you have screwdrivers rolling on the floor and landing underneath the car, screws and nails falling behind backless cabinets, and so many sporting goods leaning against the garage walls that it's actually annoying.
How can we possibly help with such problems, you ask? By planning and installing new garage cabinets and organizing accessories meant to keep everything in a designated place. 
From custom-made workbenches to overhead mounting racks, we will help plan every square inch of your garage so clutter never gets in your way.
We've used Creative Closets on three occasions to outfit three closets and a garage. The quality is fantastic. The price is great. The service is impeccable. If you're looking for great-quality at an affordable price, call Creative Closets.
Make The Most Out Of Your Kirkland Garage
We don't want you to waste time rummaging through a cluttered garage. It's not just about aesthetics, it's about getting rid of the frustration of wasting 15 minutes to find a hammer. 
It's about having space in your garage to actually park the car without having to constantly move boxes out of the way. It's about how you can use your space with zero frustration.
We can deliver garage cabinets and storage solutions that include:
We don't sell these things and have you figure out how to install them yourself. We offer complete design and installation services that minimize garage downtime and help you reclaim your space without leaving your home.
What Features Do Kirkland Homeowners Want for Garage Storage?
Whether it's old toys, cleaning supplies, sports goods, or other tools, the garage is the go-to place when you can't find something. If this is your case, here are the main features of Kirkland garage cabinets that could completely change how you organize your space.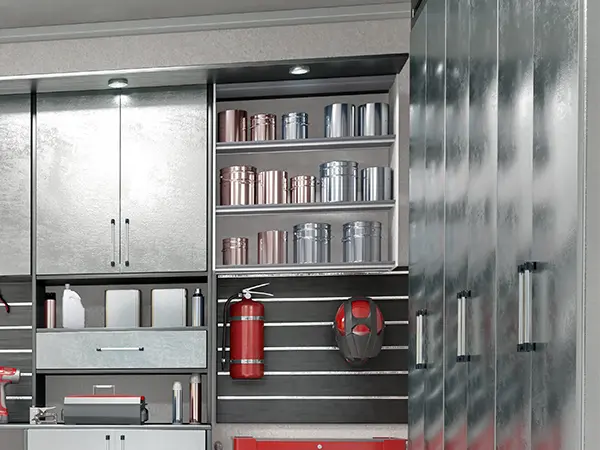 Our garage cabinets come with adjustable shelves, allowing you to customize the storage space to fit your specific needs. This ensures efficient organization and easy access to your belongings.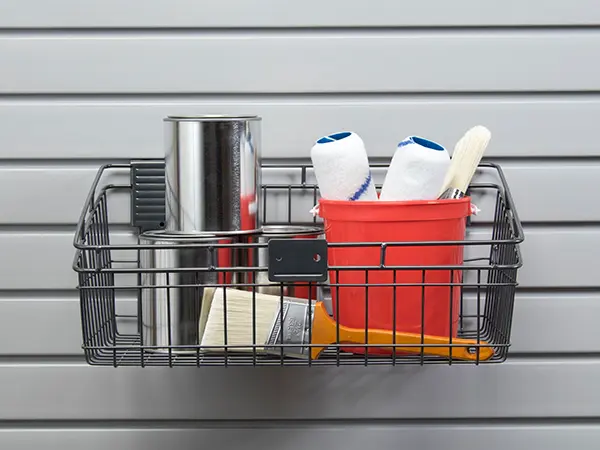 Storage Boxes and Baskets
We offer a range of storage boxes and baskets that can be incorporated into your garage cabinets. These containers are perfect for keeping smaller items neatly organized and easily accessible.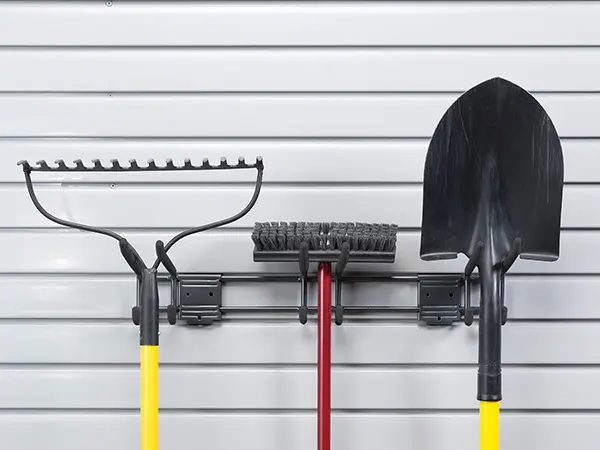 Our garage cabinets feature various hook options to hang and store items such as tools, bags, or sporting equipment. These hooks help maximize space and keep your belongings within reach.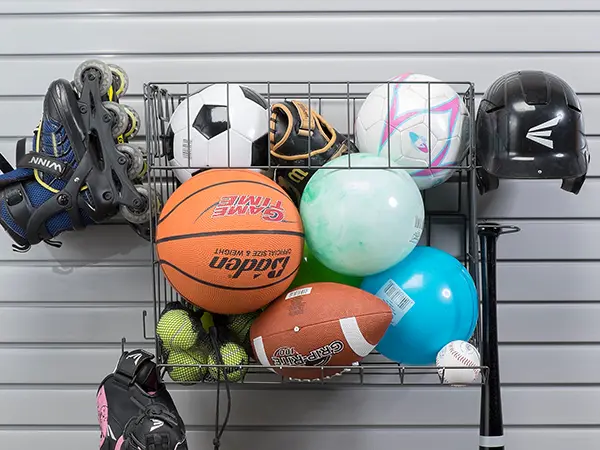 Our sports racks are designed specifically to store and organize sports equipment, whether it's bicycles, golf clubs, or other gear. These racks help keep your garage clutter-free while protecting and displaying your equipment.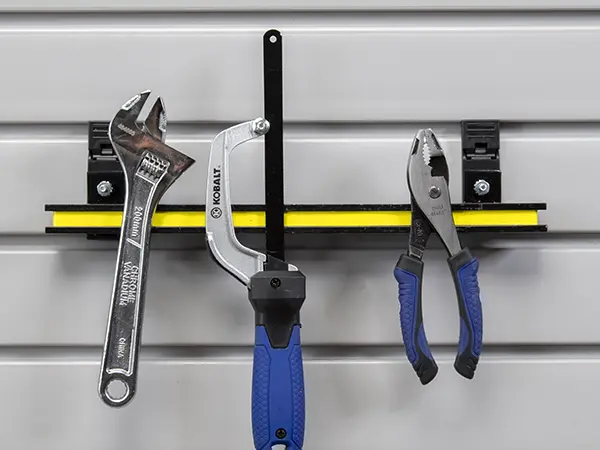 Keep your tools organized and easily accessible with our tool racks. These racks provide designated spaces for different types of tools, making it convenient to find and use them when needed.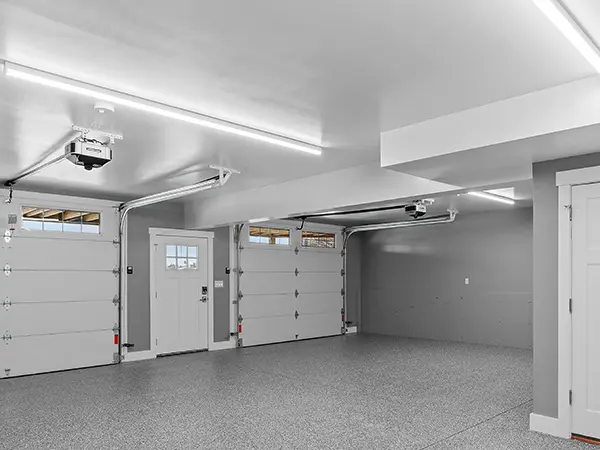 Illuminate your garage workspace with our integrated lighting systems. These lights ensure clear visibility and make it easier to work on projects or find items in your garage cabinets.
Our garage cabinets can be equipped with slatwall organization systems. This allows you to hang and arrange various accessories, tools, and equipment on the slatwall, keeping your garage tidy and maximizing storage space.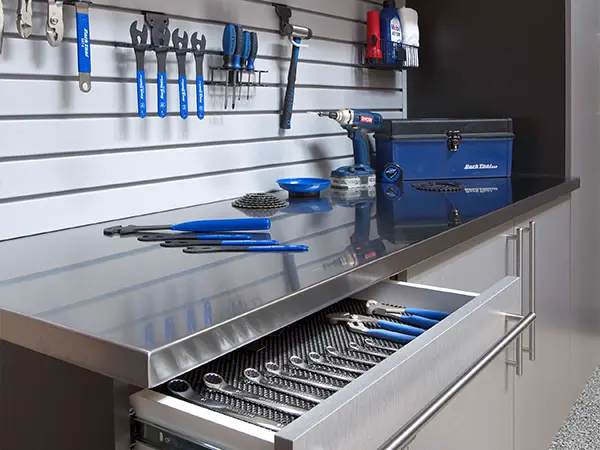 We can customize your garage cabinets in Kirkland with integrated workbenches, providing a dedicated workspace for your projects. These workbenches come with storage cabinets, allowing you to keep your tools and materials close at hand while working.
If you're ready to reclaim your space, contact us for a complimentary garage analysis so we can determine what you need, when you need it, and how it's going to look.
Your Neighbors Loved Us - And So Will You!
We're making it extremely easy for our customers to work with us. From start to finish, your needs are taken care of and we're ensuring a complete service that leaves you fully satisfied!
Broc and the installers were great! Very professional and attentive. Our experience with them was great and we love our closet and the shelving installed in our garage.
The gentlemen who showed up were quite professional. Before they began, they went over all the details with me. They removed all of the old closet and installed the new. When they left, they left the work area in the garage nice and clean.
Understanding Garage Cabinets Cost In Kirkland
Due to the unique nature of each project and the customization options available, we are unable to provide an immediate upfront price without first understanding the specific details of your requirements.
We want you to get the cabinets you want, which means we have to listen to you before having anything else to say. With the right measurements and an understanding of your needs, we can tell you more about the end cost.
We've whipped up a table with some of our recent past projects and their prices just so you can get an idea of what to expect.
| Garage Storage Project | What's Included | Price |
| --- | --- | --- |
| 20' Wall Of Cabinets & Workbench | Pewter cabinets, full-lenght handles, 10+ separate storage areas | $7,000 |
| Workbench & Slatwall Panel | Tall cabinets, workbench with top + bottom cabinets, Slatwall tool storage system | $9,000 |
| 22' Full Wall Cabinets & Slatwall | Tall cabinets, Slatwall system, workbench with cabinets and drawers, overhead storage | $11,000 |
Please keep in mind that the cost of our garage services will vary based on factors such as the size of your garage, your storage requirements, and other variables unique to your situation.
The size and complexity of your desired garage cabinet layout play a huge role in the end price.
We recently completed a custom garage cabinet installation on a 20′ wall, which cost approximately $3,500. These cabinets included full-length handles, more than 10 separate storage areas, and a stylish pewter finish.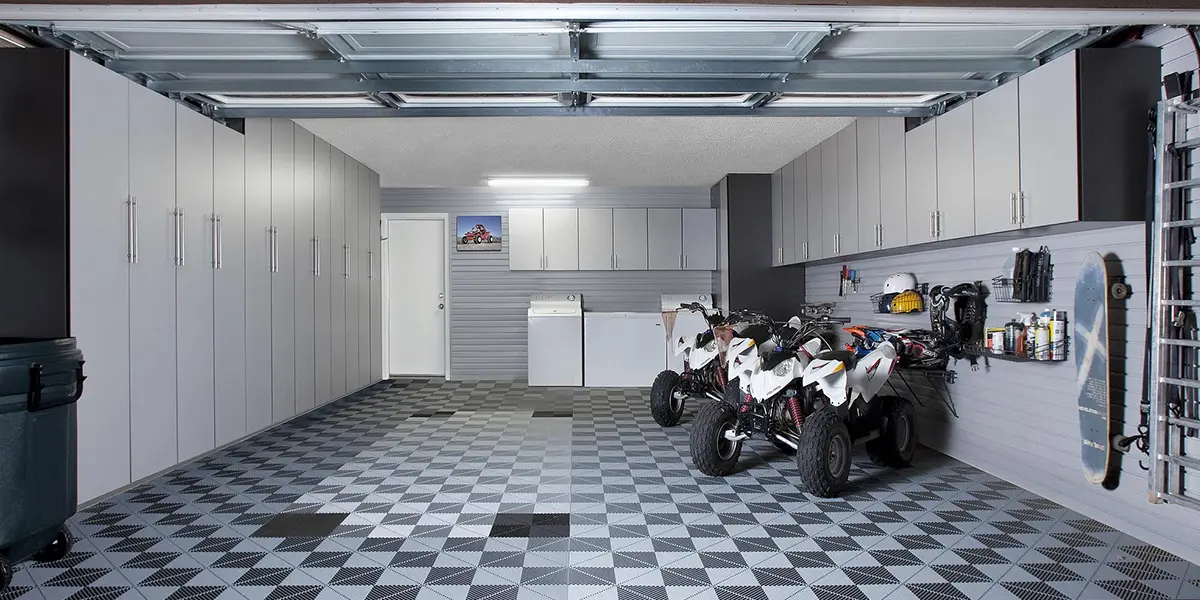 You can expect to pay more for garage cabinets that cover an entire wall and include lights and workbenches as opposed to a simple cabinet that doesn't have any other fancy features.
For example, we offer the installation of tall cabinets that include a convenient workbench and a Slatwall tool storage system. This configuration typically ranges from $8,500 to $9,000, depending on the specific size of the cabinets and workbench. If you want a larger system that incorporates overhead storage racks and cabinets above the workbench, the prices can increase to around $11,000.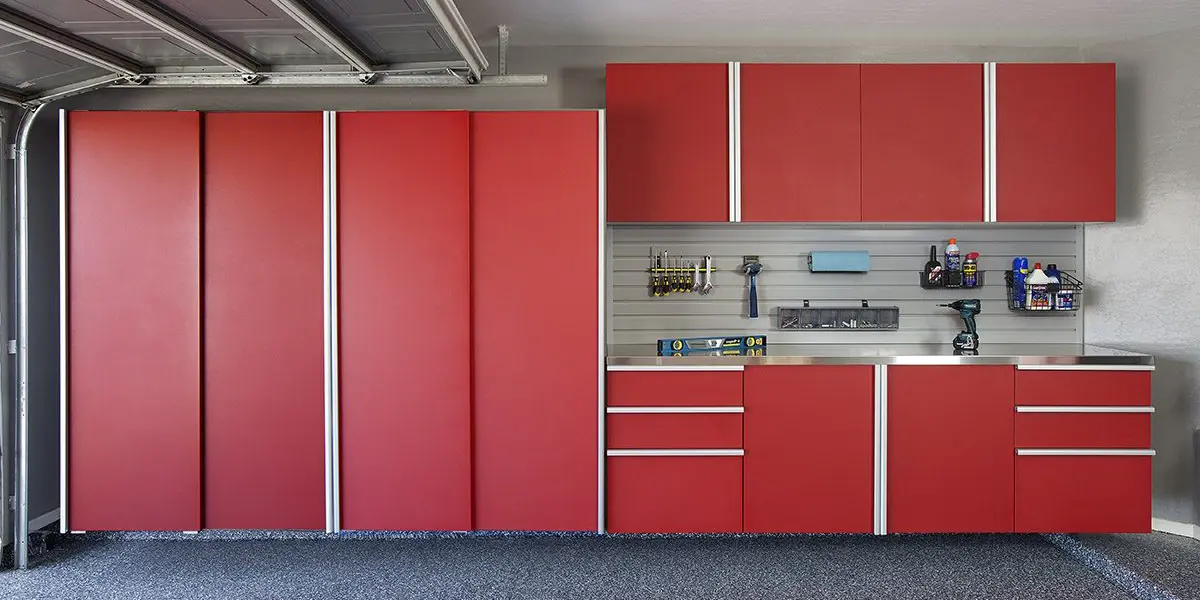 The style and materials used for garage cabinets can affect their appearance and price. Basic designs are generally cheaper, but fancier details like decorative hardware or custom finishes can be more costly.
At Creative Closet, we offer a variety of finishes to match your design preferences, including Pewter, White, Maple, Silver, and others.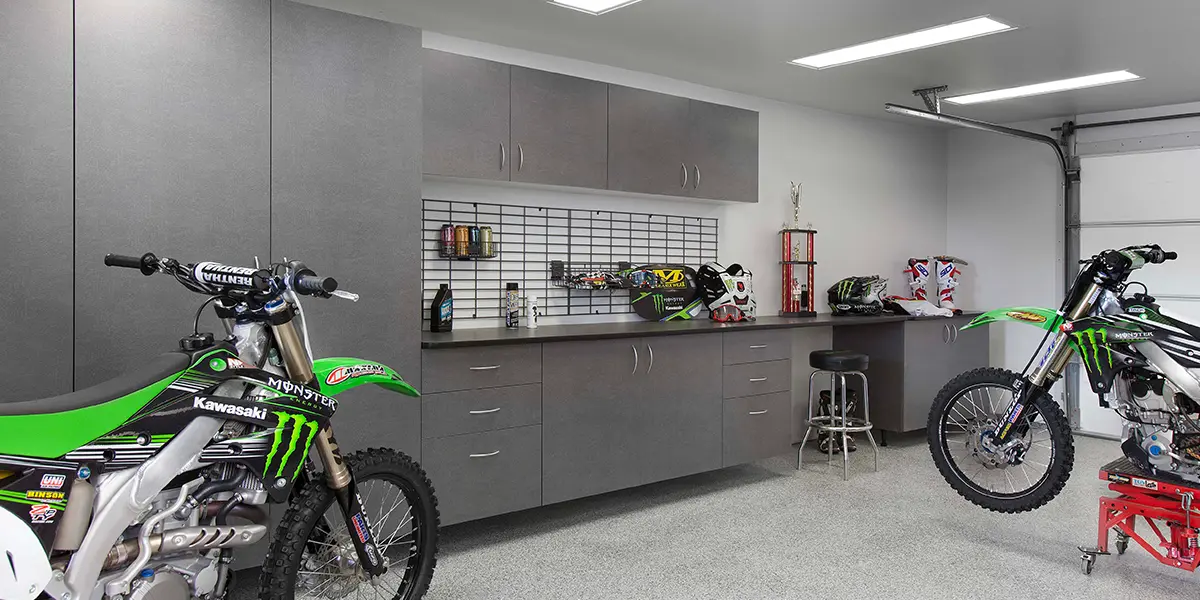 The price of garage cabinets may be affected by the difficulty of the installation process. This can include things like the condition of the walls, whether lighting needs to be installed, if plumbing is required, or if a lot of customization is needed. To avoid surprises, make sure to keep these factors in mind when planning your budget for your garage cabinet project.
We guarantee a one-day installation for your garage cabinets in Kirkland, so you don't have to waste days waiting around for our installation crew to get the job done.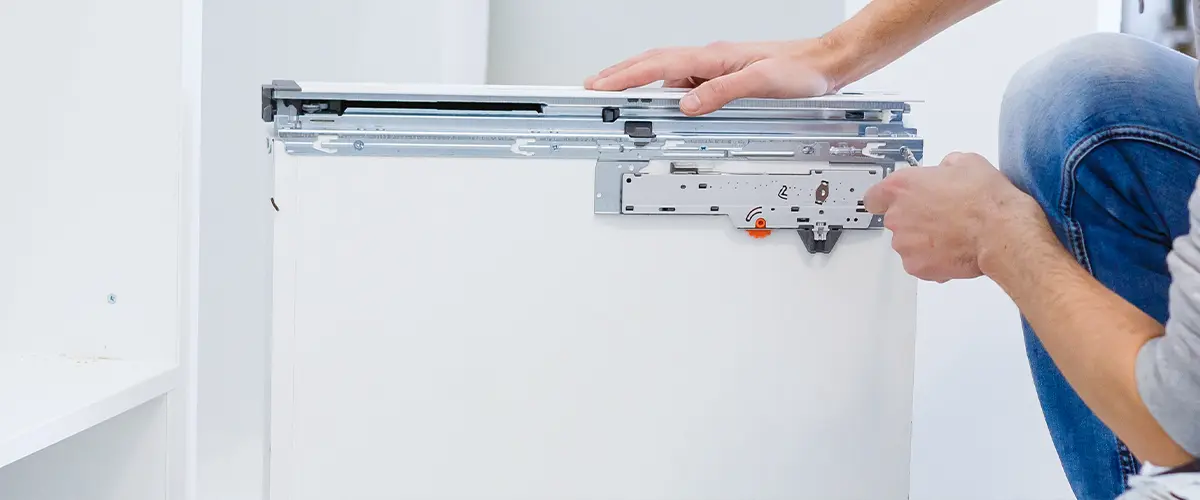 Contact us so we can send one of our expert designers to your Kirkland garage and have them reimagine the place with 3D renderings of cabinets and storage solutions we can install with zero headaches on your behalf!
Here's How Everything Goes...
3 Key Features for Excellent Garage Cabinets
There's a reason why people turned to us to install more than 8,000 closet systems so far: because we are committed to quality products that make your life easier. Our garage cabinets are no exception, which is why they were designed with three important features that make them stand out from the crowd.
Our garage cabinets are designed with complete backings, providing a solid and enclosed storage solution. This ensures that your belongings are protected from dust, debris, and pests, keeping them clean and in excellent condition.
We pride in our thermally-coated cabinets with a durable and resistant finish, offering protection against scratches, stains, and other potential damage. This ensures that your cabinets maintain their attractive appearance and remain in excellent condition for years to come.
Our garage cabinets feature sturdy shelves that are built to withstand heavy loads of up to 100 pounds and provide reliable support for your items. With our sturdy shelves, you can confidently store your belongings, knowing they are secure and won't sag or buckle under the weight.
Common Garage Cabinets Questions
We had our garage renovated by Creative Closets and we're extremely happy. We had multiple cabinets installed, slat walls, overhead racks, etc. and our dream of having an organized garage is now a reality! Highly recommend the Creative Closets crew.
Your Picture-Perfect Garage Is Waiting
At Creative Closets, we believe in transforming your garage into a space you can truly be proud of. We understand the importance of maximizing every square inch of your garage, both horizontally and vertically. 
That's why we offer a range of customizable storage options tailored to your specific needs and preferences. No more stumbling over tools or wasting valuable space!
Kirkland garage owners love us thanks to our:
You're One Step Closer To a Clutter-Free Garage In Kirkland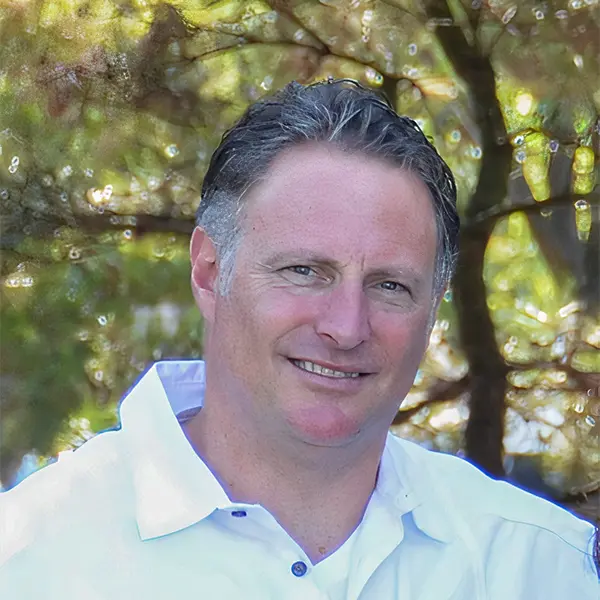 Transform your garage into a well-organized and functional space with our premium garage cabinet solutions in Kirkland. Contact us now at (425) 428-5073 to schedule your design consultation and unlock the true potential of your garage.