Maximize your closet space and get dressed in minutes with a wardrobe closet in Maple Valley, Issaquah, Renton, Kent, Sammamish, and more of WA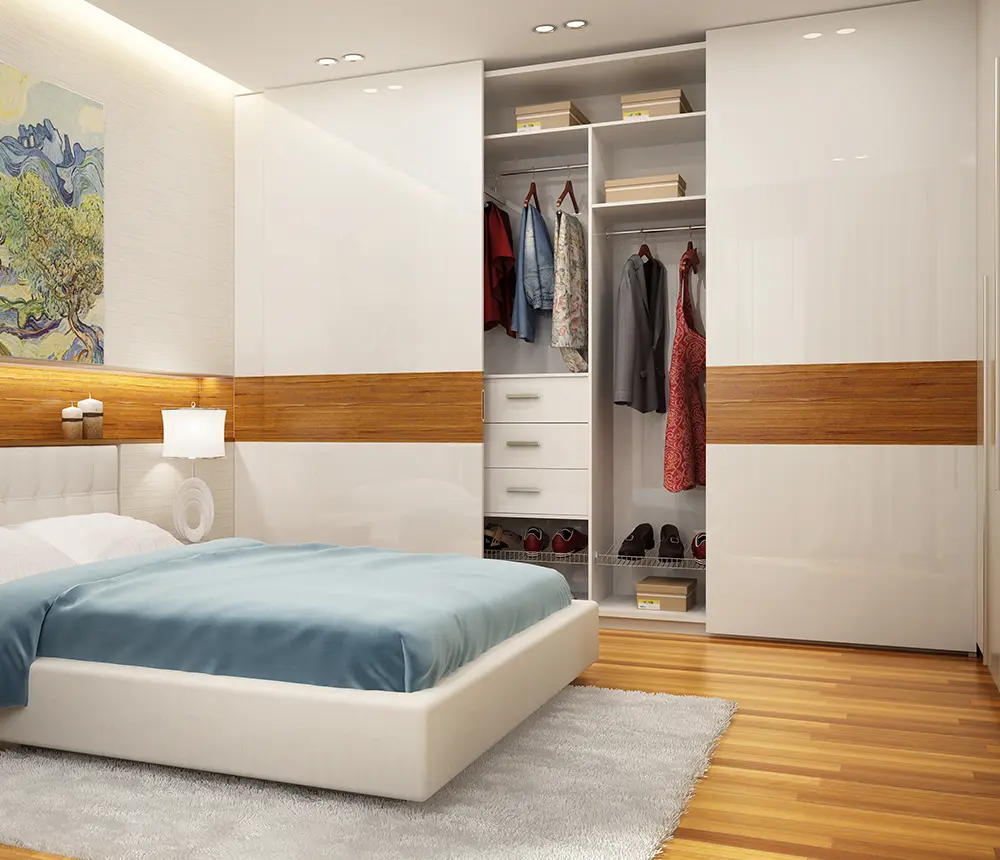 Scroll down to discover wardrobe closet options, process, and pricing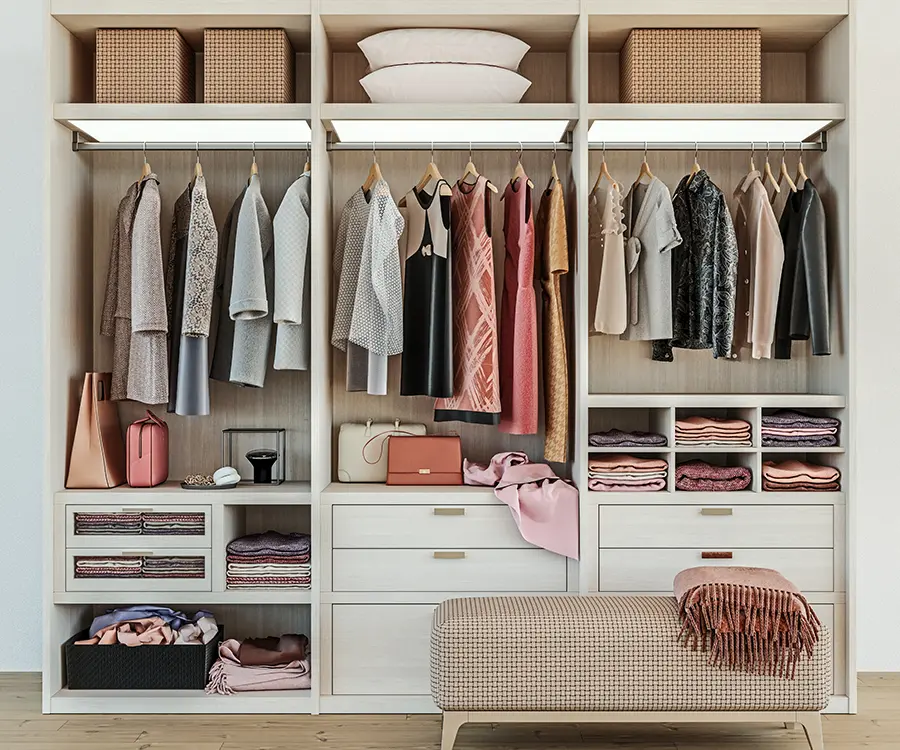 Transform Your Bedroom with a Customized Wardrobe Closet
Do you dream of an organized and stylish bedroom but feel limited by a lack of storage space? Let a customized wardrobe closet be the solution to your problem. These masterpieces of storage not only offer an incredible amount of functionality but can also transform your room into a beautiful and stylish space.
No matter your personal style, you can create a customized wardrobe closet that is perfectly tailored to fit your preferences and needs. 
From wardrobes that span on entire walls to classic hinged types, we can help you design a storage solution that will be a perfect fit for your available space.
Keep clothing items organized and easily accessible with these wardrobe accessories:
Finally, A Perfect-Fit Wardrobe For Your Available Space
Depending on the style you want and your space restraints, you have plenty to choose from when it comes to your wardrobe.
Sliding door wardrobe: This type of wardrobe has doors that slide open and closed instead of swinging outward. It's a great option for rooms with limited space because it doesn't require extra space for door clearance.
Fitted wardrobes: These wardrobes are designed to fit perfectly into a specific space, whether it's a recessed wall or an awkwardly shaped room. They are custom-made to fit the exact measurements of the space.
Hinged wardrobes: This type of wardrobe has doors that swing open and closed on hinges. They are a popular and traditional style of wardrobe.
Corner wardrobes: As the name suggests, these wardrobes are designed to fit into the corner of a room, which can be a great space-saving solution.
Single wardrobes: These wardrobes are compact and designed for single-person use. They are perfect for small rooms or for use in guest rooms.
Glass wardrobes: These wardrobes have glass doors that can provide a modern and sleek look. They are a great option if you want to showcase your clothes and accessories.
Open wardrobes: This is a type of wardrobe without doors. It's a great option if you want your clothes and accessories to be easily accessible and visible. It can also provide an open and airy feeling to your room.
A walk-in closet is a larger type of closet designed to be walked into and provides ample space for storage and organization of clothing and other personal items. On the other hand, a wardrobe is a separate piece of furniture. It can come in various sizes and styles, and it is typically freestanding rather than built-in, like a walk-in closet.
Absolutely! We're proud to offer a lifetime guarantee on all the wood components, accessories, and installation of your wardrobe. This is a testament to our commitment to your satisfaction and provides peace of mind that we stand behind our work. In the unlikely event that you experience any issues with your wardrobe, we'll be available to address them promptly as long as the products are used for their intended purpose.
Once you have finalized the design, color, style, and accessories for your custom wardrobe, we will immediately order the necessary materials and schedule your installation on the earliest available date that works for you. Our skilled installers will typically complete the installation process within a day, and you can expect your project to be fully finished within 6 to 8 weeks from the initial consultation.
The dimensions of your wardrobe closet will ultimately depend on the size of the area where you plan to install it and the amount of storage you require. For optimal storage of hanging garments, we typically recommend a depth of at least two feet in your wardrobe closet. Beyond that, the possibilities are endless – the size of your wardrobe can be customized to fit your unique wants and needs. Whether you're looking for a compact wardrobe for a small space or a large one to store your entire wardrobe collection, we can create a design that works best for you.
Since every wardrobe is a unique and customized space, the price can differ based on your needs and preferences. However, on average, you can expect your wardrobe cost to start at $1000 and go up depending on the complexity and features of your design, such as multiple hanging areas, adjustable shelves, drawers, baskets, hampers, and specialty lighting. At our in-home consultation, we'll determine the exact cost of your wardrobe closet.
A Perfect Wardrobe In 60-90 Minutes
Stay in the comfort of your own home as we bring the showroom to your door. We'll go through samples, accessories, and create a 3D design for your wardrobe on the spot, and you can keep it without obligations.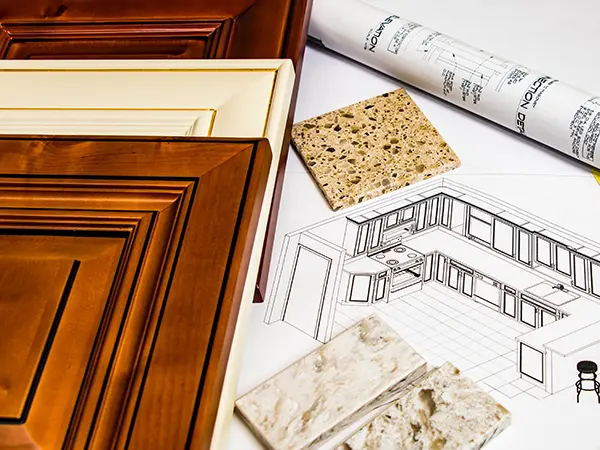 In-Home Design Consultation
Let's talk about how you like to store your clothing items, adjusting everything on the go using our top-of-the-line 3D software.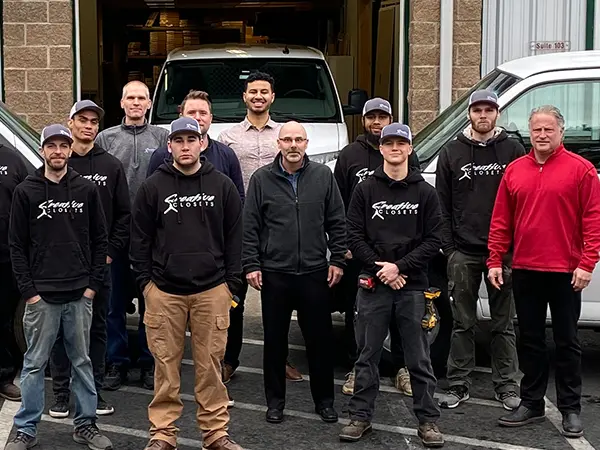 Once materials are delivered, we start the 1-day installation process of your new wardrobe whenever it's convenient for you.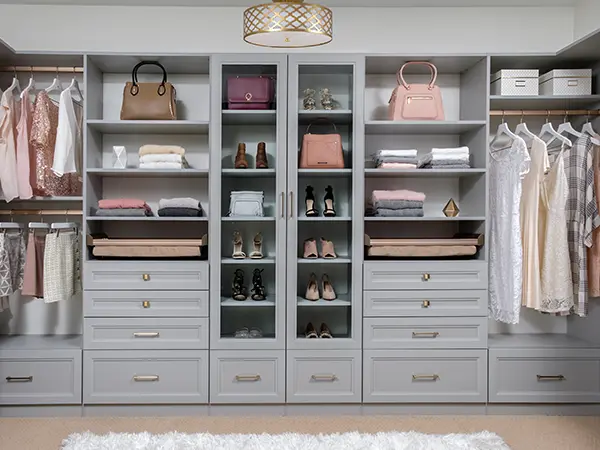 Enjoy An Clutter-Free Room
Keep all your clothes in the same place and get ready in minutes now that you finally have a functional wardrobe closet.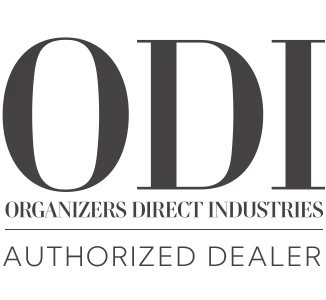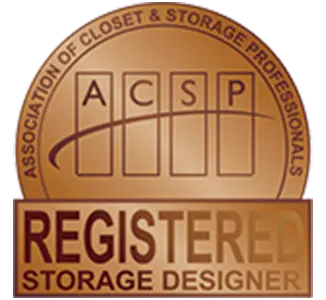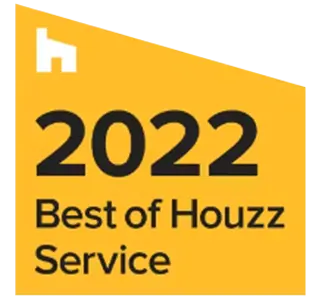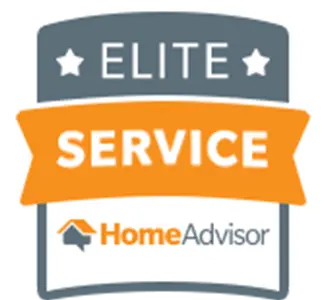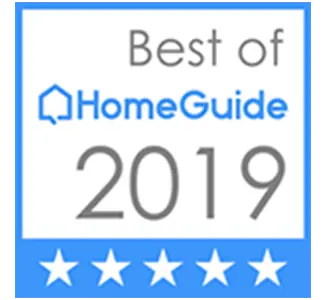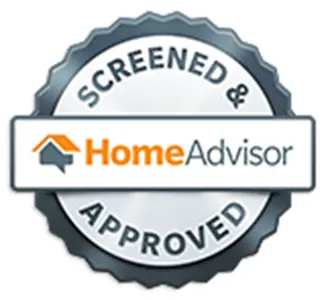 From Cluttered to Organized - Success Stories Across Washington
Creative closets had always done an excellent job with our closets.
We have been working for them for about 8 years now and we have never been disappointed. Tim does an excellent job with design and giving suggestions.
The installation team is also very professional and they do a very neat and well done job and they work fast. They are excellent!
Creative Closets LLC was a positive experience to do business with.
The design, use of space, quality materials, listening to needs and concerns to a flawless installation with all expectations being met.
I feel good about the people, product and outcome in my home. Thank you!
Creative Closets were clean, courteous, timely and listened to what our needs and wants were.
I am more than pleased with how much closet space I gained with our new design!
I would highly recommend!!!
Feel At Ease With A Professional Designing Your Wardrobe Closet
Learn more about our personalized approach in the video below.
More Advantages For Your Wardrobe Closet
We believe in providing a fully personalized consultation for every wardrobe closet that we design and install.We start with a complimentary wardrobe analysis to ensure a perfect fit for your unique needs and lifestyle.
Our workmanship and materials are backed by a lifetime warranty for every wardrobe closet we install. Any issues will be addressed promptly, and the warranty is even transferable if you sell your home.
We understand that pricing is a crucial factor when making a purchase. If you find the same materials, style, colors, and wardrobe options at a lower price, we'll match that price and even give you an extra 5% discount.
Take Advantage Of All The Space You Have With A Custom Wardrobe Closet
Free consultation, financing options, and 1-day installation guaranteed.