The Best Garage Cabinets In Maple Valley
Your new garage cabinets await you! Don't you want a pro to install them?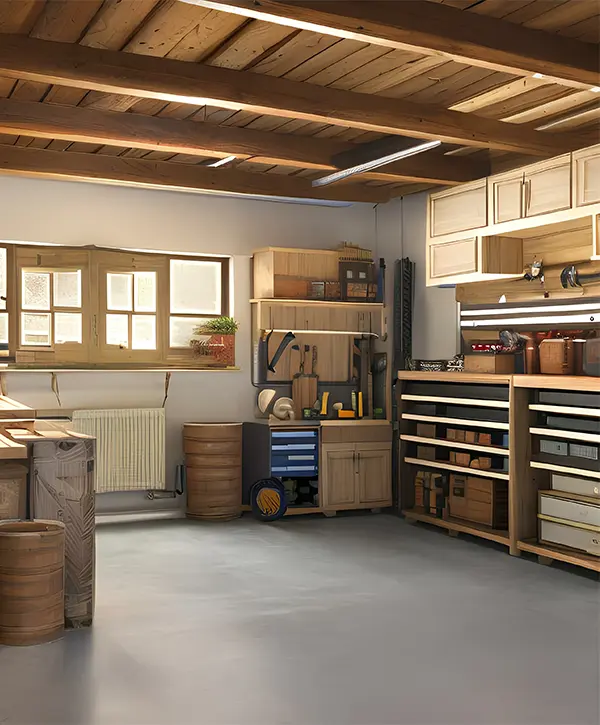 Have you ever walked in your garage only to trip over your tools, sporting gear, cleaning products, or gardening tools? Maple Valley homeowners like you often call us saying they don't have room to park their cars in the garage.
We understand your frustration and your strong desire for a more organized garage space. That's why our focus is entirely on you and your needs. 
Experience the transformation you've longed for as we design and install custom garage storage solutions tailored to your unique requirements. Get ready to reimagine the way you use and perceive your garage.
This is the 4th closet I have had installed by Creative Closets. I also have a custom linen closet as well that is due to be installed in November. Everyone has been great to work with from the owner Tim, the install manager Broc and the installer Jordan. Could not be happier with the looks and quality of material. I originally started out with another company, glad I did more research and found these guys. There are different levels of quality in the materials the companies use to build the closets. This one is more expensive but I really feel it is worth it. The saying "you get what you pay for" has never been more true. I have one more closet to go in my home office and I will definitely be using Creative Closets.
Free Up Floor Space With Our Maple Valley Garage Cabinets
Our intelligently designed hooks, racks, and shelves ensure your items are neatly arranged, creating a visually pleasing and functional environment. It's time to prioritize your convenience, peace of mind, and the joy of a garage that truly reflects your lifestyle.
When you work with Creative Closets on your garage cabinets, you get:
Contact us today to schedule a consultation, and let's embark on a personalized garage storage solution that will elevate your everyday life.
What Features Do Maple Valley Homeowners Want for Garage Storage?
Maple Valley homeowners are often frustrated over tripping over tools lying on the garage floors. A lot of people use garages for storage up to the point where there's no room left to park the car. These functional and versatile features can make a difference in maximizing your storage space. Let's explore some key features you'll love when considering garage cabinets for your home.
Garage cabinets with adjustable shelves offer incredible flexibility. You can easily customize the height of each shelf to accommodate items of different sizes, whether it's your power tools, paint cans, or gardening supplies. This adaptability ensures you make the most of every inch of your cabinet space.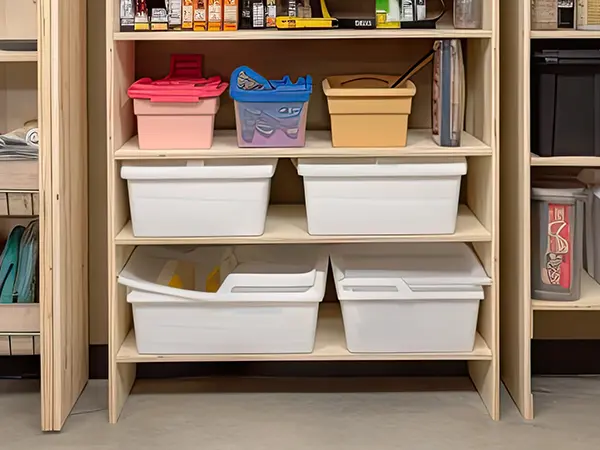 Storage Boxes and Baskets
Consider incorporating storage boxes and baskets within your cabinets to keep your garage neat and tidy. These handy additions help you categorize and group similar items together. From screws and nails to gardening gloves and cleaning supplies, using storage boxes and baskets makes finding what you need a breeze.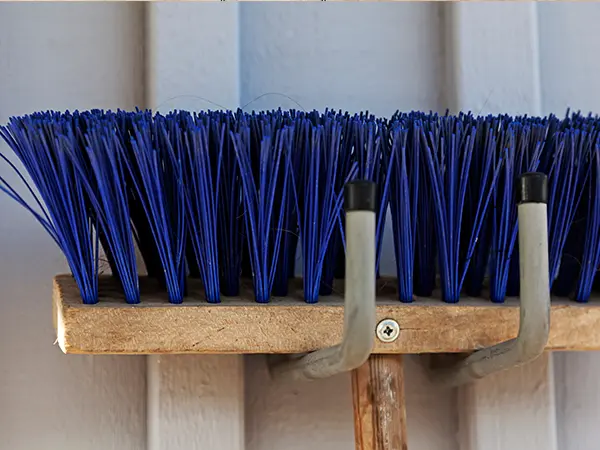 One of the simplest yet highly effective features of garage cabinets is the use of hooks. These versatile attachments can be used to hang frequently used tools, extension cords, or even your trusty bike. Utilizing hooks can help you free up valuable floor and wall space, and keep your belongings easily accessible.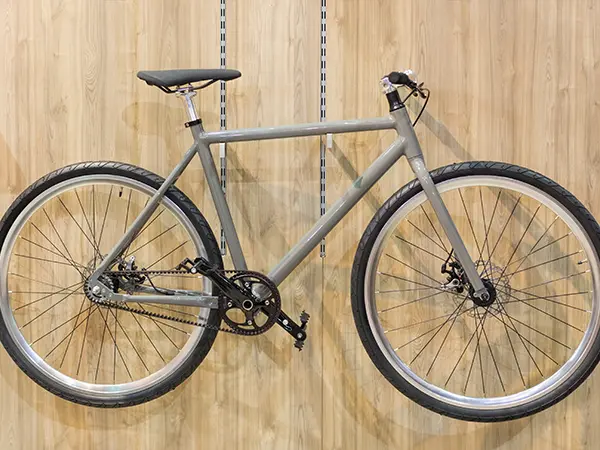 If you're a sports enthusiast, sport racks are a game-changer. These specialized racks are designed to store and organize all kinds of sporting equipment, like bicycles, golf clubs, skis, and more. By securely mounting your sports equipment on dedicated racks, you can protect them from damage while keeping them organized and within reach.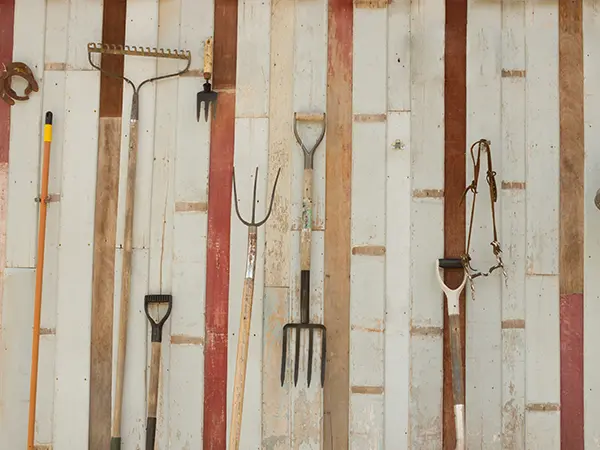 Every DIY enthusiast knows the importance of having tools readily available. Garage cabinets with tool racks provide designated spaces to hang your hammers, wrenches, and screwdrivers. They can also be used for some of your gardening tools. This feature keeps your tools organized and ensures that you can easily locate the right tool for any project.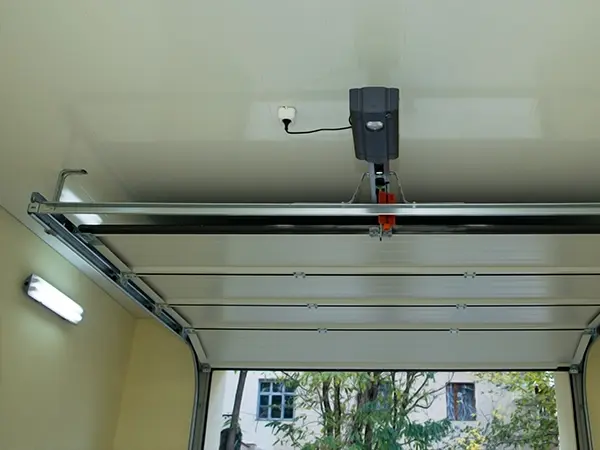 A well-lit garage makes a world of difference when it comes to functionality and safety. Consider garage cabinets with integrated lights, illuminating your workspace and making it easier to find items in darker corners. Whether you're working on a project or simply retrieving something from your cabinet, integrated lights are a valuable addition.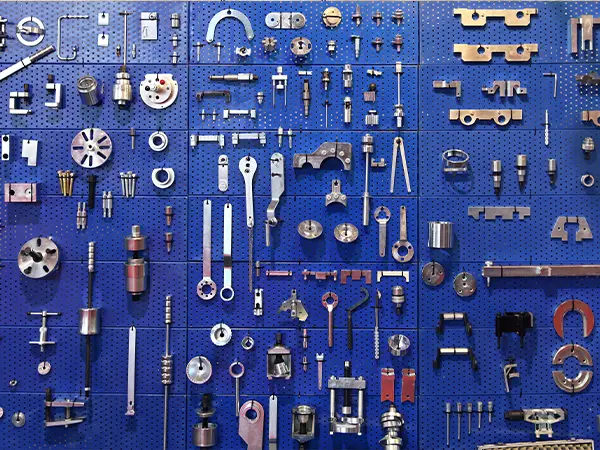 Slatwall systems offer a highly customizable and flexible storage solution. You can easily reconfigure your storage layout as your needs evolve by attaching various hooks, shelves cabinet boxes, and baskets to the Slatwall panels. This feature allows you to optimize your storage space while keeping your belongings within reach.
Having a dedicated workbench in your garage is a dream come true for DIY enthusiasts and hobbyists. Garage cabinets often offer the option of integrating a sturdy and functional workbench. With a spacious surface and storage drawers, a workbench becomes the perfect spot for your projects, repairs, or creative endeavors.
At Creative Closets, we aim to identify what you store in your garage and create a designated space for each item using high-quality, customizable garage cabinets and other options that provide that additional garage storage space you need.
Your Neighbors Loved Us - And So Will You!
We love serving Maple Valley's homeowners because you're our neighbor! We've helped hundreds of people around here already, and we hope you're next!
From the making an appointment for in person design to installation, creative design was professional and prompt. They were able to explain step by step to me and it was a breeze to customize the closets as I wanted! Also, the closet installation comes with Life time warranty which is a plus! Thank you so much Creative Closets!
I highly recommend Creative Closets! They were extremely responsive, easy to work with, accommodating & professional. We had several closets in our home built out as well as our kitchen pantry. On the day of install they had a large crew show up and got the project done fast. Everything is sturdy and high quality. We are very happy with our service from start to finish.
Understanding Garage Cabinets Cost In Maple Valley
One of the most effective ways to keep your tools, gardening supplies, and other belongings safe and easily accessible is through garage cabinets. At Creative Closets, we understand the importance of finding the perfect cabinets that suit your needs and budget.
Here is a table showcasing some numbers and costs for some of the previous garage storage projects we've done.
| Garage Storage Project | What's Included | Price |
| --- | --- | --- |
| 20' Wall Of Cabinets & Workbench | Pewter cabinets, full-lenght handles, 10+ separate storage areas | $7,000 |
| Workbench & Slatwall Panel | Tall cabinets, workbench with top + bottom cabinets, Slatwall tool storage system | $9,000 |
| 22' Full Wall Cabinets & Slatwall | Tall cabinets, Slatwall system, workbench with cabinets and drawers, overhead storage | $11,000 |
Note that every garage is different, and some factors will impact the end cost. We first have to measure your garage, discuss your storage needs, and determine the variable before we can give you accurate pricing for your situation.
The size and configuration of your garage cabinets will affect the cost. Larger cabinets or complex configurations requiring customization will be more expensive than standard cabinet layouts. Additional features like built-in workspaces, specialized compartments, overhead space, or unique design elements can also contribute to the overall cost.
In one of our past projects, we designed and installed custom garage cabinets mounted on a 20′ wall for around $3,500. These included full-length handles, more than 10 separate storage areas, and a pewter finish.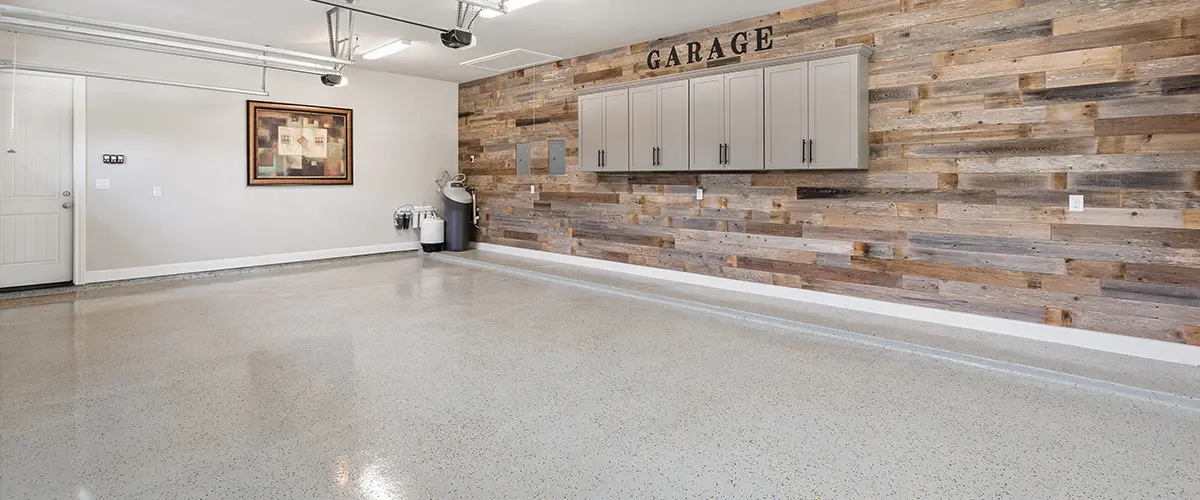 Tailoring your garage cabinets to your specific needs and preferences can increase the cost. Customization options such as adjustable shelves, specialized racks, pull-out drawers, and integrated lighting systems can enhance functionality but may add to the final price. Accessories like hooks, bins, and baskets are additional items that can influence the overall cost.
We can install tall cabinets that include a workbench and Slatwall tool storage system for around $8,500 to $9,000, depending on the size of the cabinets and the workbench. If you want a larger system with overhead storage racks and cabinets above the workbench, prices can go up to $11,000.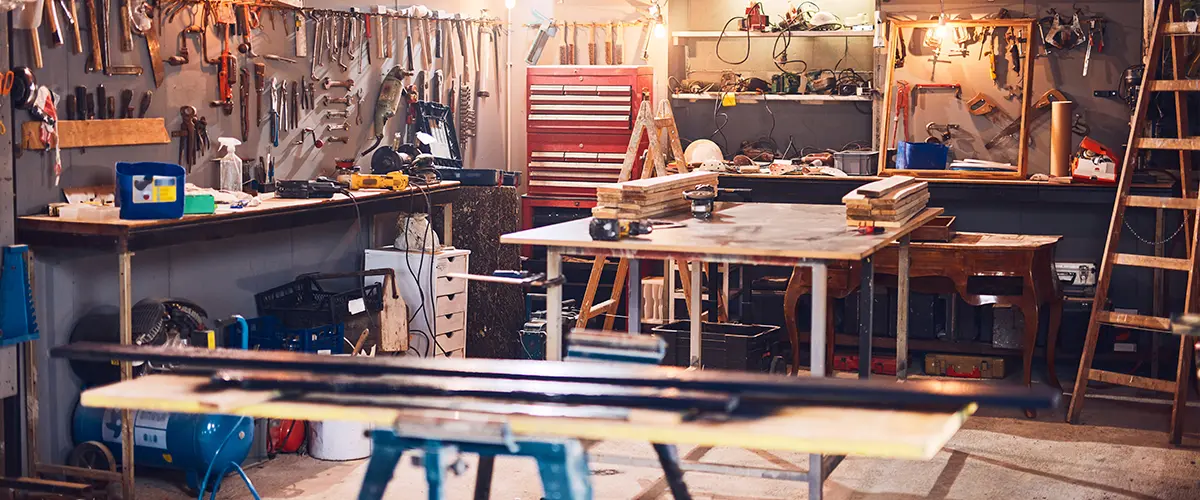 The choice of finish and design details can impact both the aesthetics and the cost of garage cabinets. Simple and minimalist designs tend to be more budget-friendly, while intricate detailing, decorative hardware, and premium finishes like veneers or custom paint can increase the overall cost.
At Creative Closet, we offer a variety of finishes to match your design ideas, including options like white, slate, silver, red powder-coated, maple, pewter, and more.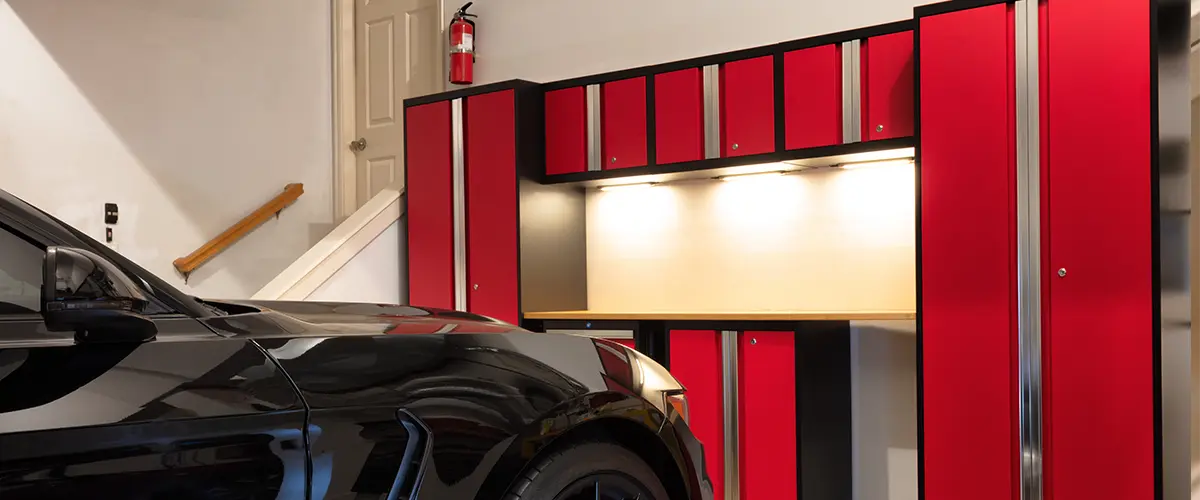 The complexity of the installation process can affect the pricing of garage cabinets. Factors such as wall conditions, electrical considerations for integrated lighting, plumbing requirements, or the need for extensive customization can contribute to higher installation costs. It's important to consider these factors when budgeting for your garage cabinet project.
At Creative Closets, we've made it our mission to install your garage cabinets in 1 day, no matter the complexity. That's why Maple Valley homeowners love our installation crews and services so much.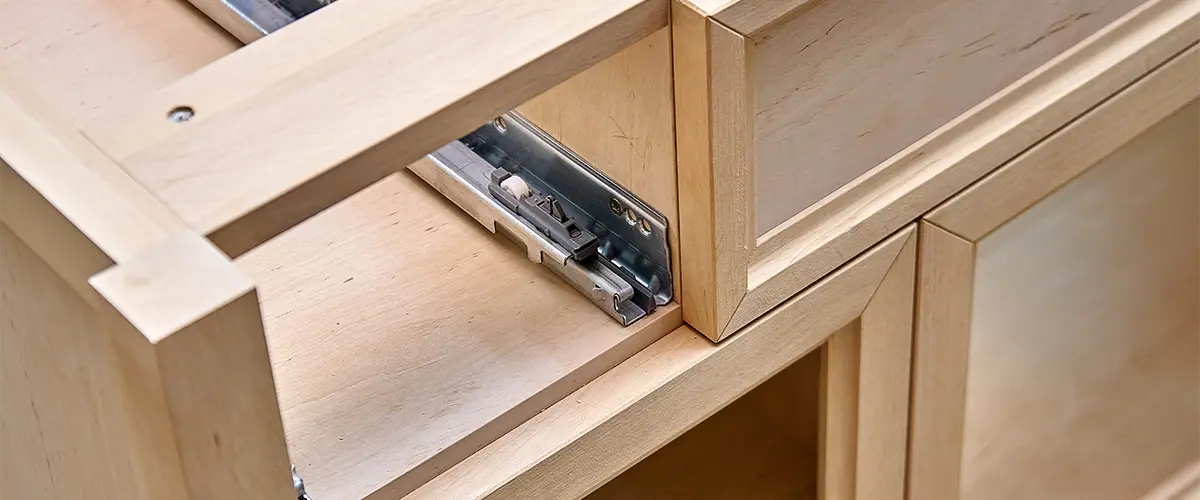 Contact us at Creative Closets today to learn more about our thermally-fused cabinets and start transforming your garage into a space of unparalleled organization and efficiency.
Here's How Everything Goes...
Why Our Garage Cabinets Are The Talk Of The Town In Maple Valley
If you're in search of garage storage cabinets, take a look at our thermally-fused cabinets! These cabinets are meticulously crafted with exceptional details and features, ensuring their durability over years of use. Here's what sets them apart:
Our cabinets come with fully integrated backings and hinges, ensuring everything stays in place. You can trust that your walls won't get scratched or damaged by the items stored inside. Additionally, cleaning the insides of these cabinets is a breeze.
Our finishes are constructed using thermally-fused laminate, making them highly resistant to chipping, fading, peeling, and bubbling. Rest assured, these coatings are designed to withstand the test of time. We even provide a lifetime warranty for added peace of mind.
Each shelf in our cabinets is a robust inch thick, capable of supporting up to 100 pounds of weight. Say goodbye to concerns of buckling or warping with these reliable shelves. They are perfect for the seasonal items or storing heavier items without any worries.
Common Garage Cabinets Questions

We've recently remodeled our whole house and I'm tired. Tired of hounding subs to come back and finish work, tired of waiting 3 weeks for bids, tired of doing projects myself. We decided to hire out closet installation and Creative Closets was a breath of fresh air. 
They had great communication from beginning to end. They gave me a bid the same day they came out to design and we're straight forward without using sales tactics. There was no "let me call my manager and see if there's additional discounts," just straight forward pricing. They weren't the cheapest but they definitely weren't the most expensive option. 
Overall I think they were a great value. Jordan and his partner did a great job on install and were very detail conscious, making sure every part of the design was just the way we wanted it. Both were sweet to my 4 year old who wanted to be involved in the building. They took care to clean up well and the whole install was done very quickly. I highly recommend Creative Closets.
We Settle For Nothing Less Than Excellence
We want you to be proud of your garage and make use of every inch of horizontal and vertical space. You can choose exactly what type of storage you want, and we'll work around your preferences, considering how you like to use your garage.
We customize everything based on your practical and aesthetic preferences, so you never have to trip over tools again!
When choosing Creative Closets:
Get The Best Garage Cabinets In Maple Valley, WA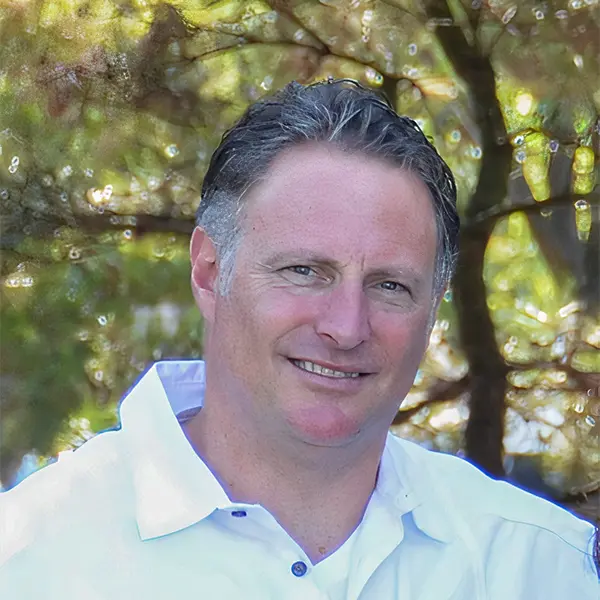 Take control of your garage organization and reclaim your space today. Contact us now at (425) 428-5073 to schedule a consultation, and let us show you how custom garage storage solutions transform your garage into a haven of efficiency and style.