The Best Garage Cabinets In Redmond
Make your garage look sleeker than ever with new garage cabinets!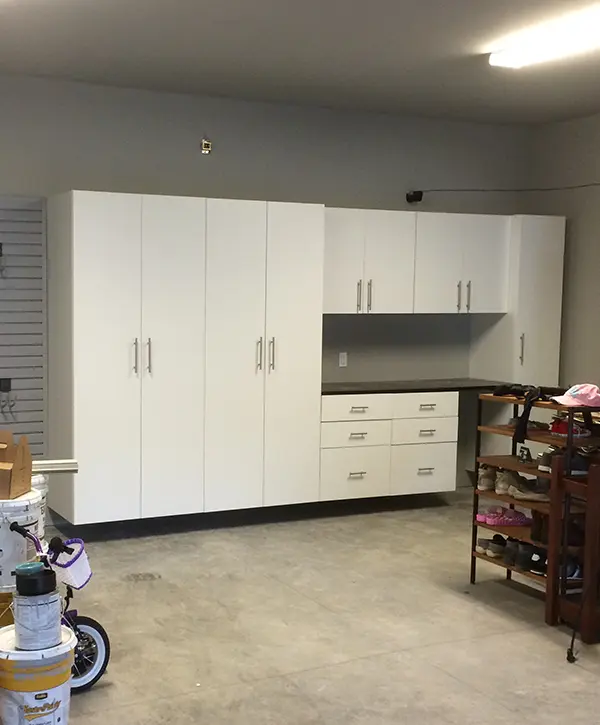 If you ever felt frustrated with your Redmond garage and let clutter get the best of your space, you likely need garage cabinets. It's to get rid of tools, toys, gardening and cleaning supplies scattered all over the place. Everyone wants to have a corner in the garage to store their stuff but when the space isn't efficiently divided and organized, chaos installs. No more!
We acknowledge that you are frustrated and eager to have a neater garage. Our main priority is catering to your needs by providing customized storage solutions for your garage. 
Witness your garage being transformed into a space that meets your specific requirements. You can expect to have a different perspective on using and viewing your garage after our services.
We've used Creative Closets on three occasions to outfit three closets and a garage. The quality is fantastic. The price is great. The service is impeccable. If you're looking for great-quality at an affordable price, call Creative Closets.
Get Your Tools Off The Floor!
Our thoughtfully crafted hooks, racks, and shelves guarantee that your belongings are impeccably organized, resulting in a visually appealing and efficient garage space. We won't let any space go to waste if you don't want us to because we always build garage systems based on what your household needs.
We can improve your garage storage with solutions that include:
Contact us and schedule your free in-home consultation, where we help design and plan your garage and even show you a 3D rendering of your space so you can make changes right there and then!
What Features Do Redmond Homeowners Want for Garage Storage?
Homeowners in Redmond often encounter the problem of tripping over tools that are strewn across the garage floor. Garages tend to become overfilled with storage items, leaving insufficient parking space. Below are some key features to consider when selecting garage cabinets for your home.
Our adjustable shelves are a standout feature of our garage cabinets. They provide the flexibility to customize your storage space based on your specific needs. Whether you have large tools, cleaning supplies, or smaller items that require organization, our adjustable shelves ensure that everything has its designated place, making it easy for you to find and access your belongings.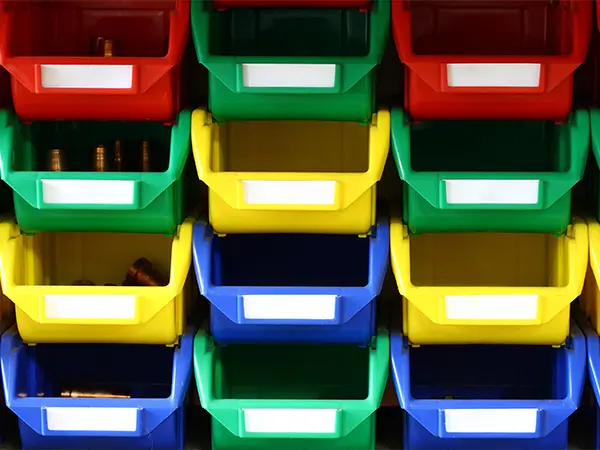 Storage Boxes and Baskets
Efficient organization is key to a clutter-free garage. Our garage cabinets feature storage boxes and baskets, offering an ideal solution for categorizing and storing items of all sizes. These containers keep your belongings neatly arranged and easily accessible, saving you time and eliminating the need to search through cluttered piles when you need something.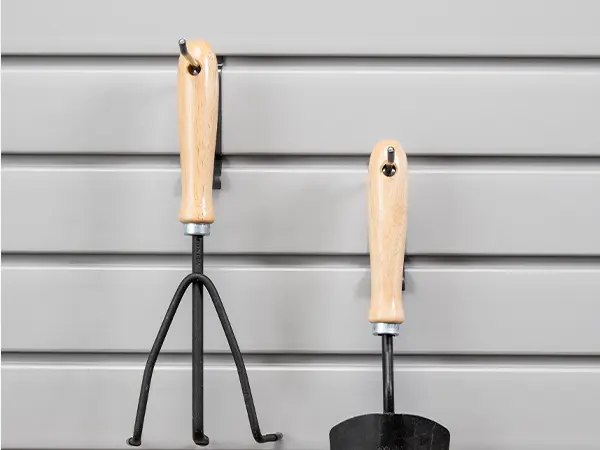 Maximize storage space and keep your garage floor clear with our garage cabinets' built-in hooks. Easily hang and organize items like bicycles, garden tools, and equipment, using wall space efficiently. Reclaim valuable floor space and enjoy convenient access to your belongings whenever you need them.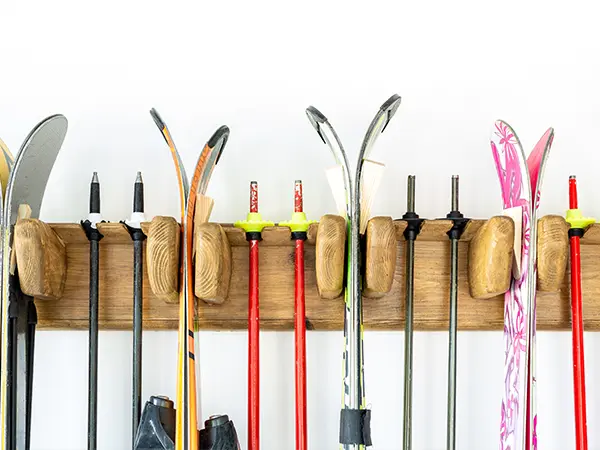 For active families who love sports, our garage cabinets with sport racks are a game-changer. These racks offer dedicated storage for your sports equipment, such as bikes, tennis or badminton rackets, or hockey gear. Keep your gear safe, protected, and easily accessible, ensuring you're always ready to hit the field or the trail whenever inspiration strikes.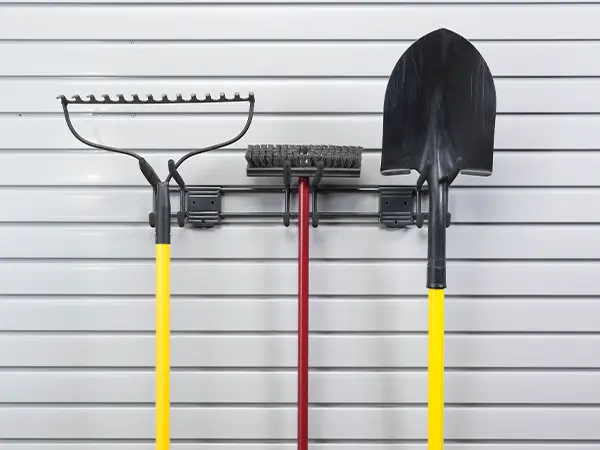 Tools are crucial in any garage, but organizing them can be a challenge. Our garage cabinets feature dedicated tool racks, offering a designated space for storing hammers, wrenches, drills, and more. With easy visibility and accessibility to your tools, you can efficiently complete your projects and eliminate the frustration of searching for misplaced tools.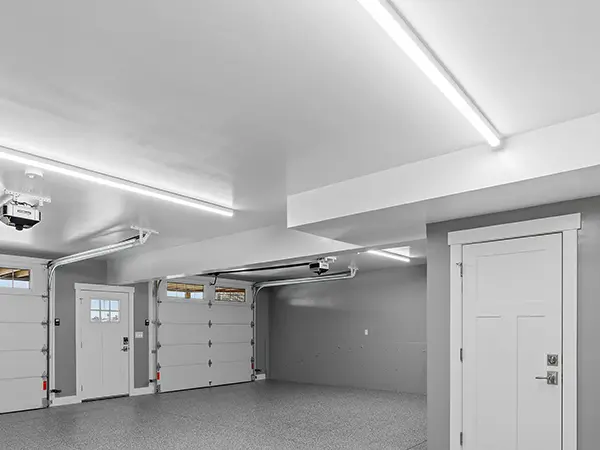 Well-lit garages are safer and more functional. Our garage cabinets can be fitted with integrated lights, illuminating your workspace and ensuring clear visibility. Whether you're tackling a DIY project or searching for items in your garage, the integrated lights provide the brightness you need for comfortable and efficient work.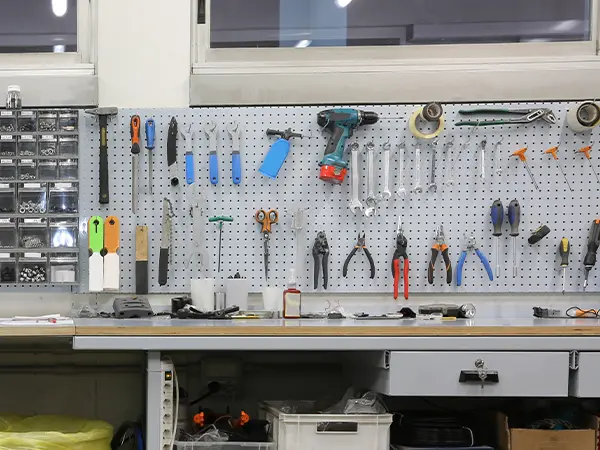 Slatwall organization maximizes garage storage by providing versatile and customizable storage options. With specially designed grooves, you can easily hang hooks, racks, and baskets, keeping your garage organized and clutter-free. It's the perfect solution for tools, sports equipment, and gardening supplies, offering flexibility and convenience.
Our workbenches are essential for garage and DIY enthusiasts. With sturdy surfaces and ample space, they provide a dedicated workspace for various projects. Whether you're repairing a bicycle, working on woodworking projects, or pursuing hobbies, our workbenches offer stability, organization, and productivity.
We will work with you to identify the items you store in your garage and create a designated space for each one, using high-quality materials to maximize your storage space.
Here's what Our Customers Say About Us!
Many people in Redmond have already equipped their garages with new and efficient garage cabinets. Here's what they say about working with us:
Broc and the installers were great! Very professional and attentive. Our experience with them was great and we love our closet and the shelving installed in our garage.
We had our garage renovated by Creative Closets and we're extremely happy. We had multiple cabinets installed, slat walls, overhead racks, etc. and our dream of having an organized garage is now a reality! Highly recommend the Creative Closets crew.
Understanding Garage Cabinets Cost In Redmond
At Creative Closets, we offer garage cabinets as an efficient solution to keep your tools, gardening supplies, and belongings secure and easily accessible. We provide you with a range of cabinets that match your requirements and budget.
Check out this table that outlines costs and figures from our previous garage storage projects.
| Garage Storage Project | What's Included | Price |
| --- | --- | --- |
| 20' Wall Of Cabinets & Workbench | Pewter cabinets, full-lenght handles, 10+ separate storage areas | $7,000 |
| Workbench & Slatwall Panel | Tall cabinets, workbench with top + bottom cabinets, Slatwall tool storage system | $9,000 |
| 22' Full Wall Cabinets & Slatwall | Tall cabinets, Slatwall system, workbench with cabinets and drawers, overhead storage | $11,000 |
*Note that every garage is different, and some factors will impact the end cost. We first have to measure your garage, discuss your storage needs, and determine the variable before we can give you accurate pricing for your situation.
The size and configuration of the cabinets play a significant role in determining their cost. Larger cabinets or custom configurations may require more materials and labor, resulting in higher prices.
We completed a project where we created and put in place custom garage cabinets on a 20-foot wall. The cost amounted to about $3,500 and the cabinets included several features such as full-length handles, over 10 different storage compartments, and a pewter finish.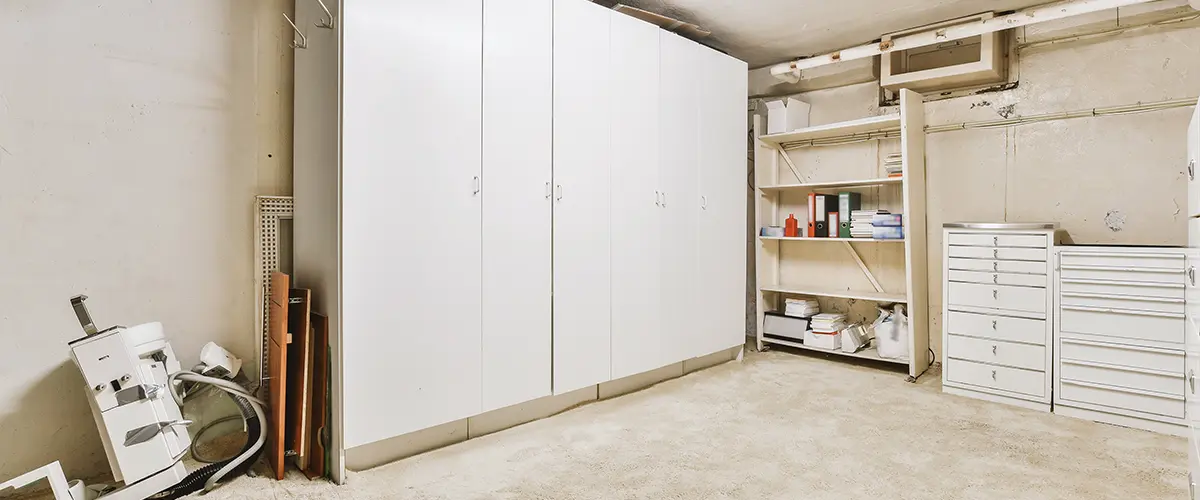 Adding customization and accessories to your garage cabinets can impact the overall cost. Customized features, such as specialized compartments, built-in dividers, or unique finishes, may increase the price. Similarly, the inclusion of accessories like hooks, baskets, or lighting systems can affect the cost of the cabinets.
For approximately $8,500 to $9,000, we can set up tall cabinets with a workbench and Slatwall tool storage system. The final cost will depend on the chosen size of the cabinets and workbench. In case you require a bigger system with overhead storage racks and cabinets above the workbench, the price can go up to $11,000.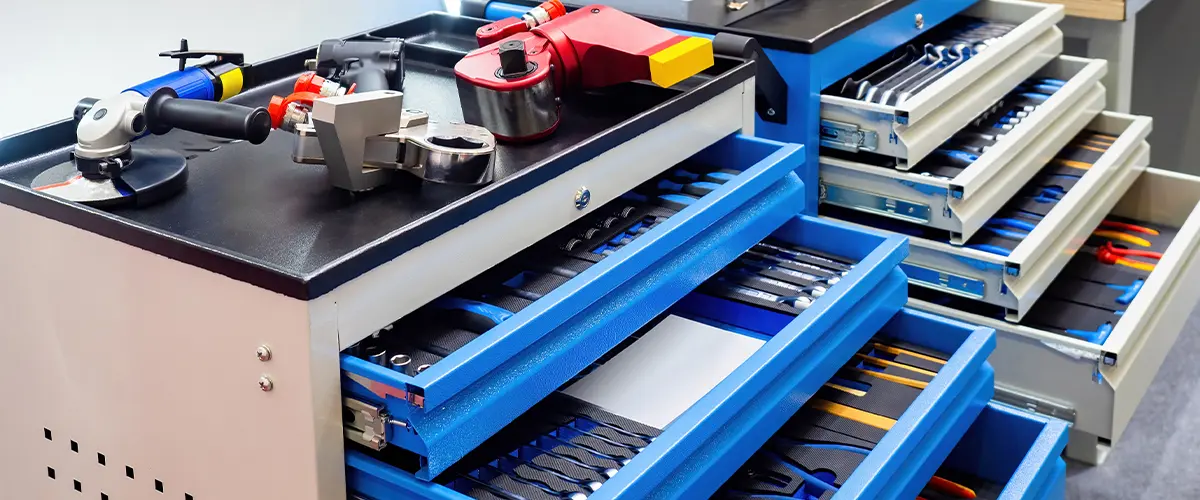 The choice of cabinet finish and design can also influence the cost. Premium finishes, such as high-gloss or custom paint, often come at a higher price point compared to standard finishes. Intricate designs or decorative elements may also affect the cost.
Considering your aesthetic preferences and budget constraints will help you find the right balance between style and cost.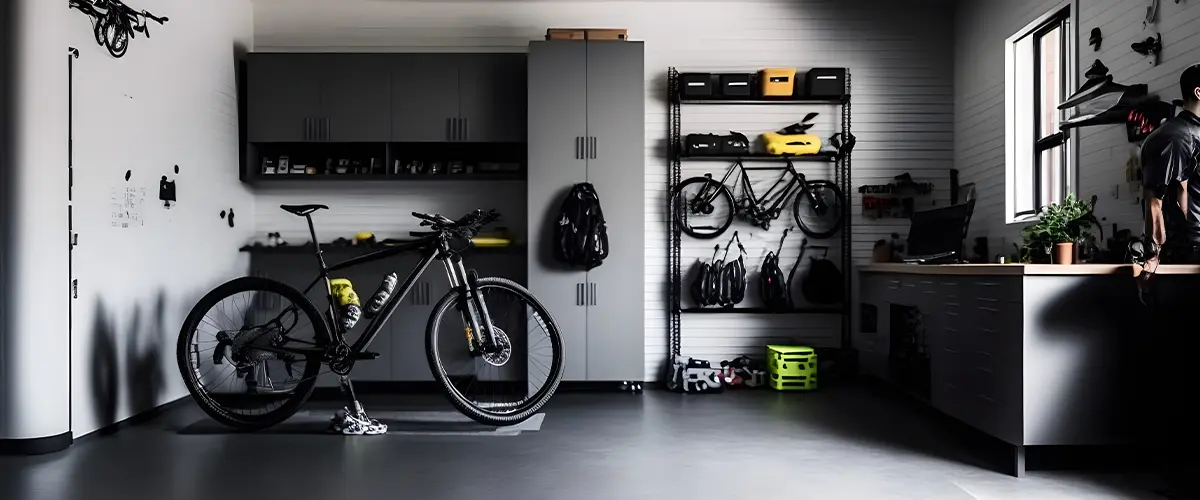 The complexity of the installation process can impact the overall cost of garage cabinets. Factors such as the condition of the existing garage space, required modifications, and the need for professional installation services can affect the final price.
Our installation crews and services at Creative Closets have earned the love of Redmond homeowners because we are committed to completing your garage cabinet installation within a day, even for complex projects.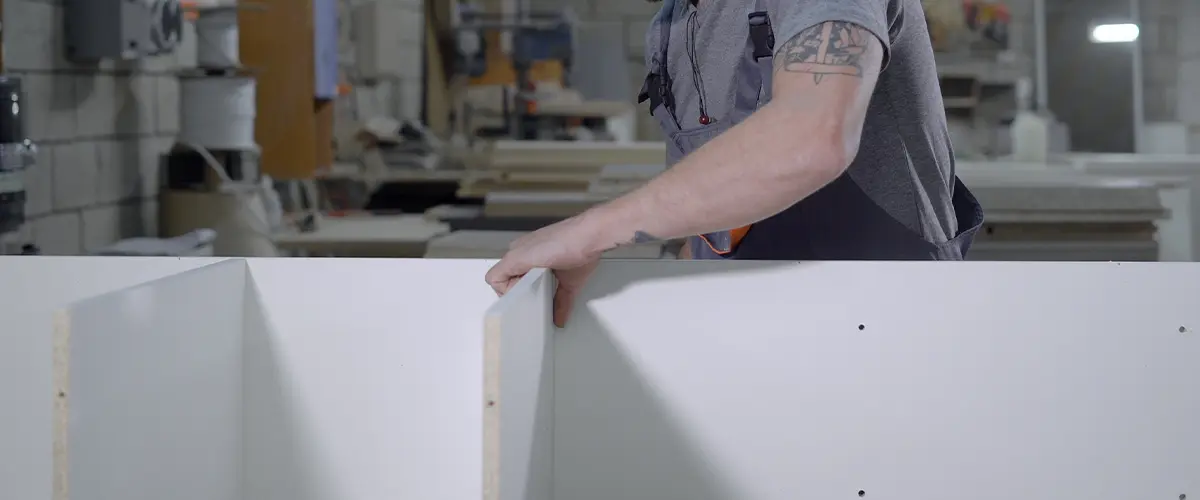 Ready to meet our talented designer? They'll show up at your door steps with sample materials and software to help you plan and visualize your future garage cabinets and storage options!
Here's How Everything Goes...
The Redmond Garage Cabinets Everyone Wants
If you're on the lookout for top-of-the-line garage storage cabinets, look no further than our thermally-fused cabinets. Meticulously crafted with exceptional attention to detail, our cabinets are designed to withstand the test of time. The thermally-fused construction ensures durability and resilience, making them resistant to warping, moisture, and other common garage conditions.
Our garage cabinets come with complete backings, providing additional stability and support. The complete backings ensure that your stored items are secure and protected, preventing them from falling or shifting. With this added feature, you can have peace of mind knowing that your belongings are safely stored and won't be at risk of damage.
To ensure long-lasting durability, our garage cabinets are coated with a resistant finish. This coating acts as a protective layer, guarding against scratches, stains, and other wear and tear. The resistant coatings not only maintain the visual appeal of your cabinets but also extend their lifespan, ensuring that they continue to serve you well for years to come.
Our garage cabinets are equipped with sturdy shelves that can support the weight of heavy items and equipment. You can confidently store your tools, supplies, and belongings without worrying about sagging or bending shelves. The robust construction of our shelves ensures that they can withstand the demands of a garage environment, providing reliable storage for all your items.
Common Garage Cabinets Questions
Exceptional experience!! I had a very specific objective with two master closets, a pantry, and a garage shelving system. I'm very very happy with the quality of work, the team that worked with me through each stage of the process, the timeliness, and the outcome that is both functional and beautiful to look at!! 🙂 Highly recommend!!
Decluttering Your Garage Has Never Been Easier
At Creative Closets, we prioritize your satisfaction and the efficient utilization of your garage space. 
We understand the importance of personalization and ensuring that every aspect of your storage meets your practical and aesthetic preferences. With our expertise and experience in installing over 8,000 storage systems, you can trust that we have the knowledge and skill to create a customized solution tailored to your needs.
With us, you can enjoy:
Get The Best Garage Cabinets In Redmond, WA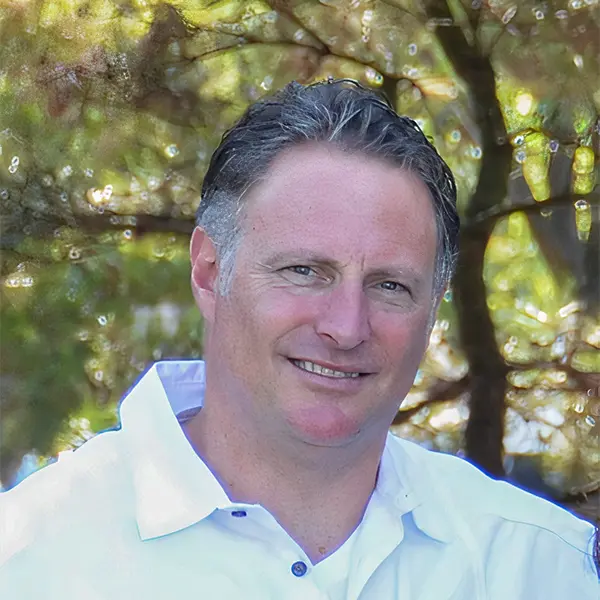 Get a convenient 60-90 min consult where set you up with design, sample materials, and potential finance, all in a single day! Call us at (425) 428-5073 to get the best garage cabinets in Redmond, WA, or get a call-back by clicking the button below!