The Best Closet Systems In Lynnwood
Easily create order in a chaotic closet.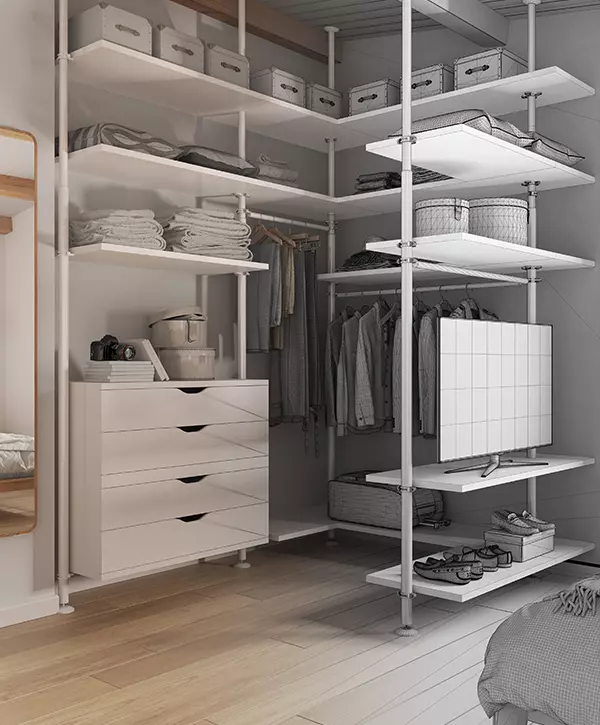 Imagine stepping into a world where everything has its place, just like a perfectly orchestrated symphony. Our carefully crafted closets not only showcase your personal style but also serve as the conductor that brings harmony and efficiency to your life.
At Creative Closets, we understand the frustrations of a disorganized home, where finding items becomes a never-ending search and dealing with clutter feels like an uphill battle. That's why we're here to provide you with more than just beautiful closets. We offer personalized solutions that simplify your daily routine, bringing harmony and order to your Lynnwood home.
With our expertly designed and installed closets, you'll experience a seamless flow in your daily routine, where finding what you need is effortless.
This is our 1st experience with Creative Closets. We wanted a custom pantry for our kitchen matching our current kitchen setup and I don't think I could be any happier. They were professional and on time with the installation. They adjusted changes in design multiple times and also adjusted our requests on installation changes. We spoke to 4 other companies, but chose them. Our empty kitchen space came out exactly how we wanted. I am surely working with them for all of my future projects..
The Perks Of Working With Creative Closets
We understand that your time is valuable, and that's why we go the extra mile to make the closet transformation process convenient and stress-free. We bring the showroom experience to you, right in the comfort of your own home.
Just like a personal concierge service, we curate a selection of materials and colors, allowing you to see and feel the options firsthand. Together, we embark on a 60-to-90-minute appointment, where we collaboratively design your dream closet, tailored to your unique needs and preferences.
When you work with Creative Closets, you get to enjoy:
Common Closet Systems For Your Lynnwood Home
We offer a wide range of custom-designed, expertly installed closet systems that are tailored to fit your unique needs and preferences. From stylish designs with enhanced storage functionality, to premium quality materials used in our seamless design process – we guarantee satisfaction with every project.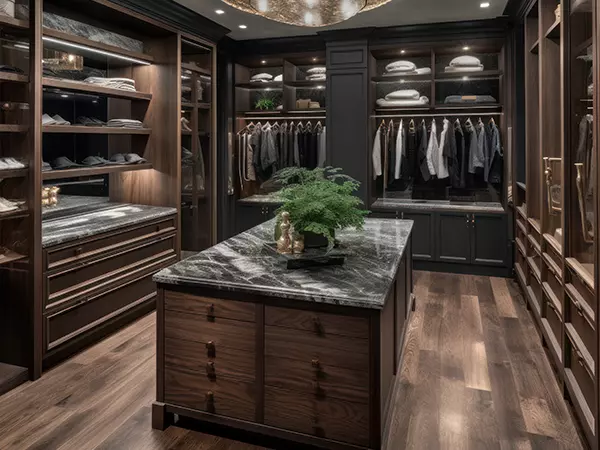 Transform your space with a walk-in closet, the epitome of luxury and organization. Create a personalized storage oasis with dedicated areas for clothing, shoes, and accessories. Imagine built-in shelving, hanging rods, and drawers to showcase and organize your entire wardrobe.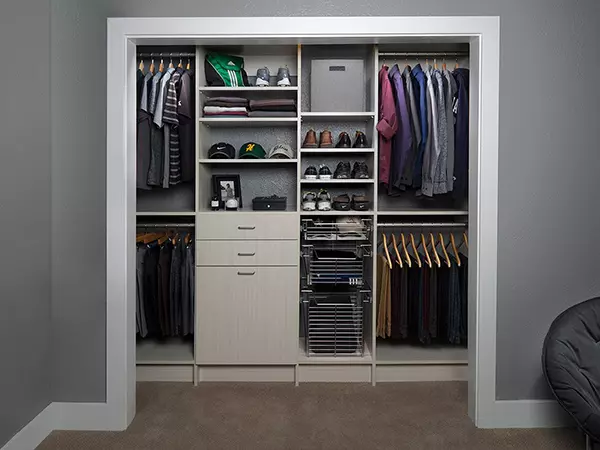 Maximize storage in smaller spaces with a well-designed reach-in closet. Optimize every inch with strategically placed shelves, hanging rods, and drawers. Customize it with adjustable features and keep clothing, shoes, and essentials neatly arranged and easily accessible.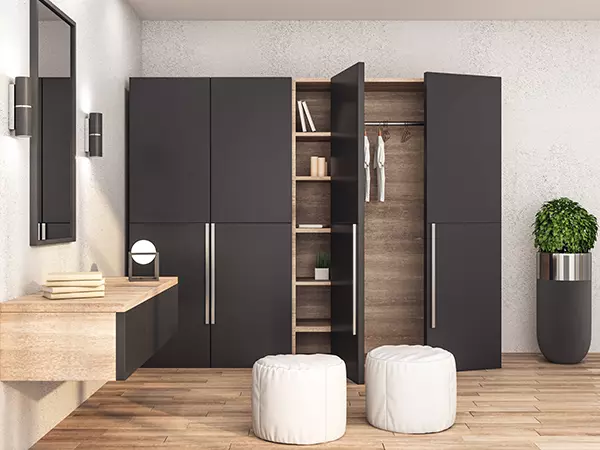 Wardrobe closets offer versatile storage solutions for clothing and accessories. Choose from various styles, sizes, and finishes. Customize with hanging rods, shelves, and drawers. Ideal for bedrooms or any area where freestanding storage is needed.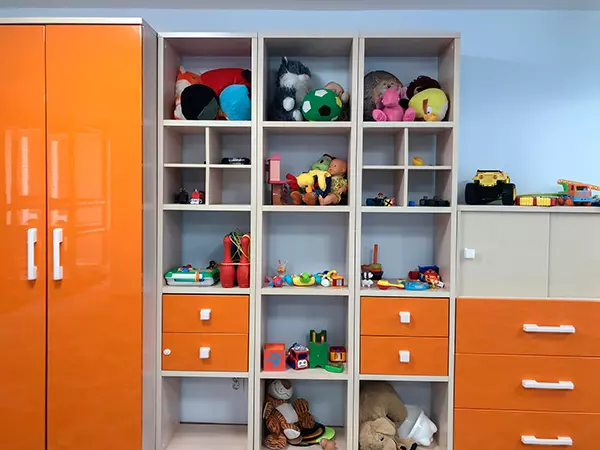 Teach organizational skills with customized kids' closets. Lower hanging rods, adjustable shelving, and fun storage options create a tidy space for clothes, shoes, and toys. Grow with your child by adapting the closet to their changing needs.
Optimize your kitchen with a custom pantry system. Adjustable shelves, pull-out baskets, and specialized storage for groceries and kitchen essentials. Reduce food waste and enhance your culinary experience with an organized pantry.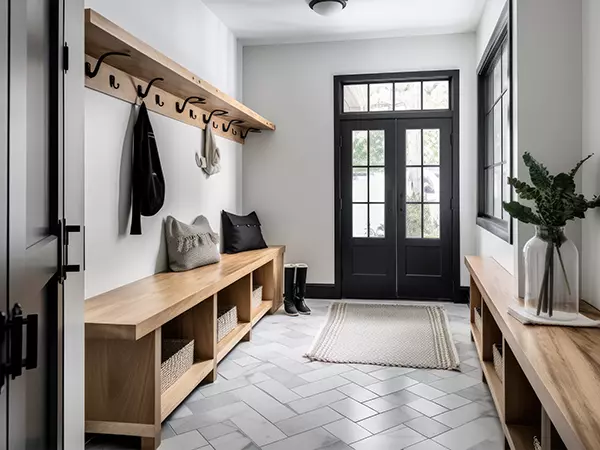 Keep your entryway clutter-free with stylish cabinets. Store shoes, jackets, and bags in organized cubbies and drawers. Customize with hooks and seating. Create a welcoming and functional space as you enter and exit your home.
Whether you need a walk-in, reach-in, wardrobe, kids', kitchen pantry, or entryway cabinet closet system, we are here to help. Our expert team is passionate about creating truly customized solutions that will simplify your life.
Real Customer Testimonials
We have installed over 8,000 closet systems and have expertise in proper home organization. Our numerous happy customers are a testament to this fact and are still enjoying their new closets.
The assemblers were courteous and professional, they were neat, and did a great job assembling cabinets in my living room. They answered all my questions also. The quality of the material is also better than the usual offerings at other places.
Amazing experience from start to finish! The cost was very reasonable and the quality of the cabinets/work was exemplar. Jordan was very efficient with installation. If you are looking to get a custom closet installation done, don't waste your time comparing various companies…just go with Creative Closets.
Breaking Down Closet Systems Cost In Lynnwood
When it comes to the cost of closet systems, there are several factors that can influence the price. The size and complexity of a project, as well as the quality of materials used, will all have an impact on the overall cost. Additionally, customized features such as lighting or built-in drawers may also increase the amount you'll need to pay for your new closet system.
We've put together some prices that suggest how much we charged for some of our past projects. Note that there are many details that influence the end price, so the pricing for your particular closet system will likely be different.
| Closet Type | Size | Average Price |
| --- | --- | --- |
| Walk-in Closet | 20' x 20' | $9,500 |
| Reach-In Closet | 6' Long | $1,000 |
| Kitchen Pantry | 8' x 5' | $4,500 |
| Entryway Cabinet Wall | 8' | $6,500 |
| Kids' Reach-In Closet | 6' Long | $2,200 |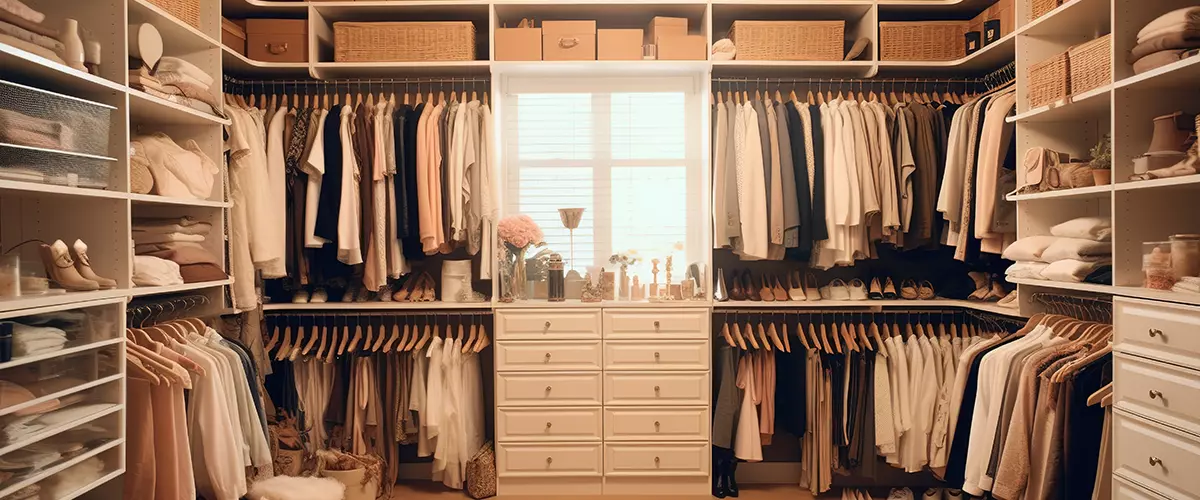 The size of the closet has a direct impact on the end price of the closet system. Larger closets require more materials and labor, so they cost more to install. Additionally, customized features such as lighting or extra shelving can increase the cost if they are not included in a base package, so it's important to factor all these elements into account when budgeting for your new closet system.
A walk-in closet that has various sections and elaborate shelving will cost more than a simple and small reach-in closet. For example, a walk-in closet that is 6′ x 9′ in size might cost around $4,500, while a larger one that is 20′ x 20′ can be as expensive as $10,000.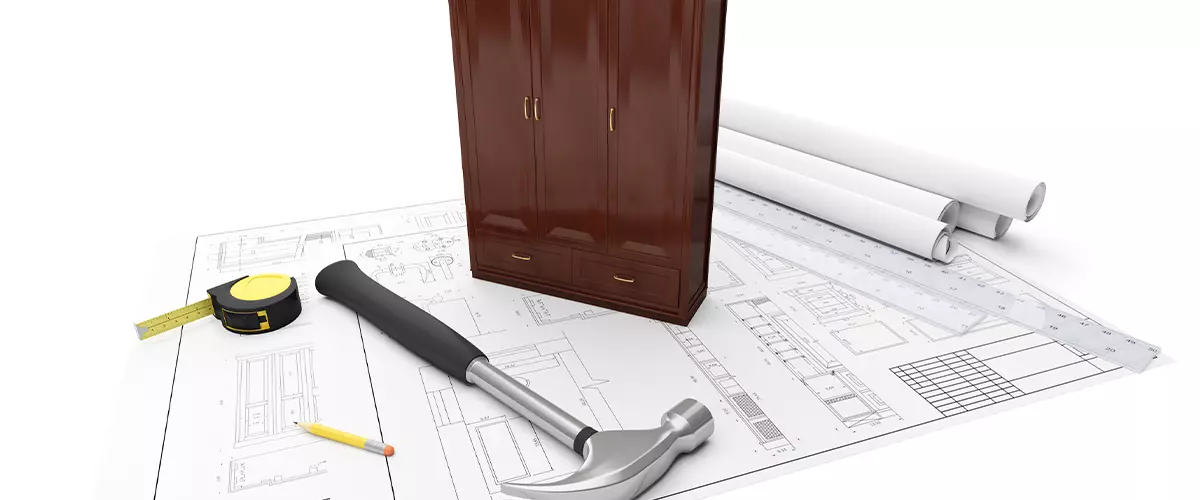 The design complexity of a closet system has a major impact on the end price. This is because the more complex the design is, the more materials and labor will be needed to complete it. Customized features such as built-in drawers, extra shelves, and lighting can significantly increase the cost of a closet system if they are not included in a base package.
You can have an 8-foot reach-in closet installed in your child's bedroom for at least $1,800. However, if you want additional features such as shaker drawer fronts, multiple clothing rods, and custom color, you need to pay $2,800.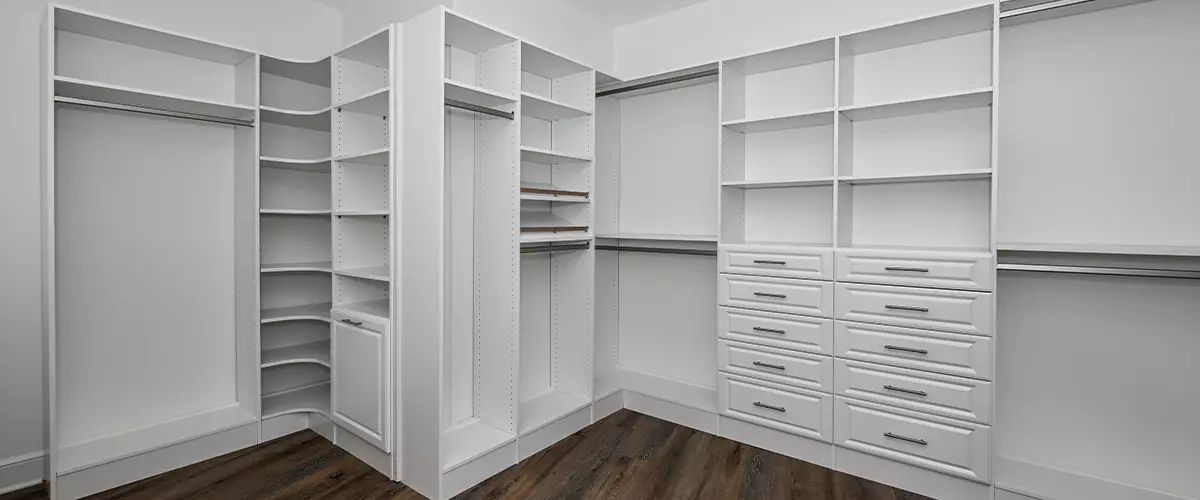 Accessories and upgrades can have a significant influence on the end price of a closet system. Depending on the type of accessories that are included, the cost may vary significantly. For instance, custom lighting fixtures can add a beautiful ambiance and style to your closet system while simultaneously driving up the total cost. Similarly, built-in drawers or extra shelving can also add to the overall cost.
If you are looking for an economical closet system, accessories such as shoe racks, belt and tie organizers, or jewelry trays should not be included in the base package. However, if you want a luxurious closet that offers maximum convenience and functionality, these features must be taken into account when budgeting for the project.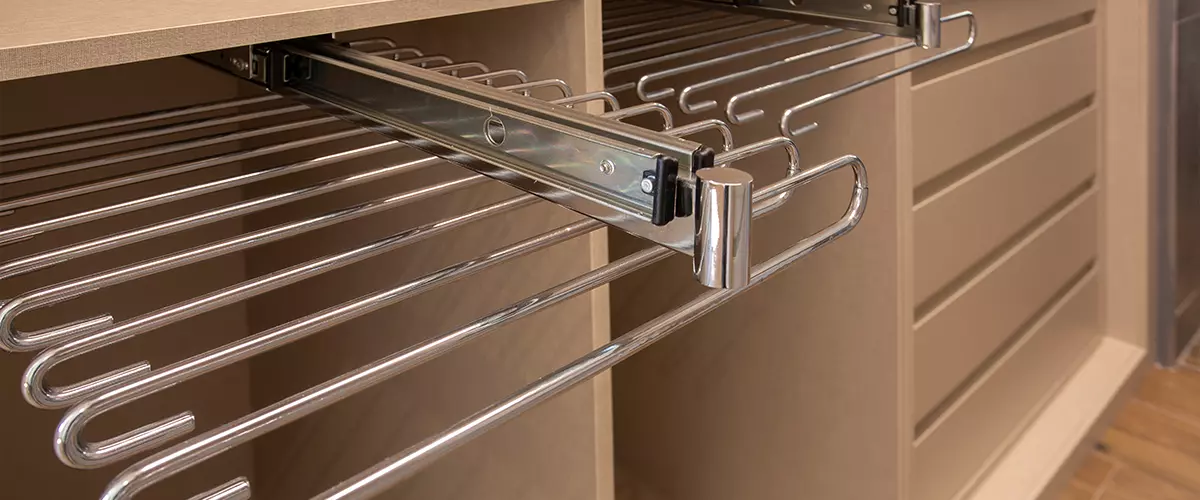 The installation of a closet system can have a significant impact on the end price. Depending on the complexity of the design, it may require additional time and labor to complete the project properly. For instance, demolition work, fiddling with electrical wires, and other such factors can drive the price up.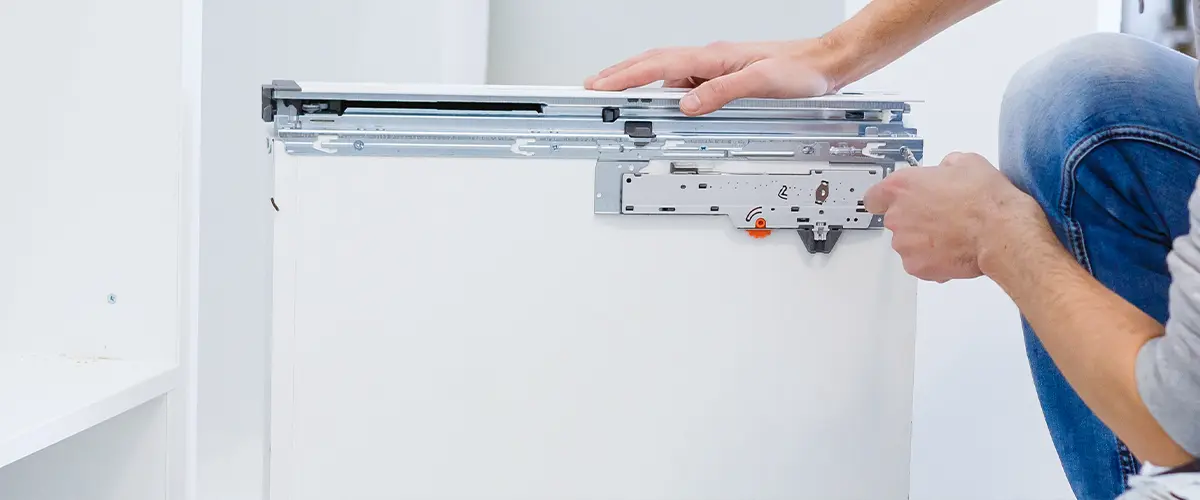 During our initial consultation, we'll provide you with a detailed cost estimate tailored to your specific requirements and preferences. Additionally, we can assist you in obtaining financing if you meet the eligibility criteria.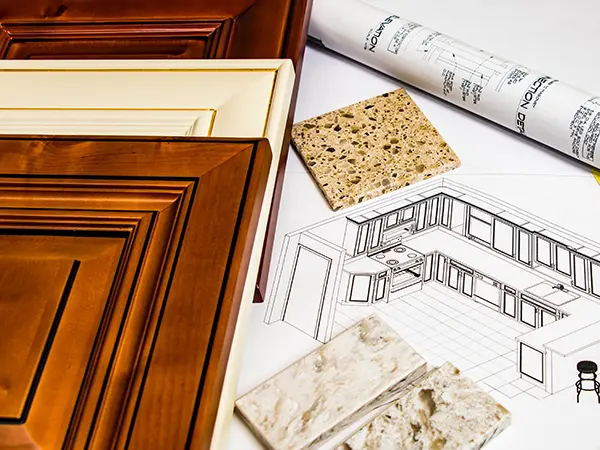 We're ready to sit down and discuss all your closet needs. Let's start designing that dream closet system that makes your home better.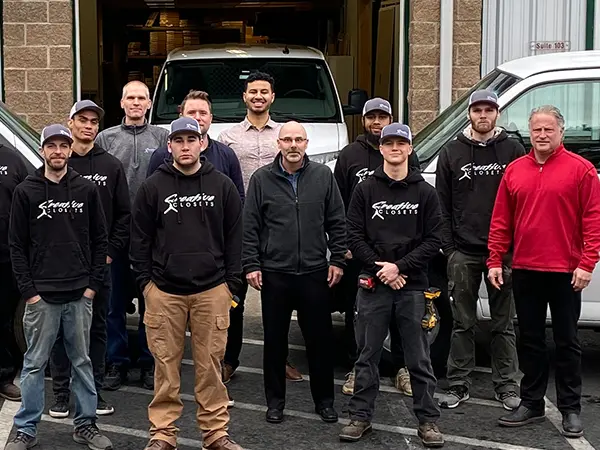 We make it our mission to install your closet system in a single day so don't stand in your way for too long.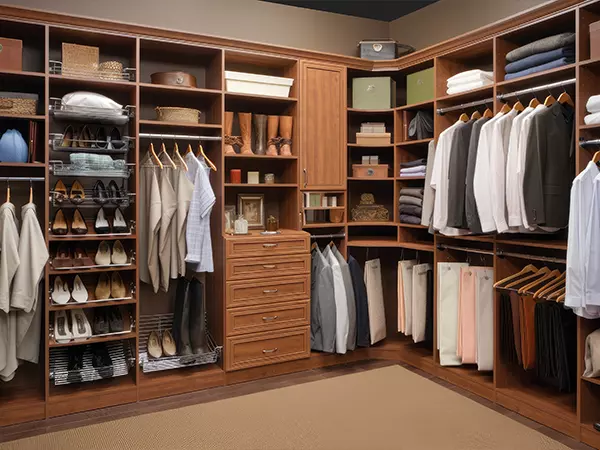 See how easy it is to stay organized when you have a place for everything, encouraging your family to keep the house tidy.
Learn More About What We Can Do For Your Home
Your Lynnwood Home Can Look Like This
Our experienced team has installed over 8,000 closet systems of various sizes and designs, from simple reach-in closets to more complex walk-in closets with customized features. Take a look at some of our past projects below!
Time For You To Enjoy A 5-Star Experience
We understand that every home is different and no one-size-fits-all closet system will work for you. That's why we offer a personalized approach.
During a brief appointment that takes less than 90 minutes, we will come to your home, take measurements of your space, talk to you about your storage needs as well as those of your family, create a 3D design that we can adjust based on your preferences, give you the design for free without obligation, and provide you with pricing and financing options.
Hire us to unlock a series of unique perks:
Let's Uprage Your Lynnwood Home With Personalized Storage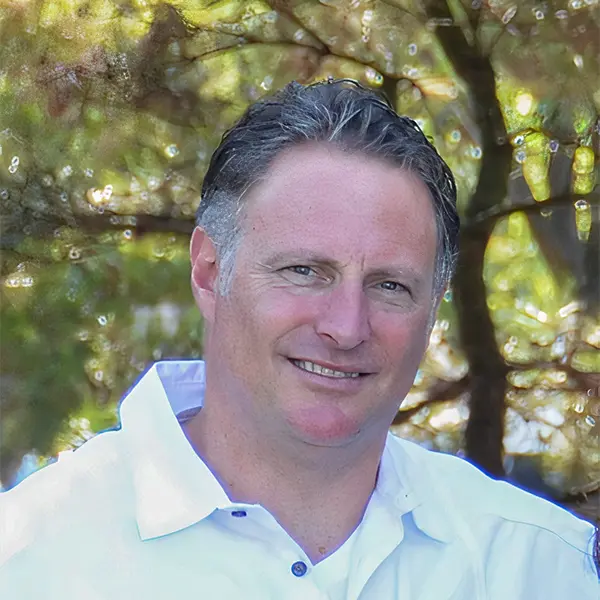 If you're ready to start planning your ideal closet system, you can reach out to us for help in one of two ways. Click the button below to send us a message, or call us at (425) 428-5073. We're always available to answer your questions and provide assistance with any of our services.