The Best Garage Cabinets In Bothell
Put any extra garage space to good use with tailor-made garage cabinets.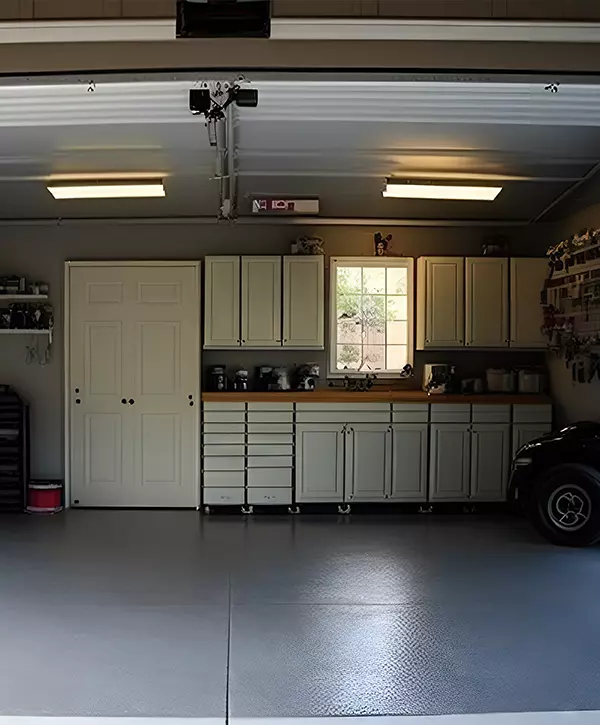 Having custom garage cabinets is a fantastic way to maximize your storage capacity and keep your garage clean and organized. These cabinets provide the perfect solution for storing tools, equipment, and other miscellaneous items, freeing up space for your vehicles.
At Creative Closets, we leverage our years of experience and exceptional craftsmanship to design and install bespoke garage cabinets that effortlessly blend with your existing garage layout.
Free Up Floor Space With Our Bothell Garage Cabinets
As custom storage experts, we are determined to create practical, durable, and aesthetically pleasing storage solutions that cater to your unique needs and preferences, transforming your garage into a more functional and organized space.
When partnering with Creative Closets for your garage cabinets, you'll receive:
Contact us today to schedule a personalized consultation, where we can discuss and design a customized garage storage solution tailored to enhance the overall aesthetics of your garage.
Common Features Of Garage Cabinets In Bothell
With the right organizational tools and strategies, your garage can transform from a cluttered nightmare into a streamlined oasis of order. Let's delve into some fantastic garage cabinet features that are essential for achieving optimal organization.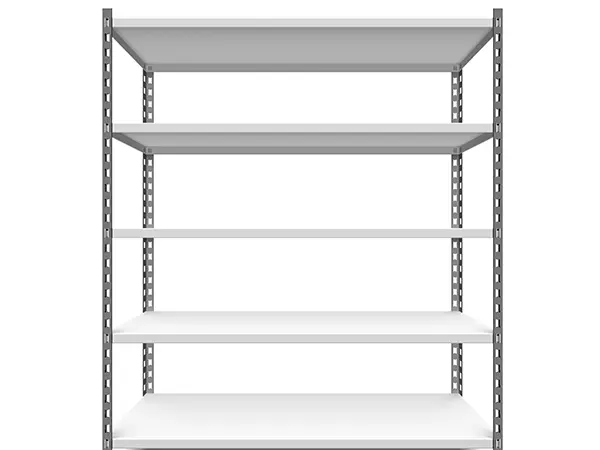 One size doesn't fit all when it comes to garage storage. That's where adjustable shelves come in handy. They allow you to customize the height and arrangement of your shelves, accommodating items of varying sizes. Whether you need to store paint cans, power tools, or gardening supplies, these shelves ensure no space goes wasted.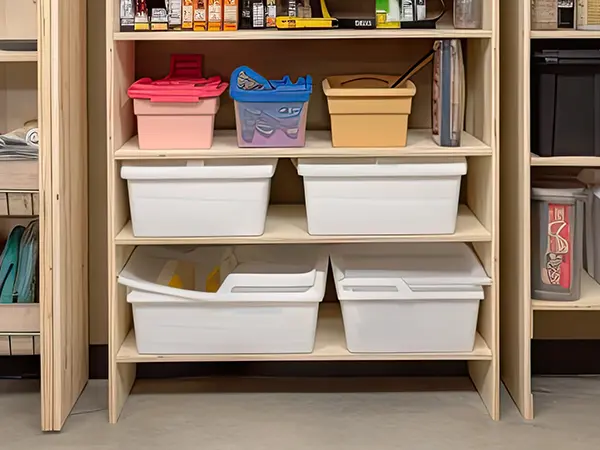 Storage Boxes and Baskets
Storage boxes and baskets are the unsung heroes of garage organization. They provide a simple yet effective solution for grouping similar items together. From small screws to seasonal decorations, these containers keep everything neatly contained and easily accessible.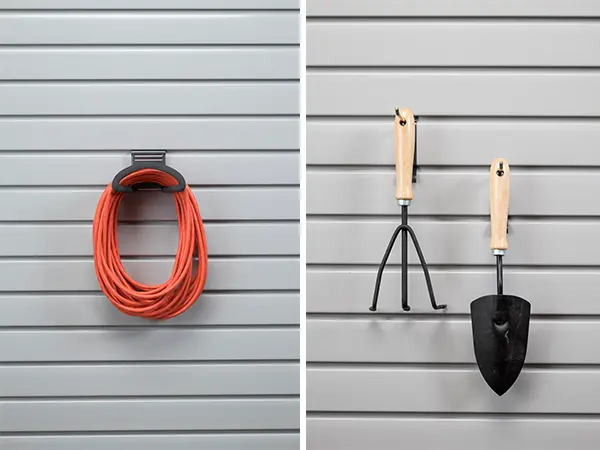 When floor space is limited, it's time to think vertically. Various hooks, designed to hold everything from bicycles to gardening tools, create vertical storage solutions that free up valuable floor area. Hang bicycles by their wheels, store rakes, and shovels on wall-mounted hooks, and keep ladders off the ground.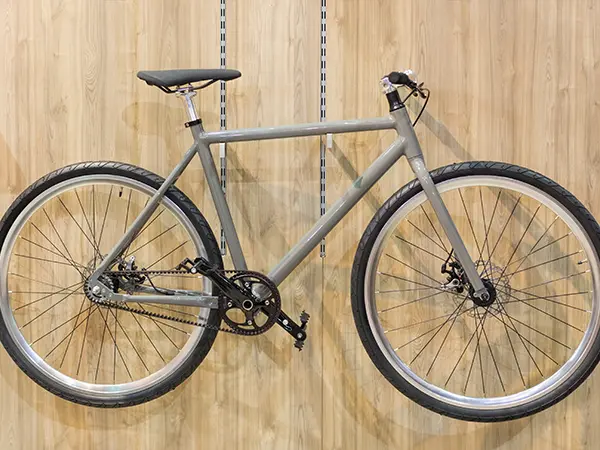 For sports enthusiasts, sports racks are a game-changer. No more hunting through piles of equipment to find that tennis racket or soccer ball. These specialized racks are designed to accommodate sports gear such as bats, balls, helmets, and even skateboards. They help create a dedicated area for your athletic gear.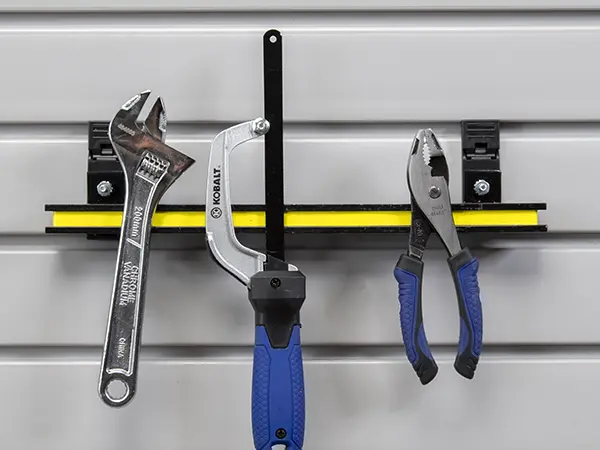 A well-organized workspace is essential for any DIY enthusiast or professional. Tool racks offer a dedicated spot for each tool, preventing them from getting lost in the shuffle. From hammers and screwdrivers to power drills and saws, tool racks keep everything in its place.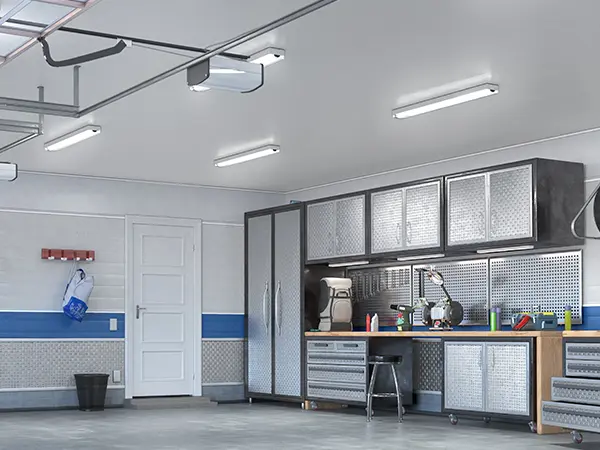 Good lighting is crucial for any organized space. Integrated lights within garage cabinets ensure you can easily locate items, even in the darkest corners. No more fumbling around or squinting to find what you need. These lights brighten up your storage space, making it safer and more efficient.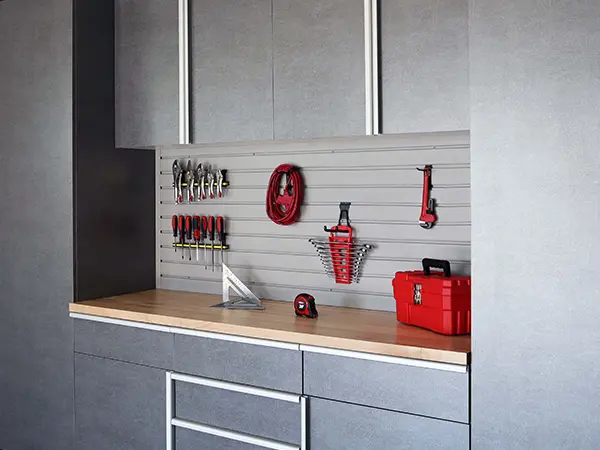 Slatwall panels are a versatile addition to any garage. They allow you to hang various accessories, such as hooks, baskets, and shelves, in a customizable layout. Slatwall systems provide a tailored approach to organization, adapting to your changing storage needs over time.
A workbench is the heart of any DIY or creative endeavor. It offers a designated space for projects, repairs, and hobbies. Keep your work area clutter-free by utilizing built-in storage beneath the workbench. Drawers, shelves, and cabinets are perfect for storing tools, supplies, and ongoing projects.
At Creative Closets, we strive to understand your garage storage needs and create a dedicated space for each item. We offer high-quality, customizable garage cabinets and other storage options to maximize your storage space.
3 Key Features Of Our Bothell Garage Cabinets
Are you on the hunt for top-tier garage storage solutions? Look no further than our cutting-edge thermally-fused cabinets! These cabinets have been meticulously designed with impeccable attention to detail, ensuring their longevity and exceptional performance for years to come.
Garage Cabinets with Complete Backings
When you choose our cabinets, you're choosing complete peace of mind. Our cabinets feature seamlessly integrated backings and hinges, guaranteeing that your belongings remain securely in place. No more worries about scratched walls or misplaced items. Plus, cleaning the interiors of these cabinets is a breeze, ensuring effortless maintenance.
Resistant Coatings for Garage Cabinets
Our finishes are not just ordinary coatings – they're fortified with thermally-fused laminate. This advanced technology makes our cabinets highly resistant to chipping, fading, peeling, and bubbling. With our cabinets, you're investing in a storage solution that's designed to withstand the test of time. And to back up our commitment to quality, we offer a lifetime warranty, providing you with ultimate confidence.
Our Garage Cabinets have Sturdy Shelved
Say farewell to flimsy shelves! In our cabinets, every single shelf boasts a robust thickness of one inch. This means they can easily handle up to 100 pounds of weight without breaking a sweat. Whether you're storing seasonal items or heavier equipment, our sturdy shelves are up to the task, ensuring your belongings are well-supported and organized.
Our team will personally assess your space, curate ingenious garage storage ideas, suggest the perfect cabinets, and ensure that your precious items find a secure home that keeps them off the garage floor. Say hello to a tidier, more organized garage – contact us now!
Why Our Past Customers Loved Working With Us
Our utmost priority lies with our clients, and their satisfaction with our services is a testament to our commitment. Every homeowner we have collaborated with in Bothell, WA has expressed immense satisfaction with our comprehensive service, and we take great pride in leaving a lasting impression.
Broc and the installers were great! Very professional and attentive. Our experience with them was great and we love our closet and the shelving installed in our garage.
The gentlemen who showed up were quite professional. Before they began, they went over all the details with me. They removed all of the old closet and installed the new. When they left, they left the work area in the garage nice and clean.
Understanding Garage Cabinets Cost In Bothell
Garage cabinets offer a highly efficient solution for safeguarding and conveniently accessing your tools, gardening supplies, and other belongings. At Creative Closets, we recognize the significance of discovering cabinets that perfectly match your requirements and budget.
Below is a table presenting the numbers and costs associated with our previous garage storage projects, demonstrating our expertise in delivering exceptional results.
| Garage Storage Project | What's Included | Price |
| --- | --- | --- |
| 20' Wall Of Cabinets & Workbench | Pewter cabinets, full-lenght handles, 10+ separate storage areas | $7,000 |
| Workbench & Slatwall Panel | Tall cabinets, workbench with top + bottom cabinets, Slatwall tool storage system | $9,000 |
| 22' Full Wall Cabinets & Slatwall | Tall cabinets, Slatwall system, workbench with cabinets and drawers, overhead storage | $11,000 |
* Please note that the cost of your garage may vary due to individual specifications. To provide accurate pricing, we will need to measure your garage, discuss your storage requirements, and consider relevant factors.
The cost of your garage cabinets will be influenced by their size and configuration. Customized cabinets with larger dimensions or intricate layouts will be more expensive compared to standard cabinet designs.
Additionally, incorporating special features such as built-in workspaces, specialized compartments, overhead storage, or unique design elements can also impact the overall cost.
For example, in a previous project, we installed custom garage cabinets on a 20′ wall for approximately $3,500. These cabinets were equipped with full-length handles, more than 10 separate storage areas, and had a stylish pewter finish.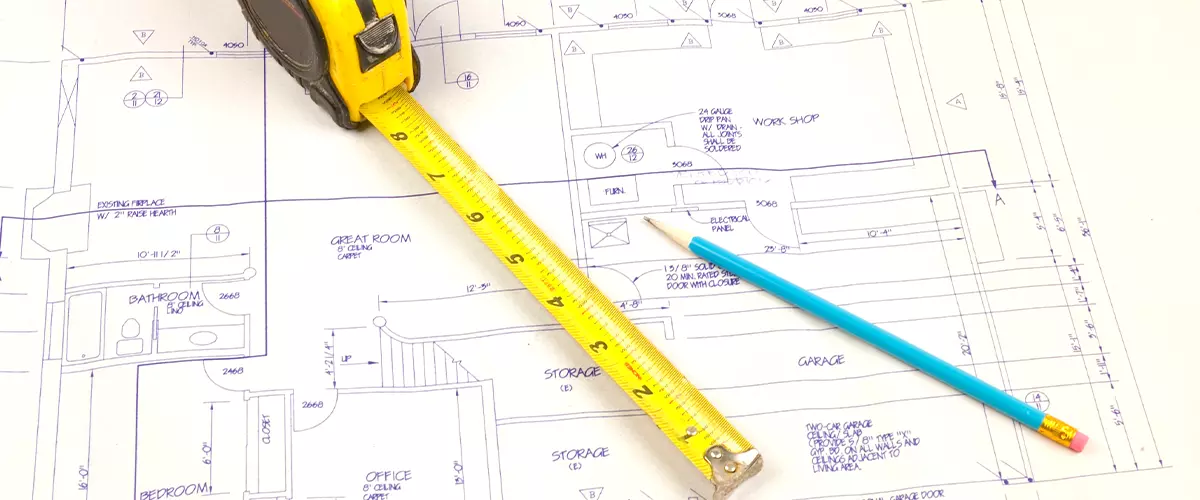 Imagine installing tall cabinets that come with a convenient workbench and a Slatwall tool storage system. You're looking at a ballpark range of $8,500 to $9,000, with the exact figure varying based on the cabinet size and the workbench specifications.
Now, if you're aiming for a more expansive setup that includes overhead storage racks and cabinets towering over your workbench, it's important to be aware that this might lead to a price range of around $11,000.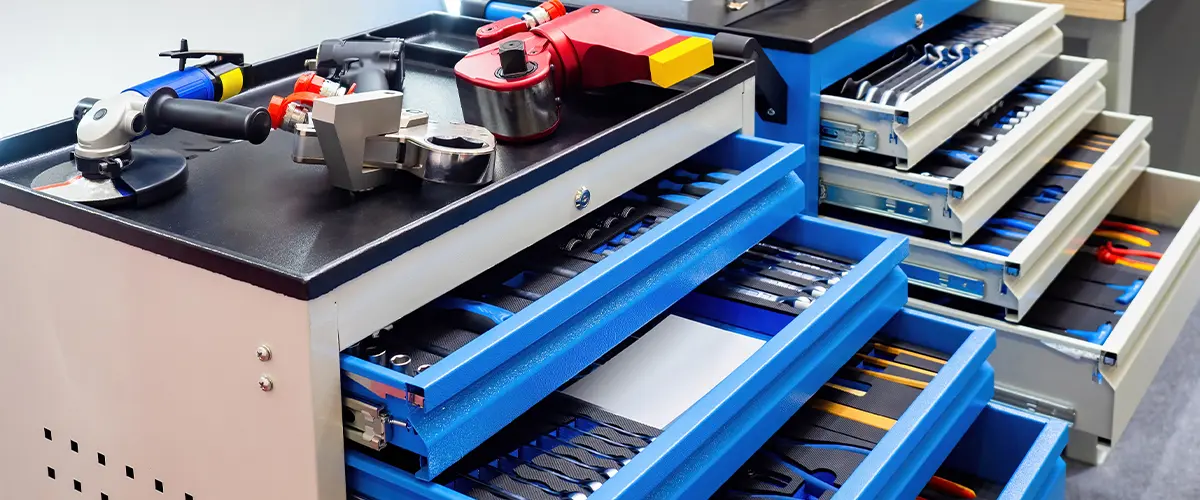 Here at Creative Closet, we're all about choices. Our array of finishes is designed to match your unique design vision. Picture options like classic white, contemporary slate, sleek silver, vibrant red powder-coated, timeless maple, and sophisticated pewter – the possibilities are endless.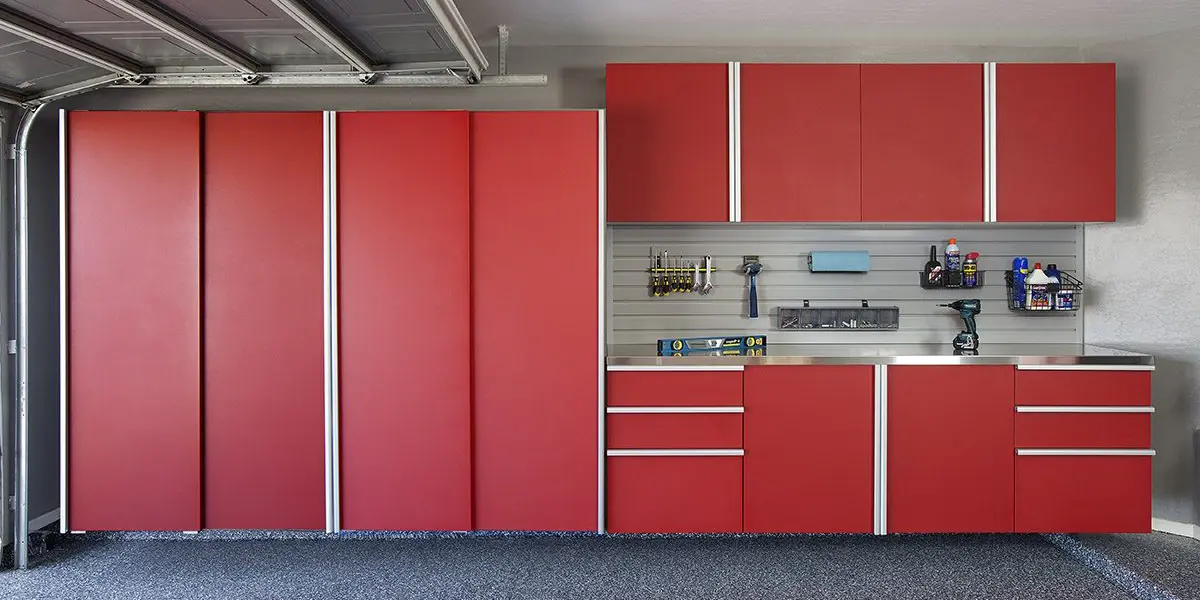 Now, let's talk installation. The complexity of the installation process plays a significant role in determining the cost of your garage cabinets.
Factors such as wall conditions, integrated lighting requirements, plumbing needs, and extensive customization can contribute to higher installation expenses. As you plan your garage cabinet project, it's crucial to keep these factors in mind when estimating the budget.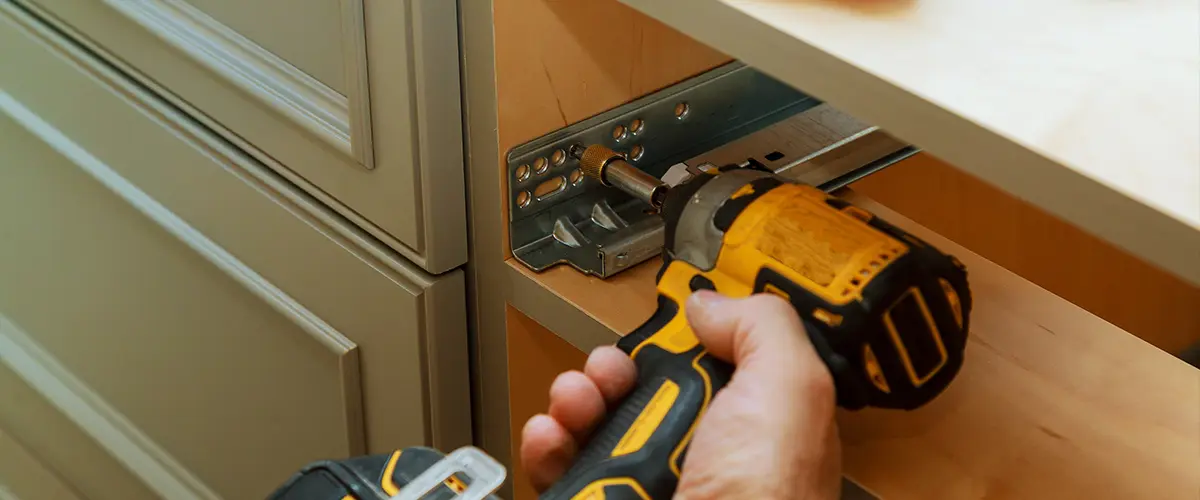 At Creative Closets, we pride ourselves on efficiency. Our promise? To have your garage cabinets expertly installed in just one day, regardless of the complexity. It's this commitment that has won over homeowners in Bothell, making our installation crews and services a cherished choice.
We had our garage renovated by Creative Closets and we're extremely happy. We had multiple cabinets installed, slat walls, overhead racks, etc. and our dream of having an organized garage is now a reality! Highly recommend the Creative Closets crew.
Your Bothell Garage Cabinet Experts
At Creative Closets, your preferences drive the design. Every inch of horizontal and vertical space is considered to match your unique needs.
Choose the type of storage that fits your lifestyle, and we'll craft a solution that aligns with your practical and aesthetic desires. No more struggling to fit your garage into a cookie-cutter mold – it's all about tailoring to you.
As part of our promise, we offer:
Get Garage Cabinets Made To Perfectly Fit Your Space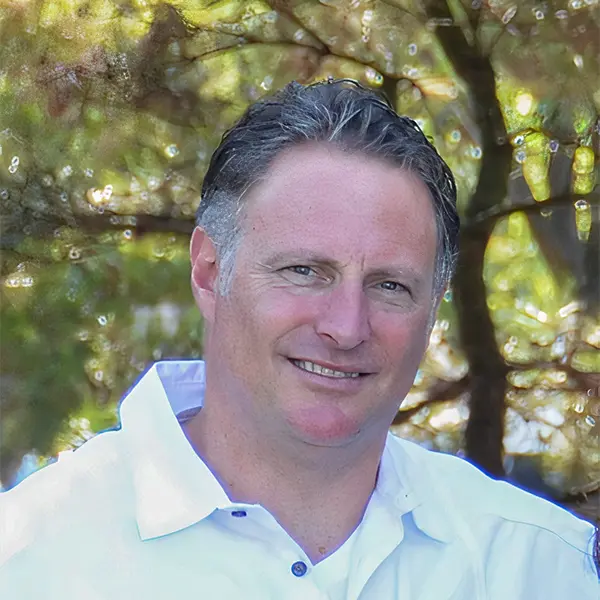 Don't miss out on the opportunity to transform your garage into a practical, organized, and stylish space. Call us today at (425) 428-5073 or send us a message by clicking the button below. Our team of experts at Creative Closets is ready to guide you every step of the way.