The Best Walk-In Closets In Tacoma, WA
Change your storage game forever with our new and improved walk-in closets in Tacoma, WA.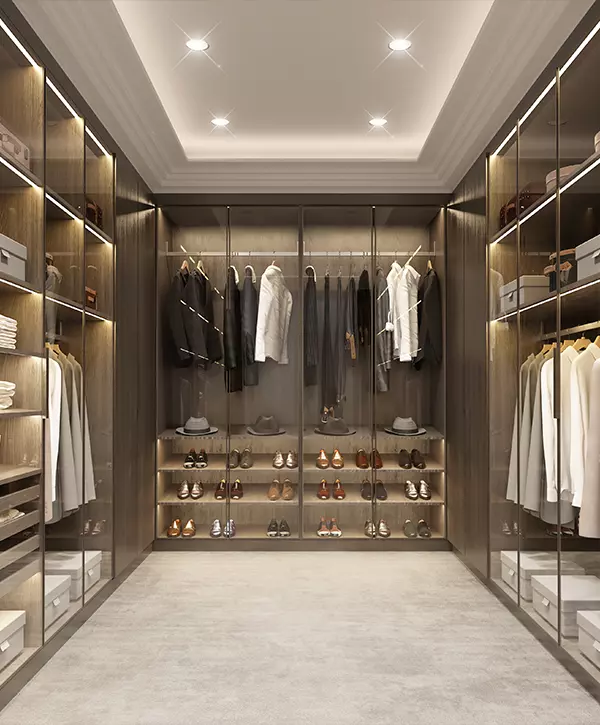 Walk-in closets are more than just storage; they're a personal haven, improving organization and enhancing your home aesthetics. They offer unparalleled convenience, enabling effortless access to your belongings while keeping them tidy and visible.
At Creative Closets, we specialize in crafting premium walk-in closets in Tacoma, WA, that are customized to your needs. We transform your space, optimizing for practicality and elegance. Let us help you revolutionize your home space with our top-tier design and installation services, creating a walk-in closet that is as unique as you are.
This is the second time we used Creative Closets they have been absolutely amazing! Jerry the design consultant who comes by and specs things out has some really good ideas and is patient to listen to your requirements.
Caleb came by promptly did a wonderful job with the installation! He was super professional and very polite. I am very happy with them and would definitely reach out to them for future projects!
Experience Tailor-Made Luxury with Creative Closets
Choose Creative Closets for our unparalleled commitment to quality and customer satisfaction. Our custom walk-in closets in Tacoma, WA, are designed with an understanding of your lifestyle, delivering functionality alongside luxury. Trust us to bring your vision to life, enhancing your home with personalized elegance.
We bring our A-game to the table each time with our:
Contact Creative Closets today for outstanding walk-in closet designs in Tacoma, WA. Experience a seamless transformation that marries functionality with style. Reach out to us and let's bring your dream walk-in closet to life!
Common Features In A Tacoma, WA, Walk-In Closet
Our walk-in closets in Tacoma, WA, incorporate a range of standout features that ensure organization, accessibility, and style. Here are a few distinguishing elements you can expect:
A key feature in our custom walk-in closets, divided drawers offer an exceptional organization solution. They help categorize your items, from clothing and accessories to any small items that can often get lost in the shuffle.
These versatile organizers effortlessly de-clutter your closet. Ideal for storing seasonal clothing, accessories, or rarely used items, storage boxes make your walk-in closet more streamlined and efficient, ensuring that everything has a designated place.
These racks optimize space by neatly storing your ties and belts, reducing clutter. By keeping these items well-organized and easily accessible, it streamlines your daily dressing routine, making finding your accessories a breeze.
These indispensable accessories in our walk-in closets keep your precious items tangle-free and easy to find. By ensuring each piece of jewelry has its own space, these organizers simplify your accessory selection process, delivering effortless elegance every day.
An essential addition to our walk-in closets, slide-out mirrors offer on-demand convenience without occupying constant space. They allow for final outfit checks and enhance the perception of space within the closet, making your dressing routine seamless and efficient.
These handy additions to walk-in closets facilitate efficient clothing organization. Folding stations provide a dedicated space for sorting and folding clothes, significantly simplifying your laundry routine and maintaining the neat appearance of your closet.
A must-have in walk-in closets, pants racks maintain the crispness of your trousers while offering easy visibility and access. This feature eliminates clutter and enhances the functionality of your closet, ensuring your pants are always ready to wear.
An addition that brings elegance and order to your walk-in closet. These racks keep your scarves wrinkle-free and easy to locate, preventing them from getting lost among other items. A perfect solution for a clutter-free, organized closet.
Essential for keeping your footwear in prime condition and easy to find, these organizers not only prevent clutter but also add an aesthetic appeal to your walk-in closet, making your shoe selection process a breeze.
These practical accessories offer temporary storage for clothing, simplifying outfit selection and preparation. Valet rods enhance your Bellevue walk-in closet's functionality, streamlining your dressing routine.
A fundamental feature in walk-in closets, hanging rods ensure your clothes remain wrinkle-free and easily viewable. They generate extra vertical space, maximizing storage and accessibility for a range of items from coats to dresses.
Integral to walk-in closets, hampers neatly segregate laundry, maintaining the cleanliness and order of your space. Their convenience aids in efficient laundry management, adding to the functionality of your closet.
Ready to elevate your home with a custom walk-in closet? Connect with Creative Closets for an exclusive in-home showroom experience. We are eager to show you how our custom designs can transform your space and lifestyle. Witness firsthand the quality, elegance, and functionality that our walk-in closets in Tacoma, WA, bring.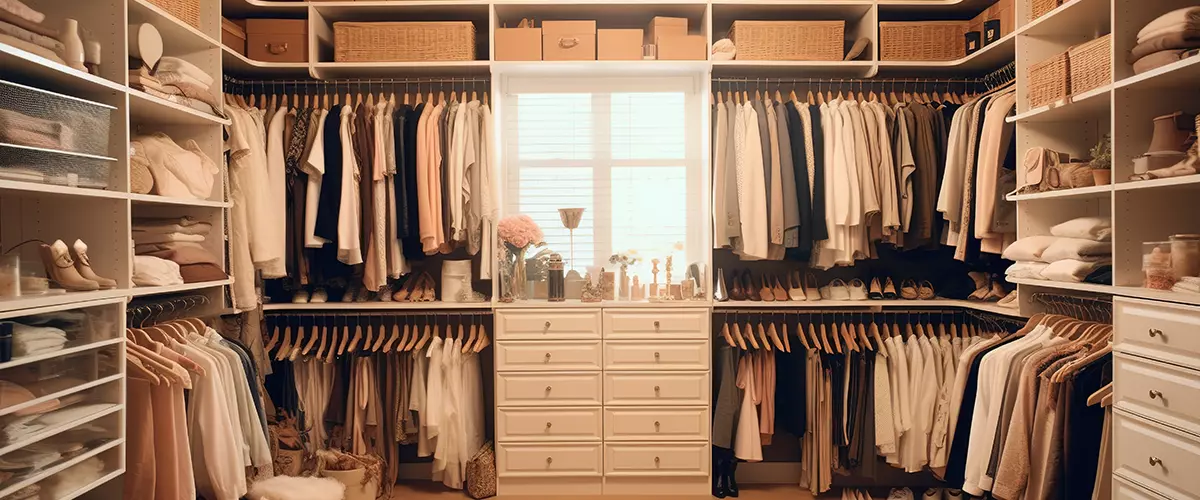 We Stay Transparent With Our Client Testimonials
Discover the exceptional benefits of our bespoke walk-in closets through the experiences of our satisfied customers. Here's what our Tacoma, WA, clientele has to say about the transformative impact of Creative Closets' designs on their lifestyle.
I found Creative Closets on Thumbtack and from the onset, they were very responsive. I worked with the lead designer, Jerry who was highly professional and very patient with me walking me through different designs until we landed on a final design I felt comfortable with that was also within my budget. Caleb, the installer, was very thorough and responsive. I love my new closet and will be recommending this business to anyone in need of a custom closet
From the making an appointment for in person design to installation, creative design was professional and prompt. They were able to explain step by step to me and it was a breeze to customize the closets as I wanted! Also, the closet installation comes with Life time warranty which is a plus! Thank you so much Creative Closets!
Walk-In Closets Costs In Tacoma, WA
Prices for our custom walk-in closets in Tacoma, WA, are diverse and flexible, accommodating a range of budget considerations.
On average, clients can expect to invest between $1,000 and $3,000 for small to medium-sized designs. For large and more intricate designs, costs can range from $3,000 to over $5,000.
However, it's important to bear in mind that prices may vary based on individual preferences, customizations, and the choice of premium materials. Our team is ready to work with you to craft a walk-in closet solution that fits your budget while delivering unbeatable style and functionality.
| Closet Size | Features Included | Quoted Price | Most Expensive Item |
| --- | --- | --- | --- |
| 6' x 9' | Long hanging section, Double hanging section, Adjustable shelves, Drawers | $4,375 | Drawers: $1,000 |
| 20' x 20' | Upgraded color (Licorice), Multiple double hutch units (Hutches), Multiple accessories, Angled shoe shelves | $9,367 | Multiple double hutch units: $4,000 |
| 12' x 6' | Custom height to fit under the window, Adjustable shelves for shoes, 24" deep material with lower doors to conceal the safe | $3,645 | Doors |
*Given the diverse nature and customization of our walk-in closets, pricing varies. To provide you with an accurate quote, we need specific details about your project. Please contact us to discuss further.
The size of the walk-in closet significantly impacts the overall cost of a project. Larger spaces necessitate more materials, and often, they require more complex designs to utilize the available area effectively.
For instance, in one of our past projects with a larger 20' x 20' closet, the final cost was $9,367. This price, higher than for smaller closets, was due to the upgraded color, multiple double hutch units, numerous accessories, and angled shoe shelves that were included to make the large space more efficient and visually appealing.
As closet size increases, so does the need for sophisticated design solutions, leading to a higher-end price.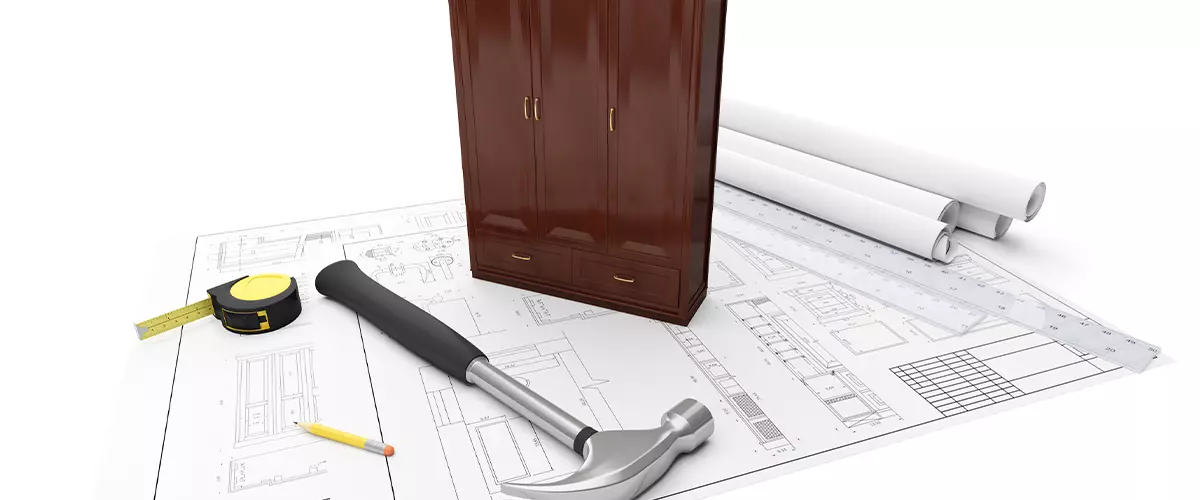 The level of customization also plays a critical role in determining the final cost of the walk-in closets. At Creative Closets, we are committed to meeting your unique needs and preferences, which can range from the type of materials and finishes used, to the choice of accessories and specific design features.
As the level of personalization increases, so does the necessary labor and materials, which in turn elevates the overall cost. For example, opting for premium materials or intricate design elements, such as custom-height sections, deeper shelves, or specialized accessories, can lead to a higher price.
However, these personalized touches are key to creating a closet that not only fits your functional needs but also aligns with your aesthetic preferences, ultimately enhancing the value and enjoyment of your space. While customization can increase the investment, it is an essential aspect of creating a truly tailor-made walk-in closet.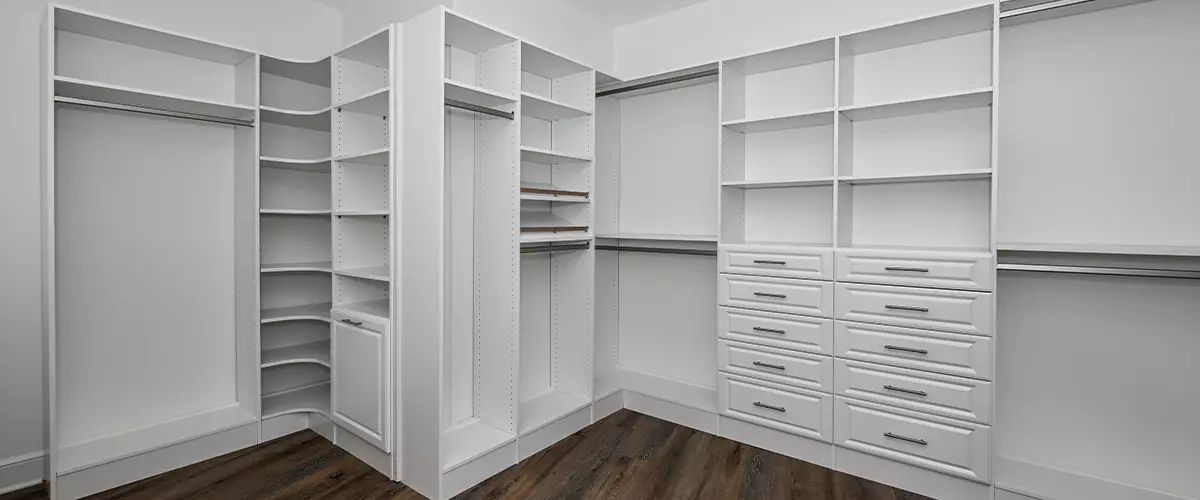 Modification requirements significantly affect the final cost of the walk-in closets. These modifications may involve structural changes to the existing space, including walls or flooring alterations, electrical adjustments, or even specific construction needs to accommodate unique design features.
While some spaces may be readily adaptable to a new closet system, others may need significant modifications, both of which affect the total project cost. For instance, if a wall needs to be moved or an additional lighting system needs to be installed, it will add to the overall expenses.
At Creative Closets, we aim to minimize these additional costs wherever possible while still ensuring the final product meets your expectations for a luxurious, functional, and personalized walk-in closet in Tacoma, WA.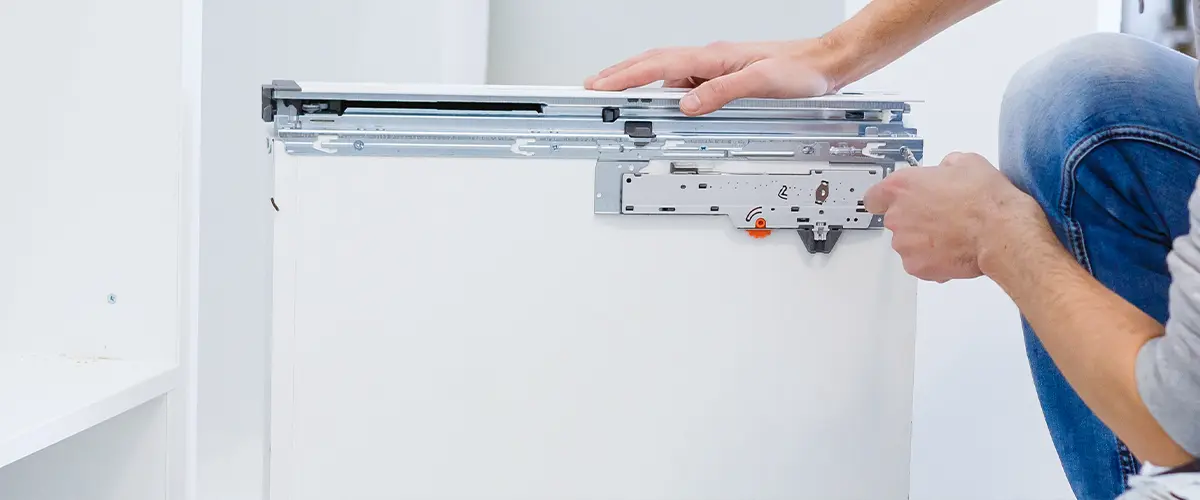 Accessories are another factor that can influence the final cost of your walk-in closet. These can range from basic items such as additional hangers or bins, to more luxurious options like built-in jewelry drawers, shoe racks, or custom lighting. Each accessory addition not only increases the utility and organization of your closet but also adds a unique touch that enhances its overall style.
For instance, consider a pull-out pants rack. While it adds to the cost, it provides an organized, easy-to-access solution for storing and selecting your pants. Similarly, a built-in ironing board might increase the investment, but it offers significant convenience by having everything you need within arm's reach.
So, as you contemplate the range of accessory options, remember that while they may elevate the cost, they also increase the functionality, convenience, and aesthetic appeal of your walk-in closet in Tacoma, WA.
At Creative Closets, we understand that investing in a custom walk-in closet is a significant decision. That's why we also offer financing options. During our in-home showroom appointment, we'll discuss these options and assess your eligibility for financing.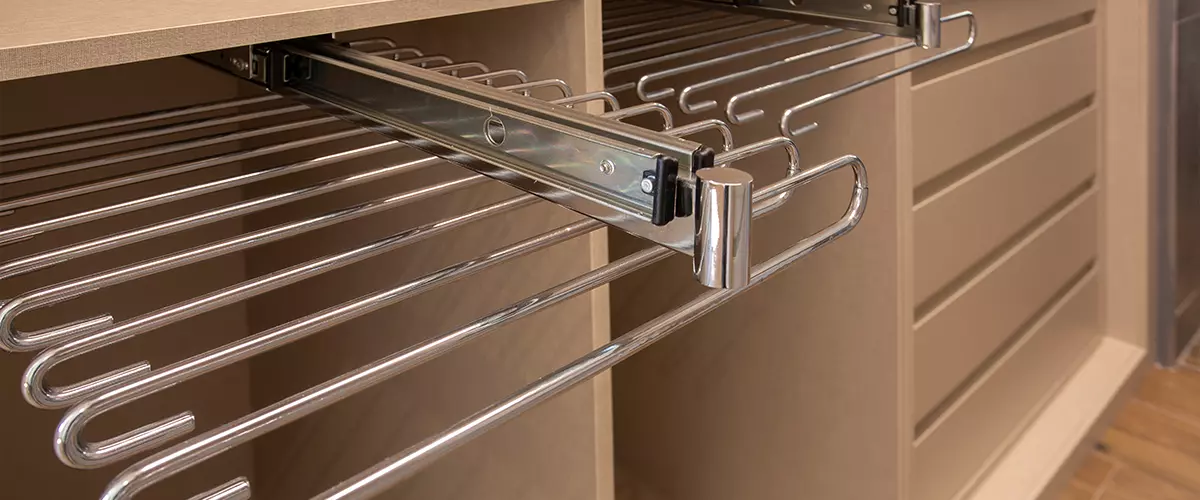 Our Unique Three-Step Closet Transformation
Embarking on your journey towards a custom walk-in closet in Tacoma, WA, is plain sailing with our simple yet comprehensive three-step process.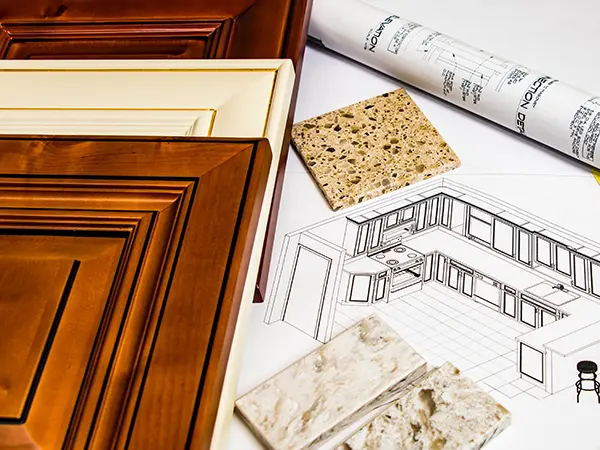 Envision your dream closet with our team, focusing on your unique aesthetic and organizational requirements.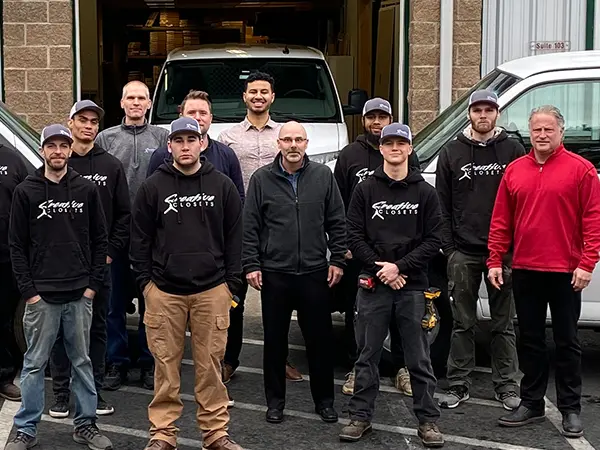 Our adept craftsmen meticulously bring your dream to life, ensuring quality and precision in every detail.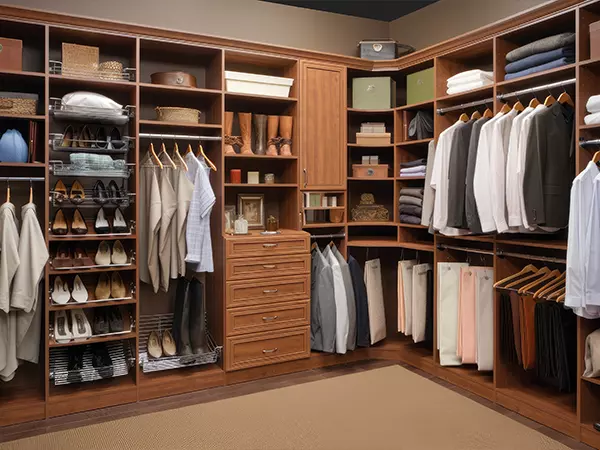 Revel in the luxury and improved efficiency of your tailor-made walk-in closet, designed specifically for your lifestyle.
Learn More About What We Can Do For Your Home
Enhancing Spaces with Our Exemplary Walk-In Closets Portfolio
Explore our diverse portfolio of luxurious walk-in closets in Tacoma, specifically designed to elevate your lifestyle by optimizing space and ensuring superior organization. Experience home transformation like never before with Creative Closets.
Experience the Unmatched Benefits of Choosing Creative Closets
When it comes to exceptional, tailor-made walk-in closets in Tacoma, WA, Creative Closets is the optimal choice. Our profound expertise, thoughtful craftsmanship, and personalized approach ensure a rewarding experience that goes beyond your expectations.
We offer a high level of personalization, ensuring each closet design matches your unique aesthetic and functional preferences.
Our commitment to quality is unparalleled – from the materials we use to the precision of our installation.
With years of industry experience, we are proficient in designing and constructing closets that maximize space and style.
We prioritize your satisfaction, providing comprehensive support throughout the closet transformation process.
Unleash the Power of Organization with Creative Closets
Choosing Creative Closets for your walk-in closets in Tacoma, WA, unlocks the profound benefit of seamless organization. Our customized solutions revolutionize your daily routines, streamlining your wardrobe management and creating a haven of order in your home.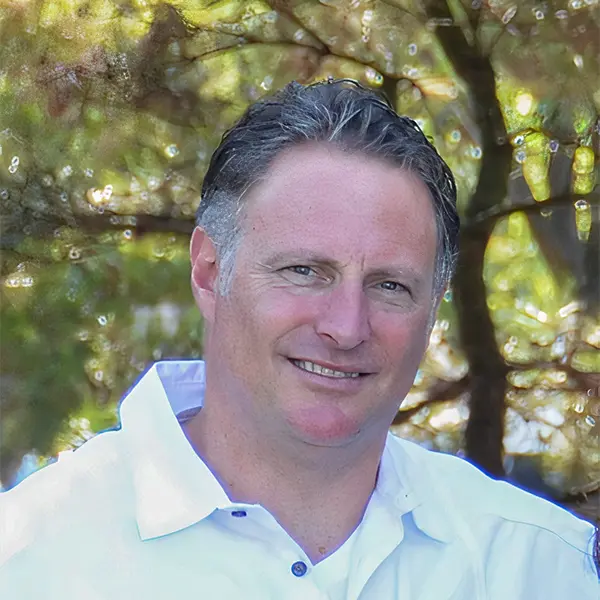 Enjoy the peace of mind that comes with knowing everything has its place and the luxury of a system tailored to your needs. Don't let disorganization hold you back. Contact us now at (425) 428-5073 and take your first step toward a more harmonious, organized lifestyle.
Tacoma, WA is a vibrant city, rich in culture and breathtaking landscapes. Nestled on the banks of Puget Sound, it features picturesque waterfronts and awe-inspiring views of Mount Rainier. The city is renowned for its bustling arts scene, with landmarks like the Museum of Glass and Tacoma Art Museum. History buffs relish the Tacoma History Museum and Fort Nisqually. For nature lovers, Point Defiance Park offers lush greenery and serene beaches. The city's revitalized downtown boasts of diverse dining and shopping options. Truly, Tacoma is a charming blend of natural beauty and urban sophistication.