Closet System Installation & Garage Storage Systems for Sammamish, WA, Homeowners
Does clutter and chaos seem to take over in your home if you don't stay on top of it constantly? Homeowners who don't have good storage solutions tend to have this problem. When you don't have, as your grandmother might say, "a place for everything and everything in its place," it can be difficult to keep order in the home. The experts at Creative Closets know how to handle this situation. From professional closet installation and garage storage solutions to re-worked areas such as home offices, kitchen pantries and laundry areas, we know what it takes to help people just like you gain control of chaos and clutter.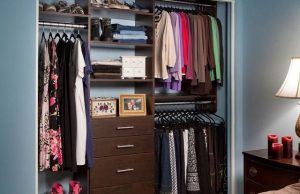 In order for a custom closet design to help you with your home organization, it needs to be built just for you. That's why we work closely with each of our clients, assessing their needs and designing the storage solution that will work for them. After we ask you questions about your lifestyle, belongings, budget, and home decor preferences, we will be able to show you products that we think will help.
Some Home Organization Storage Systems We Offer
No matter what type of closet you need to declutter, Creative Closets has just what you need to get reorganized. We have over 20 years of experience serving the area and have always stayed in touch with the industry's latest trends and best installation practices. And our certified closet system installers can handle any kind of custom closet installation project you need with precision, care, and speed—often completing closet system installations in just one day!
Here's a quick look at what we can help you with:
Walk-In Closets
We can take a look at your clothing, shoes and accessories, and build you a custom walk-in closet that will fit your lifestyle as well as the space that you have available. Not only will you finally have enough space for everything, you'll also have a beautiful new closet!
Kids' Closets
Kids' closets present a special challenge, because they need to appeal to your child currently, as well as grow along with him or her. Our closet professionals in Sammamish are able to meet this custom kids' closet challenge!
Custom Home Office
If you are bringing work home with you from the office, telecommuting full-time, running your own business from home or simply wishing for a place to organize your bills, a custom home office might be just what you need.
Custom Kitchen Pantry
Whether your cooking style rivals that of Betty Crocker, Julia Child, or Rachael Ray, it's difficult to create a masterpiece in the kitchen when your workspace and pantry are disorganized. We can help by creating you a custom kitchen pantry!
Custom Laundry Room
One of the least-favorite chores of many is laundry. While we don't have any magical ways to get you out of this task, we can help you by making sure that your utility area is free from clutter and mayhem.
How Much Do Closet System Installations Cost?
No two closet system installation projects are exactly the same for one simple reason: No two homeowners have exactly the same needs. The cost to install your home's new closet organization system will depend largely on the scope of the project—namely, what kind of storage solutions and materials you choose—but the national average cost to install one of these systems is roughly $1,667, according to HomeAdvisor.
You can always count on Creative Closets to work within your budget to find the best fit for your needs. Plus, you may qualify for financing options to make paying for your new custom closet even easier.
Custom Garage Storage Systems & Flooring
Your garage can function as a workshop, a family room, a storage space, a place to park the car, or a combination of these! From floor to ceiling, we have the garage storage systems that you need.
The garage organization systems and other features we can install for you include:
Custom cabinets
Wall storage options
Workbench countertops
Modular flooring
What's more, when you increase the amount of storage space in your garage, you may even find that you'll have more room to store things that would otherwise take up space somewhere inside your house. With increased wall storage capabilities, for example, you can clear out many of your existing boxes or cabinets and significantly increase the amount of free space in your garage. Whether that enables you to add more storage solutions or gives you just enough room to comfortably fit another vehicle, you'll love how much more functional your garage will become.
Why Install Garage Flooring?
If you use your garage frequently, you know how easy it can be to damage or dirty up the floor. You may not want that to happen, especially if you plan on selling your home in the future, but the modular garage flooring systems installed by Creative Closets can provide much-needed protection. Our flooring can stand up to heavy objects, impacts, spills, and more to keep your garage floor in tip-top shape while being easy to keep clean. Our flooring is the perfect companion piece to one of our garage storage systems.
Start the Process Today by Calling for Your FREE Consultation
At Creative Closets, we offer free consultations for closet system installations and garage storage systems in Sammamish, WA. Give us a call today to schedule your no-cost, no-obligation appointment. We will talk to you, take some measurements, and even show you what your new storage solution will look like using special 3D software.