We Can Help You Organize Your Redmond, WA, Laundry Room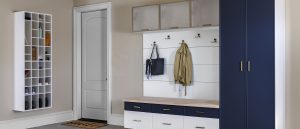 Your home's laundry room is meant to be an organized space where you can clean and fold your clothes. However, our laundry rooms can also become cluttered spaces or storage areas for things that won't fit anywhere else in the house. If this is the case with the laundry room in your Redmond, Washington, home, you may want to consider having laundry room organizers and cabinets installed by the experts at Creative Closets.
Our Laundry Room Organizer
At Creative Closets, we only offer our customers the highest quality products available. This is why we proudly design and install wooden cabinets with a lifetime warranty as well as adjustable shelves that can help you make the most of your existing space.
We also offer a variety of laundry room accessories that can fulfill the unique needs of any homeowner. Choose from options such as:
Soft-closing door and cabinet hinges
Durable laminate finishes
Hooks
Hanging rods
Metal storage baskets
Slide-out laundry hampers
We are certain that you will be able to find an option that matches your exact vision.
Get Started Today
Are you interested in learning more about the laundry room organizers and cabinets we design and install for homeowners in the Redmond, WA, area? Contact Creative Closets today to schedule a complimentary design consultation right in the comfort of your own home. Our talented staff will even produce a 3D rendering of your new design for your approval before we begin the installation process. We look forward to working with you.