Creating Unique Closet Systems for Puyallup, WA, Homeowners
Isn't it funny how even the biggest closets can feel cramped and cluttered as you accumulate more stuff over time? It's so easy for a space built solely to keep your clothes and other items organized to become disorganized, and it may even seem like you don't have room for anything anymore. But at Creative Closets, we know that's not the case. We design and build closet systems that not only maximize the storage potential of virtually any closet in your Puyallup, Washington, home but also greatly add to the room's aesthetic.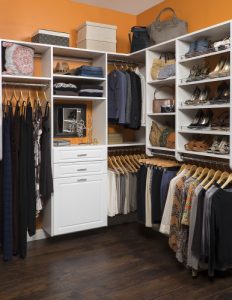 Custom Closet Systems Designed Just for You
No two homeowners have exactly the same needs, so we're not interested in cookie-cutter closet organizer systems. Your custom closet will be tailored to fit your lifestyle and your sense of style alike. We can build closet systems for all kinds of spaces, including:
Reach-in closets
Kids' closets
Once our custom closet design team knows what kind of space we're working with, we'll attentively listen to your ideas and goals to find the best way to build a closet system that works perfectly for you. We can include a wide variety of helpful features and accessories, such as:
Cabinets and drawers
Shelving
Shoe racks
Mirrors
Sliding baskets
Hampers
Jewelry trays
Belt and necktie racks
Islands
After we build up your closet system to get the functionality you desire, it'll be time to complete the look. You can choose from a vast selection of colors, textures, and finishes, lighting options, door frame materials, cabinet door fronts (including glass panels), and much more for a one-of-a-kind look you'll love.
Other Closet Systems
Do you have organizational needs beyond your bedroom closets? Creative Closets can help! We can customize organizational systems in closets all over your home, including:
What's more, we can create garage organization systems using workbenches, cabinets, and wall storage options, and we even install custom flooring systems that can make an eye-catching visual statement while keeping your existing garage floor safe from stains and impact damage.
A Customer-Centric Closet System Installer
Here at Creative Closets, we've spent more than two decades helping local homeowners reclaim their closet spaces with their own custom organization systems. Here's what we bring to the table when you choose us to revamp your closets:
Experience – We're one of the longest-running closet organization companies in the area, so you can trust that we've seen it all—and have found the best ways to organize it, too.
Technology – Not only can you count on our design team's creativity to make closet systems with excellent form and function, but you can also see the results for yourself before a single nail is hammered. Our 3D design software will show you a rendering of your closet system before it's built and let you make changes in real time.
Craftsmanship – Our technicians are highly trained and skilled to boot, so we can likely complete your custom closet system installation in as little as one day. Your closet will be installed to meet our high standards, and we'll make sure to keep the work area sparkling clean for you. We're so confident in our technicians' quality of work that we'll back it with a lifetime guarantee and a labor warranty.
Why Invest in a Closet System?
At Creative Closets, we're not here to shame anyone who can find whatever they need in an "organized mess." But we can speak from experience and say that once you start using a closet organizer system, you may wonder how you ever lived without it in your home. Here's why we encourage any homeowner to consider getting at least one closet system:
Find Things Faster
Hate the rush of sleeping through an alarm, waking up late, and having to scramble to get ready for work or an engagement you're about to miss? When you're stressed out, the last thing you want to do is wonder where you put the things you need. A closet system will take care of that, giving you a clear picture of where to find your items and letting you do so more quickly.
Store Your Valuables
Running out of room to store your jewelry, heirlooms, and other precious pieces? Don't settle for sticking them in a nightstand drawer where they could be forgotten about. Creative Closets can design a space just for the items you most treasure, keeping them safe and sound right where you'll know to look for them.
Increase Your Home's Value
When buyers are looking for homes, they're more likely to be interested in one that's had some quality-of-life improvements installed inside. A custom closet certainly fits the bill. We'll help you give your home's next owner the convenience of a well-organized closet or garage whether you're looking to sell soon or in the distant future.
Get Started Today
Ready to upgrade your Puyallup, WA, home and get better organized with a unique closet system from Creative Closets? Reach out to us today to learn more about our services and schedule a one-on-one consultation with a member of our design team. We look forward to working with you!