Organize and Upgrade Your Kirkland, WA, Home's Laundry Room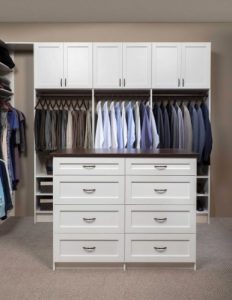 What is the current state of your home's laundry room? Is it tidy and organized or cluttered and less than perfect? If you sided with the latter, it might be time to turn to the experts at Creative Closets for laundry room organizers and cabinets. We have years of experience helping homeowners in the Kirkland, Washington, area utilize their existing space to create a beautifully organized laundry room and are eager to work with you next.
Our Design Process
After you contact Creative Closets to inquire about our laundry room organizers, we will begin the design process with a complimentary consultation right in the comfort of your own home. Our knowledgeable designers will inspect your current laundry room in person and work with you to fully understand your needs and preferences. Once we have an idea of what you are looking for, we will use 3D software to create a perfect design for your home.
Our Laundry Room Accessories
We proudly offer and install a variety of elements to help organize your laundry room, such as:
Durable laminate finishes
Adjustable shelves
Metal storage baskets
Hooks
Hanging rods
Soft-closing door and cabinet hinges
Floating or sink-base cabinets
What's more, all of our wood products come with a lifetime warranty!
Let's Work Together
Are you ready to learn more about how we can upgrade your Kirkland, WA, home with durable and attractive laundry room organizers and cabinets? Contact Creative Closets today to get started. We look forward to working with you.