Custom Closet Systems, Design and Installation in Kirkland, WA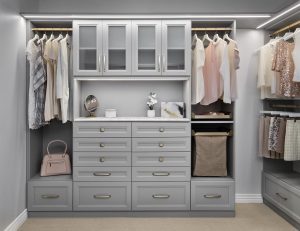 Creative Closets in Kirkland, Washington, is here to help you with all of your closet organization needs. We understand that dealing with cluttered closets and household messes can be difficult, but we are up for the challenge. We have a team of experienced custom closet organizers and installers ready and willing to help you with your project. We offer custom closet system installations that can transform any space in your house into an organized oasis, including but not limited to:
Master closets
Utility closets
Linen closets
If you need help with any of the projects above or just about any household storage challenge, contact us at Creative Closets today. We will schedule an appointment to send one of our talented and experienced organizers to your home for a free design consultation in the Kirkland area.
Beautifully Organized Walk-In Closet Systems
Do you have a walk-in closet in your master bedroom? If so, there was likely a time when you thought this space was a touch of luxury. Today, however, it's more like a barely contained mess of clothing and forgotten items that has become a source of stress in your life. Creative Closets is ready and excited to show you what we can do with a custom-designed walk-in closet organizer system. To better organize your walk-in closet and help you fall in love with it all over again, we can install a wide variety of quality fixtures, including:
Shelving
Cabinets and drawers
Countertops
An island
Belt and tie racks
Jewelry trays
Sliding baskets
Built-in hampers
Mirrors
And so much more
The wooden fixtures of our custom walk-in closet systems are available in your choice of gorgeous woodgrains, mattes, and acrylic finishes to create the look that matches your vision and beautifully complements the interior design of your bedroom. Closet systems for walk-in closets can also feature recessed lighting, aluminum frame doors, glass-fronted cabinets, and numerous other accessories to bring pizzazz to your closet space.
Our Closet System Installations
At Creative Closets, we take just as much pride in our wide selection of closet system accessories and customization options as we do our high-quality installations. Allow us to walk you through the custom closet system installation process from start to finish so that you know exactly what to expect.
All of our closet system installations begin with a personal consultation with our friendly and knowledgeable design team who will work tirelessly to fully understand your unique needs, preferences, timeline, and budget. After our complimentary in-home design assessment, including taking accurate measurements, our team will create a 3D rendering of your new closet system for your approval. Only once you are fully satisfied with the design will our team begin the expert installation.
When it comes to the actual installation of your new closet system, our number one priority is safety. Our design and installation team prioritizes both the safety of your household as well as the safety of themselves to ensure that every project runs smoothly and you never have to worry.
Custom-Designed Garage Storage Systems
At Creative Closets, our organization systems aren't just for your closets—they can also tidy up other areas of your home, including your garage. The garage can quickly become cluttered with lawn care equipment, tools, boxes of holiday decorations, sports gear, and whatever items you use for your favorite hobbies: art supplies, car parts, gardening tools, etc. Thankfully, our custom garage storage systems can help keep all of these possessions well organized so that you can more thoroughly enjoy and make better use of your garage. Our garage organization systems can feature:
Tall cabinets
Drawers
Workbenches
Slatwalls
High shelves
And more
With our garage storage solutions, you can revel in your favorite pastimes without being encumbered by clutter.
The Benefits of Custom Closets
You might have seen beautiful custom closets in magazines or on your favorite design blogs, but you might have never actually thought of installing custom closet components in your own home. Customizing the closets in your home is an achievable goal, and it's a project worth considering for these reasons and many more:
Stop stressing out over clutter.When your house is a mess, it's difficult to relax and enjoy your downtime. With the help of our design and installation team, you can transform your closets and tackle your clutter. Soon, you're sure to feel a lot less stressed out about the state of your home.
Cut down on family disagreements.If you've ever snapped at your spouse or felt frustrated with your kids, you could be hoping to put a stop to the disagreements about household clutter. With custom closets, you won't have to worry about your kids losing their shoes or not knowing where to put things when tidying their rooms.
Stop losing your important belongings. When your closets are a big mess, it's hard to keep track of things. You can finally stop losing your stuff with the help of custom closetcomponents and the right closet design.
Keep clothing and more in better shape.You might have spent a lot of money on your wardrobe, but if you don't take good care of your clothing and accessories, your items might wear out more quickly. Properly hanging, folding and otherwise storing your belongings will help you keep them looking nice.
Enjoy an increase in your home's value.Like many household projects, installing custom closets is a great way to increase your home's value.
Make better use of your limited space.If you have limited storage space or limited square footage overall, custom closet components can help you make better use of the space that you do have.
Once you think about the many benefits of organizing your closets, you're sure to see that working with Creative Closets to install custom closet components is something you should have done a long time ago.
The Benefits of Hiring a Professional
If you like the idea of transforming your closets, you could be thinking about doing it on your own. You might like the idea of buying your own storage shelves and hanging rods so that you can create your own design. After all, this might seem like a good way to organize your space on a budget.
As someone who doesn't have much experience with custom closets, though, you might find that coming up with a great design is more challenging than you thought. An experienced designer, on the other hand, can come up with great ideas for transforming your closets that you might not have even thought about.
Additionally, you should make sure that the components that you use in your closets are well-made and sturdy. Proper installation is also key. You never have to worry about these things when you work with Creative Closets. We only use high-quality components, and our professional installers will make sure that your rods, shelves, drawers and more are installed the right way. All of our wood products come with a lifetime warranty, too!
The Cost of Custom Closets in Kirkland, WA
Custom closets in Kirkland don't have to be expensive. Of course, it's true that you can opt for lots of components and high-end upgrades. However, economical options are also available for homeowners who are looking to tackle their clutter on a budget.
Are you ready to take control of the clutter throughout your entire home?If you can fit a bigger project into your budget, our designers will work with you to customize every closet in your home. We can also help with your laundry room, home office, kitchen pantry and even your garage.
Do you have big closets in your home?If so, it will cost a little more for us to customize them, simply because more components and more labor will probably be needed. However, when finished, these bigger closets are sure to be great for household storage. Fortunately, we work with smaller closets, too, and you'll be surprised by how we can maximize these small spaces on a budget.
Are you interested in higher-end finishes?If you want higher-end components and finishes, your final project quote will be higher. Economical and mid-range options are also available.
We never want you to spend more than you feel comfortable spending, though, and we want you to be fully aware of how much your project will cost from the beginning. Because of this, you will receive a quote before we start installing any components. If you're ready for a quote for your storage and organization project, contact us at Creative Closets in Kirkland for your in-home consultation.
The Creative Closet Organizers Design Process
Our custom closet designers follow a few basic steps when meeting with Kirkland homeowners like you. First, they will come into your home and spend a few minutes talking to you about your storage spaces, challenges and goals.
They will, of course, also need to take a look at the closets that you will be organizing. They'll take careful measurements so they'll know how much space they have to work with, and they will then sit down with you and our 3D software program to get to work.
Our 3D design program makes it easy for our custom closet designers to create and visualize your improved storage space right from their screen. You can watch as they try out different components and configurations, and you can give your feedback about the design until it has been perfected.
After the design is completed, you'll be given a quote. You can then choose to set up an installation date to have all of your components installed. In just a few hours, your closets will be transformed.
Frequently Asked Questions
What are custom closets made of?
Our closets are made out of wood and coated for durability, stain-resistance, and moisture-resistance. All you need to do is wipe down the closet components with a damp cloth periodically to keep them looking great.
Do I need to paint before having custom closets installed?
If you want to paint your closet, then yes: You need to do it before the system is installed. Talk to your Creative Closets organizer to figure out a timeline for removing your old components, painting, and having the new custom closet installed.
How long does it take to install custom closets?
Every project is different. Plan on setting aside at least one full day for installation, and plan on longer if you are having more than one closet installed. Your closet designer will let you know the specifics in your case.
Can you work in very small closets?
Absolutely! Whether your closet is large, small, narrow, shallow, or filled with challenges like a sloped ceiling, a window, or a cubbyhole access door, your Creative Closets specialist will be able to work with and around it.
Your Top Custom Closet Organizer in Kirkland, WA
For top-notch customer service, functional designs and high-end custom closet components, you can count on Creative Closets in Kirkland, Washington. We know that you're ready to get your clutter under control, and we want to help. Contact us today, and we'll schedule a date and time for your free in-home consultation. Then, you can see what our talented designers and installers can do to turn your cluttered closets into attractive, tidy and useful storage spaces for you and your family.
Why Choose Creative Closets?
For more than 20 years, Creative Closets has been delivering exceptional service to homeowners in the Kirkland, WA, area. For your project, you can expect red carpet treatment every step of the way. From creating one-of-a-kind custom closet designs to providing timely installations for your home, we'll stop at nothing to ensure your needs are met. In fact, we'll make sure to leave a thoroughly clean work area when we're done installing your new closets, and we'll include the manufacturer's lifetime guarantee to protect your investment.
Contact Us Today to Get Started
If you're interested in learning more about our custom closet system installations or garage storage installations, contact Creative Closets today to get started. We would be more than happy to schedule a free, no-obligation consultation right at your Kirkland, WA, home with our knowledgeable team. We can't wait to work with you.