Organizing a man's closet might feel like an intimidating task, but with a well-thought-out strategy, it can be both fun and rewarding. In this guide, we will walk you through the detailed steps on how to organize a man's closet effectively, ensuring an orderly and accessible arrangement of all wardrobe items.
Inventory: Assessing the Man Closet Essentials
When it comes to a man's closet, there are timeless essentials that stand the test of time and trends.
Think of them as the trusted lieutenants in your style army, always ready to keep you looking your best. From a perfectly tailored suit for special occasions to quality jeans that become your second skin, these staples form the backbone of a well-rounded wardrobe.
And let's not forget the classic white shirt, the equivalent of a sartorial Swiss Army knife that effortlessly navigates boardroom meetings and casual brunches. So, gentlemen, it's time to take stock of what's hanging in your closet and elevate your style game!
Organization: Creating a Neat and Tidy Space
Now, onto the organization. It's not just about what you have in your closet, but also how you store it. A well-organized closet not only makes your mornings smoother but also extends the life of your garments.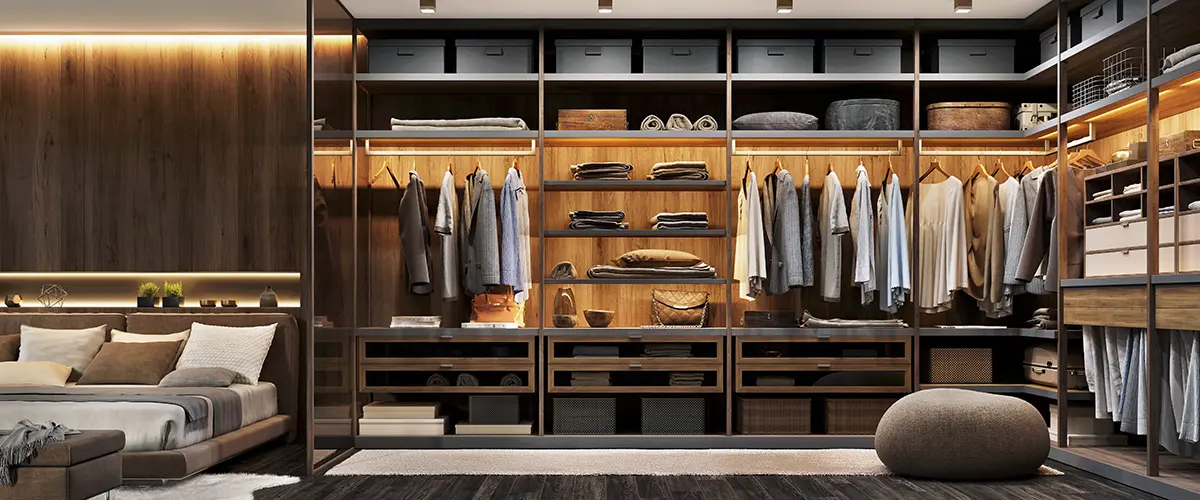 Color Scheme: Opting for Darker Tones, a Preferred Choice
Color schemes are rarely a man's favorite discussion topic, so let's keep this as simple as possible.
Hanging Space: Accommodating Suits, Dress Shirts, and Pants
When we talk about hanging space, it's all about giving those key pieces in your wardrobe the room they need to breathe.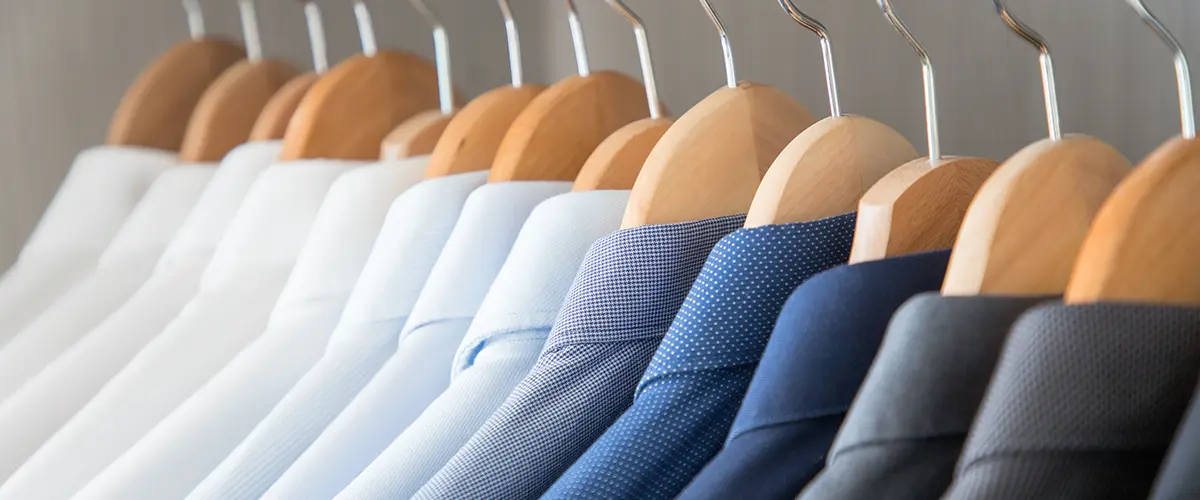 Display: Showcasing Jeans, T-shirts, Shorts, and Casual Slacks
And now, onto the more relaxed side of your wardrobe. Who says your jeans, t-shirts, shorts, and casual slacks don't deserve their moment in the spotlight?
These everyday heroes of your closet, more often than not, get overlooked when it comes to storage. But, here's the thing, guys. A well-organized and displayed casual section not only makes it easier for you to grab-and-go but also helps these items maintain their shape and longevity.
Storage: Safely Storing Sweaters and Jackets Until Needed
Now, let's talk about those cozy sweaters and jackets that keep us warm during those chilly months. Proper storage is the key to ensuring they're ready to take on the cold when you need them most. These items tend to be bulkier and require more care to prevent damage from moths or humidity.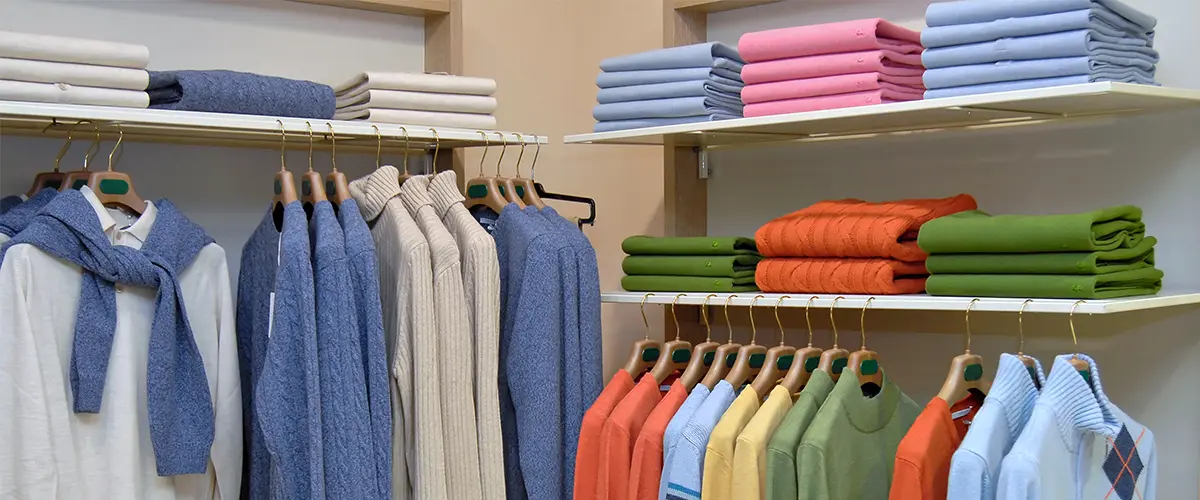 Footwear: Opting for Shoe Racks Over Floor Placement
This one's a real game-changer – swapping floor placement for shoe racks.
Why, you ask?
Well, here's the thing. Shoes casually strewn across the floor can lead to scuffs, scratches, and a whole lot of unnecessary wear and tear. Not to mention the time wasted hunting for that elusive matching pair when you're in a hurry. Enter the shoe rack – your footwear's knight in shining armor.
A well-chosen shoe rack not only keeps your shoes organized and easy to find but also helps maintain their shape and longevity. It prevents those premium leather loafers or snazzy sneakers from getting squashed under a mountain of other shoes.
lus, it keeps the floor clear, making your closet look neat and tidy. So go ahead, invest in a shoe rack that suits your style and needs. Trust us, your shoes (and future self) will thank you!
Gear: Utilizing Baskets or Deep Drawers for Workout or Sports Gear
Let's get sporty now! We all have that assortment of workout gear, sports equipment, and gym clothes that often end up scattered around.
So, why not give it a dedicated space?
Baskets or deep drawers can be perfect for storing these items. Not only do they keep things tidy, but they also make it super easy to grab what you need for your workout. Say goodbye to rummaging through your closet looking for that yoga mat or those running shorts!
Plus, having all your workout gear in one place might even motivate you to hit the gym more often. Remember, just like your formal wear needs to be cared for to maintain its look, your workout gear also needs its own space to breathe. After all, being well-organized is not just about looking good, it's about feeling good too!
Accessories: Organizing Jewelry, Tie Pins, Cuff Links, Rings, and Watches
Let's not forget about those little details that tie your whole look together – your accessories. We're talking about your jewelry, tie pins, cuff links, rings, and watches.
These might be small items, but they can make a big style statement. – Use a jewelry box or organizer with multiple compartments to keep small accessories organized.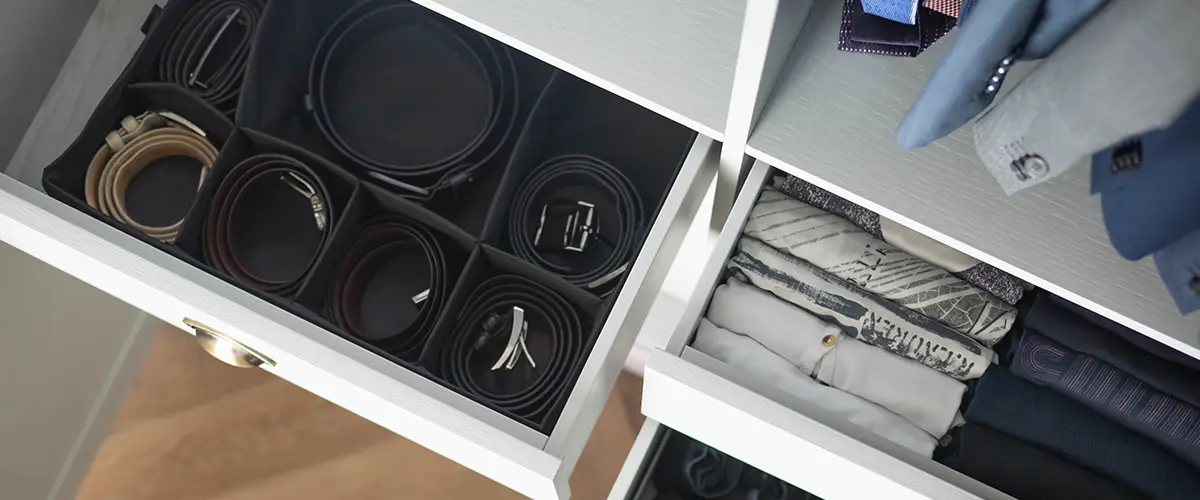 Briefcases and Bags: Utilizing Low Shelving to Keep Them Off the Floor
Finally, let's shine the spotlight on your briefcases and bags. These are your trusty sidekicks in the hustle and bustle of daily life, and they deserve a proper place in your closet. Having them on the floor is not only unsightly, but it also exposes them to dirt and damage.
So, what's the solution? Use low shelving to showcase and store your bags and briefcases.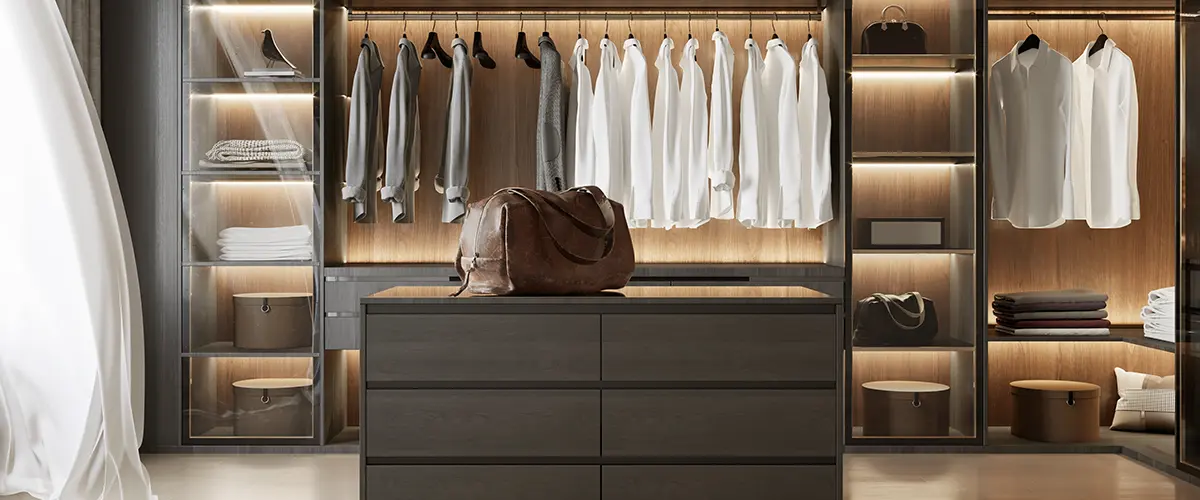 Contact Us To Get The Perfect Custom Man's Closet
If you're ready to transform your storage situation and elevate your wardrobe organization like never before, we're here to help. At Creative Closets, we offer custom closet systems tailored to your specific needs.
Whether you're looking to optimize a small space, accommodate a large collection of accessories, or just want to give your closet a fresh, stylish update, we've got you covered. Feel free to contact us at (425) 428-5073.
Our friendly and knowledgeable team is ready to assist you in creating the perfect storage solution to take your closet game to the next level.