"They grow up all too fast" is the cliche we all can't help but chant. However, what we may not realize as a new parent is that all those adorable onesies and munchkin outfits will suddenly morph into an overflowing closet bulging with stained clothing, odd socks, amateur artworks and an armor of toys in need of new batteries.
When it does happen to you and if you have prepared them by teaching them how to keep their closets clean with minimal nagging, you will at least arm them with the right strategies for living a well-organized life in their adult years. Not only that, an organized kids' closet will not only save you time and energy but also your sanity!
---
The Best Closet Storage Strategies With The Kids In Mind
Many strategies we think of as an adult should apply to our kids closet organization, sometimes may only end up hindering their willingness to cooperate. So what is the best way to organize a
kid's closet
, so they too will want to do it? Well, It actually helps to think like a kid. If you want to know how can you make this whole process easier on yourself – then here are some exceptional strategies you can implement starting today.
Start At The Ground Level
It is more functional to keep toy storage for younger children at ground level so they are able to put stuff away on their own. Naturally, incentives will go a long way to motivate their cooperation especially if you lead by example and make a game out of it. Making it a part of the nightly routine before they go to bed so they are always waking up with a clear space will create a sense of accomplishment as well as an appreciation for space.
Get Them Hooked
By hanging hooks either inside of the closet or attached to the closet door it will make it quick and easy for them to hang up jackets, totes, and other items to keep them off the bedroom floor. Be sure to install them at a kid-friendly height and as they grow taller adjust or replace them at next level.
Stack 'em Up
Clear stackable plastic containers are not only great for storing toys with multiple parts, such as blocks, lego, puzzles or craft items, but they can also see what's inside them. This helps them to learn there is a place for everything and it makes it more likely that the kids will get involved in keeping things tidy.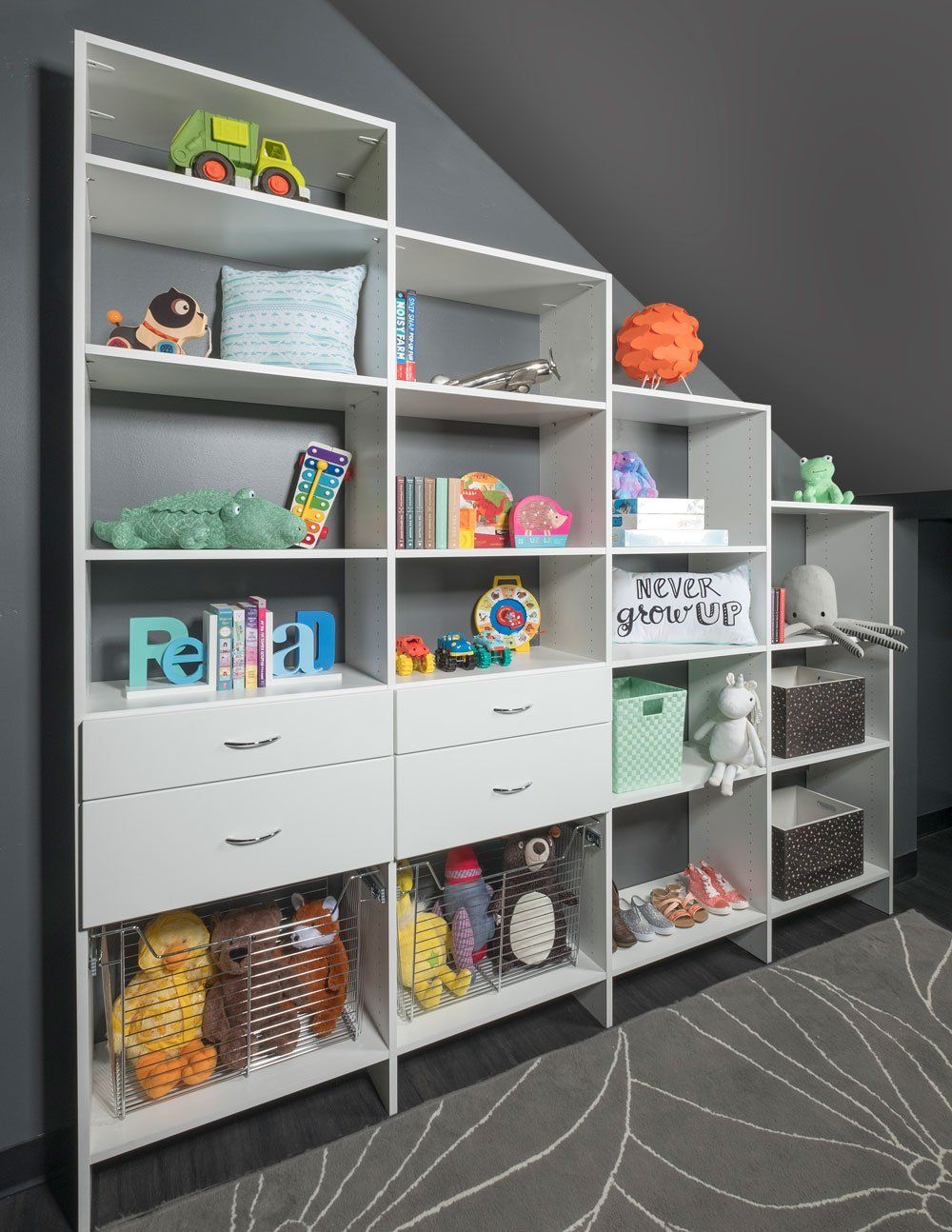 Double The Hang Ups
Kids clothes typically are much smaller and do not need a lot of hanging length. By installing double hanging rods for their clothes it will maximize their closet space much more effectively. Little ones will also be able to better reach and help with hanging clothes.
Pockets Are Good For Things
Hanging an organizer up in the closet that has storage pockets, which can hold sweaters, gloves, beanies, bibs or even shoes will make these items easily accessible without having to rummage through drawers for them. If you don't have a dresser or drawer chest this is a great option.
Fold Less
Particularly with young children, you should only fold what you have to! Ask yourself if it really matters if the underwear is folded. Probably not! The easier you make it for your child to put things away, the more likely they will want to do it.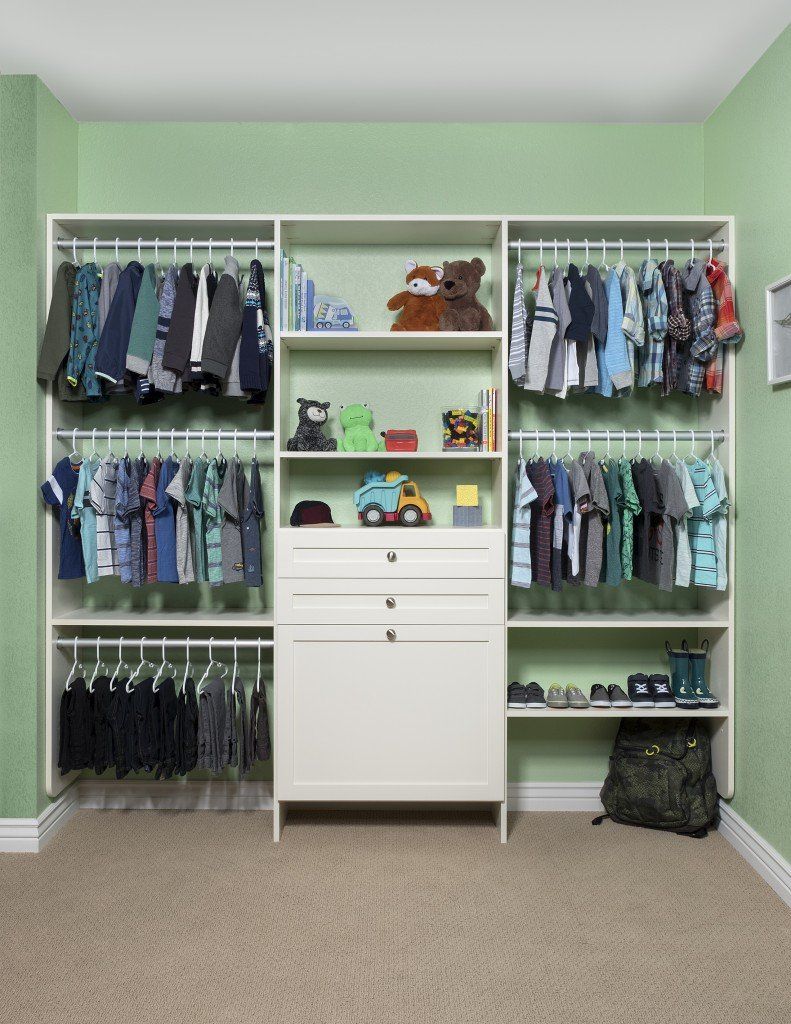 Hamper Them Young
Getting them started young with using a hamper will teach them to put their dirty clothes aside. Using a pop-up hamper on the floor in the closet, an empty laundry basket or even hanging a laundry bag from a hook inside the door will create good habits that can last them a lifetime.
Dealing With Too Many Toys
Toys can create a great deal of clutter in a kids room – particularly when it overflows into the rest of the house. Kids have a habit of always wanting the latest and greatest new toys and then hardly playing with them after a few days. Since most toys just end up being, tossed, or donated or given away, rather than go crazy buying the toys – perhaps teach them that if the toy box and storage areas are full, then no more toys until they donate or toss some away to make space for the new. In the end, it will be the experiences in life they will remember, not the stuff.
Labels Rule
Use labels on the outside of toy bins, shelves and drawers so they quickly learn what things are stored where and know where to put them away. This is a great way of teaching your kids organizational skills early on and will make things easier for them down the road.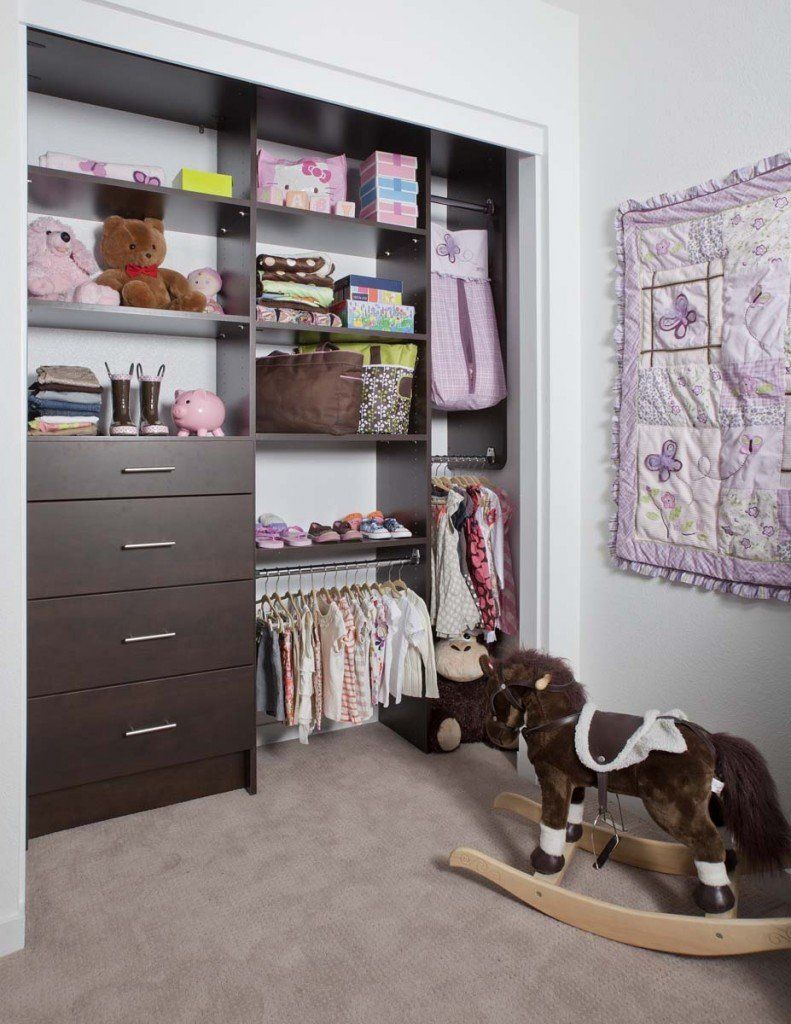 One Thing At A Time
Particularly with younger children – it is important to only give them one task at a time. For example: Put away the blocks, gather the dirty clothes, hang up their jackets. Take a relaxed approach and always follow up the tidying with a reward.
Teach Your Kids To Give
Always keep a small donation bin or basket either in their bedroom or a common area in the house. Encourage them to give things away they no longer want and that it is okay to put anything in this basket. Don't second-guess them when they decide to part with something; rather, make giving a part of the fabric of your family values.
Combined with these strategies, installing
custom closets
and organizers systems for your kids is by far the most efficient and effective way to get them to co-operate in keeping their closets organized. If you would like to discover more wonderful ways in which to keep your kids closets organized, then the experts at Creative Closets has all the right solutions for you. Call and schedule your FREE In-Home Design Consultation today!