Swoon over these stunning his and her closet ideas that combine functionality with high fashion. Imagine stepping into a space that is not just a repository for your clothes, but a chic sanctuary where every item has its special place.
From sleek, minimalist designs for the modern man, to whimsical, romantic spaces for the stylish woman, these ideas will inspire you to transform your closet into a catwalk-ready display.
Stay with us as we delve into the world of dazzling designs and timeless elegance, and discover how to turn your everyday dressing routine into an utterly glamorous experience.
1. The Sleek Silhouette: Slim Pull-Out Shelves
Embrace the sleek silhouette of slim pull-out shelves, a smart, space-saving solution to your closet woes. It's the perfect way to keep your favorite pieces in sight yet perfectly organized. Use these for anything from scarves to belts, or even your collection of diminutive clutches.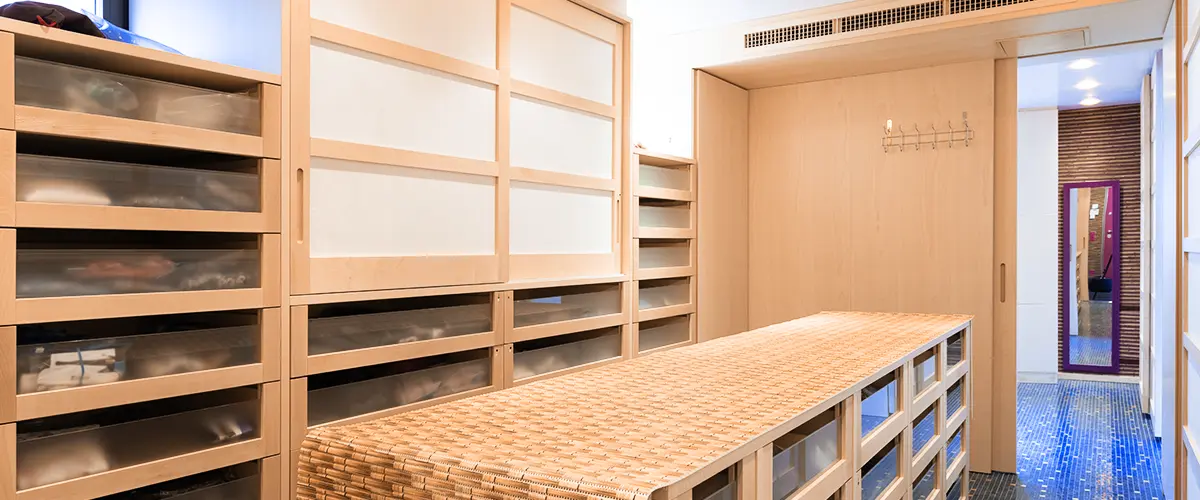 2. The Curtain Call: Define Your Closet Space
Instead of traditional doors, consider soft curtains to define your closet space. It's an innovative, aesthetically pleasing way to offer a visual divide between his and hers areas. Plus, it adds a touch of theatrical flair to your dressing routine.
3. Sky's The Limit: Maximizing Hanging Space
Never underestimate the value of vertical height in your master closet. It's not just about stacking more clothes, but about utilizing every inch of your closet in an effective and visually appealing manner. Try adding multiple levels of hanging space – a solution that's as practical as it is stylish.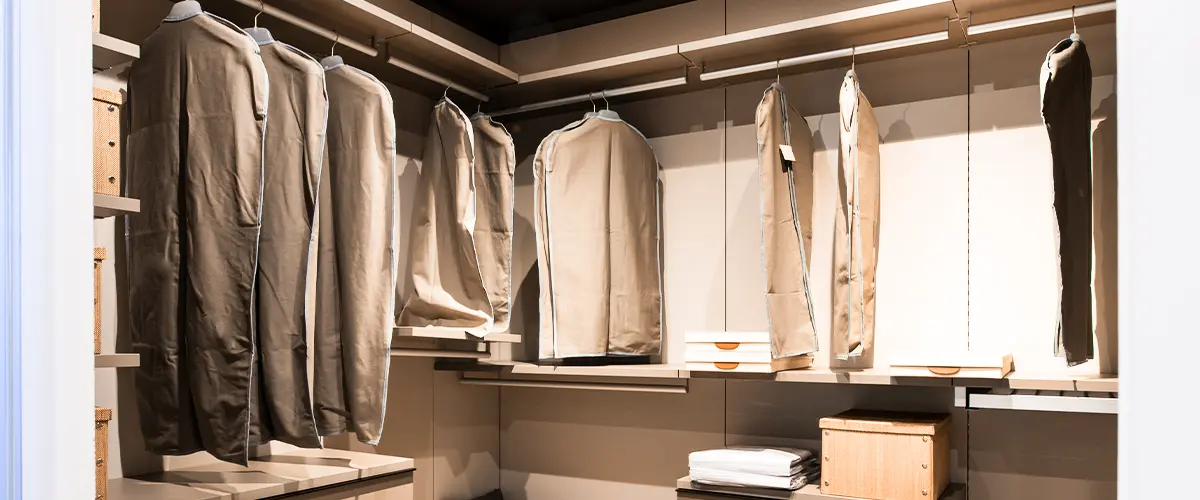 4. The Hidden Gem: Custom Closet with Hidden Dirty Clothes Bin
What about those dirty clothes? A custom closet with a hidden dirty clothes bin integrates functionality with finesse. It keeps the not-so-glamorous aspects of your wardrobe out of sight, yet easily accessible.
5. The Crystal Ball: Design for Future Shopping Habits
Design your closet not just for your current wardrobe, but for your future shopping habits. Whether you're likely to add more dress shoes, evening gowns, or casual wear, leave enough space to accommodate your evolving fashion journey.
6. The Dreamy Display: Glass Cabinet Doors
Illuminate your closet design with glass cabinet doors. This allows you to showcase your favorite pieces, turning your closet into a chic boutique-style display.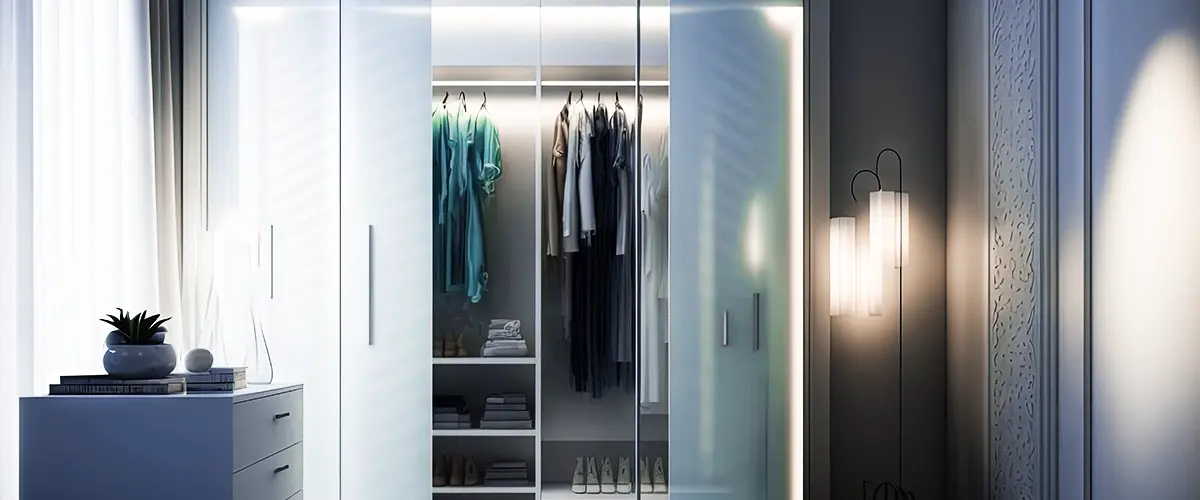 7. The Shoe-Stopper: Custom Shoe Rack
Give your shoes the love they deserve with a custom shoe rack. From those coveted heels to your beloved sneakers, provide enough space for each pair to shine.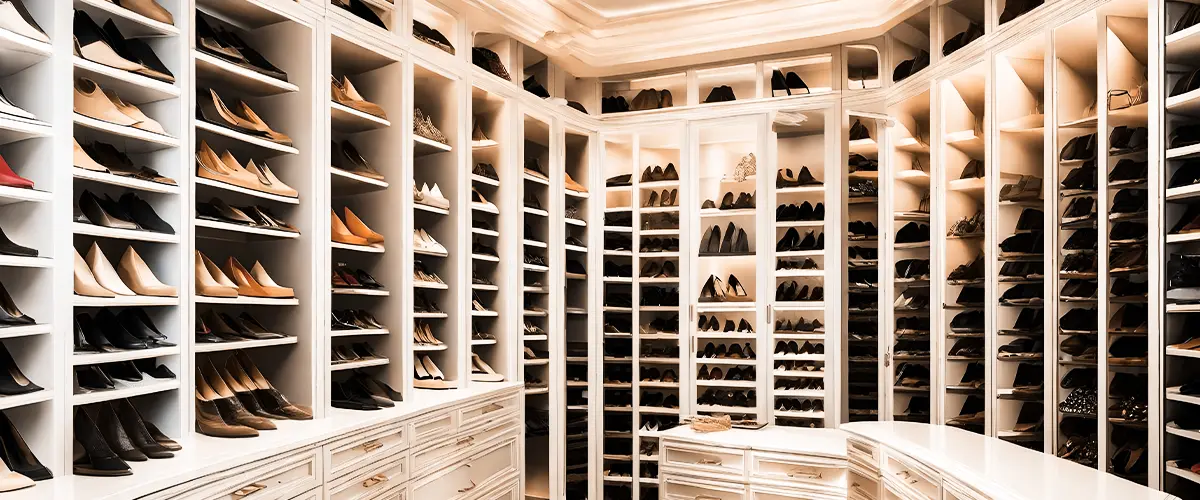 8. The Fashion Island: Central Island
Picture a central island in the middle of your room, offering ample surface area for your accessories, and storage drawers for those treasures you'd like to keep tucked away. It's a runway-worthy feature that also serves as a practical divider between his and hers areas.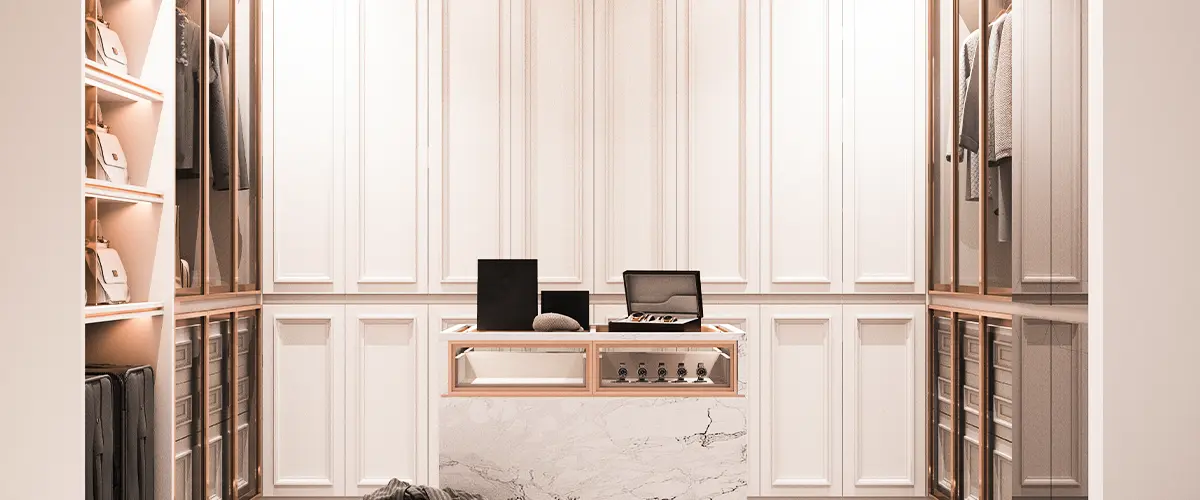 9. The Looking Glass: Mirror Dividers
A full-length mirror placed strategically between closets not only offers a practical utility but also creates an illusion of more space. Plus, it provides a visual break between his and her sections.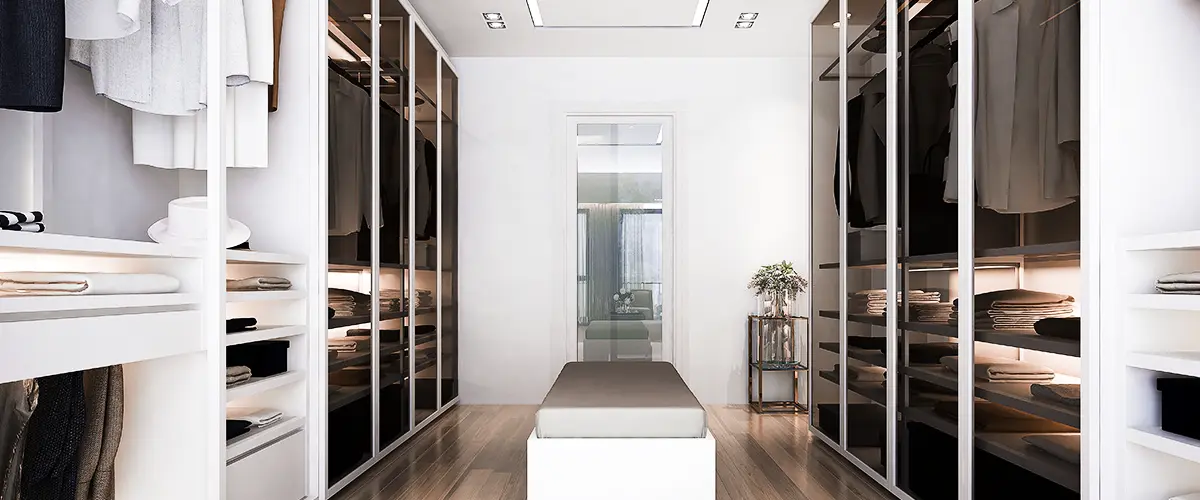 10. The Easy Access: Open Shelves
Open shelves strike a perfect balance between accessibility and display. Whether for your bags, hats, or other accessories, it allows for easy visibility and adds a dynamic layer to the closet design.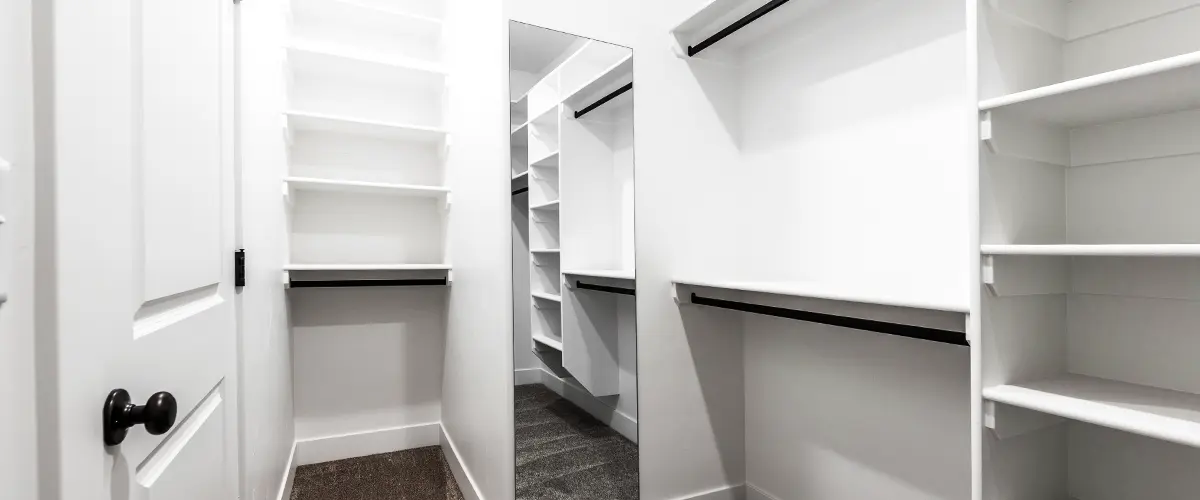 11. The Top Spot: Utilizing the Top Shelf
Don't overlook the top shelf. Ideal for items you use less frequently, this often underused space can accommodate extra bedding, out-of-season clothes, or those sentimental items you're not ready to part with.
12. The Vertical Vision: Ladder Access
Add a touch of library-esque sophistication with a sliding ladder. It not only makes reaching that top shelf easier but also integrates an element of old-world charm into your closet.
13. The Hidden Treasure: Secret Compartments
For those precious items that need extra security, consider integrating secret compartments into your closet design. It's like having your very own treasure chest.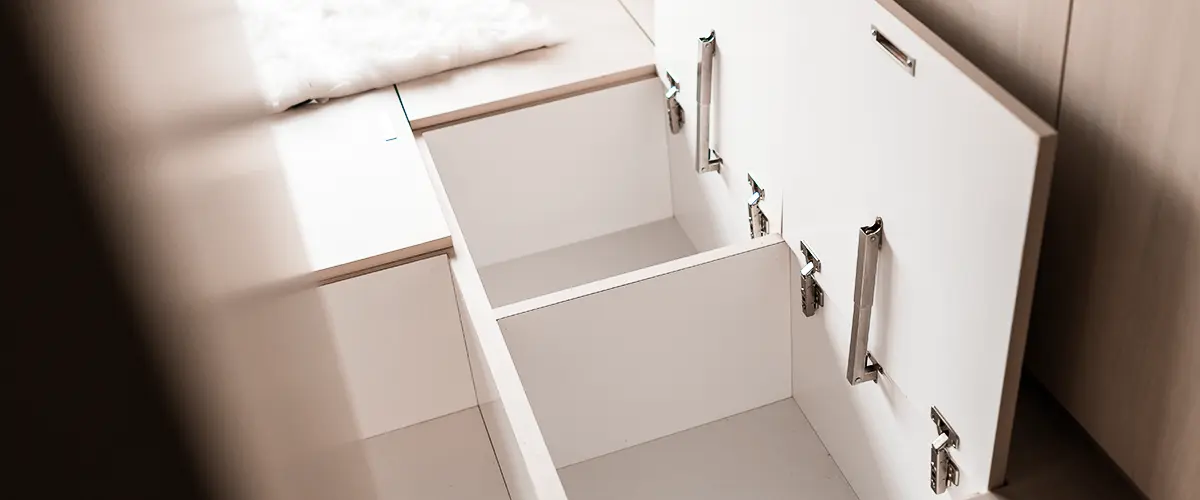 14. The Professional Touch: Tie and Belt Racks
Include designated tie and belt racks in his section of the closet. It's a simple, effective way to enhance organization and add a professional touch to the space.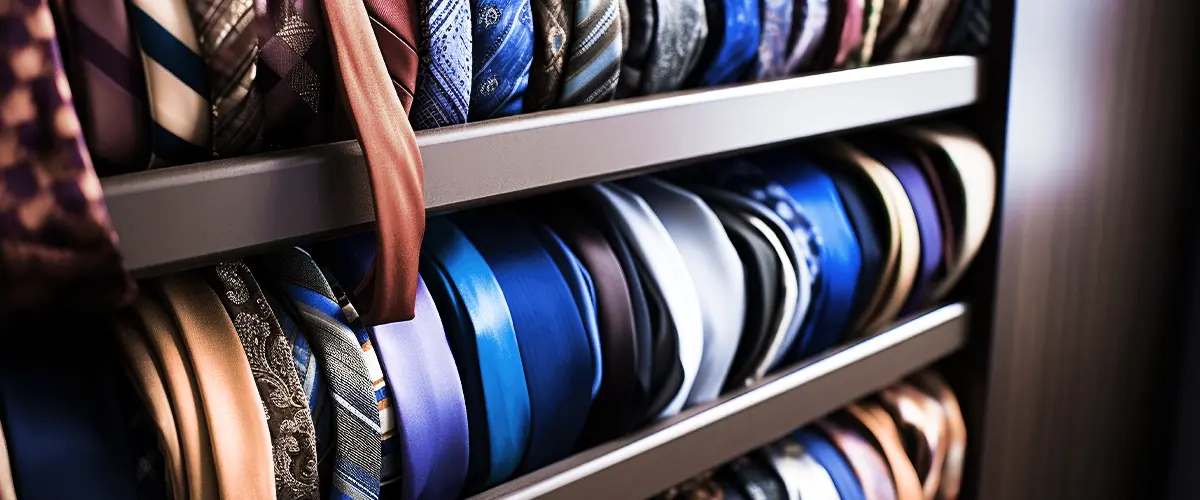 15. The Sparkling Touch: Jewelry Display
Finally, for her, consider a dedicated jewelry display. From velvet-lined drawers to hanging hooks for necklaces, give your sparkling treasures the home they deserve.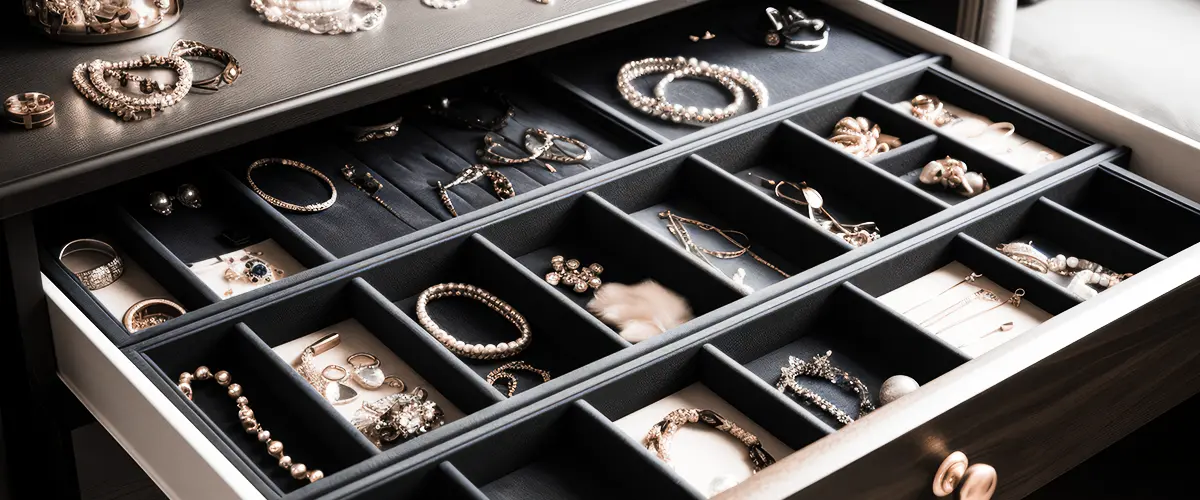 Have It ALL With Creative Closets
We believe in dreaming big and turning those dreams into reality. With our expert designers and installers, you can have everything you've ever wanted in a closet. From the dreamy display to the shoe-stopper, your desires are our blueprint.
We are the leading choice for closet design and installation in Maple Valley, WA, dedicated to delivering closet systems that reflect your personal style and meet your unique storage needs. The perfect closet awaits you, and it's just a phone call away. Reach out to us at (425) 428-5073, and let's start creating your dream closet today!
Or Get In Touch With Us Directly