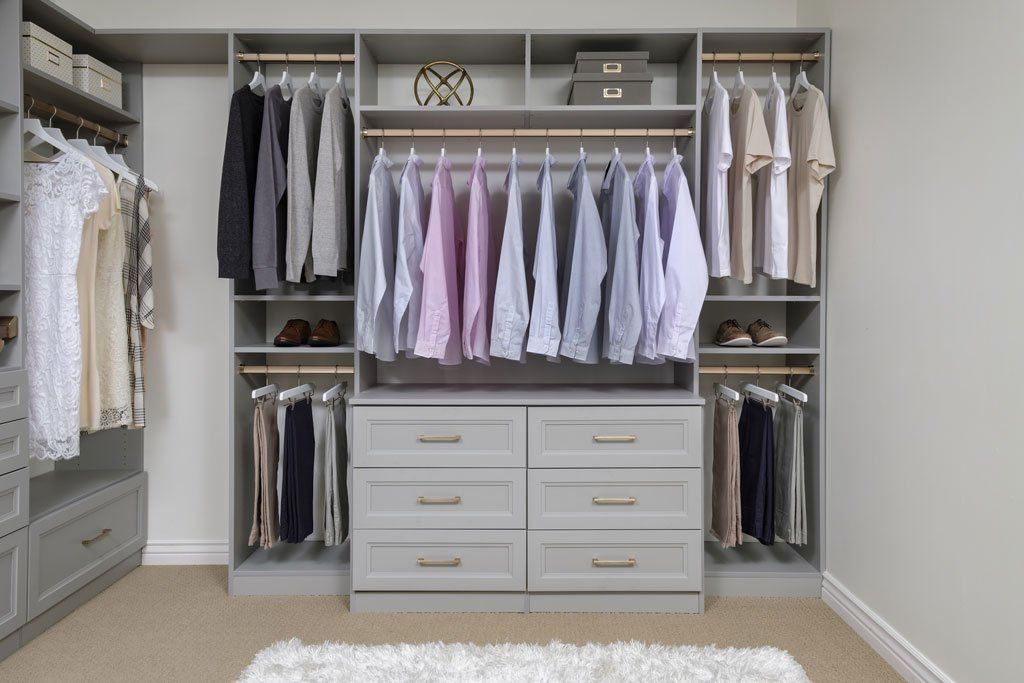 You have all heard of the 'Man Cave'. But did you know there is also such a thing as a 'Man Closet'? There is so much attention being given to closets for women that men can often be left out as an afterthought when it comes to closet design. With all the talk surrounding Man Caves, one might be forgiven for thinking that it's the only space in the home that men can call their own. However, that's simply not true. Men also have bedrooms, bathrooms, offices AND closets they live from.
Apologies ladies, but men actually do need a little more than a small piece of the closet. While they may not have quite as much clothing as women, one thing is certain, though – they definitely have more jeans and tee shirts. Therefore, the design of their closet space will differ from that of a woman's.
---
How To Design A Custom Closet With A Man In Mind
When designing a
custom closet
with the man in mind, simplicity is key. They will often prefer a clean look without fussy details. Most men actually care a lot more than they may let on about organization and convenience when managing their closets. Usually, the less time they need to spend on it, the better they like it.
Using a combination of different
closet organizers
such as cabinets, shelves, drawers and hanging rods will help him to manage his clothing and accessories in the way he likes. If he likes to fold his items, then shelves, drawers, and pull-out storage or clothing bins are ideal. This will ensure jeans, shirts, shorts, sweaters and even shoes are taken care of. If he prefers to hang, then tiered rods can double and sometimes even triple the hanging space in his closet. High shelves are a great way to store seasonal items that can be swapped out throughout the year.
Here are some suggestions when considering designing a Man Closet:
Take stock of everything needed to be stored in a Man Closet
Create a place for everything
Make the space simple and clutter-free
Utilize baskets and open shelves so contents can easily be seen
Men usually prefer darker closet colors
Suits and dress shirts and pants will always need hanging space
Jeans and tee shirts, shorts and casual slacks do well on open shelves and baskets
Sweaters and jackets are great stored up high until needed
Shoe racks are always a better solution than the floor
Workout or sports gear can be stored in baskets or deep drawers
Accessory drawers are perfect for jewelry: tie pins, cuff links, rings, watches etc
Low shelving is a great way to store briefcases, backpacks and gym bags off the floor
Designing the right
closet system
will help him to keep his closet organized and give him his own space to maintain. The experts in Man Closet designs at Creative Closets are offering all residents in the Seattle, Bellevue, Kent and Redmond areas a No-Obligation FREE In-Home Design Consultation. Yes, it's FREE! So get on the phone today and call (425) 276-7764 to schedule your FREE consultation.