Kitchen Storage Solutions for Your Bellevue, WA, Home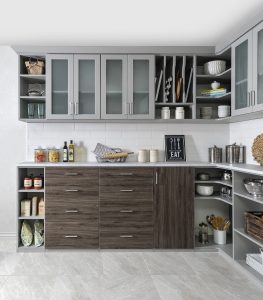 There are few things better than enjoying a delicious home-cooked meal in the comfort of your own kitchen. However, if the kitchen space in your Bellevue, Washington, home is cluttered or disorganized, cooking may be something you avoid. At Creative Closets, we can help reignite your love of cooking with one of our kitchen storage solutions! We offer kitchen pantry storage, cabinets, shelves, and more, to transform your kitchen area into a functional and aesthetically pleasing space.
Our Process
At Creative Closets, we always start with a complimentary design consultation. This will allow our experienced kitchen pantry designers to see your current storage setup and work to understand your unique goals and preferences. Next, we will use 3D software to input your pantry specifications and show you exactly how it will look once completed. We won't rest until you are fully satisfied with the design!
Our Kitchen Pantry Organizers
When you partner with us, you will have plenty of options for your kitchen pantry cabinets and accessories. You'll be able to design your dream pantry from scratch, including your choice of cabinets, drawers, doors, and accessories, such as:
Spice racks
Wine racks
Storage for cans
Slide-out baskets
Plus, you can customize your drawers and doors with various colors and styles to match your vision.
Contact Us Today
Are you ready to upgrade your Bellevue, WA, home with valuable kitchen pantry storage and reignite your love of cooking? Contact Creative Closets today to get started. We are looking forward to working with you.