Custom Garage Storage Systems and Closet Systems for Homeowners in Bellevue, WA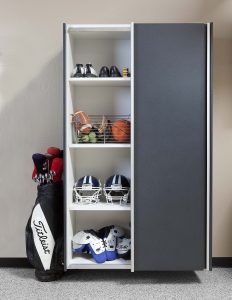 Your garage is truly the first place you see in your home every day when returning home and parking your car. If it's cluttered, messy, or overflowing with items, it can add unnecessary stress to your daily routine. The same goes for your closet! If your current closet space lacks organization, it can also add unpleasant feelings to your day-to-day activities. Luckily, there's a simple solution – partnering with the experienced team at Creative Closets.
Creative Closets has been installing custom garage storage systems, kitchen pantries, laundry areas, and closet systems for homeowners in the Bellevue, Washington, area for years and are eager to show you why we've become known for our customer service and craftsmanship.
Our Garage Storage Systems
Creative Closets designs custom garage storage systems that can not only help you get your garage back but can also transform it into an eye-catching space that truly expresses your style.
Features of Our Garage Storage Systems
At Creative Closets, we offer a wide variety of custom-designed garage storage solutions that bring style and substance to any space. Reorganize your space with the help of features including:
Cabinets
Workbenches
Wall storage systems
These garage organization systems can be designed specifically to meet your needs, so you can be sure you'll have plenty of storage space in your new and improved garage. What's more, we can add custom flooring with your garage storage system to protect your existing floor with a durable, attractive covering.
Our Closet Systems
Similarly to our garage storage systems, the main focus of our closet systems is to provide better organization and functionality of your existing space. Our talented team can take any size closet in your home and transform it into a clutter-free area that helps reduce stress in your daily routine. When you partner with us, our designers and installer will work with you to provide:
Complimentary in-home design assessments
Accurate measurements
Safe installations
Samples of products brought right to your home
3D Design software for mock-ups of your closet systems
Quality service from professional team members
Lifetime guarantees
Custom designs that fit your unique needs
Personal attention to detail
Our Closet System Features
Whether you're looking to have a custom closet system installed in your walk-in closet, kids' closet, or reach-in closet, we're confident we offer features that will match your exact needs. When you partner with us, you'll be able to choose from custom closet system accessories such as:
Scarf racks
Adjustable shelves
Hanging rods
Belt racks
Tie hooks
Drawer dividers and more!
Plus, no matter which closet system accessories you choose, you can have total peace of mind knowing they will be expertly installed by our highly trained team.
Our Closet System Installations
Now that you've learned about the features of our closet systems, we can tell you about our expert installation process. When you trust Creative Closets for a closet system installation you can rest assured knowing that you are working with a team that values your total satisfaction.
Our closet system installations start with a one-on-one personal consultation with a member of our team to begin discussing your unique needs, preferences, timeline, and budget. Once we've created a plan that excites you for your new closet system, our team will begin the actual design process.
Our talented staff will take accurate measurements, bring samples right to your home, and even create a 3D mock-up using design software so that you know exactly what your new closet system will look like before it is installed. Only once you are fully satisfied with the design will our team start the expert installation process.
Our professional team takes pride in working quickly and efficiently to avoid interrupting your daily routine, without ever sacrificing quality.
Closet System Installation Safety
When it comes to our closet system installations, our number one priority is safety. We care deeply about both the safety of our staff, and the safety of your household. Our designers and installers are highly trained and experienced to take all the necessary precautions to ensure your closet system installation can be completed safely.
Frequently Asked Questions
Here at Creative Closets, we've spent more than two decades helping homeowners throughout the greater Bellevue, WA, area reclaim their storage spaces with unique custom closet systems. When it comes to a home closet or garage, we've seen it all—and figured out the best ways to organize it, too. We've compiled a short list of questions we're frequently asked in order to help you make the most informed decision possible.
How Much Does a Garage or Closet Storage System in Bellevue Cost?
The idea of installing a garage or custom closet storage system throughout your Bellevue home certainly sounds appealing, but of course it's important to know the cost before beginning to plan. At Creative Closets we strive to be as transparent as possible when it comes to pricing, so we never give custom quotes over the phone. Every space is different, and costs vary. Some of the different things that can contribute to the pricing of your project are:
The overall size of the project – Some homeowners call us with the intention of customizing all of their household closets and storage spaces. Obviously, this is going to be a bigger and more expensive project than if you were only customizing one or two closets in the home.
The size of the garage or closets that you're customizing – Usually, bigger closets require more components, adding to the cost. Smaller closetscan be renovated on a tighter budget because you may just need to have a few simple shelves, hooks and rods The same goes for one vs. multiple car garages.
The components and accessories that you choose – The great thing about custom garage and closet organizationsystems is that you get to choose your components and accessories. This allows you to control pricing, plus it helps you get the look and functionality that you want for your space.
Are Custom Closets or Garage Storage Systems Really Worth the Expense?
Although you might be intrigued by the idea of customizing your closets or garage, you might not be sure if the investment is right for you and your home. After all, you could be wondering if the cost is worth it.
We have found that most of the homeowners that we work with are more than happy with the results. Many wonder why they waited so long to make the investment in their home. These are just a few of the many reasons that custom closets and garage storage systems in Bellevue are more than worth the cost:
Make your home look great – It's hard to love your home when it's cluttered, disorganized and messy. Our garage storage systems can help you make your home look better than ever.
Improve your home's value – Most of the improvements that you make to your home can improve its value, and custom closetsare no exception.
Encourage your kids to establish good habits – Encouraging your kids to pick up after themselves and maintain a neat and tidy room is a good thing. With customized kids' closets, you can encourage good habits and make room clean-up much easier.
Take better care of your clothing, tools, and other belongings – Many people don't realize just how much of a difference they can make in the condition and lifespan of their belongings simply by storing them properly.
It's hard to put a price on the benefits of a garage storage system or custom closet. You're sure to find the investment to be worth it when you see how our custom storage systems can benefit your family.
How Can Garage Storage Systems Make My Life Easier?
With garage storage systems, everyday tasks will suddenly be made easier. Completing work around the house and yard will be a breeze thanks to our storage systems that will allow every tool to have a place to be put away. Additionally, coming home to a clean and tidy garage every day can help promote a feeling of relaxation upon arriving home.
What Is the Garage Storage System Design Process?
We use the same design process with every homeowner. Our system has been tested, and it works. On the day of your scheduled, free in-home consultation, your garage storage system designer will come in and spend a little time talking to you and looking at your spaces. After taking measurements and getting an idea of what you want to do with each space, your closet organizer will get to work with a 3D software program.
The software program that we use allows our designers to create 3D designs that suit your specifications, budget and preferences. You can give feedback and make changes and suggestions. When you're happy with what you see on the screen, you can set up a convenient appointment for our team installers to come and handle the professional installation for you. It's all just that easy.
Can Creative Closets Customize Small Garages?
When you think about garage storage systems, you might think about big, spacious multi-car garages with custom cabinetry and numerous work benches. However, if your garage isn't as spacious as you'd like, we can help utilize the space you currently have now, making it feel more spacious.
There is no reason to miss out on valuable storage space because the sizing or set-up of your garage might not be ideal. Our professional designers have lots of tricks that they use to turn just about any garage into an attractive, functional space that provides lots of room for storage and organization.
How Can I Choose the Right Garage Organizer in Bellevue, WA?
For best results with your garage storage system and organization project, make sure you choose the right professional designers. At Creative Closets, we are here to assist you. Our goal is to help all of our customers fall in love with their storage spaces. We want to get to know you so that we can build a garage storage system that aligns with your preferences and needs.
If you are ready to get one step closer to a garage storage system or closet system that can add numerous benefits to your home for years to come, contact Creative Closets today! We have been helping homeowners in the Bellevue, WA, area, transform their homes into beautifully organized spaces for years and are eager to show you why we come so highly recommended for closet system installations and garage organizers.