Don't underestimate the power of small closet design ideas! Your petite but full-of-potential storage spaces are just waiting to be transformed into a fabulously functional treasure trove of your prized fashion pieces.
So, if you're feeling a little overwhelmed and, let's face it, downright claustrophobic about your closet limitations, worry no more. We're about to serve some seriously stylish solutions that will make your heart flutter.
Small Closet Design Ideas To Start Your Home Organizing Revolution
Get ready for 30 astonishing small closet design ideas that will turn your tiniest spaces into the chic, organized fashion paradise you've always dreamed of. Let's get ready to revolutionize your closet space, one glam idea at a time!
Maximize vertical space with floor-to-ceiling shelving. This petite palace for your wardrobe allows you to elegantly display your favorite pieces and ensure everything is at your fingertips.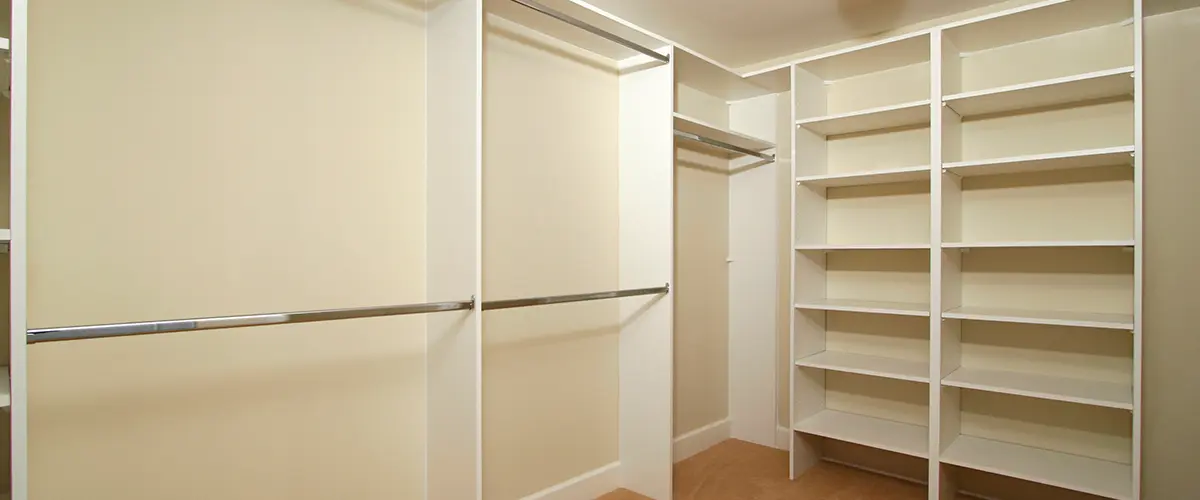 Create subsections within your closet for different types of apparel. With this chic configuration, your cocktail dresses will never stumble upon your skinny jeans.
Use cubbyholes for shoes, bags, or folded garments. This spunky setup keeps your beloved items visible and easily accessible while adding a dash of fun to your closet design.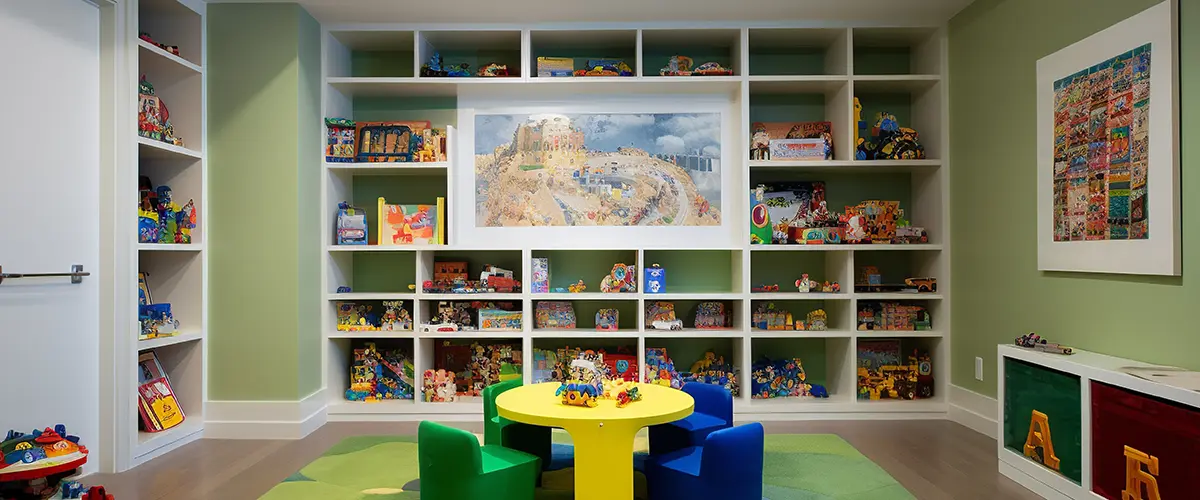 Transform an unused bedroom corner into a mini walk-in closet with compact racks and hangers. This cozy, efficient design will make every morning feel like a boutique shopping spree.
Make the most of narrow spaces by installing slide-out racks for your clothes. This sleek design whispers sophistication while promising practicality and easy access.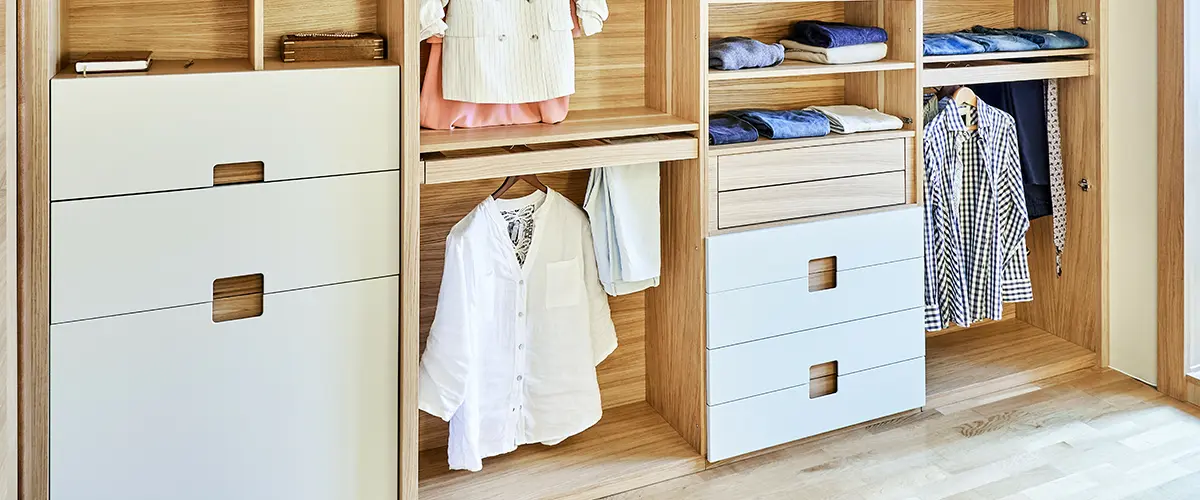 Opt for a sliding door with a mirror. This smart design lets you check your outfits, while visually enlarging your space and adding a dash of glamour.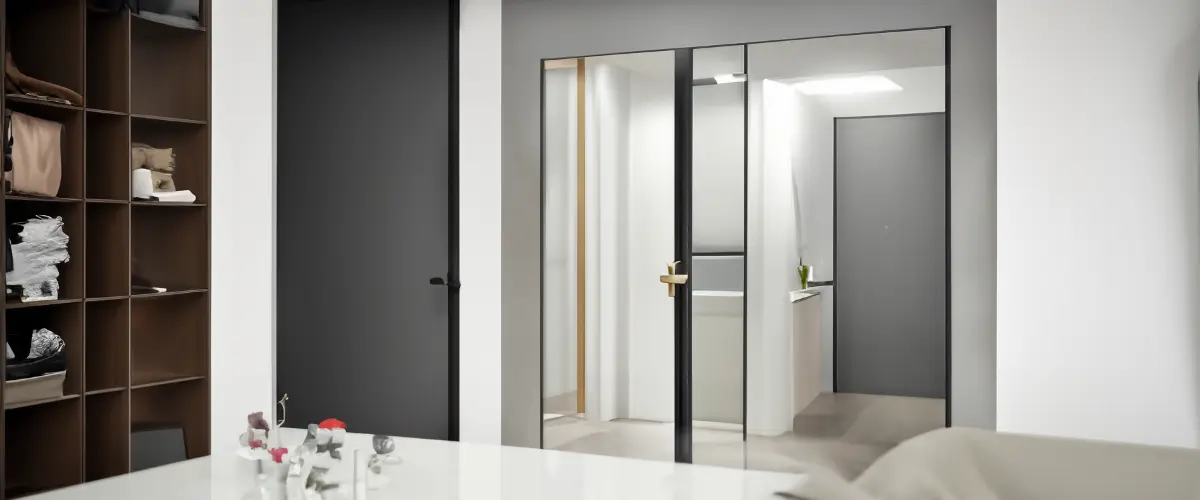 Incorporate a fold-out ironing board for last-minute touch-ups. This neat feature brings functionality to your closet that is as practical as it is stylish.
Install LED lighting to highlight your clothes and make selection effortless. This illuminating idea is the spotlight your outfits deserve.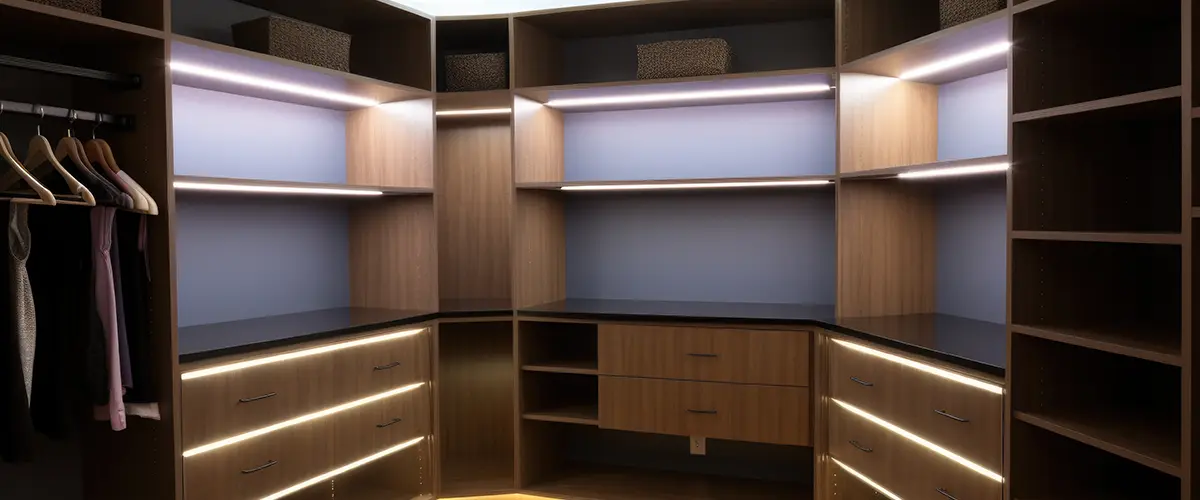 Use tiered hangers to increase hanging space and keep similar items together. This nifty design makes your closet seem like a royal dress chamber.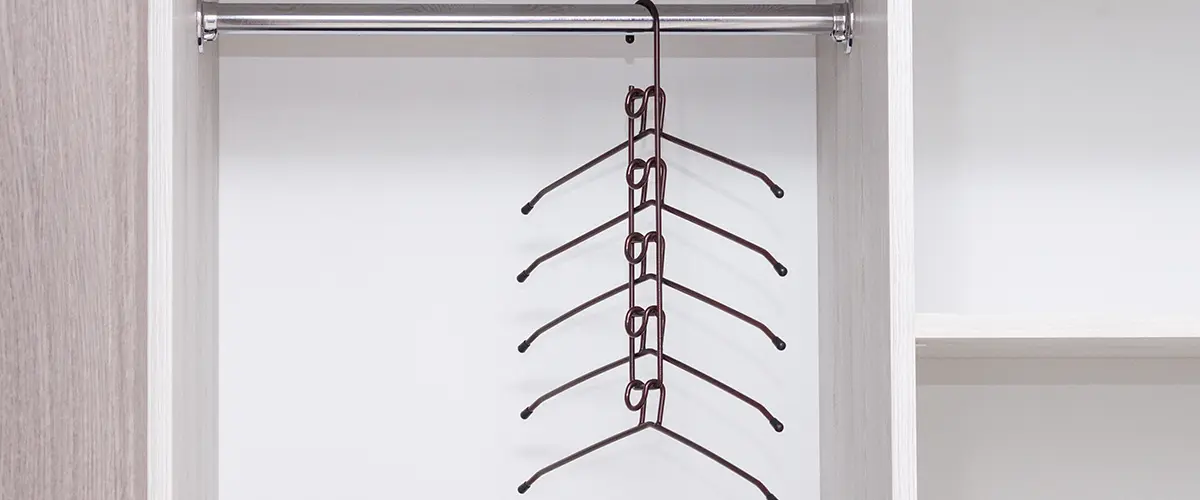 Incorporate drawers with clear fronts, this allows you to see what's inside without rummaging. This dashing idea blends convenience with classy aesthetics.
11. The Vertical Visionary
Add hooks on the back of your closet doors for dangling items like scarfs or belts. This clever design keeps your accessories organized and easy to find.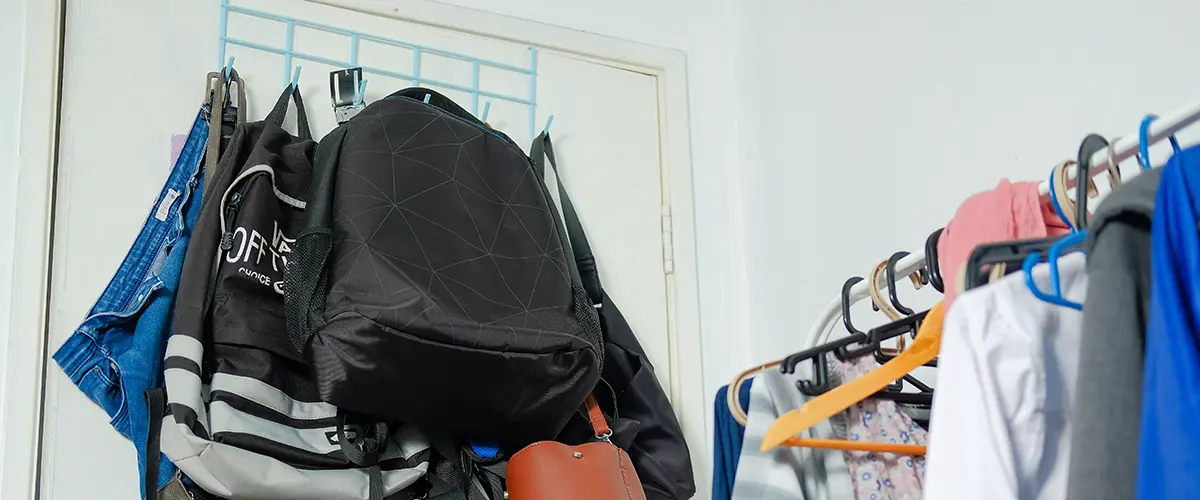 12. The Colorful Carousel
Organize your clothes by color for an eye-pleasing closet and easy outfit picking. This design idea adds a rainbow touch to your closet life.
Pair open shelves with closed cabinets for a balanced design. This dynamic duo is both stylish and versatile, perfect for your small closet.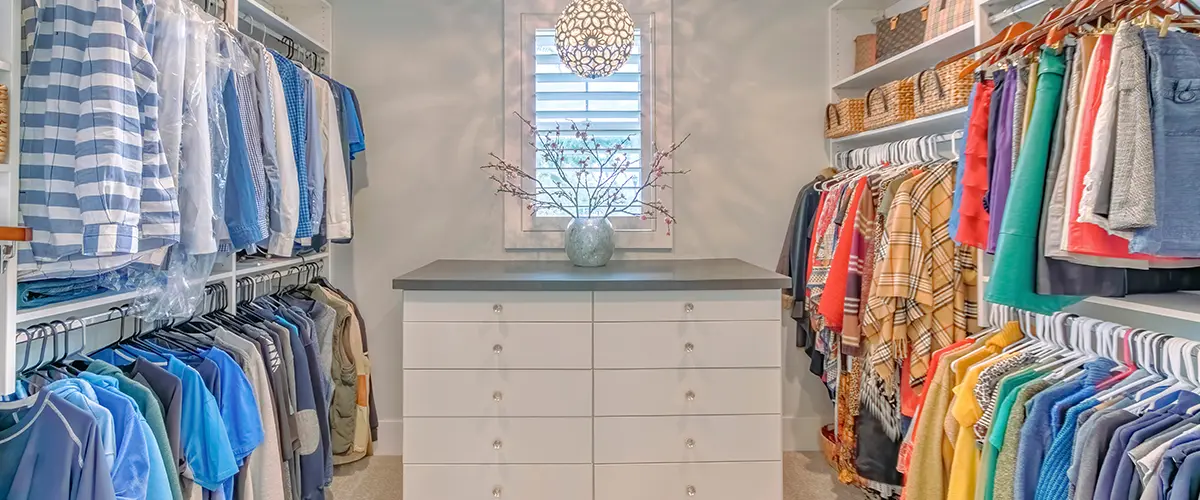 Incorporate a built-in laundry bin to keep your closet tidy. This hidden feature adds an extra layer of functionality and cleanliness.
Use reclaimed wood as a unique and eco-friendly clothes rack. This rustic design adds a bit of boho-chic to your small closet.
16. The Transparent Treasure
Opt for clear storage boxes for your seasonal items. This design is practical, letting you see what's inside without opening each box.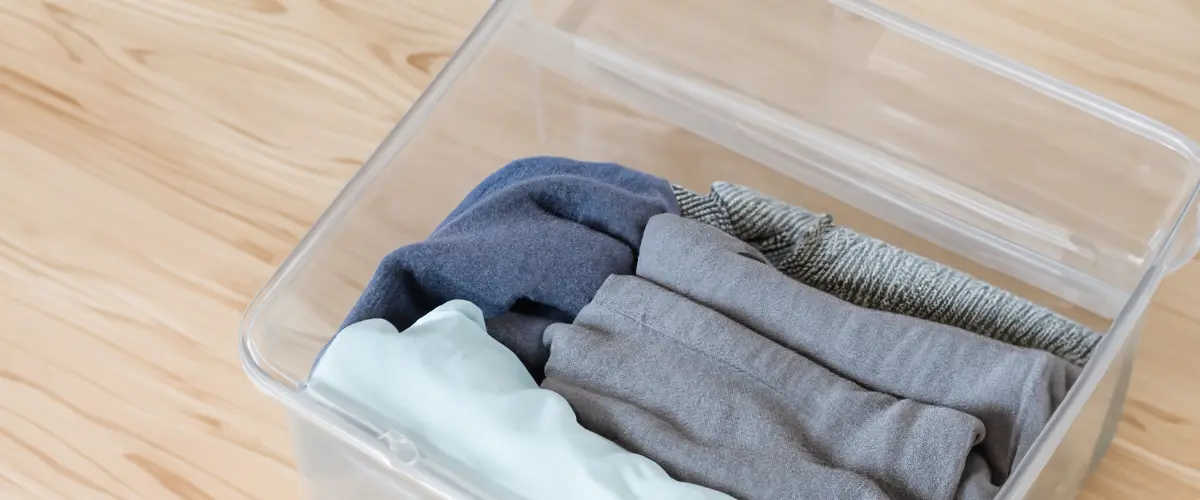 17. The Fashionable Flexibility
Choose adjustable shelves which can be easily modified according to your storage needs. This flexible design caters to your changing wardrobe.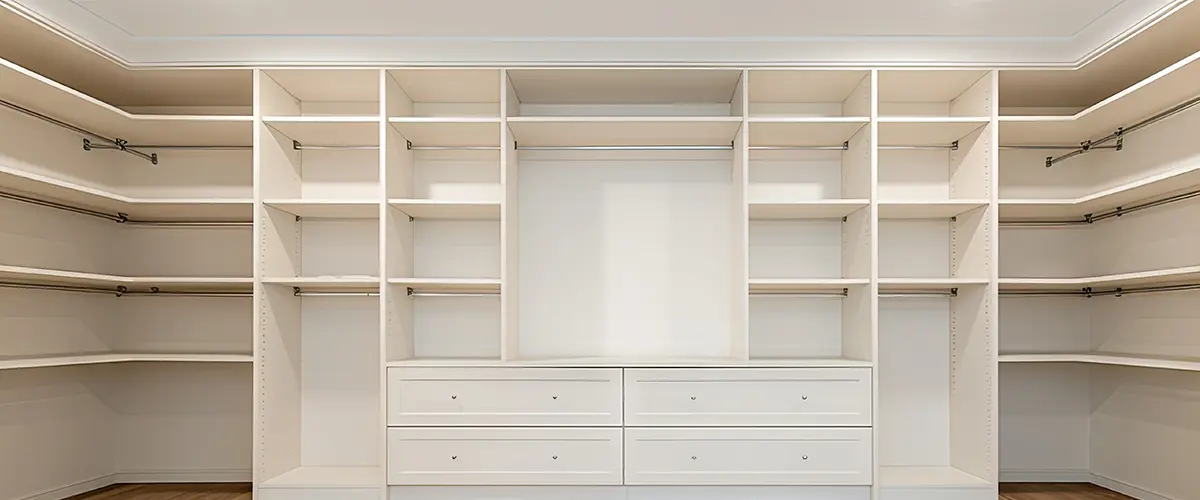 Install a grid system for your handbags and clutches. This well-structured design makes your bags look like art pieces on display.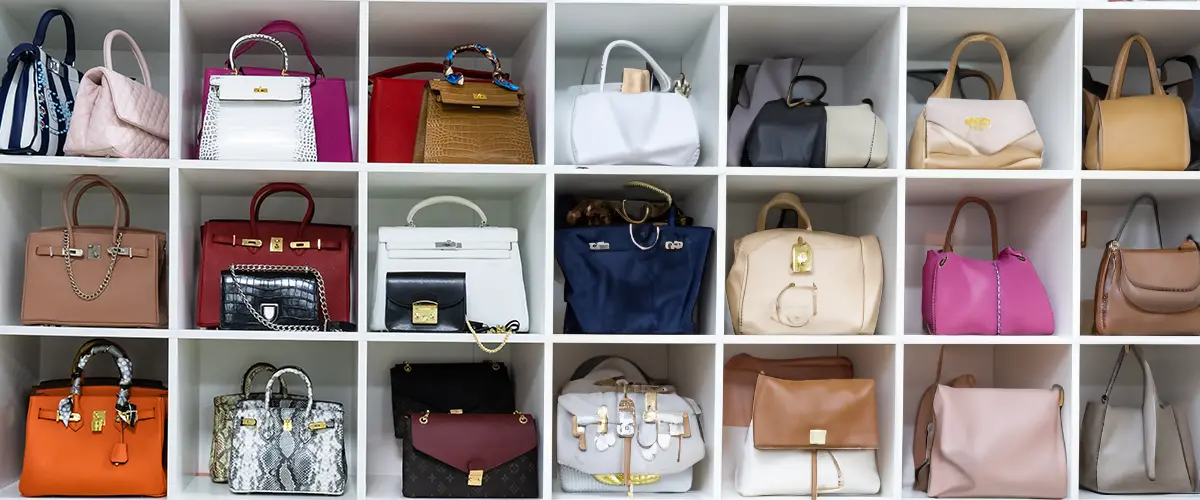 19. The Rotating Revelation
Add a rotating shoe rack for easy access and neat display. This design will make your shoe collection the star of your small closet.
Incorporate a jewelry organizer for displaying your bling. This sparkling design makes your precious accessories shine.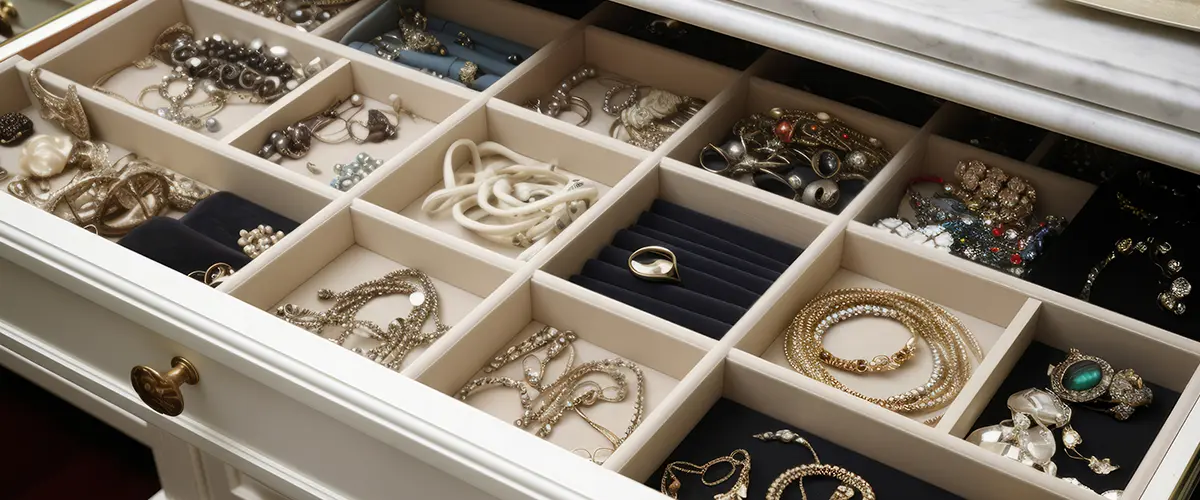 21. The Efficient Extender
Use rod extenders to increase hanging space without making your closet look cramped. This efficient design is a smart solution for your small closet.
22. The Cool Compartments
Create compartments within your drawers for smaller items. This cool design keeps all your belongings neat and easy to find.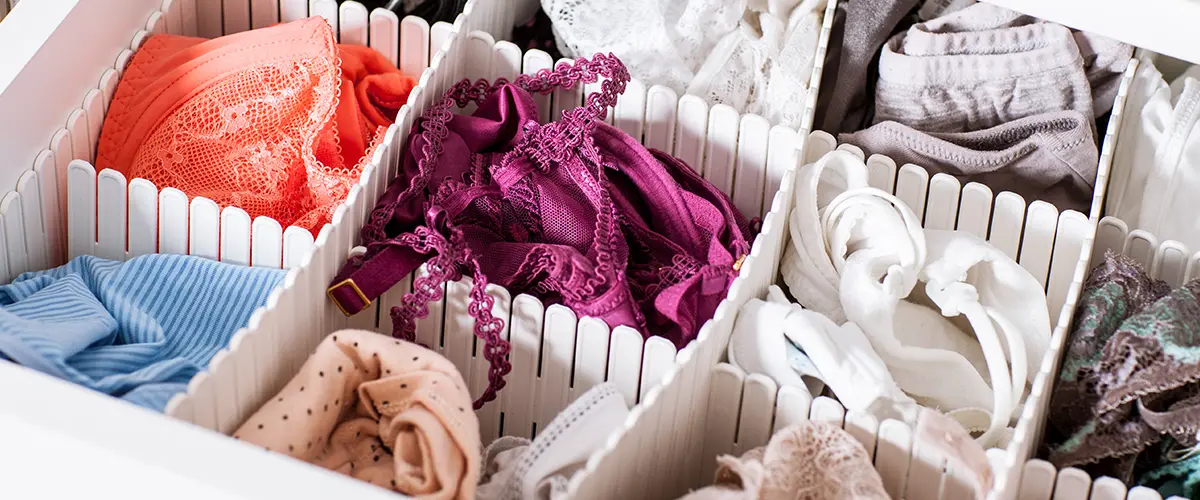 Add a dedicated skirt hanger for a fuss-free arrangement. This savvy design offers a chic way to store your skirts.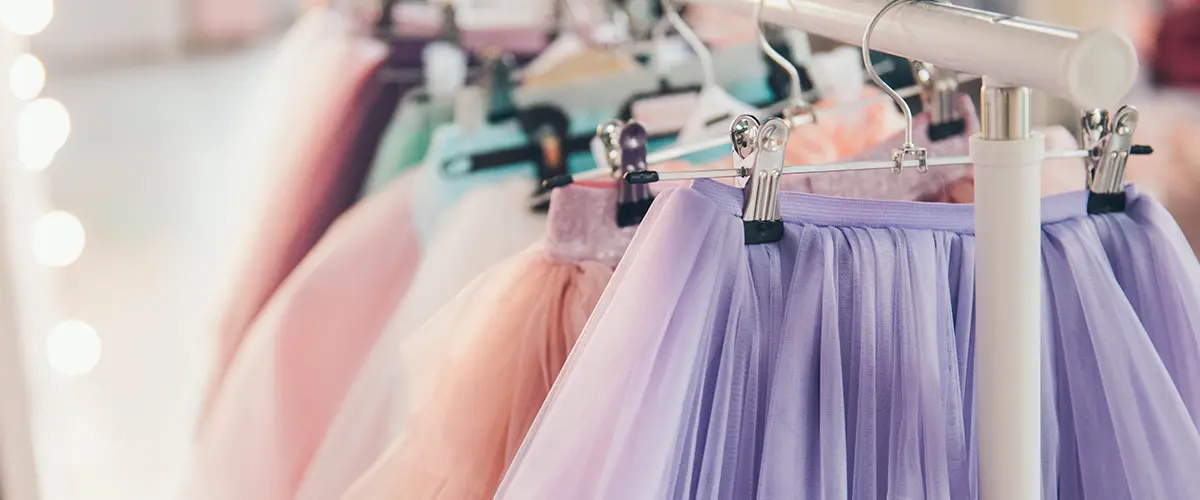 Install a tie rack for your beloved collection. This neat design ensures your ties are always ready to wear.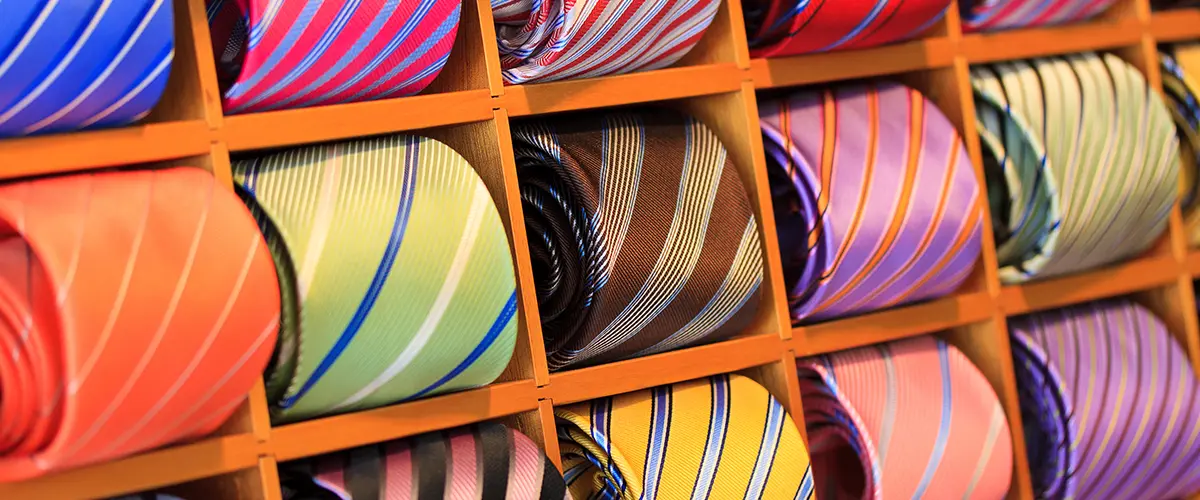 Go for stacking shelves to make use of every inch of your closet. This layered design gives a structured and tidy appearance.
Add a second hanging rod for doubling your storage space. This clever design idea makes your small closet feel twice as big.
Opt for pull-out drawers for your folded clothes. This pantry-style design idea is a game-changer for small closets.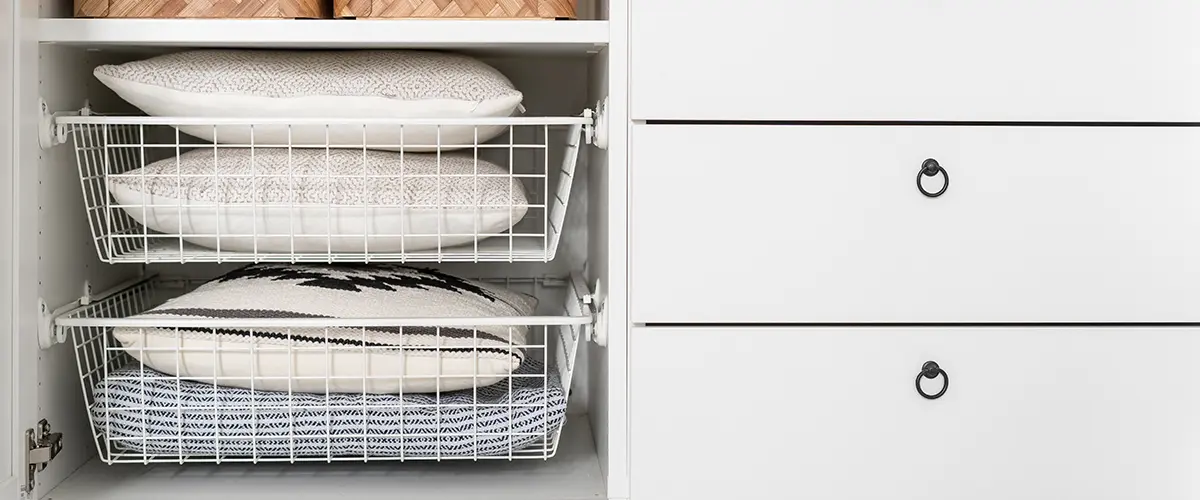 Create alcoves in your closet for display or easy reach. This design adds visual interest and functionality.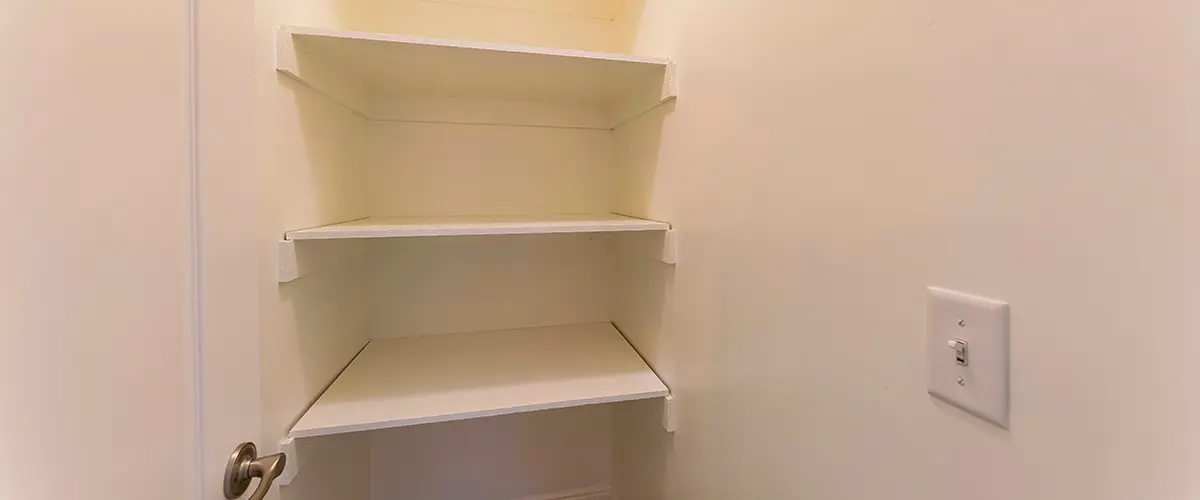 Make use of the above-closet space for storing seasonal or rarely used items. This design idea takes your storage solutions to new heights.
Finally, consider a wardrobe system that integrates all these ideas for the ultimate small closet. This winning design optimizes your space in a stylish and efficient way.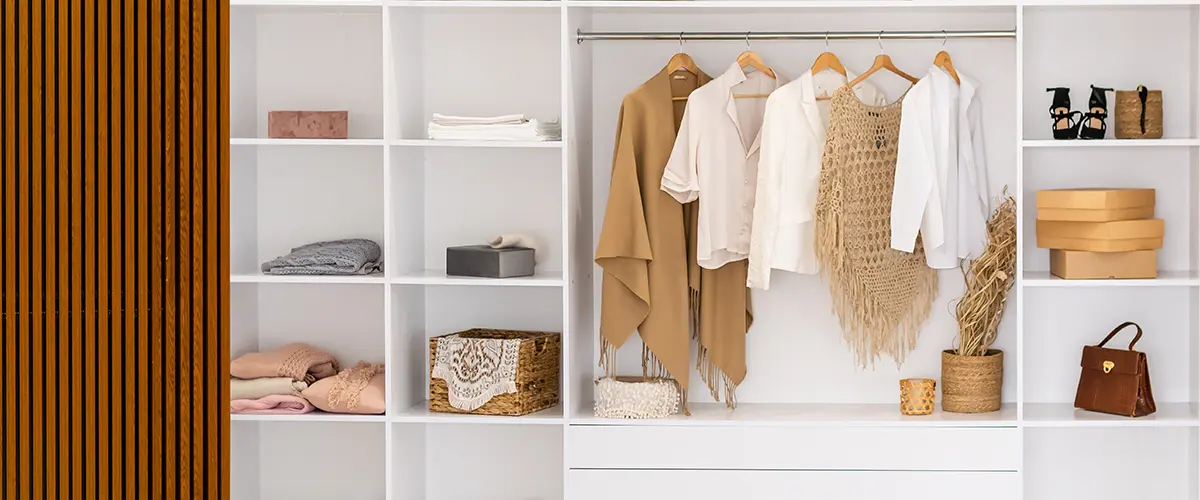 FAQs About Small Closet Design Ideas
How can I maximize shelf space in my small closet?

Maximizing shelf space is all about organization. Use shelf dividers to keep your clothes neatly stacked and separated. Try to fold or roll your clothes to make the best use of the space. Adding extra shelves, if possible, can also be extremely beneficial for utilizing the full height of your closet.
What are some small closet ideas that make a big impact?

Small closet ideas that make a big difference include using the back of the door for storage, implementing a double rod to provide extra hanging space, and utilizing clear storage boxes for shoes or out-of-season clothes. Another useful idea is to add hooks or shelving to any unused wall space.
Is a custom closet worth the investment for a small space?

A custom closet can be a game-changer for a small space, even though it can be a significant investment. Custom closets are designed to fit your unique needs, maximizing every inch of available space. They also often feature built-in solutions like specific shoe storage or specialized drawers that standard closets just can't offer.
How can I use shelf dividers effectively in my small closet?

Shelf dividers can be your best friend in a small closet. They help to separate stacks of clothes or accessories, preventing them from toppling over and creating a mess. They also make it easier to identify and access your items, saving you time and effort.
How can I add extra storage to my small closet?

There are numerous ways to add extra storage to your small closet. Consider using vertical space by adding extra shelves or a second hanging rod.

Drawer organizers and shelf dividers can also increase your storage capacity. Don't forget about the unused space on the back of your closet door too – hooks or over-the-door storage solutions can be a godsend.
How can I utilize the wasted wall space in my small closet?

Utilizing the wall space in your small closet can drastically increase your storage capacity. Install hooks, racks, or small shelves to store accessories, scarfs, or belts.

Additionally, hanging a mirror or pegboard can transform your closet both visually and functionally.
Not Enough Home Space? Here Is Your Answer!
If you're grappling with a small space, don't despair – Creative Closets is your perfect antidote.
We specialize in crafting custom closet systems that brilliantly dodge spatial challenges, infusing elegance, and efficiency into every corner of your closet.
Our keen eye for detail, paired with our passion for smart designs ensure that we create a harmonious blend of function and fashion in your small space. With our installations, every inch becomes a statement of style, every rack sings a tale of organized charm.
So why wait?
Embrace the effortless grandeur of Creative Closets, and let us transform your small space into a haven of chic sophistication.
Or Get In Touch With Us Directly